Introduction
Old World Wine and Spirits Meets New World Tech
Yahyn endeavors to build the easiest place on the internet to purchase wine. We bring together retailers, aficionados, collectors, and sinners with a focus on Amazon like convenience to purchasing and true price discovery for regulated industries.
Deal Highlights
Highly experienced founding team
$500,000+ investment raised from private investors
Community of over 100,000 already
Growing at nearly 40% M/M
Like shopify, but for regulated industries
$100 B TAM in just the US alone *
Wine is the fast growing category for online alcohol sales
* Statista, 2019 Market Reports (Wine & Whiskey), Forbes 2018 Report
Problem
The volume of choices surrounding choosing a wine is staggering, i.e. vintage, type, region, food pairings, best price, and availability to name a few. We as a company aim to simplify and guide you through these decisions.
"The sheer number of vintages available on the market today can be both a wine-lover's dream and also their worst nightmare. Thankfully, the up-and-coming venture capital-funded tech company Yahyn is committed to taking the guesswork out of wine shopping and giving users curated wine experiences that pair perfectly with their individual lifestyles and food choices."
MarketersMedia
Boston, United States - December 11, 2019
In today's regulatory environment, many sellers simply do not have the expertise, time, or funding to understand the nuances of shipping wine throughout the 50 States; Yahyn has worked with its legal team to codify these rules into our technology so that buyers are only able to see producers and distributors who are able to sell to them under the law.
Solution
Old World Wine and Spirits Meets New World Tech
Yahyn is positively disrupting the way wine is purchased, distributed, and consumed.
For consumers, you can now purchase from one of the world's largest inventories of wine with Amazon like convenience and have it shipped right to your door!
For sellers, sell online quickly and easily with a fully compliant and integrated ecommerce experience: Think Shopify if it were built specifically for the wine industry. Yahyn's platform serves as an inexpensive additional line of distribution that most sellers would not have access to on their own.
Through its proprietary OCR technology, Yahyn turns every user into a grandmaster sommelier; it's as easy as snapping a picture of the menu on your iphone. Our sophisticated algorithm, built on knowledge drawn from our partners such as the French Laundry and Wine Spectator, easily guides you to the best option or value wine to accompany your meal.
We also offer integrated social media, blogs, reviews and personal connections between members of our communities to share in all things wine.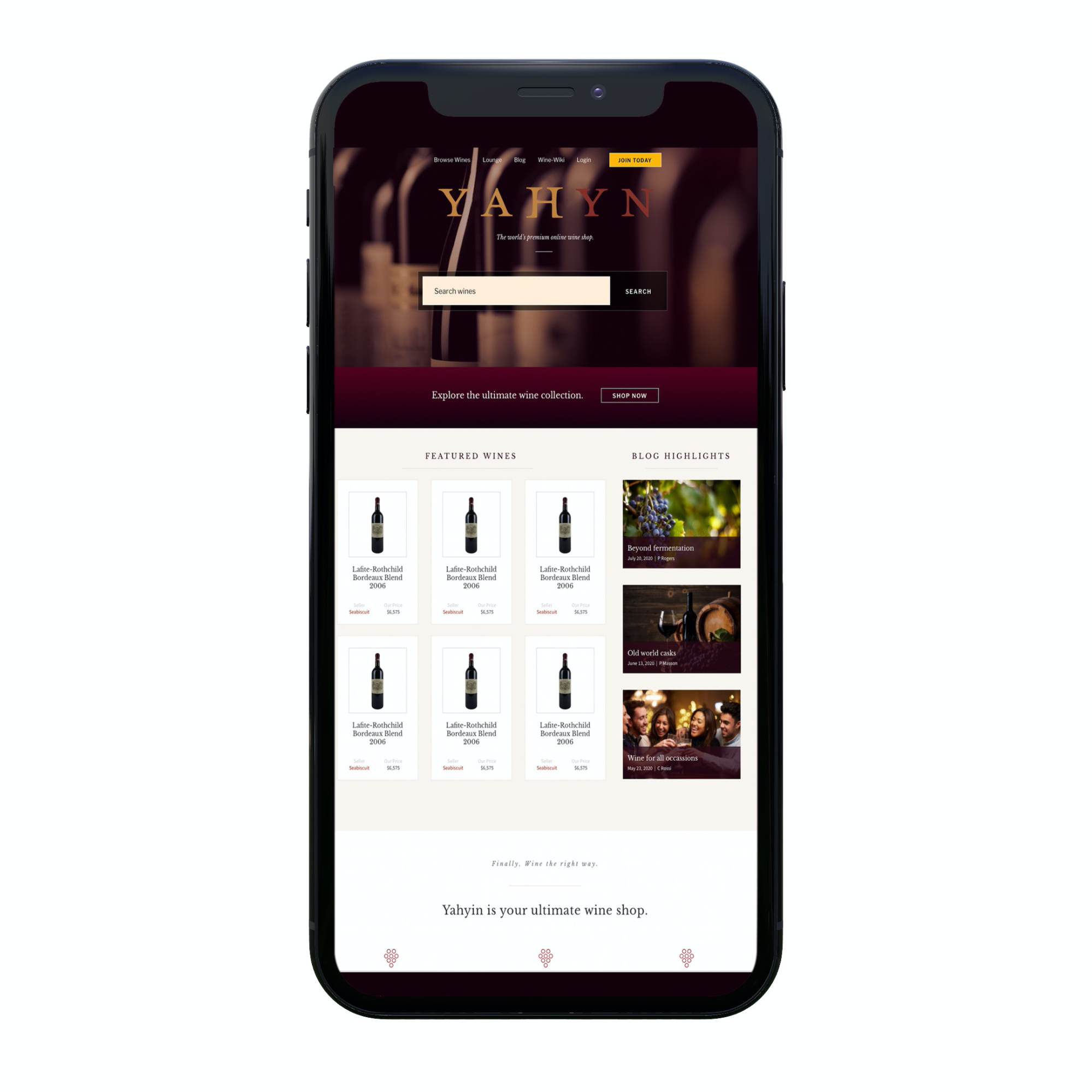 Business Model
Yahyn brings retailers, distributors, and producers onto our platform via an API connection directly into their inventory management system. We then upload that inventory to our platform under that Seller's profile.
Buyers come to the platform and are then able to purchase from the vast, Yahyn inventory across multiple sellers in a simple, clean transaction.
Currently we have a community of 100k members that has grown mostly organically.
Our community month over month growth rate is currently 34.4% with that rate itself growing exponentially as our marketing efforts ratchet up and more channels come online.
When a customer makes a purchase, Yahyn processes the transaction, takes a platform fee of 10% from the Seller and a 2% fee from the Buyer, and notifies the Seller(s) of the sale. We do all of this with very little overhead.
Additionally, Yahyn plans to generate revenue through a variety of listing enhancements offered to Sellers to provide better visibility for their listings.
Upon completion of the transaction, both the Buyer and the Seller are able to rate and review their counter party in an open and transparent review/honor tracking system.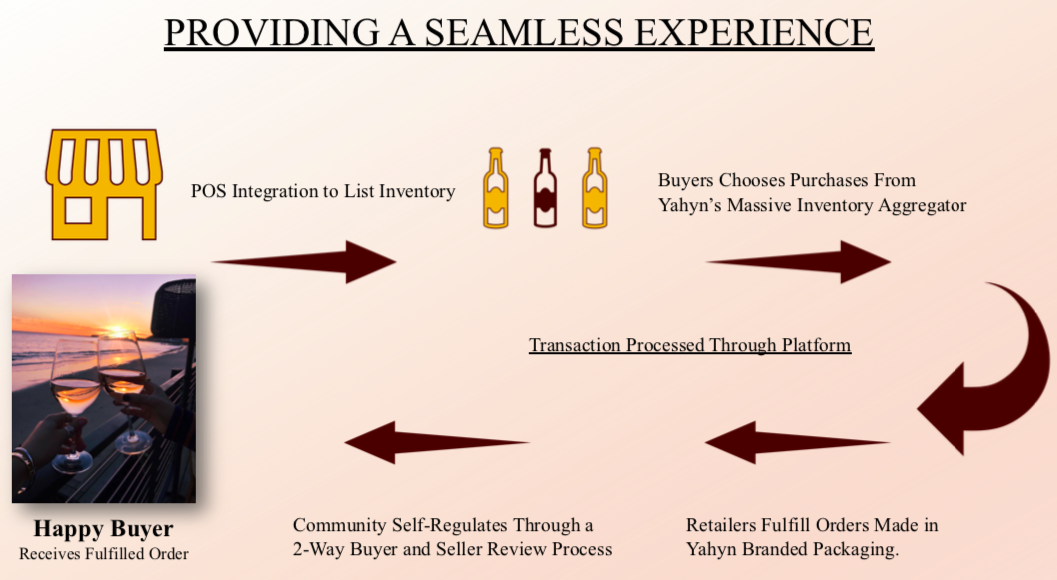 Market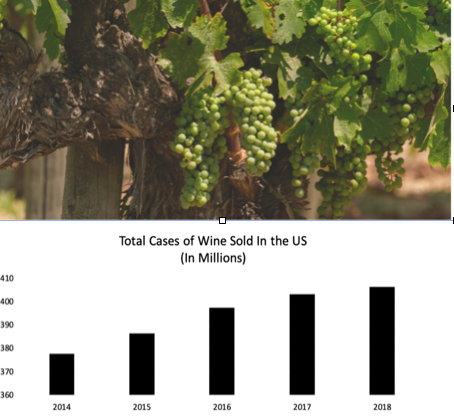 A Total Addressable Market of close to $100B in 2018 in just the US alone and growing significantly year over year *.
The vast majority of brick & mortar retail stores and distributors have ZERO online presence. There is no true "Shopify" or "Kayak" style platform for the wine market and only 1 which allows a limited offering of 3rd party sellers.
As a result, most sales for premium wines and alcohols are generally either through local, brick and mortar shops with limited supply OR online through only a handful of major e-comm retailers
Online sales for premium alcohol is currently growing at a 5 year compound rate of 11.6% verses in store purchase growth for the same period of 2.7% as consumers move towards more digital transactions.
78% of wines are purchased based on the label and name. No easy way for consumers to find great wines. Massive market, with thousands of brands can cause consumer confusion.
Consumers of premium wines are typically a highly retargetable market base as demonstrated by significant brand loyalty in the luxury space.
* Statista, 2019 Market Reports (Wine & Whiskey), Forbes 2018 Report
Competitive Landscape
Currently, the online wine sales space is dominated by a couple major e-commerce merchants such as Wine.com, Winelibrary.com; otherwise, independent producers and distributors struggle for online market access.
There is only one significant, direct competitor, Vivino.com, which only just updated their platform to offer sales from a very limited seller base along side their review platform.
We are different in that our software is designed to be user friendly, functional and essentially like having a wine expert in your pocket.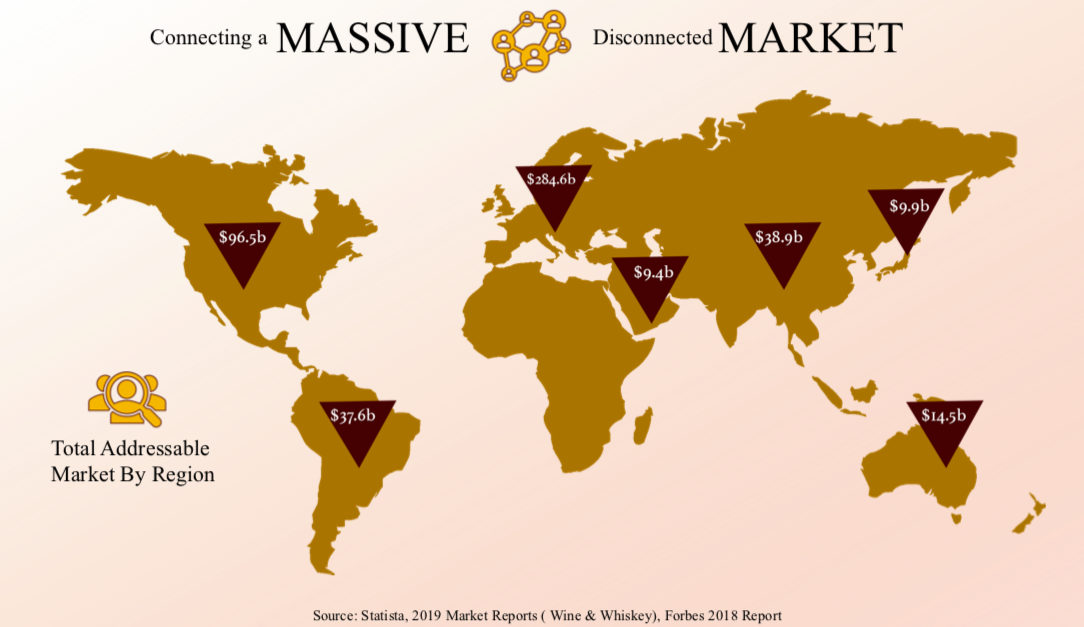 Progress
We are Built and Open for Business
We have worked closely with our development team to develop what we believe to be the most advanced site of its kind: It is live, active, and has new features rolling out every couple of weeks.
The technical engine and business model are proven, with successful sales and trades across the platform. The next step is to build up to SCALE.
Currently on boarding several dominant market plays such as Mondavi's Opus One Brand.
Team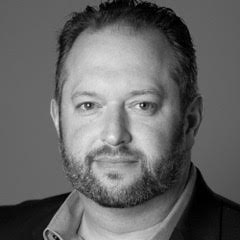 Jonathan Cooper
Our Principal investor, serial entrepreneur with 20+ years of experience. Most recently, he was the Founder and CEO of Ebbu, LLC having completed a successful exit through the acquisition of Ebbu by Canopy Growth Corporation.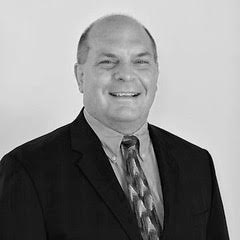 Tod Nestor
Former CFO at Bacardi who integrated the acquisition of Grey Goose Vodka. Senior Treasury Analyst and Finance Manager Pepsi Co. Former CFO of Fairway Market large scale Grocery chain.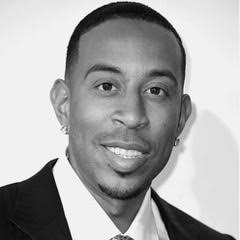 Chris "Ludacris" Bridges Rapper/Entertainer
Ludacris is the founder of his own record label, "Disturbing the Peace", an imprint 3distorted by Def Jam Recordings. He is the co-owner ofConjure Cognac liquor. Owner of "Chicken N Beer" restaurant in Atlanta. Founder and creator of Karma's World.
Use of Proceeds
If the offering's maximum amount of $106,956 is raised:
| Use | Value | % of Proceeds |
| --- | --- | --- |
| Engineering | $50,000 | 46.7% |
| Staff | $15,000 | 14.0% |
| Marketing | $36,715 | 34.3% |
| Intermediary fees | $5,241 | 4.9% |
Terms
This is an offering of Common Stock, under registration exemption 4(a)(6), in Puro Trader, Inc, doing business as Yahyn. This offering must raise at least $10,000 by April 15, 2020 at 11:59pm ET. If this offering doesn't reach its target, then your money will be refunded. Yahyn may issue additional securities to raise up to $106,956, the offering's maximum.
$10,000 minimum
$266 raised
If the offering is successful at raising the maximum amount, then the company's implied valuation after the offering (sometimes called its post-money valuation) will be:
114,077 shares
×
$44.38 per share
$5,062,737implied valuation
Financials
Yahyn's official name is Puro Trader, Inc, so that's the name that appears in the statements below.
SEC Filings
The Offering Statement is a formal description of the company and this transaction. It's filed with the SEC to comply with the requirements of exemption 4(a)(6) of the Securities Act of 1933.
Updates
Feb 28, 2020

Primary offering of $44.38

shares at
Ask a Question
Proofread your comment before submitting: once it's posted, you can't edit or delete it. For the fastest help with the web site, email help@netcapital.com instead of commenting.
Understand the Risks
Be sure to understand the risks of this type of investment. No regulatory body (not the SEC, not any state regulator) has passed upon the merits of or given its approval to the securities, the terms of the offering, or the accuracy or completeness of any offering materials or information posted herein. That's typical for Regulation CF offerings like this one.
Neither Netcapital nor any of its directors, officers, employees, representatives, affiliates, or agents shall have any liability whatsoever arising from any error or incompleteness of fact or opinion in, or lack of care in the preparation or publication of, the materials and communication herein or the terms or valuation of any securities offering.
The information contained herein includes forward-looking statements. These statements relate to future events or to future financial performance, and involve known and unknown risks, uncertainties, and other factors, that may cause actual results to be materially different from any future results, levels of activity, performance, or achievements expressed or implied by these forward-looking statements. You should not place undue reliance on forward-looking statements since they involve known and unknown risks, uncertainties, and other factors, which are, in some cases, beyond the company's control and which could, and likely will, materially affect actual results, levels of activity, performance, or achievements. Any forward-looking statement reflects the current views with respect to future events and is subject to these and other risks, uncertainties, and assumptions relating to operations, results of operations, growth strategy, and liquidity. No obligation exists to publicly update or revise these forward-looking statements for any reason, or to update the reasons actual results could differ materially from those anticipated in these forward-looking statements, even if new information becomes available in the future.
Looking to raise capital?
We can help turn your firends, family and customers into investors.
Learn more
Be the first to know.
Sign up for new investment alerts.
Sign up