Introduction
Woodpecker is a document automation platform that empowers modern law firms to automate and standardize their frequently used legal documents. Woodpecker enables attorneys to continue using Word, avoid migrating to a new platform, and spend a fraction of the cost of enterprise document management platforms. Our mission is to provide a cutting edge software product to an underserved segment of the legal market, at an affordable price, with no implementation or training overhead. Woodpecker seeks to supplement users existing workflows rather than supplant them.
Testimonials
"I am super excited about this. I used a Woodpecker form today to place a child in foster care, and it was by far the fastest I have ever been able to do so."
Robin Gunn
Magistrate, Knox County Juvenile Court
"I'm using Woodpecker on all my legal docs. So glad you did this...I'm going to provide training and video tutorials on Woodpecker and develop a collection of document templates using Woodpecker."
Michael Voigt
Paralegal, North Alabama Consulting
"We draft a ton of documents for our clients on a day-to-day basis, so Woodpecker's ability to drastically reduce the time it takes us to prepare court documents is huge!"
Courtney Howard
Paralegal, 5 Points Law Group
"Woodpecker has been working fantastically for me to get the quick, repetitive stuff handled efficiently. I love that it is simple, just the basics. I couldn't find any other program that didn't have way more to offer than we needed"
Carabeth Scheffelman
Legal Assistant, Dietrich and Associates, PC
Problem
Document standardization and reuse is a huge pain for small-medium sized law firms that currently rely on error-prone & manual processes to prepare and disseminate legal documents. Existing tools are unintuitive, archaic, unaffordable, require migrating to a new platform, and often necessitate large-scale training efforts.
There is no cross-platform solution for these firms that allows them to keep their existing processes and tools, is affordable and intuitive, doesn't require migrating to an enterprise level platform, and avoids the need to commit to a large implementation and training effort.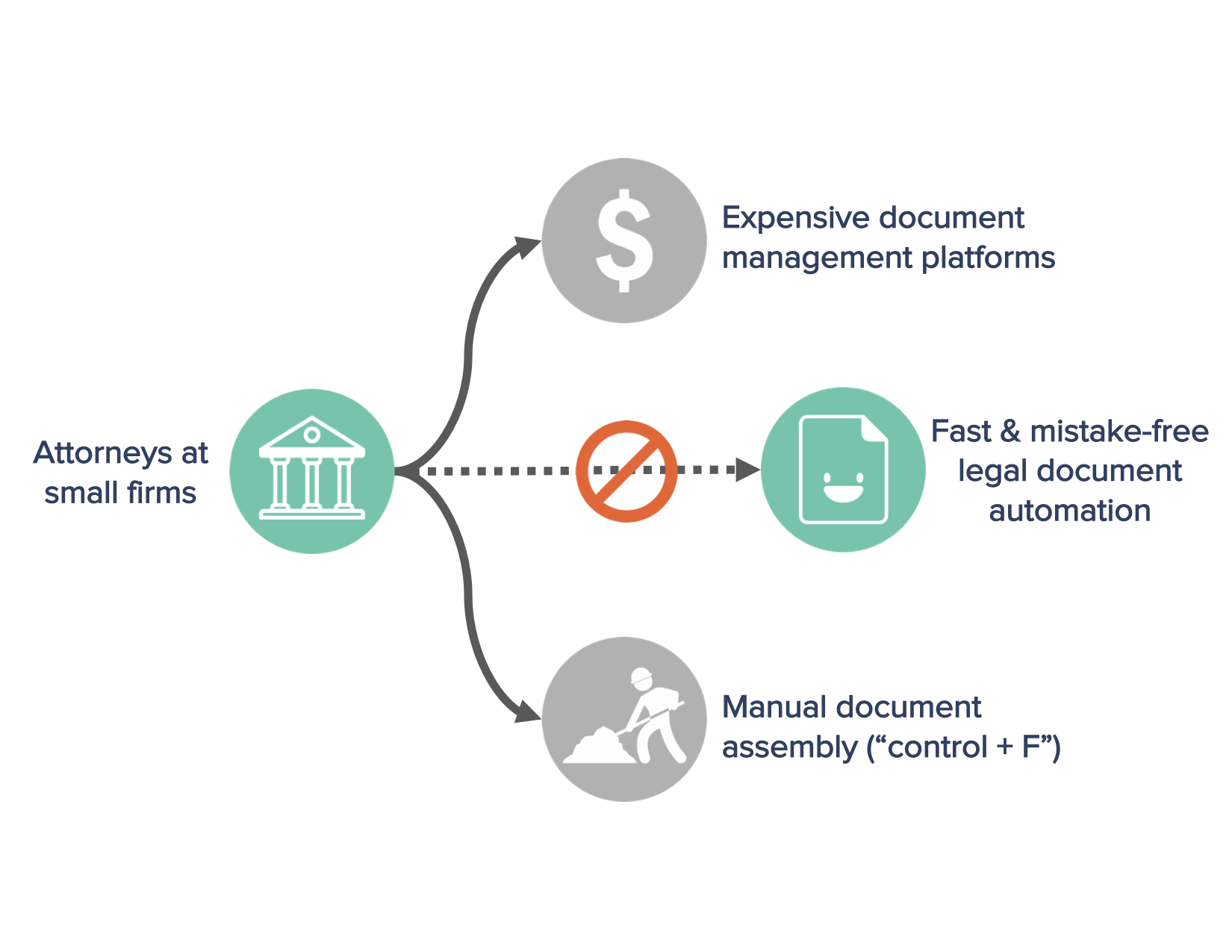 Solution
Woodpecker enables the standardization and automated preparation of a firm's Word-based legal documents by empowering users to easily:
Standardize new and existing legal documents
Entirely avoid large implementation and training efforts
Automatically create and prepare documents
Eliminate mistakes & typos
Keep using Word
Without Woodpecker, users are left with manual search-and-replace processes that consistently result in errors and waste time. Often integrating a document management platform necessitates a costly upfront implementation and training effort that small firms can't afford. Because of Woodpecker's cross-platform distribution model that integrates seamlessly with Office 365, firms can provide Woodpecker to their entire organization with the click of a button and with little necessary training or guidance.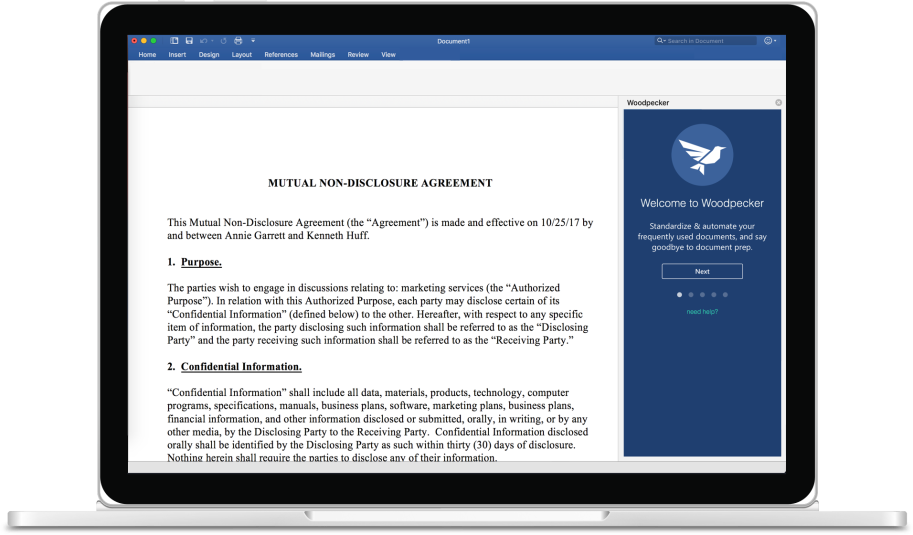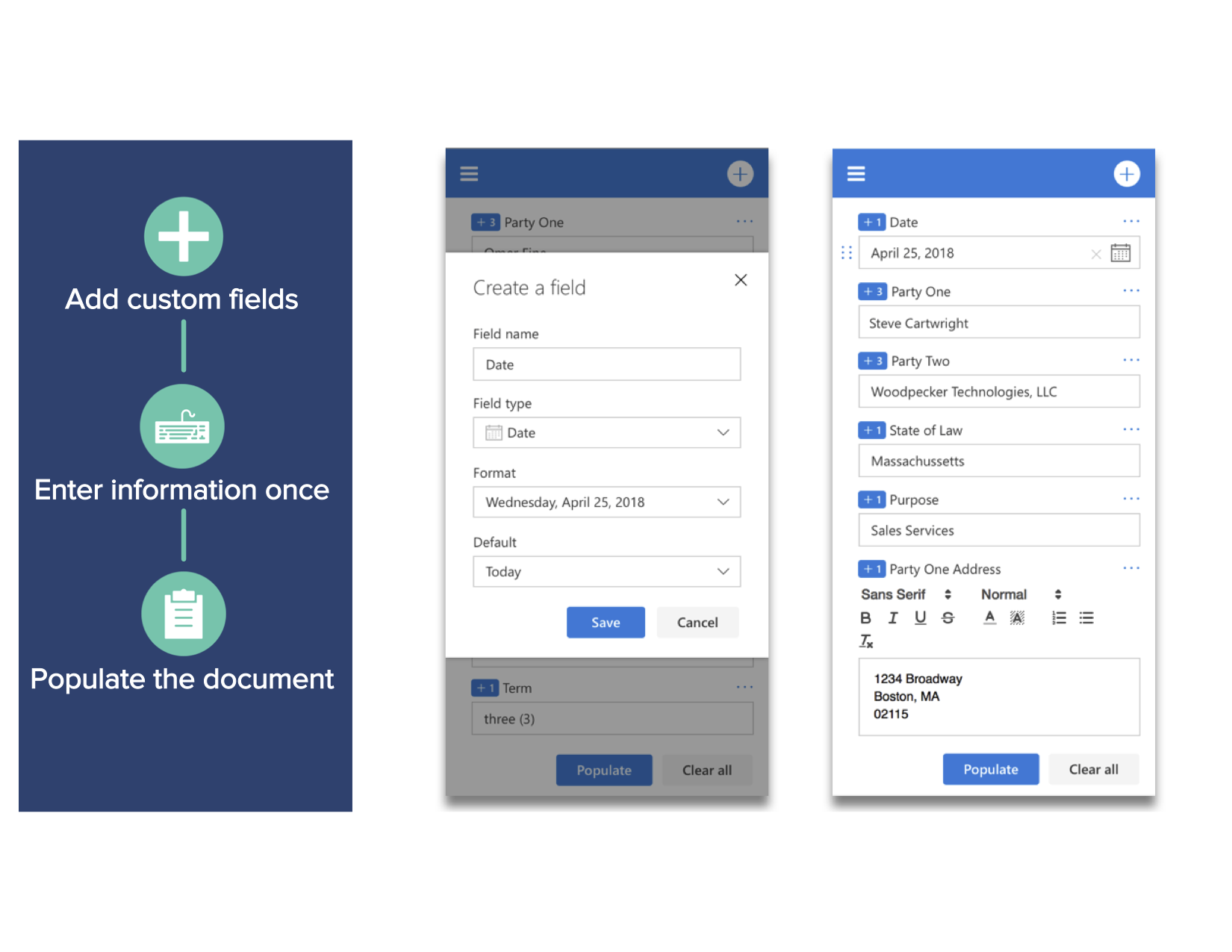 Market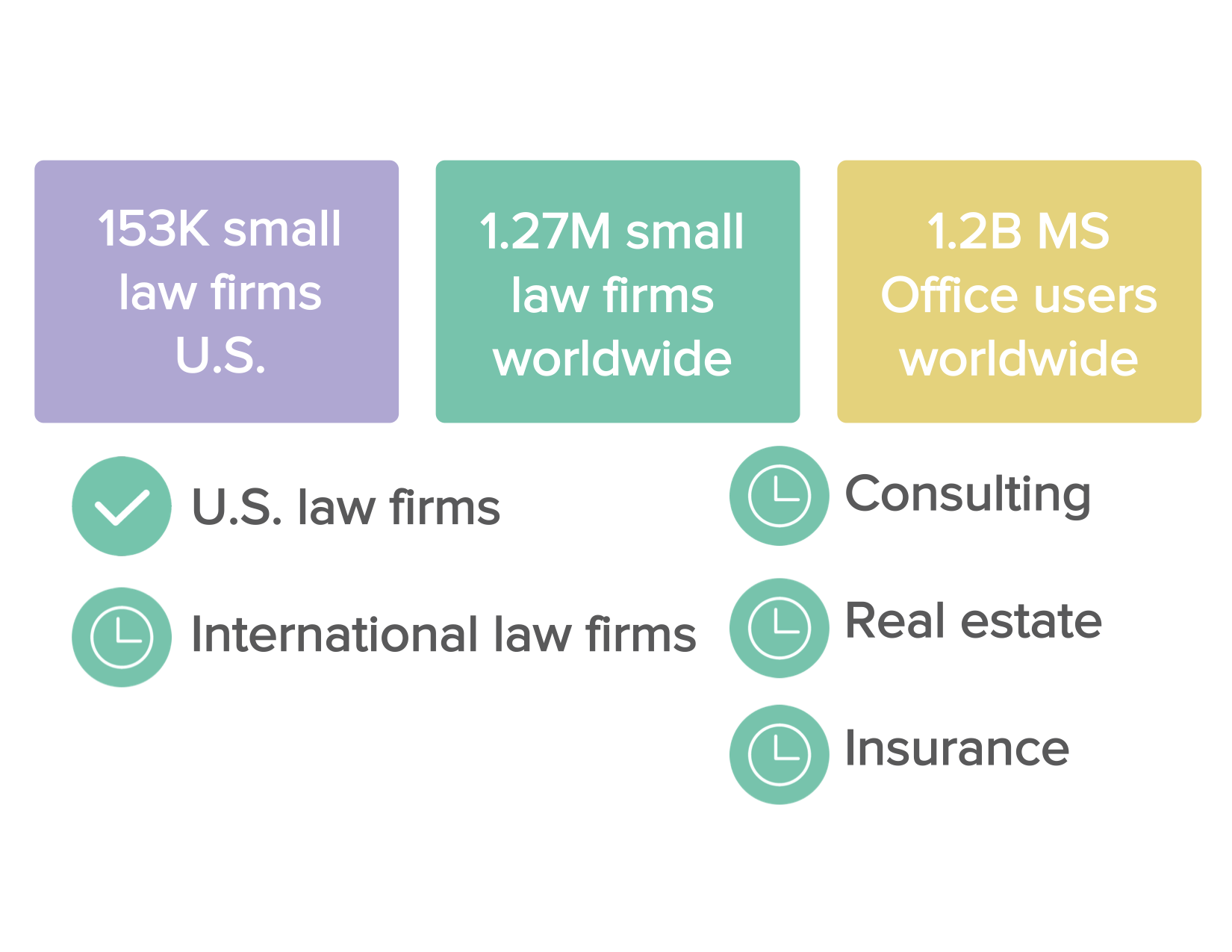 Our initial target market is that of small law firms within the U.S. These firms lack the team & budget to commit to a large document management platform, but still have the document automation needs that larger solutions address. Woodpecker's goal is to provide a solution to these firm's document preparation and standardization needs, without the overhead that comes with upgrading to an expensive and difficult to integrate tool.
Ultimately we will expand to international firms, and eventually pursue additional verticals: Real Estate, Insurance, Consulting (initially U.S. then international). As the Office 365 market continues to grow year over year, so will the need for an affordable, low overhead, and easy to use solution that compliments user's workflows instead of replacing them.
Competitive Landscape
Existing competitors are archaic, too expensive, and difficult to acquire & integrate. User experience is an afterthought, and most tools are unaffordable for small firms. Additionally, major competitors typically focus on enterprise-level customers and ignore small-medium sized firms. Woodpecker's focus is on providing a cutting edge, easy to use, and zero implimentation solution that firms receive immediate benefit from.
Woodpecker's ability to meet users where they work on a day-to-day basis (Microsoft Word) allows firms to keep existing workflows and processes while introducing a tool that supplements workflows instead of supplanting them. No other cross-platform solution exists that meets users in Word, allows them to continue using their existing Word documents, and matches Woodpecker's feature-set.
Current document management/automation tools require a large upfront commitment from the firm from a financial, time, and training perspective. Thanks to Woodpecker's focus on ease of use and low implementation overhead, firms can be up-and-running with Woodpecker in 5 mins. Woodpecker's integration with Office 365 allows firm administrators to provide Woodpecker to everyone in the organization with the click of a button. Woodpecker usually requires little to no training, and our support resources typically cover anything that is unclear to users.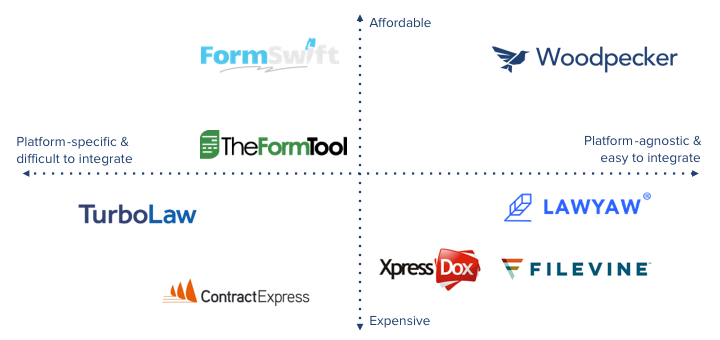 Business Model
Woodpecker's goal is to provide a cutting edge software product to an underserved segment of the legal market, at an affordable price, with no implementation overhead.
Users receive a free 14 day trial of the Woodpecker paid tier (Woodpecker Pro) upon downloading the add-in. After 14 days users are able to upgrade to a paid subscription for continued access to the Woodpecker Pro feature-set, or can stay on the free plan for access to a limited feature-set.
Users subscribe to a paid subscription to receive continued access to the Pro feature-set. Because users come to rely on the Pro feature-set during their initial 14 day trial of the Pro tier, this ensures a steady stream of users that upgrade to the Pro tier after their initial 14 day trial is over.
You can find more details about Woodpecker's tiers, features, and pricing on ourpricing page.
Go-to-market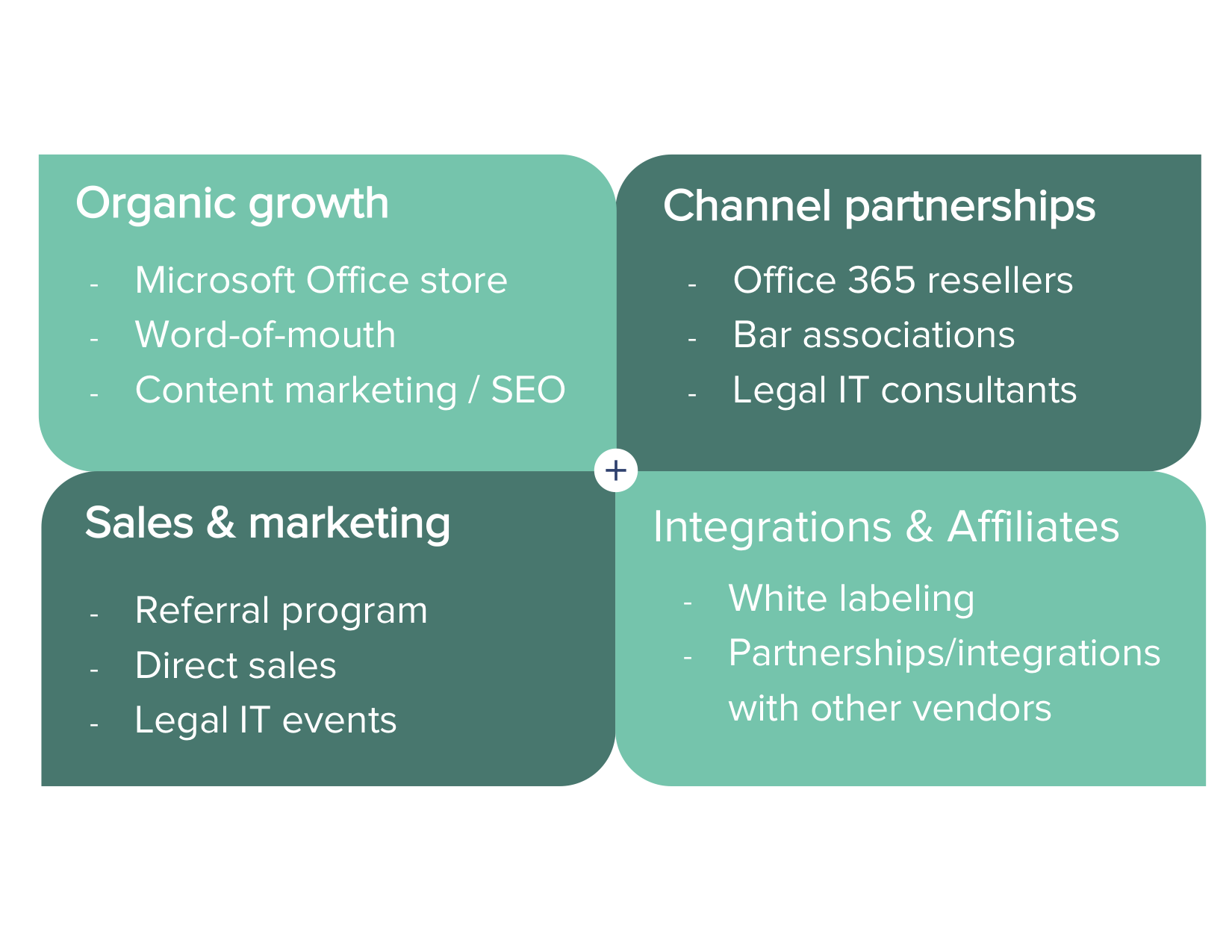 Success
Woodpecker was recently named"the best free Word add-in" by Zapier and has been featured in severallegal technology andproductivity blogs. We have an average of 300 monthly active users on the Woodpecker Free plan, and 30+ firms paying for the Woodpecker Pro tier (both growing month over month as we begin to pursue additional acquisition channels).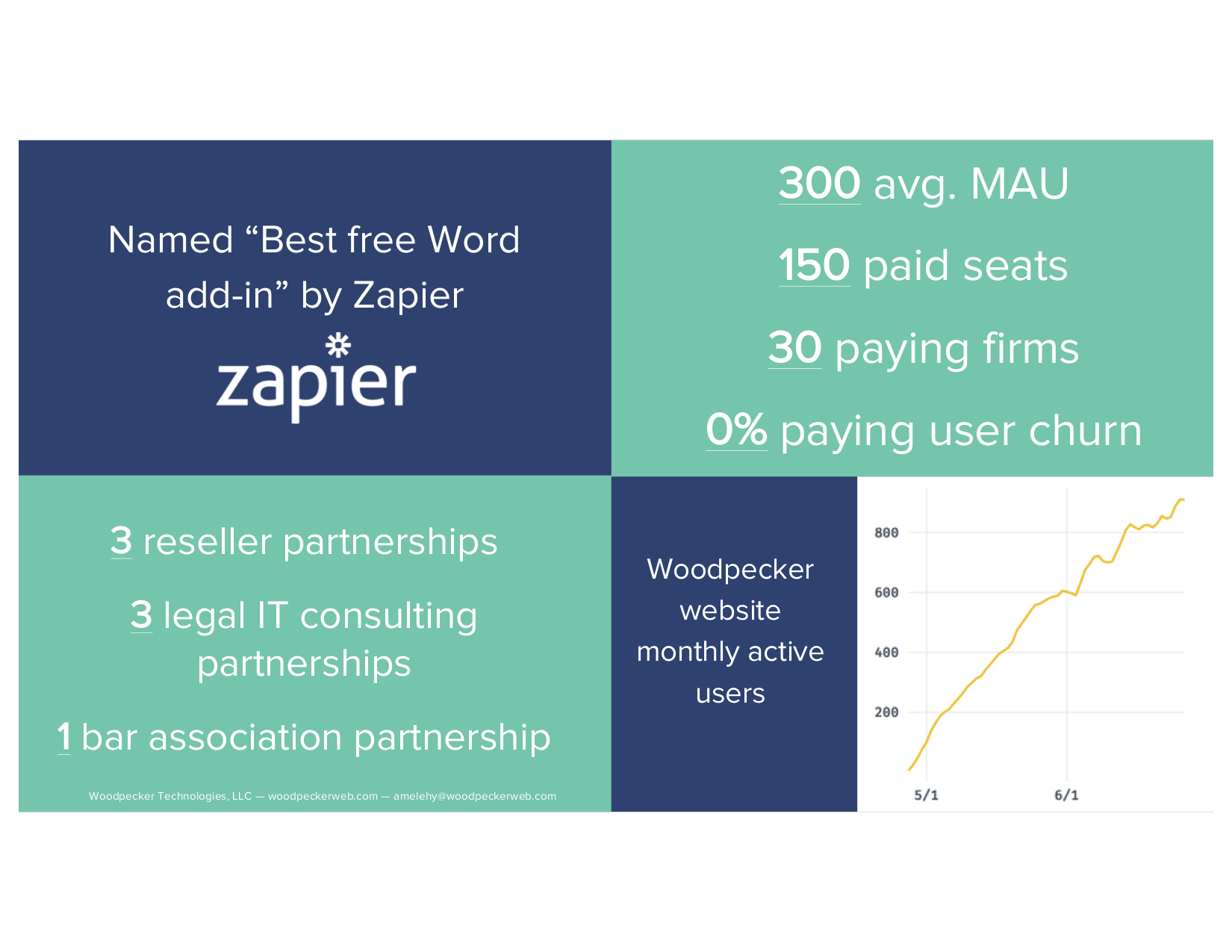 KPIs
2017 vs. 2018 performance:
300% increase in monthly active users
200% increase in website page views
2400% increase monthly recurring revenue
0% paying user churn
Team
Woodpecker is comprised of a team of experienced product, engineering, marketing, and sales experts with backgrounds in legal-tech, the Microsoft ecosystem, and delivery of B2B SaaS applications to traditionally underserved markets.
Alex Melehy
Founder & CEO
As an experienced entrepreneur, Alex has co-founded multiple startups, including Boup, a platform for streamlining group travel. His experience as a product focused founder and engineer will ensure Woodpecker maintains a focus on building quality products while utilizing the cutting edge in available technologies. With Alex's multifaceted skill set and proven ability to develop and scale software products, Woodpecker's product line is sure to thrive and grow.
Michael Benson
Sales Manager
Mike is an accomplished business development professional with five years of successful performance in the legal and marketing technology spaces. Mike is also the founder of Byron, an on demand assistant platform designed to give individuals and teams the ability to quickly outsource their busy work.
Michael Simon
Marketing Manager
Michael has been in the legal industry for over 25 years as an attorney, adjunct law professor, and marketing & branding expert for legal technology companies. Michael brings years of expertise in the legal industry and an intimate understanding of the legal technology market.
Pablo Ledesma
Software Engineer
Pablo is an experienced software engineer with a passion for technology, web development, and mobile development. His experience with UI-centric products has helped Woodpecker maintain a focus on user experience and usability, ultimately resulting in an exceptional user journey within the product.
Vivek Athukuri
Software Engineer
Vivek is an accomplished software engineer with experience across a multitude of languages, frameworks and products. His focus on backend technologies has ensured the Woodpecker's infrastructure effortlessly scales with as our user base grows.
Advisors and Investors
Per Werngren
Per has been a serial entrepreneur for the last 20+ years with a focus on IT and the Microsoft ecosystem. He specializes in bringing B2B SaaS businesses to profitability, with specific focus on those operating within the Microsoft ecosystem.
Christian Galvin
Christian is an entrepreneur at heart consumed by problem solving. Currently running the sales organization at Jana as VP of Sales, Christian specializes in go-to-market and sustainable sales strategies for SaaS products.
Spencer Scott
Spencer is an accomplished executive with a history of leading profitable organizations and driving revenue growth domestically and internationally. Spencer utilizes large company skills and expertise to launch start-ups and grow small businesses through training and organizational accountability.
Use of Proceeds
Develop & solidify scalable go-to-market strategy across acquisition channels.
Double down on existing user acquisition channels and expand to new ones.
Refine the product and develop new user-requested features.
Grow community of Woodpecker user ambassadors and evangelists.
Grow the Woodpecker team.
If the offering's maximum amount of $107,000 is raised:
| Use | Value | % of Proceeds |
| --- | --- | --- |
| Cost of Goods Sold | $7,500 | 7.0% |
| Personnel | $62,500 | 58.4% |
| Marketing | $14,257 | 13.3% |
| Infrastructure & Tools | $5,000 | 4.7% |
| Equipment | $5,000 | 4.7% |
| General & Administrative | $7,500 | 7.0% |
| Intermediary fees | $5,243 | 4.9% |
Terms
This is an offering of Units, under registration exemption 4(a)(6), in Woodpecker Technologies, LLC. This offering must raise at least $10,000 by November 30, 2018 at 6:59pm ET. If this offering doesn't reach its target, then your money will be refunded. Woodpecker may issue additional securities to raise up to $107,000, the offering's maximum.
$10,000 minimum
$20,549 raised
If the offering is successful at raising the maximum amount, then the company's implied valuation after the offering (sometimes called its post-money valuation) will be:
10,864,510 units
×
$0.10 per unit
$1,086,451implied valuation
SEC Filings
The Offering Statement is a formal description of the company and this transaction. It's filed with the SEC to comply with the requirements of exemption 4(a)(6) of the Securities Act of 1933.
We're also required to share links to each of the SEC filings related to this offering with investors.
Updates
Apr 30, 2019

Nov 30, 2018

Primary offering finalized, selling

units

Sold $0.10 for a total of $20,549.00

units at

Oct 30, 2018

Oct 1, 2018

Aug 24, 2018

Jul 5, 2018

Jun 29, 2018

Primary offering of $0.10

shares at

Jun 29, 2018
Transactions
Spread
| Bid quantity | Price | Ask quantity |
| --- | --- | --- |
*Some securities may only be transferred to accredited investors if issued within the past 365 days. Unaccredited investors are permitted to place bids, so some transfers may have yet to occur.
No recent secondary activity
Transaction Log
Ask a Question
Proofread your comment before submitting: once it's posted, you can't edit or delete it. For the fastest help with the web site, email help@netcapital.com instead of commenting.
Understand the Risks
Be sure to understand the risks of this type of investment. No regulatory body (not the SEC, not any state regulator) has passed upon the merits of or given its approval to the securities, the terms of the offering, or the accuracy or completeness of any offering materials or information posted herein. That's typical for Regulation CF offerings like this one.
Neither Netcapital nor any of its directors, officers, employees, representatives, affiliates, or agents shall have any liability whatsoever arising from any error or incompleteness of fact or opinion in, or lack of care in the preparation or publication of, the materials and communication herein or the terms or valuation of any securities offering.
The information contained herein includes forward-looking statements. These statements relate to future events or to future financial performance, and involve known and unknown risks, uncertainties, and other factors, that may cause actual results to be materially different from any future results, levels of activity, performance, or achievements expressed or implied by these forward-looking statements. You should not place undue reliance on forward-looking statements since they involve known and unknown risks, uncertainties, and other factors, which are, in some cases, beyond the company's control and which could, and likely will, materially affect actual results, levels of activity, performance, or achievements. Any forward-looking statement reflects the current views with respect to future events and is subject to these and other risks, uncertainties, and assumptions relating to operations, results of operations, growth strategy, and liquidity. No obligation exists to publicly update or revise these forward-looking statements for any reason, or to update the reasons actual results could differ materially from those anticipated in these forward-looking statements, even if new information becomes available in the future.
Looking to raise capital?
We can help turn your friends, family and customers into investors.
Learn more
Interested in more investment opportunities?
Browse all offerings currently available.
See more