Introduction
Swoon City Music is a record label and music publishing company. We own and exploit song composition and master recording copyrights. Through the exploitation of these copyrights, we generate income from record sales, digital streaming and downloads, synchronization licensing to TV, film and commercials, performing rights royalties and broadcast royalties. Additional revenue sources include touring income, merch sales and international licensing of our repertoire.
Our music is distributed by Caroline, a division of Capitol Music Group (Universal), who assist with retail opportunities and promotions with physical and digital partners worldwide, while also helping with licensing and branding.
Looking back on our combined 30+ years in the music industry, we found that we had often worked on projects that could have been much more successful had there been more focus and resources dedicated to them. By and large, we find the problem in the current music industry is a "throw everything at the wall and see what sticks" mentality, wherein artists are dropped too quickly without giving them the chance to flourish over time.
Ours is a precise approach: we focus our resources on each and every one of our artists so that no opportunity is left unexplored.
Ultimately, while many music companies find it attractive to have a long list of artists and writers on their rosters, we believe in quality over quantity, which in the long run will reap far bigger rewards.
Opportunity
Now is an especially great time to be an independent music company, as digital platforms have (according to IFPI), to a large degree leveled the playing field versus major companies. Distribution costs have steadily shrunk as digital consumption has risen. Additionally, in the last 10 years, the independent market share of the music industry has grown to over one third of the entire market. The current landscape is fertile with opportunities for small, lean, and flexible companies seeking to capitalize on recorded music and publishing ventures.
Global revenue grew 6% in 2016 in the global music market. The global music industry has grown every year for the past 3 years, largely fueled by streaming and other digital revenues, which now account for 50% of the music market.
- IFPI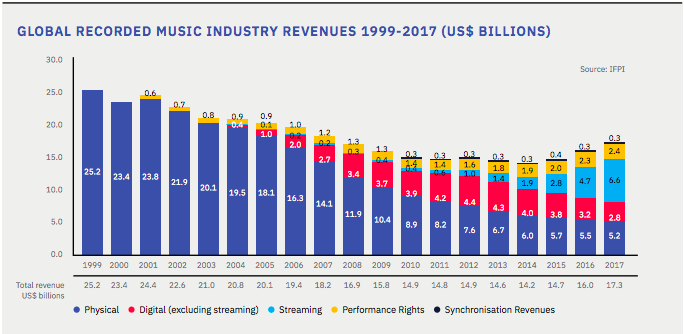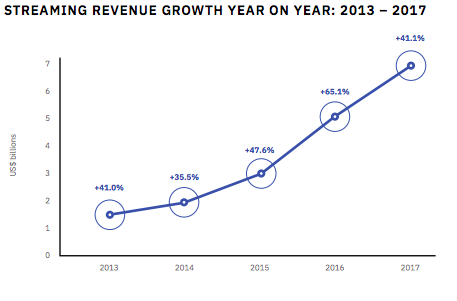 (Source: IFPI Global Music Report 2018)
The U.S. recorded music industry has seen revenue growth accelerate again in the first half of 2017, up 17 percent over the first half of last year to $4.0 billion, according the the RIAA's 2017 mid-year report. That's more than double the percent increase the RIAA reported at this time last year, when the industry was up 8.1 percent over the first half of 2015 to $3.43 billion.
- Billboard
In the first half of 2017, growth in revenues from music subscription streaming services continued to offset declines in traditional unit based sales. Estimated retail revenues from recorded music in the United States grew 17% in the first half of 2017 to $4.0 billion. At wholesale value, the industry was up 14.6% to $2.7 billion. This growth reflects a continuation of the trends from 2016
- RIAA
"The global recorded music industry will grow into a nearly $41 billion behemoth by 2030, thanks largely to the growth of streaming, according to Goldman Sachs analyst Lisa Yang and her team.
The Goldman Sachs analyst further predicts that streaming will account for $34 billion of that, of which $28 billion will come from paid subscription while $6 billion will come from ad-supported streaming services. She predicts that another $4 billion will come from performance rights, synchronization will be $500 million, physical and downloads $700 million and other come in at $1.2 billion."
- Billboard via Goldman Sachs report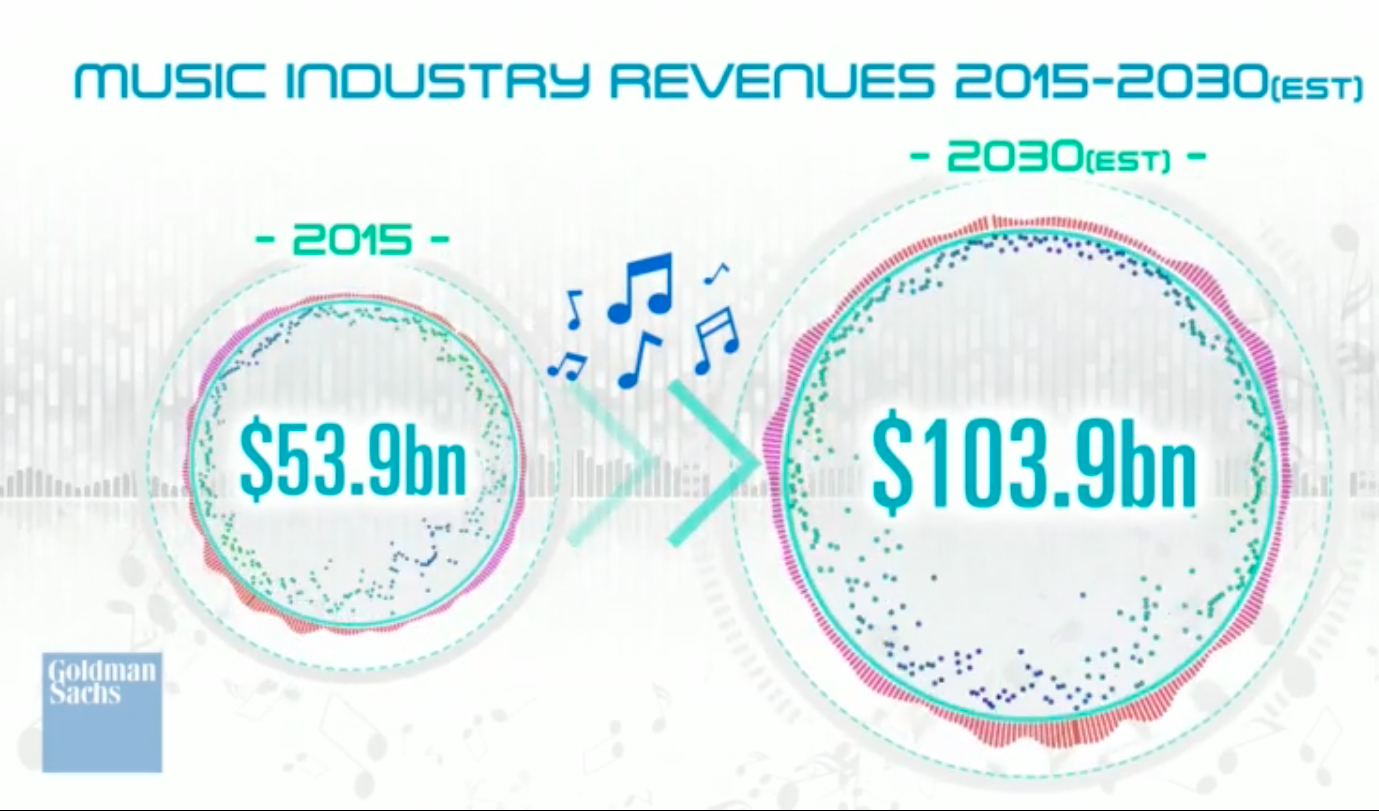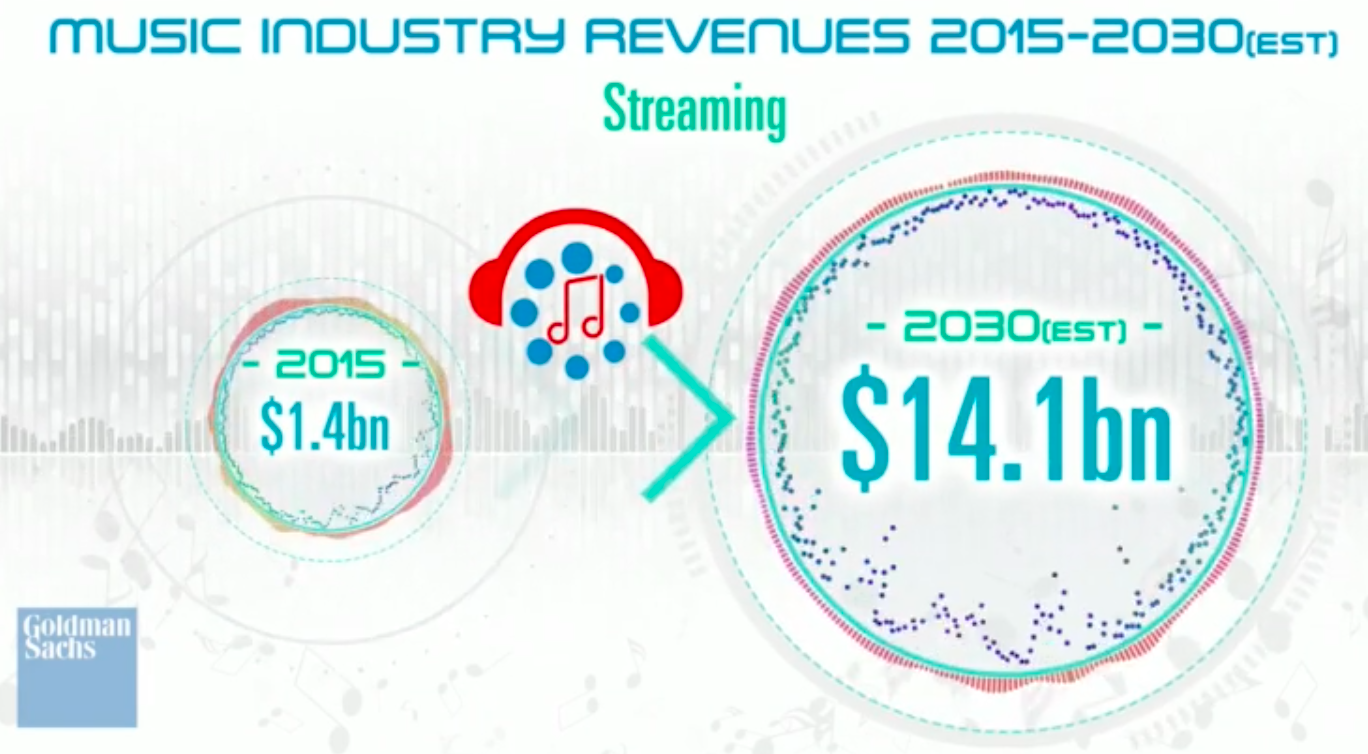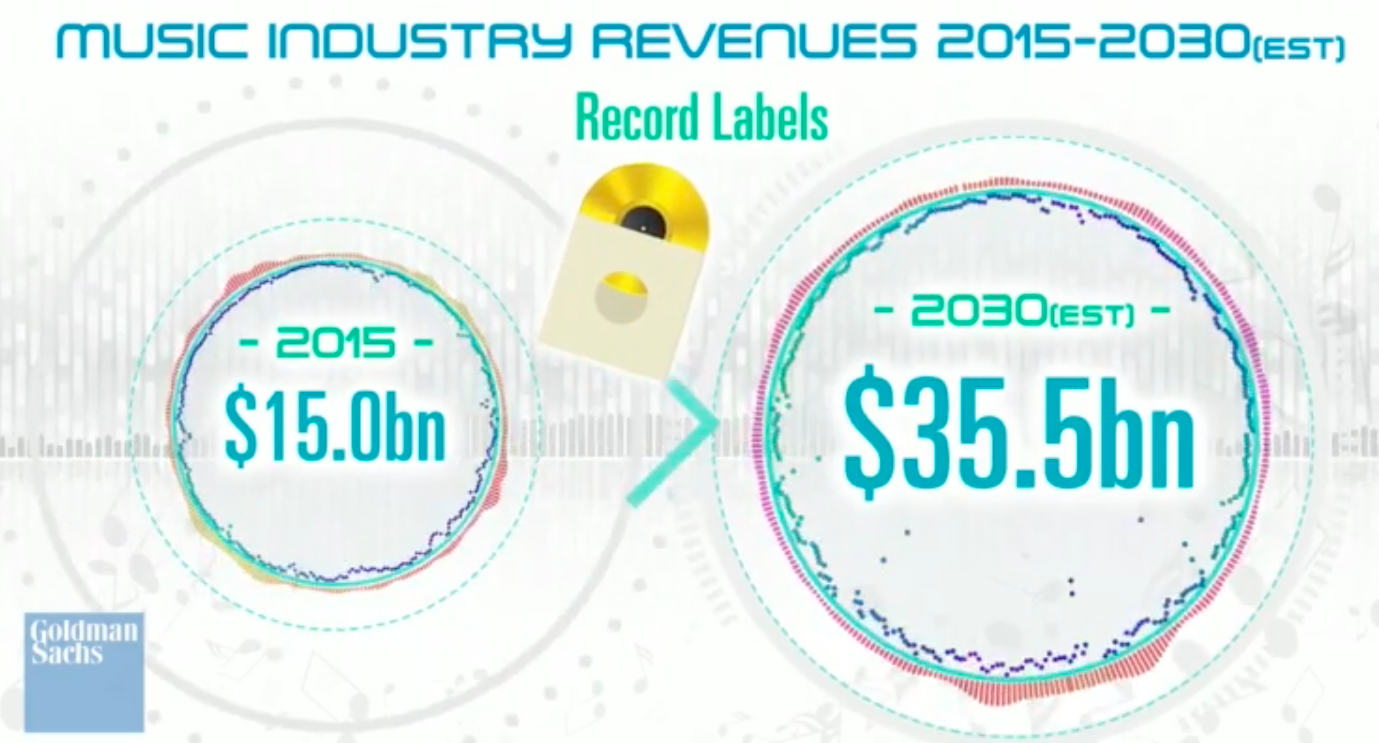 Our Artists
Blond Ambition: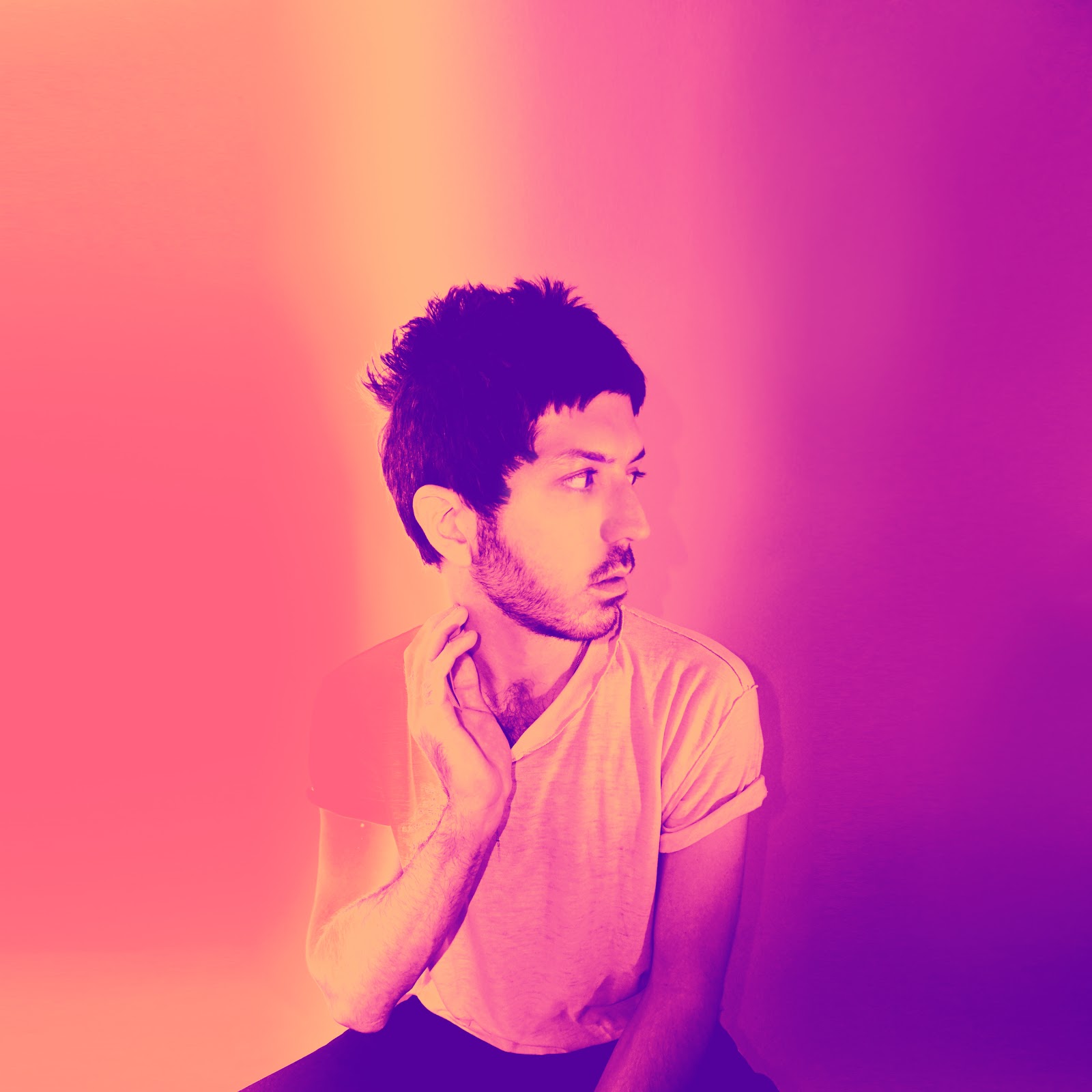 Blond Ambition is the solo project of formerEx Cops andHymns member, singer/songwriterBrian Harding . Formed in 2016, Blond Ambition make hooky, '70s dance- and art rock-influenced pop. Initially, the project came together after Harding parted ways with Ex Copsbandmate Amalie Bruun and spent time in Upstate New York working on new material. He relocated to Los Angeles where he broughtDum Dum Girls guitarist Andrew Miller on board to assist with production. In 2017, Harding delivered Blond Ambition 's debut album,Slow All Over , featuring the singles "Stupid Boy/Girl" and "Shasta."
"Stupid Boy / Girl" video: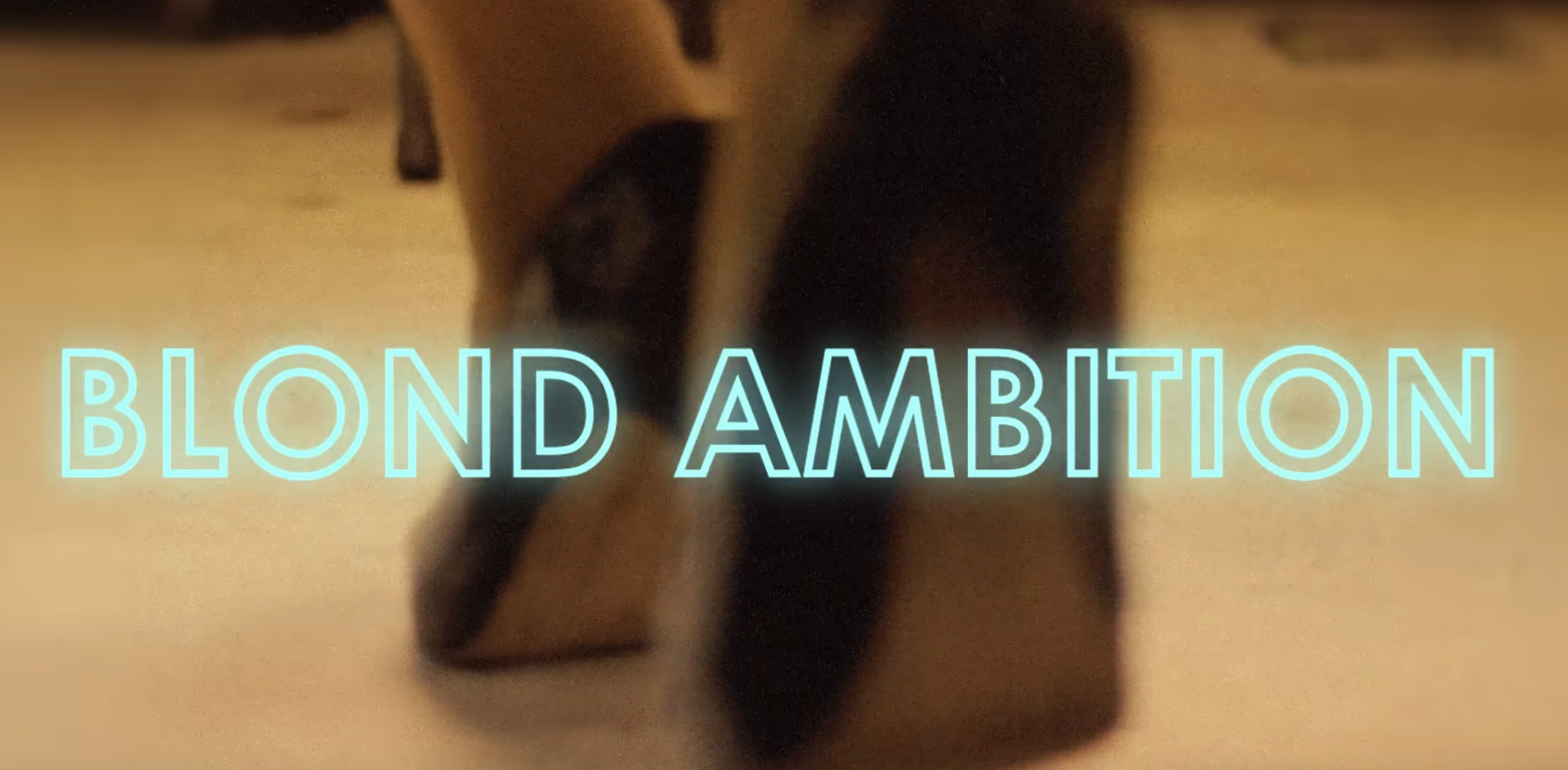 Zuli: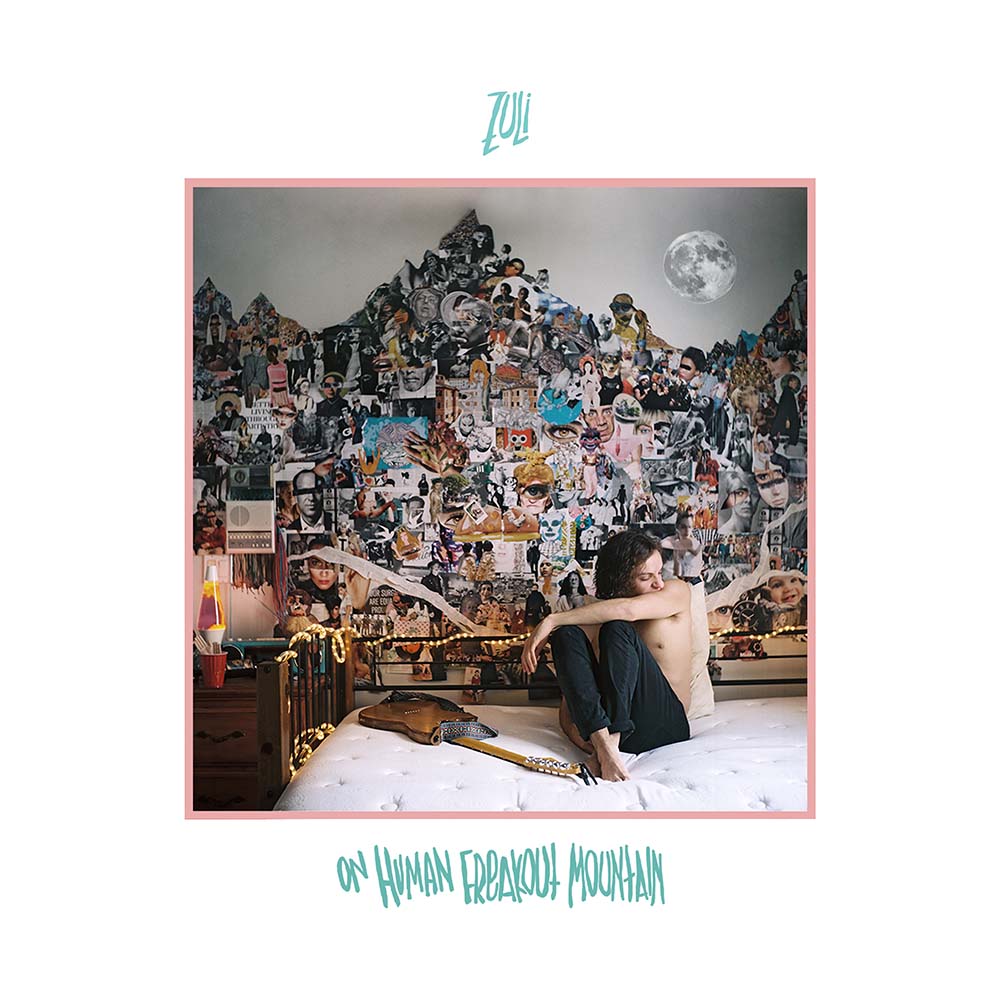 Indie rock projectZuli was created by Long Island nativeRyan Camenzuli . Influenced by guitar folk, psych-rock, and power pop, Zuli 's sound shares similarities with bands like theShins,Weezer, andVampire Weekend. In 2015,Camenzuli issued his debut EP,Supernatural Voodoo. His first full-length followed two years later. OnHuman Freakout Mountain (Swoon City) was recorded in New York and featured the tracks "blaze" and "follow you."
"Follow You" video: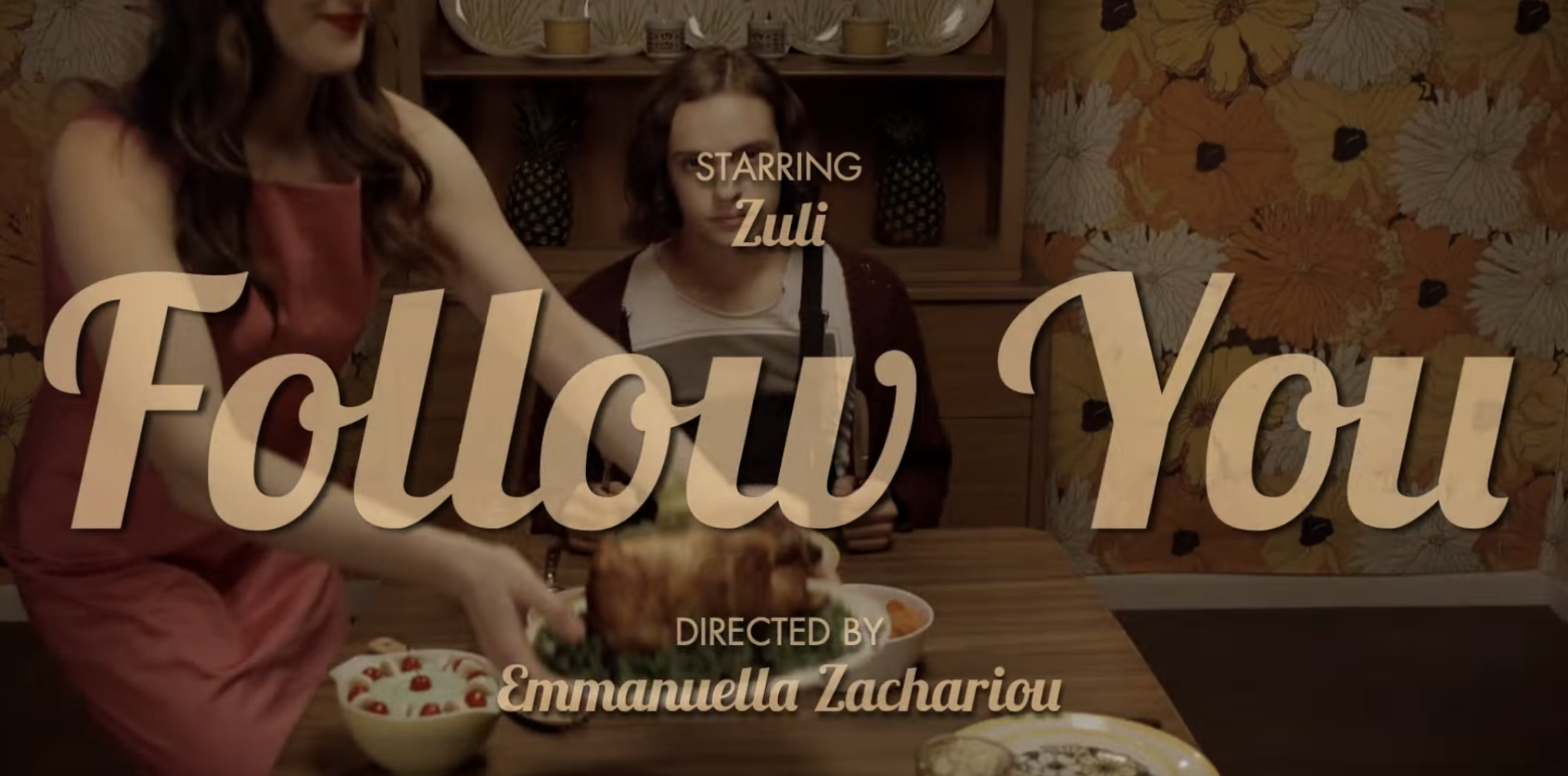 Progress
Blond Ambition has 2 million lifetime streams and Zuli has 1.5 million lifetime streams.
We gain fans from a number of different sources: press, radio, support from key partners, advertising and most importantly, word of mouth!
We have learned to be nimble and flexible with our marketing, pivoting when needed to make the most out of everything that we put out.
For both the short-term and the long-term, it is our focus that will beat our competitors. Other labels and publishers constantly shift their priorities, which limits resources and attention for artists that are not the priority of the moment. But these artists can be and are successes in their own right, and those are the artists that we seek to support.
Although our balance sheet notes that Swoon City only has $4K in revenue in 2017, we actually have about $27K in revenue in 2017. This discrepancy is because our sales revenue flows through our distributor, but we are currently unrecouped with them. We plan to change that this year and bring our status to a net positive.
From Paste Magazine on Swoon City Music:
"The music powerhouse is taking over the indie scene in a big way"
"One of the most prominent new labels today"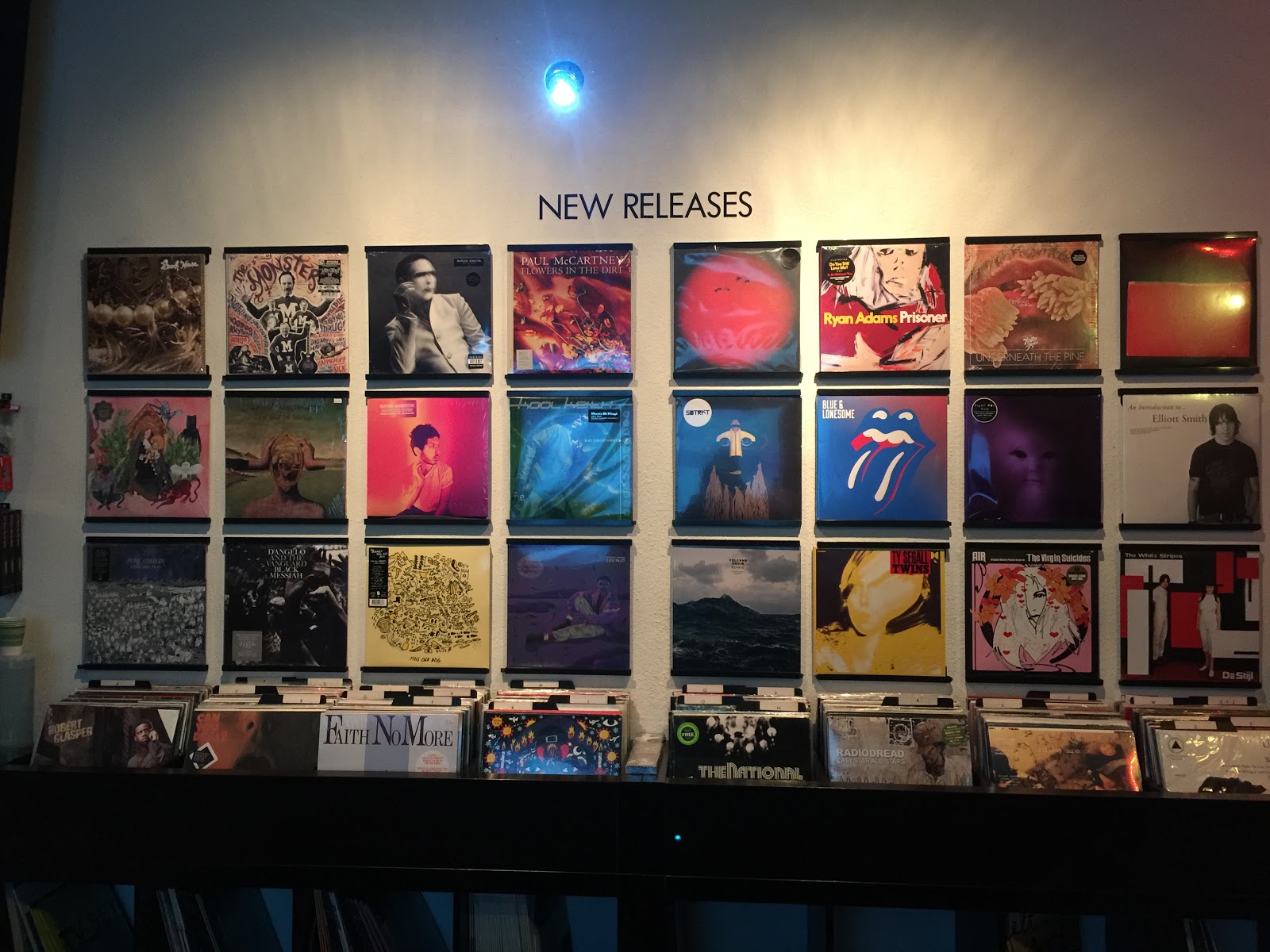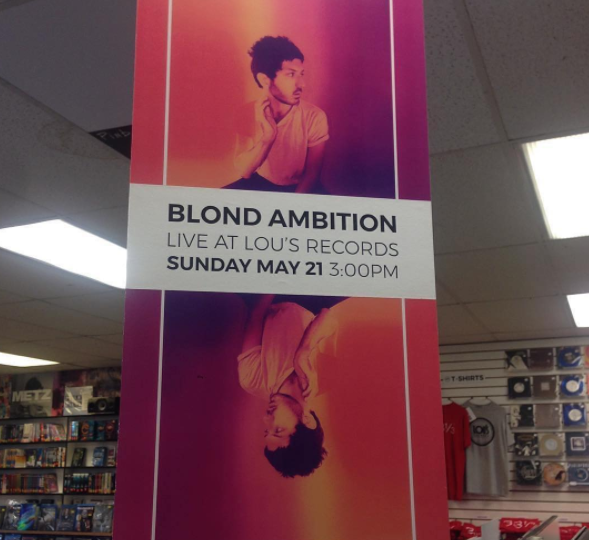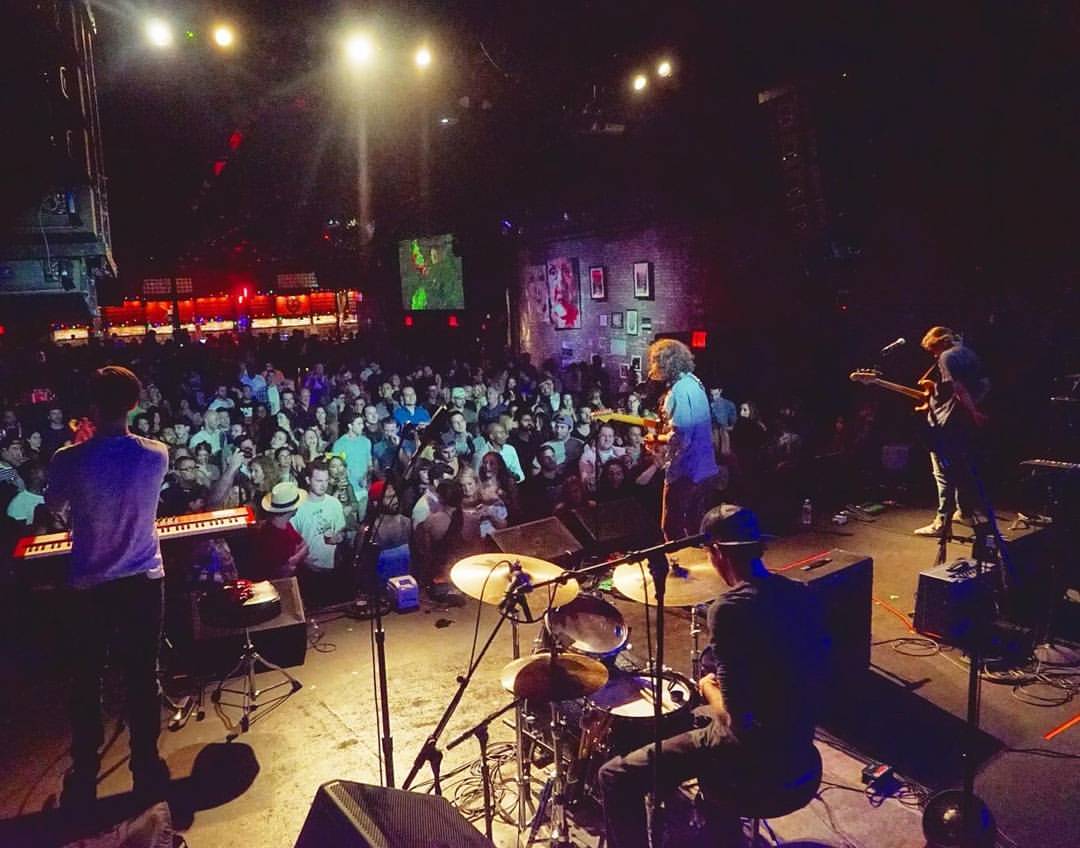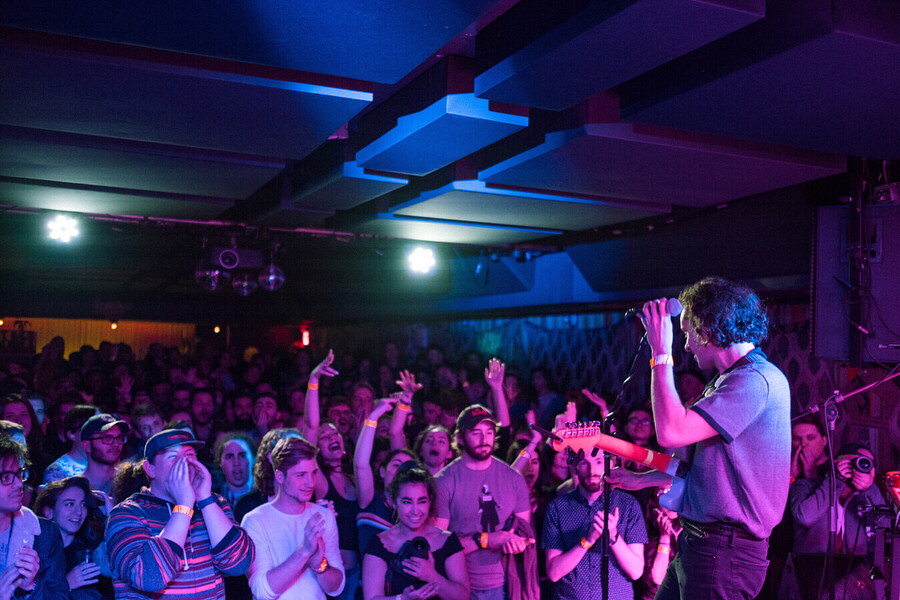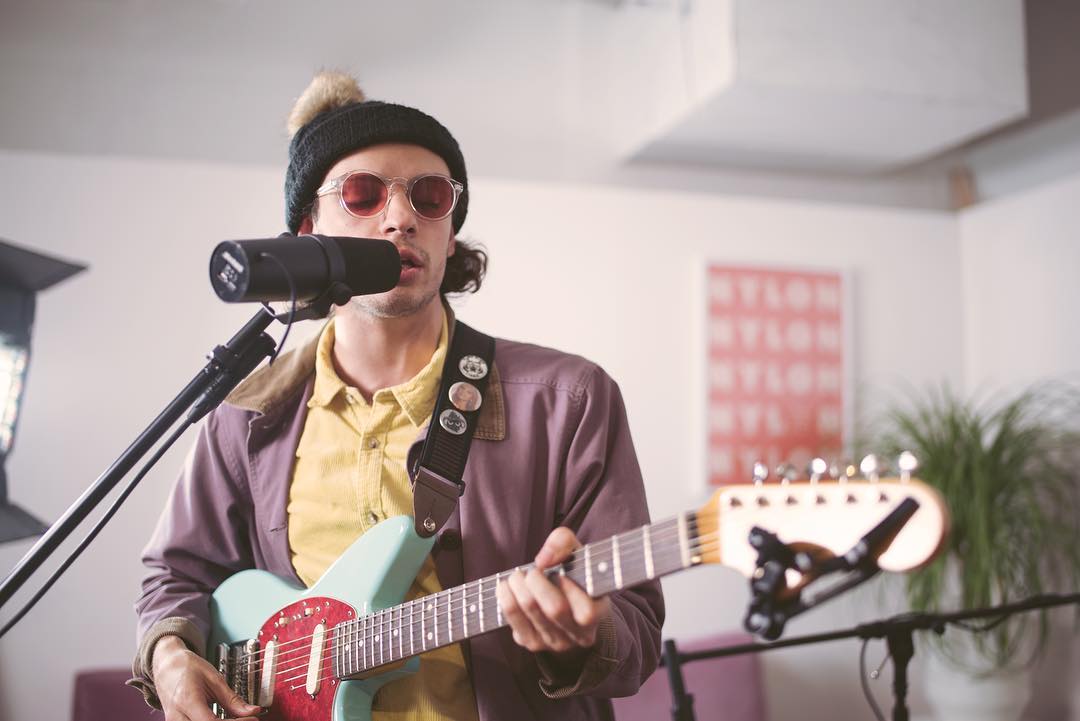 Business Model
We acquire copyrights to song compositions and audio recordings and exploit them via sales, downloads, streaming, licensing (film/tv), tour, and international repertoire licensing.
We expect the transition from physical to digital sales and streaming to continue to grow. Streaming music will therefore become even more important as subscriber and listener levels continue to increase.
We are distributed by Caroline Distribution, a division of Universal Music. They assist with retail plans (physical and digital), as well as help with pitching promotional opportunities with retail outlets including Apple Music, Spotify, Amazon, and many more. Going to market involves much forethought with careful attention paid to rollout timeline - when and how we release music ahead of the album and who we partner with to promote each release.
Team
Our full time team includes the 3 founders, Maureen Lloren, Ned Sedlak, and Mike Beck. We have a combined 30+ years experience in the music industry and all met at previous jobs at labels and publishers. Mike Beck's main area of expertise is in audio recording, producing, and mixing. Maureen Lloren's background includes publishing and label experience; most notably she ran the international department at Glassnote Entertainment Group. Ned Sedlak's main expertise is in domestic marketing and retail planning.
Maureen and Mike met more than a decade ago, working for a small music publishing company. When Maureen moved to Glassnote, she met Ned, whom she eventually introduced to Mike, and the rest is history!
Maureen and Ned retain the majority of equity and handle most of the day-to-day responsibilities of SCM.
To supplement our knowledge, experience and resources, we hire third-party specialists in press relations, radio promotion, and some digital marketing/advertising.
Maureen Lloren
CEO
Maureen is the CEO of Swoon City Music. Previously, she oversaw the international department at Glassnote Entertainment Group. Before holding that position, she helped found Glassnote's music publishing company Insieme Music Publishing. Previous to Glassnote, Maureen worked as a publishing coordinator at Denise Rich Songs. She is a graduate of NYU with a degree in Music Business.
Ned Sedlak
COO
Ned is the COO of Swoon City Music. Before founding SCM, he was the marketing director at Megaforce Records. He has extensive experience in marketing at independent music companies, including Glassnote and tinyOGRE Entertainment before Megaforce. He started his career at Warner Music Group in Los Angeles in the publishing and recorded music divisions.
Mike Beck
CCO
Mike Beck has been creating music for the last 15 years. He has acted as a consultant or project manager in designing over 4 state-of-the-art audio production facilities in NYC and produced, engineered, and mixed numerous albums for artists at all levels of the industry. He founded his own studio 5 years ago called Refuge Recording in Carroll Gardens, Brooklyn.
While other labels might know the domestic market as well as us, no other label has Maureen Lloren, who helmed gold and platinum selling campaigns around the world. No other label has Mike Beck, who's mixed and recorded platinum selling and grammy award winning artists. No other label marries the creative with executive like we do, and no one else is as prepared as us to exploit any opportunity for our artists wherever they arise around the world, no matter what markets react to our records.
Other Important Information
We have case studies that range from what we call 'base case' –what you can reasonably expect on a given investment in an artist– to 'breakout superstar' case studies which show the potential upside to a given project with that same investment.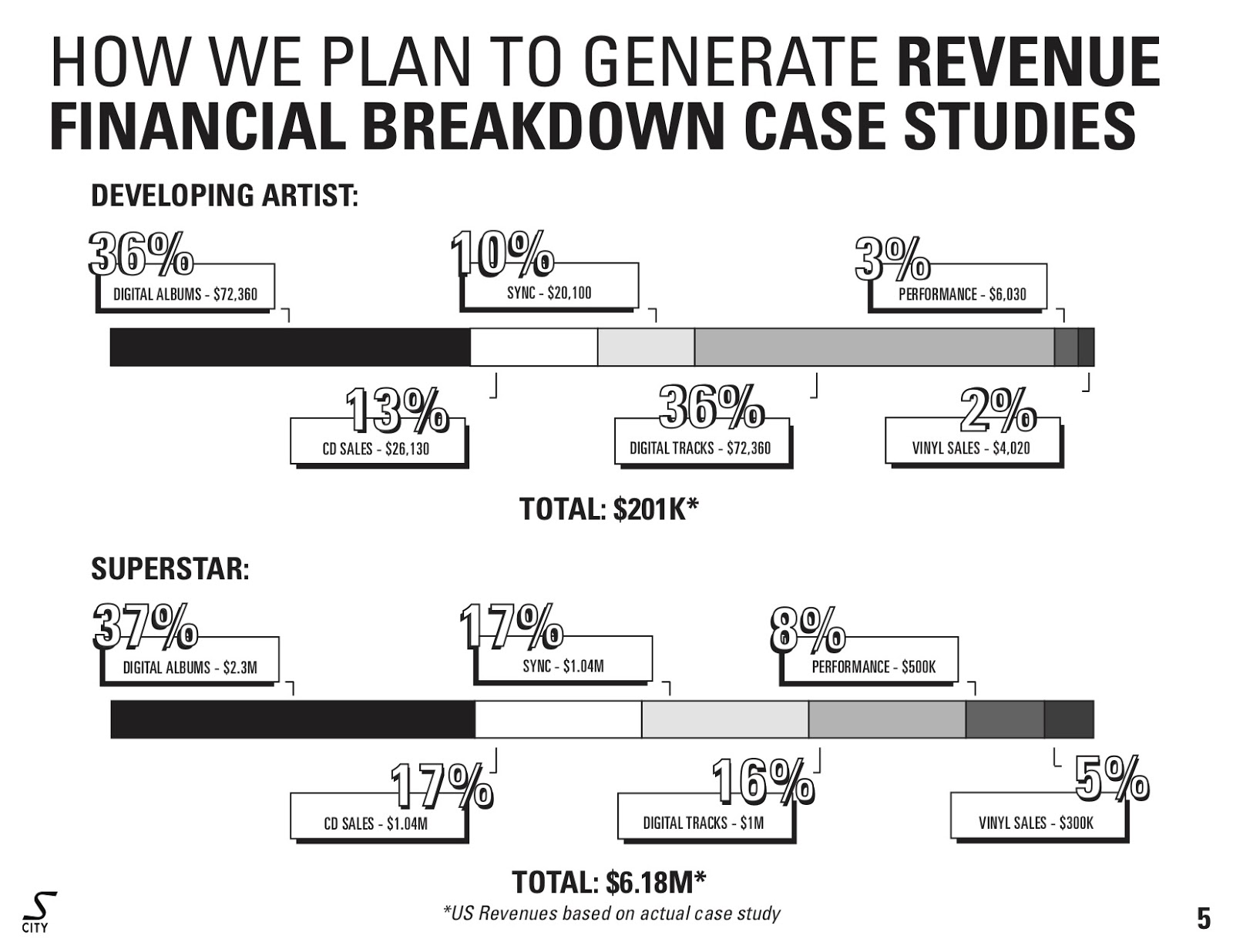 Our plan since the beginning has been to focus on a smaller number of artists and projects to ensure we can devote the greatest focus to them and cover all possible opportunities.
Our road map in 2018 includes raising more capital through crowd-sourced and professional investors. We plan to sign 2-3 more artists in the next 12 months and release 2-3 album-sized projects. In the coming years we will continue to build our roster and expand our catalog of copyrights.
The funds we raise through Netcapital will primarily be spent on talent/catalog acquisitions, marketing and promoting our current roster, and marketing future roster additions.
Use of Proceeds
If the offering's maximum amount of $107,000 is raised:
| Use | Value | % of Proceeds |
| --- | --- | --- |
| Marketing Current Roster | $53,000 | 49.5% |
| New Talent Acquisition | $48,757 | 45.6% |
| Intermediary fees | $5,243 | 4.9% |
Terms
Investing in Swoon City Music means being part of a passionate and devoted community of music lovers. We want you to see your artists in the press, on TV, performing at festivals, touring the world. Our artists would become your artists too. You won't just know the people who made it happen, you will actually be part of it yourself.
We provide annual reports to our investors and can provide more often upon request.
We plan to spend the money on:
Talent/copyright acquisition
Marketing our current and future roster and releases (hiring third party specialists, ad buys, tour support)
This is an offering of Class B Units, under registration exemption 4(a)(6), in Swoon City Music LLC. This offering must raise at least $10,000 by April 30, 2019 at 11:59pm ET. If this offering doesn't reach its target, then your money will be refunded. Swoon City Music may issue additional securities to raise up to $107,000, the offering's maximum.
$10,000 minimum
$10,908 raised
If the offering is successful at raising the maximum amount, then the company's implied valuation after the offering (sometimes called its post-money valuation) will be:
4,991,092 units
×
$1.00 per unit
$4,991,092implied valuation
Financials
To date we have raised just under $200k from angel investors.
In 2018, we anticipate a revenue increase with album sales, streaming, and sync licensing income from our current catalog and future releases.
SEC Filings
The Offering Statement is a formal description of the company and this transaction. It's filed with the SEC to comply with the requirements of exemption 4(a)(6) of the Securities Act of 1933.
We're also required to share links to each of the SEC filings related to this offering with investors.
Updates
May 1, 2019

Primary offering finalized, selling

units

Sold $1.00 for a total of $10,908.00

units at

Apr 5, 2019

Jan 29, 2019

Dec 4, 2018

Nov 1, 2018

Oct 11, 2018

Oct 1, 2018

Sep 12, 2018

Aug 24, 2018

Jul 16, 2018

May 22, 2018

Primary offering of $1.00

shares at

May 22, 2018
Transactions
Spread
| Bid quantity | Price | Ask quantity |
| --- | --- | --- |
*Some securities may only be transferred to accredited investors if issued within the past 365 days. Unaccredited investors are permitted to place bids, so some transfers may have yet to occur.
No recent secondary activity
Transaction Log
Ask a Question
Proofread your comment before submitting: once it's posted, you can't edit or delete it. For the fastest help with the web site, email help@netcapital.com instead of commenting.
Understand the Risks
Be sure to understand the risks of this type of investment. No regulatory body (not the SEC, not any state regulator) has passed upon the merits of or given its approval to the securities, the terms of the offering, or the accuracy or completeness of any offering materials or information posted herein. That's typical for Regulation CF offerings like this one.
Neither Netcapital nor any of its directors, officers, employees, representatives, affiliates, or agents shall have any liability whatsoever arising from any error or incompleteness of fact or opinion in, or lack of care in the preparation or publication of, the materials and communication herein or the terms or valuation of any securities offering.
The information contained herein includes forward-looking statements. These statements relate to future events or to future financial performance, and involve known and unknown risks, uncertainties, and other factors, that may cause actual results to be materially different from any future results, levels of activity, performance, or achievements expressed or implied by these forward-looking statements. You should not place undue reliance on forward-looking statements since they involve known and unknown risks, uncertainties, and other factors, which are, in some cases, beyond the company's control and which could, and likely will, materially affect actual results, levels of activity, performance, or achievements. Any forward-looking statement reflects the current views with respect to future events and is subject to these and other risks, uncertainties, and assumptions relating to operations, results of operations, growth strategy, and liquidity. No obligation exists to publicly update or revise these forward-looking statements for any reason, or to update the reasons actual results could differ materially from those anticipated in these forward-looking statements, even if new information becomes available in the future.
Looking to raise capital?
We can help turn your friends, family and customers into investors.
Learn more
Interested in more investment opportunities?
Browse all offerings currently available.
See more