Introduction
We are an enterprise multi channel software for live events that allows event producers to track, manage, and reward hyper local influencers to sell tickets.
Testimonials
Nate E.
Feld Entertainment
"PromoShare and their network of ambassadors has added a tremendous amount of value to our business. Their model is transparent and clearly demonstrates how effective they are and can be. We look forward to growing with the PromoShare team."
Daniel G.
VivaTuMusica
"PromoShare has made it easy for our team to engage and grow groups of micro-influencers in different markets. PromoShare has allowed us to allocate marketing budgets to them as their platform is very transparent when it comes to true ROI."
Matt B.
Feld Entertainment
"PromoShare has allowed us to manage and create groups of ambassadors within different demographics that we previously didn't have connections with. We have been able to turn these groups into revenue generating segments for our market."
Problem
The live event and sports world has been devastated by Covid19. How will these brands, producers and teams communicate their message and out perform #Covid19 once fans are able to gather? Most importantly, how can that content be turned into revenue for the event producers and sports teams?
It is estimated 30% of tickets across pro-sports and major live events go unsold. It is estimated that equates to roughly $10.5 billion year after year [1].
Currently, sports and live event producers track and manage their fans/ambassadors/influencers on multiple platforms.
The current technical situation is CHAOTIC!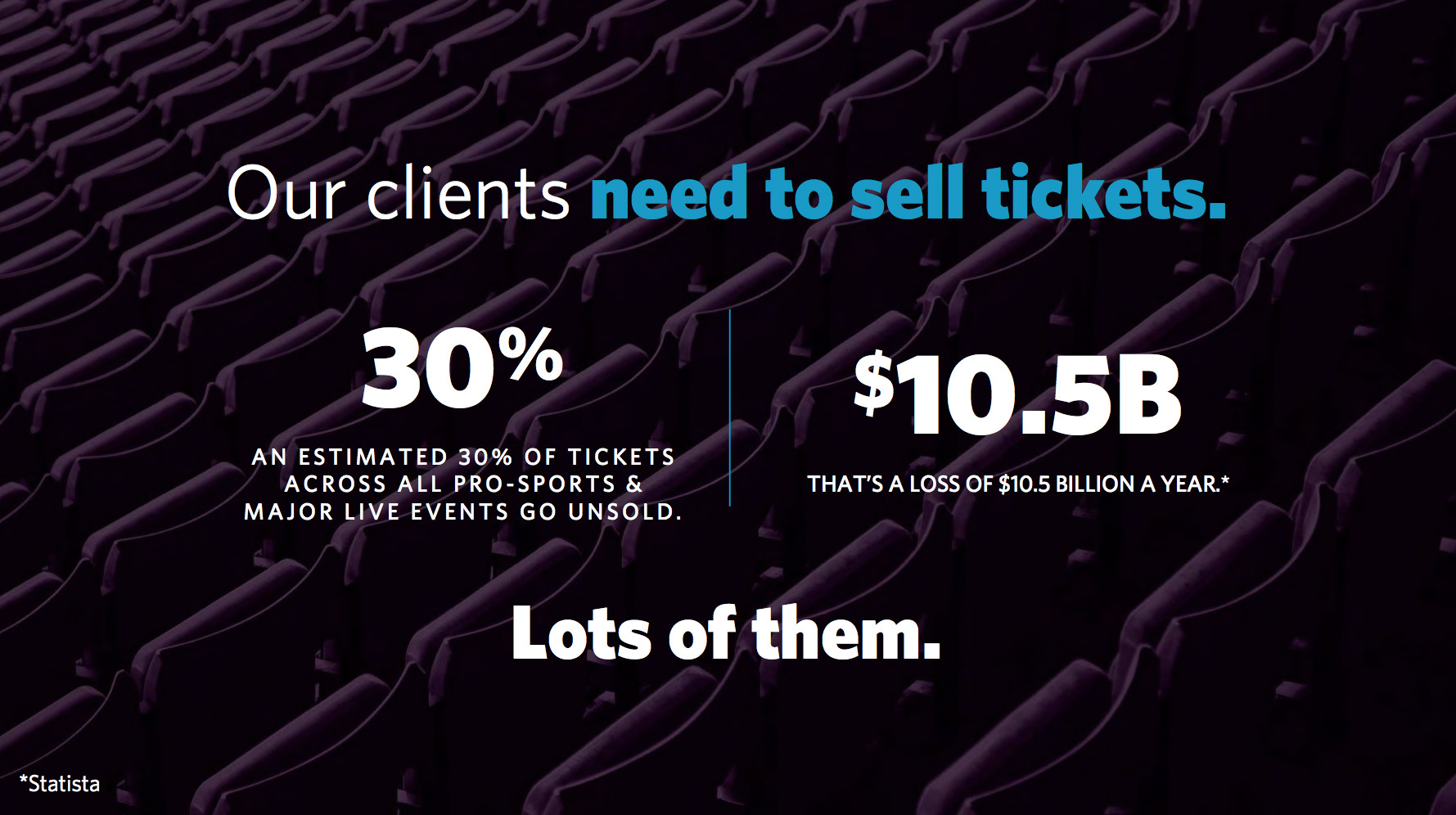 Solution
PromoShare is an enterprise ambassador solution that allows sports teams and major live event producers to manage and scale their communities of ambassadors throughout the entire lifecycle from engagement through conversion, all on one single platform. This leads to our clients being able to engage, scale and incentivize their communities for converting more sales utilizing predictive and behavioral models.
PromoShare is an invite-only ecosystem with over 60,000 of the most influential hyper-local ambassadors which live event brands can access to drive incremental revenue and tap into an audience notoriously difficult to reach. PromoShare members bring their friends to the best experiences and share rewards such as free tickets, backstage passes, meet & greets and more.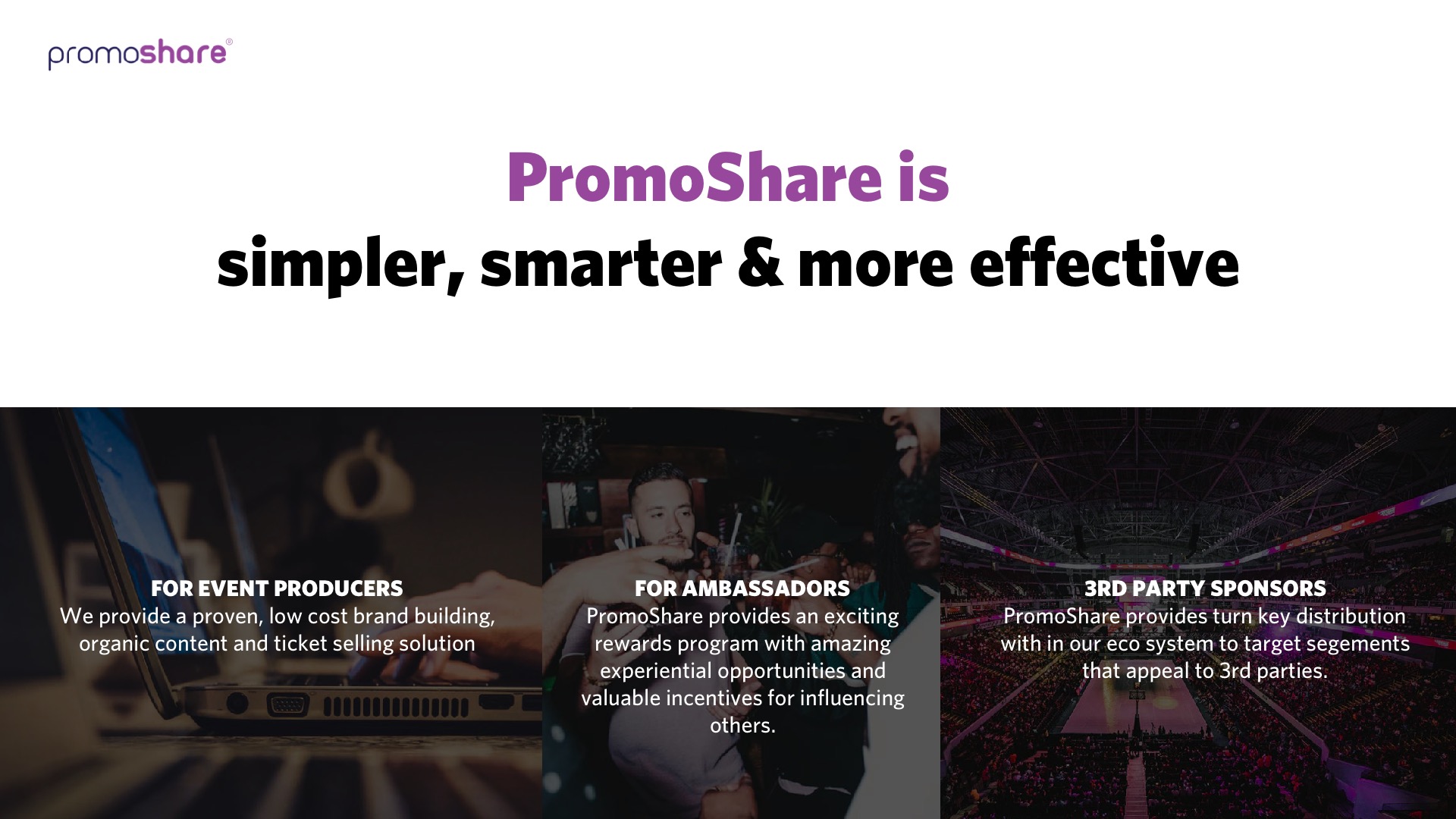 Business Model
Our revenue model consists of a yearly license fee with multiple tiers. We give our clients the option to work with us on a revenue share basis that goes against their yearly license fee. We offer outside brands to participate in campaigns where they can strategically reach certain segments of our networks. The third revenue model consists of our ambassadors acting as influencers for 3rd party companies. These fees are based on the actual number of ambassadors engaged.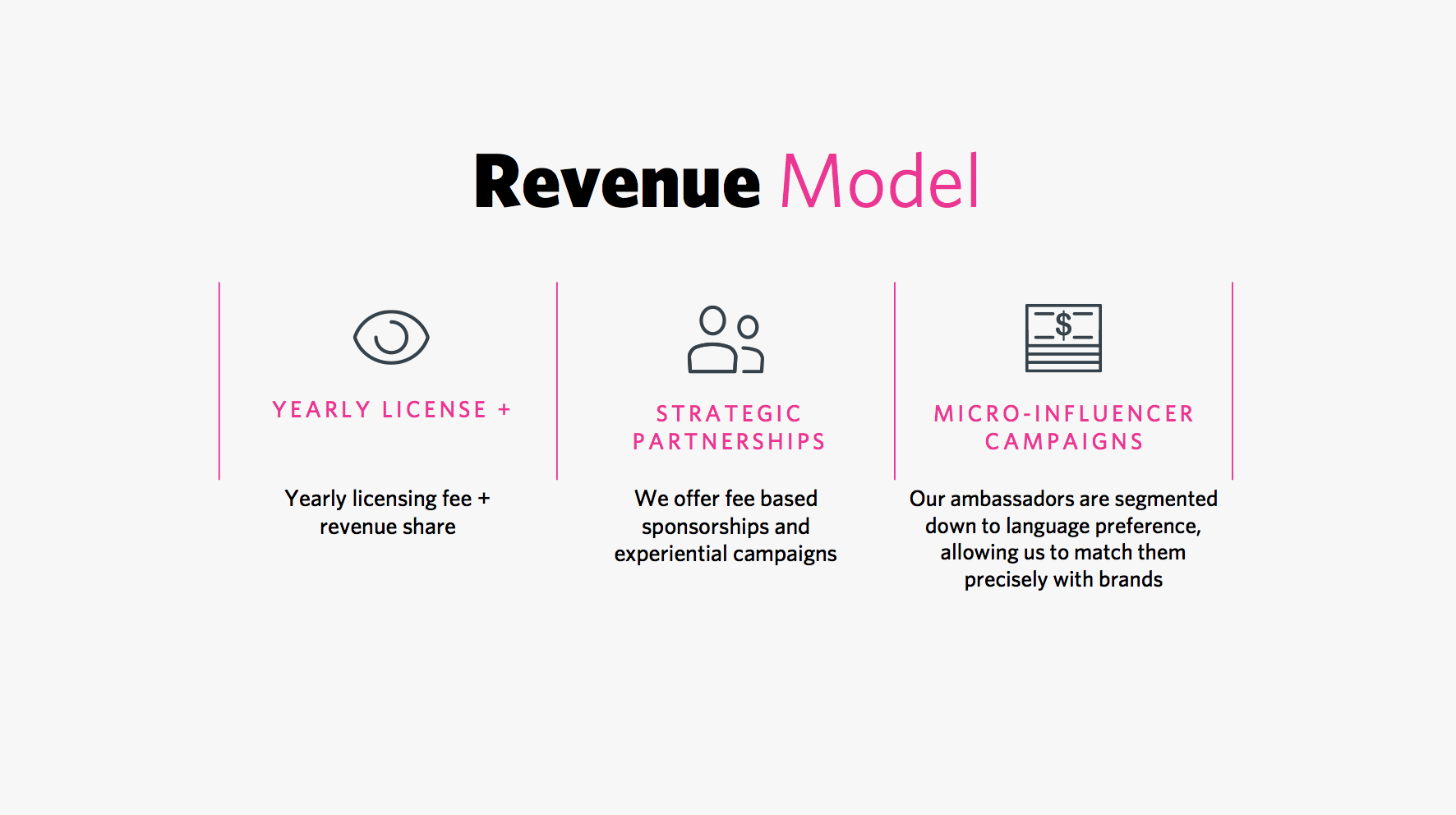 Market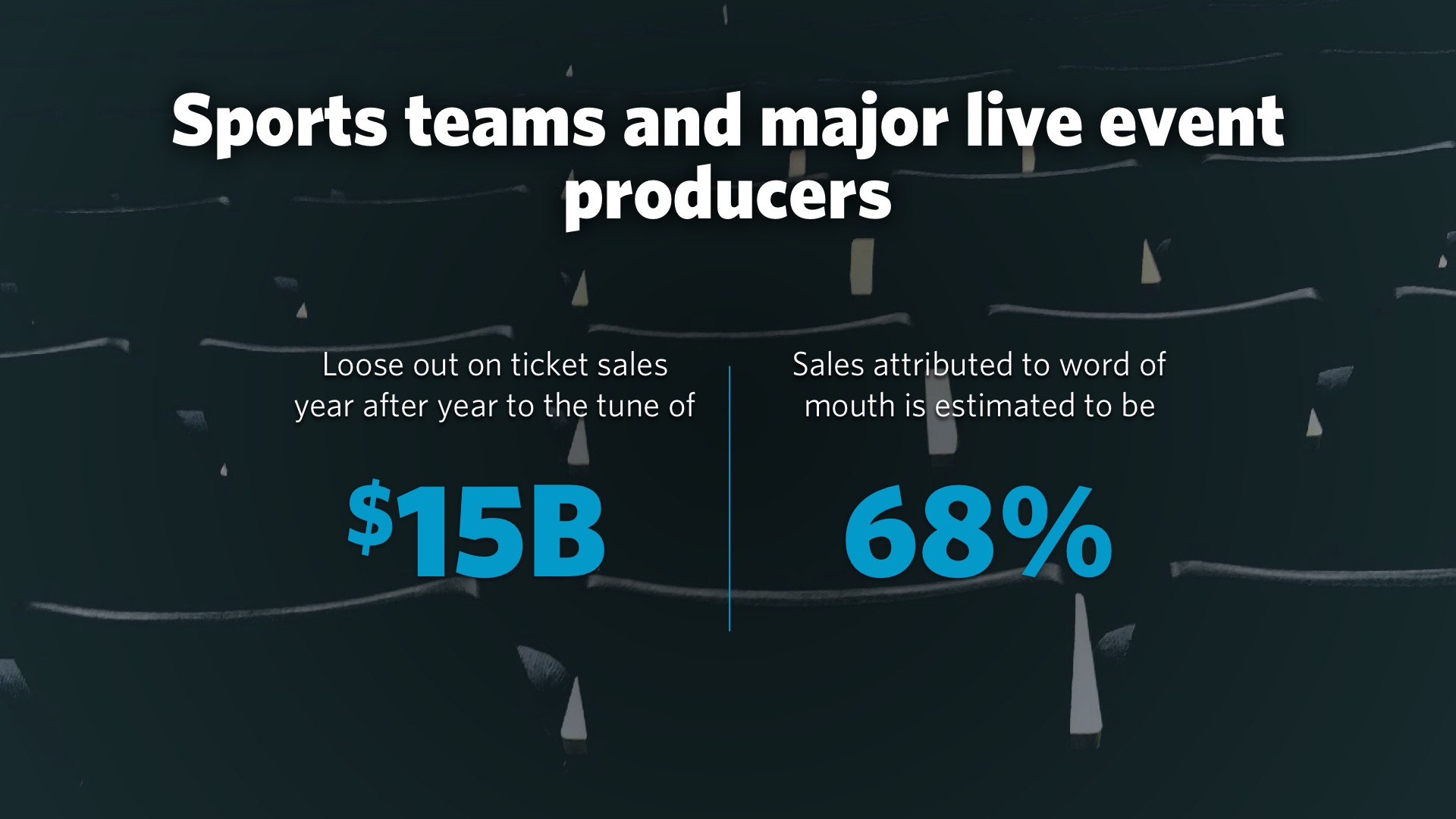 Influencer marketing industry is massive and only getting bigger year after year. Millenials and Gen Z's would rather spend money on experiences than things. We are making it easy for these segments to discover experiences they love for brands they are passionate about.
We are making it easy for live event producers to engage, manage and capture conversions of their influencers.
Competitive Landscape
SocialToaster is a widget based platform that allows its clients to onboard advocates and distribute content through micro-sites. They then capture all the social engagement,impressions and earned media value (EMV)
Verve/Pollen is a peer to peer platform social selling platform. They mainly work with outdoor music festivals and concerts. They provide a software that allows "ambassadors" to sell tickets to their peers for rewards.
Fevo is a group ticket selling platform. They work with some of the biggest sports teams as well as live event brands. They are a widget that sits on the check out ticketing site for their clients. They make it easy for groups to connect and buy tickets together.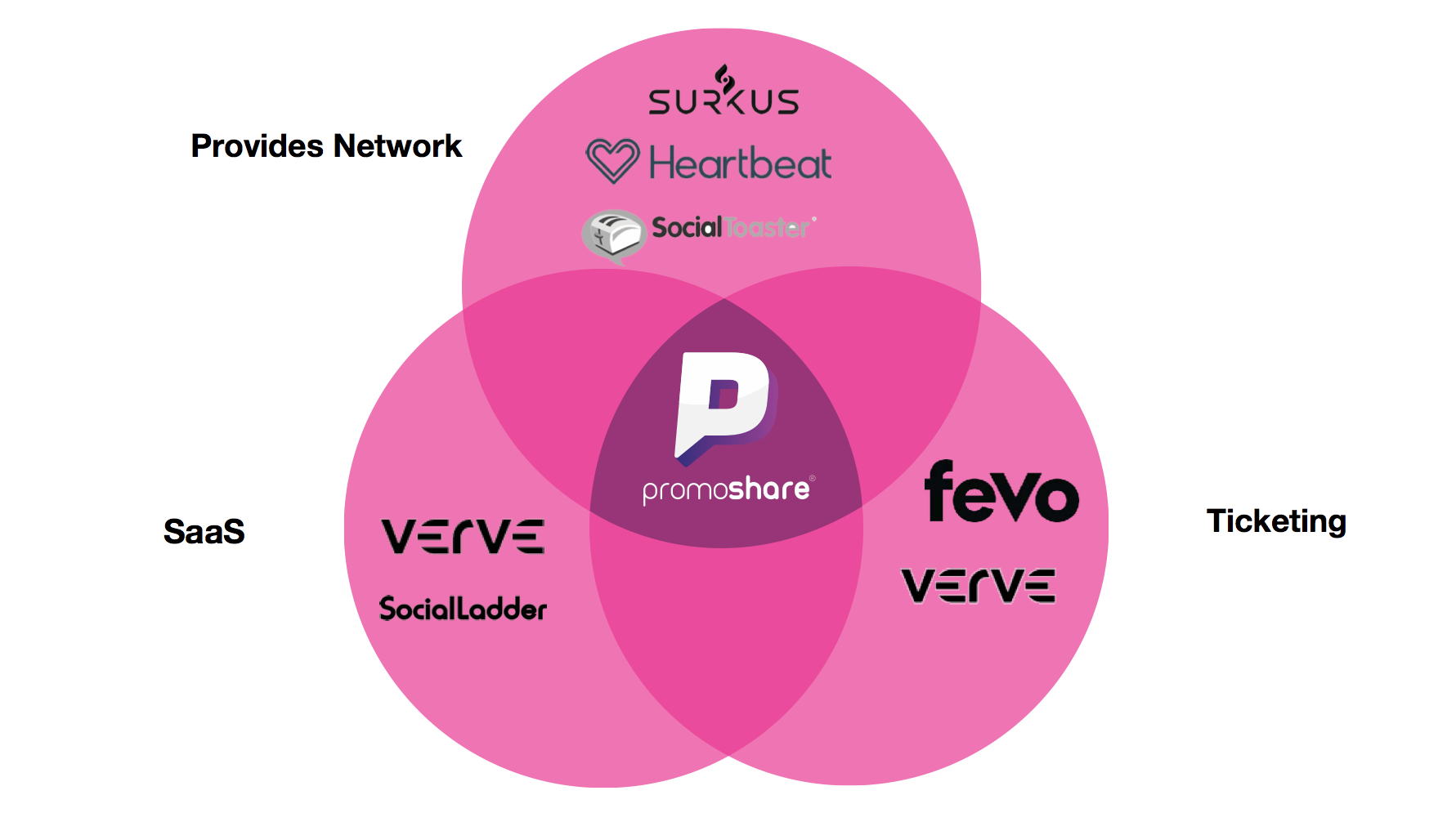 Progress
We are currently working with Feld Entertainment, the largest producer of family entertainment world wide. Our plan is to wrap up development of our current software that will allow us to grow within our current client base and sell to other national organizations. We plan on continuing to sell our software as a service on the enterprise level to organizations that have a national and global footprint.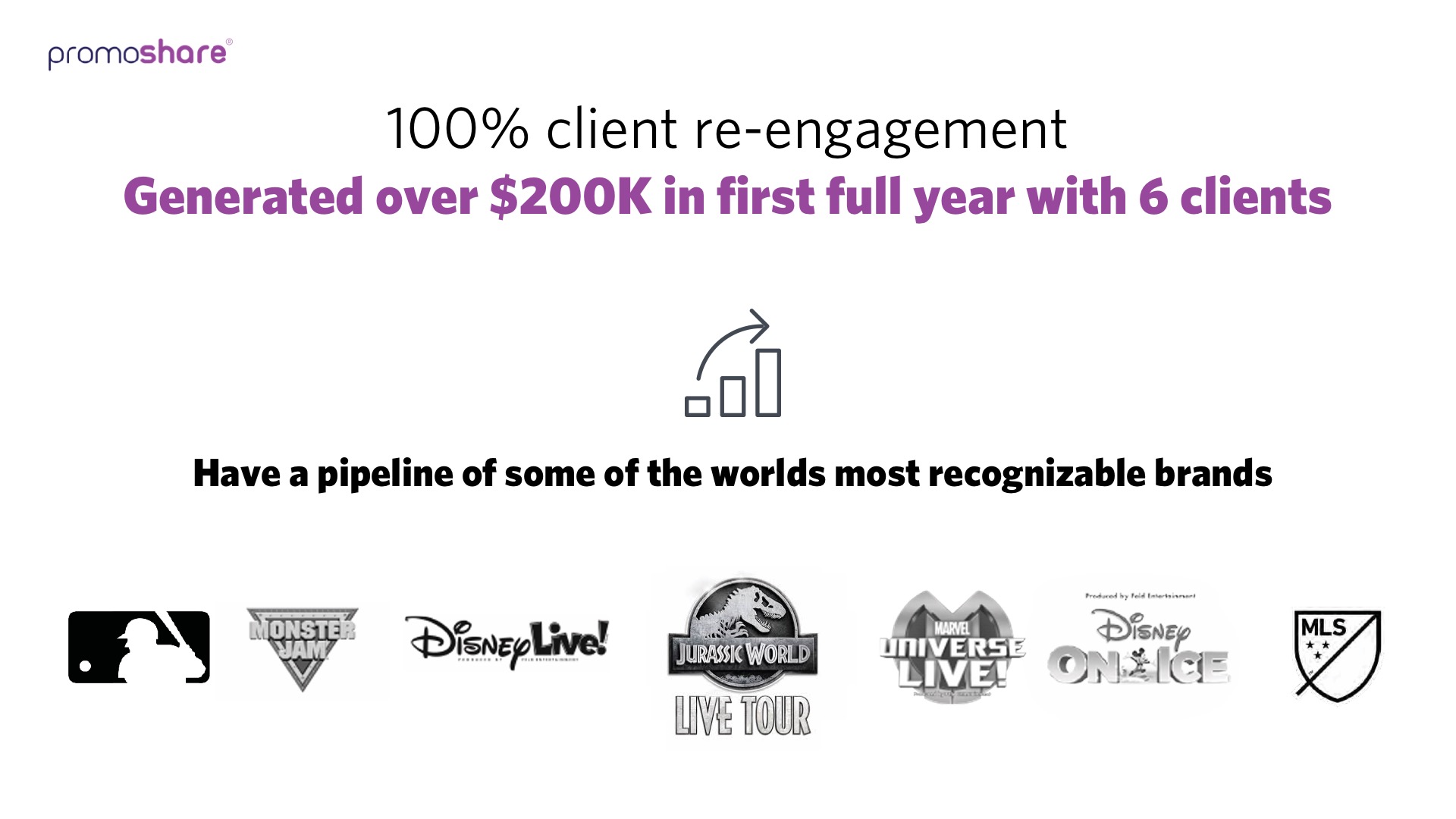 Our network of hyper-local influencers have collectively sold over $145K in tickets in our first full year.
Success
We started working on our 2nd year with Disney On Ice, Monster Jam, Jurassic Park Live and will begin expanding into several other markets
We were selected as finalist for the Chicago Bulls venture competition with Loud Capital
Will begin working with a major beer brand and their national music tours
Locked in 3 new yearly contracts with major live event producers, theater and pro-sports team
Press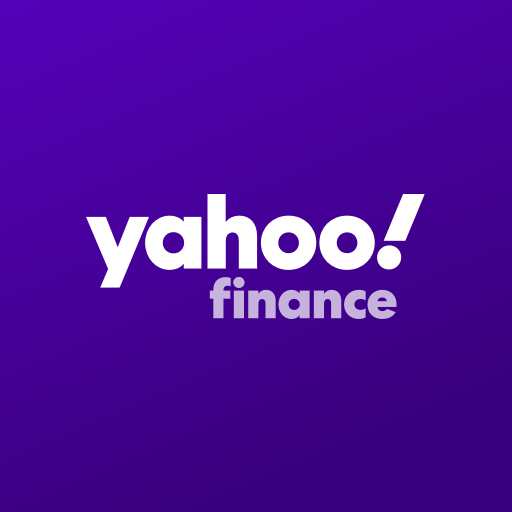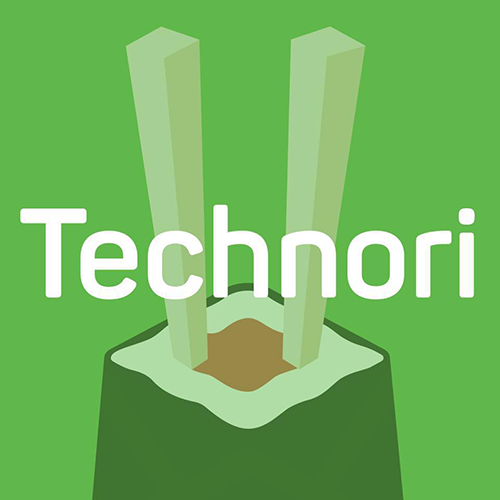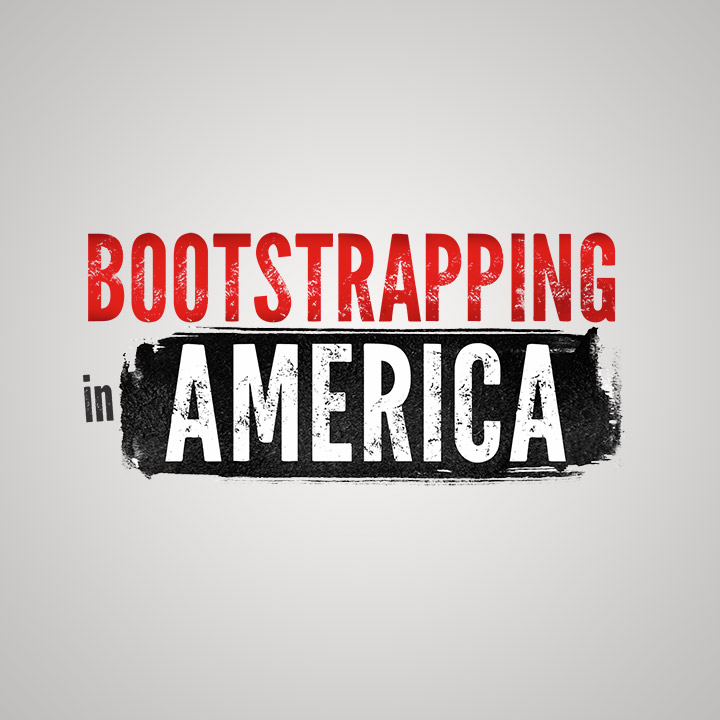 Team
Ernesto Pedroza
Founder/CEO
Ernesto is a seasoned entrepreneur with over 15 years of providing tech and marketing services to the sports, live events and CPG sectors. In his previous company, where he served as CEO of Alta Vista Solutions, Inc. from 2002 - 2017, he built loyalty and rewards programs that are still in place today with some of the worlds most recognizable live event brands. Alta Vista grew to be a $12MM business by its 5th year in operation. During this time, Alta Vista was named vendor of the year by multiple MLB teams and MBE business of year by this IHCC (Illinois Hispanic Chamber of Commerce)
Robert Armband
Co-Founder/CSO
Robert is an advisor to clients in the live events industry. He brings over three decades of experience with a career encompassing: Technology, Ticketing, Media Sales, Feature Film Marketing, Event Promotion, TV Production and Publishing. He served as CEO & Publisher of La Raza Newspaper and was awarded, "Best US Spanish Language Weekly," according to the National Association of Hispanic Publications. He also served as CMO/COO of Viva Marketing Group, a leading US Hispanic live event company. Mr. Armband is married and makes his home in Chicago.
Julia Fischer
Co-Founder/COO
Julia Fischer is the Director of Operations for PromoShare. She is a vision-driven change agent with a career-long record of high-level marketing and media client service success for leading organizations and early stage startups.
She started her career at Yahoo!, where she quickly grew into a Senior Technical Manager role where she specialized in feasibility for custom solutions and internal tools to drive client development and adoption through scrutinizing client supplied data feeds. She drove API adoption for large companies such as: IBM, Microsoft, and more.
Following Yahoo!, she joined Tech.Co as the Customer Success Operations Director where she drove all internal company operations along with major accounts (including: Google, Consumer Electronics Association (CEA), Deloitte, Microsoft Ventures, American Airlines, Webby Awards, IBM, Chase, Amazon Web Services, Microsoft Ventures, American Airlines, Webby Awards, IBM Awards, Ventures, and more), while managing the recognized Tech.Co Startup of the Year program, with over 100 startups across the world.
Raymundo Ginez
Co-Founder/ CTO
Raymundo has Lead Product Designer with over 12 years of experience. His User Experience (UX) career has ranged from B2B to B2B2C organizations.
While earning his Masters In Human-Computer Interaction, he started to get involved in marketing & Health Care digital projects. To further his knowledge of technology, health care practices, and design he mentors students from the University of Illinois at Chicago entrepreneurship programs to advocate for design thinking.
Mark Flores
CMO
Mark Flores has over 15 years of experience in corporate and consumer marketing within general and multicultural markets. After years working for local Latino media in Chicago, he went into education policy and political consulting and ultimately ended up in the beer and live events business running the public relations strategies for some of the biggest beer brands in the country while at Olson Engage.
As the Vice President and strategic lead of the multicultural department, Mark was able to expand his teams' capabilities beyond public relations and into more strategic business solutions working on multicultural advertising, marketing research, target segmentation, grass roots campaigns and social and influencer marketing. He was a key member of the team that developed both multicultural and general market social strategy for a number of clients within the beer portfolio of brands. Before leaving Olson, Flores was acting lead of the beer business during which he oversaw four larger teams.
Past clients include MillerCoors, Pepsi, McDonalds regional franchise group, Super Cuts, Target, the CrossBoarder Express and more.
Advisors
David Segura
CEO, VisionIT
Nick Delgado
Dignitas/Blackboard White Ink
Ricardo Barrientos
Pepsi-Co
Matthew Myers
CEO - Kingman Prince
Karyn Pettigrew
CEO - Beyond Blindspots/ZoeGoes
Jenny Cruz Pedroza
Attorney, JCP Law
Investors
Mathias Berning
Vice President, JP Morgan Chase Asset Management
Former linebacker for the NY Jets
James Bolden
Account Executive in Print/Packaging
Former football player at Michigan University/Big 10 Champion
Use of Proceeds
If the offering's maximum amount of $107,000 is raised:
| Use | Value | % of Proceeds |
| --- | --- | --- |
| New Team Members | $30,000 | 28.0% |
| Marketing | $11,757 | 11.0% |
| Hardware | $10,000 | 9.3% |
| Tech Development | $50,000 | 46.7% |
| Intermediary fees | $5,243 | 4.9% |
Terms
This is an offering of Common Stock, under registration exemption 4(a)(6), in PromoShare, Inc.. This offering must raise at least $10,000 by January 7, 2021 at 11:59pm ET. If this offering doesn't reach its target, then your money will be refunded. PromoShare, Inc. may issue additional securities to raise up to $107,000, the offering's maximum.
$10,000 minimum
$20,120 raised
If the offering is successful at raising the maximum amount, then the company's implied valuation after the offering (sometimes called its post-money valuation) will be:
6,564,499 shares
×
$0.50 per share
$3,282,250implied valuation
SEC Filings
The Offering Statement is a formal description of the company and this transaction. It's filed with the SEC to comply with the requirements of exemption 4(a)(6) of the Securities Act of 1933.
Understand the Risks
Be sure to understand the risks of this type of investment. No regulatory body (not the SEC, not any state regulator) has passed upon the merits of or given its approval to the securities, the terms of the offering, or the accuracy or completeness of any offering materials or information posted herein. That's typical for Regulation CF offerings like this one.
Neither Netcapital nor any of its directors, officers, employees, representatives, affiliates, or agents shall have any liability whatsoever arising from any error or incompleteness of fact or opinion in, or lack of care in the preparation or publication of, the materials and communication herein or the terms or valuation of any securities offering.
The information contained herein includes forward-looking statements. These statements relate to future events or to future financial performance, and involve known and unknown risks, uncertainties, and other factors, that may cause actual results to be materially different from any future results, levels of activity, performance, or achievements expressed or implied by these forward-looking statements. You should not place undue reliance on forward-looking statements since they involve known and unknown risks, uncertainties, and other factors, which are, in some cases, beyond the company's control and which could, and likely will, materially affect actual results, levels of activity, performance, or achievements. Any forward-looking statement reflects the current views with respect to future events and is subject to these and other risks, uncertainties, and assumptions relating to operations, results of operations, growth strategy, and liquidity. No obligation exists to publicly update or revise these forward-looking statements for any reason, or to update the reasons actual results could differ materially from those anticipated in these forward-looking statements, even if new information becomes available in the future.
Updates
Mar 11, 2020

Primary offering of $0.50

shares at
Ask a Question
Proofread your comment before submitting: once it's posted, you can't edit or delete it. For the fastest help with the web site, email help@netcapital.com instead of commenting.
Looking to raise capital?
We can help turn your friends, family and customers into investors.
Learn more
Interested in more investment opportunities?
Browse all offerings currently available.
See more