Introduction
Northstar has developed patent pending 100% Fiber Reinforced Polymer (FRP) Composite Building Systems and Methods to provide financial savings and environmentally sustainable benefits for the following market segments: Aerospace & Defense, Commercial, Industrial, Residential, Healthcare, Agriculture, and Energy.
We believe in producing innovative and affordable building solutions to achieve the highest level of sustainability. Our technology has shown that it can outlast the traditional building materials, thereby, lowering construction and maintenance costs over the life of the structure.
Northstar building systems are designed and engineered with advanced composite materials, which are made up of high-performance resin systems and high-strength, high-stiffness glass fiber reinforcement that allow us the flexibility to meet a wide variety of project specifications.
Our patent pending Fiber Reinforced Polymer (FRP) Composite Building Systems and Methods provide financial savings and are 75% lighter than structural steel, stronger than structural steel on a pound-for-pound basis, reducing structural requirements, foundations, installation equipment and personnel.
Northstar structures are produced in factories. This increases quality control while minimizing construction timelines.
Deal Highlights
Advanced 100% FRP building systems and methods
In negotiations on a $2.2 billion construction project as an exclusive vendor partnership using Northstar FRP building systems and methods .
Management team and Company Advisors with experience in Fortune 500 companies, aerospace / defense, patent development, management, litigation, and composite home / commercial construction.
100% FRP Patent Pending systems and methods for occupied and unoccupied commercial buildings and homes
Over $11 million invested in the development of our technology
Problem
With all the natural disasters in the world today, a new building material using reimagined construction systems and methods must be identified to give us a fighting chance in protecting our loved ones and assets.
Every year, thousands of homes and commercial buildings are destroyed by catastrophic forces of nature.
Historic flooding, massive Category 5 hurricanes, and the West Coast fires alone caused over $136 billion in losses combined in 2018 and 2019, and the highest cost ever from weather related disasters occurred in 2017 with over $306.2 billion in losses.
As a result of these annual weather related disasters, FEMA's budgets have been increasingly strained, making it abundantly clear they are not positioned to rebuild America year after year. Homeowners and commercial property owners are also at financial risk for even the most basic coverage of damage, as insurance rates continue to skyrocket.
Homes and commercial buildings are currently made with wood, steel, and concrete, materials that are not equipped to survive natural disasters, degradation and natural processes over time, and yet, the construction industry has failed to find more resilient building materials.
Source: Weather Disasters and Costs - Office for Coastal Management, National Oceanic and Atmospheric Administration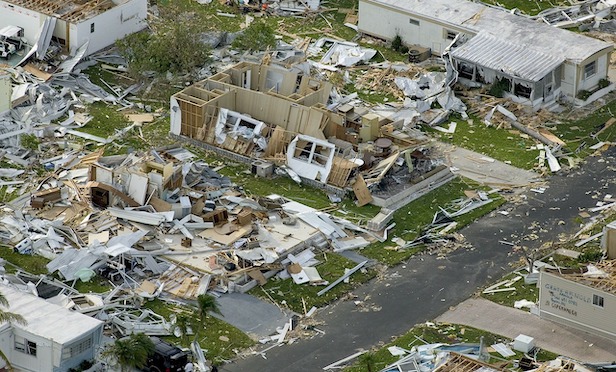 Solution
Embrace change and experience the evolution of the construction industry with advanced building performance, durable resilience, and environmental sustainability.
Northstar Technologies has overcome the most significant barriers that have prevented the construction industry from changing its traditional ways. Our fiber reinforced polymer (FRP) composite technology provides innovative solutions to transition to lighter, stronger, and more sustainable materials, all with a lower carbon footprint.
Combined with our patent pending systems and methods approach, private and commercial stakeholders can see immediate benefits when using our technology.
Northstar building systems and methods have shown to unlock several benefits compared to traditional building materials (concrete, steel, aluminum, and timber). FRP can be the solution of choice for a broad range of structures including military assets, highly specialized commercial applications, customized architectural curtain walls and the need to meet stringent LEED building requirements.
We provide 100% FRP composite building systems and methods approved for residential, commercial, and industrial construction and has shown the lowest total emissions for resilient construction technologies today.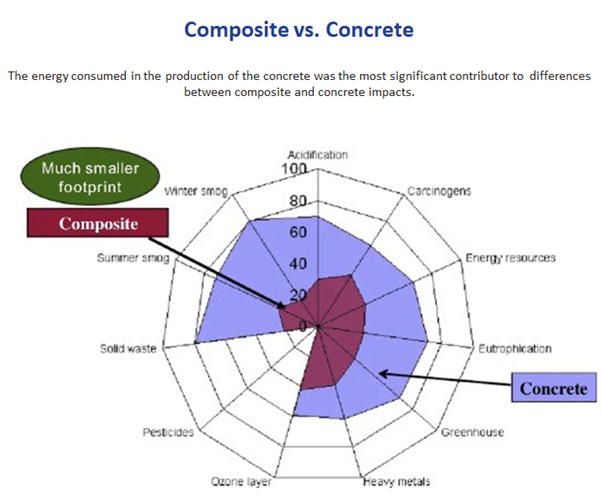 We believe no other competing technologies can meet the environmental goal of the LEED Zero Carbon standards. Our technology contributes to this environmental achievement with no increase or additional upfront construction costs while lowering the total cost of ownership (TCO).
We believe FRP materials combined with our building systems and methods will impact the global construction industry in the same way the iPhone impacted the global mobile phone industry in 2007.
Each Northstar structure is designed to meet the following standards:
Florida High Velocity Hurricane Zone approved for Exposure "D"
F4 tornado with 250 mph impact rating
UL Ballistic Level 1 rated - ability to increase to UL Level 8 if needed
Class A 30-minute extended fire protection - up to 2 hours if needed
Prevents progressive collapse for Seismic regions
Lightest weight building system (>75% lighter than steel)
Non-corrosive, chemical and rot resistant
Water and air impervious structural system and building envelope
Ultra energy efficient for off-grid operation
50 Year Structural Warranty
Insurance rated "Superior Construction"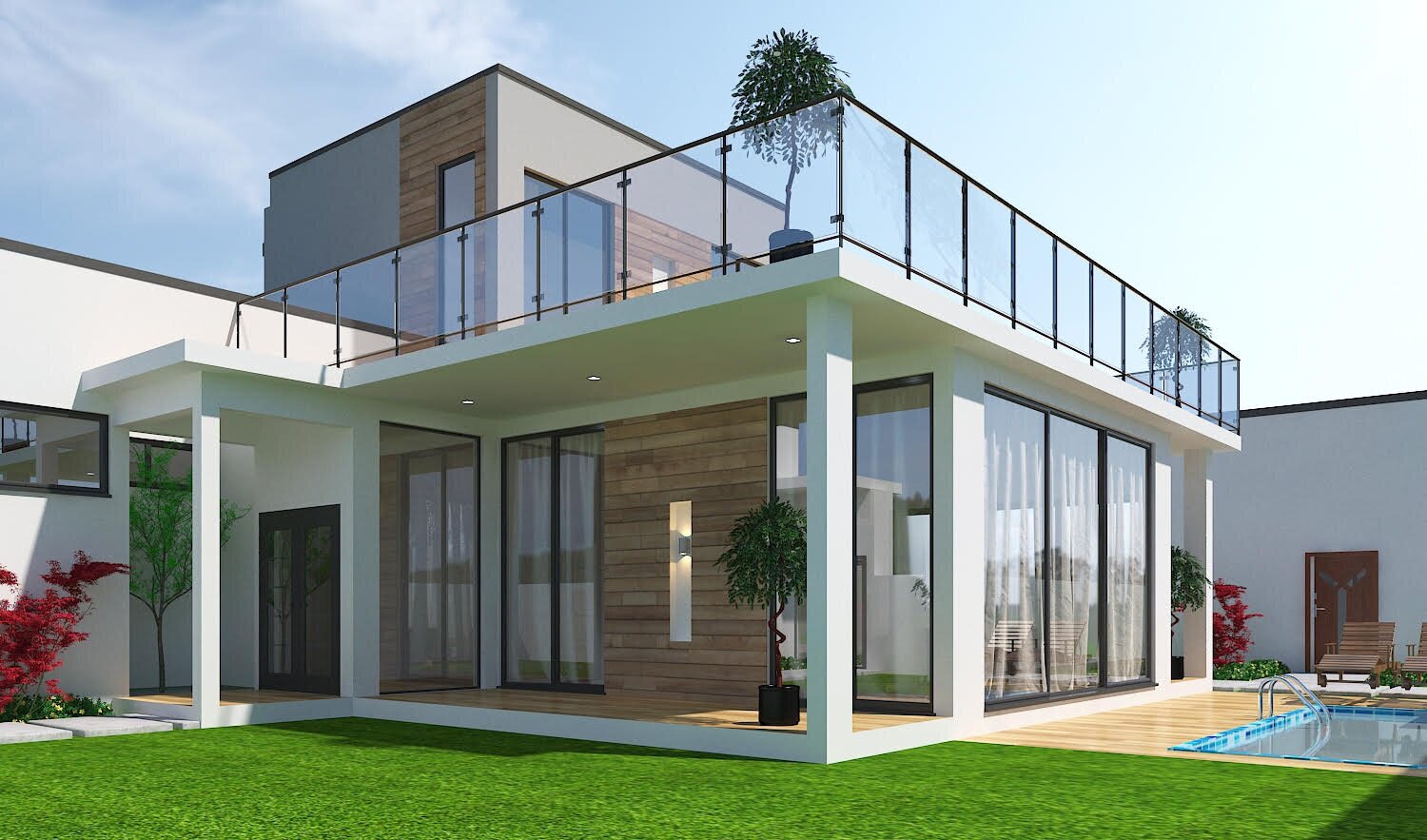 Business Model
Northstar plans to sell through a global network of product dealers as our main source of revenue. We plan to charge the product dealers a yearly maintenance fee and add a markup on top of Cost of Goods Sold (COGS). We plan to license our IP to specialty manufacturers who use Northstar building system components and methods to manufacture their own products.
Another planned source of revenue should come from yearly licensing fees and markups on Northstar raw materials to Northstar IP Licensees.
Northstar has patent pending systems and methods needed for construction using 100% fiber reinforced polymer (FRP) composite building materials, thus driving revenue and profit from licensing agreements with selected commercial and residential builders and manufacturers of specialty structures.
In addition, we are actively pursuing opportunities with construction industry companies that currently use traditional building materials, including mobile structures, prefab, commercial, industrial, aerospace and defense, energy, agriculture, and healthcare builders.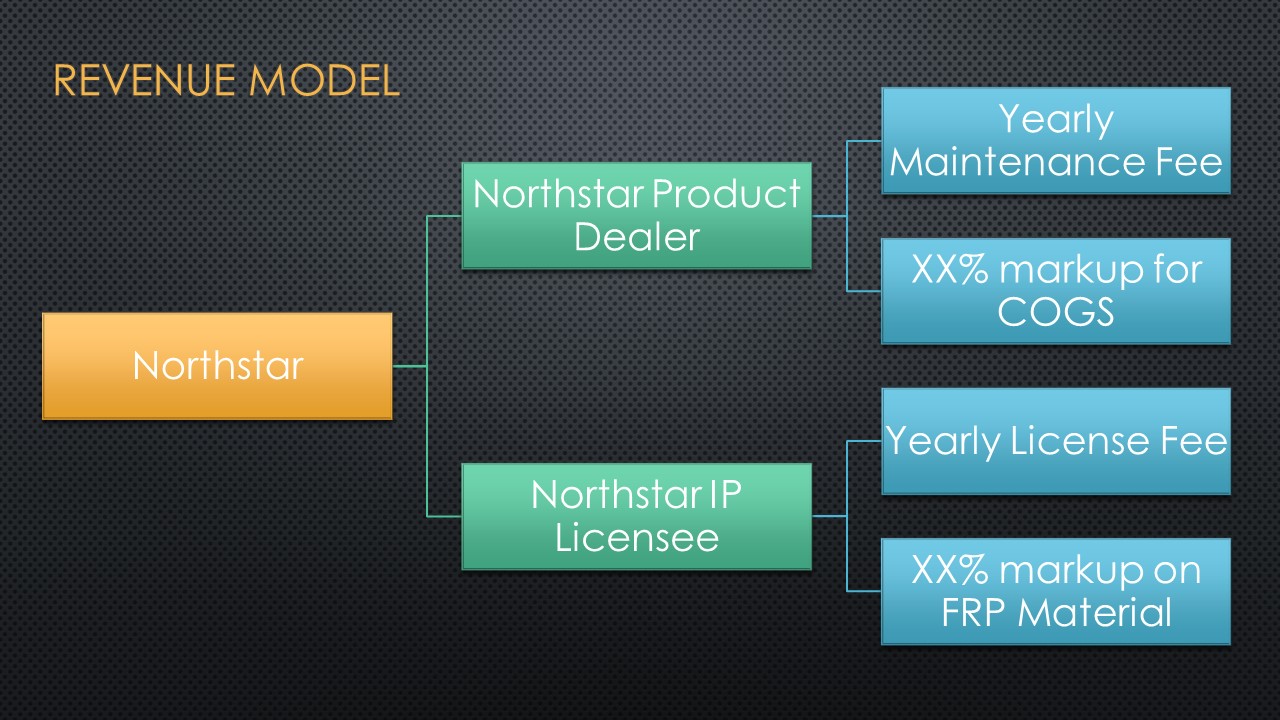 Market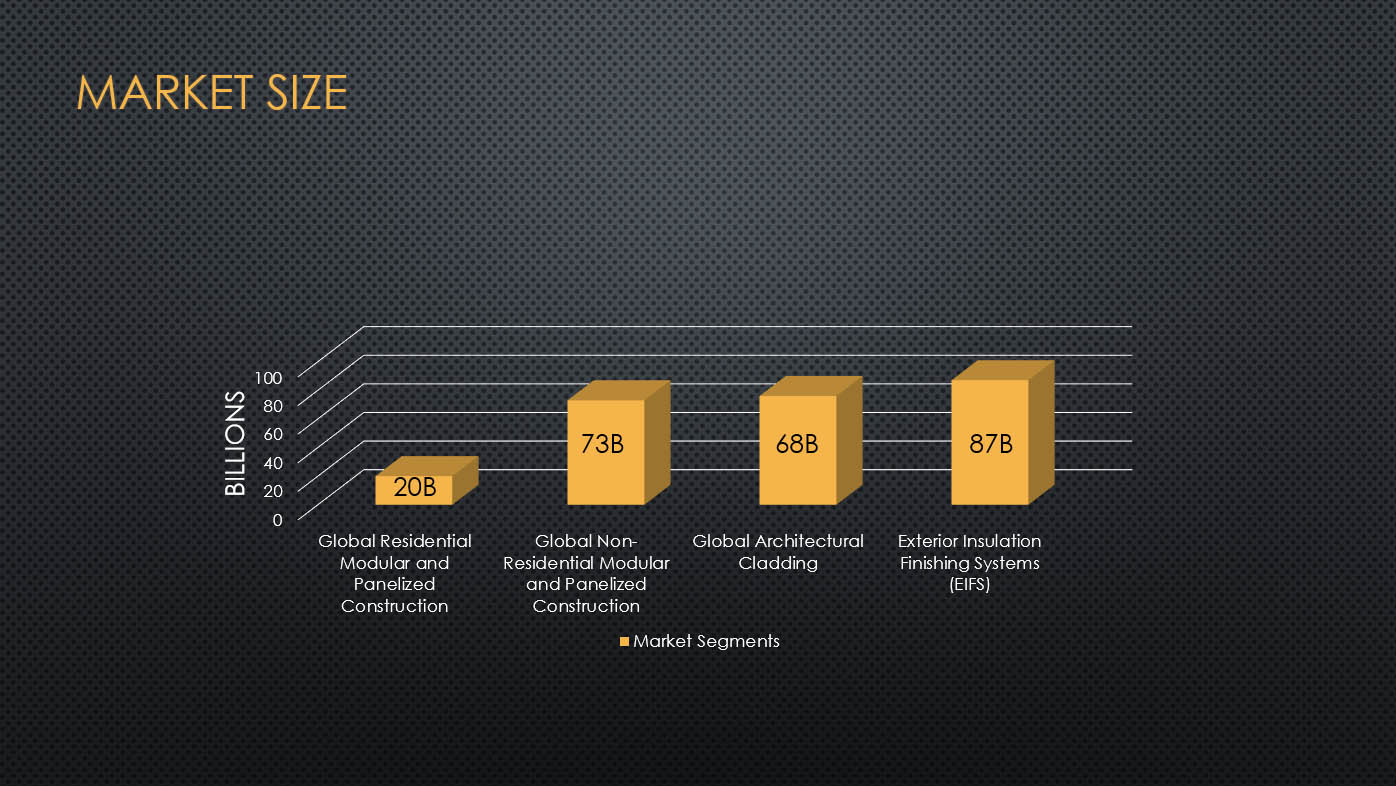 The composite / Exterior insulation finishing system (EIFS) market is valued roughly at 54.86 billion in 2017 and is expected to grow to 108.11 billion by 2023.
Our markets consist of both US and International home and commercial builders desiring composite building materials that can withstand 250 mph winds and fire resistance.
Experts estimate that the Architectural Claddings Systems market size by 2026 will be $152 billion, growing at 12.14% CAGR.
Northstar offers better construction technology with better results, at the competitor's installation price, protected by patented technology, we capture up to 100% of the market share. Our materials allow the builder to construct a project using less manpower while reducing the time necessary to complete the buildout.
In addition, due to our lightweight, high strength materials, every market can benefit from our technology. This results in all stakeholders benefiting from this new application with a finished product that costs less and lasts longer.
Further opportunities exist in all markets that are currently relying on traditional building materials.
With Northstar 100% FRP systems and methods we aim to provide for the world a new and promising building technology that inspires a designers imagination.
Source: Global Exterior Insulation and Finish System (EIFS) Market is Expected to Reach USD 152.62 Billion by 2026 : Fior Markets
Competitive Landscape
Our pending patents give us confidence that Northstar is the only company using 100% FRP composite material for home and commercial building applications. Because of this patent pending process, we are creating a new marketplace consisting of 100% FRP structures assisting architects and builders to obtain LEED Platinum and LEED Zero certifications for homes / commercial buildings constructed with our materials.
Our closest competitors use a mixed material of wood, steel, and composite, but they are unable to offer a 100% FRP building systems and a cost effective solution providing 250 mph impact rating with fire resistance and small-arms ballistic protections that are standard with our building systems.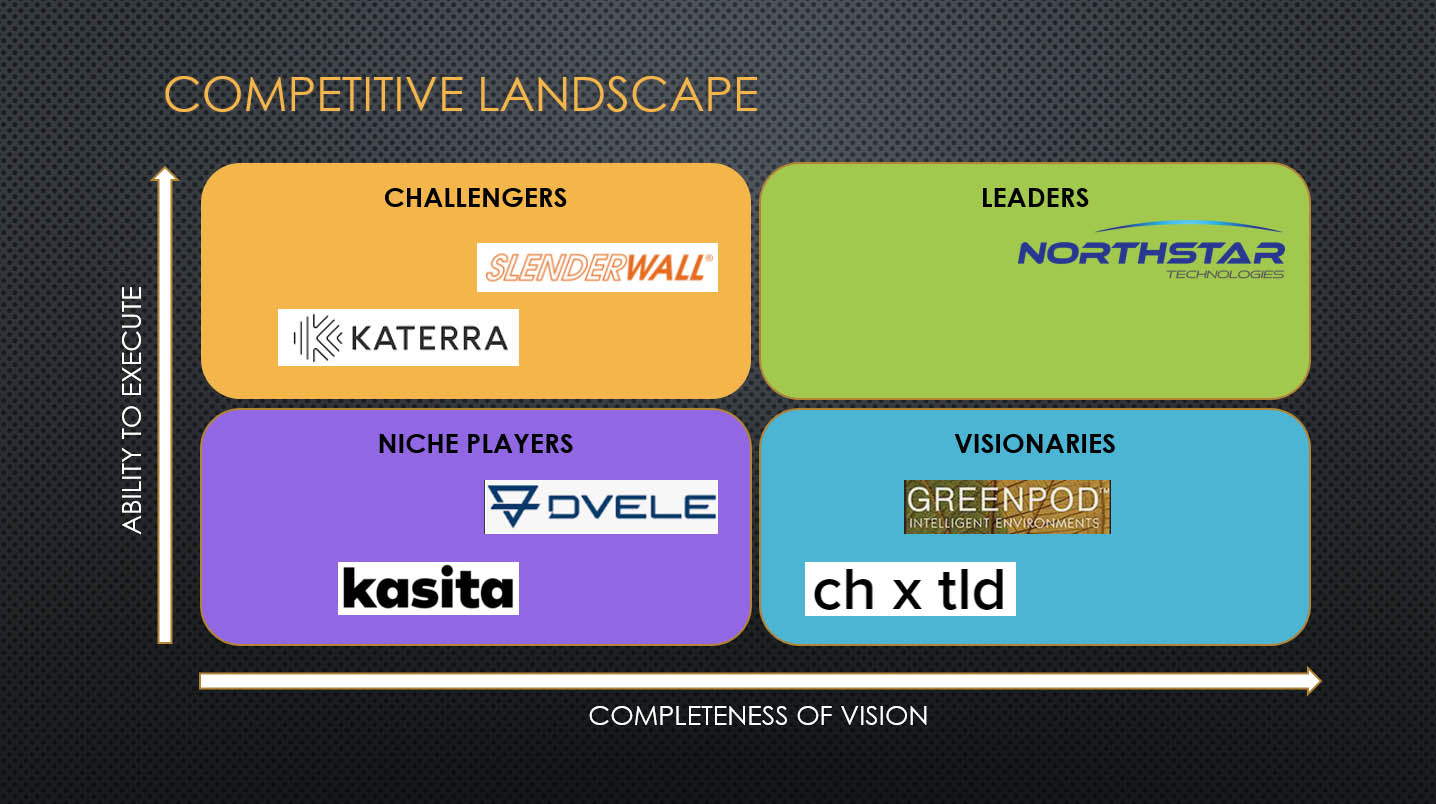 Progress
We have built an amazing management team with experience in Fortune 500 companies, aerospace / defense, patent development, management, litigation, and composite home / commercial construction. Bringing these parties together affords Northstar the ability to grow quickly, but wisely.
Over $11 million has been invested in the development of our proprietary, patent pending, technology.
We have filed a patent pending application with the USPTO for Fiber Reinforced Polymer Buildings Systems and Methods.
We have secured our raw materials manufacturer to handle all of our composite material manufacturing. This is under a license agreement and therefore is confidential in regards to who is manufacturing for us.
We are in negotiations with a large luxury prefab builder who is interested in converting to 100% of our composite materials / building systems for the homes they construct.
We are in negotiations with an emergency command center manufacturer to utilize Northstar building systems for their markets.
We are in negotiations on a $2.2 billion construction project to supply our Northstar FRP building systems, methods and technology for their project.
We are pursuing numerous other license / royalty agreements with various specialty product manufacturers and contractors throughout the US and Europe to utilize Northstar building systems, methods and technology.
We are finalizing a Florida Product Approval for Northstar building systems and methods to allow Northstar to license manufactures for Florida and other high velocity wind zone regions including the Caribbean.
We are finalizing the first mobile FRP Counter-Drone command center to be used within the US government and DOD operations. Further applications could allow other command centers to be used for Emergency Management operations.
We are currently working on Partnerships to facilitate the use of Northstar building systems, methods, and technology outside of the US.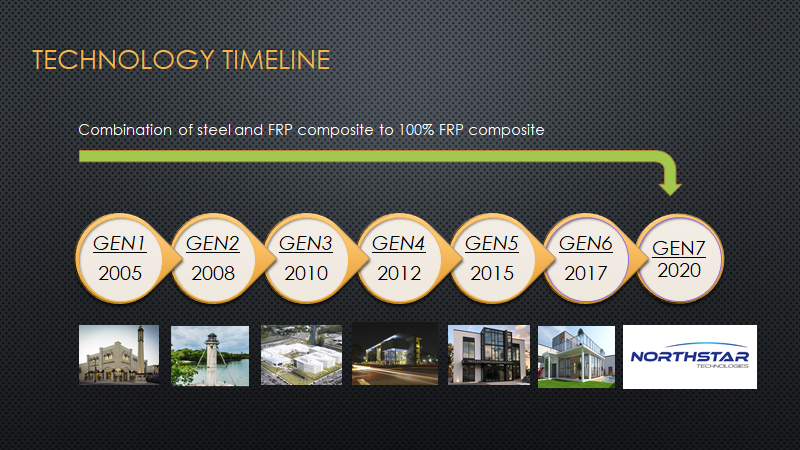 Team
Our Executive Team has a proven history of being forward-thinking innovators.The team is made up of three members who each bring specific core strengths and skill-sets from their past experiences. Each has extensive experience creating next generation technologies that set new standards within their individual fields of expertise. Joining together to create Northstar Technologies Group has allowed the company the experience necessary to execute key foundation milestones promptly, thus, ensuring our success to forever change the global construction industry with the only patented advanced composite building systems and methods on the market today.
To help execute our global vision we are guided by a select group of Advisors who have real-world experience within their dedicated fields of expertise. They bring with them a proven track record for global expansion, commercial relationships, government processes and future market needs.
Paul A. Inglese
CEO
Mr. Inglese is CEO of Northstar Technologies Group, Inc.
Mr. Inglese is a specialist in the design, engineering and manufacturing of Advanced Fiber Reinforced Polymer Building Systems for use in Aerospace, Defense, Commercial, Industrial, Healthcare, Energy and Agricultural market segments.
Over the past 34 years Mr. Inglese has worked on projects with some of the nation's leading retailers and shopping center developers including Sunoco Oil Company, Starbucks Coffee, McDonald's, Anheuser Busch Brewing Company, Miller Brewing Company, Transworld Entertainment, Forest City Development, Delaware North and General Growth Properties working on malls, stadiums and areas through the United States, Canada, and Puerto Rico.
Mr. Inglese's experience with fiber reinforced polymers has provided him with the vision and skills necessary for the development of the only 100% fiber reinforced polymer building system in the world for low-rise structures, mid-rise structures and the only 100% fiber reinforced building system in the world for high-rise building envelope systems for high velocity wind zone regions.
Education / Certifications
Graduate of the Art Institute of Pittsburgh


Architectural Design, Architectural History, Product Design, Product Development, Industrial Design

State of Florida Certified Building Contractor


Construction Accounting, Construction Law, Contract Administration
Achievements / Public Relations
2018 Finalist at the Florida Venture Forum for the development of new building technology
2015 Received the Butler Manufacturing High Performance Builder Award for the fastest growing new builder in the Country.
2011 Enterprise Florida delegate for the Dominican Republic / Haiti Trade Mission for new building technology
Affiliations
Member of American Institute of Architects
Member of Design-Build Institute of America
Dwaine A. Parker
President
Mr. Parker is the President of Northstar Technologies Group Inc. and XiDrone Systems Inc. Both companies share in collaborative business opportunities using Next Generation technologies.
Mr. Parker retired as a law enforcement helicopter pilot with 27 years' experience supporting local, state and federal agencies (Fire, EMS, FAA, FBI, TSA, CBP and Secret Service).
Mr. Parker, personally developed patents in the U.S. and Europe allowing XiDrone Systems to be the first company to obtain multi-sensor, counter-drone, patents. XiDrone System current patent portfolio includes: 9 U.S. patents 3 pending U.S. patents 1 European patent inclusive of 12 EU countries.
Education / Certifications
Pasco / Hernando Community College – State of Florida Police Officer certification
IPTM – Traffic Homicide Investigator Certification
FAA / NTSB – Aircraft Accident Investigation Certification & Safety Counselor Training
DHS / ICE – Human & Drug Smuggling / Interdiction Certification
Miami Dade Police – Aviation Counter-Terrorism / Fraudulent Aircraft Parts Training
Collier County Sheriff – Critical Incident & Peer Support Counseling Training
State of Florida FDLE – Thermal Imaging Thermography certification
Air Bus (Eurocopter) Factory Pilot Certification – EC135
Bell Helicopter Factory Pilot Certification – B429
Bell Helicopter Factory Pilot Certification - B407
FAA Part 135 Night Vision Pilot Certification - Helicopter
FAA FASTeam Lead Safety Representative – Aviation Safety Instructor & Pilot Counselor
Achievements / Public Relations
Saint Petersburg Jr. College – Media Relations & Public Information Officer (PIO) Training
National T.V. Regular Featured Guest – Nancy Grace Show (CNN, HLN)
National T.V. Regular Featured Guest – Crime & Justice with Ashleigh Benfield (CNN, HLN)
National T.V. Featured Case – Court T.V. (Traffic Homicide case Tampa, Fl.)
National T.V. Featured Story – Dateline NBC (Traffic Homicide Case Tampa, Fl.)
Local Media – PIO statements and on-scene interviews
Scott M. Foster
CFO/COO
Mr. Foster is the Chief Financial Officer of Northstar Technologies Group, Inc.
Mr. Foster is a high-performing management executive with 20 years expertise in building and optimizing teams, organizational processes, infrastructure, financial, technical and general organization operational functions to maximize business results.
Mr. Foster has extensive experience working with the U.S. Department of Defense and various governmental agencies.
Mr. Foster is a skilled leader who manages through a deep understanding of the organization and strong commitment to the team. He has led as the COO of a small boutique defense including through its acquisition and as CEO/CFO of a startup surveillance company that currently operates today in both domestic and international markets.
Mr. Foster purposely leads by example following a servant leadership style. He has a track record showing extensive scope of responsibility, integrity, proven success, and delivering optimal results in challenging environments.
Education / Certifications
Bachelor of Science in Management Information Systems, Business Administration, The Master's University, Santa Clarita, California
Masters of Business Administration (MBA), Azusa Pacific University, Azusa, California
Numerous non-credentialed training classes in Information Technology, Security, Accounting, Program Management
Areas of Expertise
Multi-Site Operations
Operating Infrastructure
Revenue Goal / Growth Attainment
Finance / Accounting
P&L Management
Decision Making
Process Redesign
Human Resources
Process Redesign
Information Technology
Achievements / Public Relations
Security Clearance Active – TOP SECRET/SSBI
Network Admin/IT Manager, The Master's University
IT Manager, Northrop Grumman Mission Systems/XonTech Operations
IT Manager/Senior Network Engineer, Broadband Sports
Network Administrator/ISSO, XonTech, Inc
COO/VP Operations, Vista Research, Inc
CEO, FX Technology Group & aXion Applied Technology
CFO, X6 Corporation, Inc.
Advisors and Investors
James R. O'Neill
Global Strategic Business Development & Market Growth
Mr. O'Neill has held Senior-level management positions with seven leading corporations:
Siemens - Chief Executive Officer – Enterprise Communications Group – turned around Enterprise Communications Group from half billion Euro annual loss to break-even with annual revenue of 4 billion Euros. Consolidated operations from 86 nations to 21 nations
CompuDyne - Chairman and Chief Executive Officer – Corporation – grew annual revenue from $200 million to $270 million dollars in 18 months. Won $150 million dollar contract with Houston, the firm's largest contract ever
Northrop Grumman - Corporate Vice President and President – Information Technology Sector – grew annual revenue of the TASC division from $428 million to $1 billion dollars in 23 months. Subsequently, grew information-technology sector business (including TASC) from $4 billion to $7 billion dollars in five years
Oracle - Senior Vice President – Communications and Utilities – grew yearly revenues from $200 million to $320 million dollars in 12 months
Lucent Technologies - President – Government Solutions – secured a $1 billion dollar contract with U.S. Navy. Sold firm's Advanced Technology Systems Group to General Dynamics for $500 million dollars. Responsible for $2 billion dollars in annual sales
Digital Equipment Officer - Vice President and General Manager – Grew revenue from $200 million to $1.5 billion dollars in less than five years, the largest growth rate in the firm's history. Accomplished in the highly competitive Federal Government market, including intelligence
Sanders/Lockheed Martin - Director of Contracts – Promoted to vice president of contracts at age 33 (with seven peers in their sixties). Won the largest production contract from IBM to manufacture its 3250 and 5080 computers. Achieved approximately one-half-billion dollars in revenue yearly. Negotiated three-largest contracts in firm's history
Randal R. Rowles
Global Aviation Industry & Technical Advisor
Mr. Rowles has 28 years of Commercial Helicopter Pilot experience. Mr. Rowles is currently an FAA Designated Pilot Examiner and has held that position for 23 years. Mr. Rowles is certified as an Airline Transport Pilot, a Certified Flight Instructor and has accumulated over 15,000 hours of flight time.
Mr. Rowles earned his Master in Business degree from Texas Christian University and currently sits on the following boards; Chair FAA Industry Advisory Panel, FAA Advisory Rule Making Committee, Director Helicopter Association International (HAI) Board of Directors, HAI Finance & Risk Committee, Chief Instructor HAI Flight Instructor Recertification Board.
Mr. Rowles is also the President and Founder of Helicopter Institute which owns and operates a fleet of helicopters providing specialized training to the US Government and Law Enforcement community. Mr. Rowles has been recognized as a Master Certified Flight Instructor with over 8000 hours of accident free instruction.
Mr. Rowles is a monthly columnist for Rotorcraft Professional Magazine and has been published in numerous articles and magazines as an expert in the field of aviation, aviation technology and aviation safety.
Rolf Schmelzer, P.H.D.
Global Leadership & Organizational Development
Dr. Rolf Schmelzer is a Retired Senior Partner Emeritus of Leadership Development Worldwide.
Prior to LDW, Rolf was co-founder of Organizational Development Worldwide (ODW), a global consulting firm. He previously served as a senior consultant with the world's largest corporate psychology consulting firm with assignments in Chicago and Brussels, Belgium.
He also served as Manager of Human Resources and Leadership Development worldwide for Pepsi-Cola International. He subsequently held positions as Director of Training and Organizational Development for the Consumer and Real Estate & Business Banking divisions of Citibank, New York and thereafter as Vice President, Sales and Service in the Real Estate & Business Banking division of Citicorp.
Rolf's consulting practice encompasses European and United States-based companies with global operations, including technology, med tech and leading international engineering, consumer goods, and service organizations.
His consulting practice includes work on organizational change, leadership development/assessment, and international teamwork. Rolf's practice focuses on working with CEOs, general managers, and members of executive teams in aligning business strategy with human resource strategy and organizational culture.
He is considered to be a leading expert and practice leader on qualitative/cultural fit analysis of M&A targets and supporting an acquisition during the integration phase.
Rolf's approach is long term, process oriented and focused on supporting the implementation of change efforts. He has served as invited speaker for major corporations and international conferences.
In his career, he has conducted considerable work on every continent and in most major cities.
He has significant awareness regarding the impact of cross-cultural differences.
Rolf received his Bachelor of Arts in psychology, magna cum laude, from Indiana University of Pennsylvania and his Ph.D. in clinical psychology from the California School of Professional Psychology.
Use of Proceeds
If the offering's maximum amount of $1,069,800 is raised:
| Use | Value | % of Proceeds |
| --- | --- | --- |
| Engineering & Development | $429,990 | 40.2% |
| Marketing/ Business Development | $373,430 | 34.9% |
| Domestic/International Patent Filings | $106,980 | 10.0% |
| General/Admin Expense | $106,980 | 10.0% |
| Intermediary fees | $52,420 | 4.9% |
Terms
This is an offering of Common Stock, under registration exemption 4(a)(6), in Northstar Technologies Group, Inc.. This offering must raise at least $10,000 by December 15, 2020 at 11:59pm ET. If this offering doesn't reach its target, then your money will be refunded. Northstar Technologies Group, Inc. may issue additional securities to raise up to $1,069,800, the offering's maximum.
$10,000 minimum
$17,756 raised
If the offering is successful at raising the maximum amount, then the company's implied valuation after the offering (sometimes called its post-money valuation) will be:
20,713,200 shares
×
$1.50 per share
$31,069,800implied valuation
Financials
These financial statements have been reviewed by an independent Certified Public Accountant.
SEC Filings
The Offering Statement is a formal description of the company and this transaction. It's filed with the SEC to comply with the requirements of exemption 4(a)(6) of the Securities Act of 1933.
Understand the Risks
Be sure to understand the risks of this type of investment. No regulatory body (not the SEC, not any state regulator) has passed upon the merits of or given its approval to the securities, the terms of the offering, or the accuracy or completeness of any offering materials or information posted herein. That's typical for Regulation CF offerings like this one.
Neither Netcapital nor any of its directors, officers, employees, representatives, affiliates, or agents shall have any liability whatsoever arising from any error or incompleteness of fact or opinion in, or lack of care in the preparation or publication of, the materials and communication herein or the terms or valuation of any securities offering.
The information contained herein includes forward-looking statements. These statements relate to future events or to future financial performance, and involve known and unknown risks, uncertainties, and other factors, that may cause actual results to be materially different from any future results, levels of activity, performance, or achievements expressed or implied by these forward-looking statements. You should not place undue reliance on forward-looking statements since they involve known and unknown risks, uncertainties, and other factors, which are, in some cases, beyond the company's control and which could, and likely will, materially affect actual results, levels of activity, performance, or achievements. Any forward-looking statement reflects the current views with respect to future events and is subject to these and other risks, uncertainties, and assumptions relating to operations, results of operations, growth strategy, and liquidity. No obligation exists to publicly update or revise these forward-looking statements for any reason, or to update the reasons actual results could differ materially from those anticipated in these forward-looking statements, even if new information becomes available in the future.
Updates
Oct 15, 2020

Primary offering of $1.50

shares at
Ask a Question
Proofread your comment before submitting: once it's posted, you can't edit or delete it. For the fastest help with the web site, email help@netcapital.com instead of commenting.
Looking to raise capital?
We can help turn your friends, family and customers into investors.
Learn more
Interested in more investment opportunities?
Browse all offerings currently available.
See more