Testimonials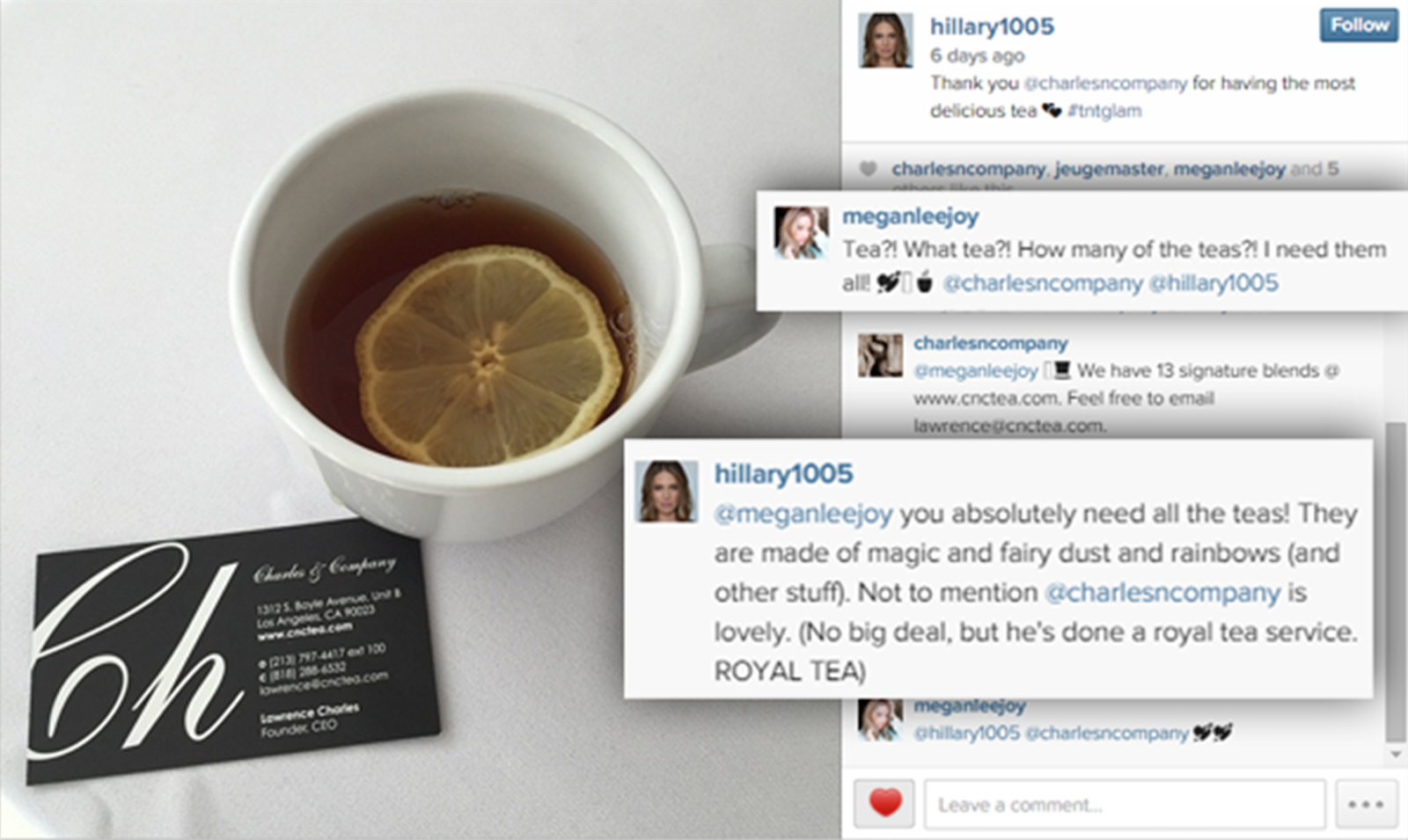 -------------------------
Your product is far superior to what we currently sell at our other restaurants, and I would be so happy to see it served resort-wide.
Matthew Pierga
Four Seasons Resort Lanai, Hawaii
Your tea (and YOU) were such a big hit! Looking forward to selling lots more tea!!
Anne Manassero
Owner, Manassero Farms, Irvine, CA
Chef Gordon Ramsay visited the restaurant. We showed him everything the restaurant has to offer, but the only thing he raved about was the tea.
Brianna Carbajal
Pedalers Fork, Calabasas, CA
Introduction
Charles & Company is an organic luxury tea brand that celebrates the romantic tradition of British tea. In the world of Charles & Company, everyone is a dignitary who has earned the reward of a relaxing, invigorating cup of the world's finest tea.
Problem
Most people do not know what great tea tastes like.
Similar to the phase coffee went through, when consumers were uneducated about what good coffee was, tea drinkers and those switching from coffee to tea are looking for a premium tea drinking experience, but not sure what that is.
Current tea options are designed for convenience and a consumer that is not concerned with quality. This leads to poor flavor and a less than ideal experience. Tea is a drink that should elicit feelings of calm and relaxation.The market offers few options that fuel moments of solace with yourself or your community of friends. Charles & Company is an aspirational brand; we cater to the high-end consumers that understand that we provide excellence in taste and, by way of communication, mental wellness.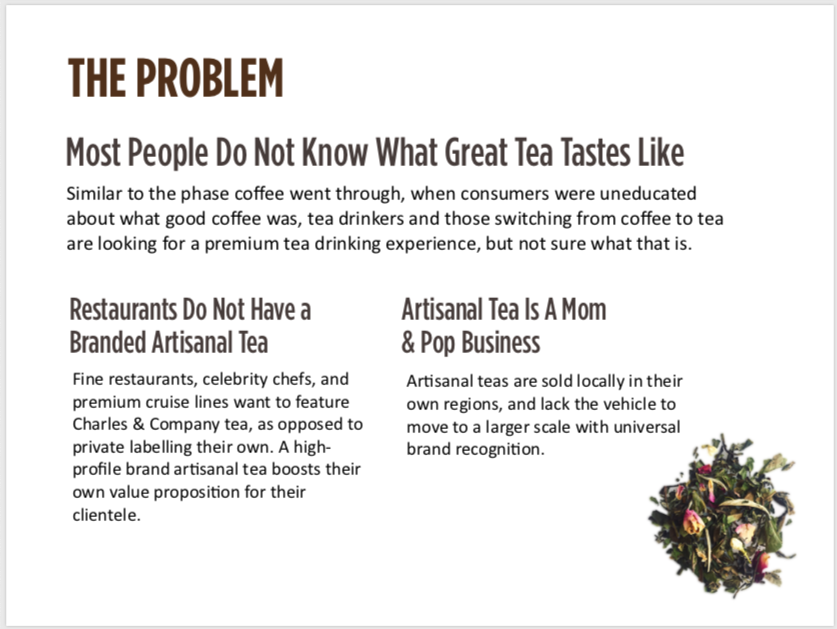 Solution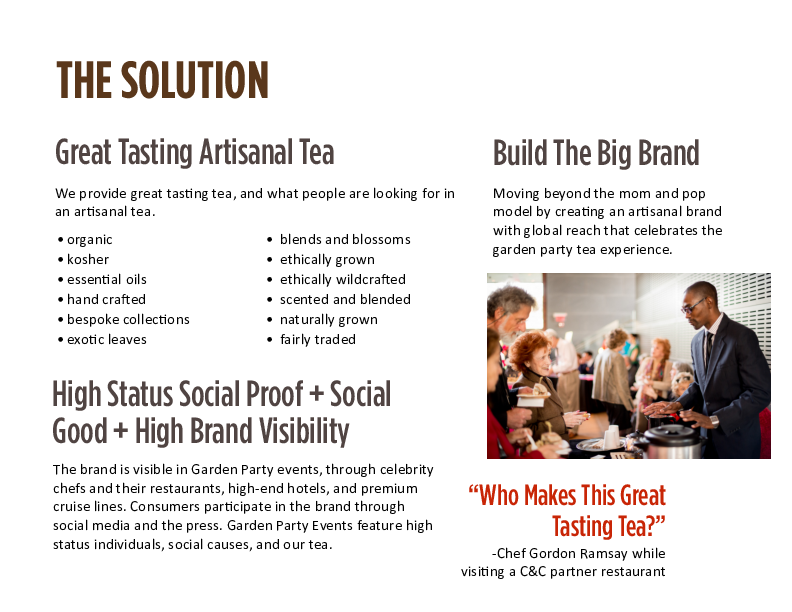 Now Brewing…. A Proper "British" Tea
Charles & Company is a luxury organic and kosher tea brand that transcends the ordinary by taking a traditional British approach, with a bit of an American twist. Our teas are blended with essential oils, exotic spices, natural flavors, and infused with hints of floral and fruity notes. Drinking Charles & Company tea elevates and stimulates the palate in surprising and refreshing ways. The only American tea brand associated with British Royalty.
As a privately-held company, Charles & Company is redefining the customer experience in three ways. First, by embracing our customers through appropriate collaborative partnerships and events. Secondly, Charles & Company transcends the ordinary with a 13+ product tea line that is organic and kosher as well as blended with essential oils, exotic spices, natural flavors and infused with hints of floral and fruity notes. Lastly, Charles & Company is focused on creating magical moments by immersing the consumer in unforgettable tea soirees that deliver beautiful memories of a day gone by.
The different varieties of Charles & Company Tea are as unique as the company itself. With flavors like White Blueberry Pomegranate, Coconut Chamomile, Passionfruit Jasmine, Indian Chai and Creamy Earl Grey, tea aficionados can experience a wide variety of high-quality, hand-blended teas.
The loose-leaf teas are available in 1 oz, 4 oz and 1 lb packages at cnctea.com or numerous fine restaurants throughout Southern California. Prices per flavor vary with 1 oz. sizes ranging from $5.50 to $6.95, the 4 oz. from $22.00 to $27.80 and 1 lb. sizes starting at $88.00.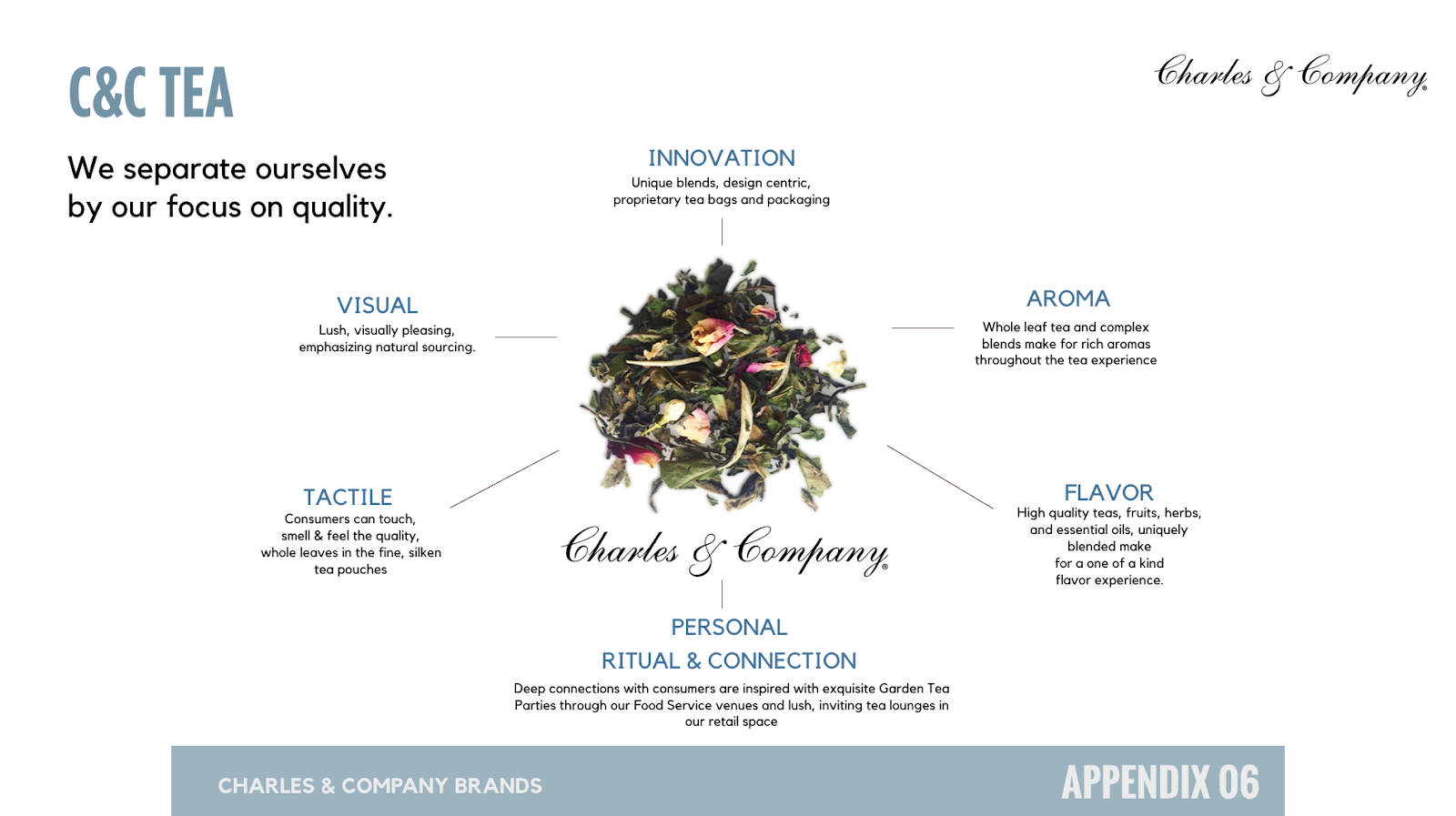 Great Tasting Loose Leaf Tea
We provide great tasting tea, and what people are looking for in an artisanal tea. Our teas are:
Organic
Kosher
Essential oils
Hand crafted
Bespoke collections
Exotic leaves
Blends and blossoms
Ethically grown
Ethically wildcrafted
Scented and blended
Naturally grown
Fairly traded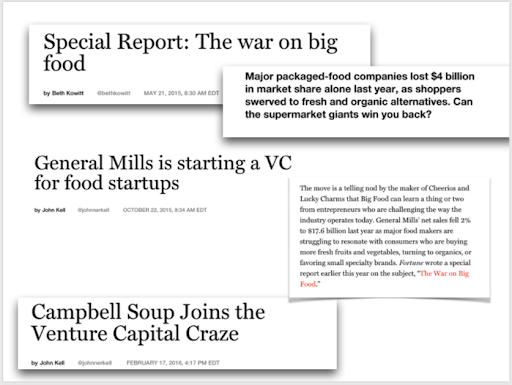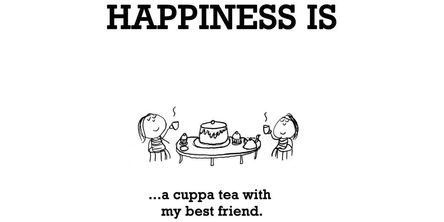 Community
Human connections are an essential part of life. As technology permeates more and more our our daily lives, we are losing this connection. Tea brings humanity back from the social media, disconnected world. It brings friends together to talk rather than to text. It brings networking back to life. It brings tea from a place of mediocrity and commodity to the world of Charles & Company.
We do this through exclusive high-end catering events where we curate a resplendent brand and an experience synonymous with luxury. We then enable the individual consumer to partake in our teas through B2B and B2C channels. We decommoditize tea through this brand thereby allowing significant margins to ensure highest quality and profits possible.
We cater to Beverly Hills and British haute couture events like the British Polo Match and Women's Wear Daily Executive Board Meetings. We also have a direct to consumer website cncteas.com where orders can be placed, as well as a strong affiliate network of restaurants and businesses around the southern California region to serve our teas. We collect testimonials from high-end consumers and celebrities to further grow our brand's association with luxury. We do all this while ensuring the highest quality through our unique supplier network and recipes that combine tea leaves with essential oils.
Currently humans are disconnected, unhealthy, and are forced to accept mediocre tea, a drink that was once regarded as a tool for connection, health, and luxury.
Charles & Company provides high class tea events and high quality teas to bring tea time (human connections) back in vogue to help people be happier, healthier, and associated with a powerful brand doing good in the world.
Competitive Landscape
Our competitors focus exclusively on the tea products themselves, and range from value brands (such as Argo Tea and Coffee Bean & Tea Leaf) to premium brands (such as Teavana and Mighty Leaf). These companies approach tea as a beverage consumed in an individual setting, while at C&Co, we believe tea is the ideal social beverage. This difference in focus leads to a radically different value proposition and marketing approach.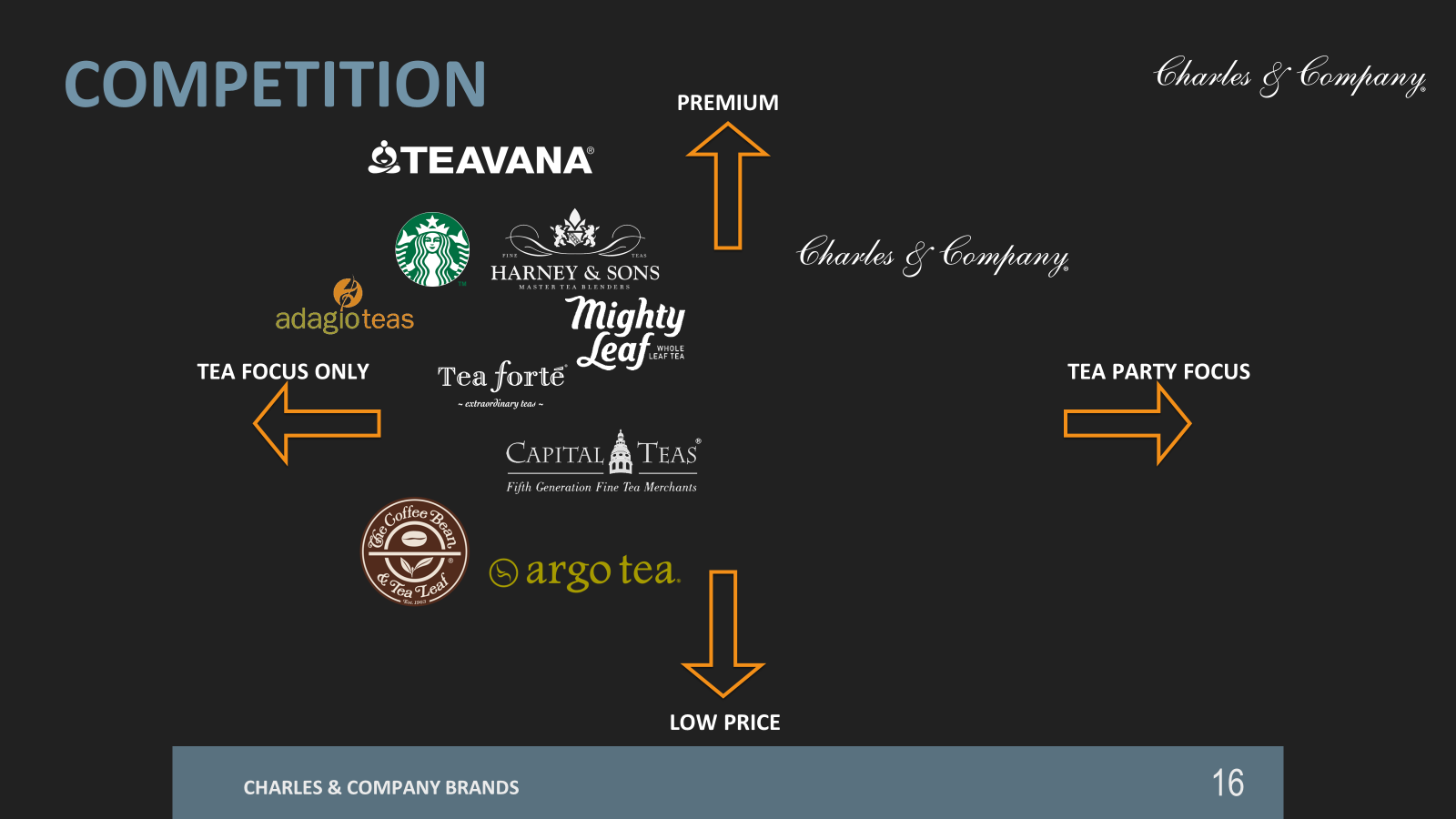 Business Model
Charles & Company has two current revenue streams: wholesale of bulk-packaged tea to hotels and restaurants and direct-to-consumer retail of bulk-packaged tea through the company website. The majority of revenue comes from wholesale customers. Margins on wholesale product range from 33 percent to 80 percent gross sales profit, while retail margins range from 70 percent to more than 90 percent.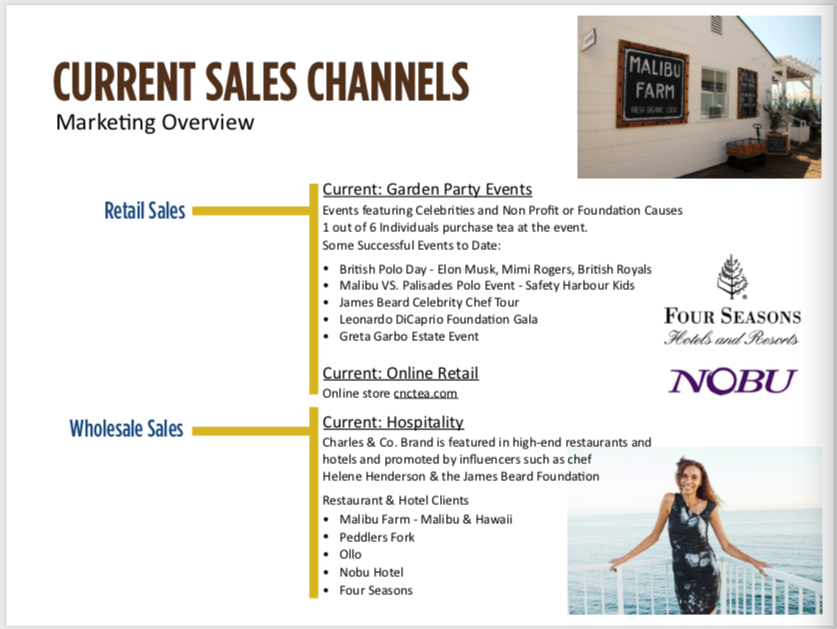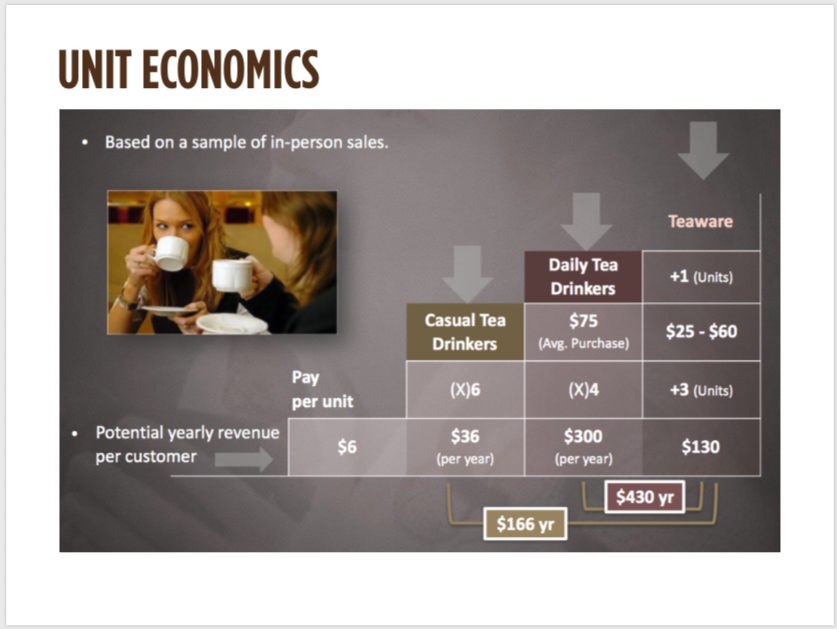 Progress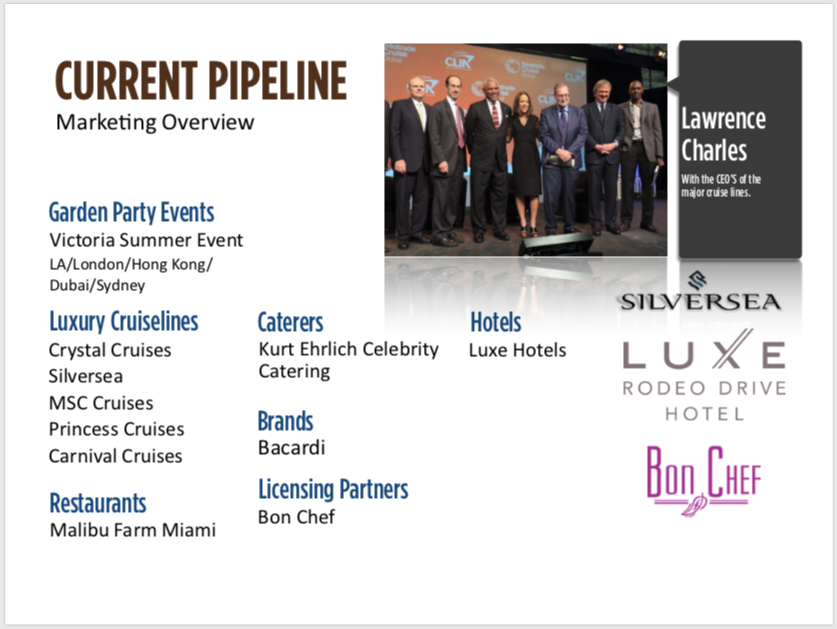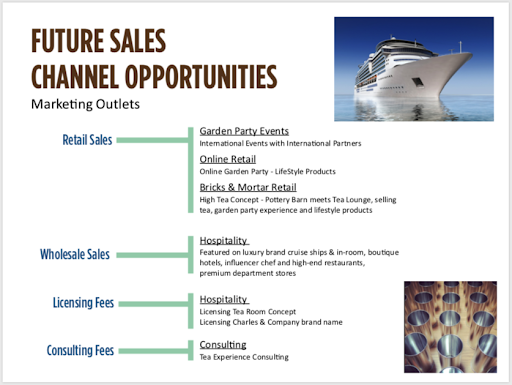 Customers are currently acquired through word-of-mouth and networking. We are beginning to see wholesale customers (e.g. Malibu Farms) expanding our products into additional locations.
This type of organic growth will be a key expansion area in 2019. The company makes additional contacts by participating in various events (such as TEDxPasadena, Teen Cancer America fundraiser, etc), which provide both media coverage and networking opportunities.
Success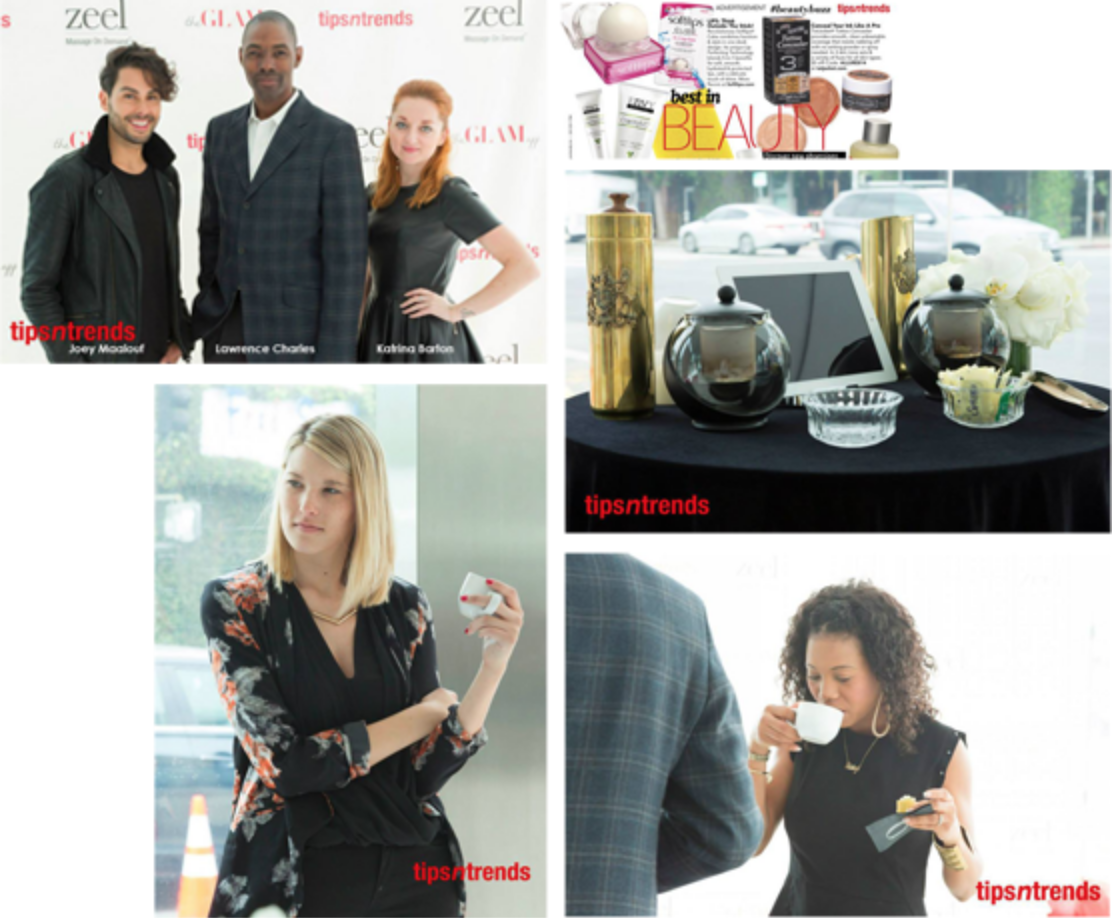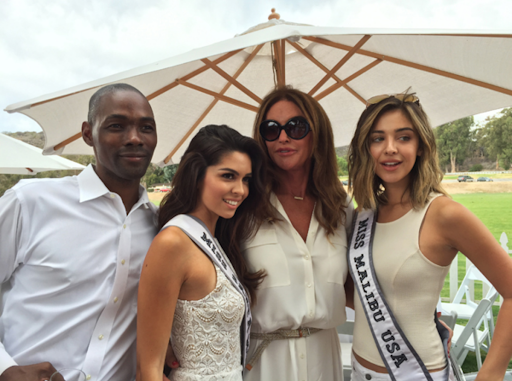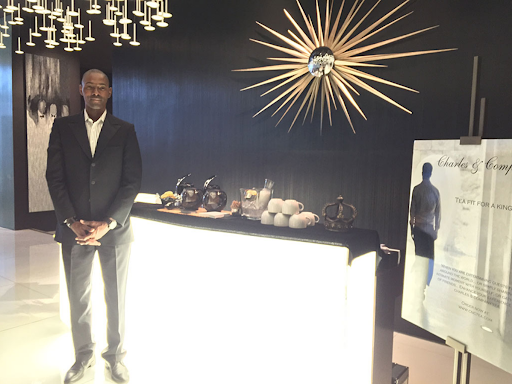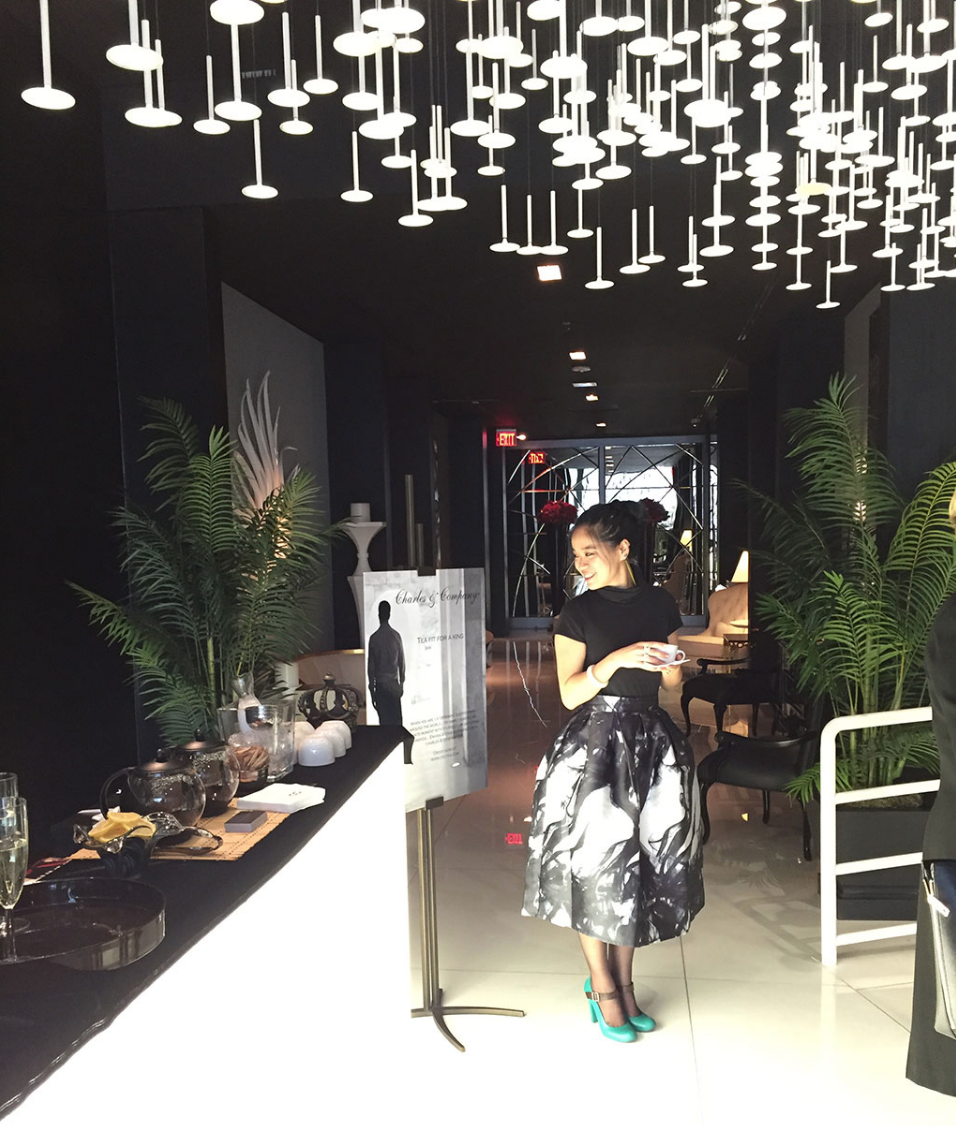 Press mentions:
Comedians In Cars Getting Coffee: (One of our restaurants hosted the show)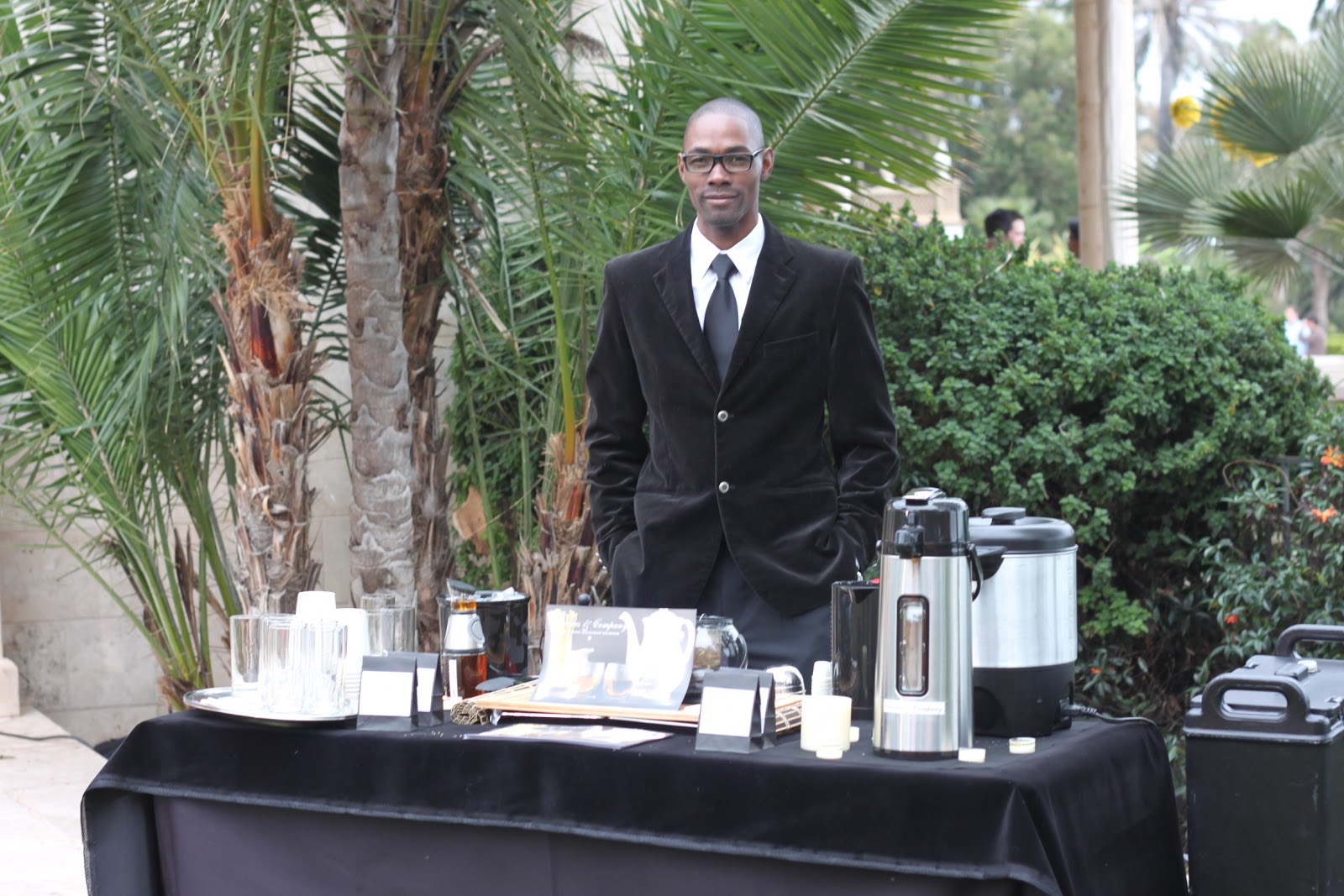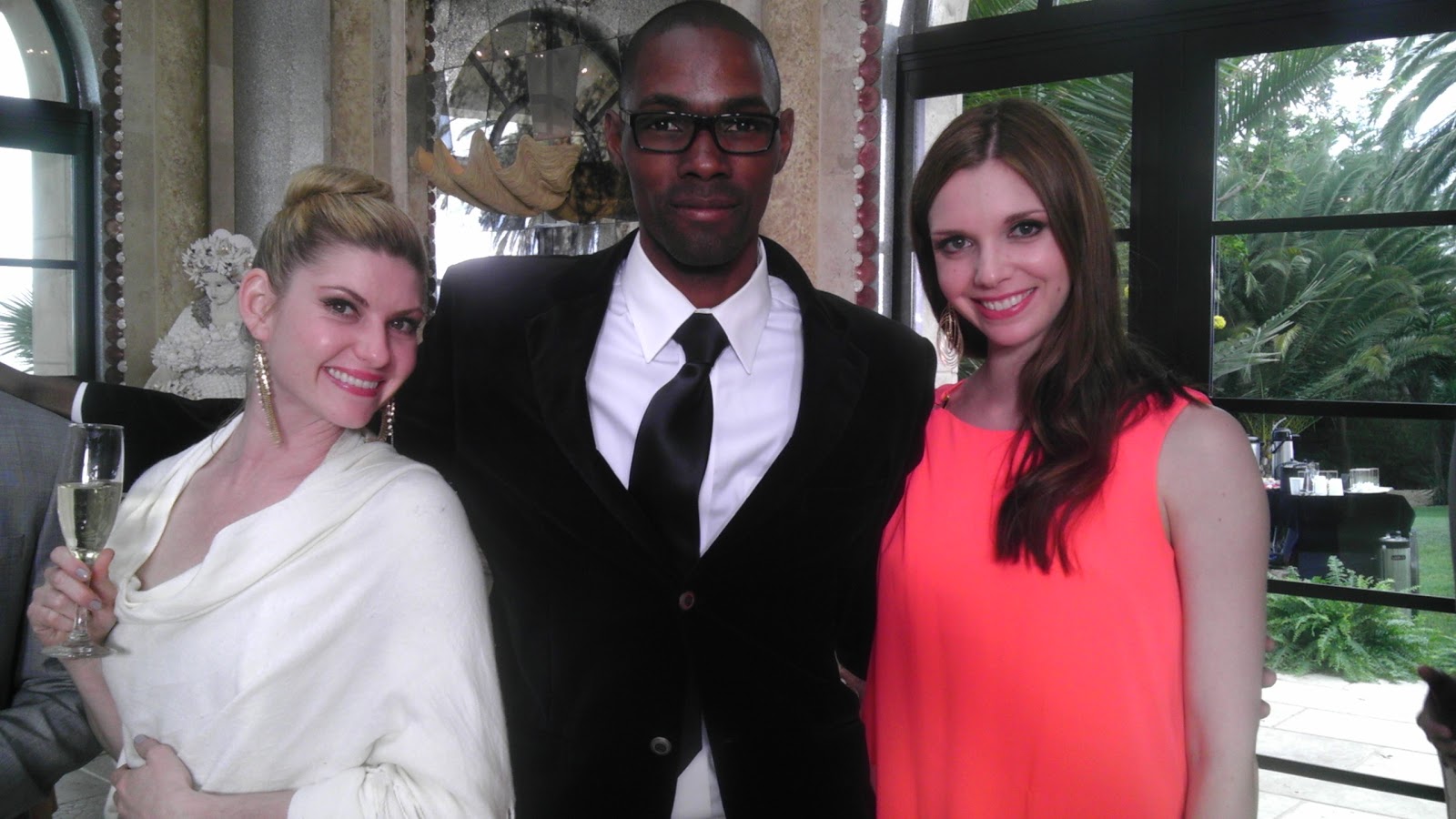 KPI
Gross Margin: Target gross margin is 65%. 2018 YTD performance is 75.7% gross margin. (NB COGS does not currently include a direct labor component as owners perform product packaging. Direct labor is expected to reduce gross margins to closer to 65% as sales volumes increase.)
Repeat monthly orders: The average number of times each wholesale customer orders in a month is currently our best indication of product traction within the venues where products are sold. This metric is Sum of Wholesale Orders divided by Sum of Wholesale Customers. Repeat monthly orders was 1.67 orders per customer for August 2018.
Team
Lawrence Charles
Founder, CEO
Lawrence started Charles & Company on a mountain bike selling tea door-to-door in Los Angeles, and has successfully placed the company's products in several premiere restaurant and hotel brands. He is an award winning industrial designer and EY Entrepreneur of the Year Nominee, and has participated in numerous business development programs (including Dartmouth BHBP, the Initiative for a Competitive Inner City (ICIC), and USC Founder Bootcamp). Lawrence scored in the top 25% of worldwide applicants on the Predictive Admissions Test through Founder Institute's application process.
A lifelong entrepreneur, Lawrence worked his way through the industrial design program at the Art Institute of Pittsburgh performing sales consulting for a major hair clipper manufacturer. He has since done design and promotional work for the television and apparel industries, before turning his attention to disrupting the tea market. Lawrence's skills as an industrial designer, strategist and marketer have been the key success factors of Charles & Company's growth.
Scott Huthmacher
Co-founder, Operations
Scott is an experienced executive that focuses on the operational and financial management of Charles & Company. After finishing his MBA at UCLA Anderson in 2014, Scott held C-level roles at two startup businesses. FastEvac (1/15 to 11/15) was a B2B mobile application for facility disaster evacuations, where Scott served as CFO and co-founder. Propaganda E-Liquid (12/15 to 6/18) is a manufacturer of nicotine e-liquid for electronic cigarettes. Scott was integral in the startup and scaling of Propaganda's manufacturing operations (scaling 3x from $2.5 mm to $7.5 mm annual revenue over that period), as well as managing the company's financial function.
Advisors and Investors
Roberto Diaz
Operations/QA at Mighty Leaf (former)
Susie Uramoto
COO at Mighty Leaf, VP Ops at Fosters, Supply Chain/Inventory Forecasting at Starbucks
Jen Shepherd
Business Intelligence at Teavana
Social Enterprise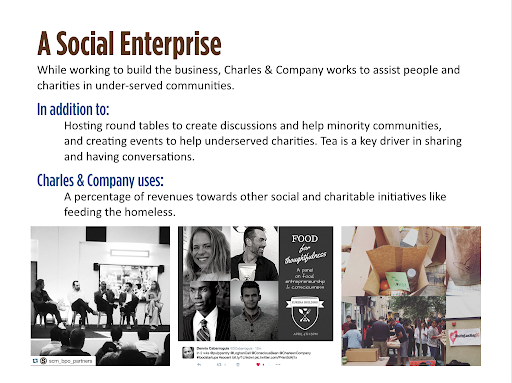 Tea'd Up is a project initiated by Charles and Company through a fiscal partnership withCreative Visions Foundation that aims to empower youth with leadership skills and modern-day business etiquette. Charles and Company founder, Lawrence Charles, was inspired to launch the Tea'd Up initiative and the Charles and Company Classic because of his own experience. As a youth, he had to self-parent and was often overwhelmed by his circumstances. Charles states, "Many youths in the inner-city find themselves "self-parenting," trying as quickly as they can to not only understand life but to also make critical decisions for themselves when their peers have the access of generations of professionals in their family."
He continues, "In many cases, their chosen professions stack up against them statistically, causing a young adult to spend unnecessary time or to give up. Our vision is to equip a child with the confidence and wherewithal to achieve anything. It starts with knowing what's possible. But ultimately, they need the confidence to walk into unfamiliar rooms and places and the tools to succeed."
Use of Proceeds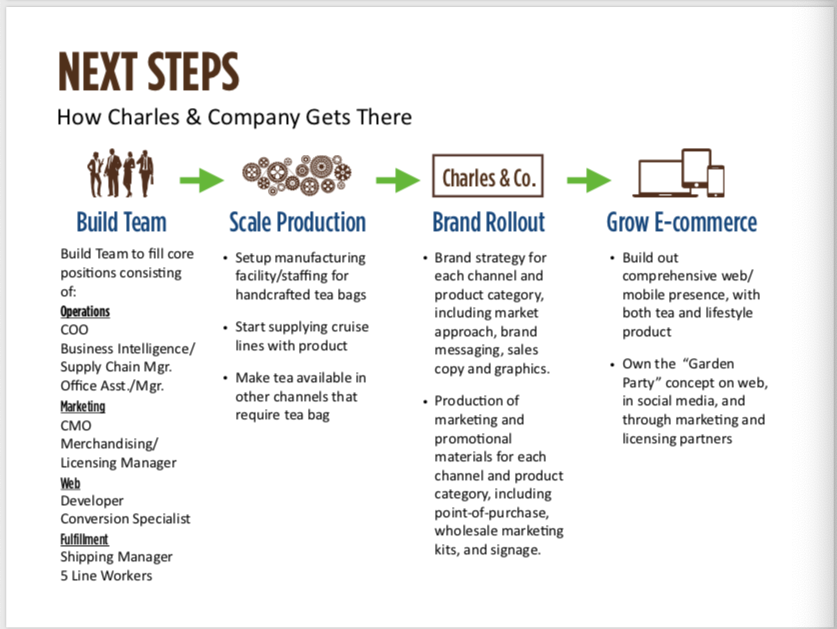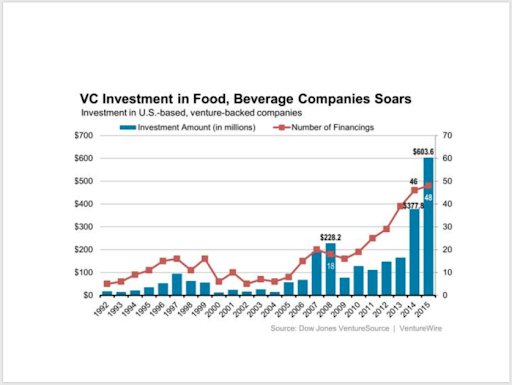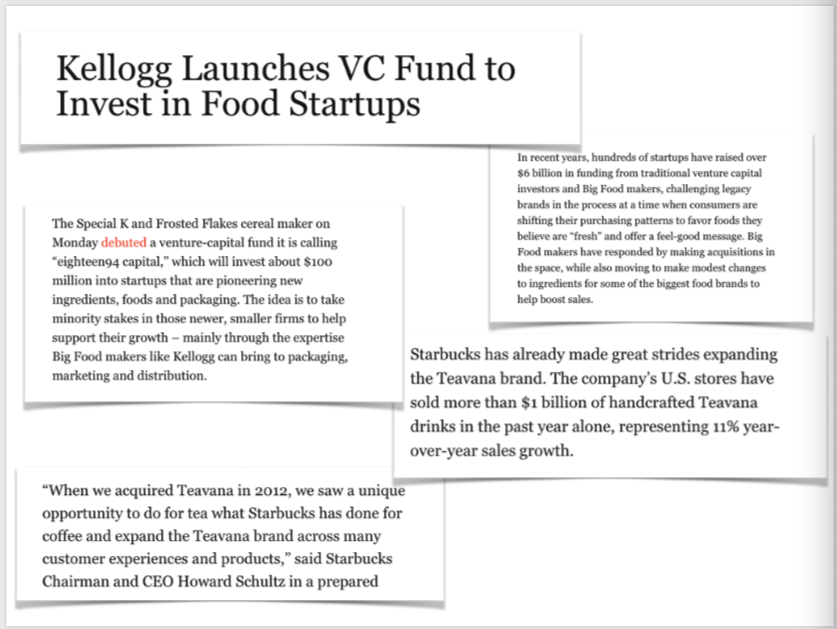 Industrial space
Manufacturing equipment
Hiring key employees in sales and operations
If the offering's maximum amount of $107,000 is raised:
| Use | Value | % of Proceeds |
| --- | --- | --- |
| Compensation for managers | $5,000 | 4.7% |
| Industrial facility | $18,000 | 16.8% |
| Manufacturing equipment | $30,000 | 28.0% |
| Key employees | $48,757 | 45.6% |
| Intermediary fees | $5,243 | 4.9% |
Terms
This is an offering of Common Stock, under registration exemption 4(a)(6), in Domestic Brands Inc, doing business as Charles & Company. This offering must raise at least $10,000 by September 30, 2020 at 11:59pm ET. If this offering doesn't reach its target, then your money will be refunded. Charles & Company may issue additional securities to raise up to $107,000, the offering's maximum.
$10,000 minimum
$18,035 raised
If the offering is successful at raising the maximum amount, then the company's implied valuation after the offering (sometimes called its post-money valuation) will be:
5,981,495 shares
×
$0.20 per share
$1,196,299implied valuation
Financials
Charles & Company's official name is Domestic Brands Inc, so that's the name that appears in the statements below.
SEC Filings
The Offering Statement is a formal description of the company and this transaction. It's filed with the SEC to comply with the requirements of exemption 4(a)(6) of the Securities Act of 1933.
We're also required to share links to each of the SEC filings related to this offering with investors.
Updates
Feb 25, 2019

Jan 10, 2019

Nov 28, 2018

Nov 27, 2018

Primary offering of $0.20

shares at
Ask a Question
Proofread your comment before submitting: once it's posted, you can't edit or delete it. For the fastest help with the web site, email help@netcapital.com instead of commenting.
Understand the Risks
Be sure to understand the risks of this type of investment. No regulatory body (not the SEC, not any state regulator) has passed upon the merits of or given its approval to the securities, the terms of the offering, or the accuracy or completeness of any offering materials or information posted herein. That's typical for Regulation CF offerings like this one.
Neither Netcapital nor any of its directors, officers, employees, representatives, affiliates, or agents shall have any liability whatsoever arising from any error or incompleteness of fact or opinion in, or lack of care in the preparation or publication of, the materials and communication herein or the terms or valuation of any securities offering.
The information contained herein includes forward-looking statements. These statements relate to future events or to future financial performance, and involve known and unknown risks, uncertainties, and other factors, that may cause actual results to be materially different from any future results, levels of activity, performance, or achievements expressed or implied by these forward-looking statements. You should not place undue reliance on forward-looking statements since they involve known and unknown risks, uncertainties, and other factors, which are, in some cases, beyond the company's control and which could, and likely will, materially affect actual results, levels of activity, performance, or achievements. Any forward-looking statement reflects the current views with respect to future events and is subject to these and other risks, uncertainties, and assumptions relating to operations, results of operations, growth strategy, and liquidity. No obligation exists to publicly update or revise these forward-looking statements for any reason, or to update the reasons actual results could differ materially from those anticipated in these forward-looking statements, even if new information becomes available in the future.
Looking to raise capital?
We can help turn your friends, family and customers into investors.
Learn more
Interested in more investment opportunities?
Browse all offerings currently available.
See more