Introduction
At Backers we create smart contracts that execute on public blockchains. These smart contracts provide the mechanisms of Trust, Transparency and Accountability that have traditionally been provided by outside third parties. At Backers, we are pursuing relationships in the eSports community as we seek to provide unprecedented levels of fan interaction. With entry fees that are crowdfunded by the fans and teams, fans gain a form of equity in the team during the competition and receive their share of the prize pool when their teams win. We are also pursuing a pilot program to engage and change how local schools handle their fundraising needs within their community. Finally we are pursuing a pilot program to engage with businesses that employ migrant or other undocumented workers. We believe that we can offer employers an opportunity to provide long term support to those workers without the complex legal and financial obstacles that currently exist. Currently it is difficulty for these types of employers to establish delayed compensation or other retirement style benefits. At Backers we believe that we are creating a platform that will allow for the allocation and growth of these assets while minimizing the overhead and administrative costs. We will announce more as these relationships are finalized.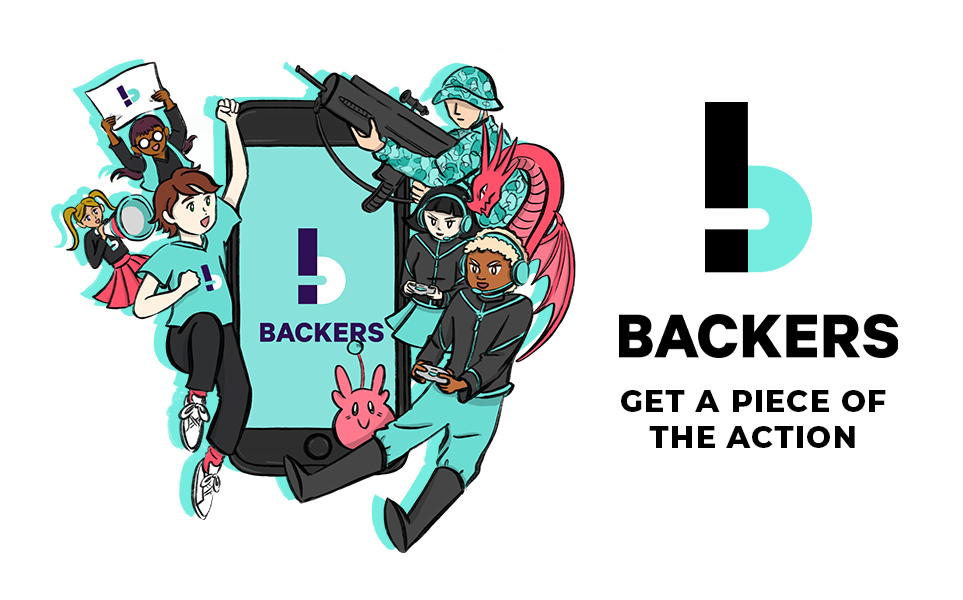 Deal Highlights
Own a piece of the company that will let you "own" a piece of your favorite eSports competition
Founded by industry veterans
eSports
Problem
eSports teams have fans that number in the hundreds of millions, yet these fans are limited to passively enjoying the streams from their favorite teams. At the same time, eSports teams are looking to increase revenue by further engaging with their fans. eSports teams must invest millions of dollars in franchise fees just to compete and are paying millions per year in player salaries. Recent metrics show that streaming hours for games like Fortnite are beginning to slow down which can cost eSports teams and streamers revenue.

Solution
At Backers we solve this problem by restructuring eSports competitions to include crowdfunded entry fees that allow the global audience to participate in the competition by Backing their favorite teams and players.
Currently prize pools are funded by in-game purchases of the global player pool combined with advertising dollars.
With Backers, we add team entry fees to the prize pool and let fans share in the prizes. By backing your favorite team, you gain access to a portion of their winnings in a specific competition or series. As the competitions play out, the prize pools are awarded to the winning teams and their Backers.
We facilitate this using cryptocurrency and smart contracts to secure these transactions.
Our system is designed to convert fiat currency to digital currency, so players can pay with dollars. Once a player backs their team, funds are transferred to a smart contract, similar to an online escrow account, and winnings are automatically distributed as the results of the competition are finalized.
Our system is built on Ethereum and we are continuing to evaluate other crypto platforms to further facilitate our business. By using these systems, Backers never has to take custody of the funds, which saves us from liability.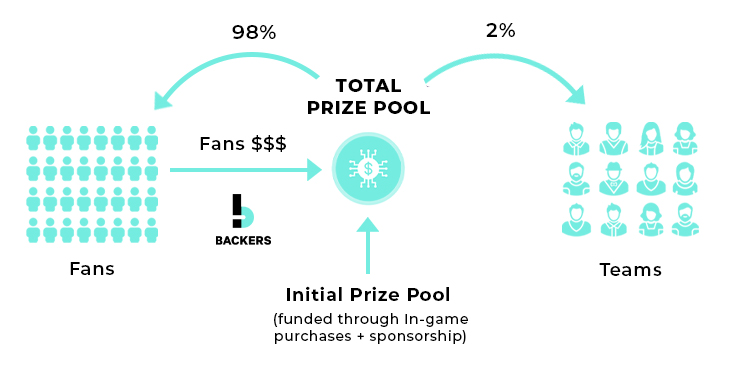 Business Model
We plan to charge fans a 2.5% transaction fee when they engage with their favorite teams. We plan to charge the fee on top of their contribution. For example, if a fan wants to back a team for $50, they will be charged $51.25. We are building a platform that is designed to handle millions of Backers per competition.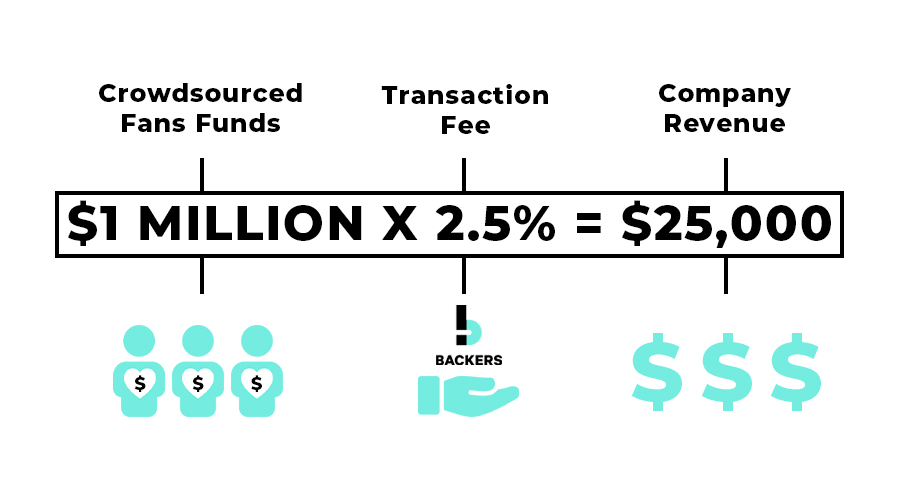 Market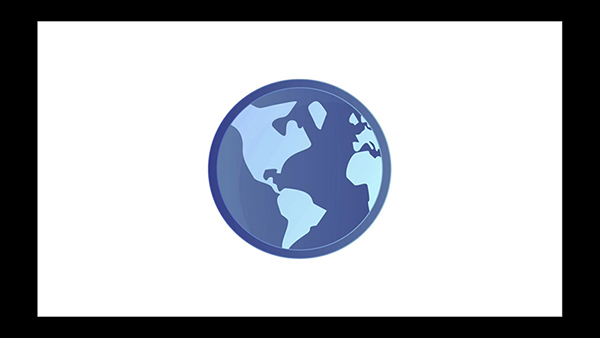 66% of the U.S. Population are gamers[1] who watch 6 hours of eSports per week[2] and spend $32 per month on in-game purchases[3]. In 2019 880 million viewers watched 10 billion hours of eSports content online[4]. Global Streaming Gaming Market is on track to generate revenue of 3.2 billion by 2023[5]. League of Legends has over 100 million unique players every month[6]. In 2019 over 1 billion hours of League of Legends was streamed on Twitch[7]. The 2019 League Championship Series had 44 million concurrent live viewers, (45% of the 2020 Super Bowl) with over 260 million viewers total. The global eSports viewing audience is approaching one billion viewers. The hours spent watching eSports videos is increasing by 1 billion hours each year[8]. The number of hours spent watching eSports in 2019 reach 6.6 billion hours[9]. A Twitch streamer with 2000 subscribers can earn $5,000 per month[10].
Competitive Landscape
While we don't believe there are other companies in our industry offering these products, we have seen similar companies have success with similar models in other industries. One such company is youstake.com, which deals exclusively with poker. There you can 'stake' a poker player for a tournament and earn a share of the players awarded prize. Fantasy sports do not offer a direct relationship between the competitors and the fans. Backers creates smart contracts that allow the Backers to engage directly with their favorite teams, gaining equity in the team and prize pool.
Progress
We partner with eSports creators and franchises to build platforms that integrate with their existing games and networks. Our "customers" are these companies, yet we provide our services to them at no charge. Rather, we offer them an opportunity to engage like never before with their existing fans and teams. We are confident that our applications will increase their revenue, fan base and branding opportunities. These gaming companies and eSports teams already market to their million of fans and we expect them to bear the burden of advertising their Backers campaigns to their existing fan base. Our services are provided at no charge as our fees are paid by the fans utilizing the platform.
Success
Our original proof of concept was a poker tournament completed on the Ethereum network. Initially we proved we could work the inputs and outputs of the contract. Next we designed a contract that allowed fans to participate in the funding of the prize pool and to receive distributions from that prize pool based on tournament results. Blockchains and smart contracts have evolved and now offer even greater flexibility and security. We are prepared to take our existing proof of concept and convert it to our minimally viable product (MVP) and launch with an eSports partner within 12 months.
There have been recent breakthroughs in smart-contracts and wallet technology that allow for crowd funding mechanisms to be integrated on major blockchains. We expect to create further innovations in wallet technology with regard to non-custodial financial transactions and in-wallet staking.
Migrate project to Bitcoin Cash network.
Update smart contract structure that allows for 'backing' via crowd-funding.
Establish relationships with eSports franchises or creators.
Establish terms for MVP initial product launch with eSports franchise.
Integrate Backers application with eSports application via API.
Complete Hackathon to test smart contract structure.
Launch MVP with eSports Tournament.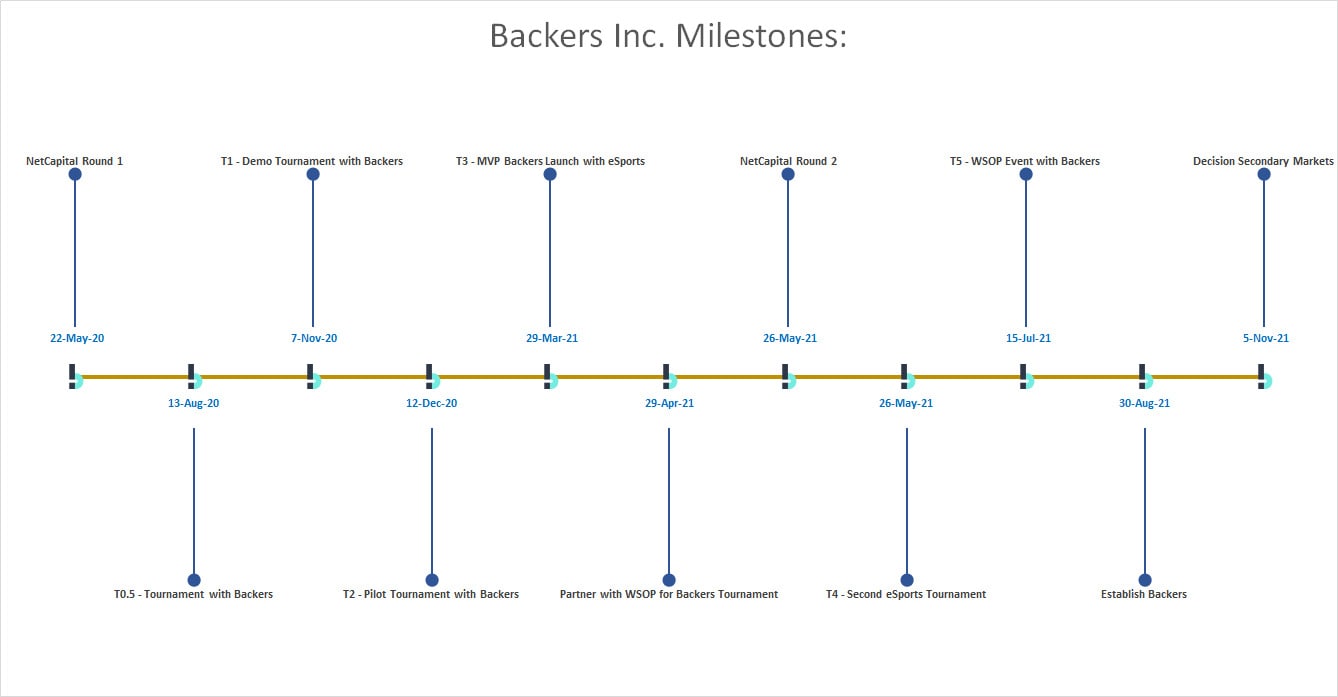 Team
Backers was founded by veterans in online security, digital currency and financial technology. Advisors include elite developers in the Blockchain industry. We have relationships with insiders who have worked on some of the latest Blockchain developments, including SegWit 2x, Bitcoin Cash, ZCash and RSK.
Brian Tinney
CEO & Founder
Brian Tinney has over 20 years of experience in IT infrastructure design and architecture as well as network security and data privacy. Brian has been involved with Bitcoin and other Blockchain applications since 2012.
Matt Smart
Vice President
Smart Software Solutions Inc. is a computer consulting company headquartered in Pierre, South Dakota. The company was founded by Matthew Smart in 2004. Smart Software Solutions specializes in the creation and hosting of web based information management systems, dynamic websites, and custom applications for businesses of all sizes. Smart Software Solutions Inc. has a dedicated team of developers with the motivation and desire to write great software.
Nicholas Bonetto
Intern
Nick is a passionate software developer with a business background, and specialize in web development and decentralized applications.
Rodney Recker
Advisor
Rodney has been functioning as President and CFO of a business consulting firm focused on performance improvement using Lean Six Sigma Training and Deployment, Lean Manufacturing, Supply Chain Optimization, Business Process Reengineering, and Organization
Colton Griffin
Advisor
Colton's experience is in developing ERP and supply chain solutions for various industries. He has successfully developed and delivered products to market. He has successfully raised capital and executed his development plan on time and on budget.
Walter Karshat
Advisor
Walter Karshat is an Innovator and Entrepreneur in Blockchain Technologies, FinTech, Mobile Apps, Wireless Health, IoT and Embedded Communications. Walter graduated with honors from the University of California, Berkeley with degrees in both Computer Science and Physics.
Use of Proceeds
If the offering's maximum amount of $1,070,000 is raised:
| Use | Value | % of Proceeds |
| --- | --- | --- |
| COO / CFO | $72,000 | 6.7% |
| Marketing Campaign | $180,570 | 16.9% |
| Developer Labor | $720,000 | 67.3% |
| Legal and Regulatory | $14,500 | 1.4% |
| MVP Launch | $12,000 | 1.1% |
| Branding / Social Media | $18,500 | 1.7% |
| Intermediary fees | $52,430 | 4.9% |
Terms
This is an offering of Common Stock, under registration exemption 4(a)(6), in Backers Inc.. This offering must raise at least $10,000 by December 3, 2020 at 11:59pm ET. If this offering doesn't reach its target, then your money will be refunded. Backers Inc. may issue additional securities to raise up to $1,070,000, the offering's maximum.
$10,000 minimum
$10,174 raised
If the offering is successful at raising the maximum amount, then the company's implied valuation after the offering (sometimes called its post-money valuation) will be:
4,815,000 shares
×
$2.00 per share
$9,630,000implied valuation
Financials
These financial statements have been reviewed by an independent Certified Public Accountant.
SEC Filings
The Offering Statement is a formal description of the company and this transaction. It's filed with the SEC to comply with the requirements of exemption 4(a)(6) of the Securities Act of 1933.
Updates
Sep 13, 2020

It has been a busy week in development. We are...

It has been a busy week in development. We are happy to announce that we have made great progress on the platform and are entering the testing phase. We are building a platform that should scale to millions of transactions. Utility, testing and simulation scripts have been published. UI is next.

Read more

Aug 27, 2020

We are happy to announce that Aaron Jaramillo...

We are happy to announce that Aaron Jaramillo will be joining the Backers Team. Aaron will lead the development of our Ethereum based platform. Since 2017, Aaron has worked in the Ethereum smart contract space with a fluency in solidity programming and web3 dapp development. We are 6-8 weeks out.

Read more

Jun 5, 2020

Primary offering of $2.00

shares at
Ask a Question
Proofread your comment before submitting: once it's posted, you can't edit or delete it. For the fastest help with the web site, email help@netcapital.com instead of commenting.
Understand the Risks
Be sure to understand the risks of this type of investment. No regulatory body (not the SEC, not any state regulator) has passed upon the merits of or given its approval to the securities, the terms of the offering, or the accuracy or completeness of any offering materials or information posted herein. That's typical for Regulation CF offerings like this one.
Neither Netcapital nor any of its directors, officers, employees, representatives, affiliates, or agents shall have any liability whatsoever arising from any error or incompleteness of fact or opinion in, or lack of care in the preparation or publication of, the materials and communication herein or the terms or valuation of any securities offering.
The information contained herein includes forward-looking statements. These statements relate to future events or to future financial performance, and involve known and unknown risks, uncertainties, and other factors, that may cause actual results to be materially different from any future results, levels of activity, performance, or achievements expressed or implied by these forward-looking statements. You should not place undue reliance on forward-looking statements since they involve known and unknown risks, uncertainties, and other factors, which are, in some cases, beyond the company's control and which could, and likely will, materially affect actual results, levels of activity, performance, or achievements. Any forward-looking statement reflects the current views with respect to future events and is subject to these and other risks, uncertainties, and assumptions relating to operations, results of operations, growth strategy, and liquidity. No obligation exists to publicly update or revise these forward-looking statements for any reason, or to update the reasons actual results could differ materially from those anticipated in these forward-looking statements, even if new information becomes available in the future.
Looking to raise capital?
We can help turn your friends, family and customers into investors.
Learn more
Interested in more investment opportunities?
Browse all offerings currently available.
See more