Introducing Undercurrent VR
Undercurrent VR Inc. is introducing a brand new, plenoptic-based, virtual reality format that differs from the competition by not needing any goggles or headsets to operate. Undercurrent's customer base will be educational institutions, corporate advertising agencies, rental houses, networks and potentially many other outlets catering to their specific consumer base. UCVR is a B2B SaaS Corporation based out of New York.
"Undercurrent VR's technology can introduce a whole new ​market for virtual reality to the world. For my company CyberClaz, we are very certain that this format will engage the students in a way they have not been engaged previously."
Shibi Salim, CEO of SenzIT (IBM Partnered Company)
Problem
In the current landscape of VR, the format is dependent upon cumbersome headsets that create eye strain and disorientation through extended use. This also limits the content to the particular (proprietary) format of the headset, has overly digitized content, and is too expensive for the average consumer to afford. Current virtual-reality headsets are accompanied by lengthy disclaimers warning of seizures, eye strain, nausea. One company even states that "prolonged use should be avoided, as this could negatively impact hand-eye coordination, balance and multitasking ability."
Solution
Undercurrent VR is creating a content-focused virtual reality format that can bridge the gap between the traditional ways of receiving media with the interactive elements of goggle-based virtual reality. The Undercurrent VR Format will provide a goggle-free virtual reality experience, available for online streaming and free for the consumer. The goal is to consolidate this generation's virtual reality content consumption to the UCVR format pertaining to advertising, education, narrative content, and sports-related video games.
UCVR is focused on utilizing the most advanced cloud computing and rising internet speeds across the globe to distribute our next generation light-field technology that lives between digital and live-capture content.
How it works
The UCVR Format will allow a user to experience virtual reality from their personal device. Imagine you are watching a video of a person speaking on your computer. If you move to the left, you will see more of the right side of the person. The movements you make will affect what you see, just like in real life. This novel approach to virtual reality is easier to implement and integrate into wider consumer culture than a fully immersive headset, and offers numerous applications in various markets.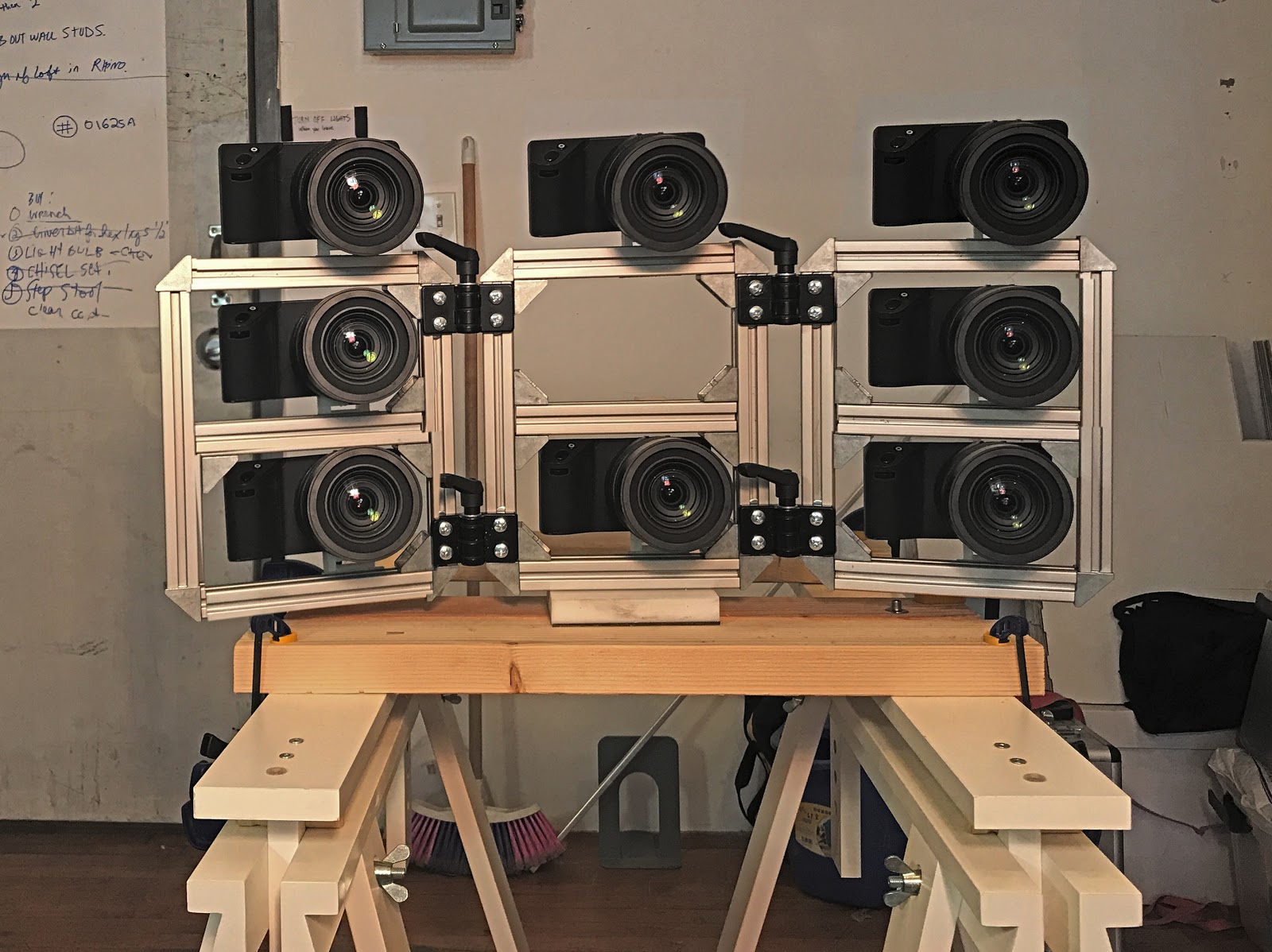 Market

UCVR products and services contain the potential to disrupt a number of markets including digital advertising, remote education, and sports video games.
The first markets that UCVR will be targeting are digital advertising and remote education. Digital advertising provides an exciting medium for the Undercurrent VR Format to engage consumers. UCVR will first target digital advertising markets in Japan and South Korea for two primary reasons: First, median bandwidth requirements to run the ads are estimated to be as high as 1 GBPS and Japan and South Korea have some of the fastest internet in the world. Second, Japan's embrace of digital consumerism provides a primed culture for this technology. The digital ad market in Japan alone is expected to reach $14.6 billion by 2022.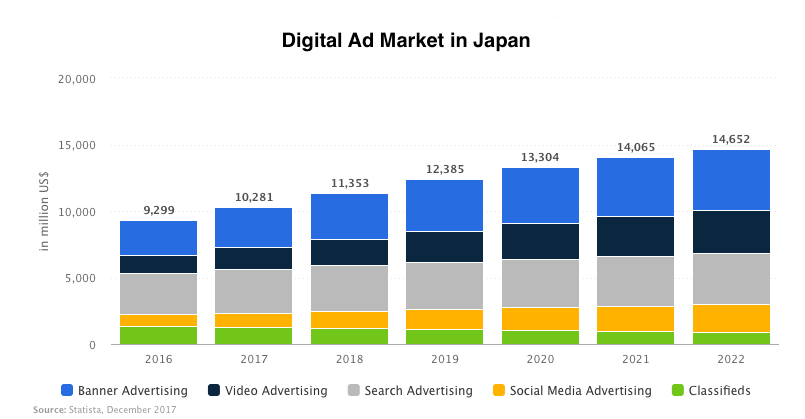 Eventually, UCVR will build up to narrative content in a brand new, sub-conscience choose-your-own-adventure movie format. Future Goal-Posts include IMAX-like cinema openings for a collective Choose-Your-Own-Adventure premiere of a blockbuster film.
Competitive Landscape
Competition for UCVR could be considered the virtual reality pioneers, like Oculus Rift, Google Cardboard or Samsung. For the virtue of larger corporations like Disney and IMAX theaters and content creation on the narrative front, UCVR poses a large threat of disruption. UCVR will be a corporation known for the values of the consumer and the quality of content production. We will encourage physical activity in the sports gaming culture and treat our employees, clients and investors fairly.
Currently, virtual reality without goggles is completely revolutionary for content creators.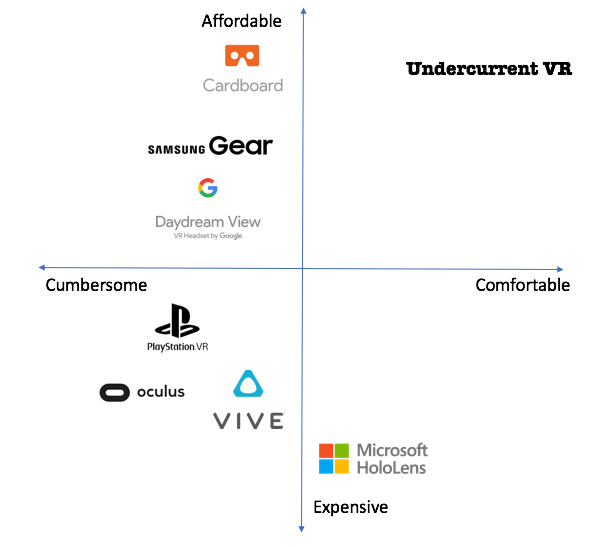 Business Model
UCVR will have proprietary ownership over the format and distribution of the content. Formatted as a B2B SaaS (Business to Business & Software as a Service) revenue structure, advertising clients would need to license the software that provides the interactive format of the Undercurrent Capture System (UCS) content. The target client in our initial market strategy will be advertising firms with relations to Japanese and Korean advertising markets and production therein.
Progress
CEO Drew Moore has been working within commercial production for the past eight years in NYC. He has direct contacts to the owners and production managers of Smuggler NYC, Epoch., DRIVER, Ghost Robot, ROKKAN and other top of the line advertising agencies and production companies. Once the technology is properly patented and technical and design elements are finalized, the company will move to distribute this system to professional production rental houses around the country.
UCVR is working on a partnership with the SenzIT company CyberClaz with backing from IBM to utilize the UCVR Format in CyberClaz, a remote-educational platform. The company's deal with CyberClaz is still to be negotiated for licensing rates. It's the company's position to take a moral compass, providing cheap-to free licensing to disenfranchised communities in this educational platform and charging premiums to for-profit charter and private institutions.
UCVR has opened discussions with PureLogic in establishing the necessary back-end and streaming obligations for the Current VR Display Software to function properly. The current strategy is to establish local cloud-server space for UCVR content that streams through a temporary consumer access. The soft launch in Tokyo, Japan will start to prove the company's market value, and on lean start-up principles, Undercurrent VR will order more servers to be built and maintained in our market at cost to the client.
Success
The first steps taken after the founders concepted this virtual reality format was the patent search. An international patent search through Litman Law confirmed that there is no light-field technology patented for virtual reality use.
Multiple consultations have been made with friends and programmers in the VR industry to resounding support of the format and functionality. Undercurrent has negotiated a partnership with a developer team that has deep experience in stitching as well as motion-initiated programs from working for companies such as Oculus Rift.
The relationship developing with CyberClaz may have extraordinary impact on the development of the required infrastructure and revenue streams. Though Undercurrent is in the early stages of development with SenzIT, the prospective upside of pairing with a rising company should give Undercurrent an advantage.
Team
The core team of Undercurrent VR Inc. includes the founders, researchers, programmers and back-end developers. Andy Sahlstrom, our CTO and Head of Manufacturing comes from a masters at the Interactive Telecommunications Program at NYU TISH while the CEO Drew Moore has a decade of experience producing film, television, commercials and music videos in New York City. These two have the combined knowledge of industry, production and technology to carry out the successful launch of this new virtual reality format.
Drew Moore
Co-Founder and CEO
Drew works in film and television production on Majors such as Gotham and Kick (Iron Fist), produces award winning MFA films from SBU and SVA ("Inferno"- DGA Best Student Film, "Longing" - Best Student Film from Big Apple Film Festival & London International Film Festival) and manages writers and directors out of New York City.
Drew graduated BYU-I Online at age 16 through independent study to move to New York City to The School for Film and Television graduate program, from which he graduated at age 19 as the youngest in his class.
Andy Sahlstrom
Co-Founder and CTO
Andy works as a creative engineer for interactive advertising firm, Moey Inc. Andy prototypes and engineers side projects for inventors and has been commissioned to build digitally programmable looms and forced-perspective advertisements among other projects.
Andy designed, engineered and built a new instrument made out of magnets and tuning forks powered by electromagnetic waves.
Use of Proceeds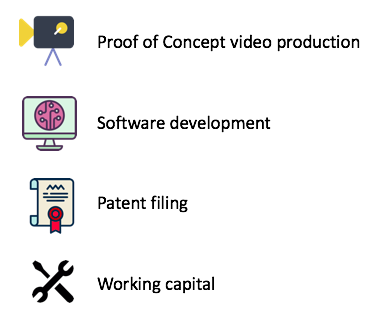 If the offering's maximum amount of $100,000 is raised:
| Use | Value | % of Proceeds |
| --- | --- | --- |
| Compensation for Directors, Officers, and Promoters | $30,000 | 30.0% |
| Working Capital | $45,000 | 45.0% |
| Equipment / Machinery | $14,000 | 14.0% |
| Real Estate | $6,100 | 6.1% |
| Intermediary fees | $4,900 | 4.9% |
Terms
This is an offering of Common Stock, under registration exemption 4(a)(6), in Undercurrent VR INC. This offering must raise at least $10,000 by May 8, 2018 at 4:00pm ET. If this offering doesn't reach its target, then your money will be refunded. Undercurrent VR may issue additional securities to raise up to $100,000, the offering's maximum.
$10,000 minimum
$12,830 raised
If the offering is successful at raising the maximum amount, then the company's implied valuation after the offering (sometimes called its post-money valuation) will be:
79,717 shares
×
$10.00 per share
$797,170implied valuation
SEC Filings
The Offering Statement is a formal description of the company and this transaction. It's filed with the SEC to comply with the requirements of exemption 4(a)(6) of the Securities Act of 1933.
We're also required to share links to each of the SEC filings related to this offering with investors.
Updates
May 14, 2018

May 8, 2018

Primary offering finalized, selling

shares

Sold $10.00 for a total of $12,830.00

shares at

Jan 19, 2018

Primary offering of $10.00

shares at

Jan 19, 2018
Transactions
Spread
| Bid quantity | Price | Ask quantity |
| --- | --- | --- |
*Some securities may only be transferred to accredited investors if issued within the past 365 days. Unaccredited investors are permitted to place bids, so some transfers may have yet to occur.
No recent secondary activity
Transaction Log
Ask a Question
Proofread your comment before submitting: once it's posted, you can't edit or delete it. For the fastest help with the web site, email help@netcapital.com instead of commenting.
Understand the Risks
Be sure to understand the risks of this type of investment. No regulatory body (not the SEC, not any state regulator) has passed upon the merits of or given its approval to the securities, the terms of the offering, or the accuracy or completeness of any offering materials or information posted herein. That's typical for Regulation CF offerings like this one.
Neither Netcapital nor any of its directors, officers, employees, representatives, affiliates, or agents shall have any liability whatsoever arising from any error or incompleteness of fact or opinion in, or lack of care in the preparation or publication of, the materials and communication herein or the terms or valuation of any securities offering.
The information contained herein includes forward-looking statements. These statements relate to future events or to future financial performance, and involve known and unknown risks, uncertainties, and other factors, that may cause actual results to be materially different from any future results, levels of activity, performance, or achievements expressed or implied by these forward-looking statements. You should not place undue reliance on forward-looking statements since they involve known and unknown risks, uncertainties, and other factors, which are, in some cases, beyond the company's control and which could, and likely will, materially affect actual results, levels of activity, performance, or achievements. Any forward-looking statement reflects the current views with respect to future events and is subject to these and other risks, uncertainties, and assumptions relating to operations, results of operations, growth strategy, and liquidity. No obligation exists to publicly update or revise these forward-looking statements for any reason, or to update the reasons actual results could differ materially from those anticipated in these forward-looking statements, even if new information becomes available in the future.
Looking to raise capital?
We can help turn your friends, family and customers into investors.
Learn more
Interested in more investment opportunities?
Browse all offerings currently available.
See more