Introduction
StemSation™ is focused on creating all-natural wellness product solutions by researching the latest ingredients and technologies that help you to look, feel and function at your best. We utilize the powerful direct selling channel to promote entrepreneurship and effectively spread our wellness message around the world.
Problem
Today's fast-paced, stress-filled lifestyles make it difficult to maintain optimal health and wellness. This stress, along with poor diet, lack of proper sleep and environmental toxins suppress your body's critical biological systems, including the stem cell system, the immune system and the endocannabinoid system.
Though there are many consumer wellness products on the market, very few, if any, address this problem by supporting these specific, critical biological systems, and in fact many actually contain potentially harmful chemicals and additives.
Solution
StemSation products support the stem cell, immune and endocannabinoid systems of the body in unique and synergistic ways — with all-natural dietary supplements and all-natural topical skincare products.
StemRCM™: Supporting stem cell physiology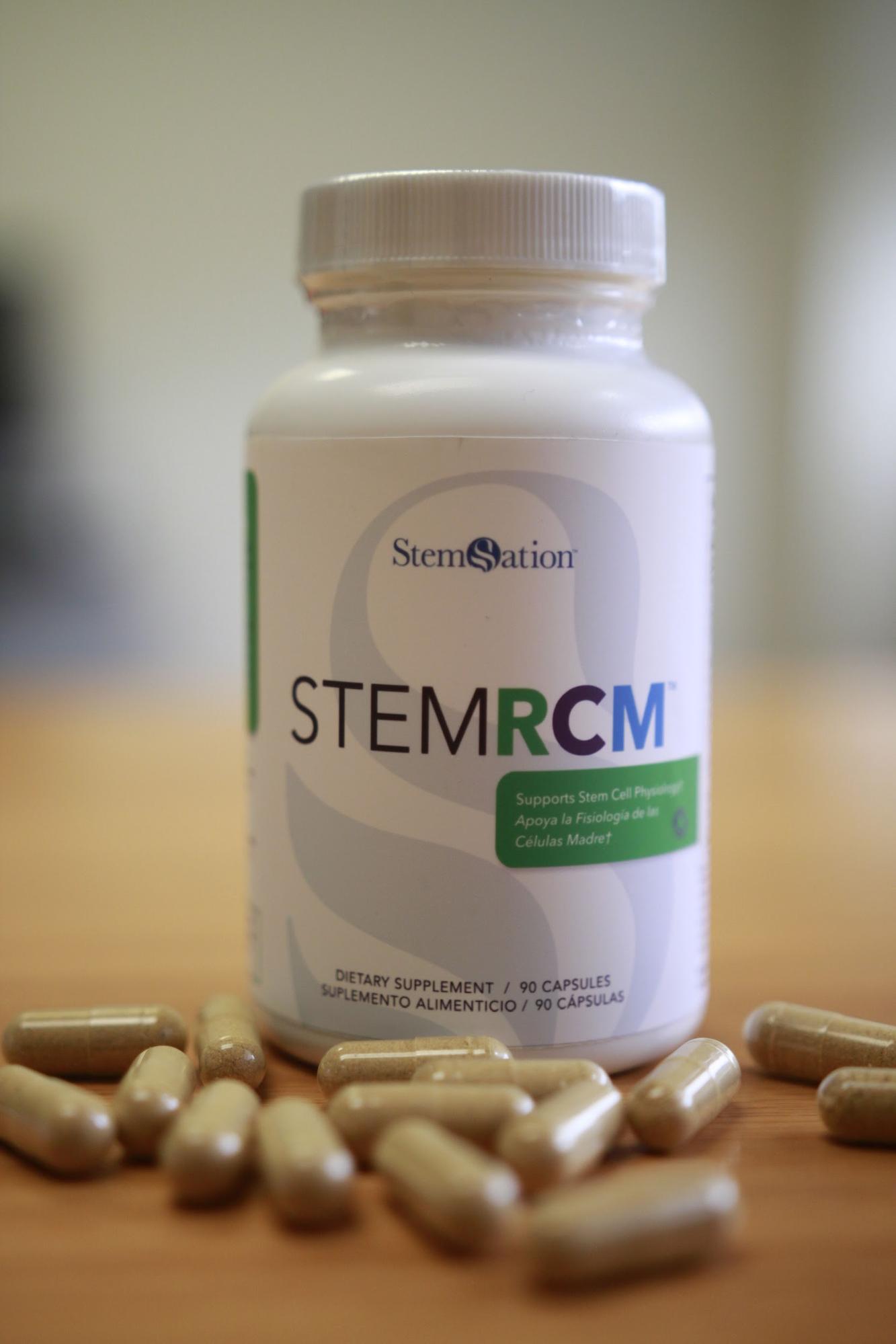 StemRCM is the latest breakthrough in the emerging category of dietary supplements called Stem Cell Nutrition. Developed by a highly respected PhD and board-certified Alternative Medical Practitioner, this amazing new product utilizes the most recent research on all-natural ingredients to create a synergistic, bioavailable, and powerful formula like no other.
The novel combination of ingredients in StemRCM, including a rare blend of powerful, highly effective and fast-acting antioxidants, is designed to safely support stem cell physiology along with immune, brain & cardiovascular function.
StemRCM naturally supports your stem cells ability to repair, renew, and restore tissues and organ function through healthy stem cell Release, Circulation, and Migration. As you age, the number and quality of stem cells declines, making your more susceptible to age-related health challenges. In addition, environmental toxins, stress, lack of sleep and a poor diet all create a negative impact on your body's natural stem cell system of repair.
By naturally supporting the immune system, immune stem cells responses, and energy processes, StemRCM rejuvenates and allows all other systems of the body to function on more optimum and healthy levels.
Ingredients in StemRCM have been extensively studied for efficacy and safety, and come from organic, non-GMO, and non-irradiated natural sources. StemRCM does not contain any fillers, chemicals, heavy metals, synthetic preservatives, colors, or additives.
ProStem PSP™: Supporting healthy joints and more — Coming Soon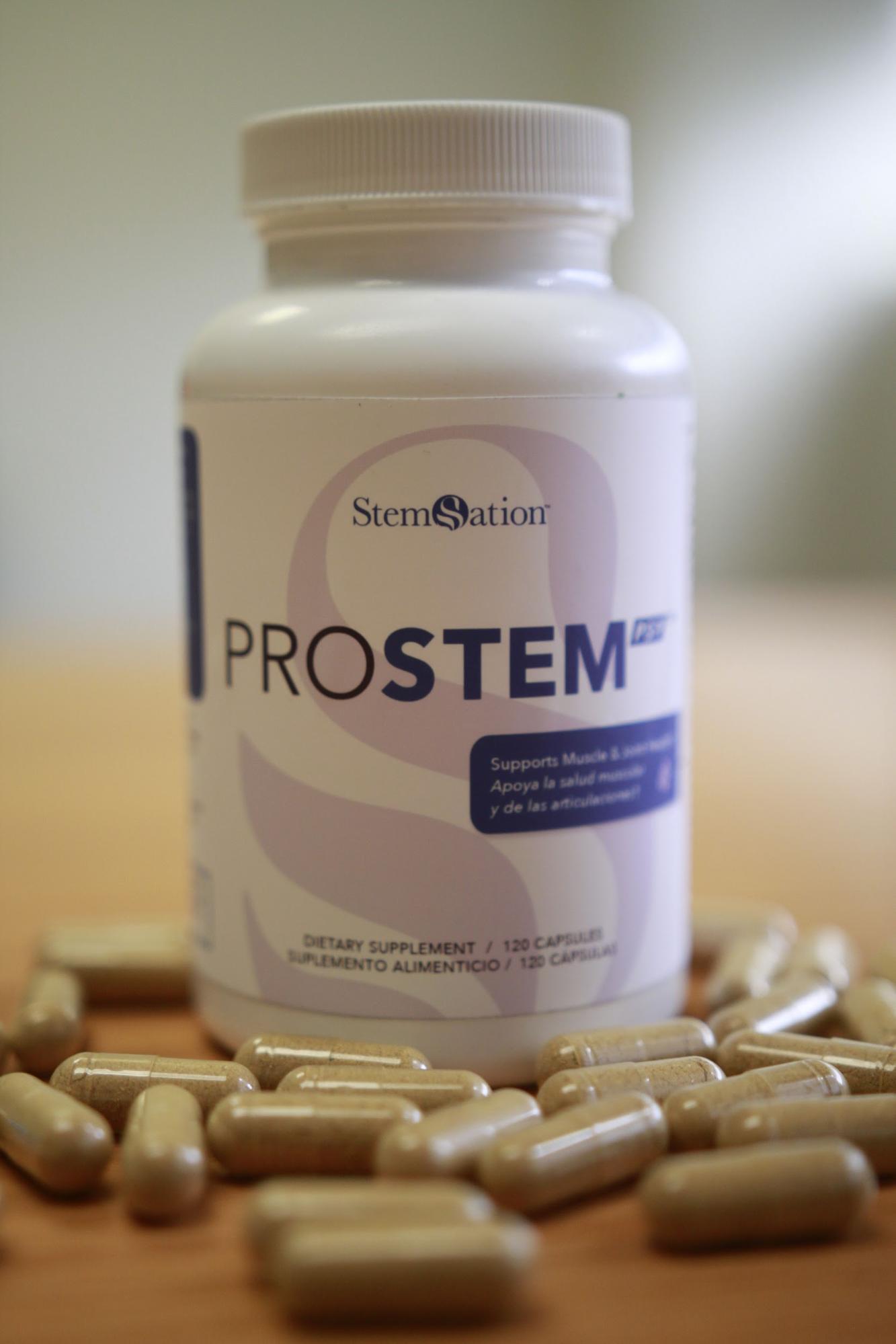 ProStem PSP is an innovative, fast-acting, and exclusive formula, addressing the key factors involved in nourishment, natural repair, rejuvenation, flexibility, and health of joints and muscles. The innovative combination of natural compounds in ProStem PSP provides strong support for collagen structure and strength, healthy connective tissue, like tendons and ligaments, and the repair function of stem cells. ProStem PSP naturally supports your stem cells ability to repair, renew, and restore tissues and organ function.
The clinically proven compounds in ProStem PSP and their cutting-edge bio-cellular delivery technology helps to sooth joint and muscles aches and stiffness and enhances healthy immune system responses that are essential for overall joint health and whole-body wellness.
ProStem PSP is packed with powerful antioxidants, natural collagen, phytochemicals, and unique food (PSP) — a rice protein, to provide comprehensive support to your joints and muscles, and help your body to function on a more optimum and healthy level.
The novel combination of ingredients in ProStem PSP not only support healthy joints but support much more.
By naturally supporting cellular health, the immune system, immune stem cells responses, and energy processes, ProStem PSP also rejuvenates and allows all other systems of the body to function on more optimum and healthy levels.
All ingredients in ProStem PSP have been extensively studied for efficacy and safety, and come from organic, non-GMO, and non-irradiated natural sources. ProStem PSP does not contain any fillers, chemicals, heavy metals, synthetic preservatives, colors, or additives.
Inside/Out Impact: While all StemSation products work in harmony together, ProStem PSP has a particularly powerful synergy with StemFlexTM, the topical joint relief formula — also coming soon. This all-natural combination provides unique and effective joint health support
Stem Cell System
Adult stem cells (ASC) have been studied extensively, especially over the last decade, and have been found to be the natural renewal and repair system of the human body. When an organ or tissue in the body is in need of repair, it sends chemical signals to stem cells found in the local tissue as well as stem cells found in the bone marrow. These stem cells then travel to the site of need and replace the damaged cells.
As a person ages, the number and quality of ASCs diminishes over time, making a body more susceptible to age-related health challenges. Research suggests there are three main ways to support stem cell physiology with dietary supplements – by supporting the release, circulation and migration of stem cells in the body.
Endocannabinoid System
Research suggests that the ECS acts as a neuromodulator for a variety of processes, including motor learning, appetite and pain sensation, among other cognitive and physical processes. The two most relevant receptors for cannabinoids are found in the brain and the immune system. The ECS itself is made up of three parts: endocannabinoids, receptors in the nervous system and around the body that bond with them, and enzymes that help to break them down.
The ECS is crucial to maintain the body's internal homeostasis. It helps to keep many system functions in balance including: appetite, digestion, inflammation, sleep, mood, fertility, temperature, movement, memory, pain, and immune function. Certain functional conditions may arise when the ECS malfunctions, for example, fibromyalgia, irritable bowel syndrome, or migraine headaches to name a few. Introducing high quality, plant-based cannabinoids into specialized dietary supplements and topical formulas are showing great promise in supporting the ECS.
Competitive Landscape
StemSation is a pioneer in offering all-natural wellness products that specifically support the stem cell, immune and endocannabinoid systems of the body.
There are many large, well known companies that market consumer wellness products, such as GNC, Herbalife and NuSkin to name a few. By specializing and focusing our attention on developing and marketing products as mentioned, we intend to create a niche that will help to differentiate our brand.
Business Model
We make money by selling our unique products to distributors and consumers in the United States and Internationally, through a powerful and innovative network marketing model. Network marketing is a subset of the direct selling distribution channel. It involves utilizing independent sales representatives in the United States and around the world who are compensated through an attractive commission incentive program, that pays them based on the sales they generate to customers, along with the sales generated by other independent sales representatives they refer to the company.
Research and product development, lead by Dr Mira Gadzala, is a major strength of StemSation, in addition to our decades of successful experience in the network marketing distribution channel. We utilize high-quality contract manufacturers based in Florida to blend, bottle and package our products. This combination allows us to offer products that bring us an attractive profit margin.
Progress
Strategy for customer acquisition entails multiple legs. Our main focus is contracting distributors in the health and wellness industries to market/sell products through their existing channels. We'll utilize the direct selling channel to promote entrepreneurship and products. We will also team up with internet marketers and affiliate marketers to increase our product awareness and reach end consumers in worldwide markets initially including the Americas and all of Europe.
Team
Our team is a diverse, global group of professionals with a mission to promote optimal health solutions through their past experience in the industry. We are comprised of doctors, chemists, and business professionals from around the world bringing a combined 100+ years of experience to the business.
Ray C. Carter, Jr.
President and CEO
For over 30 years, Ray has directed growth in both private and public direct selling companies, from start-ups to Fortune 500 firms. Throughout his distinguished career, Carter has demonstrated extraordinary vision and business acumen that embraces all aspects of corporate management, including product development, procurement, manufacturing, sales and marketing, corporate administration, information systems and finance.
Much of Ray's career has been focused on creating and marketing cutting-edge health and wellness products, most recently pioneering and launching a new category of dietary supplement called stem cell nutrition to support the body's natural renewal system.
A native of southern New Hampshire, Carter received a Bachelor of Science degree in Business Administration from the University of Maine in 1985 and graduated with honors from Southern New Hampshire University with a Master of Business Administration in Management in 1990. His facility with languages has enabled him to address international gatherings in more than a dozen native tongues.
Dr. Mira Gadzala
Dr. Gadzala has three decades of experience in formulating natural dietary supplement products and is the founder of BioCell Rejuvenation™, a consulting, research and development company in the field of alternative health and vitamins. Her most recent work involves researching and formulating advanced stem cell nutrition products.
Dr. Gadzala holds a PhD degree in Holistic Nutrition, a Master of Sciences (MSc) in Cell Biology and pursued a doctoral degree in Cell Biology. She has been granted a full Board Certification as an Alternative Medical Practitioner (AMP) by the American Alternative Medical Association and holds two prestigious designations: Registered Orthomolecular Health Practitioner (ROHP) and Registered Nutritional Consultant Practitioner (RNCP).
Dr. Gadzala is a member of several health organizations, including the American Alternative Medical Association and International Organization of Nutritional Consultants (Canada, USA), and has served on the Advisory Board of the "Cellular Health Communication" magazine (US) and as a primary member of the Institutional Animal Care and Use Committee (IACUC) at a California-based vitamin research company.
David Casanova
David has over 30 years of experience in the direct selling industry. His strength is in creating highly motivated, customer-oriented teams worldwide. He began his career with Amway and he also worked as an executive with other major industry players such as Nuskin and Natura. David also has many years of start-up company experience, successfully growing organizations from the ground up.
David has lived and worked around the globe, with special talents and experience in growing the United States and Latin American markets. He excels at understanding and supporting field leaders with marketing initiatives to help them achieve high-performance levels. David is bilingual in English and Spanish.
Nick Panza
Nick has a successful track record in team sales training, customer acquisition, targeted marketing strategies, and call center logistics. In 2015, Nick expanded operations to the Philippines by partnering with an Associate Judge of the Sandiganbayan court, a special appellate collegial court in the Philippines. The expanded operations included marketing and lead generation with over 150 employees. During this time, Nick developed sales and marketing campaigns as well as customer support protocols for several US based and international clients.
Use of Proceeds
If the offering's maximum amount of $1,070,000 is raised:
| Use | Value | % of Proceeds |
| --- | --- | --- |
| Compensation for Managers | $100,000 | 9.3% |
| Repayment of Notes | $120,000 | 11.2% |
| Acquisition of Inventory | $677,570 | 63.3% |
| Marketing Expenses | $75,000 | 7.0% |
| IWA Education/Training | $25,000 | 2.3% |
| Product Development | $20,000 | 1.9% |
| Intermediary fees | $52,430 | 4.9% |
Terms
This is an offering of Common Stock, under registration exemption 4(a)(6), in StemSation International, Inc. This offering must raise at least $10,000 by March 31, 2020 at 11:59pm ET. If this offering doesn't reach its target, then your money will be refunded. StemSation International, Inc may issue additional securities to raise up to $1,070,000, the offering's maximum.
$10,000 minimum
$43,248 raised
If the offering is successful at raising the maximum amount, then the company's implied valuation after the offering (sometimes called its post-money valuation) will be:
210,917,866 shares
×
$0.05 per share
$10,545,893implied valuation
Financials
These financial statements have been reviewed by an independent Certified Public Accountant.
SEC Filings
The Offering Statement is a formal description of the company and this transaction. It's filed with the SEC to comply with the requirements of exemption 4(a)(6) of the Securities Act of 1933.
We're also required to share links to each of the SEC filings related to this offering with investors.
Updates
Apr 24, 2020

STEMSATION™ EXPANDS PRODUCT LINE WITH SECOND...

STEMSATION™ EXPANDS PRODUCT LINE WITH SECOND PRODUCT PROSTEM PSP™

Read more

Apr 1, 2020

Primary offering finalized, selling

shares

Sold $0.05 for a total of $43,248.35

shares at

Mar 3, 2020

StemSation™ Opens European Headquarters in...

StemSation™ Opens European Headquarters in Bulgaria and Reports First Month Revenue

Read more

Feb 19, 2020

Feb 6, 2020

Jan 28, 2020

Nov 8, 2019

Primary offering of $0.05

shares at
Transactions
Spread
| Bid quantity | Price | Ask quantity |
| --- | --- | --- |
*Some securities may only be transferred to accredited investors if issued within the past 365 days. Unaccredited investors are permitted to place bids, so some transfers may have yet to occur.
No recent secondary activity
Transaction Log
Ask a Question
Proofread your comment before submitting: once it's posted, you can't edit or delete it. For the fastest help with the web site, email help@netcapital.com instead of commenting.
Understand the Risks
Be sure to understand the risks of this type of investment. No regulatory body (not the SEC, not any state regulator) has passed upon the merits of or given its approval to the securities, the terms of the offering, or the accuracy or completeness of any offering materials or information posted herein. That's typical for Regulation CF offerings like this one.
Neither Netcapital nor any of its directors, officers, employees, representatives, affiliates, or agents shall have any liability whatsoever arising from any error or incompleteness of fact or opinion in, or lack of care in the preparation or publication of, the materials and communication herein or the terms or valuation of any securities offering.
The information contained herein includes forward-looking statements. These statements relate to future events or to future financial performance, and involve known and unknown risks, uncertainties, and other factors, that may cause actual results to be materially different from any future results, levels of activity, performance, or achievements expressed or implied by these forward-looking statements. You should not place undue reliance on forward-looking statements since they involve known and unknown risks, uncertainties, and other factors, which are, in some cases, beyond the company's control and which could, and likely will, materially affect actual results, levels of activity, performance, or achievements. Any forward-looking statement reflects the current views with respect to future events and is subject to these and other risks, uncertainties, and assumptions relating to operations, results of operations, growth strategy, and liquidity. No obligation exists to publicly update or revise these forward-looking statements for any reason, or to update the reasons actual results could differ materially from those anticipated in these forward-looking statements, even if new information becomes available in the future.
Looking to raise capital?
We can help turn your friends, family and customers into investors.
Learn more
Interested in more investment opportunities?
Browse all offerings currently available.
See more