Invest Smarter, Together
At Rapunzl, we have a simple mission - to empower individuals to invest smarter together.
We use our social network to find the best movies, music, and restaurants. So why don't we use them when we invest?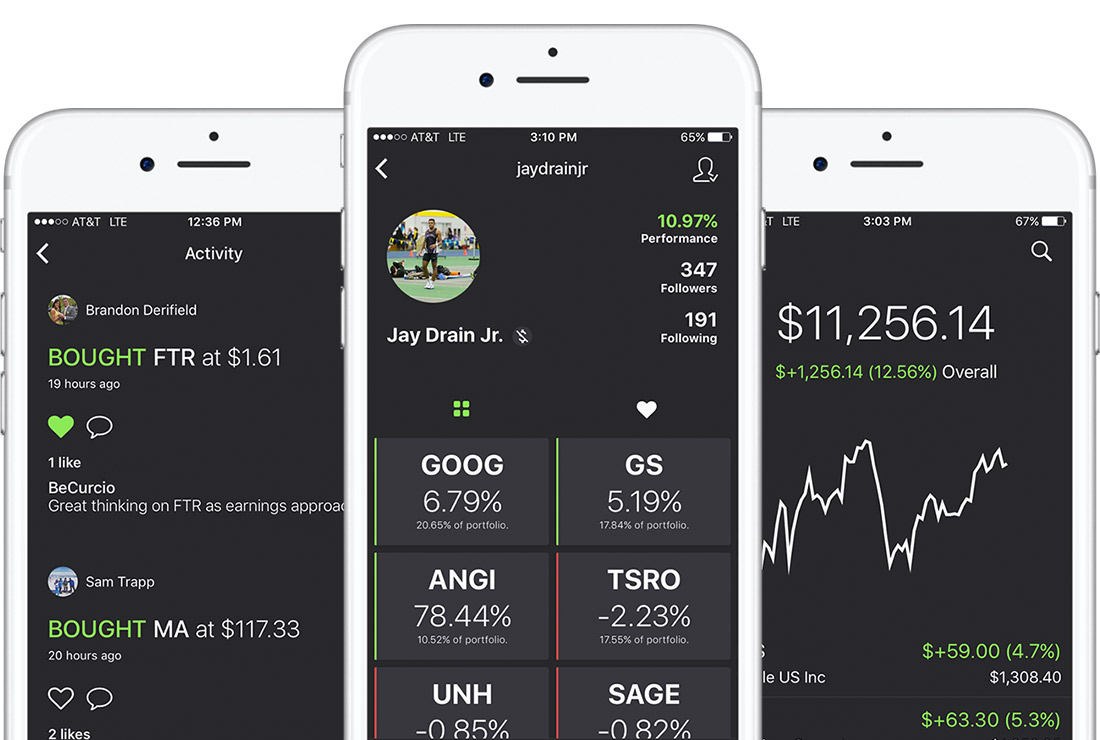 We are building a web-based investor community that allows users to either simulate a portfolio or link a live-trading account in order to:
Discover and learn from top investors
Share percentage performance with friends they trust
Crowdsource investment ideas from a transparent community
Trade directly through the platform with their existing brokerage account
The Market & Our Product
There is already precedent for users wanting share opinions, crowdsource investment ideas, and trade stocks on mobile devices.

That's why we created the Rapunzl platform - a investor community which allows users to share, discuss, discover, and compete. The Rapunzl leaderboard allows friends to gauge their skills against the larger community and by introducing weekly, monthly, and annual cash competitions for top performing portfolios, we have gamified the stock market in order to drive consistent user engagement.
Recent Success
In the past 3 months since our public beta launch, we have had exhilarating success that we only expect to increase as we roll-out the full Rapunzl platform.
Since end of April, we have:
Grown organically to 750+ early-adopting, simulated traders at a rate of 15+% per month
Been named one of the top 5 apps to watch by Bank Innovation
Spoke to the CEO of Technori on WGN Radio
Received coverage in On the Money magazine
Delivered the keynote presentation at Ariel Community Academy's Financial Capabilities Summit
Joined Chicago Public Schools Financial Literacy Committee and spoke at their Financially Fit in 2017 Conference
Joined the State of Illinois Comptroller's Millennial Board for Fiscal Responsibility
Partnered with One Stock One Future to further our mission to foster financial literacy.
Prepared to launch the full Rapunzl platform end of August.
Path to Monetization
There are massive opportunities to monetize a user base. Revenue will be generated by:
Selling aggregated data analytics to financial institutions
Incorporating in-app advertising for simulated users
Licensing the platform to classrooms as a financial literacy tool
Integrating third-party services as part of a premium subscription service
Growth Prospects
Valuations based off of the number of users a company has vary. Snapchat's market cap indicates a user is worth ~$135 whereas Facebook's market cap indicates a user is worth ~$215.
For comparable social companies involved in the FinTech space, we see very high valuations per user because these companies are growing rapidly and have access to valuable financial data similar to Rapunzl. EToro, the social network for futures and options trading in Europe founded in 2008, is valued at over $100 million with only 200,000 active users.
This is evidence of the massive opportunity present with investing in a early-stage social network such as Rapunzl which is launching the full platform with competitions, news, and live-trading in August, 2017.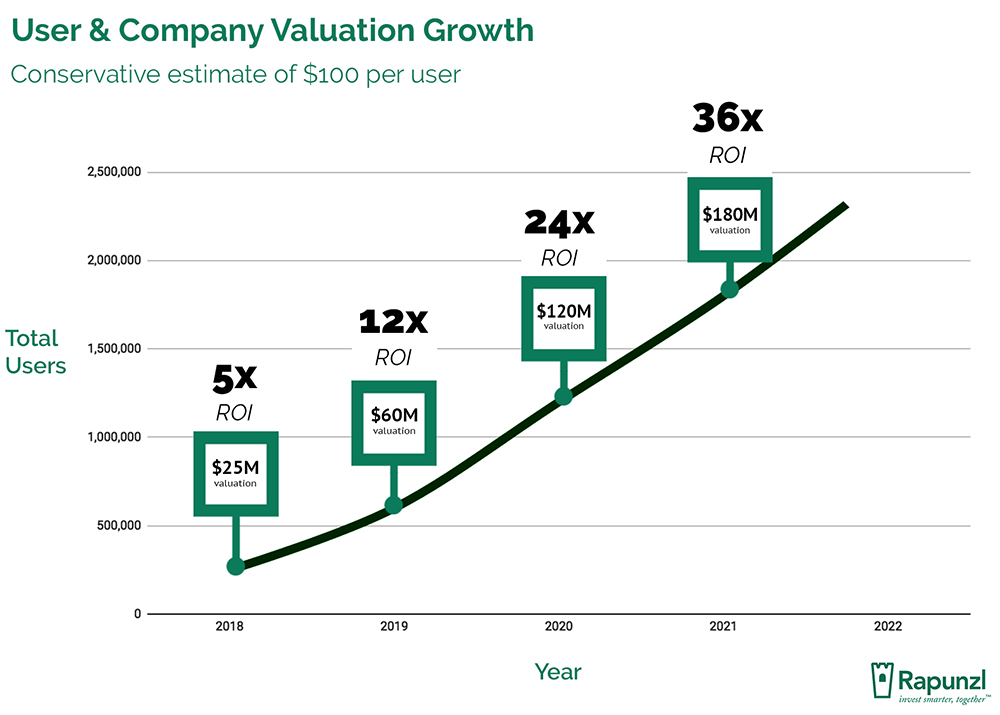 Team
We are a team of socially-conscious investors who decided that we need a platform to share our investment ideas and performance. Our founders, Brian Curcio and Myles Gage, met freshman year of high school and quickly became friends by talking about stocks and financial markets. They both pursued jobs in finance until one day they realized the disparity of financial literacy across their friend groups.
They saw the high returns of Wall Street trapped in an ivory tower away from the ordinary investor. They decided to form a collaborative investing platform to help ordinary investors find extraordinary opportunity in each other.
Brian Curcio
CEO and Founder
Brian Curcio graduated from Amherst College in 2017 with a degree in Mathematics and is passionate about connecting individuals and challenging the notion that investing is private. Brian believes transparency on the Rapunzl platform will foster a collaborative investment experience unseen in the current marketplace. Brian works closely with developers, designs new features, and manages company initiatives as the platform continues to scale. He is an avid follower of all things Fintech and believes in technology's power to revolutionize the status quo of the financial industry.
Myles Gage
COO and Co-founder
Myles Gage is a recent graduate from the University of Illinois Urbana Champaign and holds a degree in Finance. Upon attending an elementary school with an investment based curriculum on the southside of Chicago, he realized the importance of financial literacy eventually becoming an ambassador on the subject through an investment club he participated in during high school. He now works in the financial services sector in the city of Chicago but has always been heavily involved in helping the community and inspiring others to learn the importance of investing.
Let us know what you think and ask us anything!
Use of Proceeds
If the offering's maximum amount of $500,000 is raised:
| Use | Value | % of Proceeds |
| --- | --- | --- |
| Compensation for Directors, Officers, and Promoters | $23,500 | 4.7% |
| Working Capital | $352,000 | 70.4% |
| Debt Repayment | $100,000 | 20.0% |
| Intermediary fees | $24,500 | 4.9% |
Terms
This is an offering of Netcapital Units, under registration exemption 4(a)(6), in Rapunzl Investments, LLC. This offering must raise at least $10,000 by October 30, 2017 at 11:59pm ET. If this offering doesn't reach its target, then your money will be refunded. Rapunzl may issue additional securities to raise up to $500,000, the offering's maximum.
$10,000 minimum
$199,323 raised
If the offering is successful at raising the maximum amount, then the company's implied valuation after the offering (sometimes called its post-money valuation) will be:
5,730,025 units
×
$0.91 per unit
$5,214,323implied valuation
Financials
These financial statements have been reviewed by an independent Certified Public Accountant.
SEC Filings
The Offering Statement is a formal description of the company and this transaction. It's filed with the SEC to comply with the requirements of exemption 4(a)(6) of the Securities Act of 1933.
We're also required to share links to each of the SEC filings related to this offering with investors.
Updates
May 3, 2019

Oct 31, 2017

Primary offering finalized, selling

units

Sold $0.91 for a total of $199,322.76

units at

Oct 31, 2017

Aug 1, 2017

Jul 28, 2017

Primary offering of $0.91

shares at

Jul 28, 2017
Transactions
Spread
| Bid quantity | Price | Ask quantity |
| --- | --- | --- |
*Some securities may only be transferred to accredited investors if issued within the past 365 days. Unaccredited investors are permitted to place bids, so some transfers may have yet to occur.
No recent secondary activity
Transaction Log
Ask a Question
Proofread your comment before submitting: once it's posted, you can't edit or delete it. For the fastest help with the web site, email help@netcapital.com instead of commenting.
Understand the Risks
Be sure to understand the risks of this type of investment. No regulatory body (not the SEC, not any state regulator) has passed upon the merits of or given its approval to the securities, the terms of the offering, or the accuracy or completeness of any offering materials or information posted herein. That's typical for Regulation CF offerings like this one.
Neither Netcapital nor any of its directors, officers, employees, representatives, affiliates, or agents shall have any liability whatsoever arising from any error or incompleteness of fact or opinion in, or lack of care in the preparation or publication of, the materials and communication herein or the terms or valuation of any securities offering.
The information contained herein includes forward-looking statements. These statements relate to future events or to future financial performance, and involve known and unknown risks, uncertainties, and other factors, that may cause actual results to be materially different from any future results, levels of activity, performance, or achievements expressed or implied by these forward-looking statements. You should not place undue reliance on forward-looking statements since they involve known and unknown risks, uncertainties, and other factors, which are, in some cases, beyond the company's control and which could, and likely will, materially affect actual results, levels of activity, performance, or achievements. Any forward-looking statement reflects the current views with respect to future events and is subject to these and other risks, uncertainties, and assumptions relating to operations, results of operations, growth strategy, and liquidity. No obligation exists to publicly update or revise these forward-looking statements for any reason, or to update the reasons actual results could differ materially from those anticipated in these forward-looking statements, even if new information becomes available in the future.
Looking to raise capital?
We can help turn your friends, family and customers into investors.
Learn more
Interested in more investment opportunities?
Browse all offerings currently available.
See more