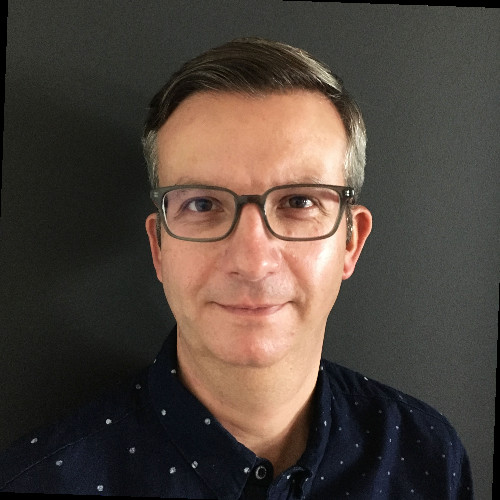 "After leaving Tesla last year, I was bombarded by requests to advise electric mobility startups. When my friend Roman introduced me to Ramp, I was immediately struck by the young, passionate engineers, Mel and Amro. They're on a mission to provide mobility to those who need it most. By making humans better, faster, and stronger."
Yannick Roux
Fmr. Tesla Director of Manufacturing Engineering
Introduction
Ramp's mission is to cure disability with robotics. Today, we're building an attachment that converts any manual wheelchair into a sub-30lb. electric vehicle that can self-balance over rough terrain. Tomorrow, we'll build exoskeletons to make wheelchairs obsolete.
Problem
Lower limb disability affects over 11 million patients in the U.S. alone. For the most severe disabilities, such as spinal cord injuries, the only option is the use of a wheelchair. Manual wheelchairs are difficult to maneuver, slow to push on any surface, and exhausting on inclines. Electric wheelchairs typically cost tens of thousands of dollars, weigh hundreds of pounds, and require expensive lifts for vehicles. What's worse? In both cases, steep inclines, curbs, stairs, and off-road terrain are all off-limits. Going out into the real world, this results in a feeling of being trapped in your own body, chained to a device that hasn't seen significant change since the 1980's.
Solution
Introducing the Ramp Chair, an attachment that converts any manual wheelchair into an off-road electric vehicle. It self-balances to wheelie over obstacles. It can climb over rocks and down curbs. It can be controlled remotely, tearing through grass, gravel, mud, and snow. Climbing uphill is no problem! It always works as a manual chair, never leaving you stranded from a dead battery like our competitors do. It's portable enough to fit into any car, rideshare, or plane. And at under 35 pounds, it's the lightest electric wheelchair in the world. It has a range of 10 miles, and you can swap in a fresh battery when it runs out. So you can ride it to work, or ride it anywhere you want!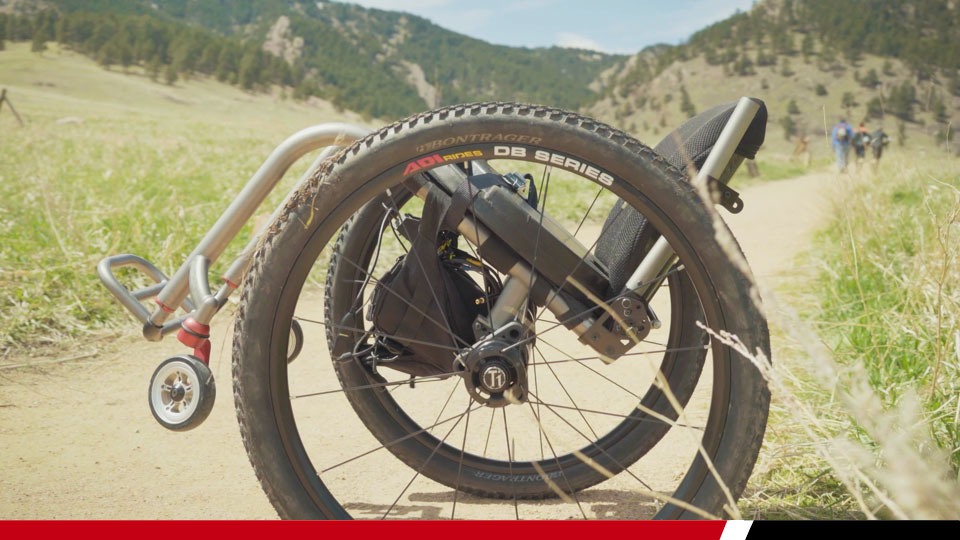 Competitive Landscape
Before today, you would need three different wheelchairs to do what Ramp does with one – a manual for every day, an electric for mobility, and an off-road for the outdoors. Who carries around three wheelchairs? This would cost $29,730. The iBot wheelchair is the most well-known self-balancing wheelchair, which the Segway is based off of. It costs $30,000 by itself!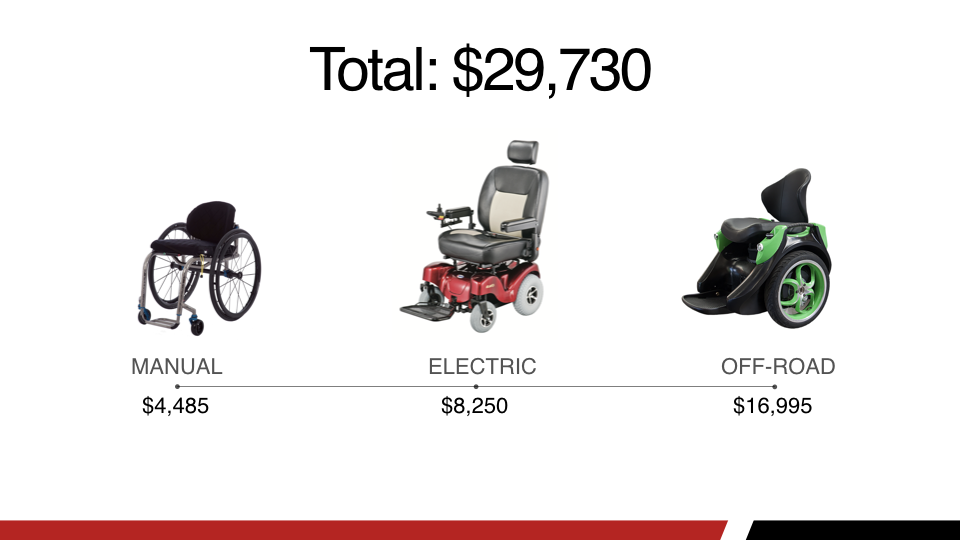 Business Model
We plan to manufacture and sell wheelchair drive units at a 75% gross margin, taking advantage of existing electric vehicle motor & battery supply chains, manufacturing our transmission in-house, and leveraging online disability communities to lower customer acquisition costs. We're pre-selling our first 150 units direct-to-consumer. In the future, bike shops may become hubs for sales and particularly, maintenance. No more going to expensive, incompetent wheelchair repair sites in the middle of nowhere. Just go to your local bike shop! We plan to roll out our FDA 510(k) model in 2020, which would be eligible for reimbursement by Medicaid.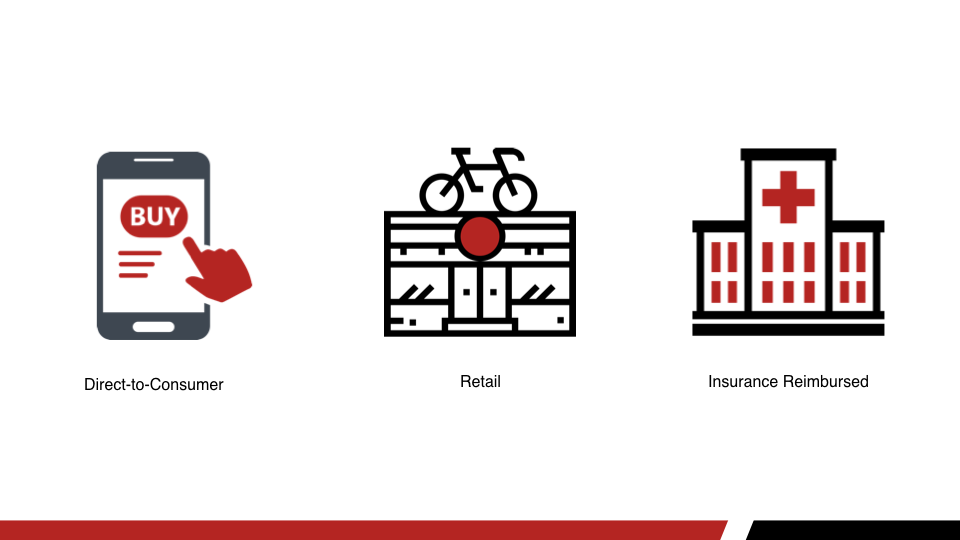 Progress
We are in a market with insane word-of-mouth. Practically every new product is known by all users and therapists within the first year. We have budgeted fixed costs for hitting all the major adaptive sports and complex rehab conferences. We believe that everyone will know about us.
We're selling our first 150 units direct-to-consumer.
In order to scale within the existing market, next year, we plan to focus on being a component manufacturer. That go-to-market strategy is to partner with chassis manufacturers. This reduces regulatory overhead, and customer acquisition costs (CAC), as we will piggy-back off chassis sales. This is the strategy that the heads of sales at the major distributors have recommended, and they have already made introductions for us.
We plan to launch demographics in the following order:
Athletes (next 30-60 days)

Ramp believes that Athletes are the best initial product market fit. These individuals buy more wheelchairs, care more about performance, and have a higher ability to purchase or be sponsored than anyone. Ramp currently has multiple Paralympians, some of them Gold Medalists, who have expressed strong interest in using the Ramp Drive. Mel Du, Ramp's CEO, is himself the 2019 National Champion in Olympic Shotgun in the Wheelchair Division, and can get introductions to anyone on Team USA. In addition, there are a handful of nonprofits that purchase such equipment for athletes.

Veterans (next 2 months)

Veterans are extremely tough on wheelchairs, care the most about off-roading, and have great options for reimbursement or sponsorship of wheelchairs. We have met many disabled veterans through the founder's collegiate shooting sports career and personal life. The newest, most advanced VA hospital for SCI was opened in Denver this last quarter, so Denver is the perfect place to be. VA reimbursement is much more flexible than normal insurance or Medicaid. In addition, there are many nonprofits, and many private individuals , which buy off-road wheelchairs for veterans.

All Ultralight Rigid Manual Wheelchair users, period. (next year)

This is simply a matter of price. We have spoken to the heads of sales at the major distributors. We need to hit a price point below what a new wheelchair costs. It's about opportunity cost for users looking to upgrade. Sub-$5,000 would make us viable for all ultralight users, and be attractive for insurance providers. $4,000 would practically price our competitors out of the market, or force them to sell at lower margins.

Those who want to use a manual chair but can't. (next year)

This is a matter of control interface, for those able to lean forward for pressure relief.

Mobility Scooter users (1.5 years)

Ramp plans to adapt our system into a tricycle, with minimal production part changes for the drive train. Many thousands of these scooters are sold a month and our wheelchair IP has great potential to disrupt this market. This is by far our biggest adjacent market, as well as the easiest engineering task.

Electric wheelchair users requiring tilt-in-space. (2+ years)

For those needing complex seating for pressure relief, this is a must. Wheelchair users must shift their weight in order to not get pressure sores from sitting on the same spot all day. Tilting is needed for those who can't adjust their bodies themselves. This is one of the many, huge mistakes that iBot (predecessor to the Segway) made. This single feature would put us into a market where chairs cost $15-60k, insurance reimbursement is much more clear cut (users have demonstrated extreme need already), and gross margins are typically over 85%.
Success
Recent milestones and accomplishments in 2019:
March: Completed first full-size, self-balancing prototype
April: Techstars Boulder '19 (~1% acceptance rate, $18.2B market cap)
June: Hired a world-class electric racecar engineer
July: Thiel Fellowship $100k grant (~0.5% acceptance rate, $8.2B market cap)
August: Presales begin for our first units
Press mentions:
Aug 4, 2018

Jan 18, 2019

Jul 10, 2019
Operating Team
Mel Du
CEO
Paralyzed at 14, first wheelchair engineering internship at 16, nanomaterials graduate research intern at 17, full scholarship to engineering school at 18, NASA research team leader at 18, biometrics startup job at 20, raised venture capital and dropped out of school at 21, Thiel Fellow at 22 (founder of Paypal pays dropouts $100k to stay out of school).
Amro Eltayeb
CTO
Mechatronics Engineer who developed his own controls algorithms for self-balancing using three accelerometers, three gyroscopes, and three magnetometers.
Mitch Hooper
Electric Racecar Engineer
Mitch and his team designed and built this racecar from scratch in two semesters while studying automotive engineering full-time.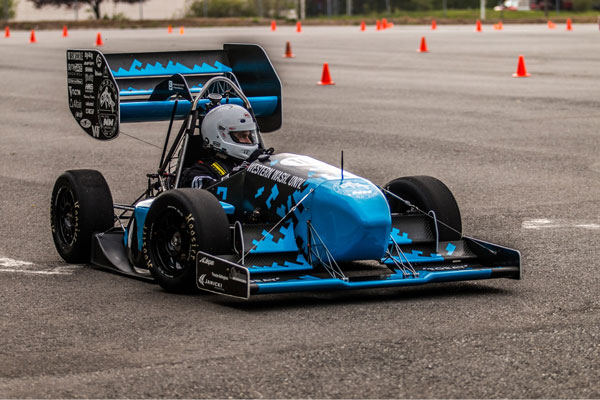 Peter Shaddock
Finance & Operations
Rice University MBA with experience founding multiple electronics hardware companies, after leaving Exxon Mobil.
Peter was riding motorcycles with Mel when his accident happened. He is as mission-driven as anyone to move this vision forward.
Advisors
Yannick Roux
Fmr. Tesla Director of Manufacturing Engineering
After his automotive engineering career at Renault and Fiat in France, he worked on everything at Tesla from the first Roadster to the Model S and Model 3, through high-volume production.
Todd Hargroder
Fmr. CEO of ADI Wheelchairs
Acquired by market giant, Sunrise Medical in 2015, ADI pioneered many trends in the wheelchair industry, including the first carbon-fiber composite backrests, and first disc brakes. Now that his acquisition contract is over, he's free to work on sales & distribution at Ramp.
Investors
Thiel Foundation (Grant)
Peter Thiel, billionaire founder of Paypal
Techstars
Well-known LPs: Brad Feld, Jason Mendelson
Techstars Impact
Well-known LPs: Morgan Stanley AIP Private Markets Team, Impact America Fund
Geekdom Community Fund
Well-known LPs: Graham Weston (fmr. CEO of Rackspace)
Use of Proceeds
If the offering's maximum amount of $106,460 is raised:
| Use | Value | % of Proceeds |
| --- | --- | --- |
| Office expenses | $12,000 | 11.3% |
| Bill of Materials | $19,243 | 18.1% |
| FDA 510(k) Clearance Application | $25,000 | 23.5% |
| UL 2272 Safety Testing | $10,000 | 9.4% |
| Capital Assets (Machinery) | $35,000 | 32.9% |
| Intermediary fees | $5,217 | 4.9% |
Terms
This is an offering of Common Stock, under registration exemption 4(a)(6), in Ramp USA, Inc., doing business as RAMP. This offering must raise at least $10,000 by November 19, 2019 at 12:00pm ET. If this offering doesn't reach its target, then your money will be refunded. RAMP may issue additional securities to raise up to $106,460, the offering's maximum.
If the offering is successful at raising the maximum amount, then the company's implied valuation after the offering (sometimes called its post-money valuation) will be:
4,755,964 shares
×
$0.83 per share
$3,947,450implied valuation
Financials
RAMP's official name is Ramp USA, Inc., so that's the name that appears in the statements below.
SEC Filings
The Offering Statement is a formal description of the company and this transaction. It's filed with the SEC to comply with the requirements of exemption 4(a)(6) of the Securities Act of 1933.
Understand the Risks
Be sure to understand the risks of this type of investment. No regulatory body (not the SEC, not any state regulator) has passed upon the merits of or given its approval to the securities, the terms of the offering, or the accuracy or completeness of any offering materials or information posted herein. That's typical for Regulation CF offerings like this one.
Neither Netcapital nor any of its directors, officers, employees, representatives, affiliates, or agents shall have any liability whatsoever arising from any error or incompleteness of fact or opinion in, or lack of care in the preparation or publication of, the materials and communication herein or the terms or valuation of any securities offering.
The information contained herein includes forward-looking statements. These statements relate to future events or to future financial performance, and involve known and unknown risks, uncertainties, and other factors, that may cause actual results to be materially different from any future results, levels of activity, performance, or achievements expressed or implied by these forward-looking statements. You should not place undue reliance on forward-looking statements since they involve known and unknown risks, uncertainties, and other factors, which are, in some cases, beyond the company's control and which could, and likely will, materially affect actual results, levels of activity, performance, or achievements. Any forward-looking statement reflects the current views with respect to future events and is subject to these and other risks, uncertainties, and assumptions relating to operations, results of operations, growth strategy, and liquidity. No obligation exists to publicly update or revise these forward-looking statements for any reason, or to update the reasons actual results could differ materially from those anticipated in these forward-looking statements, even if new information becomes available in the future.
Updates
Nov 19, 2019

Primary offering finalized, selling

shares

Sold $0.83 for a total of $32,342.61

shares at

Aug 9, 2019

Primary offering of $0.83

shares at
Ask a Question
Proofread your comment before submitting: once it's posted, you can't edit or delete it. For the fastest help with the web site, email help@netcapital.com instead of commenting.
Looking to raise capital?
We can help turn your friends, family and customers into investors.
Learn more
Interested in more investment opportunities?
Browse all offerings currently available.
See more