Best buy price
None currently available
Volume
Not currently available
Range of prices
Not currently available
Full bid-ask spread
Introduction
PropertyClub is a next generation real estate platform that uses blockchain technology to revolutionize the way people market, search for, buy, rent and invest in real estate. We're creating a global real estate portal that is free of third party lead buyers and solves the overwhelming supply problems faced by existing centralized marketplaces.
Our blockchain technology and smart contracts allow anyone to conduct real estate transactions digitally and securely, enabling the purchase of real estate assets with cryptocurrencies like Bitcoin and PropertyClub Coin (PCC) as well as the tokenization of real estate assets (via property unique security tokens). Future use cases include recording contracts of rent or sale and transfers of title on the blockchain.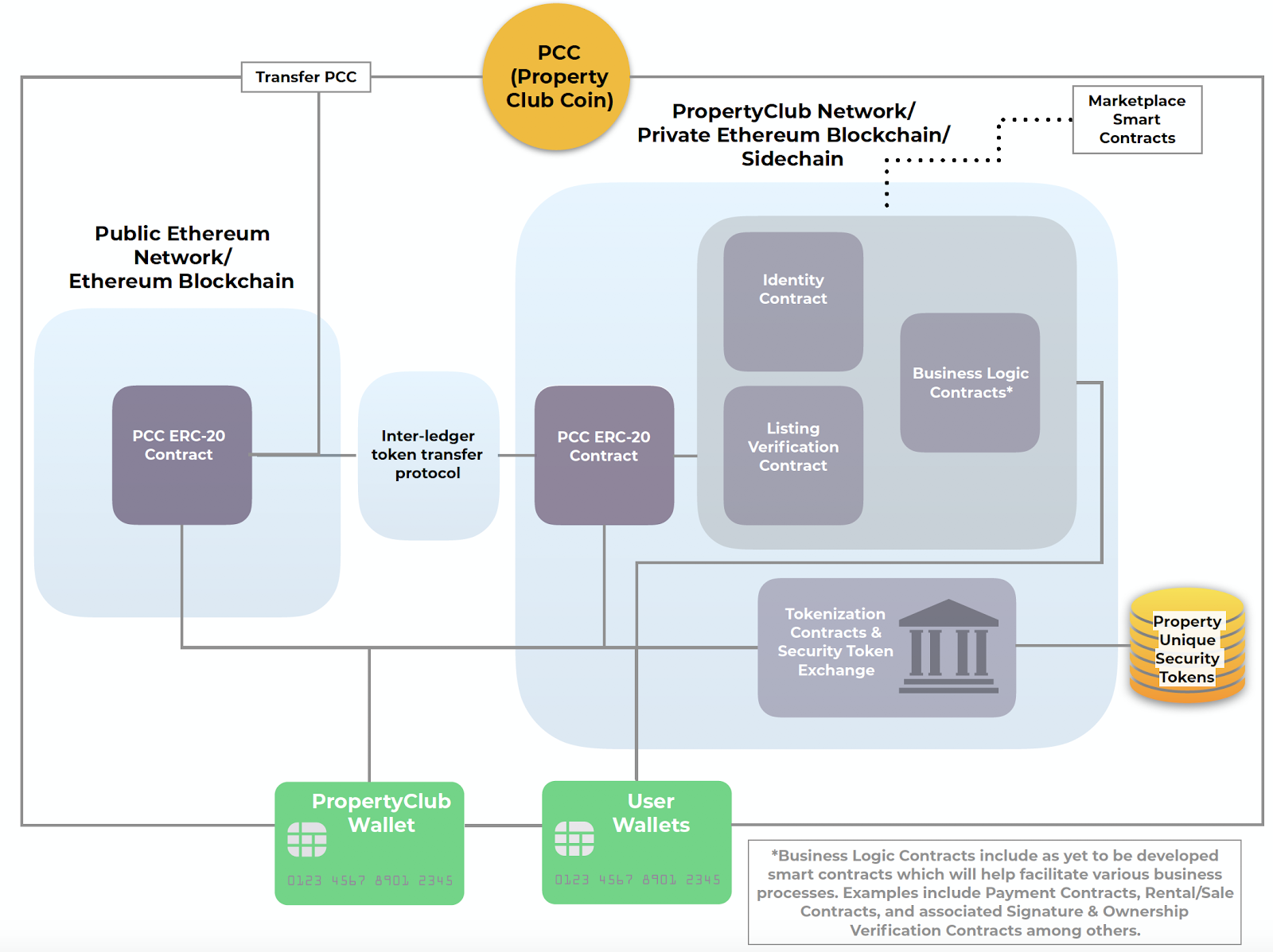 The use of blockchain technology not only helps solve a number of existing problems, but also enhances the overall appeal of our digital real estate marketplace through our ability to reduce costs, expand the market demand, and offer users innovative, new experiences among other things. Properties on our platform will be more accessible as blockchain helps remove the barriers of entry to invest in real estate and makes purchasing internationally easier and safer than ever before.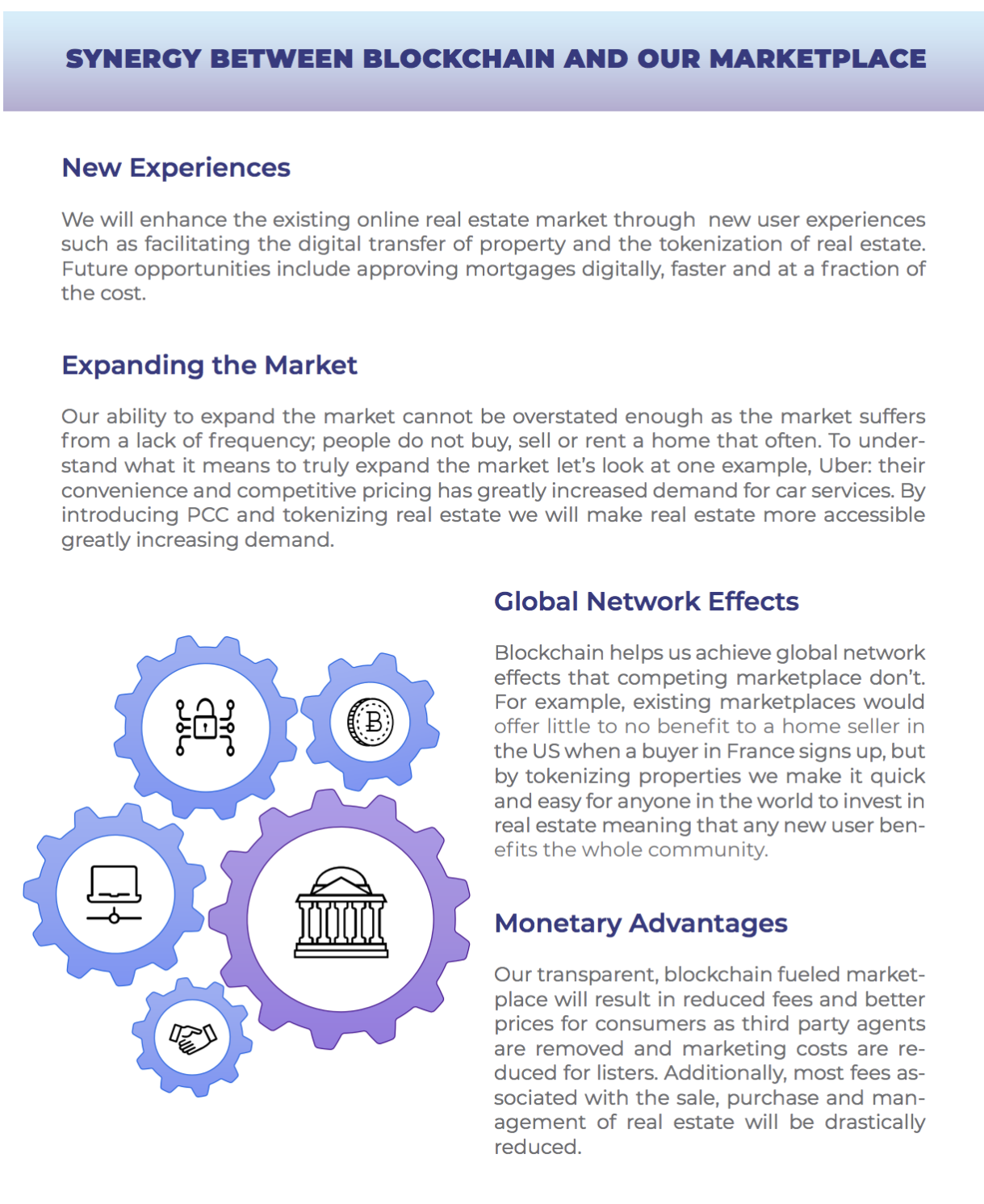 Market Background
Property listing information has historically been controlled by brokerages and MLS (Multiple Listing Services) which led to consumers engaging brick and mortar brokerages services as only realtors had access to this information. However, since the creation of the internet, brokers and MLS have begun to market real estate online (Currently over 93% of home buyers user the internet to search for a home. This includes over 99% of millennials1).
Although they've begun to embrace technology, brokerages and MLS still refuse to cooperate with one another and insist on maintaining control over their listings, leading to a great deal of supply fragmentation. Consumers may find high quality listings on one brokerage's website, but they will only represent a fraction of the market (typically that firm's own listings). This has led to the the rise of listing publishers like Zillow Group (Zillow Group consists of Zillow, Trulia, StreetEasy and NakedApartments among other brands) who aggregate listings. These publishers are not subject to the same advertising laws as realtors and are not a part of any MLS or other trade organizations which have listing standards in place to protect consumers. This has led to marketplaces that oftentimes contain many unverified, low-quality listings including fake, duplicate and bait-and-switch listings.
These large listing portals manipulate the listings and data they collect to monetize it. The deception performed by Zillow Group et al is best described as a bait-and-switch; potential buyers & renters are drawn in by a listing, their personal information is collected, and is then promptly sold to the highest bidder (a third party agent). These third party agents pay hefty fees to buy leads and are oftentimes unqualified and unfamiliar with the market. They have likely never set foot in the aforementioned properties.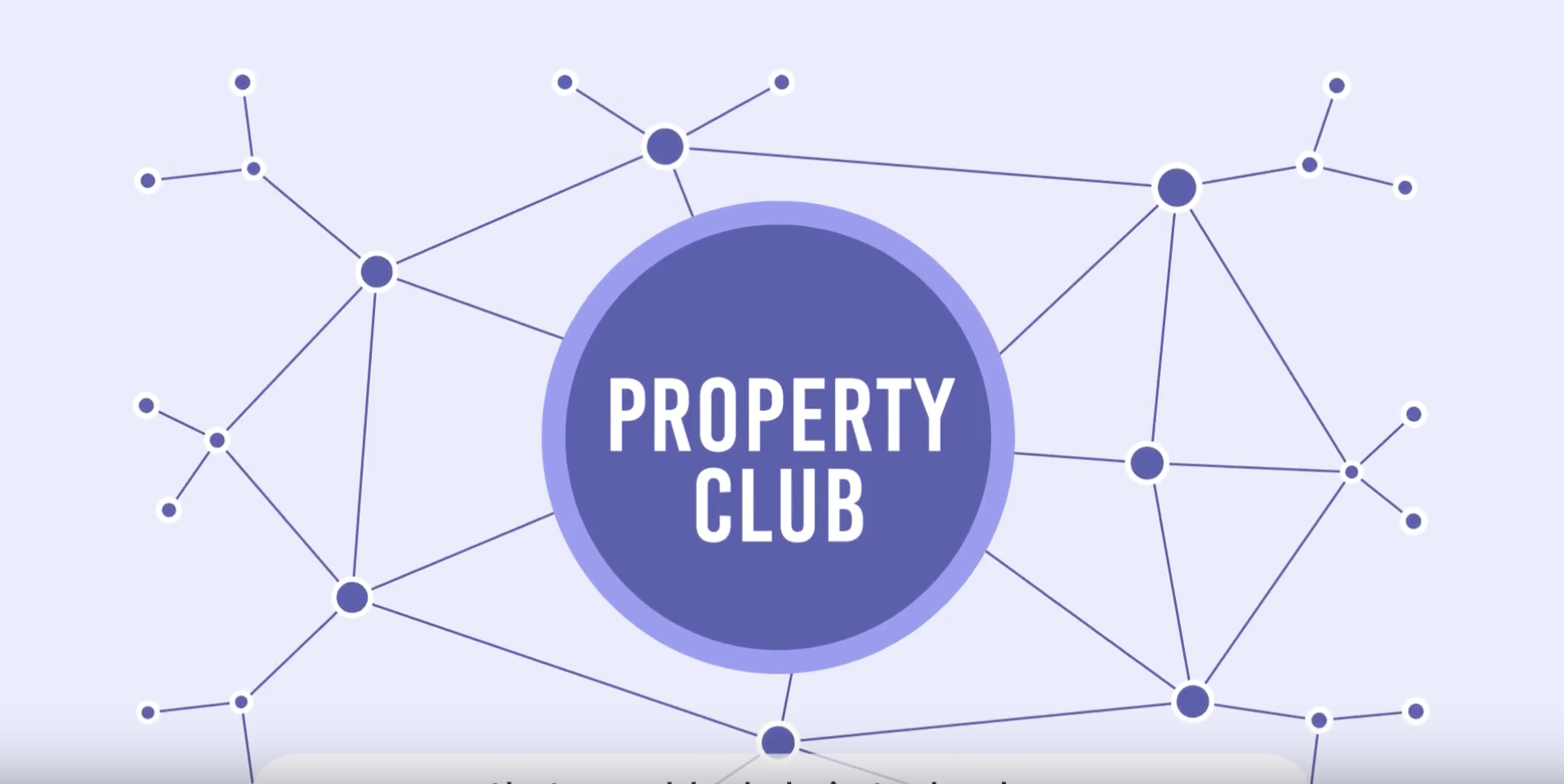 Recent surveys have shown serious frustration with the process among homebuyers, with 42% (including 46% of millennials) calling the process "stressful" in a recent nerdwallet report2. Real estate professionals are no less enthused by the current model. Borrell Associates estimates that US real estate agents and brokers spent over $10.5 Billion on advertising in 2017 (90% of which was on digital advertising). Another $4 Billion is spent on advertising by rental property managers and real estate developers. Meanwhile, mortgage brokers spent an estimated $14 Billion on advertising3. Zillow Group is estimated to have approximately 64% of online market share4, but only generates revenues accounting for 6% of ad spend of realtors, property managers and developers. This is clear evidence of the lack of enthusiasm real estate professionals have for Zillow Group and its dubious advertising practices and signifies a broken model.
Our platform eliminates third parties and the friction they bring, improves listing quality, and rewards members of our community with PropertyClub Coins (PCC).
Problems
Existing portals like Zillow Group (Zillow Group consists of Zillow, Trulia, StreetEasy, NakedApartments, OutEast, HotPads, and RealEstate.com) demand total control over the listings they receive. Listing quality is not properly verified as these marketplaces typically operate as publishers and (they are not subject to the same advertising laws as real estate brokers and are not a part of any MLSs or other trade organizations which have listing standards in place to protect consumers) leading to marketplaces that oftentimes contain fake, duplicate and bait-and-switch listings. Then, whenever buyers or renters are interested in a particular property, these portals deceive their users by collecting their personal information and selling it to third party agents as leads, without the users' explicit knowledge or consent, creating unnecessary friction and increasing costs/fees to users.
"It has even been reported that New York State regulators consider Zillow Group's "premier agent" advertising program to be deceptive to consumers and in violation of NY State advertising laws. We agree with NY State regulators and consider Zillow Group's advertising practices to be illegal and unethical".Read the article here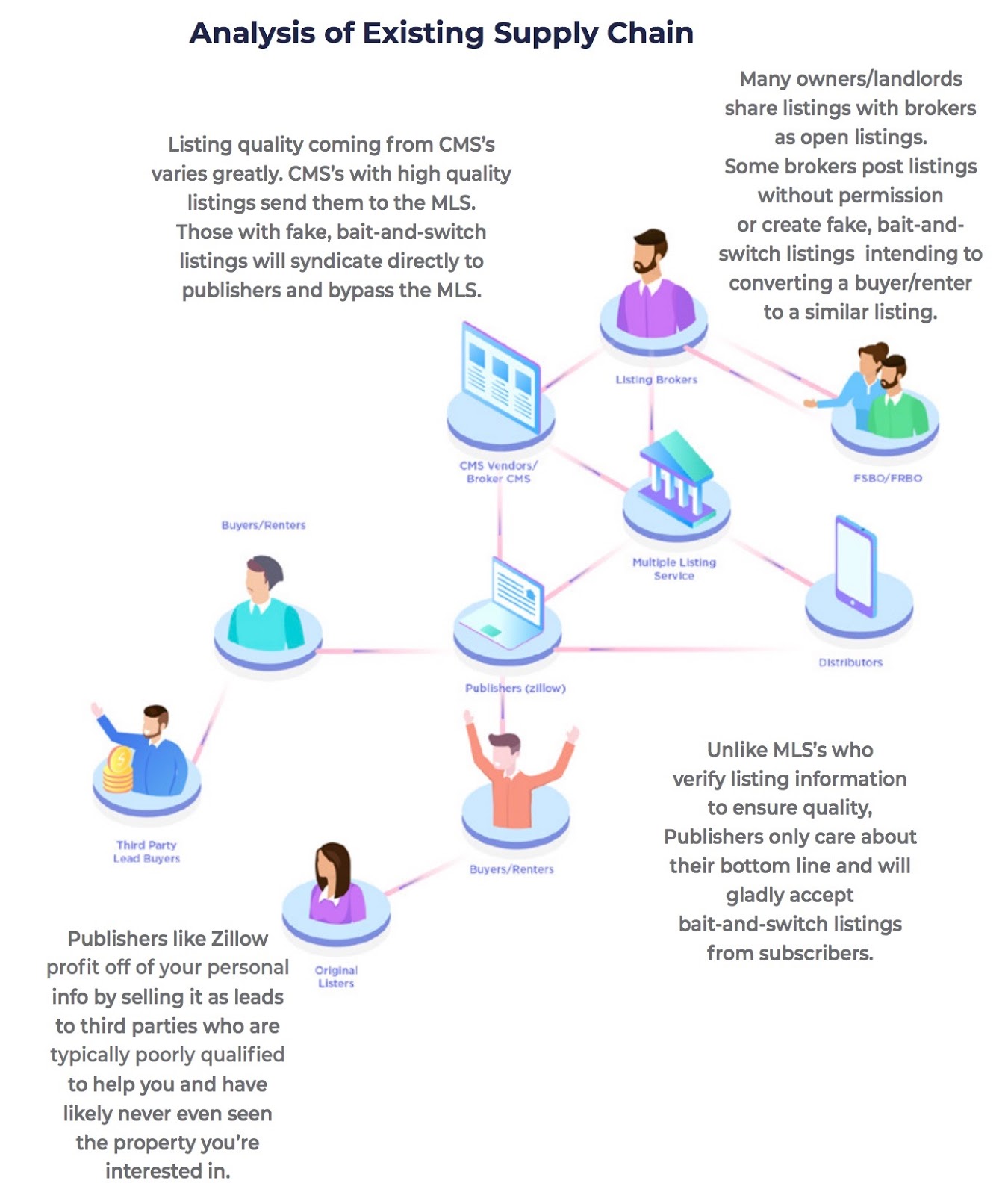 A Blockchain Marketplace
Our solution is to build a global real estate platform that leverages blockchain technology to create a dynamic marketplace which revolutionizes the way real estate is transacted, removes friction and third party lead buyers, and solves the overwhelming supply problems faced by existing marketplaces.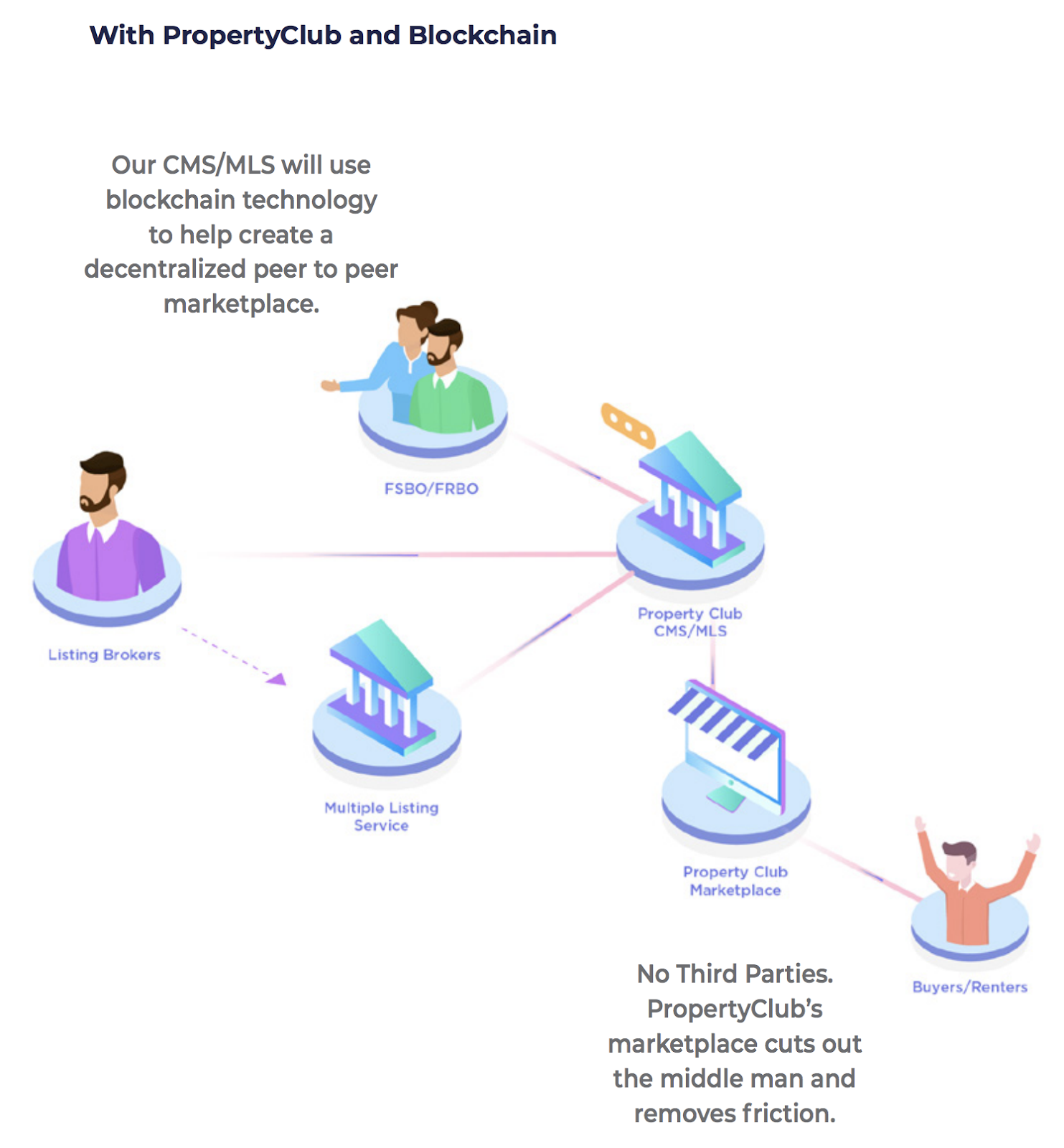 There is a great deal of synergy between blockchain and marketplaces. Let's imagine for a moment a world in which our legal framework has evolved to recognize Ricardian contracts and in which there exists a global, distributed property ledger (on the blockchain), which can be updated digitally through the use of the aforementioned smart contracts. PropertyClub will take advantage of blockchain technology to do things never before possible. Here are 5 key ways in which we will use blockchain to enhance our platform:
i) Innovative New Experiences - Our marketplace plans to enhance the existing online real estate market by offering exciting new user experiences such as rewarding users with PCC, facilitating the digital transfer of property and the tokenization of real estate. Additional exciting opportunities include approving mortgages digitally, faster and at a fraction of the cost.
ii) Expanding the Market - PropertyClub plans to expand the market in ways few marketplaces ever have. The ability to achieve this is crucial as the current market suffers from a lack of frequency; people do not buy, sell or rent a home that often. To understand what it means to expand the market we'll look at one such example, Uber: through their incredible convenience and competitive pricing they have greatly expanded demand for car services. We plan to achieve increased demand through the tokenization of real estate and introduction of the PCC currency. Properties on our marketplace will be more accessible as we remove the barrier of entry to invest in real estate and make purchasing internationally easier and safer than ever before.
iii) Global Network Effects - Most portals can achieve network effects on a local or regional level, but few are able to achieve a global network effect. For example there is currently little to no benefit to a home seller in France when a new buyer in the US signs up. Blockchain changes this as we will be able to tokenize real estate making it easy and accessible for anyone to invest in real estate anywhere in the world.
iv) Payment Flow - Blockchain allows us to offer much more than just a portal to search for properties. These additional services will allow us to be part of the payment flow enabling us to extract better economics. An example of this would be our Tokenized Property Exchange. Existing real estate portals are unable to be a part of the payment flow as they simply operate as media companies.
v) Monetary Advantages - There are tremendous economic advantages to using blockchain technology. The lower marketing costs associated with a decentralized and transparent marketplace will in turn result in lower commissions and better prices. Savings for international investors as well as the title insurance and mortgage industries will be in the tens of billions of dollars. Additionally legal, management, and other fees associated with the sale, purchase and management of real estate can be reduced.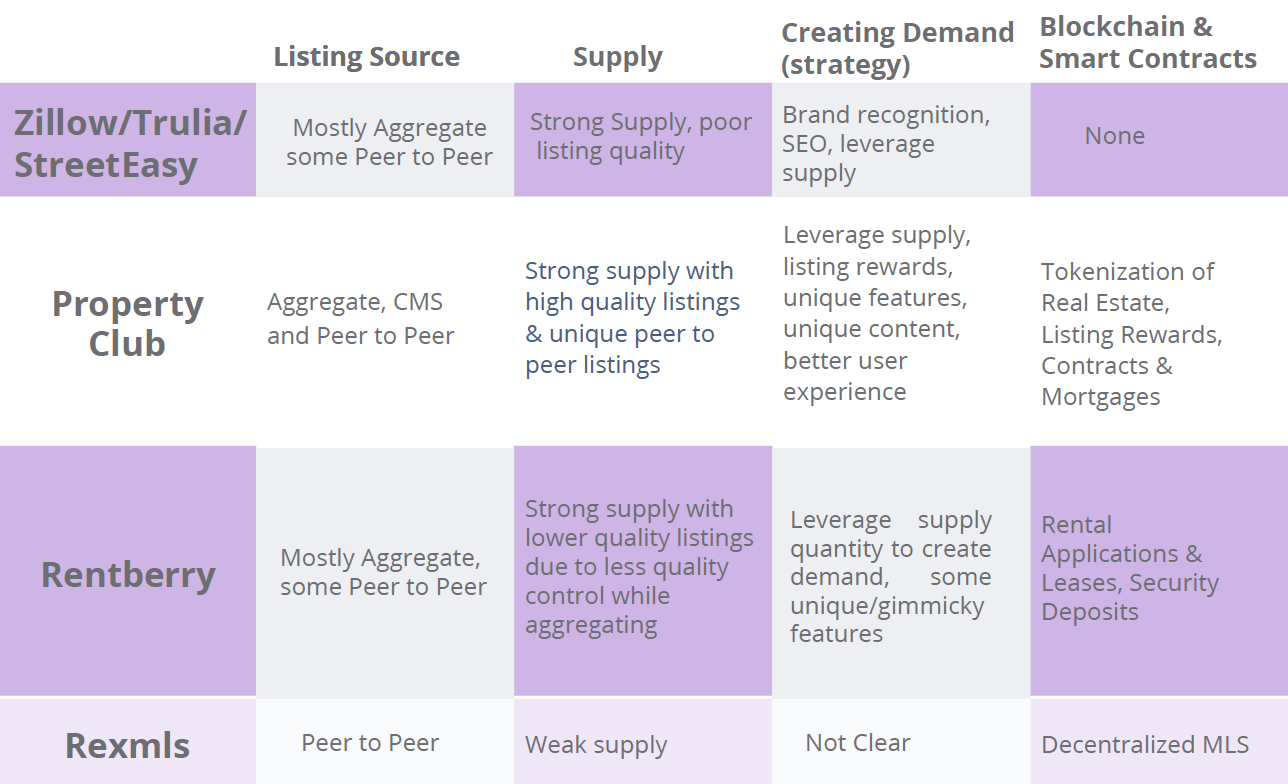 Driving Demand
Our focus on having the highest quality supply will help drive demand. This is amplified by the fact that the biggest pain points for buyers & renters tend to be related to low quality supply and the poor user experience provided by other marketplaces. In addition to providing the best listings possible we will also employ the following strategies to help drive strong demand:
i) Unique Content & Innovative Experiences - We are focused on creating unique content that will not only benefit users, but also drive organic traffic. Examples will include our neighborhood guides, blog articles, and user generated reviews. Our use of blockchain technology also creates many new experiences for users including the ability to digitally purchase and trade real estate (including tokenized real estate assets).
ii) Data - There is unprecedented access to a variety of data that is useful to our users. This includes school data, neighborhood data, and price/sale history of individual homes. Our school database and ratings will be introduced shortly followed by a comprehensive property database along with sales history. The introduction of these will give our users access to invaluable information while also helping with SEO (search engine optimization) and organic traffic.
iii) Deployment of PCC - We plan to deploy PropertyClub Coins to help foster demand. One way users will be able to collect PCC is through listing rewards for viewing and reviewing listings.
iv) Reviews - We are planning on introducing user generated reviews for listings, buildings and neighborhoods. Users posting reviews will go through KYC to verify their association with the address being reviewed and PCC will be rewarded for posting reviews.
v) Roommates - We plan to drive additional demand from roommates matched through our end-to-end solution for roommates. Our competitors rarely offer a solution for roommates while roommate sites typically act only as a matching service and roommates navigate to large marketplaces to search for suitable listings.
Product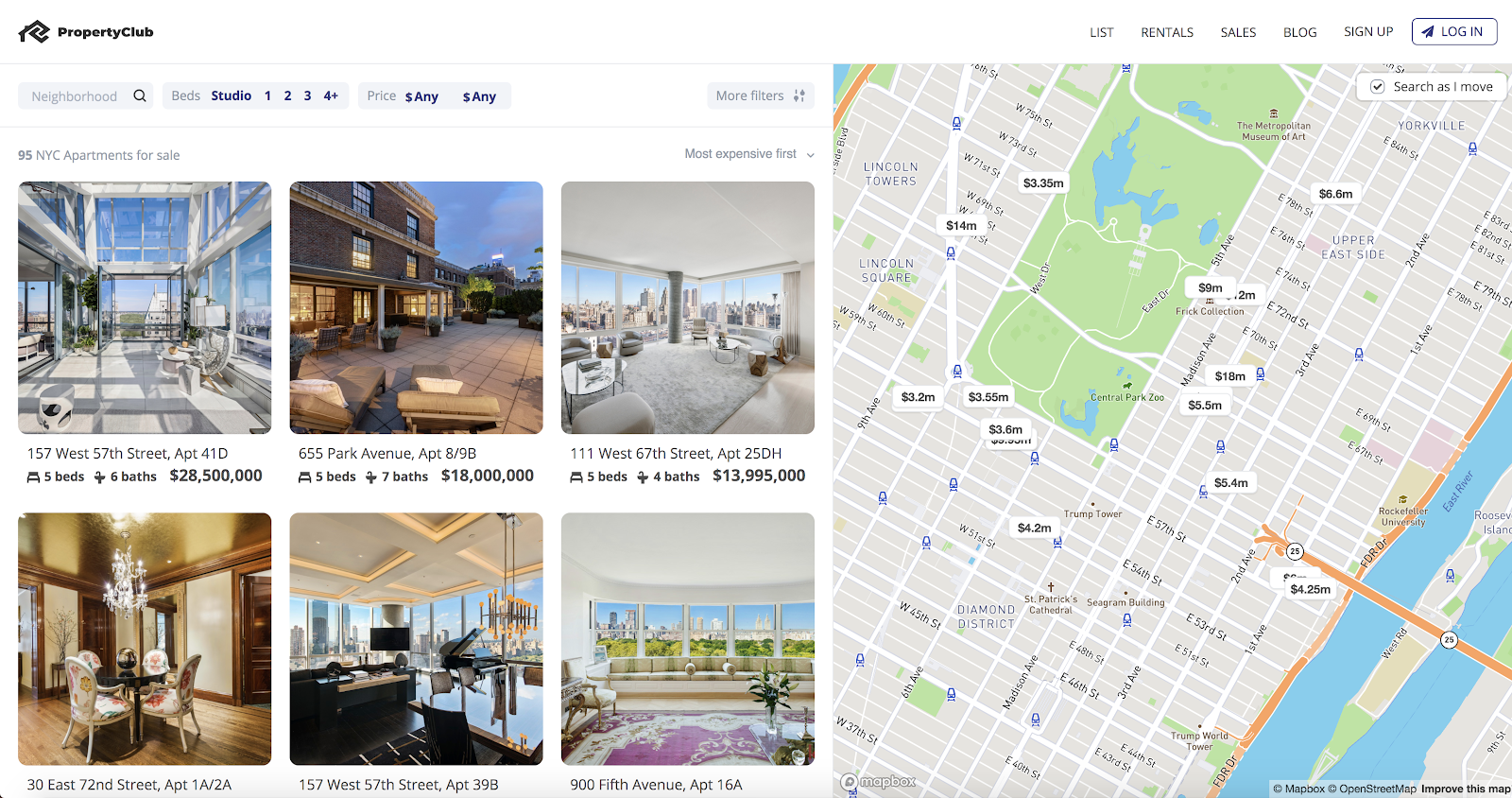 PropertyClub CMS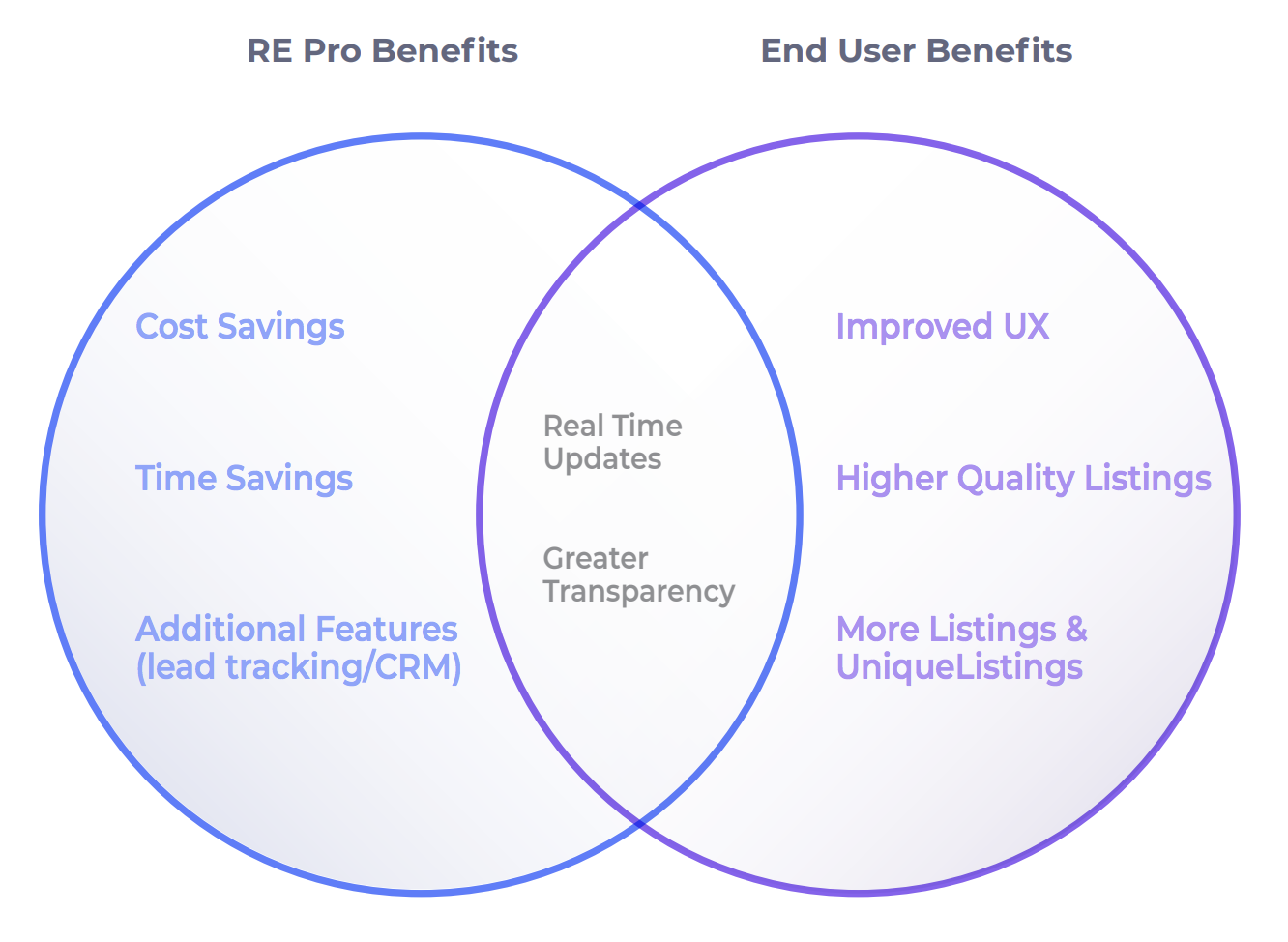 Rooms and Mates
We're building the first end-to-end solution for roommates. Other roommate sites are limited to roommate matching or just rooms and mates, forcing users to navigate to other sites to search for properties once they've found a roommate. Our marketplace allows users to find a roommate and then search all available properties or vice versa. All under one roof. Through blockchain we can also do KYC and/or background checks on roommates to ensure everyone's safety and provide a better roommate matching experience.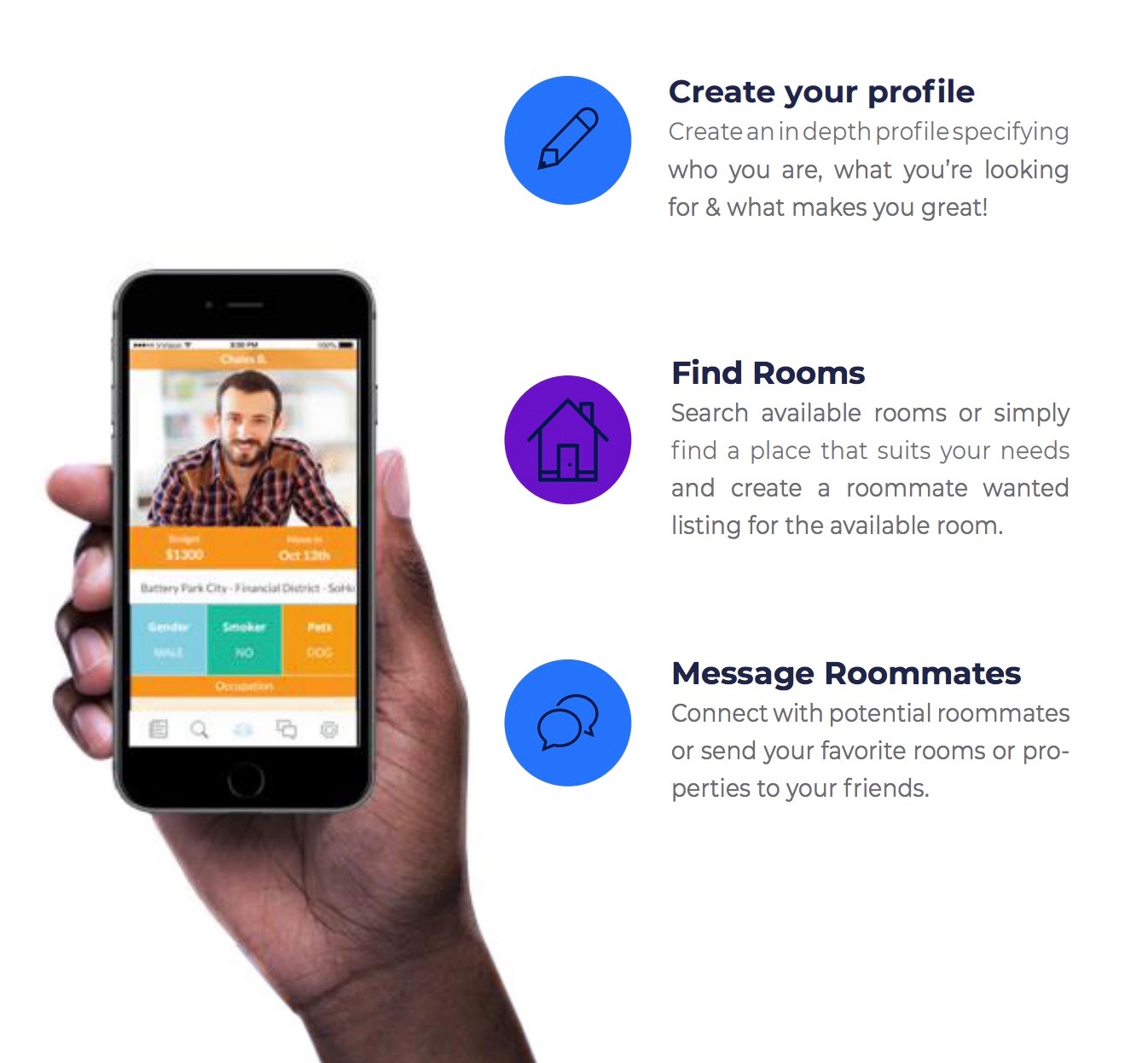 School Database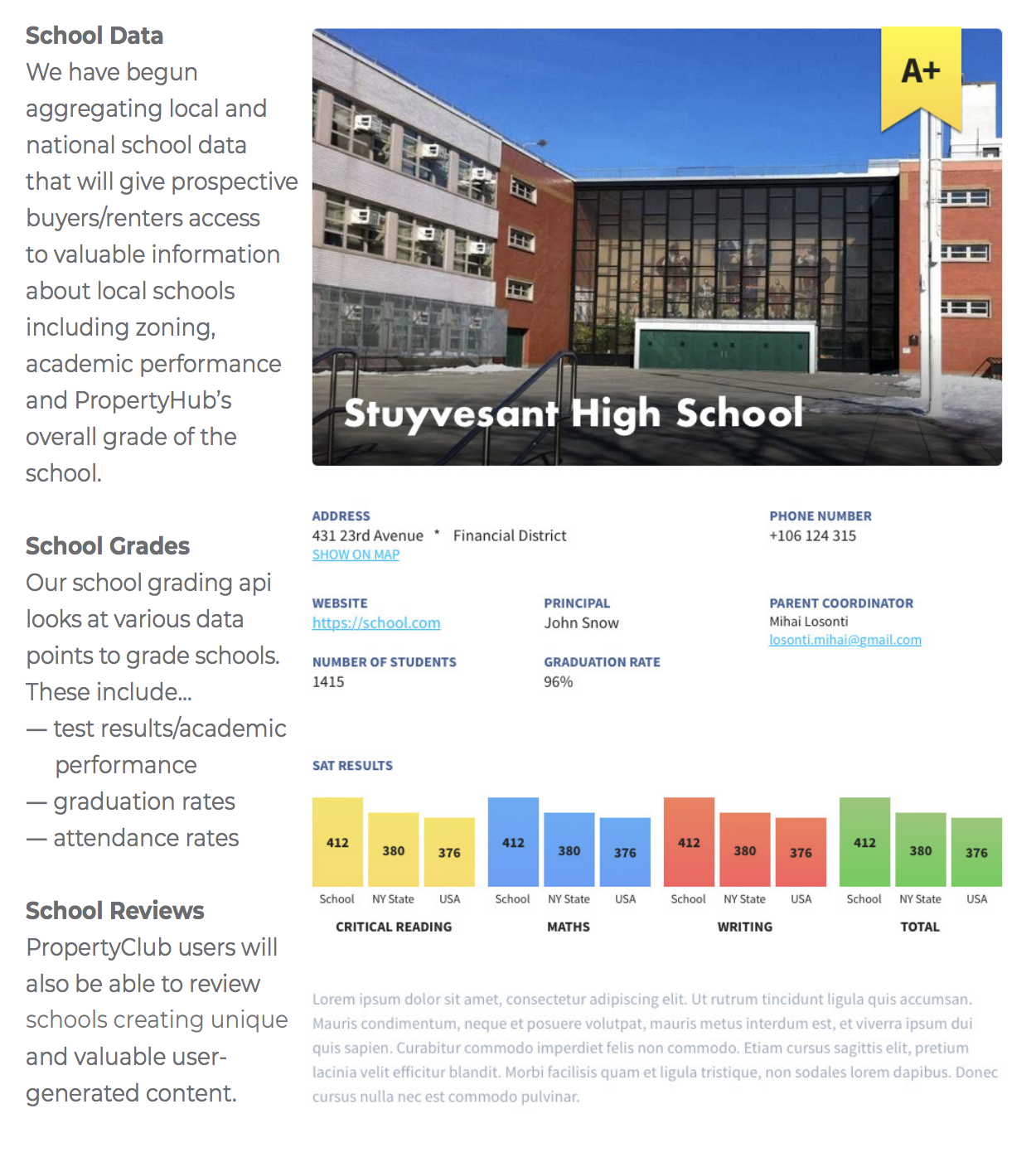 PropertyClub Coin
DISCLAIMER: PROPERTYCLUB COINS ARE NEITHER SECURITY TOKENS NOR A UTILITY TOKENS. PROPERTYCLUB COINS ARE A REWARDS CURRENCY SIMILAR TO AIRLINE MILES AND SHOULD NOT BE MISTAKENLY CONFUSED WITH THE SECURITIES BEING OFFERED IN THIS OFFERING. PURCHASING SECURITIES IN THIS SOLELY ENTITLES YOU TO THE SHARES PURCHASED IN THIS OFFERING AND IN NO WAY ENTITLES YOU TO PROPERTYCLUB COINS AND IS NOT AN INVESTMENT IN PROPERTYCLUB COINS.
PropertyClub Coins are intended to be deployed and awarded to users to ensure the healthy and continued growth of the PropertyClub ecosystem.
PropertyClub Coins will be redeemable for various services on the platform such as paying for listing a property or for the execution of various smart contracts. PCC are also envisioned to act as a currency that may in the future be used to purchase real estate.
Total Supply: There shall be 1 Billion (1,000,000,000) total PCC tokens.
Distribution: PCC Shall be awarded to users for verifying listings or performing other actions on the platform (such as writing reviews for listings, buildings, or neighborhoods).
Team
A talented and dedicated team with a passion for blockchain technology, real estate, and creating great UX.
Andrew Weinberger
CEO
Andrew is a veteran of the Proptech space having been involved in various Proptech ventures over the years. He has also been a licensed real estate agent in the State of New York for the past 5 years.
Daniel Nadasan
CTO
Daniel is a full-stack developer with over 3 years experience in the Proptech space.
Mihai Losonti
Developer
Mihai is a back-end and blockchain developer
Polsinelli PC
Legal Partner
Roadmap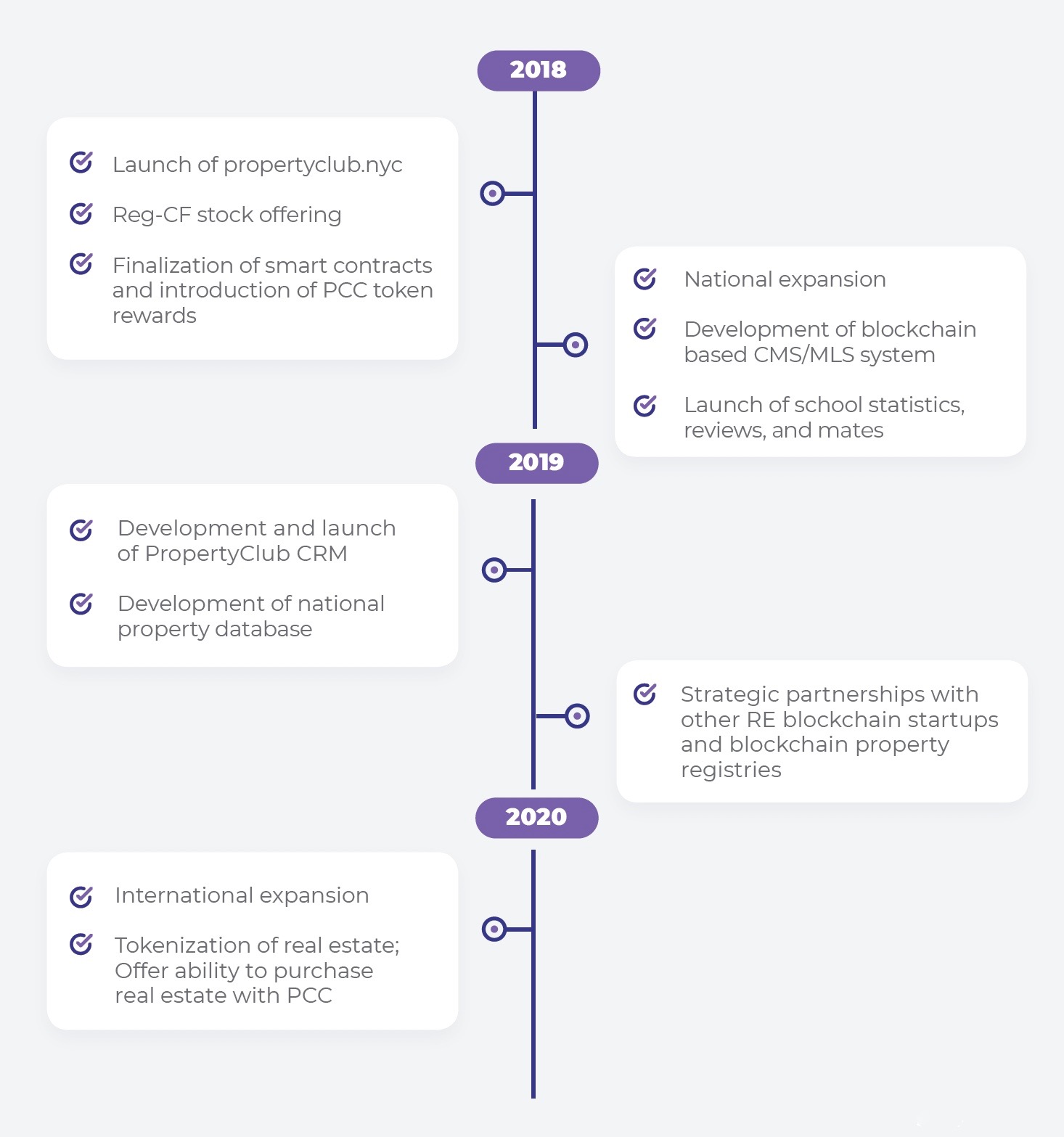 Use of Proceeds
If the offering's maximum amount of $107,000 is raised:
| Use | Value | % of Proceeds |
| --- | --- | --- |
| Design, Development, and Site Maintenance | $610,500 | 570.6% |
| Sales, Marketing, and content creation | $200,000 | 186.9% |
| Office, Administrative, and operations | $100,000 | 93.5% |
| Legal and Accounting | $50,000 | 46.7% |
| Misc. Expenses | $57,070 | 53.3% |
| Intermediary fees | $5,243 | 4.9% |
Terms
This is an offering of Common Stock, under registration exemption 4(a)(6), in PropertyClub, Inc.. This offering must raise at least $10,000 by October 17, 2018 at 11:59pm ET. If this offering doesn't reach its target, then your money will be refunded. PropertyClub, Inc. may issue additional securities to raise up to $107,000, the offering's maximum.
$10,000 minimum
$26,250 raised
If the offering is successful at raising the maximum amount, then the company's implied valuation after the offering (sometimes called its post-money valuation) will be:
84,790 shares
×
$62.50 per share
$5,299,375implied valuation
SEC Filings
The Offering Statement is a formal description of the company and this transaction. It's filed with the SEC to comply with the requirements of exemption 4(a)(6) of the Securities Act of 1933.
We're also required to share links to each of the SEC filings related to this offering with investors.
Updates
May 1, 2019

Oct 18, 2018

Primary offering closed, selling

shares

Sold $62.50 for a total of $26,250.00

shares at

Oct 10, 2018

Oct 1, 2018

Sep 10, 2018

Aug 7, 2018

Jul 12, 2018

Jun 14, 2018

Primary offering of $62.50

shares at

Jun 14, 2018
Ask a Question
Proofread your comment before submitting: once it's posted, you can't edit or delete it. For the fastest help with the web site, email help@netcapital.com instead of commenting.
Understand the Risks
Be sure to understand the risks of this type of investment. No regulatory body (not the SEC, not any state regulator) has passed upon the merits of or given its approval to the securities, the terms of the offering, or the accuracy or completeness of any offering materials or information posted herein. That's typical for Regulation CF offerings like this one.
Neither Netcapital nor any of its directors, officers, employees, representatives, affiliates, or agents shall have any liability whatsoever arising from any error or incompleteness of fact or opinion in, or lack of care in the preparation or publication of, the materials and communication herein or the terms or valuation of any securities offering.
The information contained herein includes forward-looking statements. These statements relate to future events or to future financial performance, and involve known and unknown risks, uncertainties, and other factors, that may cause actual results to be materially different from any future results, levels of activity, performance, or achievements expressed or implied by these forward-looking statements. You should not place undue reliance on forward-looking statements since they involve known and unknown risks, uncertainties, and other factors, which are, in some cases, beyond the company's control and which could, and likely will, materially affect actual results, levels of activity, performance, or achievements. Any forward-looking statement reflects the current views with respect to future events and is subject to these and other risks, uncertainties, and assumptions relating to operations, results of operations, growth strategy, and liquidity. No obligation exists to publicly update or revise these forward-looking statements for any reason, or to update the reasons actual results could differ materially from those anticipated in these forward-looking statements, even if new information becomes available in the future.
Looking to raise capital?
We can help turn your firends, family and customers into investors.
Learn more
Be the first to know.
Sign up for new investment alerts.
Sign up