From the CEO
"I have personal experience on how devastating a brain disorder that changes your behavior and personality can be. My mother, who died in 2014, suffered from Alzheimer's. My personal commitment is to develop a cure for Alzheimer's disease, no matter what this may cost. There is no plan B."
- Nikolaos Tezapsidis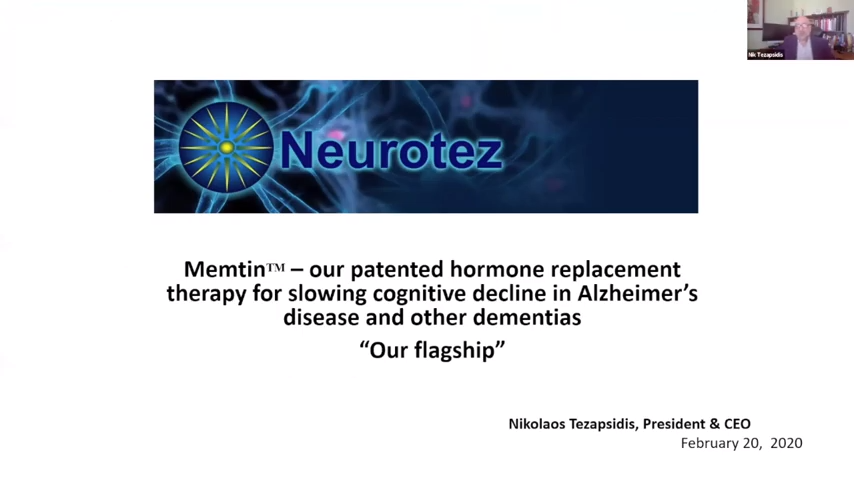 Problem
Alzheimer's disease affects more than 5 million Americans and 40 million patients worldwide.
Current medications provide limited relief. Many of our competitors are focusing on removing either Abeta or tau deposits from the brain where they form plaques and tangles. None of these efforts have generated any effective drug for the last 18 years since the first anti-Abeta trial started.
The idea that Abeta and plaque do not cause Alzheimer's is gaining momentum in the research community. We were determined to look for a different solution prior to the formation of the plaques.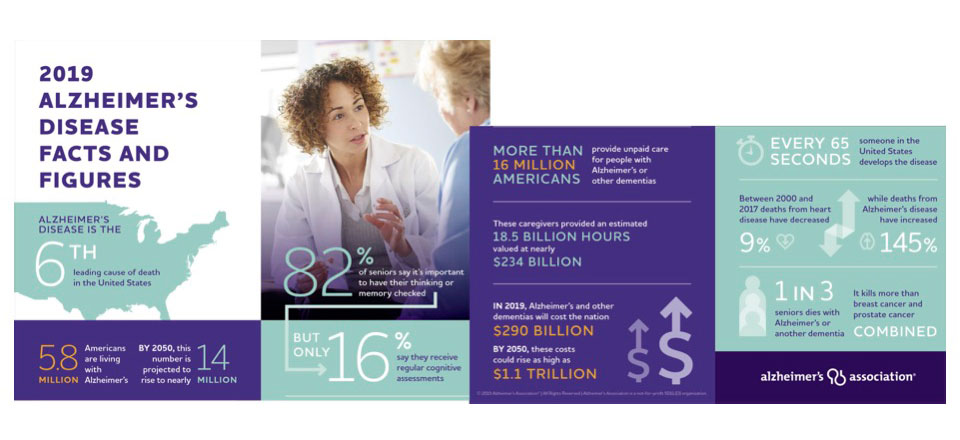 Solution
Our novel approach focuses on Leptin, a naturally occurring human hormone associated with various metabolic effects, has a large number of receptors in memory centers of the brain.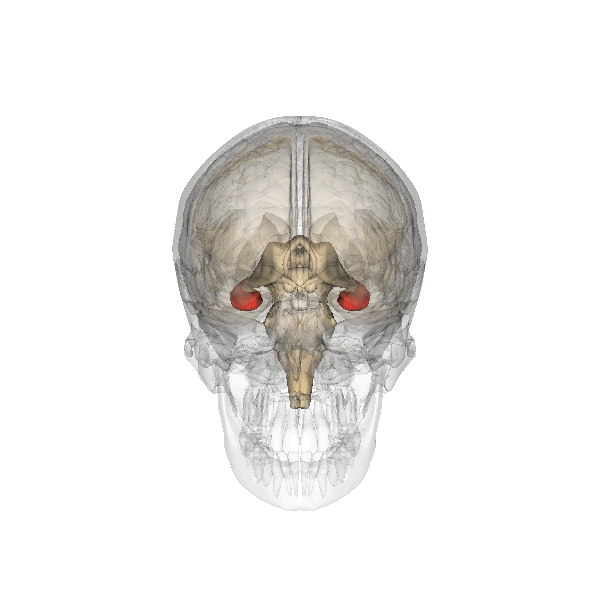 Hippocampus (in red) responsible for memory formation, cognition and executive function is severely affected by the disease. This region is rich in Leptin receptors.
This protein is often present at decreased levels in patients suffering from Alzheimer's disease, and cognitive deterioration in AD patients correlates strongly with a decline in circulating Leptin levels.
We are developing Memtin™ to treat Leptin deficiency in Alzheimer's patients. This Leptin product will act as a novel hormone replacement therapy for Alzheimer's disease (AD) and/or as a preventative for those who are at risk.
Success

Recognition
​​​​​InvestAcure Coin Award 2019
Nominated for Most Promising Private Company 2015

The Biotechnology Industry Organization nominated Neurotez, Inc. as a Most Promising Private Company for its 2015 Buzz of Bio Contest.

Best Presentation Award at NYC Venture Summit 2011

A panel of judges consisting of venture capitalists, private investors and other business executives at the NYC Venture Summit 2011, voted Neurotez's presentation as the best among 30 companies in the Life sciences category.

2010 Incubator Company to Watch

Neurotez was chosen as a 2010 Incubator Company to Watch at the NJTC Gala Awards
Team
Operating Team
An impressive group of exceptional individuals with deep experience and success in their respective fields in Academia (1000s of publications in Alzheimer's) and Pharmaceutical Industry have been working together for a number of years to achieve our mission.
Nikolaos Tezapsidis
President and CEO
PhD in Biochemistry at the University of Sussex, UK
18+ years of biomedical research
Two awards from the Alzheimer's Association
Wes Ashford
Chief Medical Officer
MD and PhD in Neuroscience from UCLA
100+ publications on Alzheimer's disease
Senior Research Scientist at the Stanford/VA Aging Clinical Research Center and Alzheimer's Center
George Perry
Chief Science Officer
PhD in Marine Biology from Scripps Institution of Oceanography
1,000+ publications on Alzheimer's disease
Semmes Foundation Endowed Chair in Neurobiology at the University of Texas at San Antonio
Hamish McArthur
Chief Manufacturing Officer
PhD in Microbial Biochemistry at University of Cambridge
33 years of drug development experience at Pfizer
50+ publications and patents
Jukka Karjalainen
COO
25+ years of pharma experience in US, Canada, and Europe
Authored 55 original publications in top-rated international medical journals
Member of International Science Advisory Board
Jane Johnston
VP Operations
PhD in Biochemistry from Imperial College
18+ years of research experience in neural repair and cellular imaging
Principal Investigator for the University of Medicine and Dentistry of New Jersey and Albert Einstein College of Medicine
Michael Hoy
Consultant in Regulatory Affairs
MS in Clinical Pharmacology from Thomas Jefferson University
Extensive experience in early phase clinical development, regulatory affairs, and life-cycle management
Worked at Bristol-Myers Squibb, Wyeth, and Johnson & Johnson
Bob Oliver
Director
MBA in Marketing from the Haub School of Business at Saint Joseph's University
President and CEO of Otsuka America Pharmaceutical, Inc.
VP and Global Business Manager for Oncology at Wyeth
James Harris
acting CFO
MBA in Finance from Long Island University
CEO of Healthcare Economics LLC
VP at Dragon Pharmaceuticals, Inc.
Thomas J. Humphries
Director
36 years of experience in Pharma and Biotech
225+ papers published
Retired as a Colonel after 26 years in the Navy and Airforce
Memtin™ Development Timeline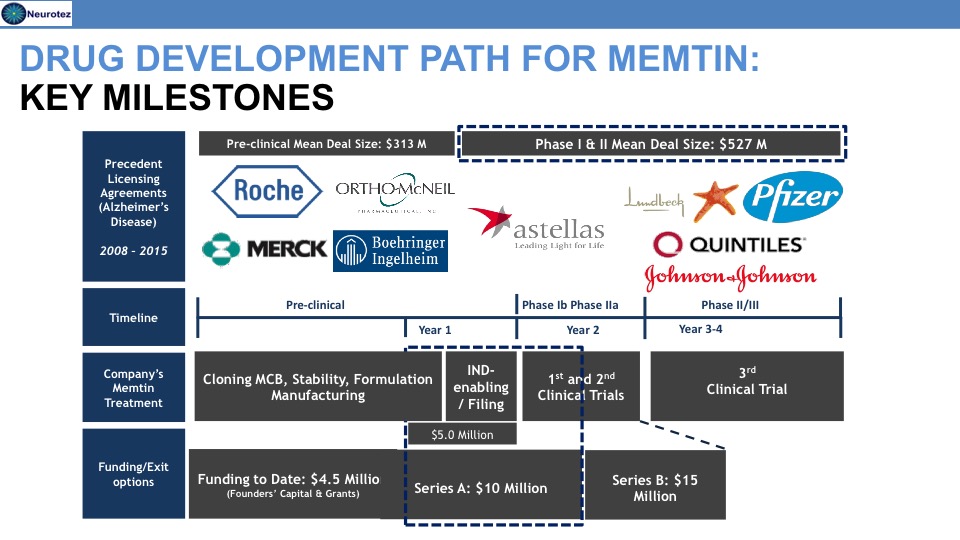 Previous Funding
Total = $4.5M
National Institutes of Health

IRS Qualifying Therapeutic Discovery Project grant

New Jersey Commission of Science and Technology
Use of Proceeds
To be used for General Corporate purposes including legal, accounting, marketing, and salary expenses.
If the offering's maximum Reg CF allocation of $500,000 is raised:
| Use | Value | % of Proceeds |
| --- | --- | --- |
| Manufactuirng and IND-enabling studies for Leptin product | $200,000 | 40.0% |
| Phase 1A/1B clinical trials | $200,000 | 40.0% |
| Personnel costs | $25,500 | 5.1% |
| Debt repayment | $50,000 | 10.0% |
| Intermediary fees | $24,500 | 4.9% |
If the offering's maximum amount of $2,500,000 across Reg. CF and Reg. D is raised:
| Use | Value | % of Proceeds |
| --- | --- | --- |
| Manufactuirng and IND-enabling studies for Leptin product | $200,000 | 8.0% |
| Phase 1A/1B clinical trials | $2,102,000 | 84.1% |
| Personnel costs | $25,500 | 1.0% |
| Debt repayment | $50,000 | 2.0% |
| Intermediary fees | $122,500 | 4.9% |
Terms
This is a side-by-side offering of Common Stock, under registration exemptions 4(a)(6) and 506(c), in Neurotez Inc.. Up to $500,000.00 may be raised under the 4(a)(6) exemption. Netcapital will determine which exemption applies to your investment and notify you before you complete your investment.
The amount raised under the two exemptions must total at least $10,000 by September 24, 2020 at 11:59pm ET. If the total doesn't reach its target, then your money will be refunded. Neurotez Inc. may issue additional securities to raise up to $2,500,000, the offering's maximum.
$10,000 minimum
$201,392 raised
If the side-by-side offering is successful at raising the maximum amount, then the company's implied valuation after the offering (sometimes called its post-money valuation) will be:
12,201,677 shares
×
$2.00 per share
$24,403,354implied valuation
Financials
These financial statements have been reviewed by an independent Certified Public Accountant.
SEC Filings
The Offering Statement is a formal description of the company and this transaction. It's filed with the SEC to comply with the requirements of exemptions 4(a)(6) and 506(c) of the Securities Act of 1933. Similar information is sometimes offered in a Private Placement Memorandum for 506(c) offerings.
Updates
Aug 16, 2019

Primary offering of $2.00

shares at

Feb 11, 2019

Feb 26, 2018

Primary offering finalized, selling

shares

shares at

Jan 2, 2018

Primary offering of $1.00

shares at
Transactions
Spread
| Bid quantity | Price | Ask quantity |
| --- | --- | --- |
*Some securities may only be transferred to accredited investors if issued within the past 365 days. Unaccredited investors are permitted to place bids, so some transfers may have yet to occur.
No recent secondary activity
Transaction Log
Ask a Question
Proofread your comment before submitting: once it's posted, you can't edit or delete it. For the fastest help with the web site, email help@netcapital.com instead of commenting.
Understand the Risks
Be sure to understand the risks of this type of investment. No regulatory body (not the SEC, not any state regulator) has passed upon the merits of or given its approval to the securities, the terms of the offering, or the accuracy or completeness of any offering materials or information posted herein. That's typical for Regulation CF offerings like this one.
Neither Netcapital nor any of its directors, officers, employees, representatives, affiliates, or agents shall have any liability whatsoever arising from any error or incompleteness of fact or opinion in, or lack of care in the preparation or publication of, the materials and communication herein or the terms or valuation of any securities offering.
The information contained herein includes forward-looking statements. These statements relate to future events or to future financial performance, and involve known and unknown risks, uncertainties, and other factors, that may cause actual results to be materially different from any future results, levels of activity, performance, or achievements expressed or implied by these forward-looking statements. You should not place undue reliance on forward-looking statements since they involve known and unknown risks, uncertainties, and other factors, which are, in some cases, beyond the company's control and which could, and likely will, materially affect actual results, levels of activity, performance, or achievements. Any forward-looking statement reflects the current views with respect to future events and is subject to these and other risks, uncertainties, and assumptions relating to operations, results of operations, growth strategy, and liquidity. No obligation exists to publicly update or revise these forward-looking statements for any reason, or to update the reasons actual results could differ materially from those anticipated in these forward-looking statements, even if new information becomes available in the future.
Looking to raise capital?
We can help turn your friends, family and customers into investors.
Learn more
Interested in more investment opportunities?
Browse all offerings currently available.
See more