Introduction
At Millennial Fertility, our mission is to offer an accessible, low cost, more effective first step fertility treatment. One that helps all people, including the less affluent and non-urban couples, achieve their dream of parenthood. The First Step Conception Kit represents a true home use fertility treatment that does not force the patient into making difficult choices.
"How many of you know couples who struggled trying to get pregnant? We were those people. All our friends were having kids. What about us? Yet when we went to the doctor we were told that we had to use all of our savings on treatment that includes drugs and office based procedures. Instead we tried the First Step Conception Kit to help us get pregnant in the privacy of our own home and it worked! Now we are using our savings for the nursery in our home instead of costly, time consuming treatments."
We are affordable, so you don't have to worry about the long-term financial impacts of funding tens of thousands of dollars in invasive, impersonal, and time-consuming office-based treatments. We are drug free, so there is no worry about the potential long-term side effects of using hormone based fertility medication. We are home use, so we can be used no matter where you live which means that rural residents now have a choice beyond medication or committing to significant commutes to their nearest IVF clinic.
Testimonials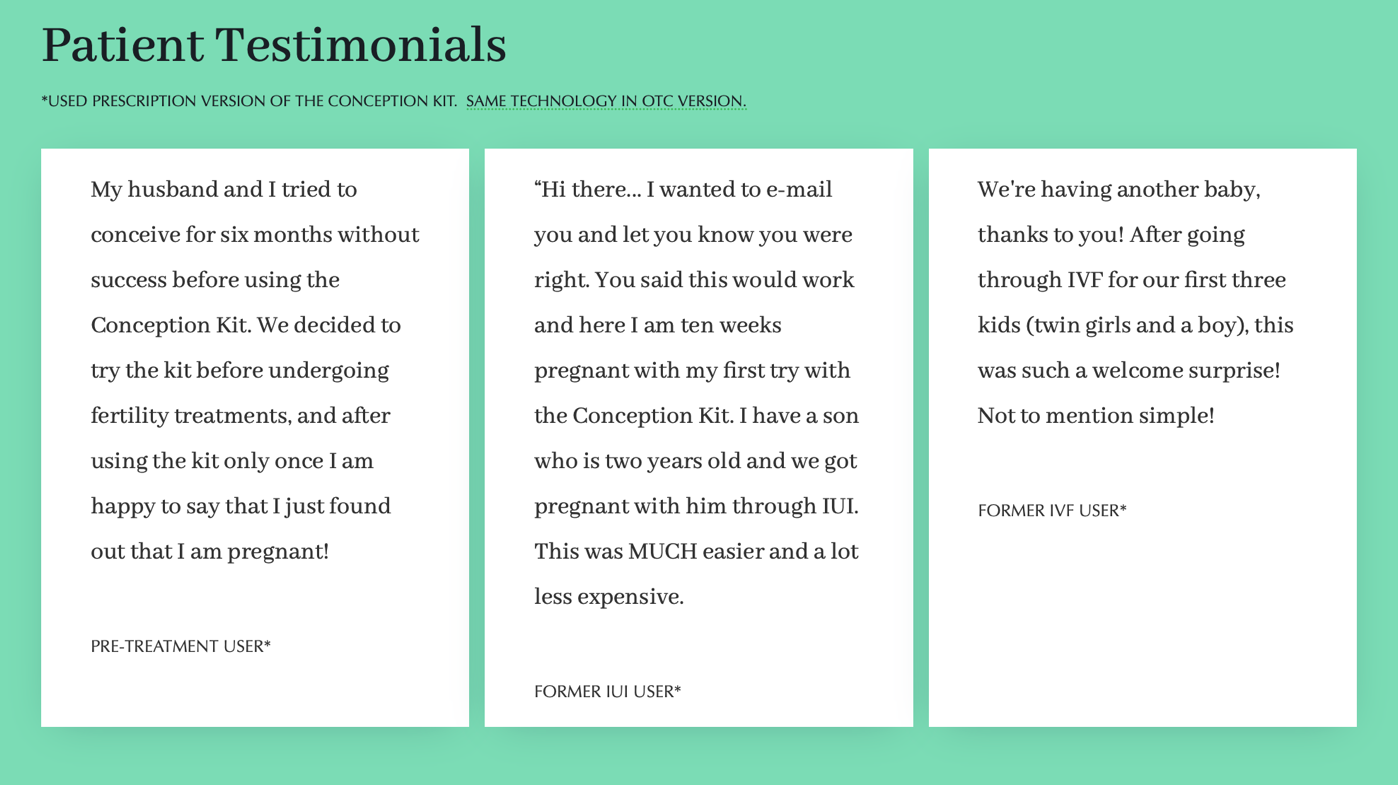 Problem
Society is changing, more people are delaying marriage and childbirth to focus on establishing careers. As a result, more and more couples are experiencing difficulty getting pregnant.
Yet, when couples reach out for help getting pregnant, they face the standard treatment path offered by Assisted Reproductive Technology (ART) which includes a regimen of drugs and invasive office-based procedures. The issues are significant:
Invasive Treatment
Just getting through the first round of In Vitro Fertilization (IVF) costs an average of $23K. Subsequent rounds of IVF add another $10-12K per cycle. ART also relies heavily on hormone-based drug treatments which can have significant long-term health effects. Lastly, ART generates far higher rates of multiple births due to the use of drugs and IVF.
Access
A significant portion of our society has no access to treatment.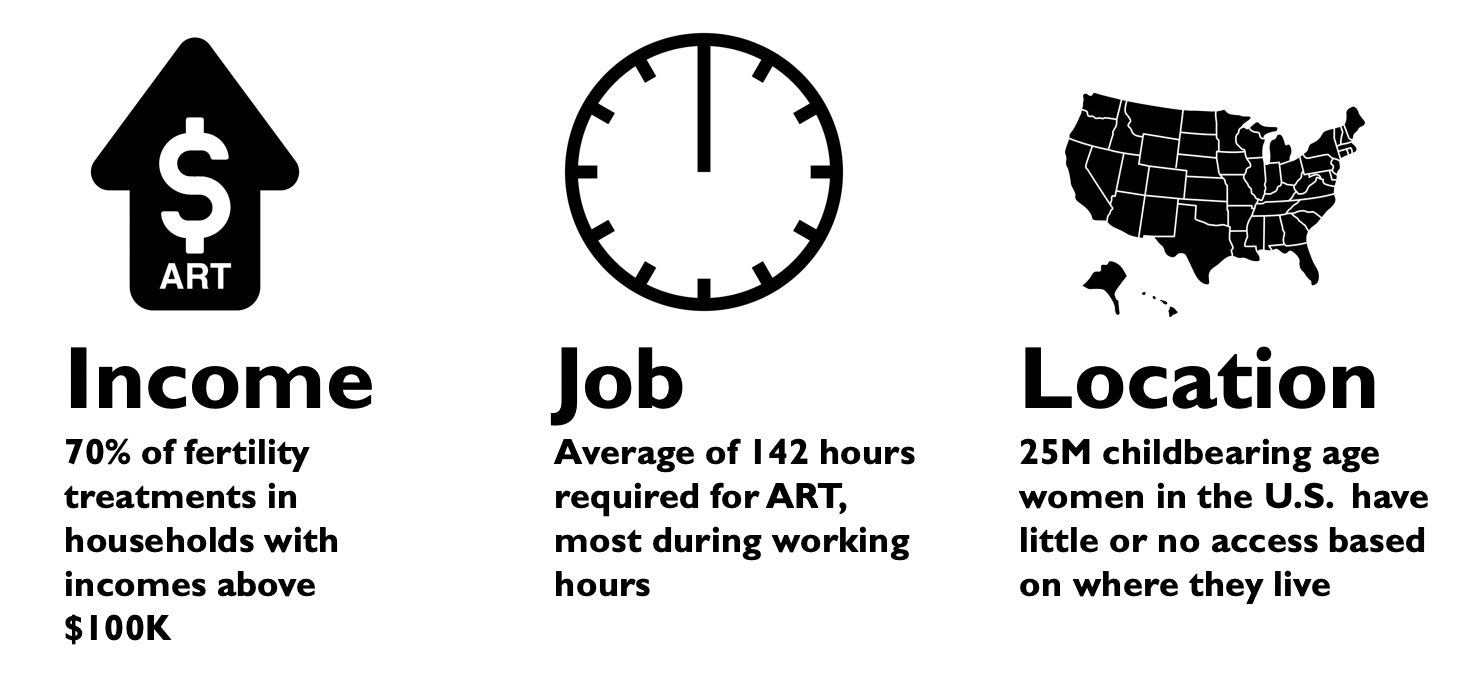 They cannot afford $23K in cost, or they work in an hourly job where they cannot take the necessary time off to seek treatment. Even worse, there are a significant number of childbearing age women in the United States who cannot access treatment solely because they live in more rural areas of the country.
Due to Covid-19, the American Society of Reproductive Medicine is currently recommending that doctors suspend initiation of all new Assisted Reproductive Technology (ART) treatment cycles including ovulation induction, intrauterine insemination, and in vitro fertilization.
ReproductiveFacts.org Update #1 Released to the ASRM Patient Management and Clinical Recommendations During The Coronavirus (COVID-19) Pandemic
Our Kit represents a solution to these concerns. We are home use, drug free and can be shipped straight to your home. Now you can get help in starting or expanding your family without having to make repeated public trips to the doctor's office for treatment. Depending on demand, we may also expand the prescription based offering of our Kit to better support couples who have healthcare insurance coverage for our solution.
Solution
The First Step Conception Kit® offers a multitude of benefits as a first step in your efforts to get pregnant.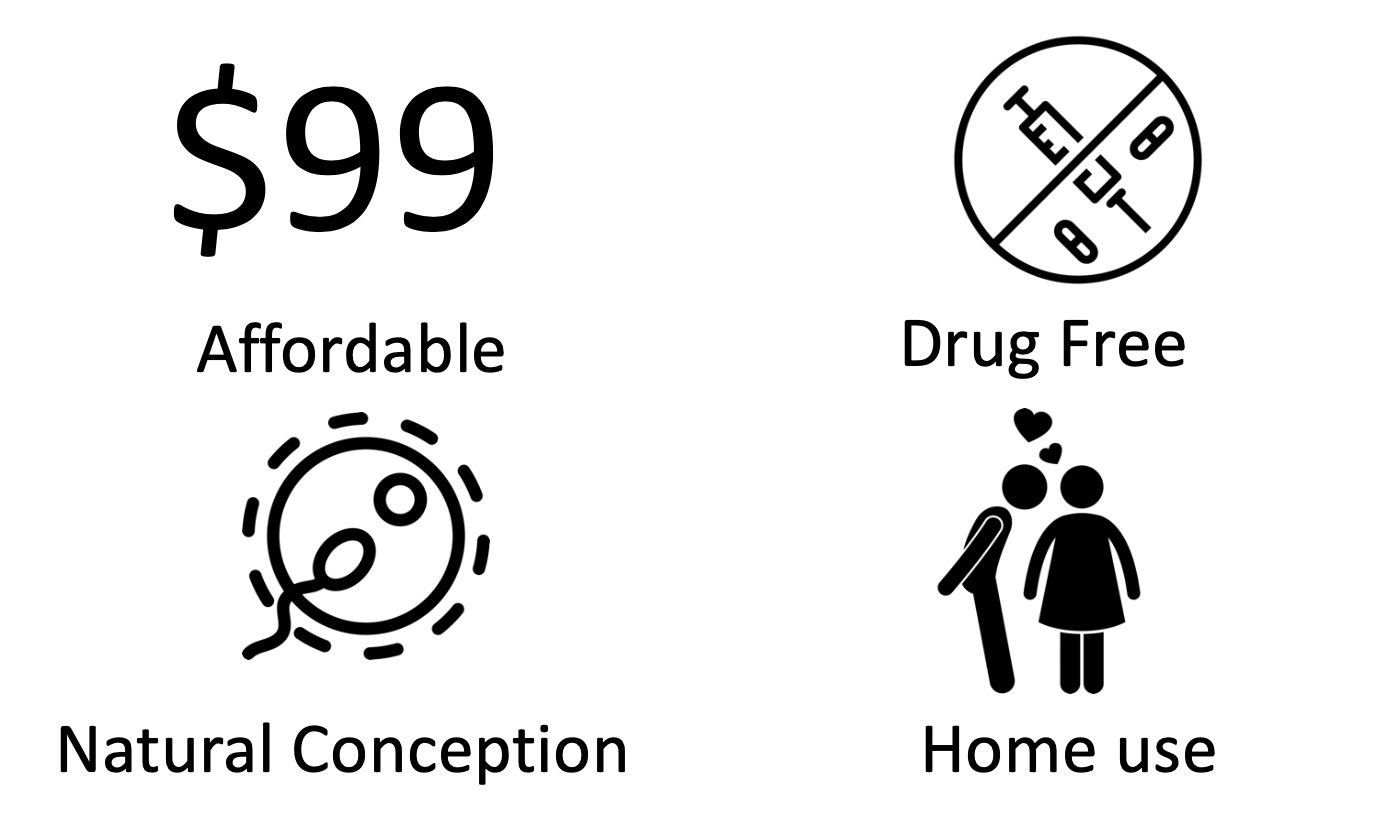 Low Cost: At a retail price of $99, the First Step Conception Kit® does not require a significant financial commitment to start fertility treatment making it accessible even to people with lower household incomes.
Drug Free: We are a drug free solution to there is no need to worry about unwanted side effects. We also offer hope for cancer survivors who, in many cases, cannot use any form of hormone-based fertility treatments.
Natural Conception Solution: The First Step Conception Kit® is a natural conception solution which yields normal rates of multiple and pre-term births
Home Use: The OTC Conception Kit® can be used at home and procured via multiple sources including mail order which makes it accessible to couples no matter where they live, supports social distancing while trying to conceive, and offers an intimate approach to fertility treatment compared to the impersonal process of ART.
The First Step Conception Kit: A complete package for a complete treatment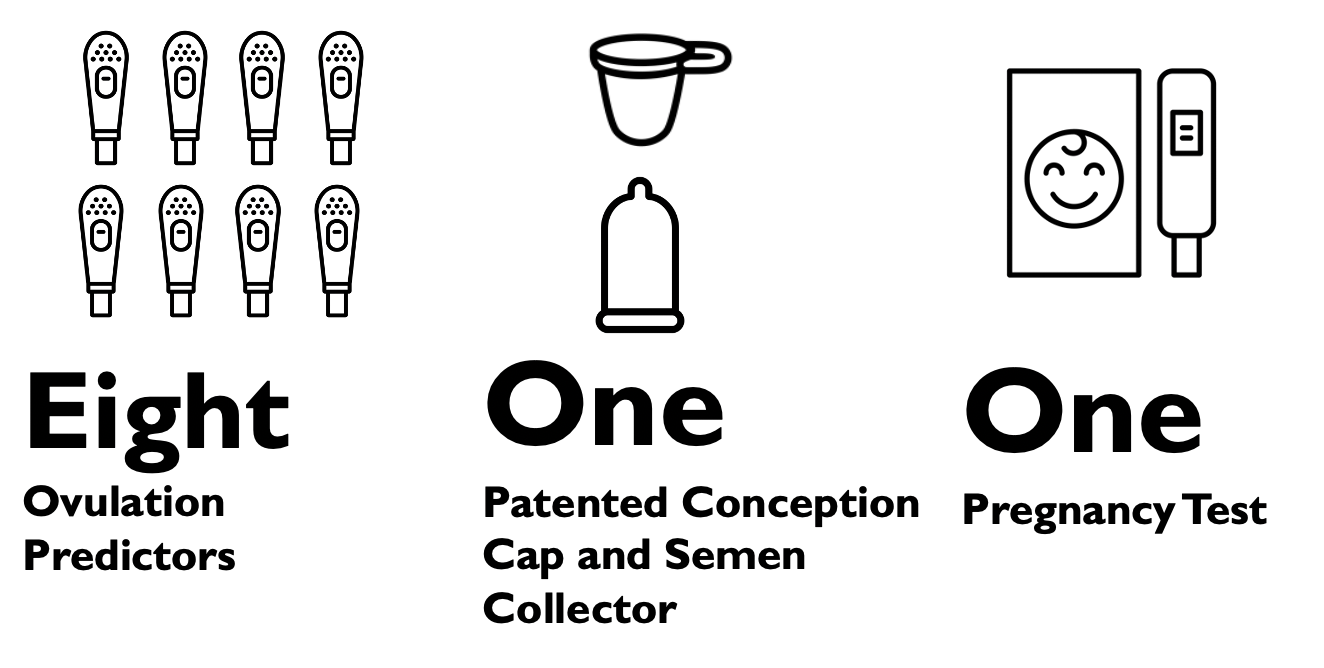 Easy as 1, 2, 3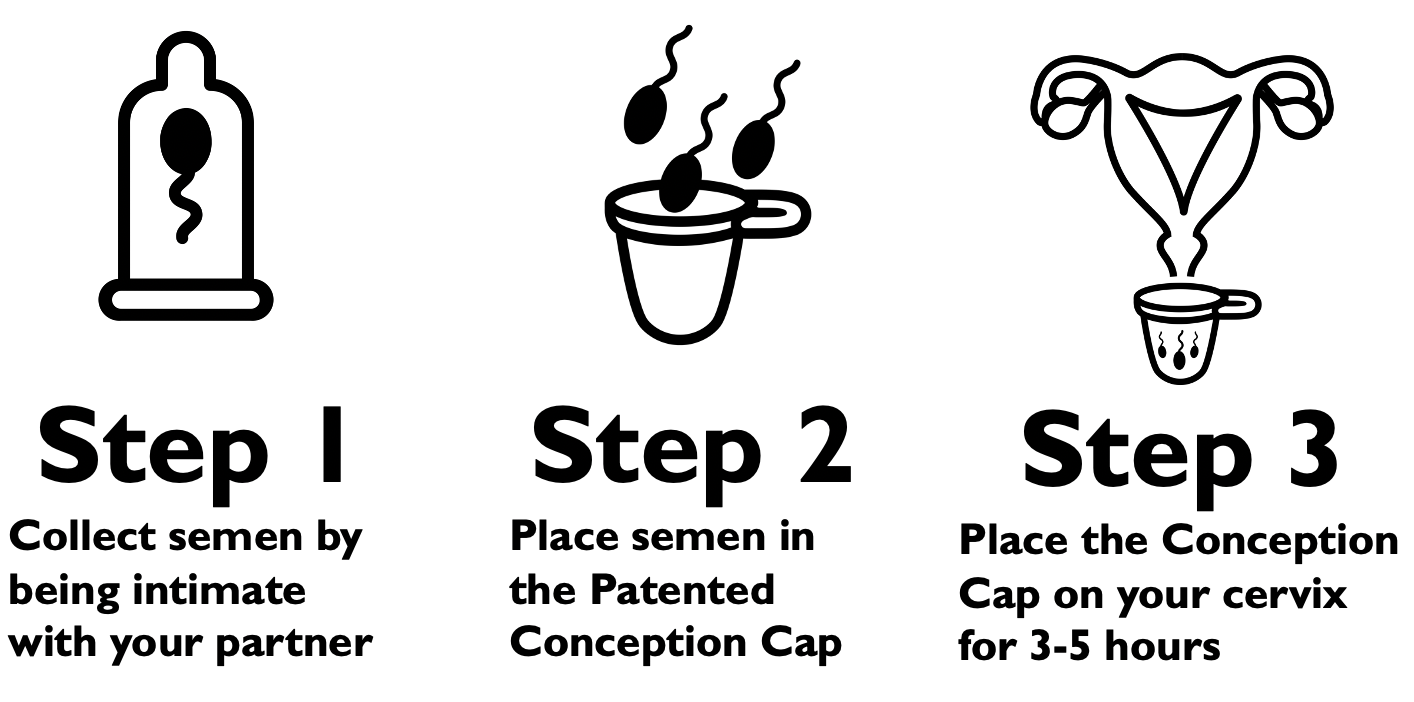 Health Equality – Who We Help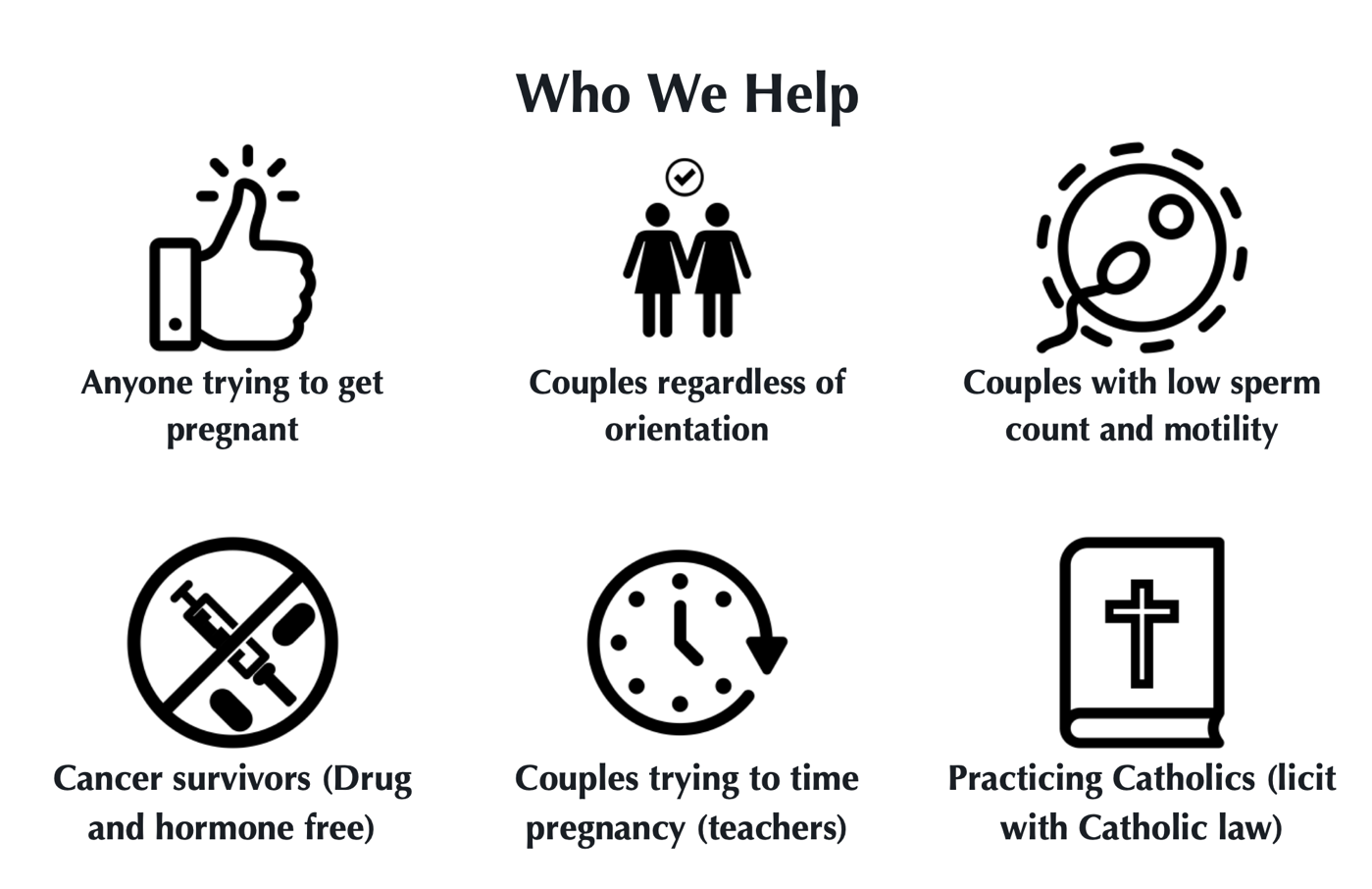 Anyone trying to get pregnant: We help all couples, regardless of orientation, maximize their chances of getting pregnant. You don't have to be diagnosed with a fertility issue to use our Kit.
Family Planning: Beyond providing a solution for people with known fertility issues we offer the ability for couples to more effectively plan for pregnancies and births at a time that best supports their ability to manage their careers and plan for their families (teachers, business owners, military, tax professionals). If you need to give birth at a time that minimizes the impact on your job or career, we can help maximize your ability to do just that, all at the very affordable price of $99 for a one-month treatment.
Low Sperm Count: The Conception Kit is FDA cleared for low sperm count and motility conditions.
Cancer Survivors: We also offer a choice to cancer survivors, many of whom cannot use any form of hormone-based treatment given their survivor status.
Low Income Americans: It should also be pointed out that approximately 41% of African American and 36% of Hispanic populations use public assistance. How many of these families who are forced to temporarily access government assistance have fertility issues and no fertility coverage in Medicaid or ability to pay for ART based diagnostics, drugs or treatments? Their dreams of starting families are no less than that of any other group, yet their only affordable choice is self-funding fertility drugs which have potential long-term health issues and higher rates of multiple births.
Practicing Catholics: The Conception Cap is considered licit with Catholic law regarding fertility treatments. Practicing Catholics typically will not use IVF or IUI, so we represent an excellent alternative to the use of fertility medications which has, in the past, been their only real choice for fertility treatment.
Business Model
MFC uses a lean business model focused on building awareness and demand in one primary channel:
E-Commerce/Over the Counter: Launching a one-month version of our Kit to establish a lower price point of $99 and expansion into the E-Commerce/OTC markets. This is really important as 94% of current fertility services are used by households with incomes greater than $60,000.
Creating a low-cost fertility treatment that is available via e-commerce platforms addresses a significant market need. We are also focused on partnering with domestic healthcare companies who want to expand their product portfolio as well as international partners who want to launch the First Step Conception Kit® in their respective countries.
Other Potential Sources of Future Revenue:
Subscriptions: We plan to offer a subscription service for people and will incent them with discounted price for each subsequent month or some form of ongoing discount.
Referrals: We also plan to offer a referral program that also generates a discount for people using our Kit.
Promotional Revenue: We plan to also generate revenue by inserting promotional materials/coupons from infant focused consumer product companies.
White Labels: We are open to offering a white label version of this Kit through a consumer product company with strong ties to the brick and mortar retail space.
MFC plans to work on OTC adoption, revenue generation, and identification of foreign partners to market the OTC Conception Kit® at home system in their respective markets.
Market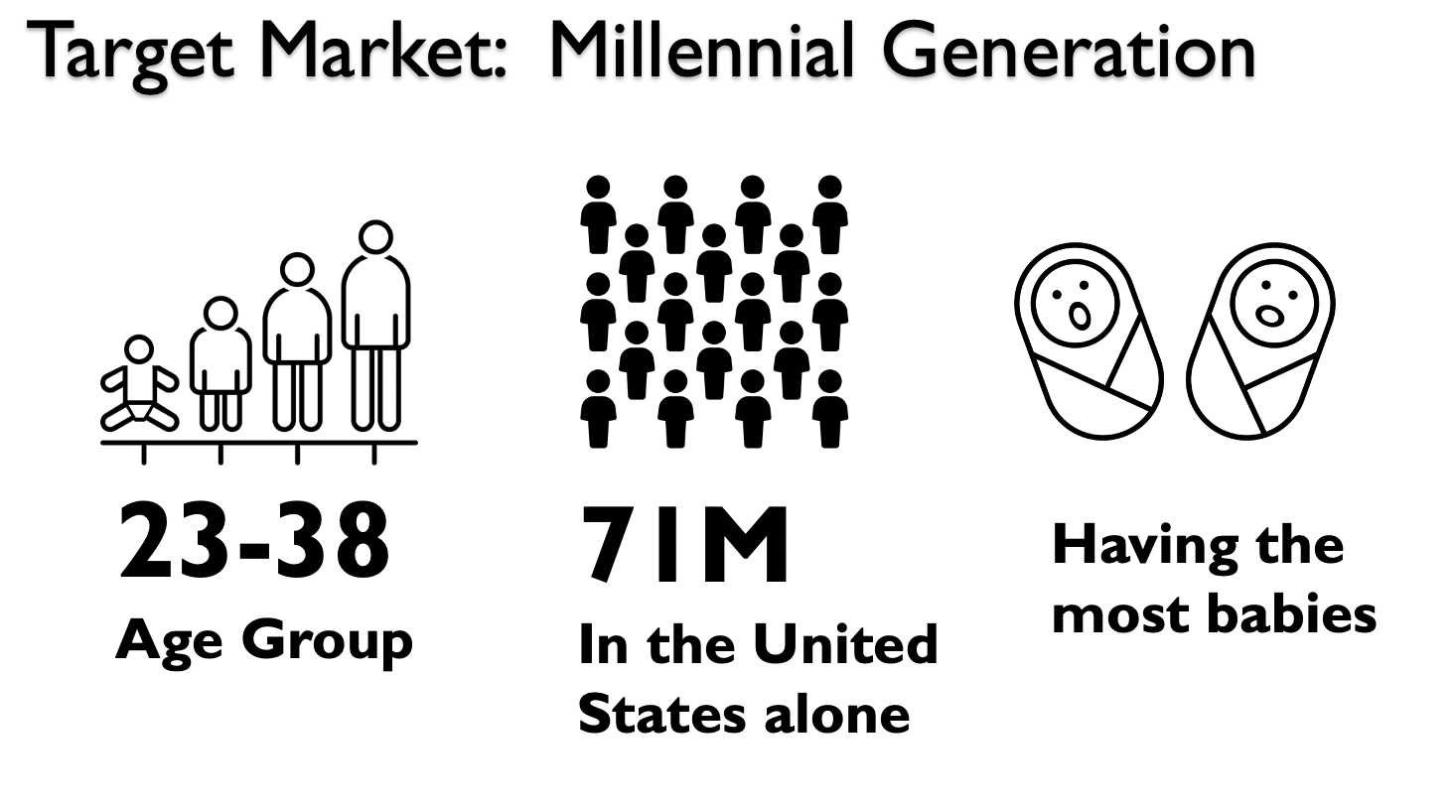 The global fertility market is expected to grow from $16.7B in 2016 to almost $31B by 2023. One percent of this market is worth $310M dollars per year. 1
There are a variety of reasons why this market is understated. First, this estimate represents only the couples who have chosen to pursue fertility treatment and have the means to do so. This does not include the couples with fertility issues who would pursue fertility treatment if it were more affordable. Lastly, this does not include the casual users: couples who have no fertility issues that they know of, but want a solution that affordably helps them maximize their chances for conception.
The point is that our Kit helps ALL couples, regardless of their fertility status, improve their chances for a pregnancy and our low cost will engage a far higher number of couples than the current treatment path. We also expect the average couple to use between 2 and 3 Conception Kits as part of their journey towards pregnancy.
In the United States alone you have 71M Millennials between the ages of 23-38. If just 5% of them (3,550,000) try to get pregnant in a given year and use an average of 3 Kits each the market potential is close to $1B dollars.
Internationally, the Millennial trends of delayed marriage and childbirth are common in Europe and Asia. The market potential in Europe and China alone are also measured in billions of dollars given the larger eligible populations.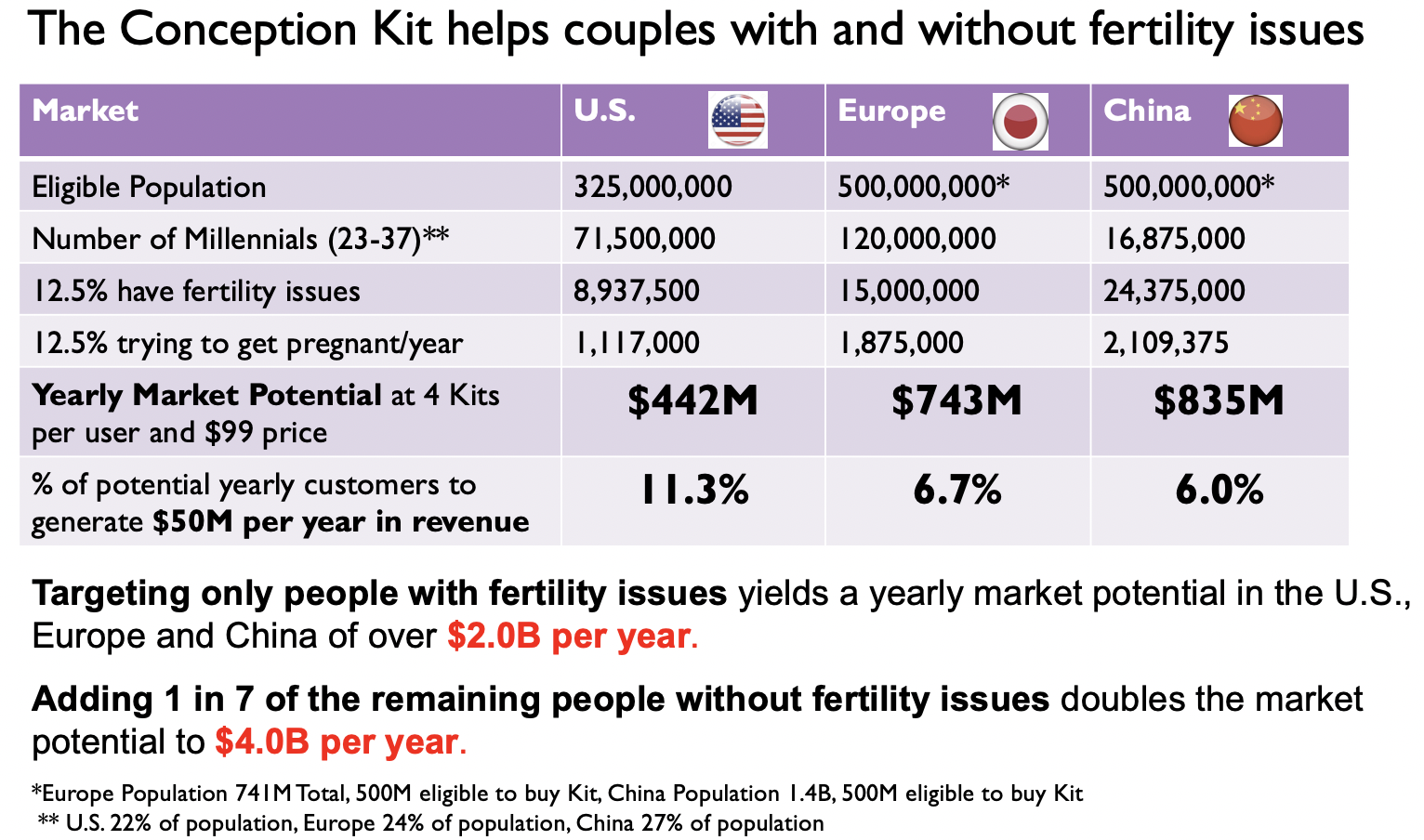 Competitive Landscape
We feel we are one of the best first steps for people who are trying to get pregnant, before they take the step on to more advanced procedures like fertility medications and In Vitro Fertilization.
Currently, there are no other fully complete cervical cap solutions in the marketplace. The following image represents where we fit within the current treatment path: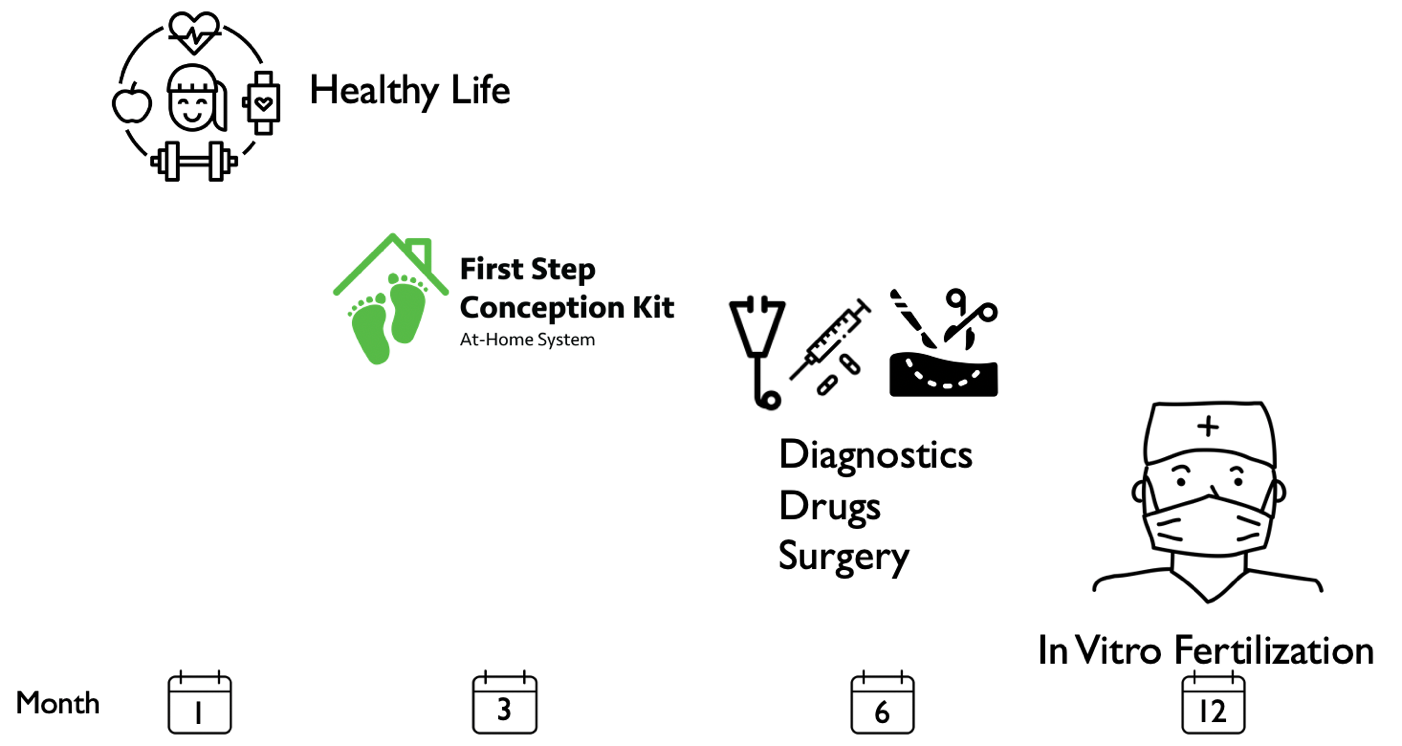 We don't consider the current treatment path of drugs and In Vitro Fertilization to be a direct competitor and we are not trying to replace it.We believe our Kit offers a better first step for all couples to try before they make the expensive and time-consuming decision to access more advanced treatments.
Progress
Our parent company, Conceivex, created a prescription version of this technology. As part of that work, we successfully secured FDA clearance for our cervical cap technology and the associated instructions and packaging language.
Now, Conceivex has transferred all of that intellectual property (IP) to Millennial Fertility. Therefore, we have the ability not only to sell the prescription version, but we also plan to move forward with approvals for an over-the-counter version of the product. Given that the technology is exactly the same as the approved prescription version, we believe this will be a relatively straightforward process.
An FDA consultant has offered a preliminary opinion that we will be able to use the same submission documents for the OTC version of our Kit which will simplify our OTC FDA clearance. Our previous work will also help with manufacturing as we have experience with the Conception Cap mold development, Kitting and Inventory.
In summary, we are not a concept. We are poised and ready for a prompt launch
Intellectual Property in place for domestic and key international markets
Key elements for FDA clearance already in place
Manufacturing and Kitting identified and in place
Branding and marketing partners identified
Optimized projected gross margins approaching 70%
Low debt in new company
Team
Harry Cendrowski
Chairman
Mr. Cendrowski is a founding member and Managing Director of Cendrowski Corporate Advisors, Cendrowski Selecky PC, and The Prosperitas Group. He has 30 years of advanced business and accounting experience including: executive management, consulting with many types of businesses, and has served as an expert economic witness in the legal community. He is a Certified Public Accountant with Accredited in Business Valuation and Certified in Financial Forensics credentials.
Michael Rosen
Board Member
Michael S. Rosen is Chairman of the Board of the Center for Healthcare Innovation, a not-for-profit organization focused on healthcare equity and diversity. Additionally, he is Managing Director of Rosen Biosciences Strategies LLC, a life science economic development consultancy focusing on the development of science parks and clusters and enabling intenational life science companies to enter the U.S. market and assist U.S. companies globalize.
Mike Bock
Director – Business Development
Mike Bock has over 30 years of broad-based healthcare focused experience with client facing, leadership roles in Production Operations, Technical Support, Product Marketing Management, Program Management, Sales Operation Management and Business Process Consulting all supporting the Healthcare Industry. He is also a graduate of the Kellogg School of Management and has a Masters in Health Communication from the Northwestern School of Communication.
Dr. Gaylen Kelton
Dr. Kelton is clinically active as an inpatient hospital medicine specialist and travel medicine provider. He is an emeritus faculty member in the Indiana University School of Medicine's Department of Family Medicine where he was actively involved in teaching medical students, residents and most recently physician assistant students. He has been involved in global health with multiple international trips over the years. Dr. Kelton obtained a certificate in Travel Health from the International Society of Travel Medicine and a certificate in Travel Health and Medicine from University College in London, England. He is past director of IU Travel Medicine, which provides pre- and post-travel consultation to patients, including immunizations and country-specific medical advice. He is a former ER physician and has been active in maternity care with over 1,000 deliveries throughout his career.
Use of Proceeds
If the offering's maximum amount of $1,070,000 is raised:
| Use | Value | % of Proceeds |
| --- | --- | --- |
| Compensation for managers | $185,000 | 17.3% |
| Website Development | $20,000 | 1.9% |
| Regulatory - FDA Clearance | $25,000 | 2.3% |
| Branding | $50,000 | 4.7% |
| Inventory | $207,570 | 19.4% |
| Marketing/Advertising | $210,000 | 19.6% |
| Insurance | $75,000 | 7.0% |
| Legal - Trademark, Patent | $50,000 | 4.7% |
| Manufacturing (molds) | $130,000 | 12.1% |
| Debt Servicing | $50,000 | 4.7% |
| Accounting | $15,000 | 1.4% |
| Intermediary fees | $52,430 | 4.9% |
Terms
This is an offering of Units, under registration exemption 4(a)(6), in MILLENNIAL FERTILITY CO. LLC, doing business as Millennial Fertility Co.. This offering must raise at least $10,000 by November 30, 2020 at 4:00pm ET. If this offering doesn't reach its target, then your money will be refunded. Millennial Fertility Co. may issue additional securities to raise up to $1,070,000, the offering's maximum.
$10,000 minimum
$34,387 raised
If the offering is successful at raising the maximum amount, then the company's implied valuation after the offering (sometimes called its post-money valuation) will be:
16,036,712 units
×
$1.00 per unit
$16,036,712implied valuation
Financials
Millennial Fertility Co.'s official name is MILLENNIAL FERTILITY CO. LLC, so that's the name that appears in the statements below.
These financial statements have been reviewed by an independent Certified Public Accountant.
SEC Filings
The Offering Statement is a formal description of the company and this transaction. It's filed with the SEC to comply with the requirements of exemption 4(a)(6) of the Securities Act of 1933.
Understand the Risks
Be sure to understand the risks of this type of investment. No regulatory body (not the SEC, not any state regulator) has passed upon the merits of or given its approval to the securities, the terms of the offering, or the accuracy or completeness of any offering materials or information posted herein. That's typical for Regulation CF offerings like this one.
Neither Netcapital nor any of its directors, officers, employees, representatives, affiliates, or agents shall have any liability whatsoever arising from any error or incompleteness of fact or opinion in, or lack of care in the preparation or publication of, the materials and communication herein or the terms or valuation of any securities offering.
The information contained herein includes forward-looking statements. These statements relate to future events or to future financial performance, and involve known and unknown risks, uncertainties, and other factors, that may cause actual results to be materially different from any future results, levels of activity, performance, or achievements expressed or implied by these forward-looking statements. You should not place undue reliance on forward-looking statements since they involve known and unknown risks, uncertainties, and other factors, which are, in some cases, beyond the company's control and which could, and likely will, materially affect actual results, levels of activity, performance, or achievements. Any forward-looking statement reflects the current views with respect to future events and is subject to these and other risks, uncertainties, and assumptions relating to operations, results of operations, growth strategy, and liquidity. No obligation exists to publicly update or revise these forward-looking statements for any reason, or to update the reasons actual results could differ materially from those anticipated in these forward-looking statements, even if new information becomes available in the future.
Updates
Jun 1, 2020

Primary offering of $1.00

shares at
Ask a Question
Proofread your comment before submitting: once it's posted, you can't edit or delete it. For the fastest help with the web site, email help@netcapital.com instead of commenting.
Looking to raise capital?
We can help turn your friends, family and customers into investors.
Learn more
Interested in more investment opportunities?
Browse all offerings currently available.
See more