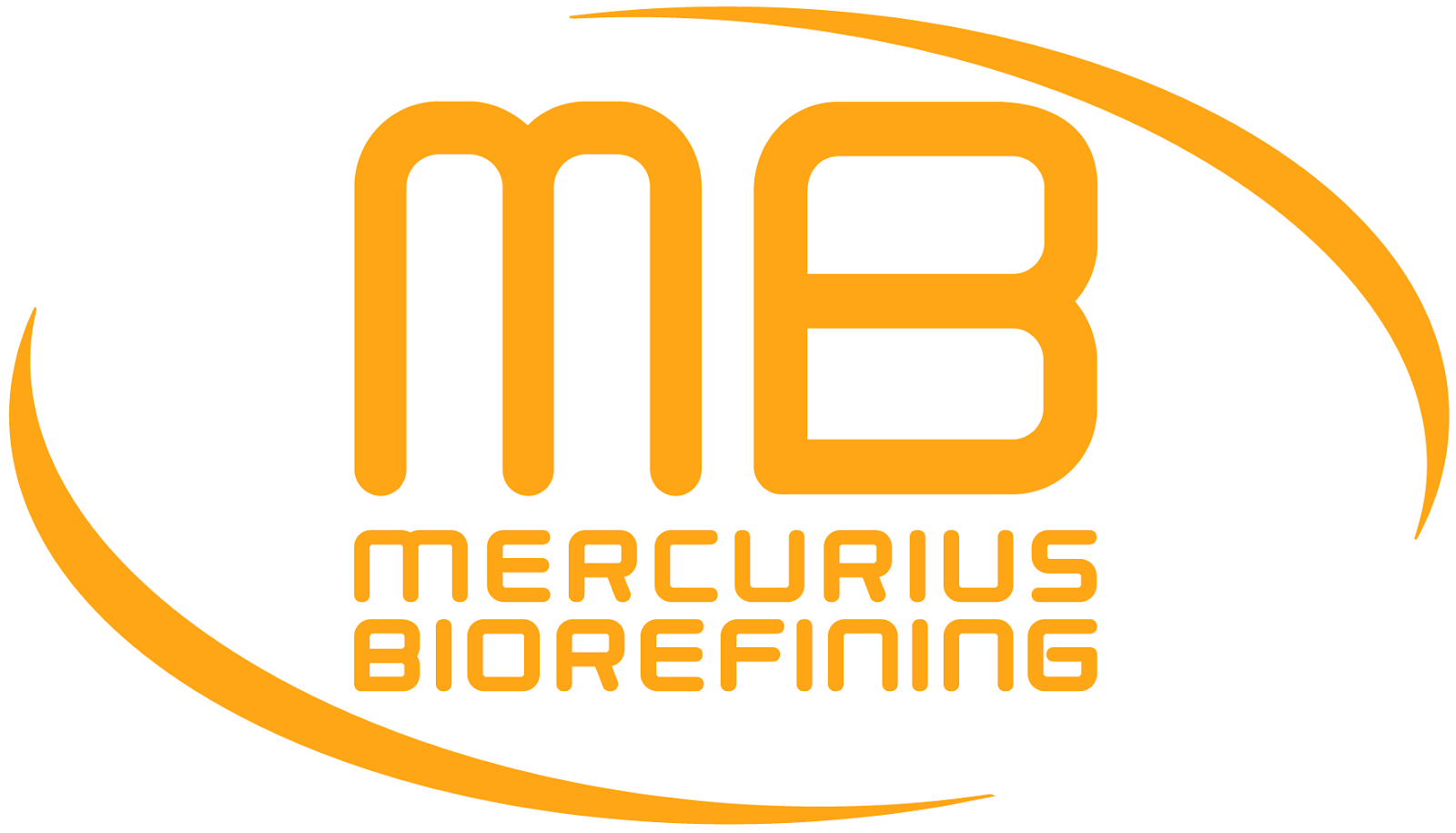 Recommendations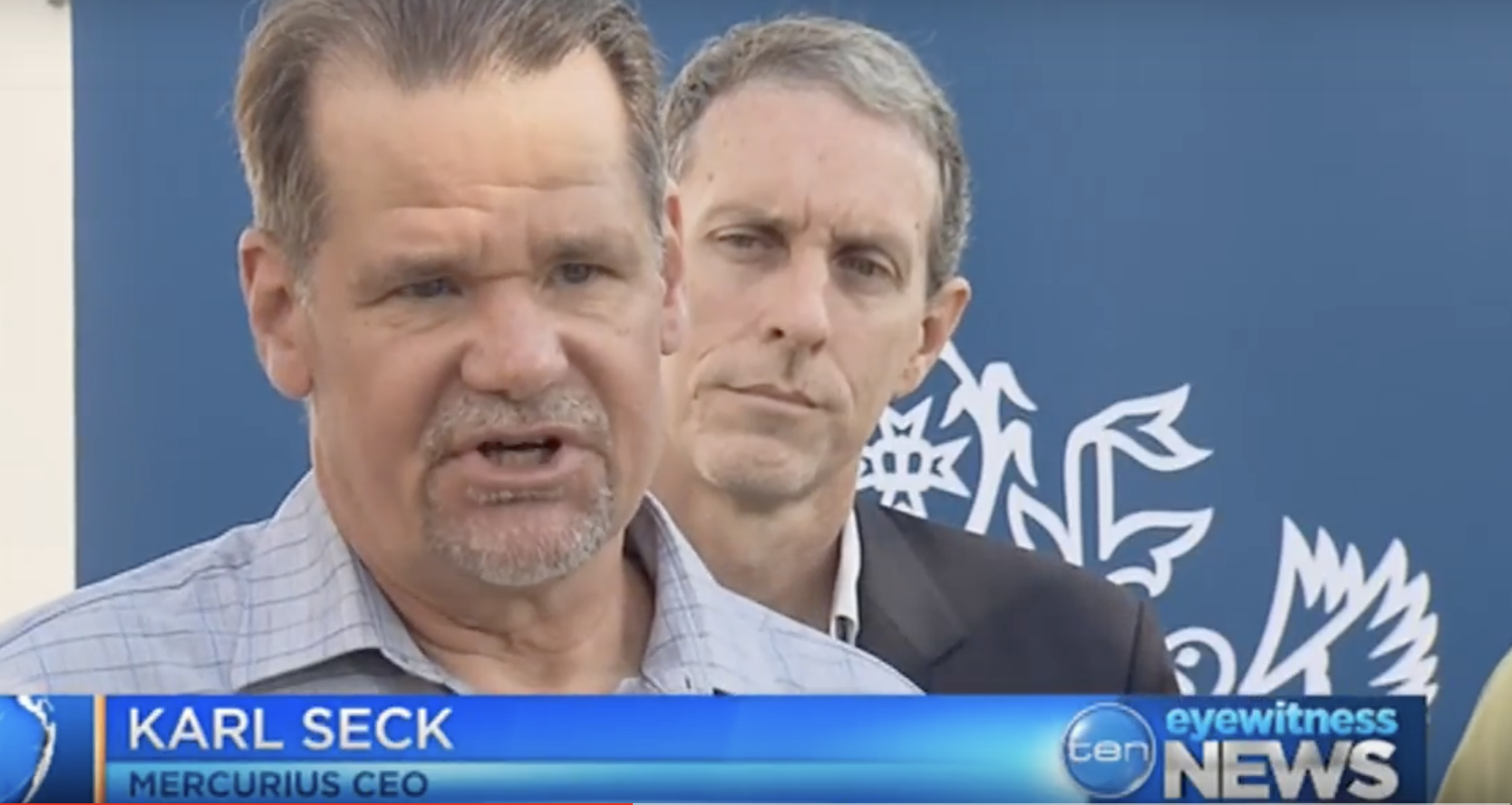 Queensland University of Technology and the Government of Queensland Australia
Channel 10 News in Brisbane
Introduction
Mercurius is developing and scaling up REACH™ technology, a low cost process to turn biomass into jet fuel and diesel. REACH™ stands for Renewable Acid-hydrolysis Condensation Hydrotreating and is inherently more capital efficient than competing technologies. We believe REACH™ will be a very important climate change mitigation technology in the very near future.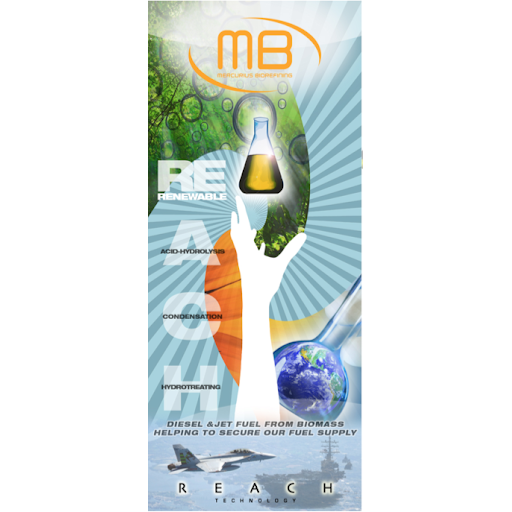 Problem
The transportation sector accounts for about 30% of energy use and is the most difficult to decarbonize. Decarbonization of all energy sectors is crucial to combat the effects of climate change.
Solution
In the coming decades passenger cars and renewable electricity from solar and wind will together reach a tipping point toward very significant greenhouse gas reductions. Leading up to and even after this tipping point, biofuels will play an important role in climate change mitigation. This is particularly true in the transportation space where flying, heavy trucking and marine shipping will need liquid fuels for decades before an alternative is ready and feasible. Mercurius is ready now to provide liquid fuels that are a 90% fossil carbon footprint improvement over current petroleum products. Our fuels will be produced at lower cost than competing cellulosic fuel technologies.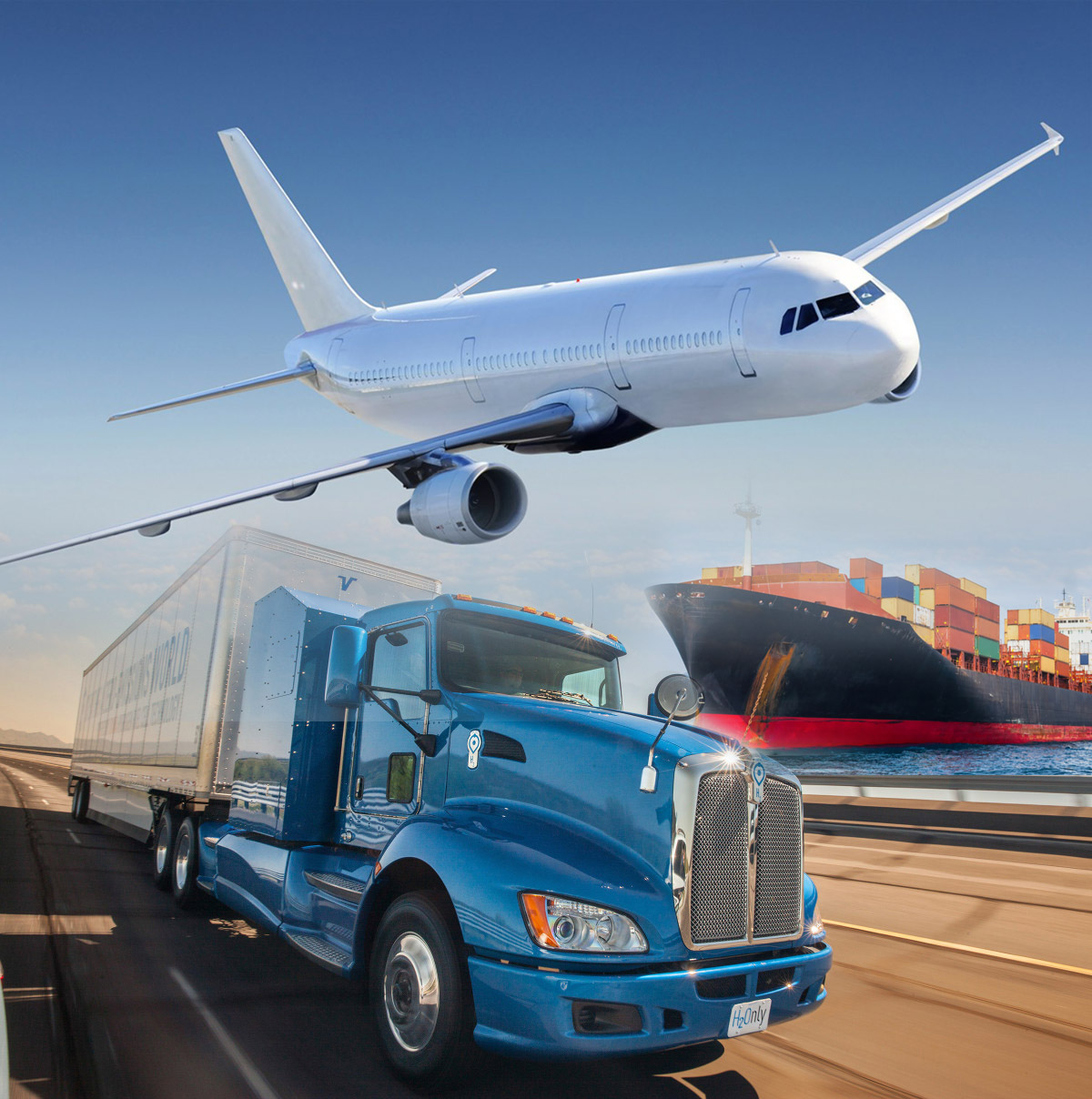 Market
The demand for alternatives to fossil sources for fuels and chemicals is high globally, and all available data shows that will be the case for the foreseeable future. With its Biofutures 10yr Roadmap, Queensland has put itself on the map for renewable fuels and green chemical production and use. Not only do the mining and agricultural sectors need alternative fuels, so do the Royal Australian Navy and the RAAF along with their strategic alliance partner, the US Navy and its green fleet. Importantly, using its REACH™ technology, Mercurius will produce drop-in hydrocarbon diesel or jet fuel that is a direct replacement of fossil based fuels and not just an additive like cellulosic ethanol, or a more expensive and limited feedstock alternative like biodiesel. Diesel is the dominant fuel in Asia, and in recent years there has been significant growth in demand, especially in Australia on the back of its growing economy and industry needs – particularly as a result of the mining and commodity boom1. Supply has not kept pace with this demand growth, and, as a result, diesel prices have risen, leading to market opportunities for bio-based products.
Mercurius will help to transform the Queensland fuels market by providing in-state production and distribution of its REACH™ derived diesel and jet fuel hydrocarbons. Additionally, Mercurius, with its potential strategic partner Mitsubishi Gas and Chemical (MGC), will be helping to develop and promote a new biochemical and bio plastics sector that has the potential to create meaningful employment opportunities and economic growth. 
This two-pronged product focused approach targeting a lower value but large market size fuels sector, as well as the developing renewable green chemicals market, delivers flexibility to the Mercurius approach that should underpin its financial viability and could also provide a blueprint for those that follow.
Competitive Landscape
One way to illustrate the Mercurius competitive advantage is to compare its liquid phase catalytic REACH™ technology to competing technologies. The graphic below shows a quantitative comparison with competing technologies.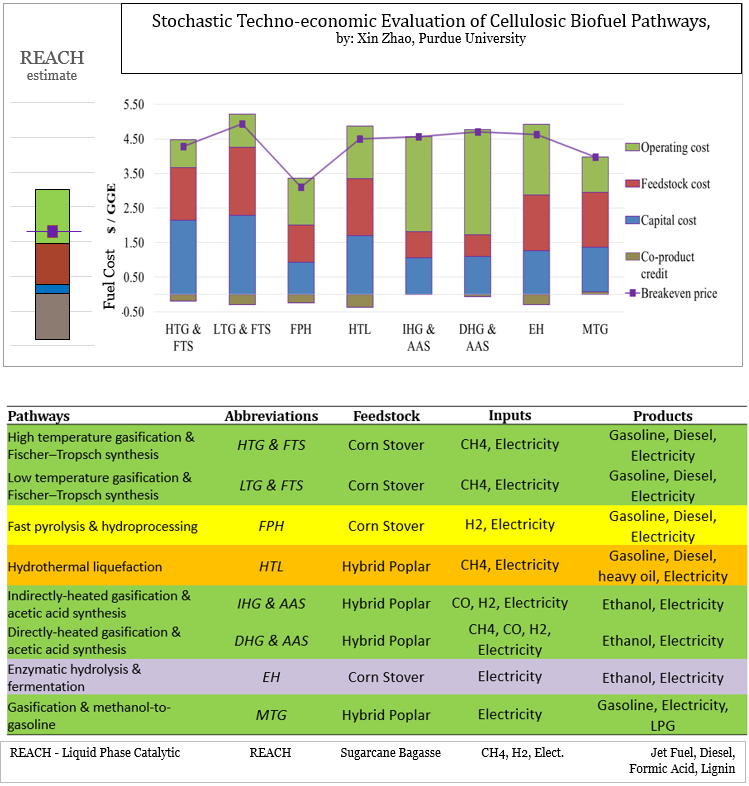 This analysis shows a large advantage for Mercurius versus competing technologies that use cellulosic feedstock. As shown, cellulosic ethanol technologies are estimated to be 3 to 4 times as capital intensive. Fischer Tropsch (FT) diesel production would require even more capital. Mercurius jet/diesel also has an advantage on the operating cost side, due to high yields without expensive enzymes, microbes, or extreme operating conditions that drive up maintenance costs. In addition, REACH achieves full carbon recovery since CO2 isn't created during the conversion process.
The Table below presents a qualitative comparison of Mercurius technology and other cellulosic diesel producing technologies. As shown, REACH™ converts biomass to a diesel product, as do LS9 and Amyris processes, but does not require the biomass to first be converted to sugars. Our process is not based on fermentation and does not suffer from slow reactions (requiring longer residence times) and is not dependent on expensive, fragile microbes or enzymes. KIOR has badly stumbled recently in its progress toward commercialization. Their catalytic pyrolysis technologies are much more suited to producing aromatic gasoline products than high cetane diesel and jet fuel products. Also, since catalytic pyrolysis is a vapour phase reaction, the process tends to be more complex and capital intensive. The Virent process uses similar chemical pathways as the Mercurius process but requires sugars as a feed, not biomass, potentially a costly disadvantage for the Virent process.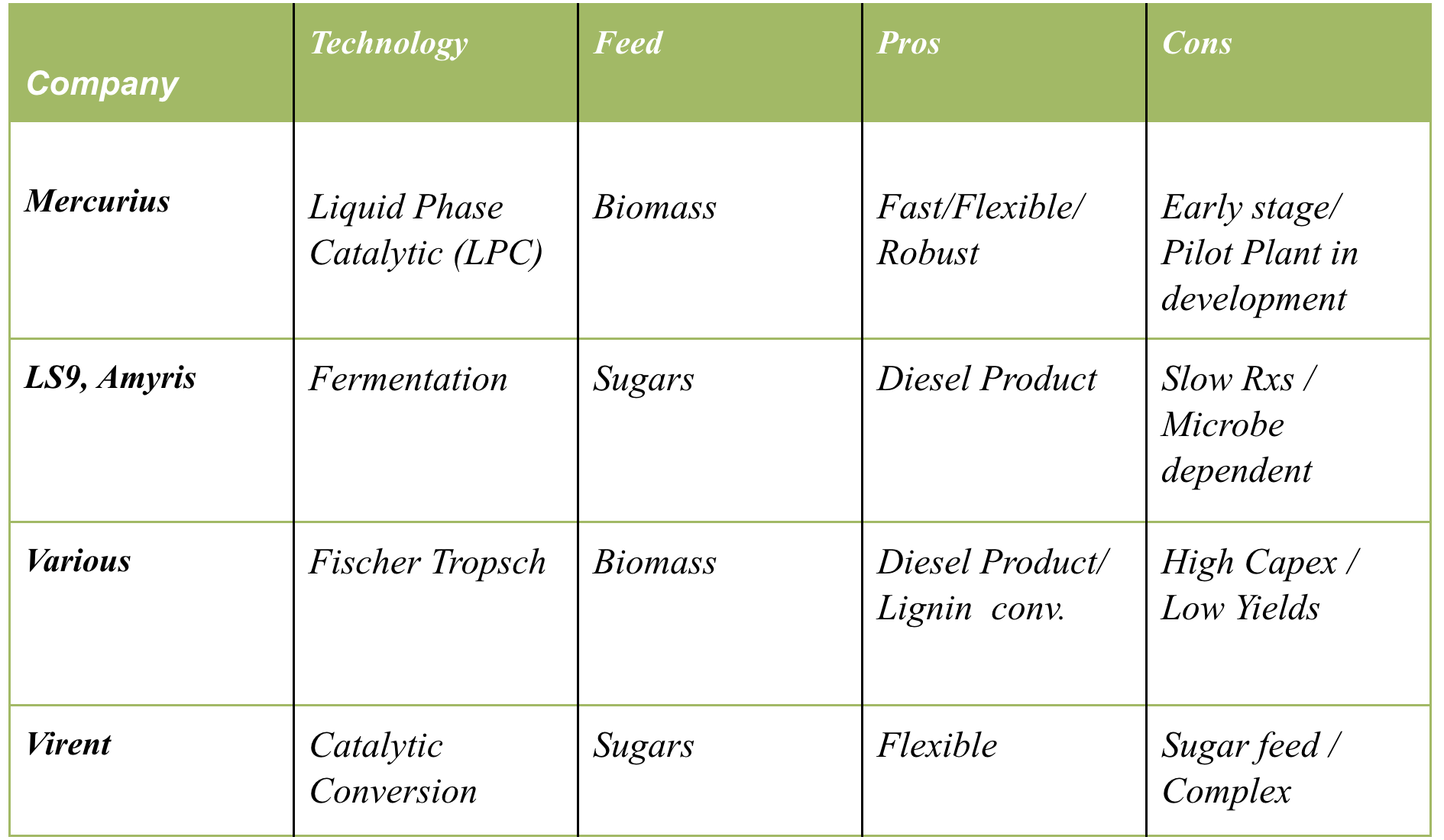 In summary, by using REACH technology, Mercurius Biorefining fuels and chemicals:
Produce higher yields and higher value byproducts;
Do not use enzymes, microbes, or extreme operating conditions;
Do not require extreme operating conditions compared to HTL technologies;
Produce cellulosic diesel and jet fuel range hydrocarbons with superb flow properties;
Use more reliable chemical processes, accepts a wider range of feed materials, and has flexibility to make multiple end-products;
Allow fuel producers and blenders to fulfill their renewable fuel obligations and improve their blending economics, due to excellent blend properties of our products as well as superior carbon capture and LCA quotients.
Business Model
Mercurius Australia, Pty Ltd ("Mercurius" or the "Company") was formed in 2012 as a fully owned subsidiary of Mercurius Biorefining, Inc. and was established to produce profitable drop-in fuel (Diesel and Jet Fuel) from nonfood biomass feedstocks in Australia. Through a process of novel applications of existing technology, Mercurius is developing a non-fermentation, non-alcohol based, "faster ~cheaper~ better" method of producing profitable drop-in biofuels. Mercurius uses a proprietary, patent pending technology called Renewable Acid-hydrolysis Condensation Hydrotreating ("REACH") to make profitable drop-in hydrocarbon liquid fuels.
Mercurius simultaneously addresses five key issues:
The urgent need for a reliable, economic, scalable, domestic drop-in biofuel;
The production of biofuels within a highly profitable business platform;
The ongoing need to produce biofuels from non-food biomass feedstocks;
The reduction of economically unsustainable dependency on foreign oil;
The production of fuels with a near carbon neutral method.
The Mercurius hydrocarbon diesel and jet fuel will be drop-in compatible with existing fuel infrastructure. It can also produce a diesel range, high cetane additive for diesel blenders. In addition, Mercurius will produce high-value, specialty chemical products including: FDCA, formic acid, and levulinic acid.
The market for liquid fuels is the single largest addressable commodity market within the U.S. economy. Total liquid fuels sales in the US are over 200 billion gallons / year. The minimum addressable market for Mercurius' domestic biofuel products is defined by federal government mandates. The Renewable Fuel Standard 2 (RFS2) has certain mandates for gallons of advanced biofuels to be sold in 2013, ramping up to 21 billion gallons in 2022. Currently, the RFS and the California Low Carbon Fuel Standard (LCFS) add about $2.50 per gallon to the price of the fossil based fuel. At $4/gallon wholesale value the RFS mandated volumes produce $84 billion in revenue by 2022. Outside of mandates, the Department of Defense has indicated a desire to rapidly decrease its dependence on petroleum based fuels for both the Navy and the US Air Force and stands to be a major customer for Mercurius. Many commercial airlines are also seeking renewable alternatives and will be potential customers. With superior production and cost structures, Mercurius will be well positioned to capture significant market share.
A preliminary business plan has been developed based on building a pilot plant, a demonstration plant, and five commercial plants in northern Queensland, Australia. A conceptual map below shows potential plant sites and biocrude flows to a central processing facility for producing the finished fuel.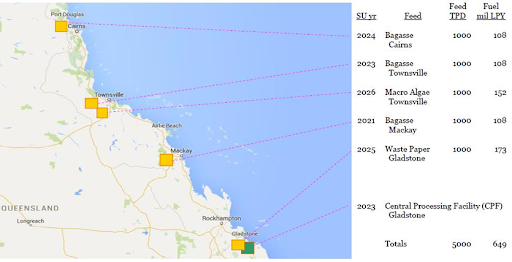 The five commercial plants conceptualized above would generate an estimated $300 million per year of EBITDA by selling low carbon-index fuel into advantaged markets such as the current California market created by the RFS and LCFS price signals. Also illustrated above, is the distributive model that will ultimately be the most efficient way to deploy biofuels technology. Smaller facilities located near the biomass will reduce transportation costs by turning the biomass into a much more energy dense liquid, while the central processing facility will benefit from economies of scale for capex and fixed opex.
Investment Considerations
Superior economics. Mercurius has the technology and processes that we believe will make the production of cellulosic biofuels profitable while meeting the needs of the diesel and jet fuel markets and satisfying government requirements.
Selected by Department of Energy for funding. Due to the promise of its technology, Mercurius was awarded $4.6 million in matching funds by the DOE to build its 10 MTPD pilot plant for the production of drop-in jet fuel and diesel, beating out numerous others in a highly competitive landscape. Update: Nearly $1.0 million of the grant funds was used to greatly improve the back-up data and optimization of multiple steps of the REACH process. The DOE grant is no longer active.
Proven, proprietary, patent-pending process that uses well known processes. The REACH technology is proven on a bench scale and is a proprietary, patented processing system. The two major steps in REACH use, in part, well known systems: one used by the paper and pulp industry and the other by petroleum refineries. REACH does not involve fermentation or alcohol production.
Built-in demand. The U.S. congress has mandated that certain quantities of biofuels be produced by certain deadlines, and, thus far, suppliers of cellulosic biofuels have fallen far short. In addition to supplying fuel to meet these requirements, the Department of Defense stands as a ready customer for Mercurius' fuels.
Ready customers for Mercurius. Both the U.S. Navy and the Air Force have publicly stated that they will purchase cellulosic drop-in fuels as soon as they become commercially available and the DOD has committed to having 50% of all its fuel be non-petroleum by 2020. At the same time, airlines, shipping and freight companies are all expressing a desire to have access to alternative renewable fuels that do not compete with food stocks.
Low cost inputs and competitive pricing. The processes used by Mercurius allow for a variety of biomass inputs which gives the Company great flexibility to choose among various cellulosic feedstocks (corn stover, switchgrass, wood chips, sugarcane bagasse, MSW derived biomass ) that are in abundant supply and low in cost. Importantly, these are not food stocks, so do not compete for these commodities or impact their prices. Due to its processes, Mercurius expects to be competitively priced relative to petroleum equivalents.
Faster and less "finicky" than competitors. The REACH technology is significantly faster than fermentation – taking 2-3 hours versus 2 days. While a few other methods (pyrolysis and gasification) are faster than REACH – they also must handle much higher volumes which require significantly higher capital investment/gallon. REACH is more robust than other processes with little sensitivity to impurities in feedstocks and with no use of delicate enzymes or bacteria.
Success
Previous Research
University of California, Davis
University of North Dakota, EERC

Condensation reactions and hydrotreating.

Purdue University

CMF production @ 1L scale, fuel testing, condensation reactions.

Commonwealth Scientific and Industrial Research Organization (CSIRO)

R&D = CMF production, condensation reactions

University of Maine

Process engineering, hydrotreating, condensation reactions, pilot plant located at TRC.

Michigan State University Bioeconomy Institute (MSUBI)

CMF production scale-up (400L) and condensation products analysis.
Recently Completed Project Funded by the Queensland Government
Queensland University of Technology (QUT).

CMF production, feed prep, condensation reactions, hydrotreating.

Southern Oil Refining (SOR)

Hydrotreating and fuel testing.
Press mentions:
February 2018 - Queensland News Features Karl Seck speaks to local print and TV news reporters about our latest project development in Queensland (Mackay and Gladstone).
KPIs
Design, build and operate a 0.1 Tons Per Day pilot plant in 2019.

Securing State support from Queensland
Benefit from Australia's refundable R&D tax credit
In-kind investment in place.

Design, build and operate a 10-20 Tons Per Day demonstration plant in 2020-21.
Build and startup 1st commercial plant in ~2022.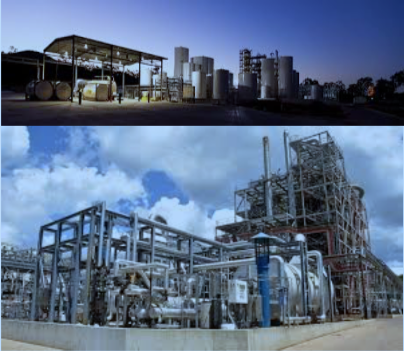 Operating Team
Experienced management team. Mercurius is led by Karl Seck, a chemical engineer with over 30 years of experience as a process engineer in the petroleum industry. He is supported by a team of professionals with backgrounds in biofuel co-product development, risk management, business development and start-up scale ups.
Karl Seck
President and CEO
Karl is the CEO/President and Founder of Mercurius Biorefining Inc. a company formed in 2010 to develop and commercialize transformational technology. The technology efficiently converts biomass into drop-in biofuels and green chemicals. Karl has spent most of his career in the petroleum refining field as a process engineer. He has held design, technical services, optimization, and operations management positions with three oil companies: Conoco, Sunoco, and Clark. After working for a mid-sized engineering firm, Karl started his own process consulting service in 2001 to provide optimization services to the petroleum industry. He received a BS Degree in Chemical Engineering from the University of Kansas.
He also ran a marathon in 2:59:59 (a long time ago!)
Michael Vevera
CFO
Michael is CFO of Mercurius Biorefining Inc. and Managing Director of Mercurius Australia Pty Ltd. Michael joined Mercurius in January 2010 to provide start up management and strategic planning expertise. Michael has been in the renewable fuels space since 2008. He has owned and managed companies in three different countries (Australia, Japan, United States) on an equal number of continents (Asia, Australia, and North America) which allowed him to gain diverse experience in areas ranging from construction, education, and training to foreign exchange trading and small goods manufacturing logistics and supply chain management. Michael intends to continue to help build inspiring companies that not only produce profit but also benefit those working at them as well as the communities in which they are located. Michael earned his Bachelor of Science degree in International Finance from Oregon State University in 1987 and his Master of Business degree in International Marketing from the University of Technology Sydney in 2001.
Knud Balslev
Business Development
Knud has been with Mercurius Biorefining since 2009. He has a BSc degree in Engineering from the Danish Technical University and more than 25 years of experience in international business development and strategic alliances in Europe and North America. Knud contributes to Mercurius with project risk management as well as management of potential Mercurius partners for feedstock, technologies, refining and offtake as he leverages a large professional network in the renewable energy industry.
Use of Proceeds
If the offering's maximum Reg CF allocation of $1,070,000 is raised:
| Use | Value | % of Proceeds |
| --- | --- | --- |
| Working Capital | $1,017,570 | 95.1% |
| Intermediary fees | $52,430 | 4.9% |
If the offering's maximum amount of $1,500,000 across Reg. CF and Reg. D is raised:
| Use | Value | % of Proceeds |
| --- | --- | --- |
| Compensation for Directors, Officers, and Promoters | $180,000 | 12.0% |
| Other Compensation | $200,000 | 13.3% |
| Pilot Operating Costs | $496,500 | 33.1% |
| Other R&D | $400,000 | 26.7% |
| General and Administrative | $150,000 | 10.0% |
| Intermediary fees | $73,500 | 4.9% |
Terms
This is a side-by-side offering of Common Stock, under registration exemptions 4(a)(6) and 506(c), in Mercurius Biorefining, Inc. Up to $1,069,999.50 may be raised under the 4(a)(6) exemption. Netcapital will determine which exemption applies to your investment and notify you before you complete your investment.
The amount raised under the two exemptions must total at least $10,000 by April 30, 2019 at 11:59pm ET. If the total doesn't reach its target, then your money will be refunded. Mercurius Biorefining, Inc may issue additional securities to raise up to $1,500,000, the offering's maximum.
$10,000 minimum
$32,480 raised
If the side-by-side offering is successful at raising the maximum amount, then the company's implied valuation after the offering (sometimes called its post-money valuation) will be:
6,666,747 shares
×
$1.50 per share
$10,000,121implied valuation
Financials
These financial statements have been reviewed by an independent Certified Public Accountant.
SEC Filings
The Offering Statement is a formal description of the company and this transaction. It's filed with the SEC to comply with the requirements of exemptions 4(a)(6) and 506(c) of the Securities Act of 1933. Similar information is sometimes offered in a Private Placement Memorandum for 506(c) offerings.
We're also required to share links to each of the SEC filings related to this side-by-side offering with investors.
Updates
May 1, 2019

Primary offering finalized, selling

shares

Sold $1.50 for a total of $32,479.50

shares at

Feb 20, 2019

Nov 29, 2018

Primary offering of $1.50

shares at

Nov 29, 2018
Transactions
Spread
| Bid quantity | Price | Ask quantity |
| --- | --- | --- |
*Some securities may only be transferred to accredited investors if issued within the past 365 days. Unaccredited investors are permitted to place bids, so some transfers may have yet to occur.
No recent secondary activity
Transaction Log
Ask a Question
Proofread your comment before submitting: once it's posted, you can't edit or delete it. For the fastest help with the web site, email help@netcapital.com instead of commenting.
Understand the Risks
Be sure to understand the risks of this type of investment. No regulatory body (not the SEC, not any state regulator) has passed upon the merits of or given its approval to the securities, the terms of the offering, or the accuracy or completeness of any offering materials or information posted herein. That's typical for Regulation CF offerings like this one.
Neither Netcapital nor any of its directors, officers, employees, representatives, affiliates, or agents shall have any liability whatsoever arising from any error or incompleteness of fact or opinion in, or lack of care in the preparation or publication of, the materials and communication herein or the terms or valuation of any securities offering.
The information contained herein includes forward-looking statements. These statements relate to future events or to future financial performance, and involve known and unknown risks, uncertainties, and other factors, that may cause actual results to be materially different from any future results, levels of activity, performance, or achievements expressed or implied by these forward-looking statements. You should not place undue reliance on forward-looking statements since they involve known and unknown risks, uncertainties, and other factors, which are, in some cases, beyond the company's control and which could, and likely will, materially affect actual results, levels of activity, performance, or achievements. Any forward-looking statement reflects the current views with respect to future events and is subject to these and other risks, uncertainties, and assumptions relating to operations, results of operations, growth strategy, and liquidity. No obligation exists to publicly update or revise these forward-looking statements for any reason, or to update the reasons actual results could differ materially from those anticipated in these forward-looking statements, even if new information becomes available in the future.
Looking to raise capital?
We can help turn your friends, family and customers into investors.
Learn more
Interested in more investment opportunities?
Browse all offerings currently available.
See more