Introduction
Melanence leverages technology to address the educational inequalities in professional, career & personal development. We create a safe space for communities of color to learn new skills, build strong networks and to earn additional income. We combine effective & engaging functionality tailored to the exact needs of a very specific target audience.
Deal Highlights
MVP Built
Professional development EdTech
Deep consumer insights from early customer discovery calls

Problem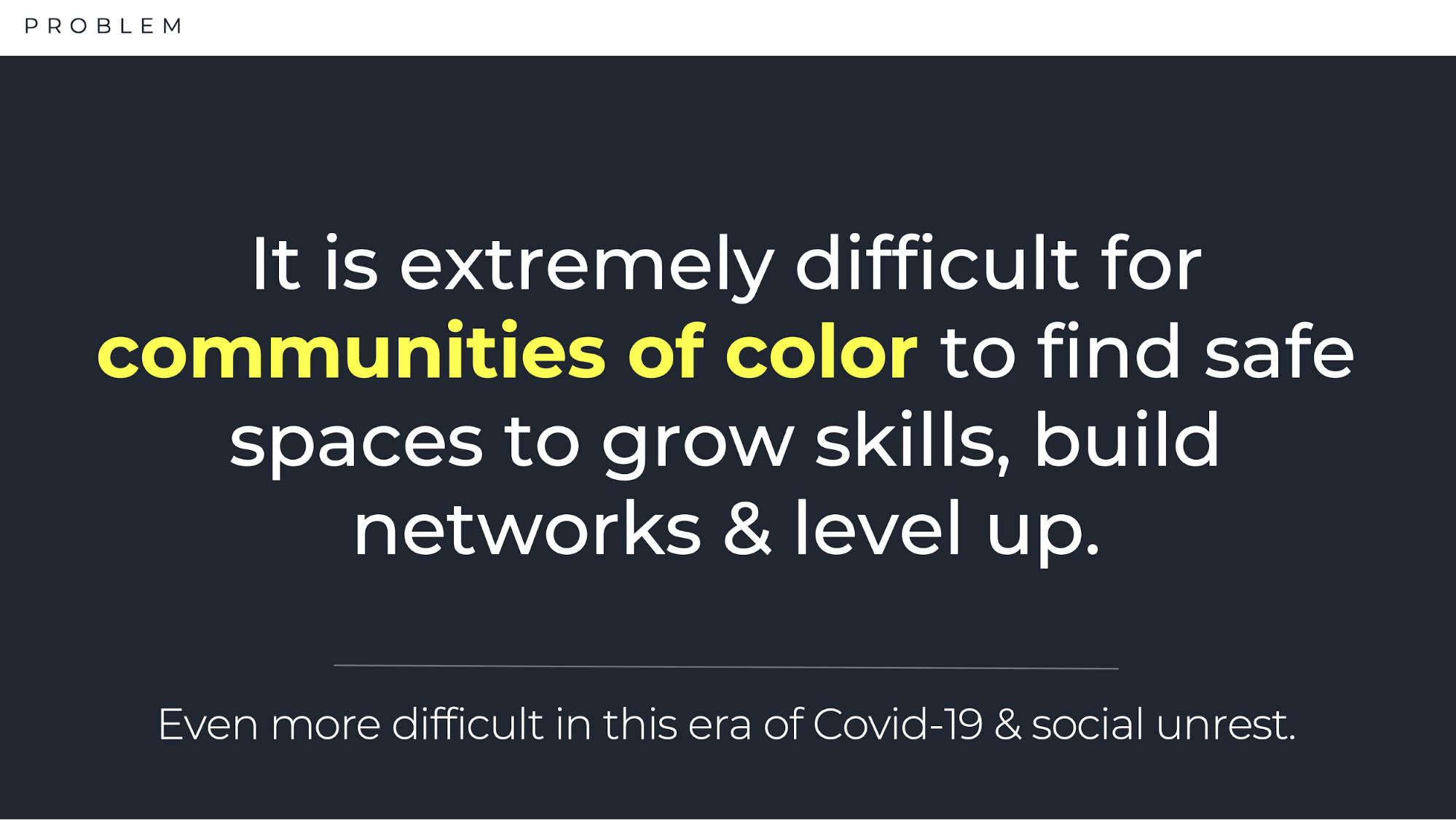 Without a safe space to upskill or connect with like minded professionals, communities of color will continue to be underrepresented in the rooms that matter the most.
Conventional EdTech platforms fail to create a professional ecosystem for communities of color, leaving heavy market demand unmet and a large segment of the population unable to capitalize on the professional, career, and personal development opportunities they deserve.
ONE SIZE DOESN'T FIT ALL
Far too often EdTech and online learning platforms approach nuanced and complex problems in education with a "One size fits all" solution. Studies show that the "One size fits all" model exacerbates existing educational inequalities. Tech is only as good as the The lack of diverse perspectives and teaching styles in the education system continues to increase the education and wealth gaps in the U.S.
Solution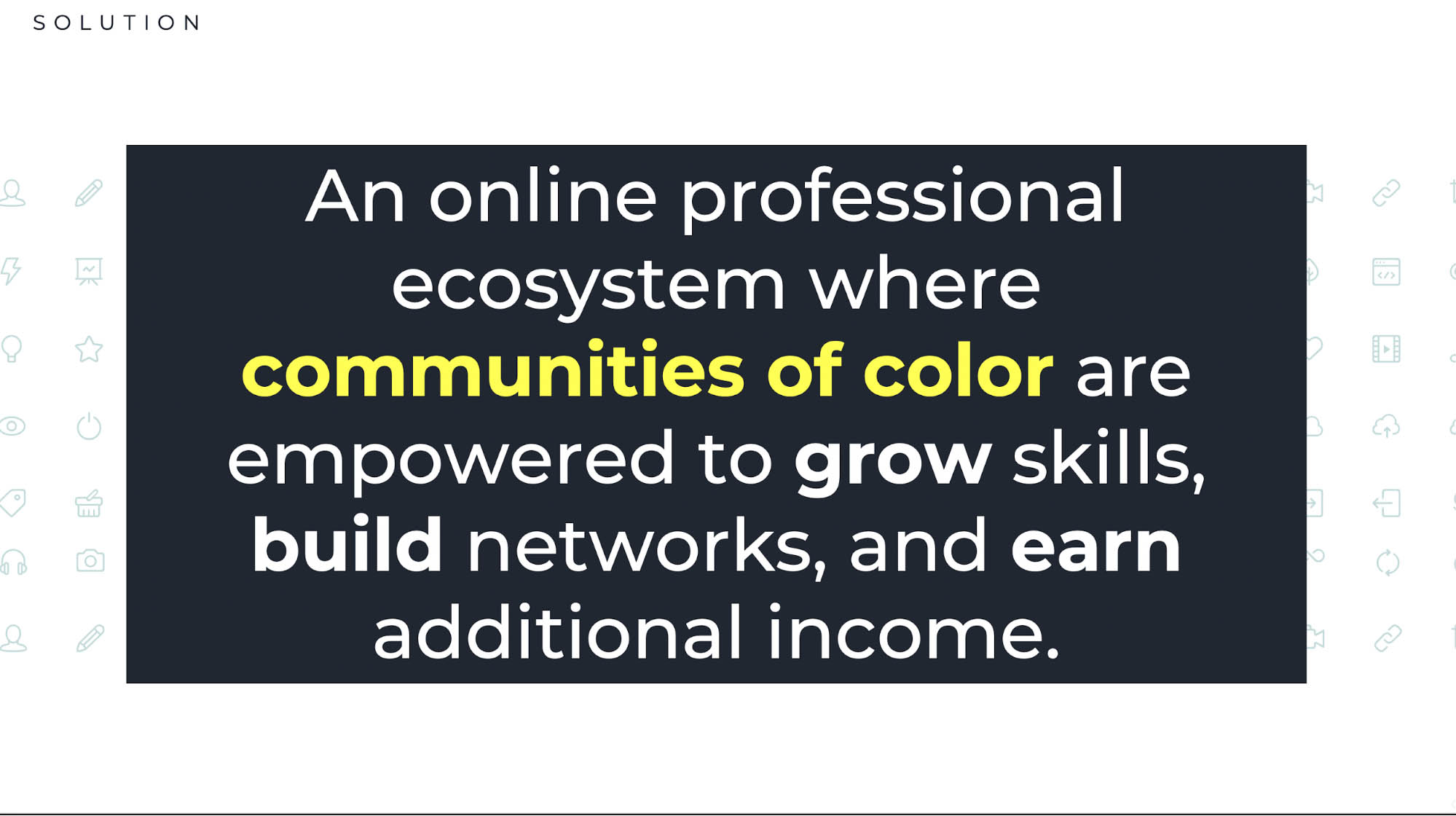 Accessible Education

Melanence will make professional, career & personal development more accessible through our affordable courses. Access to high quality education should not be contingent on where you live or where you fall on the socioeconomic ladder.

Diversity & Inclusion

Melanence will amplify the voices of brilliant Melanated thought leaders by providing a platform for the community to share their knowledge and unique perspectives. Through storytelling, we can begin to transform, and cultivate a safe, welcoming, inclusive, equitable, and accessible society for all.

Intentional & Purposeful Education

Melanence will curate & create meaningful & purposeful learning content specifically for communities of color. We take into account the inherent cultural, social and economic differences among students, the variety of ways they learn, and the importance of diverse teachers and perspectives.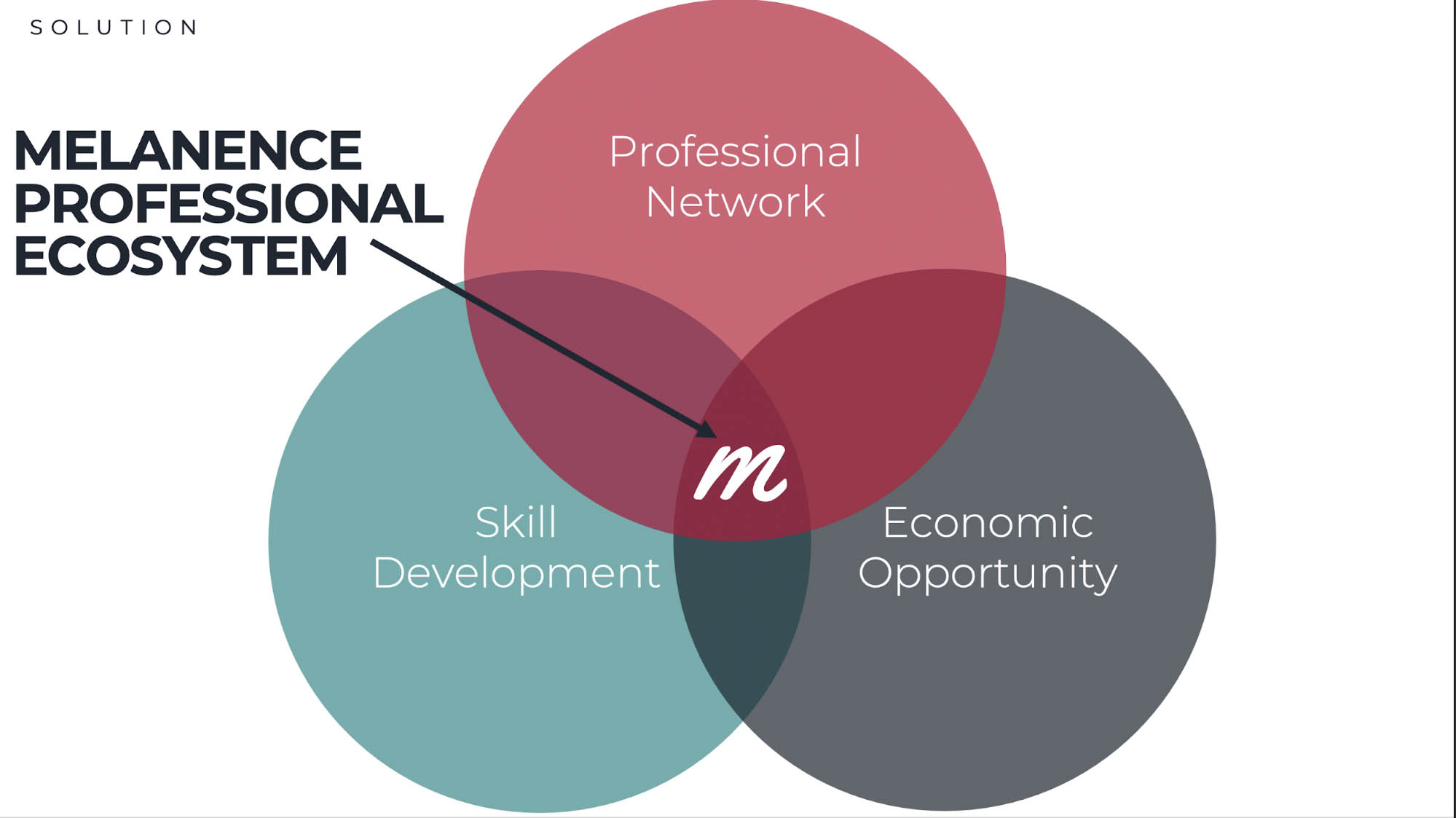 Business Model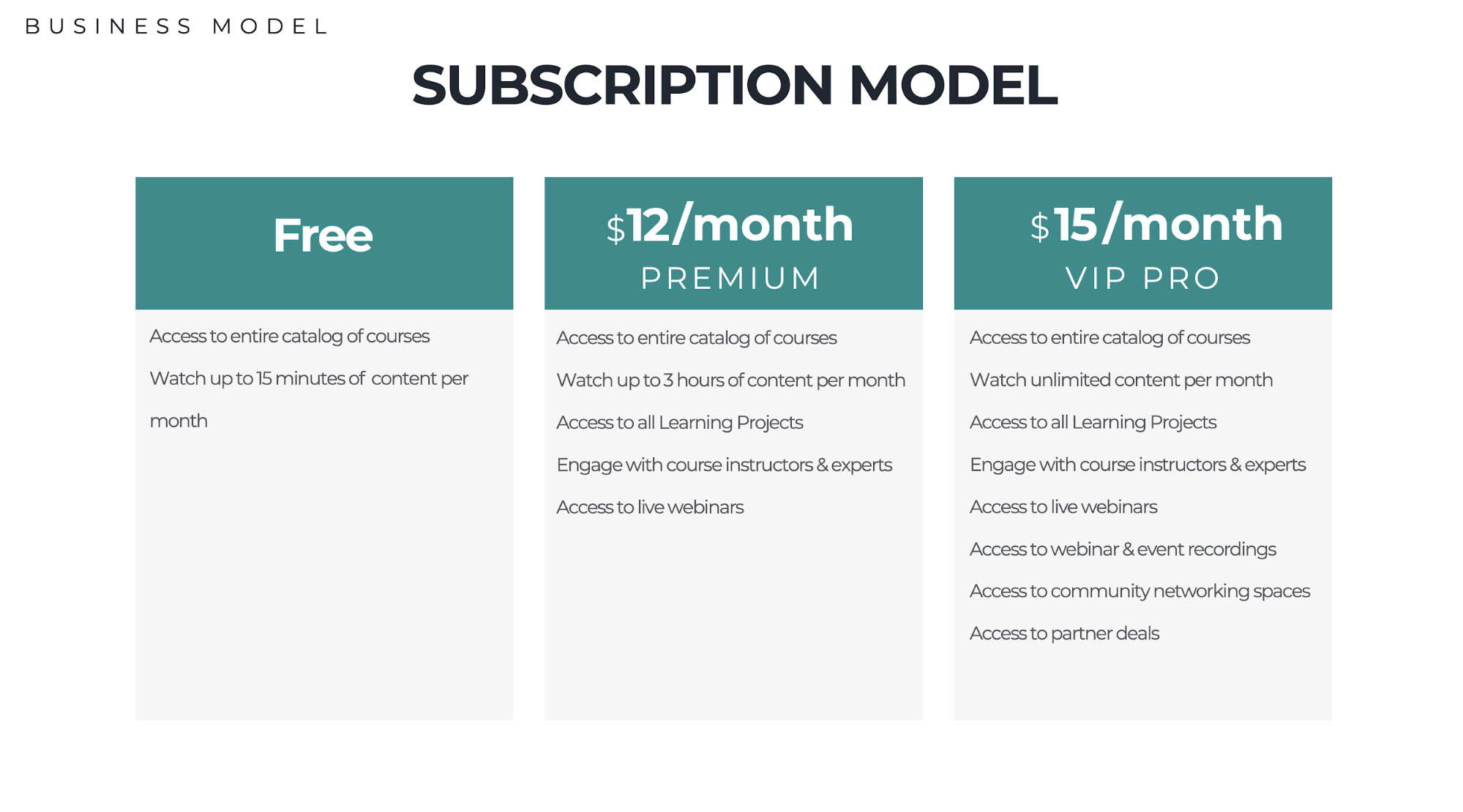 Melanence currently has 1 distinct revenue stream. We plan for our greatest source of revenue to come from our $12 monthly recurring subscription fee.
Subscription Model
Monthly Subscription - $12/mo
Annual Subscription - $10/mo
Student Subscription - $7/mo
Instructor Payment Model
Each month we take 30% of monthly revenue and pay instructors based on percentage of views on the platform.
In addition, to start we will pay instructors a flat fee ($1,000 average payment).
Future Revenue Streams
Melanence for Teams
Melanence for Schools
Corporate Recruiter Subscriptions
Market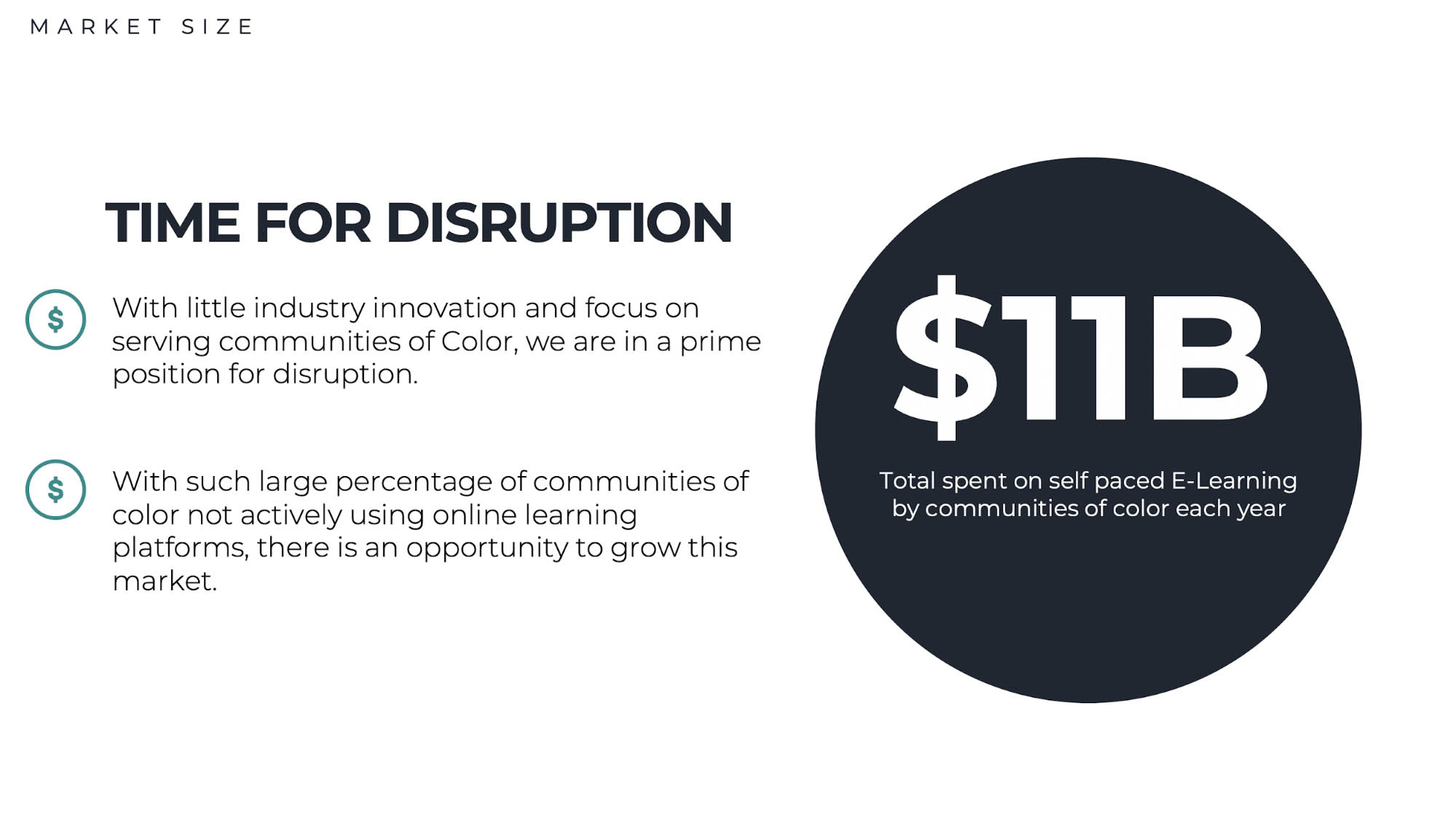 The Massive Open Online Course (MOOC) market is projected to grow at an annual rate of 32.09% until 2025. With more people working & schooling from home, the industry is at the forefront of encountering serious market disruption.
In addition, the current social unrest is changing the way communities of color are spending their money. Communities of color are committing to spend their tremendous buying power with companies that are in alignment with their values.
As learners look to grow professionally and personally, with little innovation in the industry and focus on serving communities of color, we are in a prime position for disruption. As we continue to grow, there are many verticals we can explore.
Competitive Landscape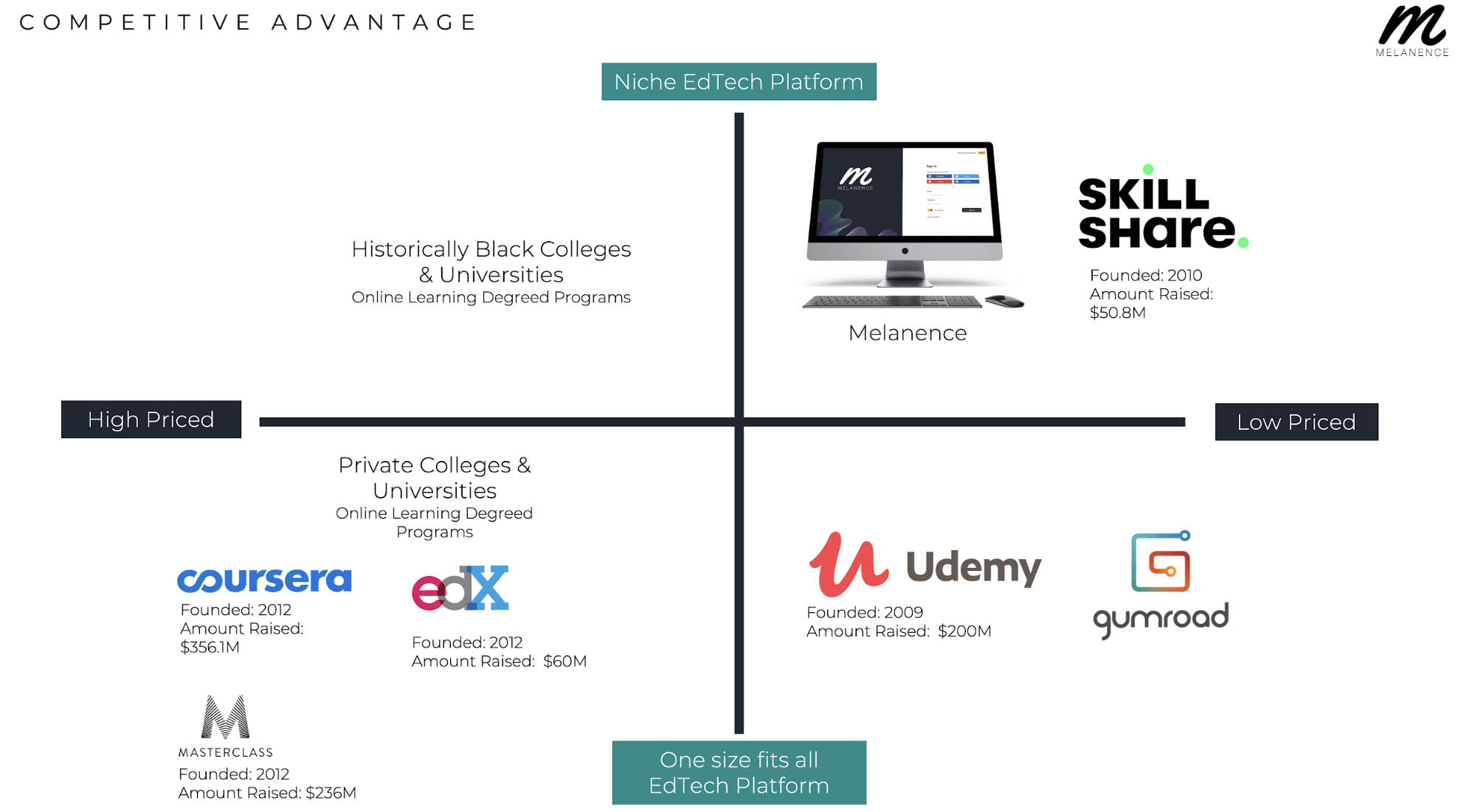 All learners are different. They come from different backgrounds, cultures & communities. For education to be effective and engaging, it needs to be adaptable for the needs of the community in which it serves. EdTech & online learning platforms treat all learners the same, and a "One size fits all" approach works just as well for education as it does for clothing, which is not well at all.
Melanence leverages technology to level the playing field in education. We combine effective & engaging functionality in a platform tailored to the exact needs of a very specific target audience. Melanence's competitive advantage can be broken down into 3 main areas:
Hyper Niche Focus

By hyper focusing on communities of color, we can deliver overwhelmingly more value than our competitors to a very large, specific demographic.

Positioning

We are positioning ourselves as an affordable & accessible option for communities of color.

Execution

Our diverse team of highly skilled & passionate social entrepreneurs are uniquely positioned to execute the go-to-market strategy.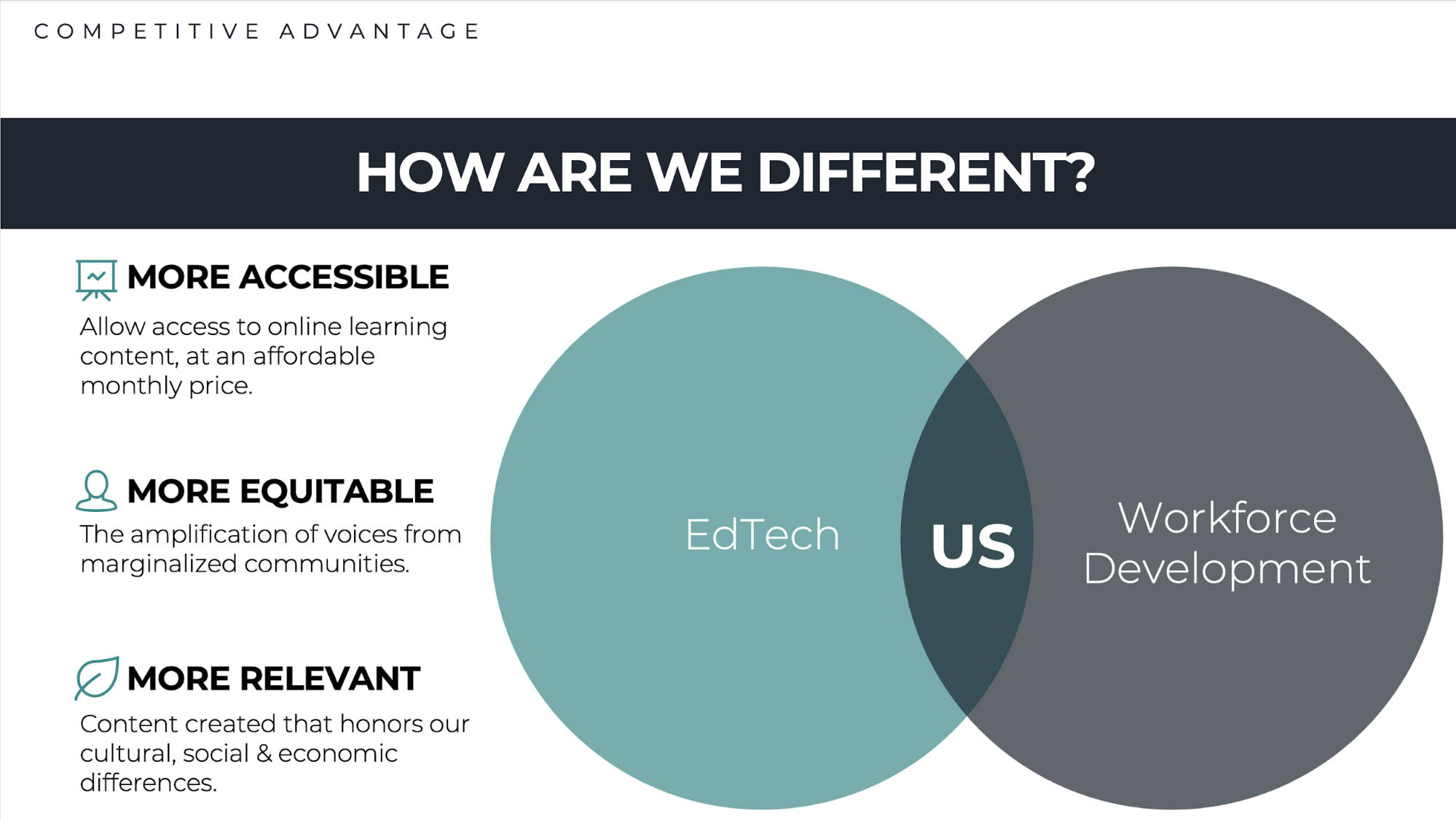 Go to Market Strategy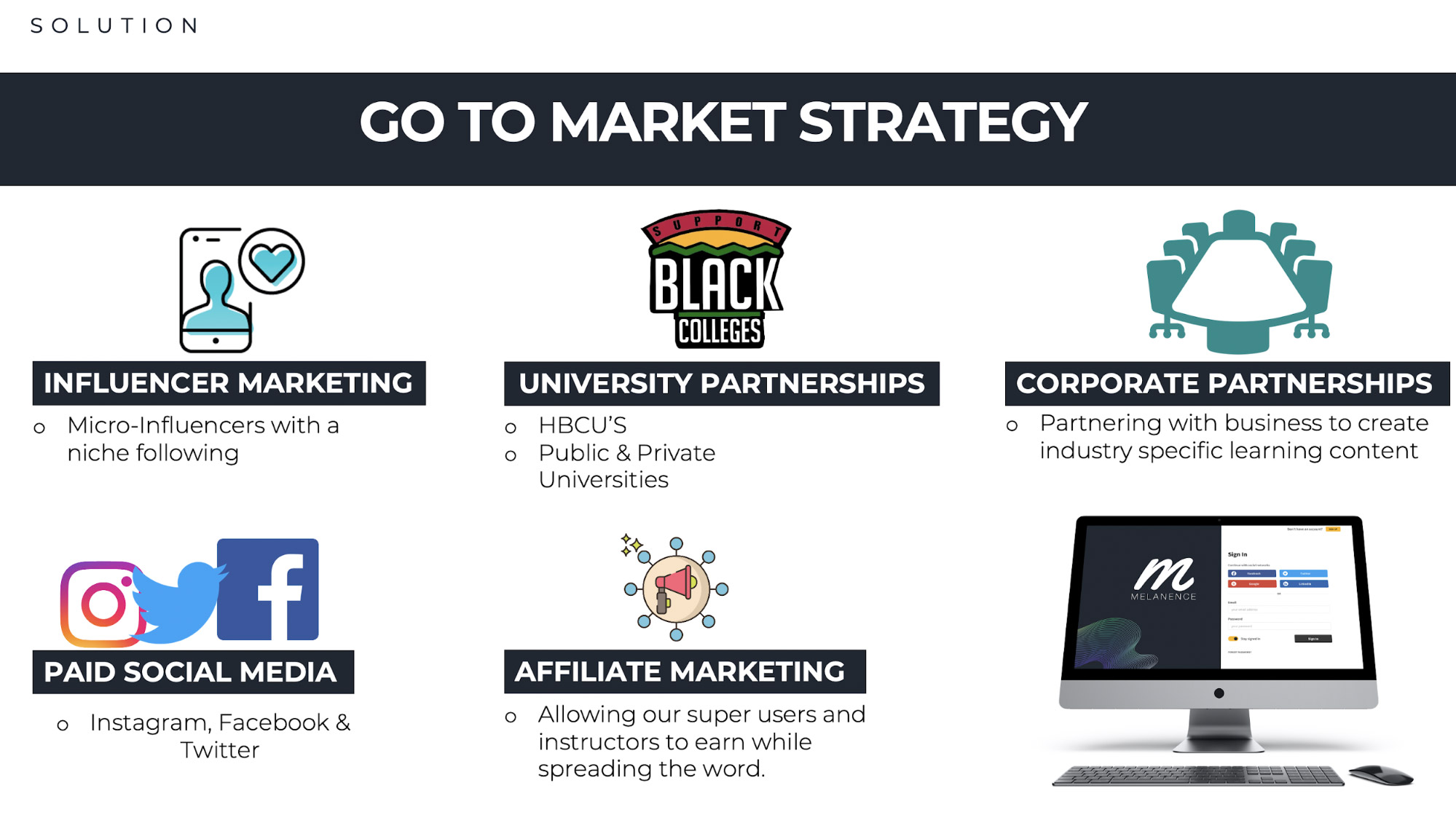 Having a deep understanding of our target customer, we can lower our costs of customer acquisition, by marketing where our customers are, in a way that will resonate with them authentically and organically. Our go to market strategy is a four part strategy, which will leverage digital media in every facet of the plan.
Progress
What have we done so far?
Built our MVP
Surveyed 1,000+ potential users
Team
Our team is uniquely qualified to execute the go-to-market strategy. Every member of our team is a social entrepreneur, which shapes the way we think and our motivation for seeing Melanence succeed. Who better to bring this product to market than a team of skilled individuals who are also the target consumer?
Juan Young
Chief Executive Officer & Founder
Juan Young is the CEO & Founder of Melanence. Juan is a Social Entrepreneur who is dedicated to empowering, inspiring & uniting communities of color. Juan's "WHY" is to be a light for communities that are often overlooked, under-estimated & under-valued. Juan has spent 10 years in the nonprofit sector working with underserved Juan has had the opportunity to work in different industries, but one thing remains the same, his steadfast commitment to leaving this world better than he found it.
Simone Justice
Chief Operations Officer
Simone is the COO for Melanence. Simone is a social entrepreneur & operations guru. After graduating from Monroe College in New Rochelle, New York, she jumped headfirst into the cycling industry, where she quickly became a highly sought after leader in the industry. Simone has 9+ years of experience building and growing highly effective teams & systems, and will help to ensure Melanence is operating at maximum output as the COO.
Sean Ewing
Chief Financial Officer
Sean is the CFO for Melanence. Sean has 9+ years of corporate finance experience. Sean has proven skills to identify variances between projected and actual expenses, update Profit and Loss statements to complete forecasting. Sean has a vast knowledge and experience to increase your profits and decrease your losses while growing alongside colleagues and executives to reach organizational goals. His polished talents include streamlining standard operating procedures while maintaining positive morale.
Ashley Williams, M.B.A.
Senior Product Manager
Ashley Williams is the Senior Product Manager for Melanence. Ashley is an expert brand & product development manager. Ashley began her career in the retail industry and then shifted to the product marketing industry where she has grown and developed the last 10 years. Creativity and passion are part of Ashley's DNA. Her life motto is "I am given what I was built to handle!" She is passionate about ed-tech, the arts, health & wellness, and continual growth of self.
Use of Proceeds
If the offering's maximum amount of $250,000 is raised:
| Use | Value | % of Proceeds |
| --- | --- | --- |
| Technology Development | $120,000 | 48.0% |
| Legal and Administrative | $10,000 | 4.0% |
| Marketing and Advertising | $62,750 | 25.1% |
| Executive Compensation | $45,000 | 18.0% |
| Intermediary fees | $12,250 | 4.9% |
Terms
This is an offering of Common Stock, under registration exemption 4(a)(6), in Forever Young Technologies, INC, doing business as Melanence. This offering must raise at least $10,000 by January 27, 2021 at 11:59pm ET. If this offering doesn't reach its target, then your money will be refunded. Melanence may issue additional securities to raise up to $250,000, the offering's maximum.
$10,000 minimum
$100,863 raised
If the offering is successful at raising the maximum amount, then the company's implied valuation after the offering (sometimes called its post-money valuation) will be:
9,479,162 shares
×
$0.50 per share
$4,739,581implied valuation
COVID Relief:
This offering is being conducted on an expedited basis due to circumstances relating to COVID-19 and pursuant to the SEC's temporary COVID-19 regulatory relief set out in Regulation Crowdfunding §227.201(z).
Offering maximum:
In reliance on this relief, financial information certified by the principal executive officer of the issuer has been provided instead of financial statements reviewed by a public accountant that is independent of the issuer, in setting the offering maximum of $250,000.
Financials
Melanence's official name is Forever Young Technologies, INC, so that's the name that appears in the statements below.
SEC Filings
The Offering Statement is a formal description of the company and this transaction. It's filed with the SEC to comply with the requirements of exemption 4(a)(6) of the Securities Act of 1933.
Understand the Risks
Be sure to understand the risks of this type of investment. No regulatory body (not the SEC, not any state regulator) has passed upon the merits of or given its approval to the securities, the terms of the offering, or the accuracy or completeness of any offering materials or information posted herein. That's typical for Regulation CF offerings like this one.
Neither Netcapital nor any of its directors, officers, employees, representatives, affiliates, or agents shall have any liability whatsoever arising from any error or incompleteness of fact or opinion in, or lack of care in the preparation or publication of, the materials and communication herein or the terms or valuation of any securities offering.
The information contained herein includes forward-looking statements. These statements relate to future events or to future financial performance, and involve known and unknown risks, uncertainties, and other factors, that may cause actual results to be materially different from any future results, levels of activity, performance, or achievements expressed or implied by these forward-looking statements. You should not place undue reliance on forward-looking statements since they involve known and unknown risks, uncertainties, and other factors, which are, in some cases, beyond the company's control and which could, and likely will, materially affect actual results, levels of activity, performance, or achievements. Any forward-looking statement reflects the current views with respect to future events and is subject to these and other risks, uncertainties, and assumptions relating to operations, results of operations, growth strategy, and liquidity. No obligation exists to publicly update or revise these forward-looking statements for any reason, or to update the reasons actual results could differ materially from those anticipated in these forward-looking statements, even if new information becomes available in the future.
Updates
Nov 16, 2020

**Thanks for being part of our investor...

Thanks for being part of our investor family! We just wanted to share some early data on the last 30 days of Melanence launching our Beta.

166 users
80 instructor accounts (non paid)
42 free accounts for Beta Testing
44 paying accounts

Trial conversion rate 92.31% Subscriber churn rate 4%

As we prepare to ramp up in 2021, we are seeing some good traction, without spending any money on marketing.

We will continue to keep you in the loop and update you as we grow this community!

Oct 12, 2020

Excited to share that our MVP is complete and...

Excited to share that our MVP is complete and we have begun to onboard new instructors to the platform! Currently we have 50 instructors that have created a profile and are actively working to create content for the platform!

We are looking to launch our Beta November 1st! Skillshare launched with 15 courses, so we are looking to launch with 15 or more as well!

-More to come! Exciting times!

Oct 8, 2020

Juan Young, CEO of Melanence, graduates from...

Juan Young, CEO of Melanence, graduates from Founder Gym Cohort #14

For six weeks, Juan underwent an intense virtual training experience led by industry leaders in Silicon Valley and beyond. He learned from Founder Gym's robust network of investors, founders, lawyers, and financial experts.

Aug 27, 2020

Primary offering of $0.50

shares at
Ask a Question
Proofread your comment before submitting: once it's posted, you can't edit or delete it. For the fastest help with the web site, email help@netcapital.com instead of commenting.
Looking to raise capital?
We can help turn your friends, family and customers into investors.
Learn more
Interested in more investment opportunities?
Browse all offerings currently available.
See more