Introduction
AeonCharge is here to revolutionize the charging scene for electric vehicles
The electric vehicle market is growing exponentially in the U.S. as we have seen a consistent market growth from 2011 to 2020. In 2018, there were 1,000,000 EV drivers, and currently, in 2020 there are an estimated 1,600,000 EV drivers in the US, a huge 60% growth in just 2 year!
Our market entry timing couldn't be better as we build a platform for electric vehicle owners that's more user centric and collaborative.
The Problem:
EV owners spend about 50 hours annually for planning and detouring. These inconveniences result in about 2 out of 10 EV owners returning to gas-fueled vehicles. EV owners are forced to download multiple apps to accommodate for each users' geographic location.
So What Makes AeonCharge Special?
AeonCharge is creating an electric vehicle (EV) charging platform that focuses on increasing charger accessibility by allowing users to easily search, plan, and book chargers from multiple network providers. Aeoncharge also strives to personalize the charging network by allowing users to request charging locations. These ultimately improve the convenience of EV charging for EV owners.
Long Term Growth Opportunity:
In 2030, we are expecting a market size of $5.00 Billion TAM in the US, anticipating the boom of EV and their need for chargers, we're looking at improving our partnerships and streamlining our services with other peer-to-peer networks so that users can easily access our chargers.
Ask:
Aeoncharge is looking to raise $105,000 to launch our platform in February 2021 for both iOS and Android users as we welcome the new age of electric vehicle charging.
Deal Highlights
70% of EV owners we interviewed in Illinois and Indiana say that they will shift to our platform with the current solutions we offer from their current EV charging providers.
98% of previous EV owners say they would have not sold their EV and shift back to gasoline-fueled vehicles if our solutions existed back then.
We are supported by two advisors who are leaders within the EV community.
With the rapid growth of electric vehicles (EVs) in the United States, the market share of EV charging is expected to grow at 32% Compound Annual Growth Rate (CAGR).
Support the green energy movement - EV adoption rate will increase with our charging solution that addresses EV owners concerns and improves the convenience of EV charging experience.
Problem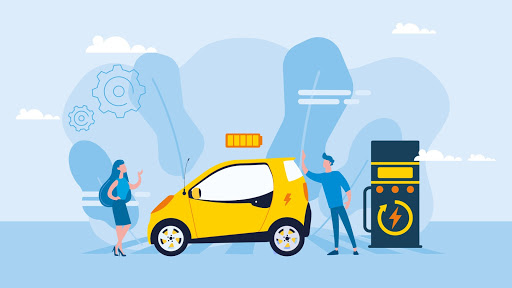 When we asked over 430 EV owners about their experiences, we identified two main problems that hindered the convenience for electric vehicle users:
Lack of conveniently placed charging stations in both urban and suburban cities and towns.
There is a confusing number of charging apps.
Solution
AeonCharge is creating a universal platform for users to locate, book, and pay charging stations efficiently from any network. Furthermore, EV drivers have the option to request locations based on their own preferences as well to improve the convenience of charging EVs. AeonCharge request-based chargers installation contains four easy steps for users and hosts to follow:
For users:
User chooses location
Wait for an approval
Enjoy charging
For hosts:
User requests a charging point
Aeoncharge acquires permits from hosts (residential or public)
Aeoncharge shoulder upfront costs
Aeoncharge list locations on our platform
AeonCharge plans to market and improve multiple aspects for the electric vehicle driver. It plans to develop an app to find charging stations that will benefit the EV owners.
AeonCharge provides a platform for EV drivers to enjoy the benefit of booking, payment, and charging with one single app throughout the United States.Our app eliminates the issue of charging inconvenience through our model by building a community of electric vehicle owners who can easily find and utilize charging stations.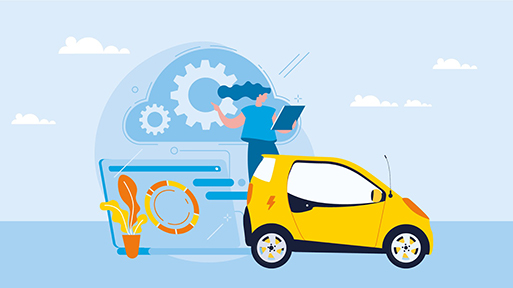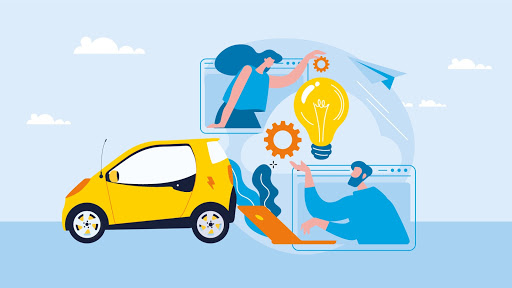 Business Model
Our revenue pipeline comes from commissions every time EV owners utilize our platform. We will take a 30 cents session fee plus 2.9% of the total transaction, which sustains ourselves for charger deployment, maintenance, and ensure price competitiveness to our competitors. The rate will be depend on the state with an average of 3 cents per minute.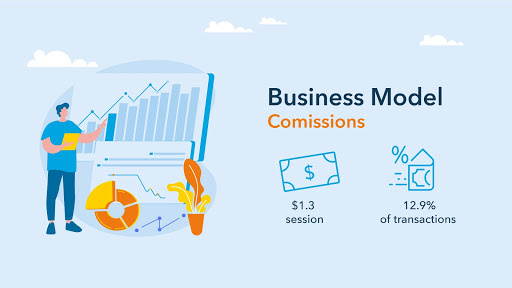 Market
$66.3M Total Available Market (TAM) in Midwest
$603.64M TAM in the US
$15.5 B TAM Global Market
The market scope is for 2021 and it is growing every year at 32% CAGR
In 2030, we are expecting a market size of $5.00 Billion TAM in the US
There is a need for AeonCharge on the electric vehicle market as the number of electric vehicles on the road in the U.S. has increased consistently from 2011 to 2020. In 2018, there were 1,000,000 EV drivers, and currently, in 2020 there are an estimated 1,600,000 EV drivers in the US.
AeonCharge's market scope can be equated as:
Total Addressable Market = (# of EVs) x (Frequency) x (Costs / Charging)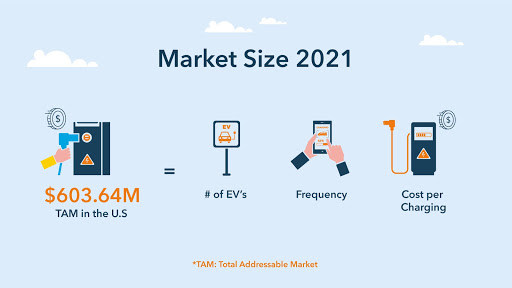 Progress
430+ interviews
National Science Foundation Midwest funding
One national competition award
One international competition award
$179,250 cash investment raised to date (valued at $2,04M)
$40,000 service investment raised to date (valued at $2.04M)
37 prospective users
19 committed charging points
Partnership with EnelX as a charger manufacturer
Android and iOS mobile apps (in-progress, target: February 2021)
Team
Our team comes from different backgrounds and cultures. We focus on getting the right talent rather than picking friends to get on-board.
Alec Jansen
CEO/Co-founder
Alec's experiences include working in team settings for the Indianapolis Airport and the Indianapolis Colts. Alec brings critical skills, in technical information,technology (IT), and project management expertise to our organization.
Dwi Sutandar
Co-founder
Dwi has experience in technology and organizational leadership. He has published scholarly articles that have received multiple recognitions, as well as being an advisor for a semiconductor company in Indonesia. Dwi demonstrates an ability to lead an organization as the technical director and vice president of Solar Chapter, an international non-profit organization.
Advisors and Investors
Elizabeth Thompson
CEO and founder of Greater Lafayette Innovation
Dr. Matthew Lynall
Ex-VP of Ernst and Young
And two advisors who are experts in the EV industry. (Requests were made to not disclose their information)
Use of Proceeds
If the offering's maximum amount of $106,950 is raised:
| Use | Value | % of Proceeds |
| --- | --- | --- |
| Compensation for full-time marketing | $54,000 | 50.5% |
| Marketing expenses | $10,000 | 9.4% |
| Office spaces and supplies | $10,000 | 9.4% |
| Legal services | $3,000 | 2.8% |
| Accounting services | $600 | 0.6% |
| Netcapital fix cost | $5,000 | 4.7% |
| Software development | $15,828 | 14.8% |
| Operational Expenses | $3,281 | 3.1% |
| Intermediary fees | $5,241 | 4.9% |
Terms
This is an offering of Common Stock, under registration exemption 4(a)(6), in Laegacy Inc.. This offering must raise at least $10,000 by January 18, 2021 at 11:59pm ET. If this offering doesn't reach its target, then your money will be refunded. Laegacy may issue additional securities to raise up to $106,950, the offering's maximum.
$10,000 minimum
$10,549 raised
If the offering is successful at raising the maximum amount, then the company's implied valuation after the offering (sometimes called its post-money valuation) will be:
6,694,239 shares
×
$0.62 per share
$4,150,428implied valuation
SEC Filings
The Offering Statement is a formal description of the company and this transaction. It's filed with the SEC to comply with the requirements of exemption 4(a)(6) of the Securities Act of 1933.
Understand the Risks
Be sure to understand the risks of this type of investment. No regulatory body (not the SEC, not any state regulator) has passed upon the merits of or given its approval to the securities, the terms of the offering, or the accuracy or completeness of any offering materials or information posted herein. That's typical for Regulation CF offerings like this one.
Neither Netcapital nor any of its directors, officers, employees, representatives, affiliates, or agents shall have any liability whatsoever arising from any error or incompleteness of fact or opinion in, or lack of care in the preparation or publication of, the materials and communication herein or the terms or valuation of any securities offering.
The information contained herein includes forward-looking statements. These statements relate to future events or to future financial performance, and involve known and unknown risks, uncertainties, and other factors, that may cause actual results to be materially different from any future results, levels of activity, performance, or achievements expressed or implied by these forward-looking statements. You should not place undue reliance on forward-looking statements since they involve known and unknown risks, uncertainties, and other factors, which are, in some cases, beyond the company's control and which could, and likely will, materially affect actual results, levels of activity, performance, or achievements. Any forward-looking statement reflects the current views with respect to future events and is subject to these and other risks, uncertainties, and assumptions relating to operations, results of operations, growth strategy, and liquidity. No obligation exists to publicly update or revise these forward-looking statements for any reason, or to update the reasons actual results could differ materially from those anticipated in these forward-looking statements, even if new information becomes available in the future.
Updates
Nov 16, 2020

Primary offering of $0.62

shares at
Ask a Question
Proofread your comment before submitting: once it's posted, you can't edit or delete it. For the fastest help with the web site, email help@netcapital.com instead of commenting.
Looking to raise capital?
We can help turn your friends, family and customers into investors.
Learn more
Interested in more investment opportunities?
Browse all offerings currently available.
See more