The Problem
Purchasing a home is the largest transaction most people will make in a lifetime, yet it is a frustrating, inefficient, and time consuming process, with no transparency and poor service. For the agent, it is a huge challenge to find leads, and they are forced to waste precious time on paperwork: printing, scanning, faxing, etc. Then there is all the legwork they need to do to research properties. For the seller, it is an expensive proposition, as they must pay a commission based on the home's value to the broker, while receiving little to no information during the process.
The Solution
Home61 is a technology enabled real estate brokerage solution that transforms the process of buying and selling a home. We reinvent the home buying experience; buyers, sellers and agents have access to real-time data to make the most informed decisions, and our client facing technology makes the process faster, easier, and more efficient for everyone.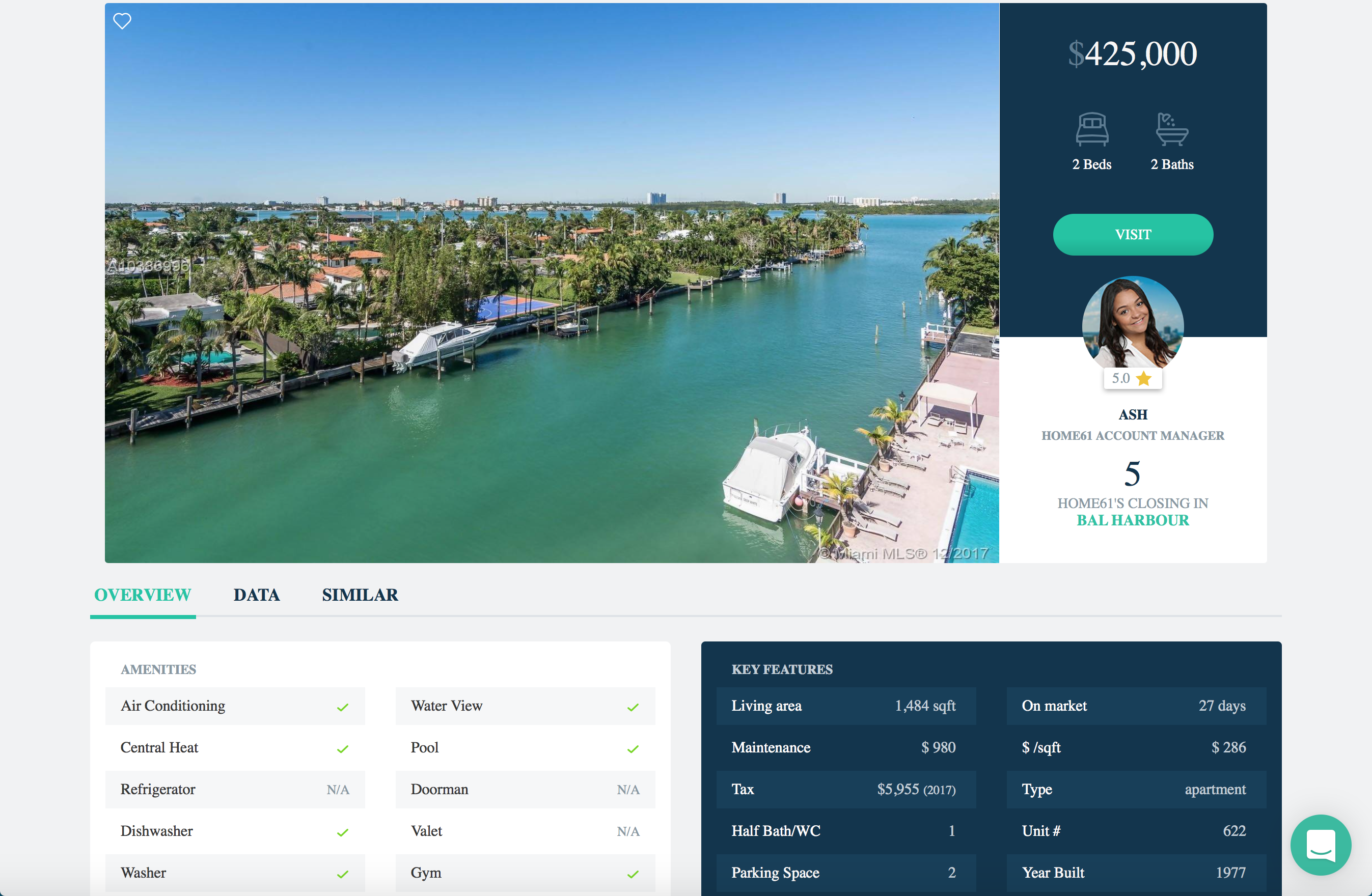 Home61 Benefits
The beauty of the Home61 process is that it benefits all the parties involved: buyers, agents, and sellers.Everyone wins!
Benefits to the Buyer
Home61 provides all the tools and information necessary to help the buyer find a home that best matches their needs; with our interactive data, clients can research and analyze all relevant factors pertaining to the property, including:
comparisons for a city block or an entire neighborhood;
price per square foot;
negotiability, or how low they can go on an offer;
other units that have sold in the building;
when built;
how many days on the market;
which months most properties sold;
how many units available; and
the cap rate for investors.
With thousands of luxury home and condo landing pages, our clients can also perform filtered searches based on multiple factors, including location, amenities, and financial options.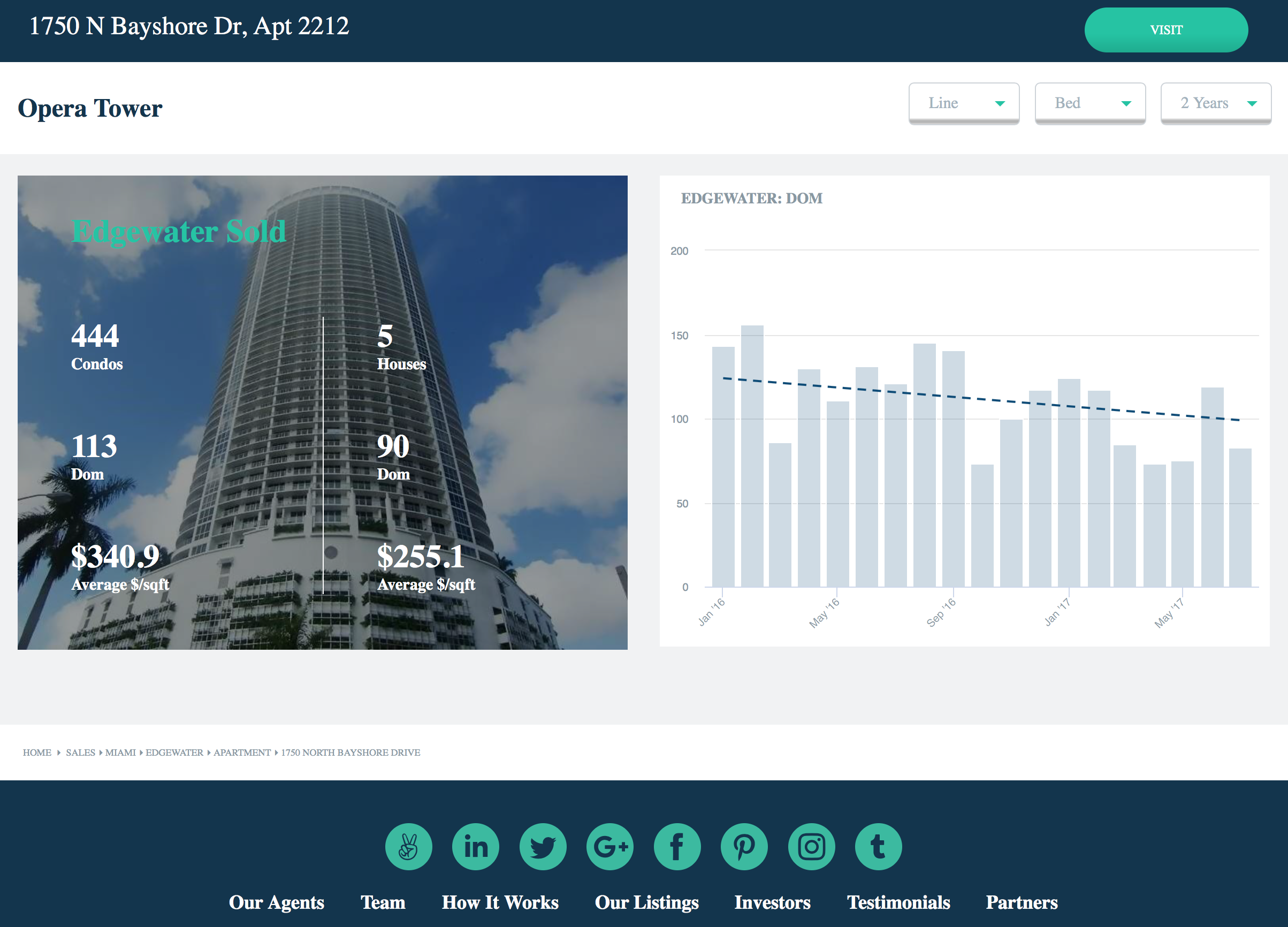 It's not just all tech, though. Customer experience is very important to us, and the Home61 experience is characterized by a high level of service. In less than a minute after creating an account, the buyer is contacted by one of our bilingual consultants, who speak English, Spanish, Portuguese and/or French, while our proprietary algorithm matches the client with the perfect real estate agent for them, based on social, financial, and other key factors. We also provide 24 hour phone support, so customers don't need to wait to have their questions answered.
Our process is especially well suited for millennials who grew up in a high-tech environment. With millennials approaching the average home-buying age, Home61 is ideally positioned to serve their needs and become their solution of choice.
"I've been very pleased with Home61 and would recommend it to others looking to buy or rent. The platform is great because it allows you to rate and write notes on the apartment (which gets messy via email). The realtor was super helpful, always responsive, and helped us navigate everything easily. I'm really happy we worked with Home61. I'd highly recommend it!" - Rebecca D.
Benefits to the Agent
We provide powerful technology, tools, and training to our agents, and we spend millions on multi-platform marketing to support their sales efforts. Other key benefits include increased efficiency, quality leads, and higher incomes.
Increased Efficiency
With our technology, paperwork is now removed from the equation. Agents can make an offer on a home in only three clicks. What used to take hours to complete is now instantaneous. Our technology liberates the real estate agent to focus on what they do best: the the personal connection with the client.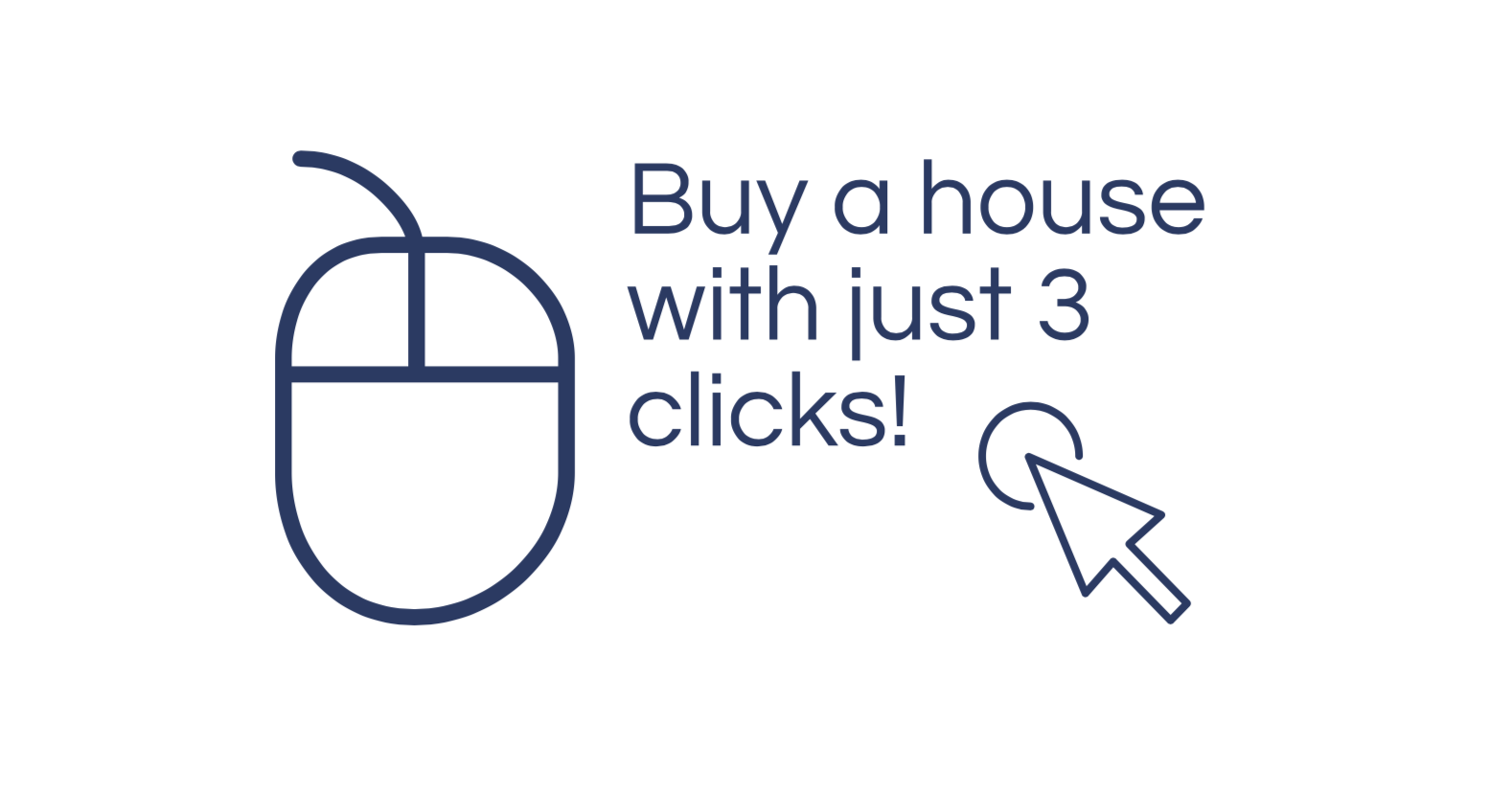 Quality Leads
Ask any real estate agent and they will tell you that finding leads is the most challenging part of their job. Most agents struggle to survive on referrals from family and friends and few can generate enough transactions to make selling real estate a full time job. On average, Home61 provides 12 quality leads per month to their agents: real, qualified clients transferred to the agent over the phone, with all the information they need, such as the client's budget, preferred location, and desired property type. Additionally, an email is automatically sent to the client with the agent's name, picture, and recommended properties, with links. As a result, our agents close a significantly higher number of properties; the average real estate agent does 1.6 closings per year, while ours do 17 in the first year and 40 in the second year.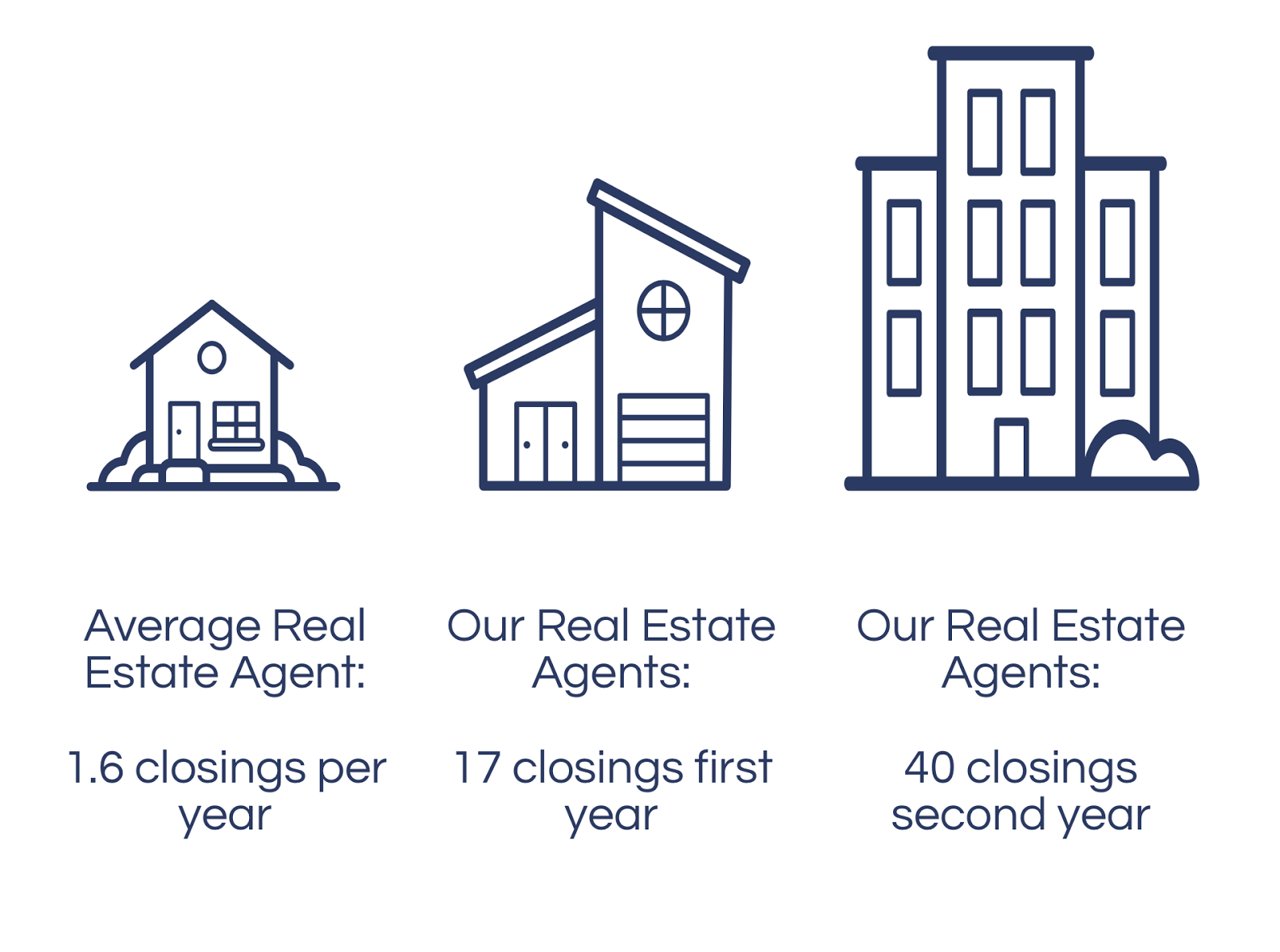 Higher Incomes
Quality leads drive higher incomes. According to the National Association of Realtors, the average real estate agent makes less than $9,000 annually in their first two years, while the average Home61 agent makes $40,000 in the first year.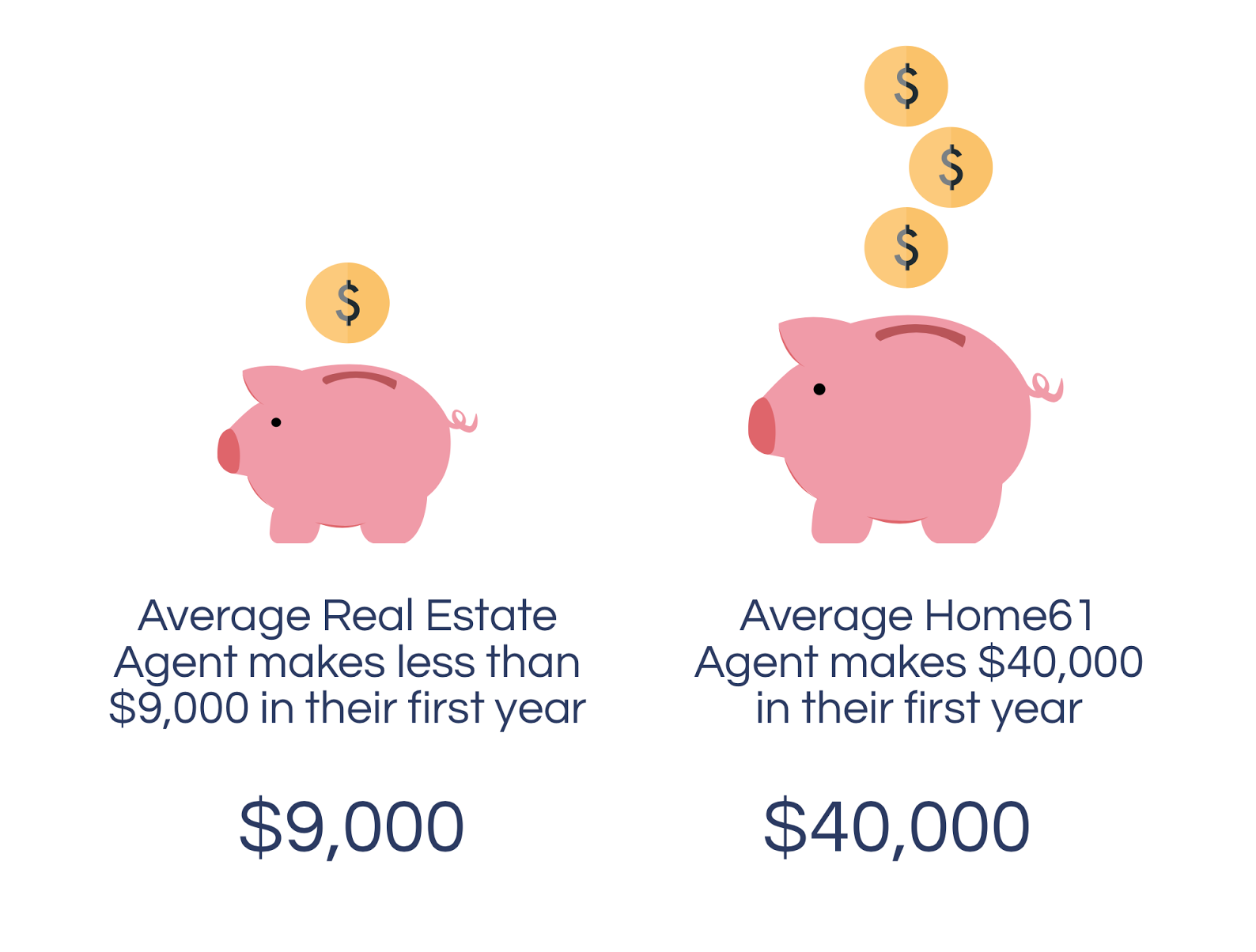 "They helped me fast track my career, because they put me with over 200 clients in the first 18 months that I started. For the first 18 months, I did sixty transactions and around $65,000 in commission, and for 2017, since I had a very good six months, I'm projecting over $100,000 in commission." - Carlos Gauch
Benefits to the Seller
While the seller would normally have to pay 3% of the sales price as commission, with Home61 they receive the million dollar treatment for a flat fee of $6,000. On a $500,000 home, that would be a savings of $9,000. In addition, they receive a dedicated presentation on their property, with flyers and online ads, and, with the Seller Dashboard, property owners can monitor online visits and total impressions of their listing in real time, as well as track actual, physical home viewings. Home61 also provides a market analysis, comparing their property to the surrounding neighborhood. The seller receives alerts when other properties in their area sell or come on the market, and the calendar feature allows them to easily view and confirm appointments. Signed contracts are stored in the document center.
"Both Priscilla and Olivier are amazing! It is a very emotional sale for me and with all of my questions and uncertainty they really helped me so much with extreme patience. I still can not believe they found me a cash buyer in less than 2 weeks.
I also love how they have so many resources under one roof. In all of my purchases in sales in the past (over 7) I really appreciate all that they offer and provide. Top notch service all of them! Home61 is exactly what Miami needs!" - Katie D
Backed by Major Investors
Since inception, Home61 has raised $5MM from multiple major investors, including the following:





FF Angel
Founders Fund's early stage investment vehicle
The Market
The American real estate market is the largest in the world, with $2 trillion/year in transactions and over $60 billion in commissions. Miami alone represents $25 billion in transactions and $1.2 billion in commissions. The market is highly fragmented, with 70% comprised of small brokers. Large franchises, such as Century 21 and Re/Max, represent 25%. Online competitors include Redfin, which pays their agents salaries instead of commissions, Compass, which is focussed on high end properties, Triplemint, a tech brokerage in NYC, and Opendoor, which focuses on distressed owners.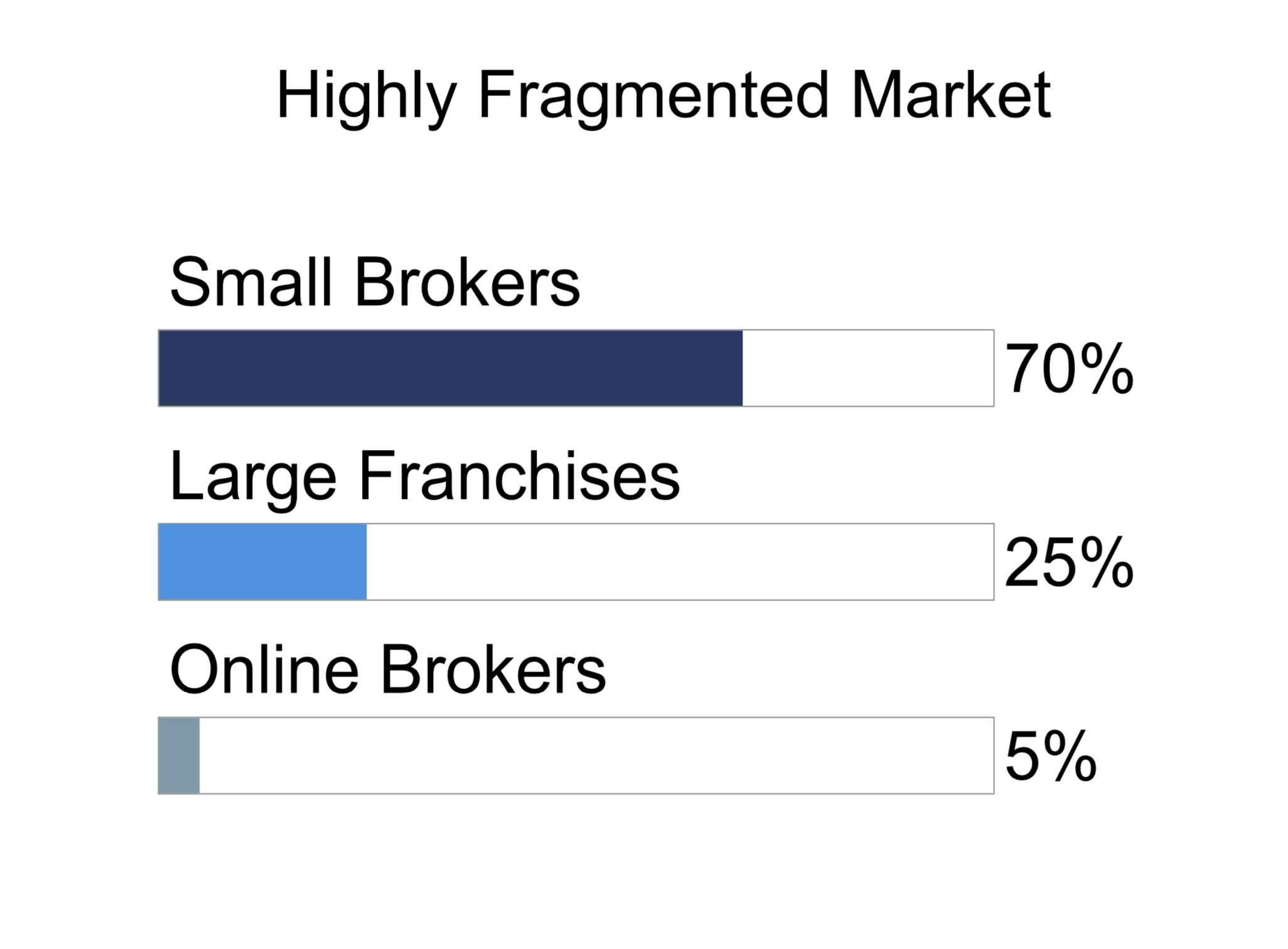 Success so Far
Home61 successfully raised $4MM this year and has sold $112MM in properties since inception. The company essentially doubled its gross value of homes sold last year, from $24MM to $44MM, and we expect this number to grow to over $1 billion by 2021. With 54 agents, we have become one of the top 50 brokerages in Miami in a relatively short time and we plan to have 100 agents by the end of the second quarter, which should help accelerate growth. In addition, our user acquisition cost continues to fall.
Press Highlights
Business Model
Home61 receives a $6,000 flat fee from the seller, 3% of the home's value when we represent the buyer, and a 5% commission on rentals. Fifty percent of the fee goes to the agent, which represents our cost of goods sold. Home purchase/sales contribute 80% of revenues, while the rest comes from rentals.
Team
Home61 offers a team of experienced founders with multiple exits; the company combines top talent in tech and real estate, with graduates from top MBA programs from Europe and the US.
Olivier Grinda
CEO
An experienced entrepreneur, Olivier has co-founded multiple start-ups, including Brandsclub, the first Brazilian internet company created after the dotcom bubble to raise over $15 million from foreign investors. The company grew to become one of the top 25 e-commerce sites in Brazil and was successfully sold to Naspers in 2012.
Olivier Brion
COO
Prior to Home61, Olivier was COO at Roomorama, a vacation rental and short-term housing marketplace. He was also Co-Founder of Previsite, which provides a completely automated social media solution to Real Estate Brokers, with operations in over 27 countries. Olivier holds an Executive MBA from the prestigious HEC school in Paris and is a licensed Real Estate Agent in Florida.
Cyrille Carbonnier
CTO
Cyrille has significant experience with real estate platform technology. In addition to previous CTO roles at Previsite and ListGlobally, he also founded EON.AI, which provides machine learning solutions and web development for real estate companies.
Brian Paran
Head of Sales
Prior to Home61, Brian was Co-Founder of Collins International Properties, specializing in luxury real estate and property investment. Brian also worked at Thesaurus Management as a senior portfolio manager, overseeing equities and fixed income accounts and managing client relationships. Brian is a licensed Real Estate Agent in Florida.
Use of Proceeds
If the offering's maximum Reg CF allocation of $1,069,997 is raised:
| Use | Value | % of Proceeds |
| --- | --- | --- |
| Working Capital | $1,017,567 | 95.1% |
| Intermediary fees | $52,430 | 4.9% |
If the offering's maximum amount of $1,999,998 across Reg. CF and Reg. D is raised:
| Use | Value | % of Proceeds |
| --- | --- | --- |
| Compensation for Directors, Officers, and Promoters | $150,000 | 7.5% |
| Working Capital | $1,751,998 | 87.6% |
| Intermediary fees | $98,000 | 4.9% |
Terms
It's time to expand to new cities! With your help, we plan to use the proceeds of this offering to enter other promising markets, such as Chicago, Phoenix, and Dallas.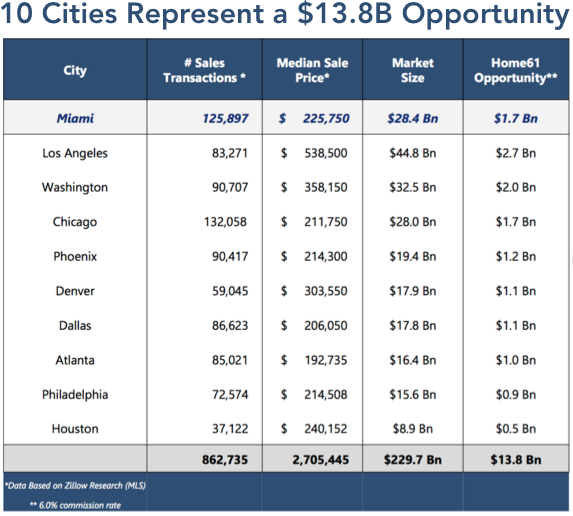 This is a side-by-side offering of Common Stock, under registration exemptions 4(a)(6) and 506(c), in Home61, Inc.. Up to $1,069,997.00 may be raised under the 4(a)(6) exemption. Netcapital will determine which exemption applies to your investment and notify you before you complete your investment.
The amount raised under the two exemptions must total at least $10,000 by April 16, 2018 at 11:59pm ET. If the total doesn't reach its target, then your money will be refunded. Home61 may issue additional securities to raise up to $1,999,998, the offering's maximum.
$10,000 minimum
$395,715 raised
If the side-by-side offering is successful at raising the maximum amount, then the company's implied valuation after the offering (sometimes called its post-money valuation) will be:
2,938,814 shares
×
$5.65 per share
$16,604,299implied valuation
Financials
These financial statements have been reviewed by an independent Certified Public Accountant.
SEC Filings
The Offering Statement is a formal description of the company and this transaction. It's filed with the SEC to comply with the requirements of exemptions 4(a)(6) and 506(c) of the Securities Act of 1933. Similar information is sometimes offered in a Private Placement Memorandum for 506(c) offerings.
We're also required to share links to each of the SEC filings related to this side-by-side offering with investors.
Updates
May 6, 2019

Apr 17, 2018

Primary offering finalized, selling

shares

Sold $5.65 for a total of $395,714.70

shares at

Jan 31, 2018

Jan 30, 2018

Dec 28, 2017

Oct 19, 2017

Oct 10, 2017

Primary offering of $5.65

shares at

Oct 10, 2017

Oct 10, 2017
Transactions
Spread
| Bid quantity | Price | Ask quantity |
| --- | --- | --- |
*Some securities may only be transferred to accredited investors if issued within the past 365 days. Unaccredited investors are permitted to place bids, so some transfers may have yet to occur.
No recent secondary activity
Transaction Log
Ask a Question
Proofread your comment before submitting: once it's posted, you can't edit or delete it. For the fastest help with the web site, email help@netcapital.com instead of commenting.
Understand the Risks
Be sure to understand the risks of this type of investment. No regulatory body (not the SEC, not any state regulator) has passed upon the merits of or given its approval to the securities, the terms of the offering, or the accuracy or completeness of any offering materials or information posted herein. That's typical for Regulation CF offerings like this one.
Neither Netcapital nor any of its directors, officers, employees, representatives, affiliates, or agents shall have any liability whatsoever arising from any error or incompleteness of fact or opinion in, or lack of care in the preparation or publication of, the materials and communication herein or the terms or valuation of any securities offering.
The information contained herein includes forward-looking statements. These statements relate to future events or to future financial performance, and involve known and unknown risks, uncertainties, and other factors, that may cause actual results to be materially different from any future results, levels of activity, performance, or achievements expressed or implied by these forward-looking statements. You should not place undue reliance on forward-looking statements since they involve known and unknown risks, uncertainties, and other factors, which are, in some cases, beyond the company's control and which could, and likely will, materially affect actual results, levels of activity, performance, or achievements. Any forward-looking statement reflects the current views with respect to future events and is subject to these and other risks, uncertainties, and assumptions relating to operations, results of operations, growth strategy, and liquidity. No obligation exists to publicly update or revise these forward-looking statements for any reason, or to update the reasons actual results could differ materially from those anticipated in these forward-looking statements, even if new information becomes available in the future.
Looking to raise capital?
We can help turn your friends, family and customers into investors.
Learn more
Interested in more investment opportunities?
Browse all offerings currently available.
See more