Introduction
greenbox Robotics enables customers to educate and shop for modern wellness products. We help people live healthier lives by introducing plant based medicine.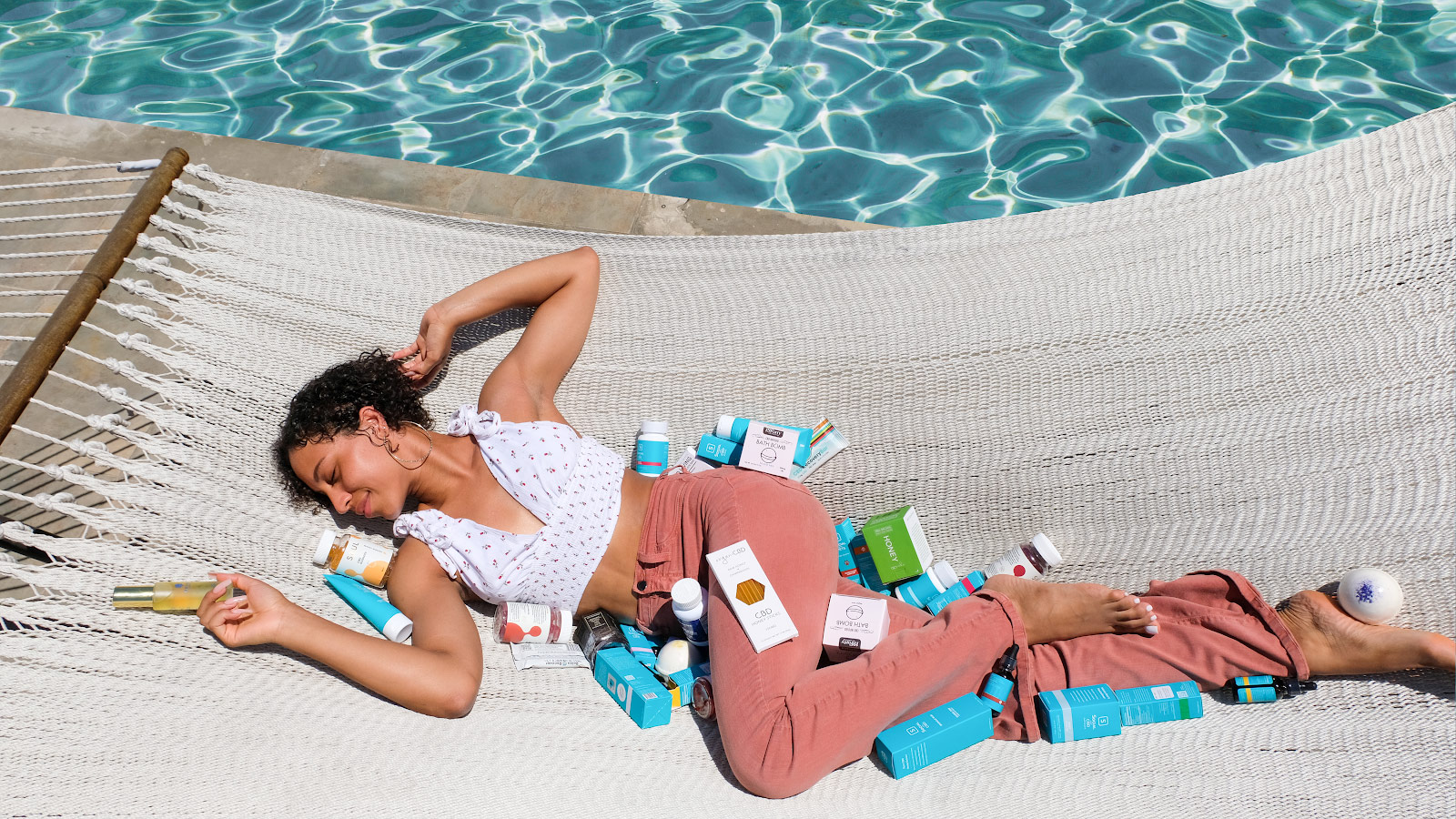 Deal Highlights
Our mission is simple. We help customers live healthier lives by educating and retailing modern wellness products from our robotic retailers. Our curated mix of plant based medicine helps customers manage stress, sleep soundly through the night, with inflammation & even relaxation.
Problem
There are so many amazing products coming to market that did not exist in the recent past. As these natural plant based products come online, they require education on how it can help our daily lives. The problem greenbox Robotics is solving is making the education and accessibility of these products attainable in high foot trafficked locations.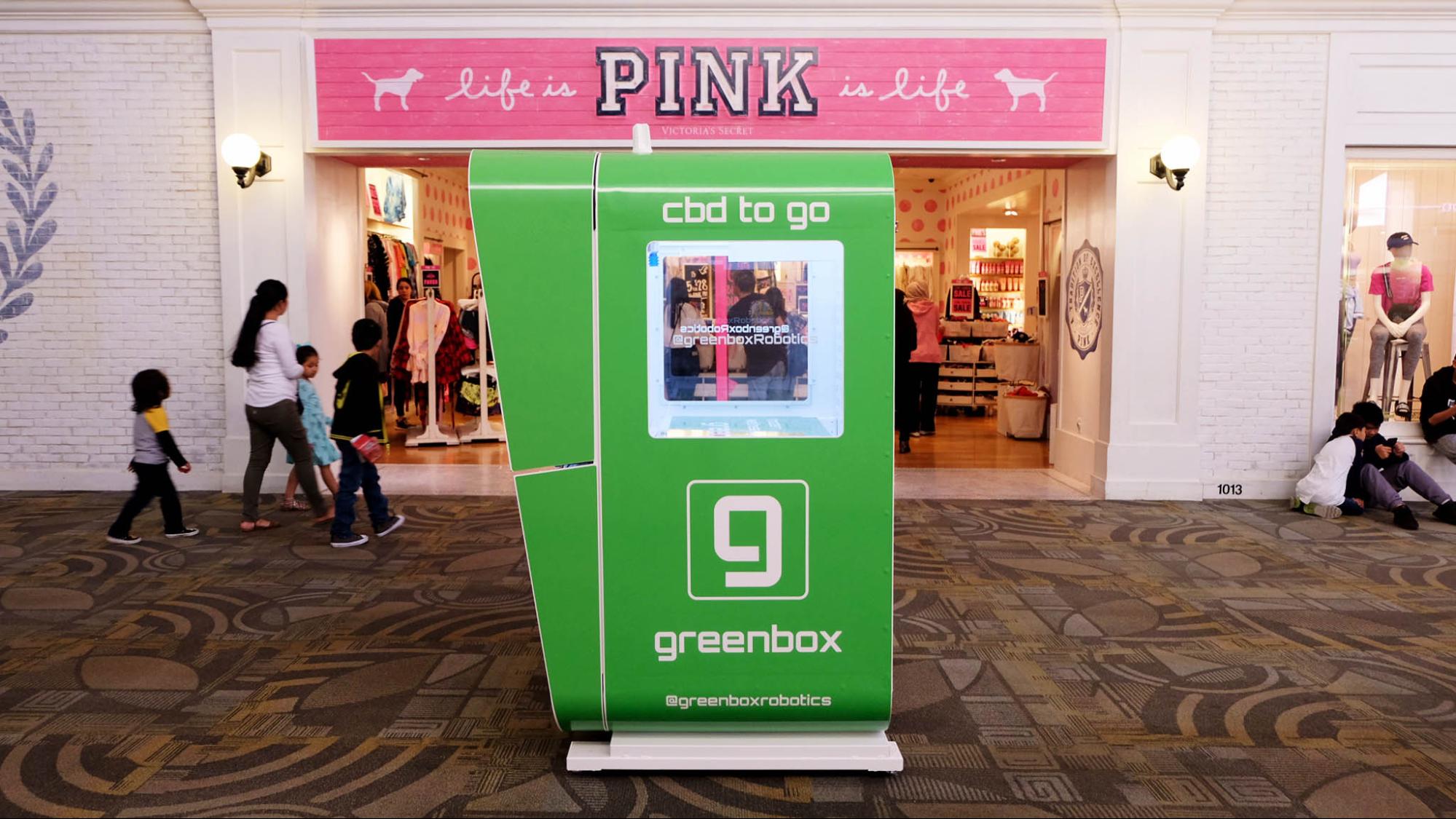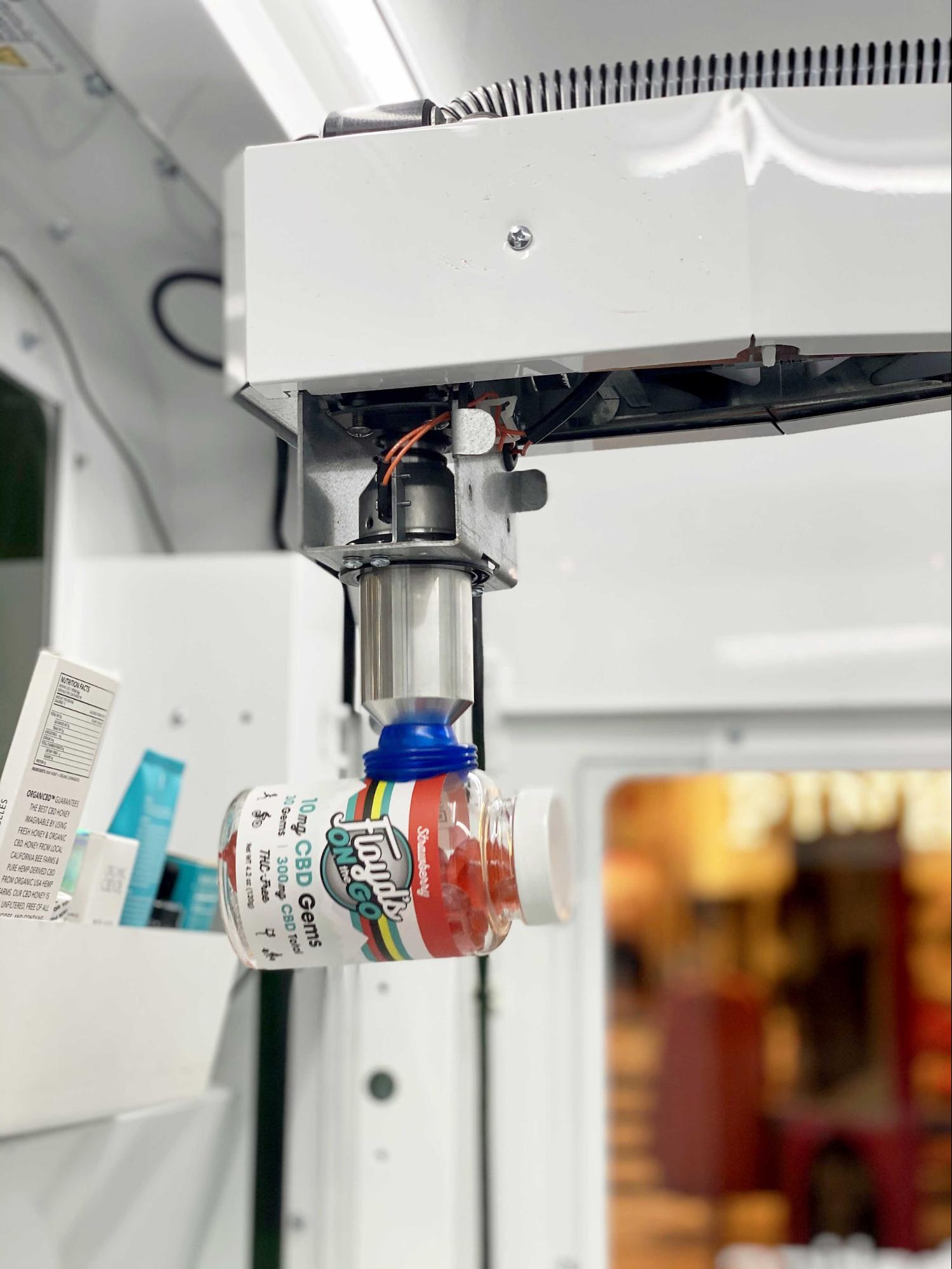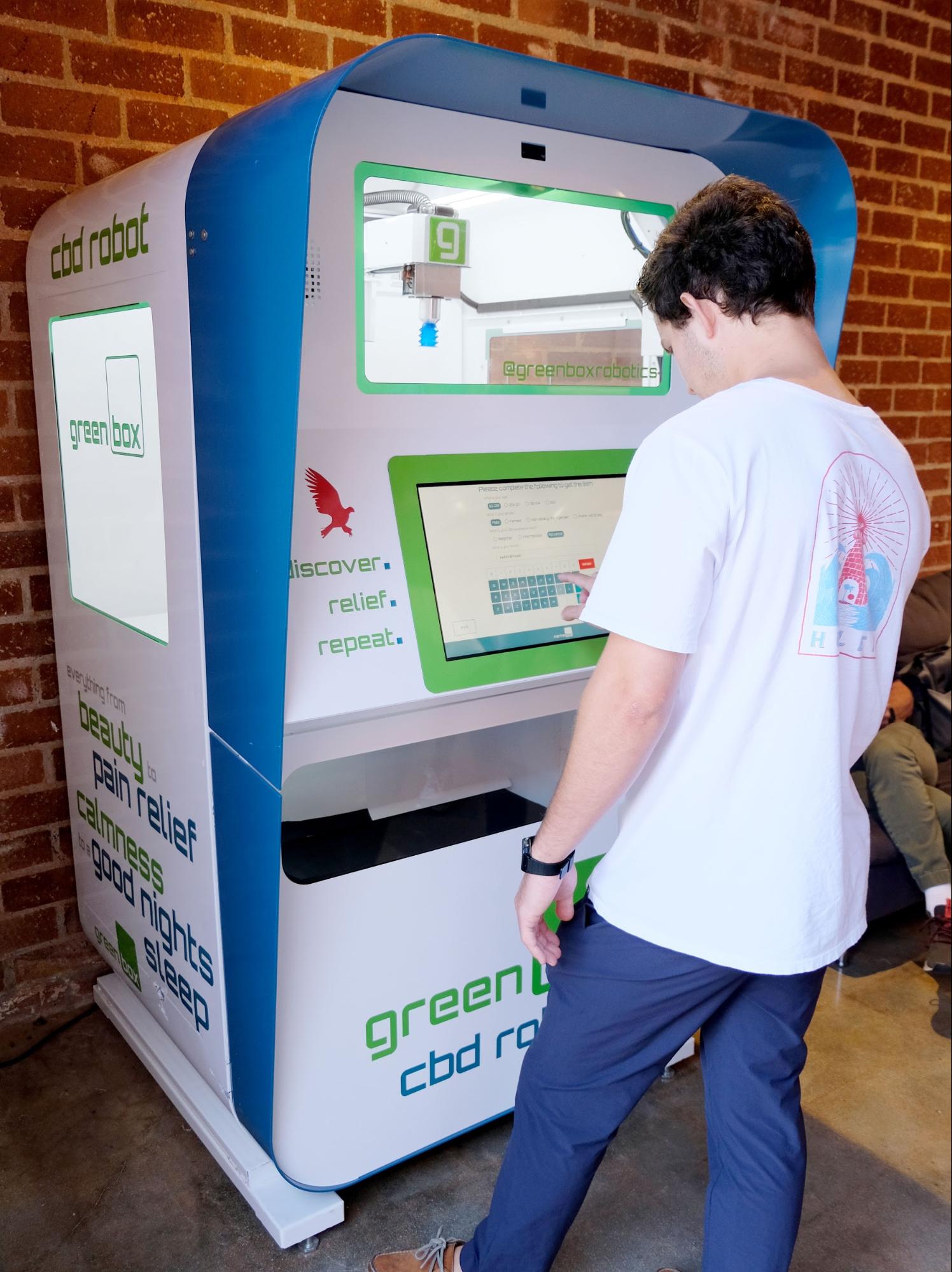 Solution
greenbox offers a fully integrated point of sale system in convenient locations for customers seeking modern wellness products. Through the process of education, our technology allows customers to purchase products based on an individual's needs to help them live healthier lives. Our curated menu of trusted products offers a variety of desired effects. Customers can also shop under specific collections and choose their products by categories such as drift & dream, beauty & pleasure, relief & recovery, and relaxation.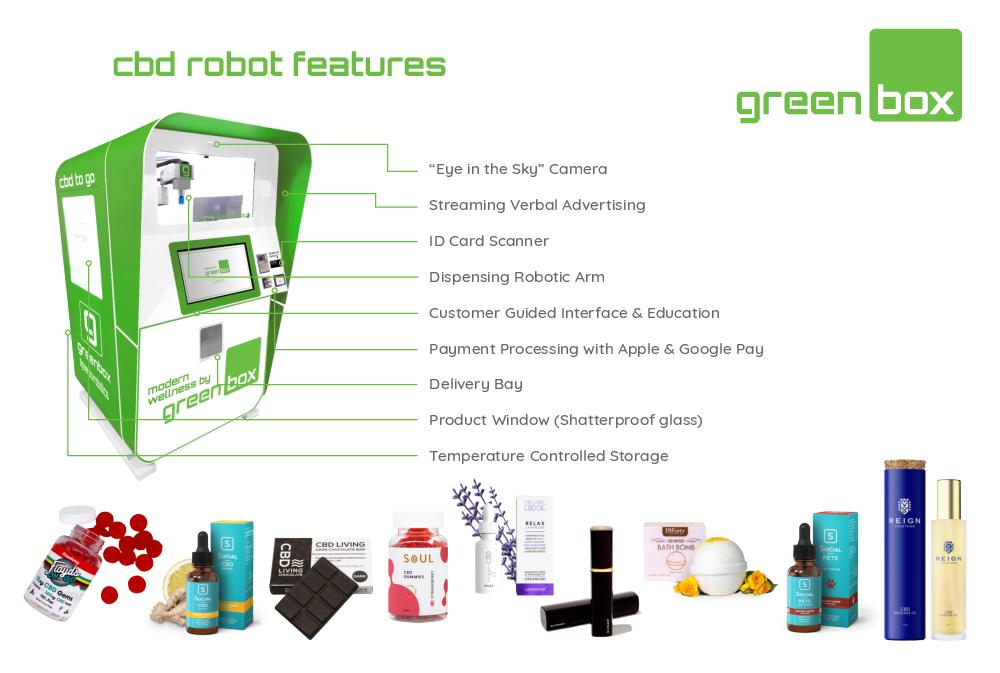 Business Model
greenbox Robotics has four models.
Traditional retail model of selling modern wellness plant based products. greenbox currently operates at blended 68% retail margin between 15 different brand partners
greenbox leases out the robots to private operators or stores to retail high ticket items that require product education
greenbox Robotics sells data to enable product manufacturers to learn more about their end user of customer prior to building the products
When Covid-19 shut down all of our mall deployments, we immediately launched a D2C program with a Shopify website. All of the curated greenbox products can now be delivered right to your doorstep!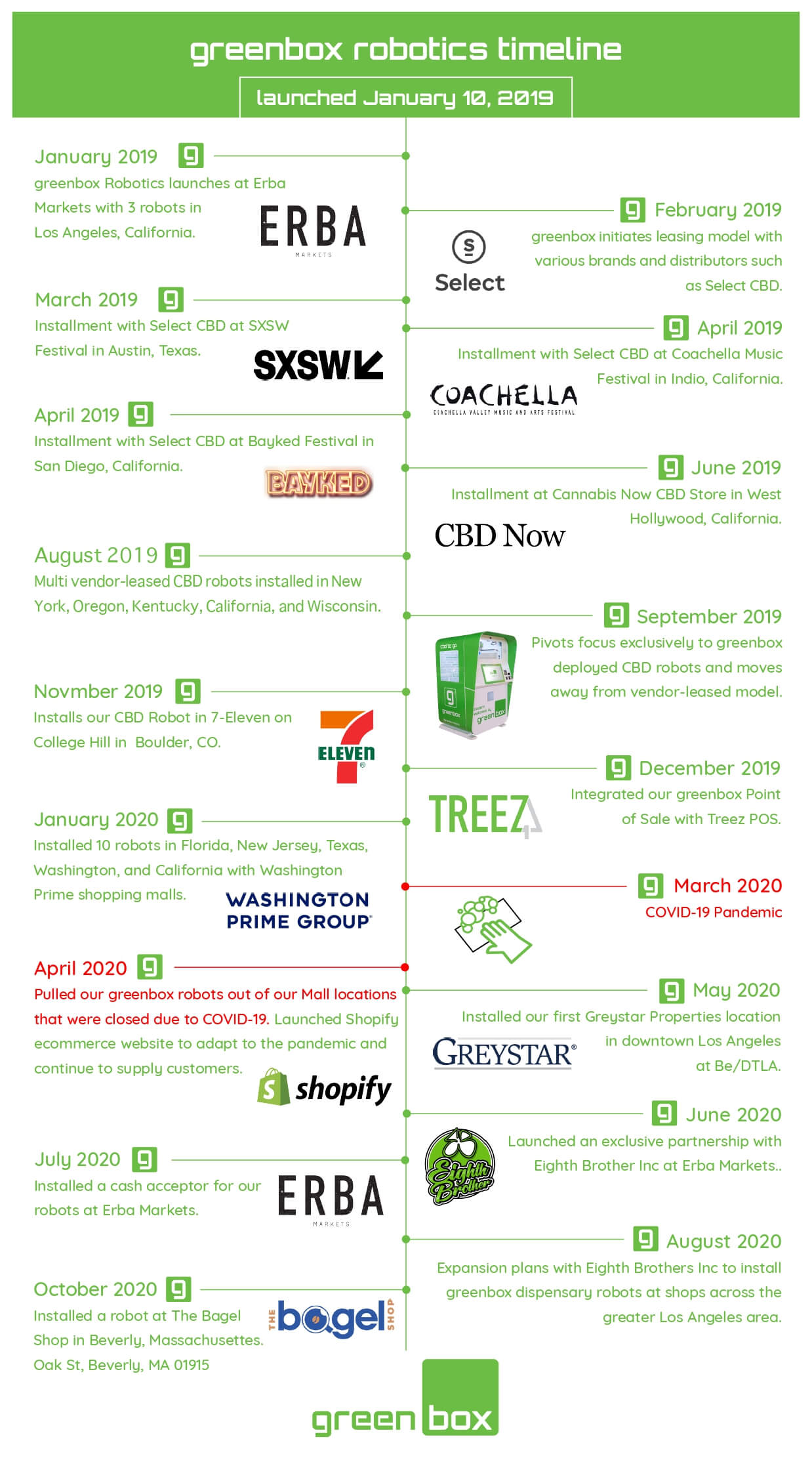 Market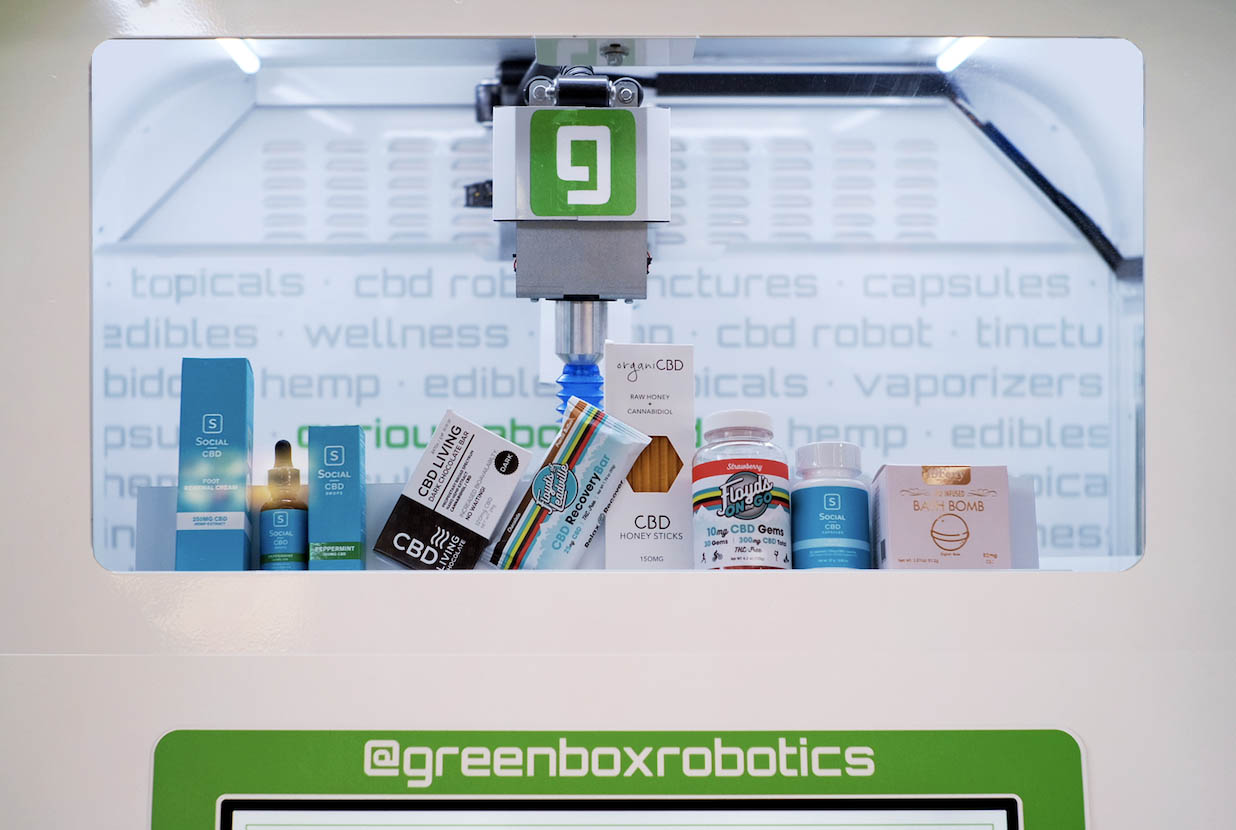 The market opportunity for greenbox is massive! This industry is projected to grow to $23.7 Billion by 2025. The opportunity for greenbox to land grab in high foot trafficked locations is also massive. We have identified the perfect footprints or plugs to deploy our wellness robots. Our focus is on high rise apartment complexes, hotels, & eventually airport terminals. We came to this location conclusion after testing in environments like shopping malls, grocery stores & even a 7-Eleven in Boulder, CO.
Progress
greenbox has made incredible progress since its launch, January 10th, 2019. We had successful activations at SXSW, Coachella & other music festivals. We have grown our partnerships up to 35 different qualified wellness brands. Our technology continues to progress based on key learnings from customers in the field. We have developed efficiencies every week that enable us to scale more effectively. It's all about learning quickly and making the adjustments in real time.
Team
Zack Johnson
Founder & CEO
Johnson launched his first company during his freshman year at the University of Massachusetts, a record label. The debut artist on the label had the #1 album in the United States & Australia. In that same year, Zack negotiated a tour with Barstool Sports founder, Dave Portnoy to roll out the first ever Viva La Stool College Tour. Zack sold the label to Sony RCA in 2014. After exiting the music business, Zack launched an athletic apparel company that focused on innovative textiles. Zack negotiated a partnership to make energyDNA the official apparel partner of the FIA Formula E Championship racing series.
Prior to launching greenbox, Zack was the Director of Strategy & business development at Hawke Media, an INC 5000 fastest growing company. While working at Hawke Media Zack was the CMO for five Los Angeles cannabis dispensaries, as well as a metal fabrication company that focused on manufactured vending machines. The biggest pain point for each dispensary was not being able to service customers fast enough, and inventory management. This pain point, and the relationship with the metal fabrication company was the inspiration for greenbox.
Caroline Murphy
CMO
Caroline Murphy grew up in Williamsburg, Virginia and graduated from Western State Colorado University in Gunnison with a Bachelor of Arts degree in Graphic Design. While living in Colorado, Caroline's freelance graphic design career flourished while working with cannabis companies and a variety of local businesses. Caroline's passion for wellness stemmed from her personal medicinal use of the plant to alleviate various symptoms that have caused issues in her health. After two years managing a medical cannabis dispensary in Crested Butte, Caroline oversaw the transition of the store into recreational cannabis sales in 2015. Sharing her vast product knowledge of cannabis goods sold in the retail market and exchanging personal experiences with other cannabis users has expanded her education to outstanding standards.
Testimonials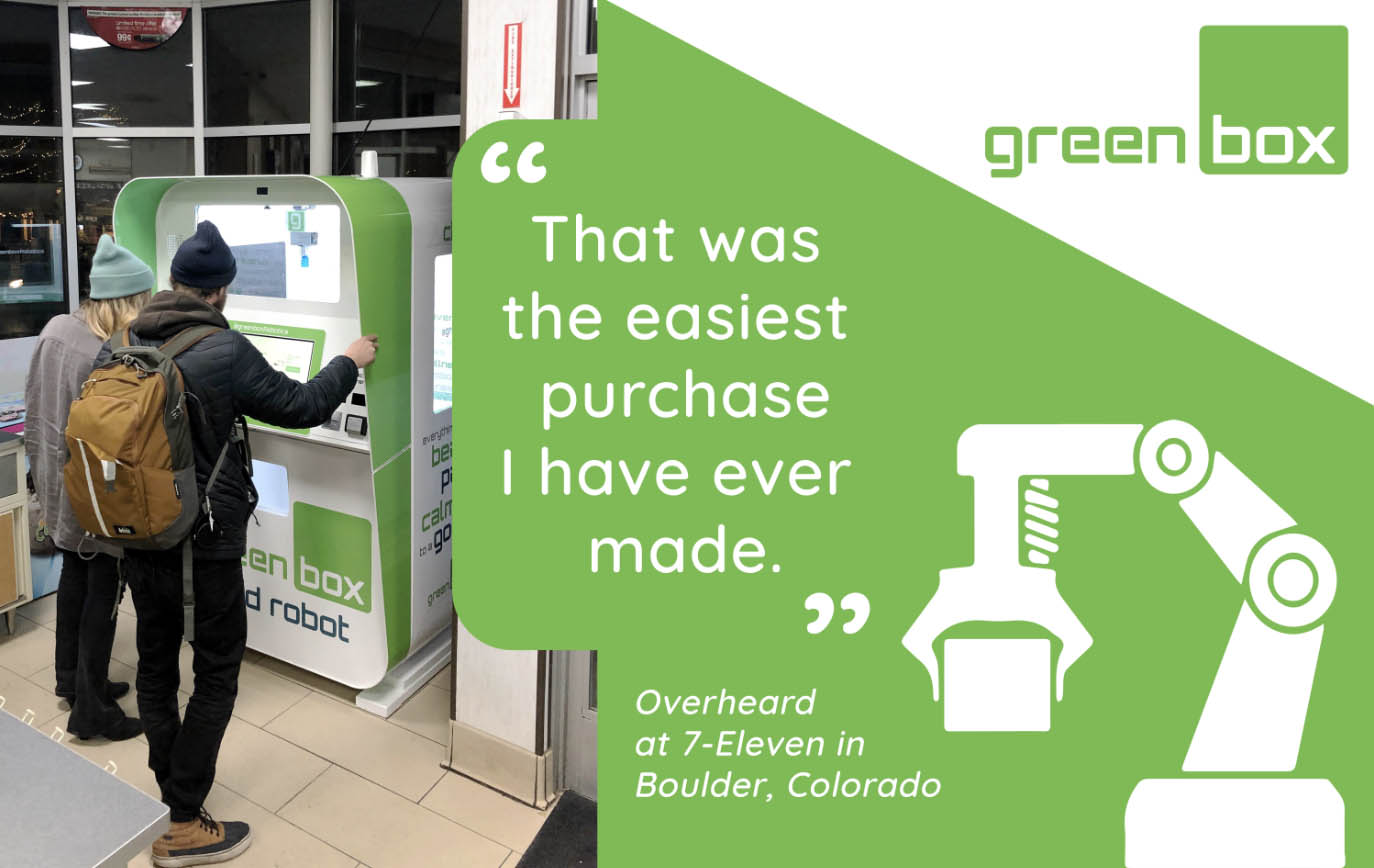 Advisors and Investors
Kevin Donahue
Investor & Board Member
Kevin Donahue is the CEO and owner of Quabaug Corporation in North Brookfield, Ma. Quabaug Corporation is North America's leading supplier of Vibram soles and golf discs. Kevin began working at Quabaug in 1980 as a result of answering an ad in the newspaper for a sales position. Kevin currently sits on the board of VIBRAM group.
Jack McDaniel
Investor & Board Member
Serial entrepreneur who has founded and grown several custom product development companies since the mid-1980's.
Jackey Lee
Investor & Board Member
Jackey Lee is the CEO of Sunion Group. Founded in 1992, a technology and manufacturing company, operating in two segments: Custom OEM Solutions and New Ventures. The Custom OEM Solutions segment provides reputable metal and plastic design and manufacturing for multinationals. The New Venture arm is engaged in design, development, manufacturing and marketing of start-ups, such as intelligent hot food vending machine operation, e-bingo kiosk.
Mark Bowles
Advisor
Bowles was the brains behind ecoATM, the local electronics recycling kiosk-maker acquired in 2013 by Coinstar's parent company, Outerwall, for $350 million in cash. Mark is an inventor, a serial entrepreneur, and a technology investor & venture capitalist.
Colbi Stahl
Advisor
Colbi brings expertise to greenbox having worked with brands like Casamigos Tequila, Stance, and Wasserman. She brings an entrepreneurial approach to both brand and product development, licensing partnerships, and retail marketing.
Nick Yates
Advisor
Nick a vending industry veteran, innovator and pioneer. Nick was responsible for the healthy vending movement in the US having launched the first healthy vending company and placing over 7,000 machines throughout school systems, colleges, corporations, community centers and malls nationwide. From 2013-2019 Nick was the CEO and Chairman of Generation NEXT Franchise Brands (VEND) a publicly listed OTC company of which he founded. Nick also built from scratch the world's first frozen yogurt and ice cream vending robots and generated contract sales in excess of $150m throughout Australia, Canada, Oman and the US. Nick left the company in October 2019 and is now consulting to different companies within the both the vending and franchise industries.
Brian Esposito
Advisor
Founder & CEO of Esposito Intellectual Enterprises, LLC (EIE) www.eie.rocks, a holding company for over 20 years of work, business startups, and investments. Focuses range from manufacturing, distribution, retail, hospitality & hotel development, restaurants, commercial real estate, technology, crypto, blockchain, media, energy, oil & gas, aviation, space, maritime, esports, music, TV & Film, education, beauty, medical technology, security, hemp, and fashion. Brian brings a wealth of knowledge and experience to any team with his drive, ethics, and passion of connecting executives around the globe. He ensures the company has a strategic pipeline of revenues, partners, and increased profitability with strong financing, banking, and accounting support.
Tony Muscarello
Advisor
Tony Muscarello is the President/CEO of Rainmaker Development Group, LLC. Rainmaker and it's subsidiaries provide sales, marketing and consulting services to retailers and suppliers in several market segments including Kiosk deployment, CBD Sales and Marketing and Video Gaming Terminal Sales and Management He has enjoyed a 35 year career working as a suppliers to retailers throughout North America, most recently as Executive Vice President of Cardtronics (The world's largest and most successful ATM operator) leading North American Retail Sales and Relationship Management for 13 years. During his tenure Cardtronics ATM count went from 20,000 ATM's in the US to nearly 250,000 ATMs worldwide. Muscarello served on The National Association of Convenience Stores Supplier Board of Directors for nearly a decade, serving as Chairman in 2001-2001.
Use of Proceeds
If the offering's maximum amount of $250,000 is raised:
| Use | Value | % of Proceeds |
| --- | --- | --- |
| Compensation for managers | $38,250 | 15.3% |
| Software Iterations (Updates) | $50,000 | 20.0% |
| Hardware engineering for Robot #1 | $5,000 | 2.0% |
| Product Development Robot #2 | $18,750 | 7.5% |
| PO for 200 new Robots | $112,625 | 45.1% |
| Email Marketing | $1,000 | 0.4% |
| Robot Insurance | $6,875 | 2.8% |
| Freight to LA | $2,500 | 1.0% |
| Vinyl Wrap for robots | $1,187 | 0.5% |
| Business expenses | $1,563 | 0.6% |
| Intermediary fees | $12,250 | 4.9% |
Terms
This is an offering of Class A units, under registration exemption 4(a)(6), in ACK Right Endeavors LLC, doing business as greenbox Robotics. This offering must raise at least $10,000 by January 18, 2021 at 11:58pm ET. If this offering doesn't reach its target, then your money will be refunded. greenbox Robotics may issue additional securities to raise up to $250,000, the offering's maximum.
$10,000 minimum
$12,317 raised
If the offering is successful at raising the maximum amount, then the company's implied valuation after the offering (sometimes called its post-money valuation) will be:
11,555,273 units
×
$0.75 per unit
$8,666,455implied valuation
Financials
greenbox Robotics' official name is ACK Right Endeavors LLC, so that's the name that appears in the statements below.
SEC Filings
The Offering Statement is a formal description of the company and this transaction. It's filed with the SEC to comply with the requirements of exemption 4(a)(6) of the Securities Act of 1933.
Understand the Risks
Be sure to understand the risks of this type of investment. No regulatory body (not the SEC, not any state regulator) has passed upon the merits of or given its approval to the securities, the terms of the offering, or the accuracy or completeness of any offering materials or information posted herein. That's typical for Regulation CF offerings like this one.
Neither Netcapital nor any of its directors, officers, employees, representatives, affiliates, or agents shall have any liability whatsoever arising from any error or incompleteness of fact or opinion in, or lack of care in the preparation or publication of, the materials and communication herein or the terms or valuation of any securities offering.
The information contained herein includes forward-looking statements. These statements relate to future events or to future financial performance, and involve known and unknown risks, uncertainties, and other factors, that may cause actual results to be materially different from any future results, levels of activity, performance, or achievements expressed or implied by these forward-looking statements. You should not place undue reliance on forward-looking statements since they involve known and unknown risks, uncertainties, and other factors, which are, in some cases, beyond the company's control and which could, and likely will, materially affect actual results, levels of activity, performance, or achievements. Any forward-looking statement reflects the current views with respect to future events and is subject to these and other risks, uncertainties, and assumptions relating to operations, results of operations, growth strategy, and liquidity. No obligation exists to publicly update or revise these forward-looking statements for any reason, or to update the reasons actual results could differ materially from those anticipated in these forward-looking statements, even if new information becomes available in the future.
Updates
Nov 16, 2020

Primary offering of $0.75

units at
Ask a Question
Proofread your comment before submitting: once it's posted, you can't edit or delete it. For the fastest help with the web site, email help@netcapital.com instead of commenting.
Looking to raise capital?
We can help turn your friends, family and customers into investors.
Learn more
Interested in more investment opportunities?
Browse all offerings currently available.
See more