Introduction
FANview Sports is an alternative to traditional fantasy sports that lets fans focus on their favorite team. Fans predict individual and team performances for their favorite team prior to each game to accumulate points. Sports fans care more about a favorite team than a fantasy team, and FANview offers a unique opportunity to play a competitive game to prove they know their team the best.
Reviews on Apple app store
Dallo306: Fresh and Fun.
"This might be the future of fantasy football. It is easy and fun yet keeps the competition going."
IntelKween:
"This is so much more fun than fantasy sports. I really only care about my team and now I can play a game that keeps me engaged with them!"
Cjk156: Future of Fantasy.
"This is such a great innovation in the genre of fantasy sports. The concept itself is genius."
Problem
The popularity of fantasy sports poses a fundamental problem. Sports are based on the competition among teams, while fantasy sports is focused on the performance of individual players. Currently, there are few opportunities for traditional fans, who are primarily interested in rooting for their favorite team, to play competitive fantasy games that take advantage of the fans knowledge of their own team.
There are about 60 million fantasy sports players, yet TV ratings and viewership, especially for the NFL, has been declining. We believe there are many fans that don't participate in fantasy sports because they only care about their favorite team. They may have superficial knowledge about the rest of the teams in the league and they certainly don't want to pick rival players for their fantasy team.
Finally, fantasy sports has never worked for college football. There are 130 NCAA Division 1 college football (FBS) teams. Given large college rosters, scattered schedule, mismatch games in and out of conference, have all hindered the development of fantasy college football.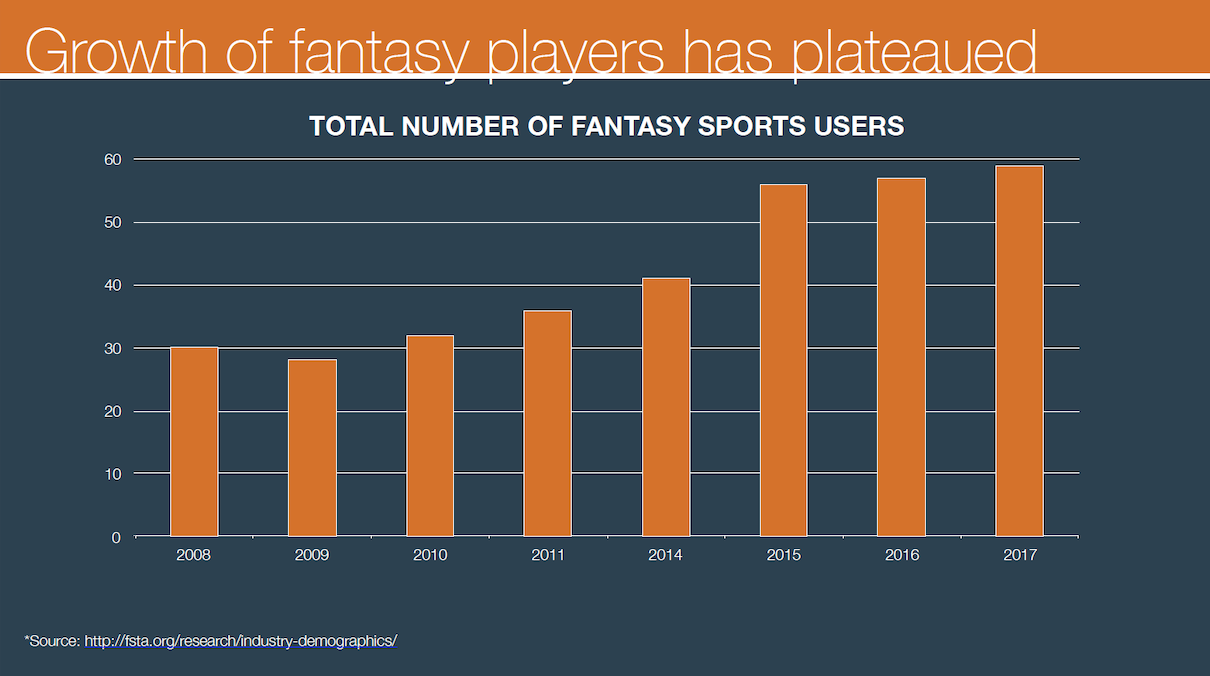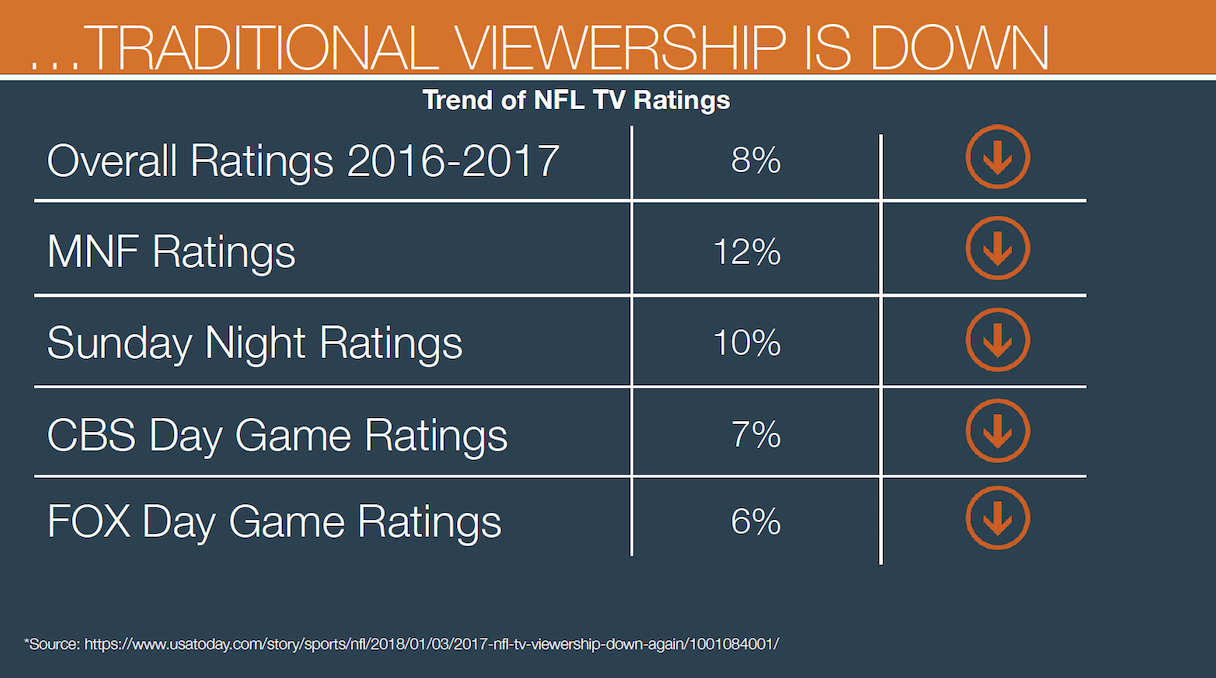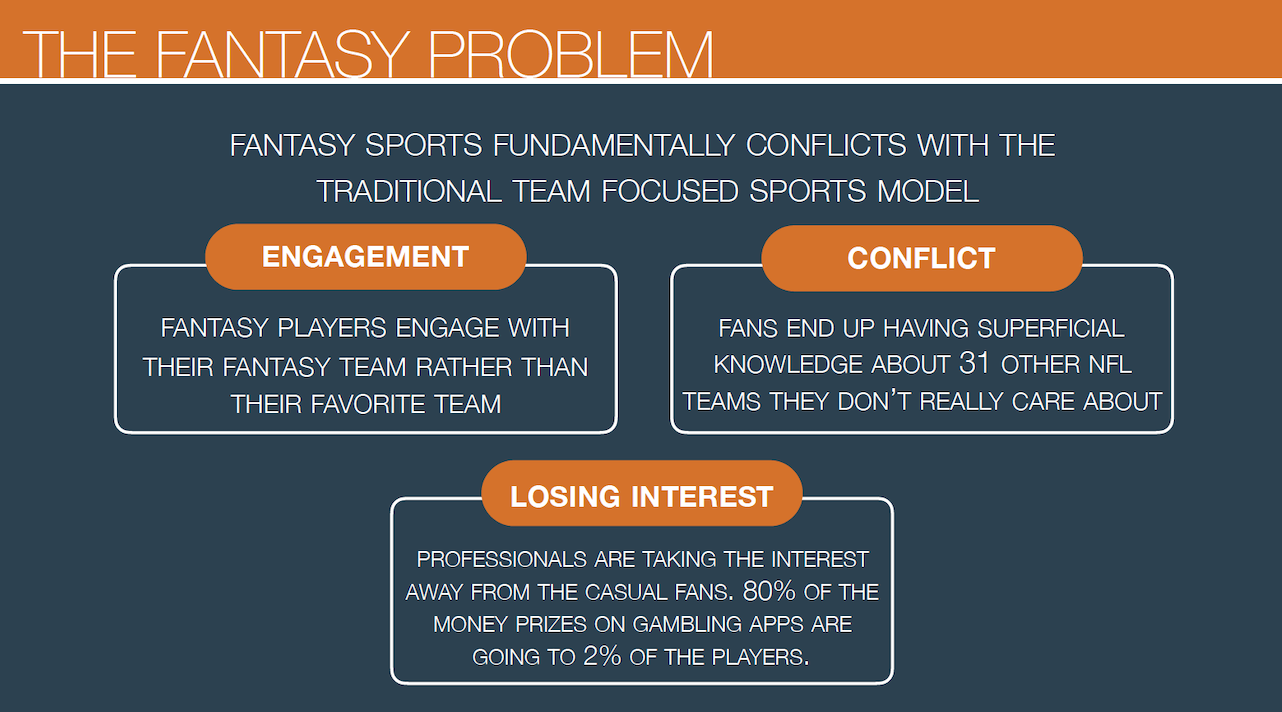 Solution
Team Focused:
FANview Sports offers a team-focused game with some of the familiar elements of fantasy sports, but it enables fans to engage more deeply with their favorite sports team. Fans compete with their friends and a broader community to show who knows their team best. The game lets fans apply their knowledge by predicting individual and team performances of their favorite team prior to each game and throughout the season.
The team you root for can be undefeated or not win one game - that does not affect your score in FANview Sports. The best FANview players make the most accurate predictions for their team's performances. For FANview football, some of the categories are team based including the number of passing yards or the number of touchdowns scored. Some categories are player based, such as which of my team's offensive players will have the most receiving yards, and which defensive player will have the most combined tackles. For example, if the FANview player thinks their team will score 0 touchdowns this week and their prediction is accurate the FANview algorithm gives them full points in that category because they were correct. Since the game relates to events that occur at any point in the contest and promotes engagement, FANview Sports encourages fans to watch an entire game, especially for their favorite team and to keep watching their team throughout the season regardless of their win/loss record.
Global League:
Fans are automatically enrolled in a Global League to see how they rank in multiple demographics in the game. Fans can see their ranking as a fan of a particular team, in their state, gender and age range.
Custom Leagues:
Fans are also encouraged to create or join Custom Leagues where you can compete with friends or select communities. Custom Leagues can be public or private. Custom Leagues can be as short as one week or as long as the whole season. Private Leagues can be as small as 2 FANview players or as large as you want. Public Leagues are open to anyone. For example, sports bars that want to promote competitions for their customers can create public leagues to attract fans to their venue.
College Sports:
FANview's gameplay applies extremely well to college sports. Fantasy sports has never worked for college football. We wanted to find a way to truly tap into the passion college students and alumni have for their schools. Students and alumni represent a natural community for competing on who knows their team best. The intense rivalry among schools, particularly within conferences creates competitiveness and excitement around who knows their team best.
For example, a fraternity at the University of Alabama can create a Custom Private League for the whole fraternity. All the students can play FANview Sports as the Alabama Crimson Tide. They will all be competing against each other to try and prove that they know their Alabama Crimson Tide the best. This is a great way to form competition amongst the fraternity, but also a way for all of them to engage with their favorite team together! They can play a weekly contest or can create a custom league that lasts the whole season.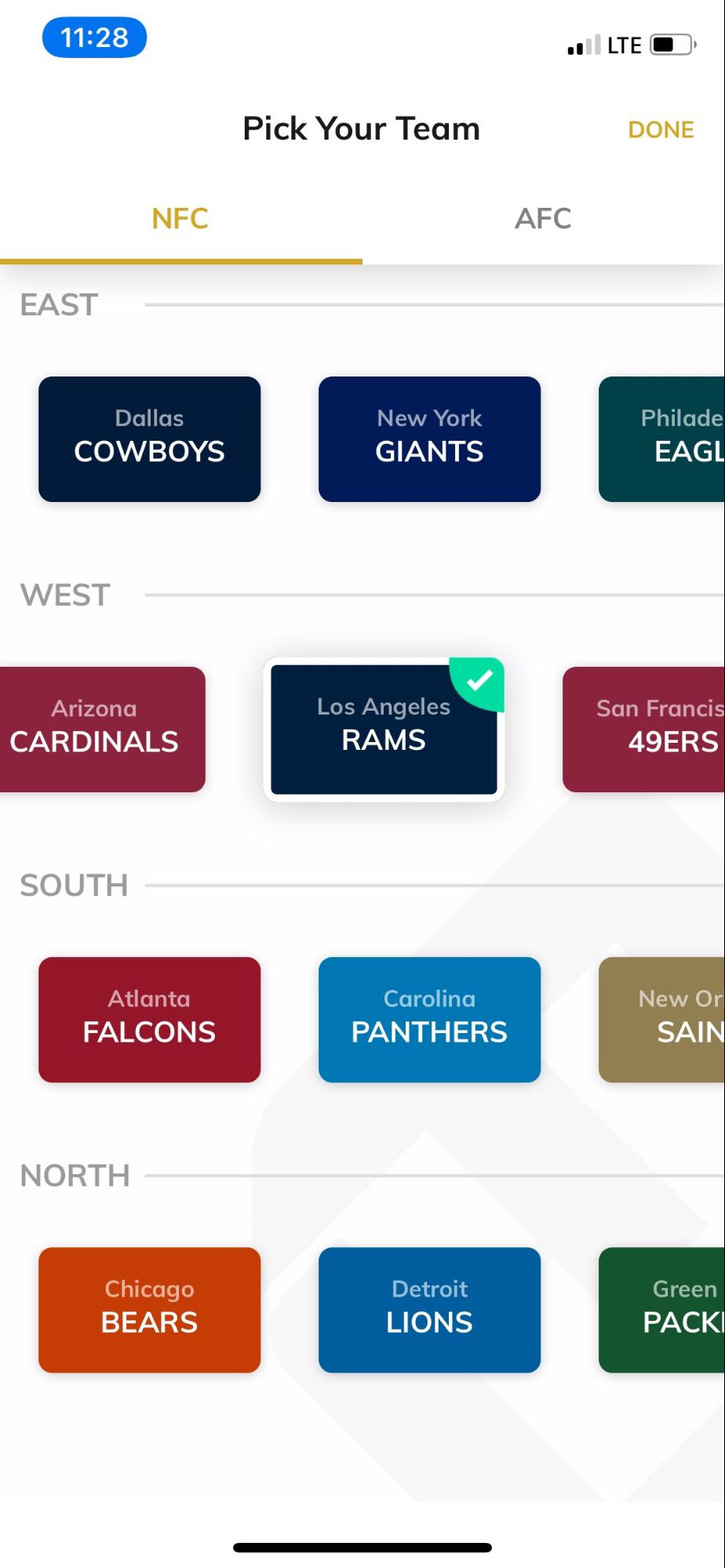 Success
We built FANview Sports for NFL football for the 2018 season for iOS and Android. We wanted to launch a beta to test the scoring system and algorithm. We launched the application in the middle of the 2018 NFL season and were able to acquire over 1100 users with almost no marketing budget. We bought social media advertising on Facebook and Instagram, spending no more than $50-$100 a day on limited targeted markets. Over the eight weeks when any ads were purchased, our targeting of potential users improved and we achieved an increasing number of downloads per dollar spent. The only feedback we received was favorable with unsolicited comments such as: "this will be the future of fan engagement as fans care more about a favorite team than a fantasy team and that this is a great innovation in fantasy sports."
Market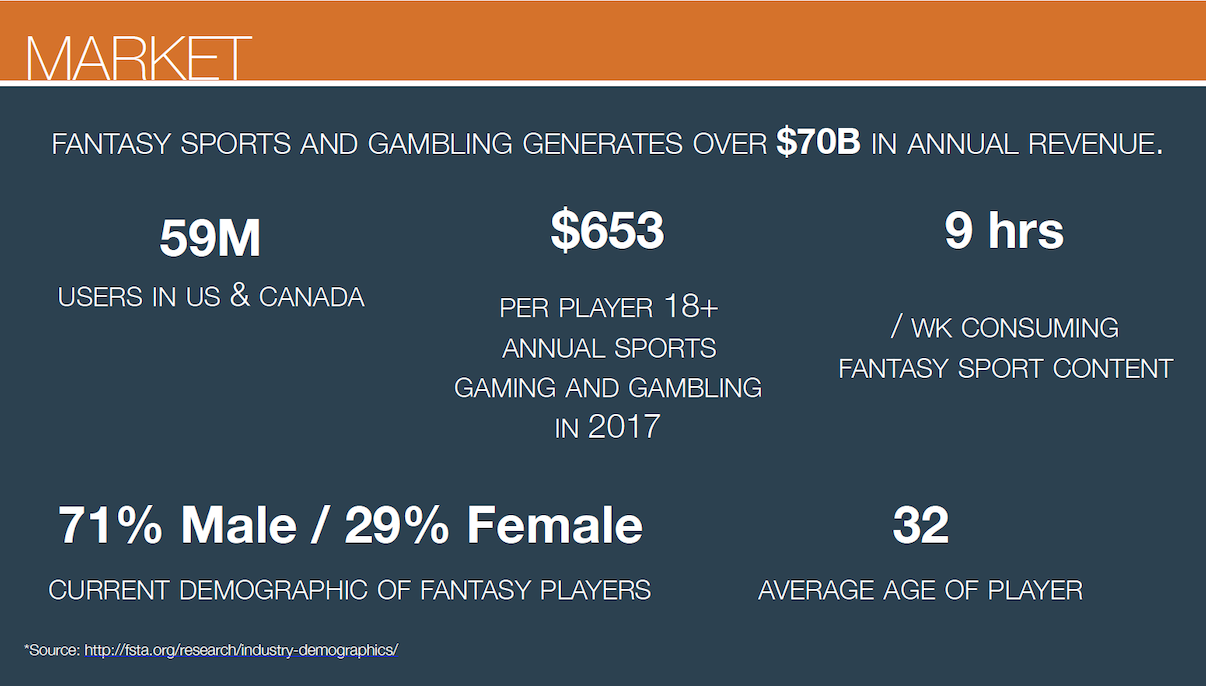 The business opportunity for FANview is based on building a large community of players who are identified by the team they root for.
One way FANview intends to monetize its player base is to offer professional teams the ability to increase fan engagement and fan loyalty. The FANview community could present immediate marketing opportunities for teams to connect with their geographically dispersed fan base.
Additionally the FANview community represents a targeted audience for marketing products and services to loyal team fans. We would expect to offer marketing opportunities directly within the application and also make our player list available. While our intention is to continue to offer the basic app free of cost, we have the potential to offer enhanced features at a premium price.
The FANview Sports algorithm can be used for a wide range of sports beyond football. NFL football is the first FANview sport and we will build next for NCAA college football. The FANview Sports model will work for many other major team sports.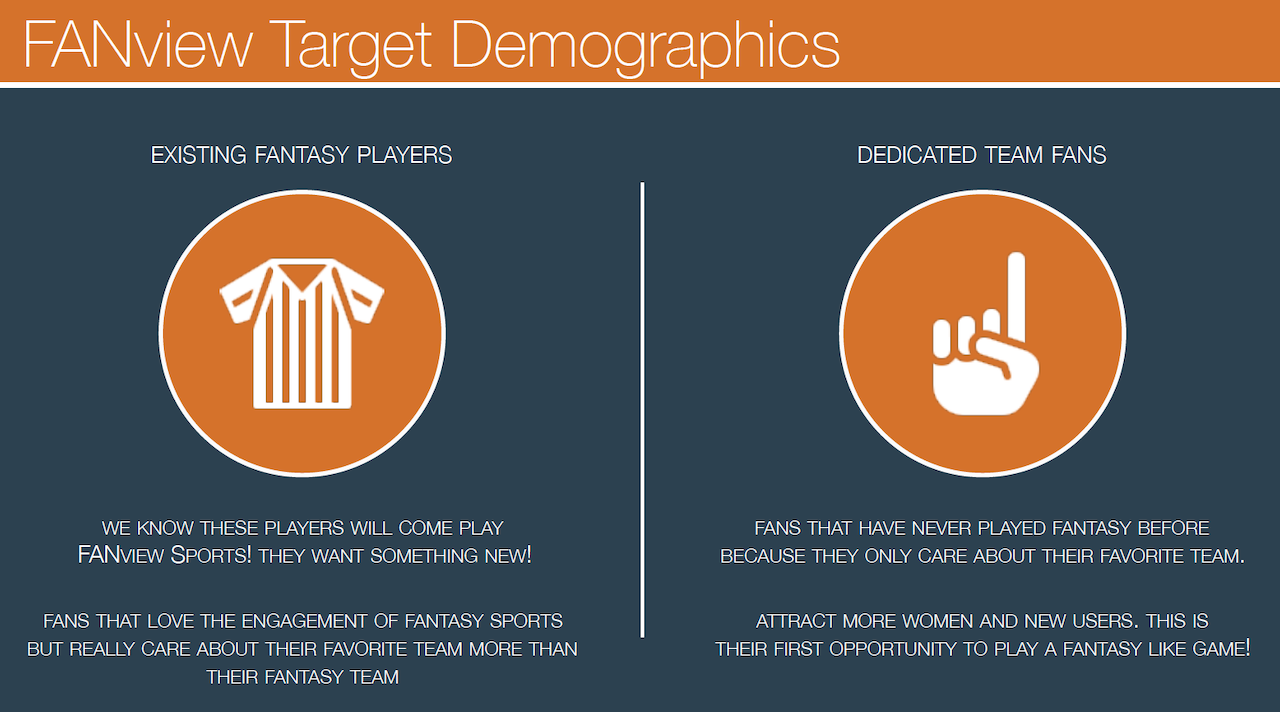 Competitive Landscape
As a unique team oriented game, we feel like the biggest competitive threat will be imitators who take notice of our success. We believe being early to market with this concept will allow us to build fan loyalty and to adapt and respond to competitive challenges.
The landscape of the industry appealing to people who want to play fantasy sports is large and dynamic. Most sports related games are fantasy based where individuals build their own teams from players around the league, and their team performance is based on the aggregate performance of the individual players on their team. Within the fantasy sports industry we group the firms into two categories.
First off are the casual traditional fantasy platforms that have existed for a long time. The big names are Yahoo, ESPN, CBS Sports Line and NFL.com. These are all free fantasy sports portals that have no betting option. These portals were monetized by advertising and selling products to the growing number of fans playing. The free fantasy sports portals have been losing popularity with the growth of the new daily fantasy products.
The second category is dominated by DraftKings and Fanduel, who are the two biggest firms in the daily fantasy applications today. Fans are incentivized by the opportunity to win prizes. There is growing awareness that casual players are at a significant disadvantage. It is understood that about 80% of the prizes are going to 2% of the players who play professionally, creating their own algorithms, injury predictors, and using other data intensive analysis. This gives them a large advantage over more casual players, particularly those who are team fans, have biases, and don't follow the full league as closely as they follow their favorite team.
At the moment, we find no fantasy like game that is geared to college football. Fantasy college football has never worked well because there are 130 main conference teams with up to 100 men rosters, making it too difficult to create a fantasy team. This is a particular good next step for FANview Sports. By allowing fans of major universities to participate and demonstrate their status as true fans, FANview provides a competitive gaming environment that can be found nowhere else. FANview Sports will work perfectly for the fanatic college fans.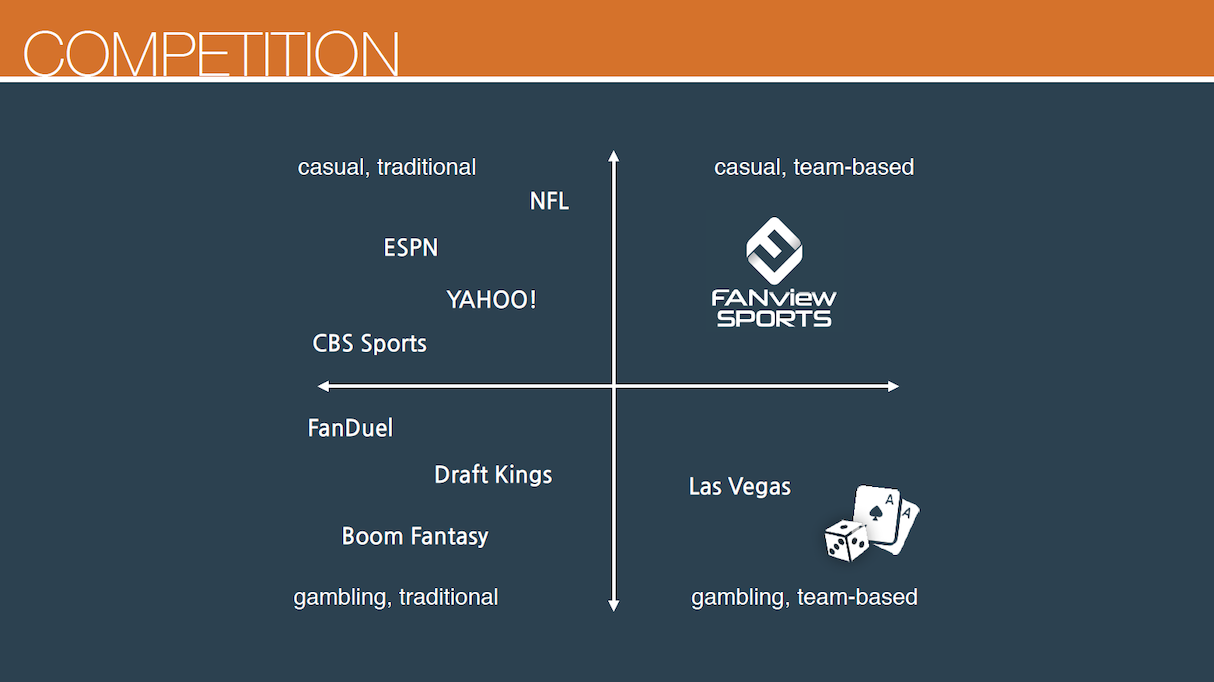 Business Model
Our business model is to use the free version of the game to build a large community of players, each identified with the team they root for. We care most about building a user base at this moment. Our plans are to monetize with advertisements and prizes.
Our user base will be attractive to teams who are looking to connect with their fan base who are often geographically dispersed far beyond the team's local region, and particularly to build on and reward their loyalty. Our user base may also be attractive to firms that want to market products that have a team orientation. Logoed products, tickets and travel packages may all benefit from identifying team loyal fans regardless of their geographic location. FANview plans to provide a way for venues such as sports bars to connect with fans and market to them, helping to build on the community that helps their business. There are many sports bars around the country that are themed around communities of fans other than local teams. For example, a Philadelphia Eagles bar in Santa Monica, CA.
To grow our user base, we plan to market heavily using social and digital media. We used that approach on an extremely limited basis during the later weeks of the 2018 NFL season, and generated over 1100 users. We are confident with a sustained and well funded campaign, we will reach and attract a large base of FANview players.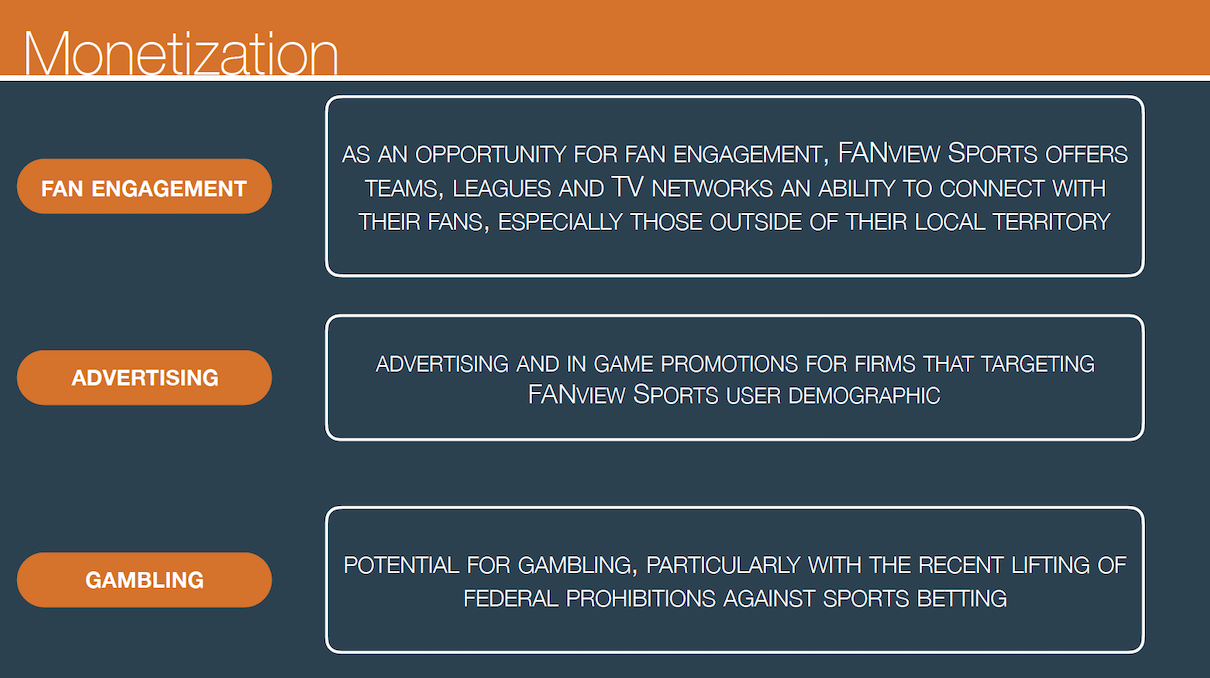 Progress
Based on our discussions with marketing professionals and firms, we believe that our best approach to customer acquisition is through digital and social media marketing. A combination of targeted direct advertising and the engagement of influencers has been recommended. For influencers we have focused on current and former professional athletes who have large social media followings.
As we are building a version for NCAA college football, we plan to have student brand ambassadors to spread awareness of the game on their campus. This has been proven effective for some well known apps and we think this is a particularly well suited approach to market FANview.
Operating Team
The founder Bradley Heimowitz grew up a huge sports fan and knew he always wanted to work in sports. He interned at the NFL league office in NYC in the digital media department while in college. He was hired by the Philadelphia Eagles as an intern in the front office for his first job out of college. He made personal and professional relationships with the athletes and moved to Los Angeles, CA to work at CAA as he thought he wanted to be a sports agent. He always loved the engagement aspect of fantasy sports but can jokingly admit that he is one of the worst fantasy sports players he knows. He is too biased toward his favorite team (The Philadelphia Eagles), so he has many conflicts when playing fantasy sports. His favorite team is more important than his fantasy team and decided to create a solution for fans to play a game and engage only with their favorite team.
To date, FANview Sports has leveraged third party providers to stay lean and create our MVP. Our development partner has developed many successful fantasy sports application and has many recommendations from the top fantasy sports API providers.
We are currently consulting with a number of individuals for marketing, sales and business development with the expectation that we will be hiring a support organization following a fundraise. Specifically with marketing, we have interviewed a number of marketing specialists and firms who have presented strategies which we would expect to move forward with one of them following a successful raise.
Bradley Heimowitz
Founder / CEO
Graduated from Rollins College with a BA in Critical Media and Cultural Studies in 2013. He has had great experiences working at the NFL, Philadelphia Eagles and CAA. He has built personal and professional relationships with athletes, team executives, media members and sports agents. The combination of all these experiences and relationships gave him the creativity to build FANview Sports.
4-5 day a week Soulcycle rider, loves to talk up his golf game, photographer as a hobby, aviation enthusiast
Investors
Daniel Heimowitz
Verify Financial Founder / CEO
Kenneth Friedrich
Hilltop Securities. Senior Managing Director, Fixed Income Securities
Keith Silverstein
Keith D. Silverstein & Associates, P.C. Managing Partner
Samuel Pilnik
Retired Surgeon
Use of Proceeds
Fund a marketing campaign
Enhance the NFL version
Build NCAA college football
Create a more extensive custom league section in the app.
API/Content Licenses
Terms
This is an offering of Common Stock, under registration exemption 4(a)(6), in FANview Sports Inc.. This offering must raise at least $10,000 by September 10, 2019 at 12:00pm ET. If this offering doesn't reach its target, then your money will be refunded. FANview Sports may issue additional securities to raise up to $250,000, the offering's maximum.
$10,000 minimum
$16,766 raised
If the offering is successful at raising the maximum amount, then the company's implied valuation after the offering (sometimes called its post-money valuation) will be:
7,039,540 shares
×
$0.36 per share
$2,534,234implied valuation
Financials
These financial statements have been reviewed by an independent Certified Public Accountant.
SEC Filings
The Offering Statement is a formal description of the company and this transaction. It's filed with the SEC to comply with the requirements of exemption 4(a)(6) of the Securities Act of 1933.
We're also required to share links to each of the SEC filings related to this offering with investors.
Updates
Sep 23, 2019

Sep 10, 2019

Primary offering closed, selling

shares

Sold $0.36 for a total of $16,766.28

shares at

Jun 28, 2019

Primary offering of $0.36

shares at

Jun 28, 2019
Transactions
Spread
| Bid quantity | Price | Ask quantity |
| --- | --- | --- |
*Some securities may only be transferred to accredited investors if issued within the past 365 days. Unaccredited investors are permitted to place bids, so some transfers may have yet to occur.
No recent secondary activity
Transaction Log
Ask a Question
Proofread your comment before submitting: once it's posted, you can't edit or delete it. For the fastest help with the web site, email help@netcapital.com instead of commenting.
Understand the Risks
Be sure to understand the risks of this type of investment. No regulatory body (not the SEC, not any state regulator) has passed upon the merits of or given its approval to the securities, the terms of the offering, or the accuracy or completeness of any offering materials or information posted herein. That's typical for Regulation CF offerings like this one.
Neither Netcapital nor any of its directors, officers, employees, representatives, affiliates, or agents shall have any liability whatsoever arising from any error or incompleteness of fact or opinion in, or lack of care in the preparation or publication of, the materials and communication herein or the terms or valuation of any securities offering.
The information contained herein includes forward-looking statements. These statements relate to future events or to future financial performance, and involve known and unknown risks, uncertainties, and other factors, that may cause actual results to be materially different from any future results, levels of activity, performance, or achievements expressed or implied by these forward-looking statements. You should not place undue reliance on forward-looking statements since they involve known and unknown risks, uncertainties, and other factors, which are, in some cases, beyond the company's control and which could, and likely will, materially affect actual results, levels of activity, performance, or achievements. Any forward-looking statement reflects the current views with respect to future events and is subject to these and other risks, uncertainties, and assumptions relating to operations, results of operations, growth strategy, and liquidity. No obligation exists to publicly update or revise these forward-looking statements for any reason, or to update the reasons actual results could differ materially from those anticipated in these forward-looking statements, even if new information becomes available in the future.
Looking to raise capital?
We can help turn your friends, family and customers into investors.
Learn more
Interested in more investment opportunities?
Browse all offerings currently available.
See more