Introduction
ecoText delivers a spectrum of digital textbooks ranging from classic premium titles to Open Educational Resources (OER).
We take the "Spotify" model one step further by eliminating the out of pocket cost students face to obtain their educational materials. Through the ecoText platform, we are creating an "eco-system" between publishers, universities, students, and faculty that generates economic, educational and environmental value for all parties involved. We are: "Creating Opportunity Through Affordability, One Textbook at a Time."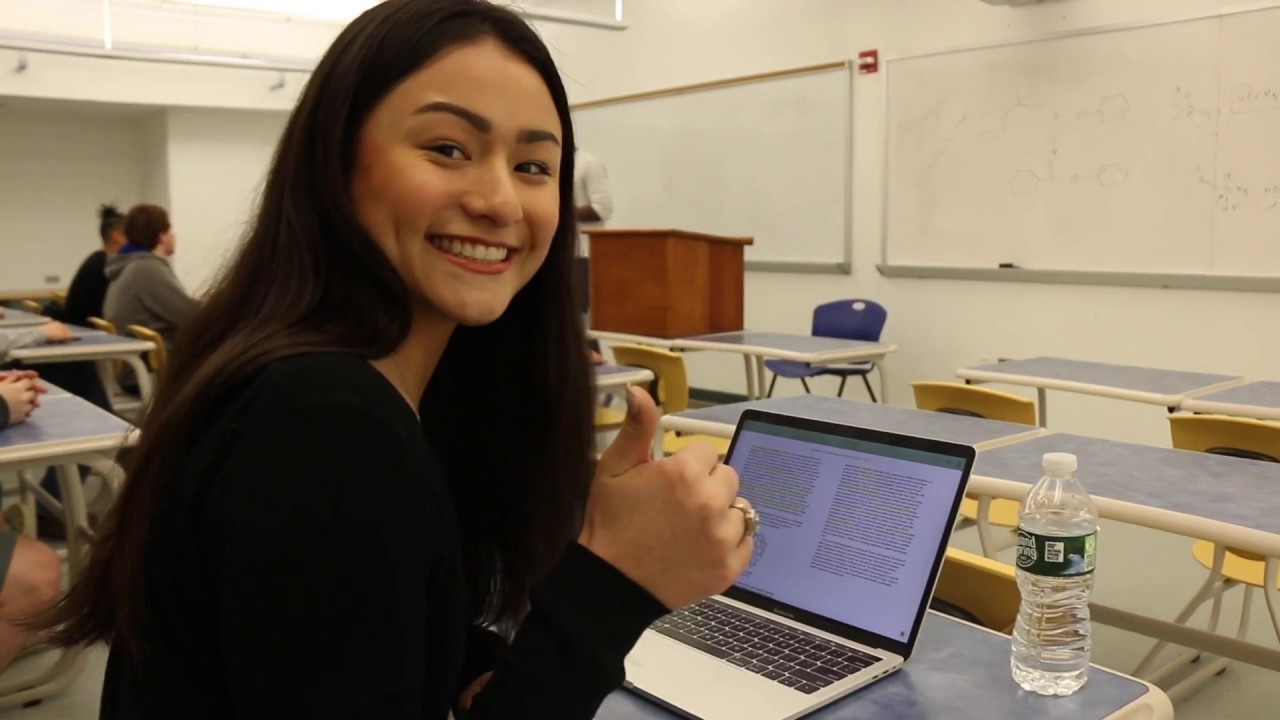 Deal Highlights
Diverse founders who are Forbes 30 Under 30 Summit speakers
Over 50,000 titles available
450 users representing 25 different universities
Anticipated paid pilot in Fall 2020
Problem
"The $300 textbook is dead,"
CEO of Pearson, John Fallon
Every semester, students and their parents struggle to find up-to-date and inexpensive textbooks. Textbooks are an additional out-of-pocket cost that is a growing burden for families that have to sacrifice a lot just to afford tuition alone.
Through customer discovery, we have identified that more than 65% of students choose not to purchase textbooks if they cannot obtain them either used or at a depreciated value. This directly affects students' ability to take full advantage of their education, according to research from the University of Minnesota.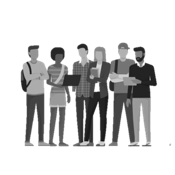 From our market research and thousands of student surveys, only 20% of students purchase new books directly from publishers or through authorized retail channels. Since textbook prices have increased by over 85% in the last decade according to the Bureau of Labor Statistics Census Bureau, more and more students are choosing to either rent or obtain their books used. These trends offer limited financial opportunities for the publishers as ebook adoption continues to grow in popularity.
Simultaneously, educators cannot deliver the highest quality education if all their students aren't equipped with the resources that they need to be successful. Ultimately, this domino effect impacts the publishers' revenue.
The rising costs of textbooks have enabled Open Education Resources to grow in popularity. However they remain to be underutilized because they aren't as technologically dynamic (lack of highlighting, bookmarking, etc).
Solution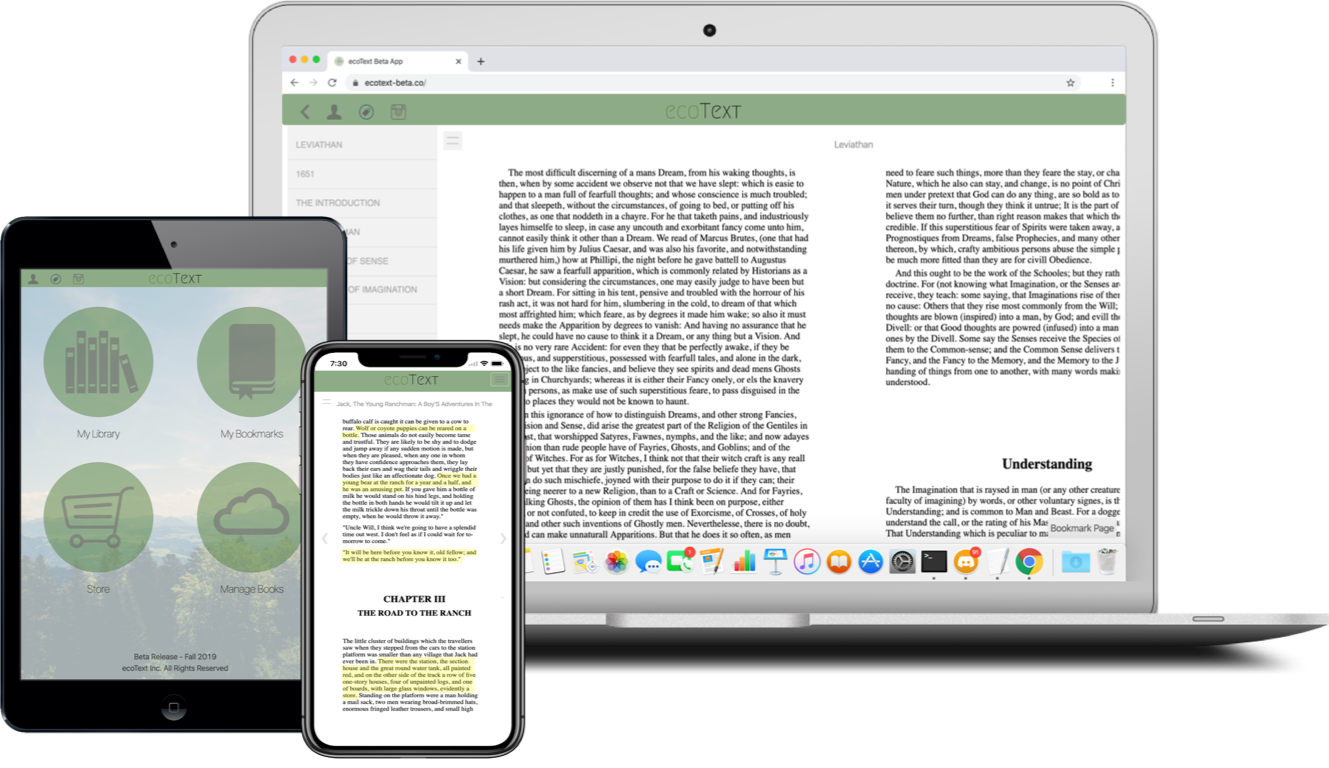 ecoText is streamlining the process of obtaining textbooks by increasing convenience and affordability for all. We bring the traditional textbook to life by allowing students to engage with publications on any smart device. The ecoText platform includes features like note-taking, bookmarking, highlighting, keyword searching, and more. ecoText was designed by modern students for modern students.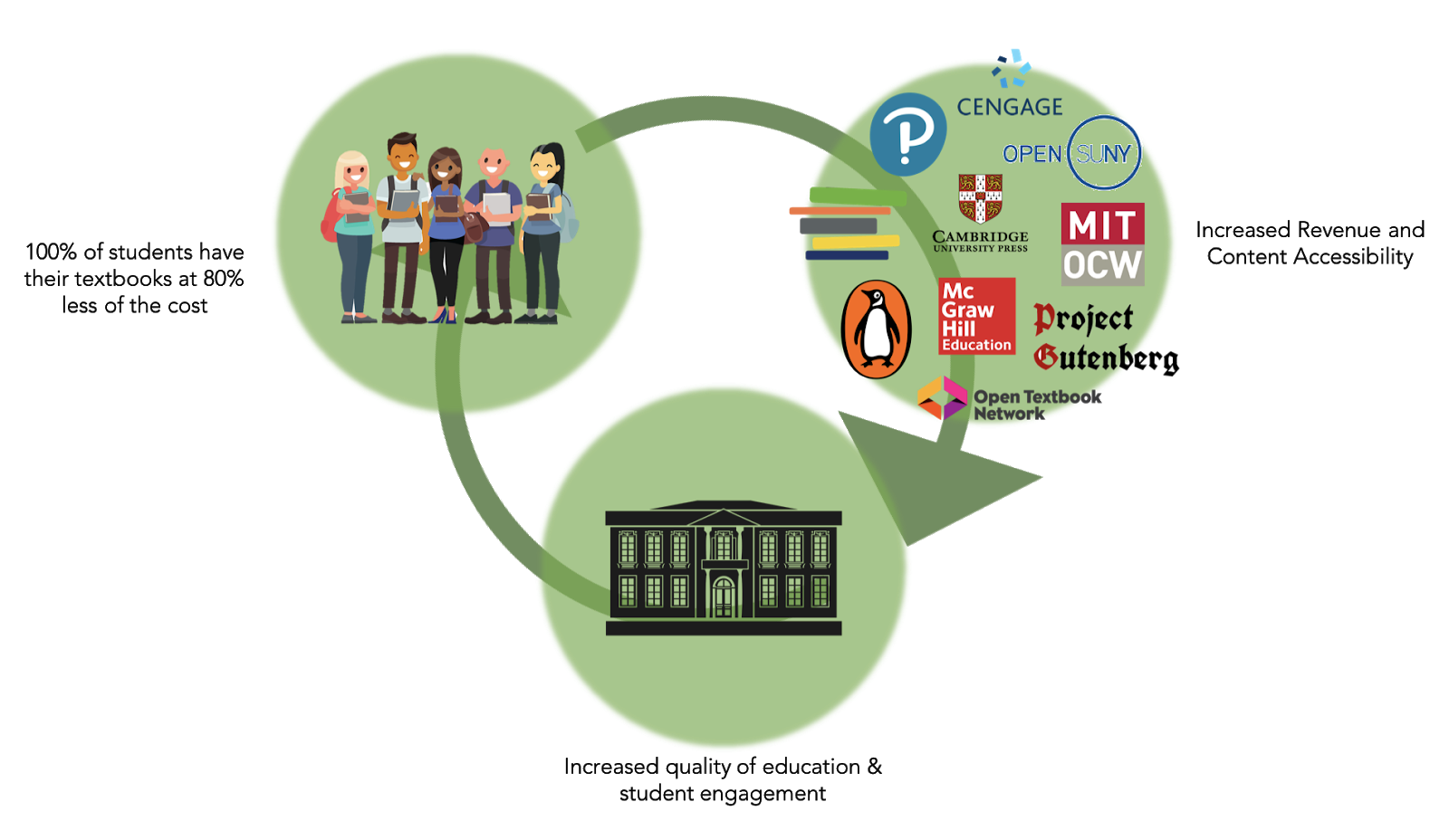 The expectation for students to purchase expensive books often places them in stressful financial circumstances. With ecoText, titles are made affordable and accessible, right in the palms of their hands. Additionally, our partners can increase their customer base 3x, multiplying sales and outreach in universities without deploying additional resources.
Market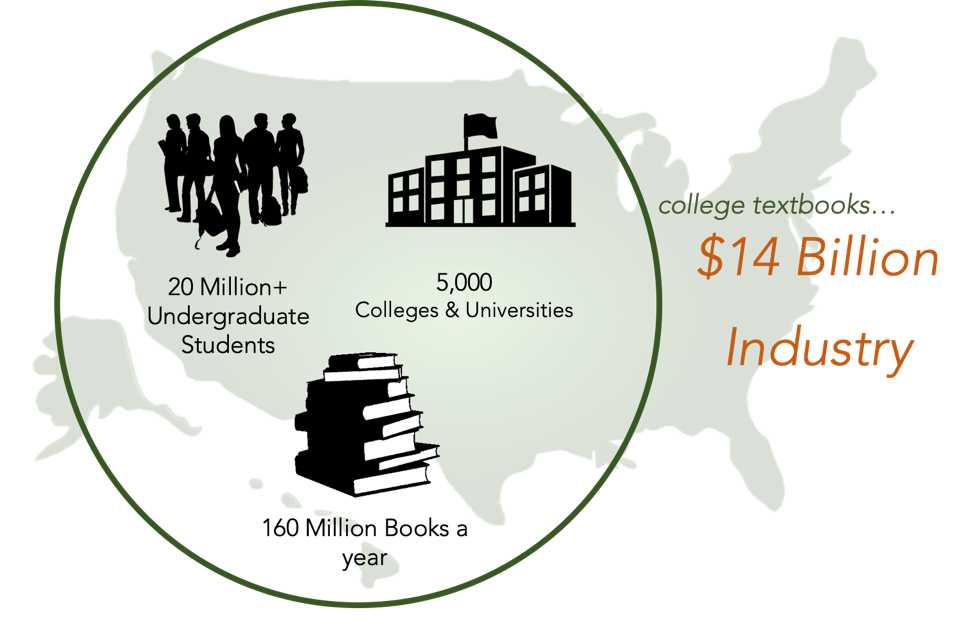 The collegiate textbook market has an estimated value of $14 billion dollars annually, as reported by the US Census Bureau. With the recent acceleration of digital textbook sales, the industry is at the forefront of encountering serious market disruption. Customer acquisition is abundant with little prospect of volatility, as there are an estimated 20 million undergraduate students every year in the United States alone.1 As publishers look to strengthen their digital sales channels, with little innovation in the industry and with classroom ebook utilization at only 6%, we are in prime position for disruption. As we continue to grow, the high school textbook market is another vertical that we can explore.
1 Recorded by the US Census Data
Competitive Landscape
The textbook market is vast and dynamic. Customers can purchase titles new, used, digitally, or for rent. With the cost of ecoText embedded within tuition, students and their families don't need to consider these other options.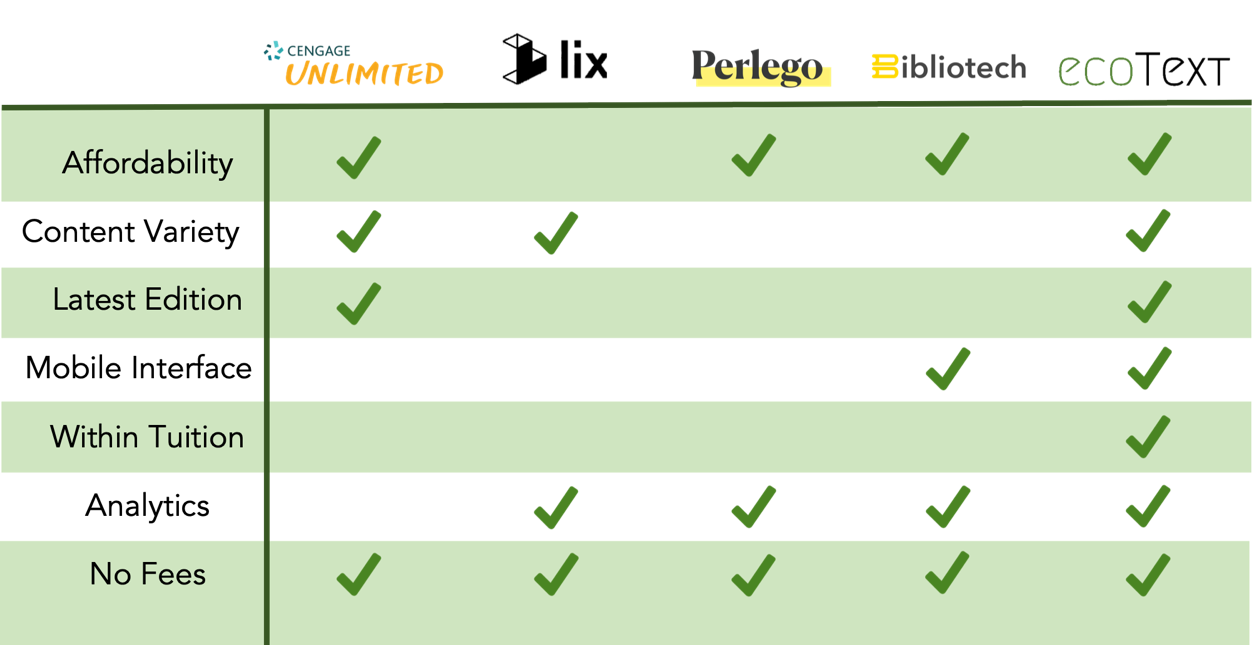 All direct competitors to ecoText reside internationally with the exception of Cengage Unlimited and Redshelf. Cengage's solution only includes Cengage books, while RedShelf focuses on course work. Lix, Perlego, and Bibliotech are all similar subscription model startups that operate in different educational climates where students typically don't experience the same problem of overpriced textbooks.
Business Model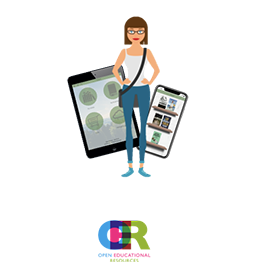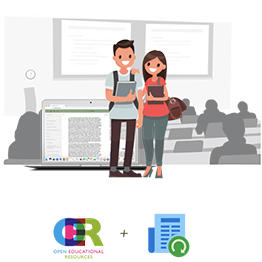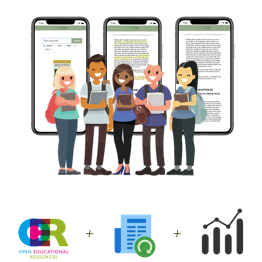 ecoText is aggregating paid licenses with the growing world of Open Educational Resources to enhance our user experiences and increase our digital library. With our technology, students and professors will be able collaborate inside and outside of the classroom.
Our business model offers 3 different tiers: Freemium, Premium & Strategic Partnerships. Freemium delivers immediate value to students and professors with no financial obstacles. Users are able to engage with an aggregate library of OER titles and take advantage of the application's features. Premium, broadens the user's digital library to grant access to non OER titles at a semester subscription that can be provided through inclusive access (loans, scholarships or grants).
Ultimately, our team seeks to develop strategic deals (B2B) with academic departments, high schools, universities, etc. where every student within that group would be equipped with an ecoText premium account. Additionally ecoText will be able to share insights on how their students are engaging with the content in and out of the classroom. The technological features of ecoText truly increase in value as the number of paid licenses within such communities grows. Our team is recognizing the potential opportunity to deliver analytical data packages to content owners (publishers, OER content creators) as an additional revenue source as well.
Because of our ecological footprint, with a medium sized school with approximately 15,000 students the environmental relief is profound. The environmental impact equates to saving a forest the size of Boston's iconic Fenway park annually, helping to alleviate the 2% of total solid waste that textbooks contribute today. Additionally with no printing and shipping costs through ecoText's digital delivery, publishers benefit abundantly with savings on their supply chain processes.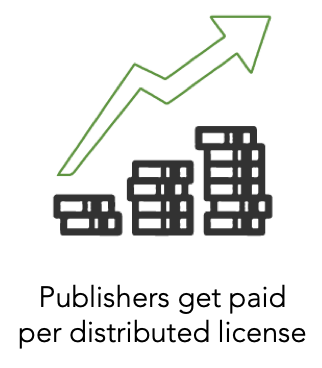 Progress
The ecoText platform is currently in Beta, allowing students to take advantage of our digital library with 50,000 titles for free. We have been strategically leveraging our library with university departments whose courses are already utilizing our books.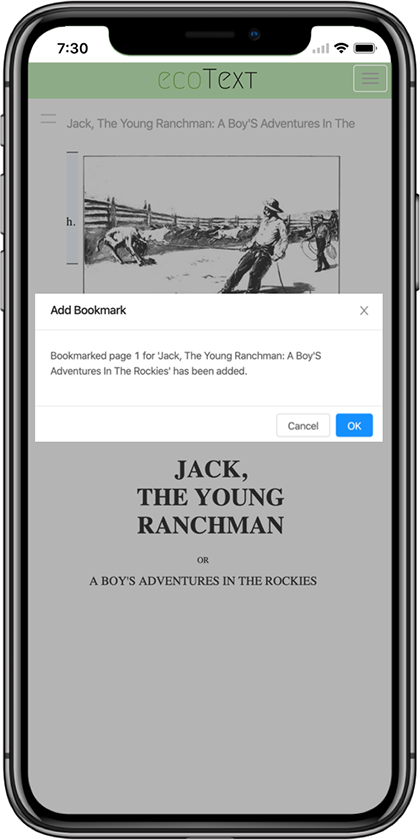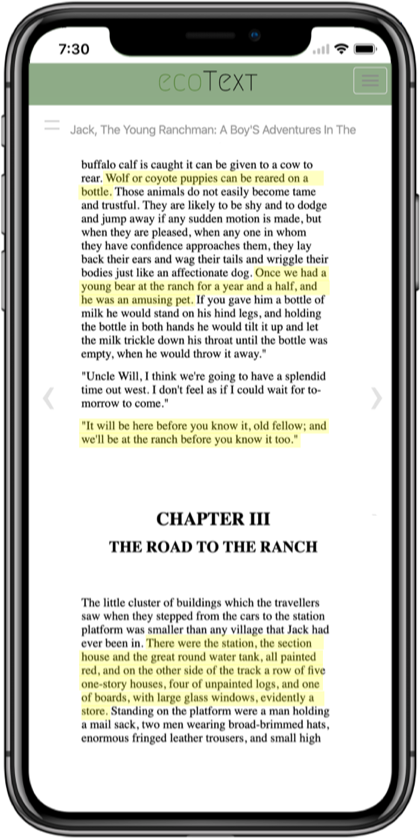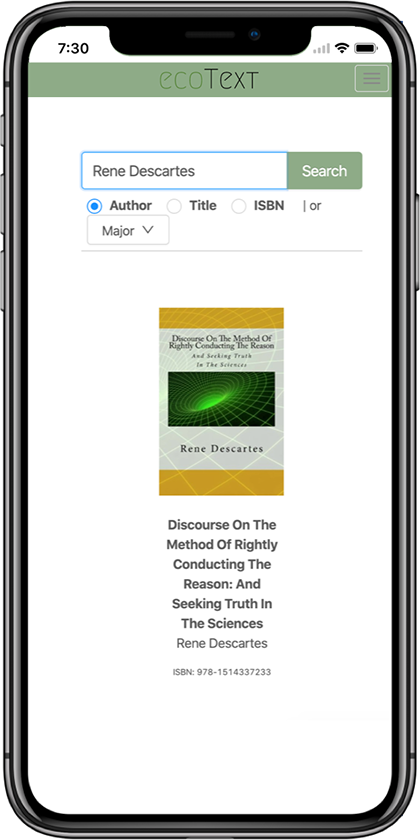 We have over 450 current users that represent 25 different universities & colleges from Boston University, Howard University, Arizona State University and Alaska Bible College. We have been learning constantly and our development team has been diligently refining the product by solving pain points for the anticipated paid pilot in Fall 2020 when ecoText 3.0 will be released with highly demanded collaborative features. The feedback and testimonials of the current Beta will help propel ecoText into new corners of the country. To enrich our library, we are forming partnerships with content creators to host their materials as well as academic journals, papers and publications.
Our beta application has helped us overcome the hurdles associated with university sale cycles. Student feedback has already indicated that they would want the school or department to pay for the service. Professors have seemed moved by this student feedback and see the value of having our technology as a part of their classroom. To assist with this "bottom-up" approach, we will continue our current giveaway and other strategies to bolster student interest and engagement (we are rewarding top users this semester with "mystery boxes" customized by the founders).
Testimonials
"A monumental goal in education is to provide social and economic upward mobility. When students have a surge of extra unexpected pricey costs, like hundreds of dollars of textbooks on top of tuition, how are they supposed to break their socioeconomic stratosphere? When students are provided these materials like textbooks online and subsidized by the school, this idea is proactively shrinking our economic gap because students don't have to limit their ability to take certain classes because the materials are too expensive."
Gloria Robinson
BU Student CO '22 and Host of "Go Off", a Podcast focused on the Gen Z perspective
"The problem of students and families affording textbooks is real. Due to unexpected expenses caring for ill parents, my family truly struggled to get what my daughter needed for her classes. With many textbooks well over $400, a course load of 5 classes per semester can equal an additional $4,000 to $5,000 per year. The system is rigged because buying used textbooks is not a viable option due to the online access codes being single use or obsolete in the secondary market. My daughter tried to share books, read the professor's books, struggled with assignments because she had to make do with an older version and incurred more student debt because of this problem. My daughter even went to her Dean, but no aid was available. This is a real world problem shared by many that ecoText would address."
Jeanine Ulaskiewicz
UNH Alumni and Parent
Team
Advisors and Investors
Thomas Hazel
CTO of CHAOSSEARCH
Thomas is a serial entrepreneur based in Boston, MA and is currently on his latest venture CHAOSSEARCH. He is always tackling current and large computer science problems in the industry. Mr. Hazel has been instrumental in the ecoText's progression, technological strategy and ensuring the team has the tools necessary to adequately scale. He was recently inducted into the University of New Hampshire Entrepreneur Hall of Fame and his involvement with the current success of ecoText is invaluable.
Ian Grant
Director of Entrepreneurship Center at the University of New Hampshire
Serial entrepreneur himself and now helps students everyday in academic settings turn their vision into reality. Ian Grant has seen ecoText in its earliest stages. Helped the team with strategy, execution and pivots. Ian has been essential in helping the team acquire non-dilutive funding and expanding the network of the team to grow in settings the team founders would normally not have direct access to.
Use of Proceeds
If the offering's maximum amount of $255,000 is raised:
| Use | Value | % of Proceeds |
| --- | --- | --- |
| Legal Fees | $10,000 | 3.9% |
| Working Capital | $5 | less than 0.1% |
| V3 Application Development | $135,000 | 52.9% |
| Management Services | $9,000 | 3.5% |
| Digital Book Licenses | $10,000 | 3.9% |
| Executive Compensation | $75,000 | 29.4% |
| Marketing | $3,500 | 1.4% |
| Intermediary fees | $12,495 | 4.9% |
Terms
This is an offering of Common Stock, under registration exemption 4(a)(6), in ecoText, Inc, doing business as ecotext. This offering must raise at least $10,000 by September 1, 2020 at 11:59pm ET. If this offering doesn't reach its target, then your money will be refunded. ecotext may issue additional securities to raise up to $255,000, the offering's maximum.
If the offering is successful at raising the maximum amount, then the company's implied valuation after the offering (sometimes called its post-money valuation) will be:
9,112,310 shares
×
$0.30 per share
$2,733,693implied valuation
Financials
ecotext's official name is ecoText, Inc, so that's the name that appears in the statements below.
These financial statements have been reviewed by an independent Certified Public Accountant.
SEC Filings
The Offering Statement is a formal description of the company and this transaction. It's filed with the SEC to comply with the requirements of exemption 4(a)(6) of the Securities Act of 1933.
Understand the Risks
Be sure to understand the risks of this type of investment. No regulatory body (not the SEC, not any state regulator) has passed upon the merits of or given its approval to the securities, the terms of the offering, or the accuracy or completeness of any offering materials or information posted herein. That's typical for Regulation CF offerings like this one.
Neither Netcapital nor any of its directors, officers, employees, representatives, affiliates, or agents shall have any liability whatsoever arising from any error or incompleteness of fact or opinion in, or lack of care in the preparation or publication of, the materials and communication herein or the terms or valuation of any securities offering.
The information contained herein includes forward-looking statements. These statements relate to future events or to future financial performance, and involve known and unknown risks, uncertainties, and other factors, that may cause actual results to be materially different from any future results, levels of activity, performance, or achievements expressed or implied by these forward-looking statements. You should not place undue reliance on forward-looking statements since they involve known and unknown risks, uncertainties, and other factors, which are, in some cases, beyond the company's control and which could, and likely will, materially affect actual results, levels of activity, performance, or achievements. Any forward-looking statement reflects the current views with respect to future events and is subject to these and other risks, uncertainties, and assumptions relating to operations, results of operations, growth strategy, and liquidity. No obligation exists to publicly update or revise these forward-looking statements for any reason, or to update the reasons actual results could differ materially from those anticipated in these forward-looking statements, even if new information becomes available in the future.
Updates
Sep 2, 2020

Primary offering finalized, selling

shares

Sold $0.30 for a total of $161,307

shares at

Apr 24, 2020

Primary offering of $0.30

shares at
Ask a Question
Proofread your comment before submitting: once it's posted, you can't edit or delete it. For the fastest help with the web site, email help@netcapital.com instead of commenting.
Looking to raise capital?
We can help turn your friends, family and customers into investors.
Learn more
Interested in more investment opportunities?
Browse all offerings currently available.
See more