Introduction
College Coaching Network provides mobile guidance counseling to students in need of scholarships, grants or endowments through a virtual scholarship app.
Recommendations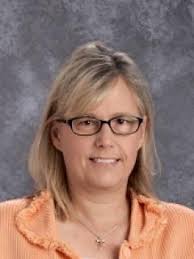 "College Coaching Network helps our students with the college planning process through a mobile app. They have been a value add to our school district."
Jennifer Price-Grandview
C4 School District Principal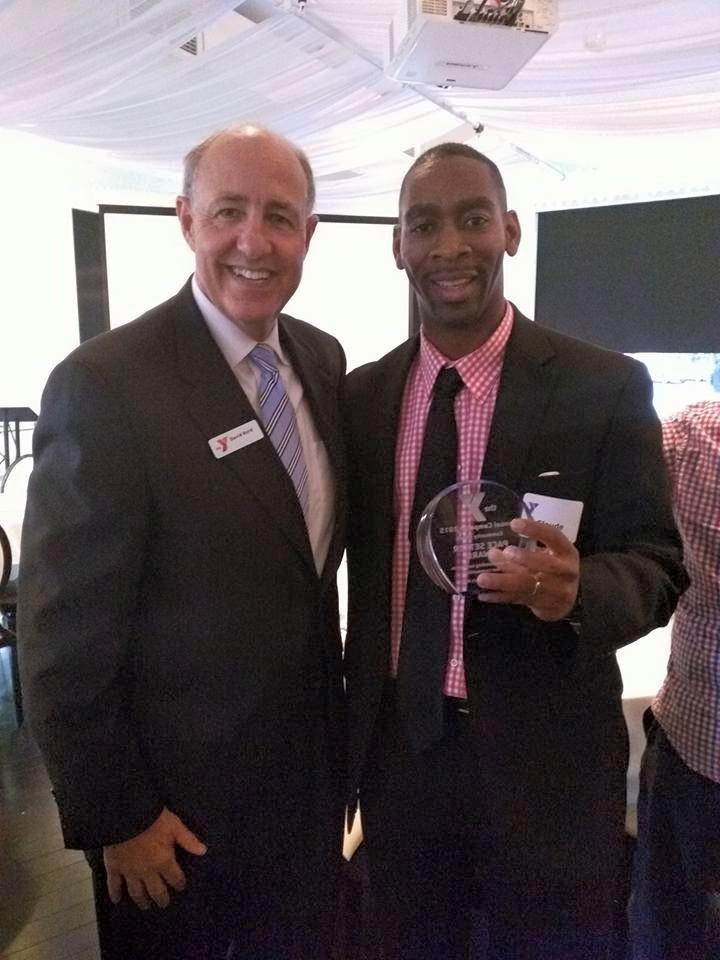 College Coaching Network's Scholarship Program won our Spirit of Service Award.
CEO-David Byrd
YMCA Spirit of Service Award Banquet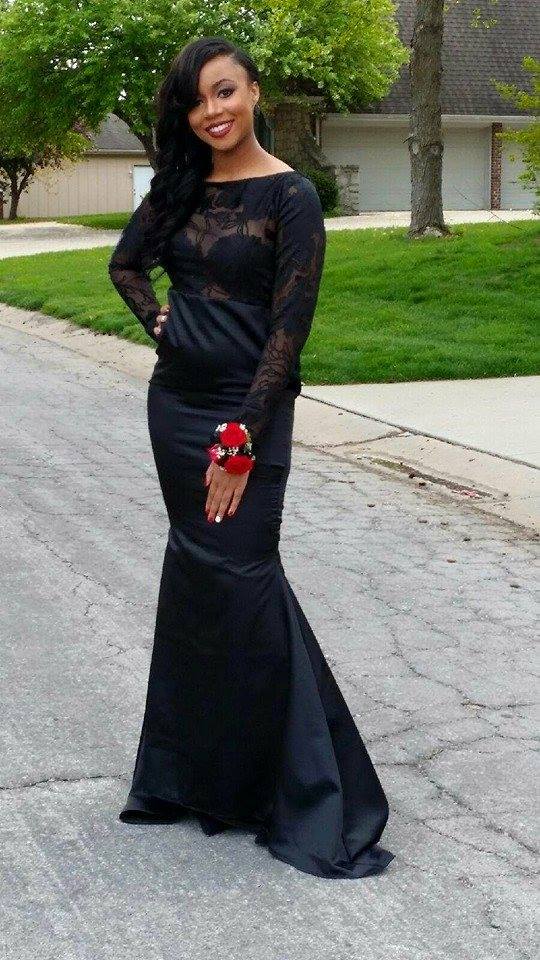 "College Coaching Network's college planning program really helped me navigate through the college planning process, great resource"
Jocelyn Hamilton
2017 Grandview High School Graduate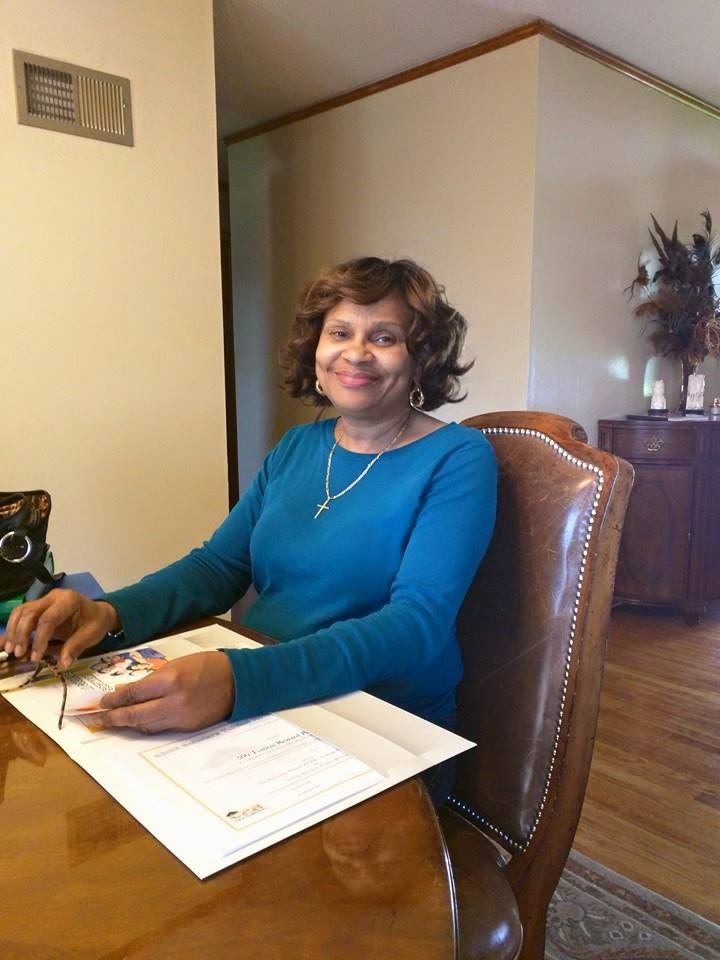 "College Coaching Network helped me organize better than my excel spreadsheets. A one-stop-shop."
Venita Fain
Grandparent
Problem
College cost has sky-rocketed by over 500% since 1982. The average cost for a public University is $25,000 per year and a private University is upward to $50,000 per year. The average amount of savings a family has to offset these expenses is only $5,000 per year. Families inability to keep pace with the increasing tuition and fees has forced students into taking on student loan debt. Student loan debts have risen to over $1.52 trillion and continue to grow. Students are bogged down with so much debt that they can't pursue entry level positions in areas they are gifted in. Students know they only have 6 months after graduation and then the burden of student loan repayments begins.
Key Facts:
Student to guidance counselor ratios are upward to 1,000:1 in some states. The national average is 470:1.
Students feel overwhelmed and need guidance more than ever before.
Guidance counselors are being stretched beyond the core task they typically perform. They are being stretched into helping with suicide prevention, gun violence and anxiety issues, teenage pregancy and bullying just to name a few.
The average amount of time a student will spend with their guidance counselor over their entire high school career is 33 min.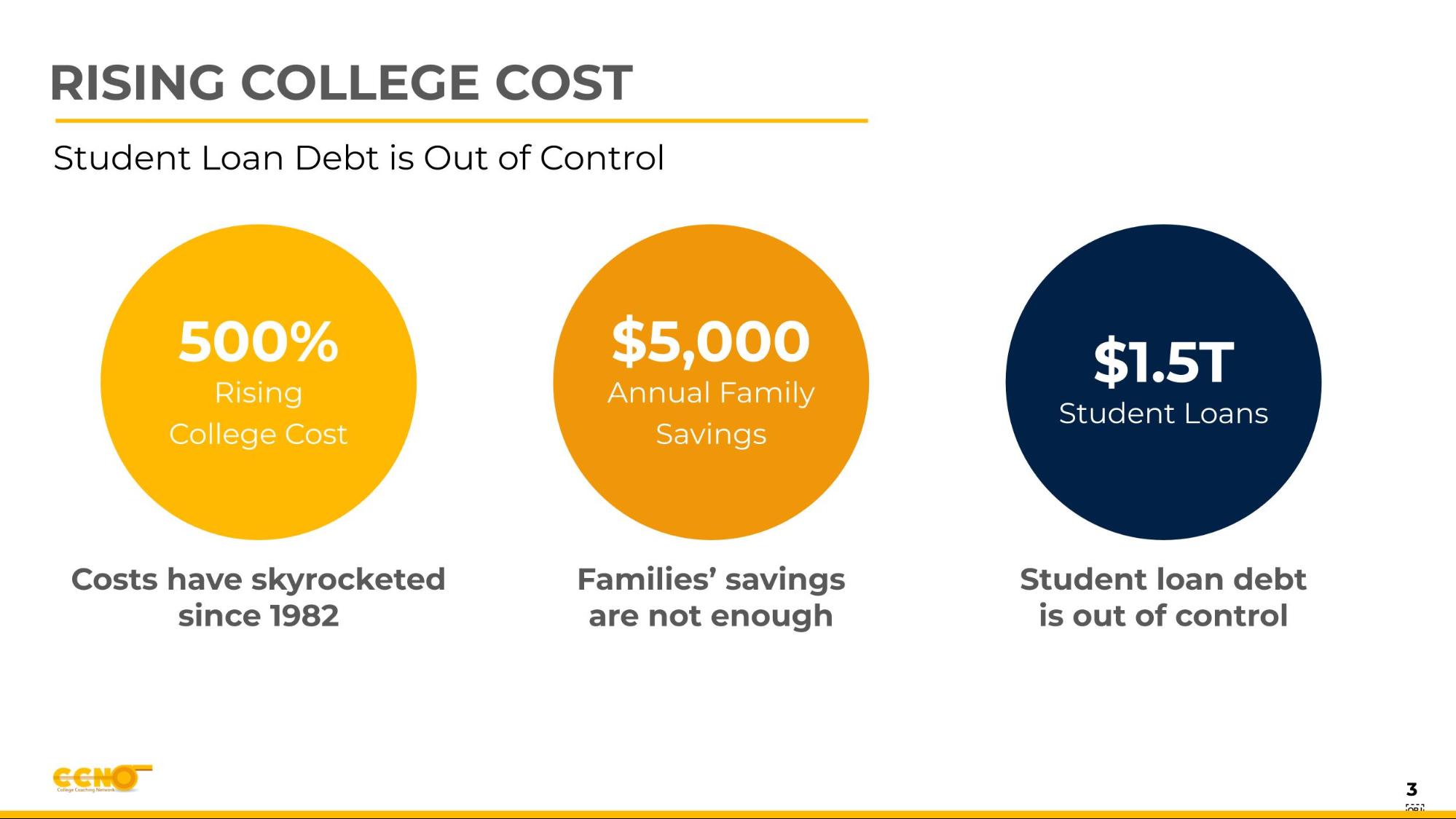 Solution
College Coaching Network was created to continue the conversation, or re-engage students, with the college counseling experience through their mobile device. Our mission is to help students discover their purpose in life, transition financially into that purpose, and to help them financially flourish while serving that purpose.
We understand that the majority of students today use some sort of technological device. Android's, Iphones, tablets, laptops and etc. are ubiquitous amongst highschool students today. We designed our program to meet students where they are and allow them the flexibility to tap into a mobile guidance counseling experience 24/7.
We have designed a college roadmap experience that helps students:
Take a career Assessment test
Target college's that fit their unique gifts and talents
Research the pay for their potential majors in college
We have the students complete a lifestyle assessment test (this test allows them to plan out a future budget and see if this career path will fund their ideal lifestyle).
College Selection
Financial Aid Reports and discovering funding gaps
Funding Gap Training on Private Scholarships, Grants and Endowments
Training on how to pursue scholarships and reduce student loans
Virtual College Fairs that allow students to engage with Universities through the mobile app and obtain scholarships through the virtual college planning experience.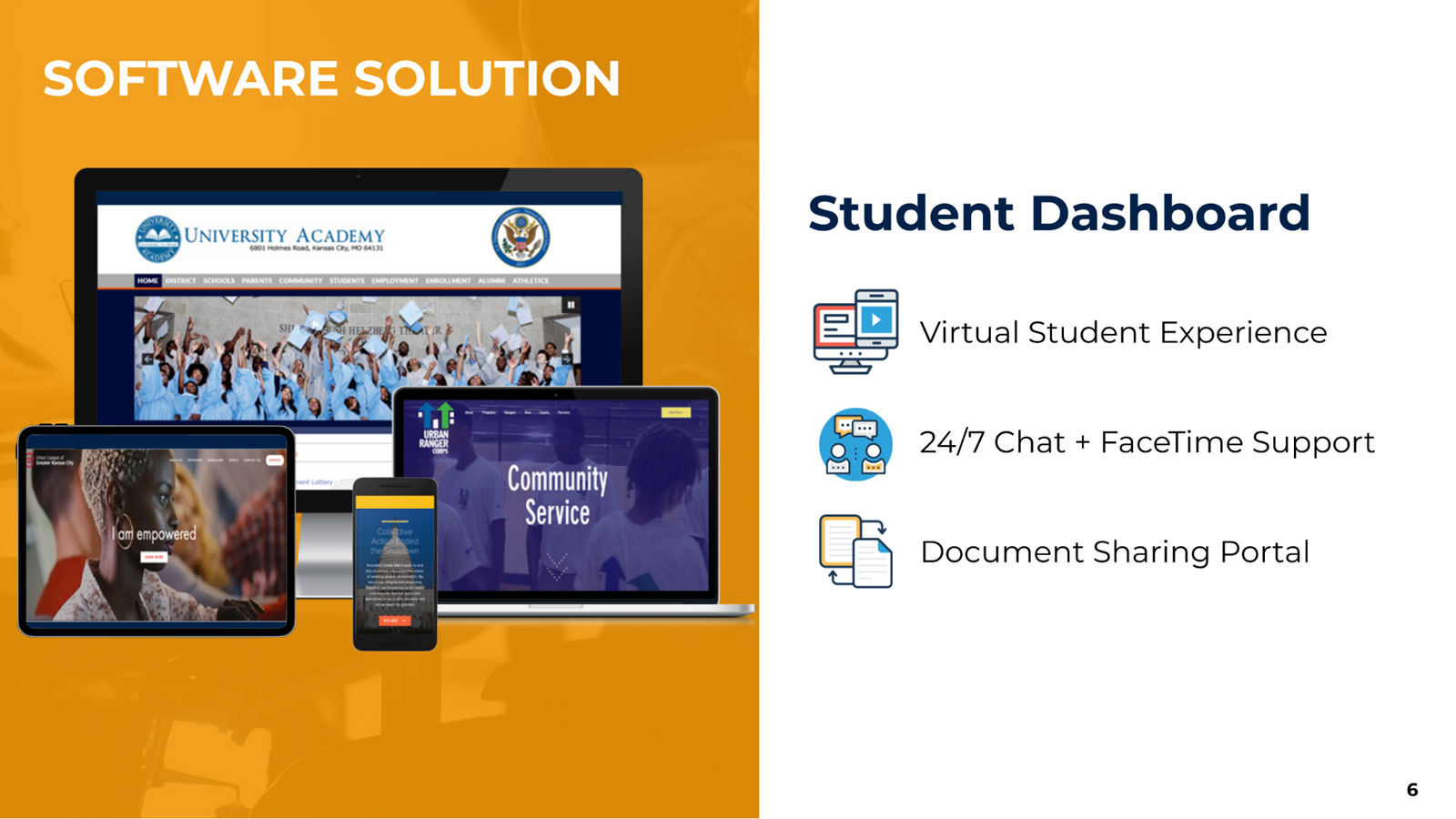 Market
Our target market consists of High Schools, Youth Organizations, and Employee Benefits programs.
Our program was not created to replace high school guidance counselors, but to offer them tools and resources they can plug their students into. This can reduce some of their workload and provides additional value to each student.
Youth organizations often work from tight budgets and often don't have the resources or manpower to create or maintain a scholarship program. College Coaching Network is a plug and play solution that they can use to provide college planning resources to their youth members.
Corporations today typically offer 529 plans to employees to help with college planning, but many employees are still pressured into utilizing their retirement resources to help their children obtain their dream of going to college. Offering a scholarship program to their employees makes employers more competitive in their employee benefits package. Having a unique benefit package helps companies retain key employees and helps reduce loans against their companies 401k plans.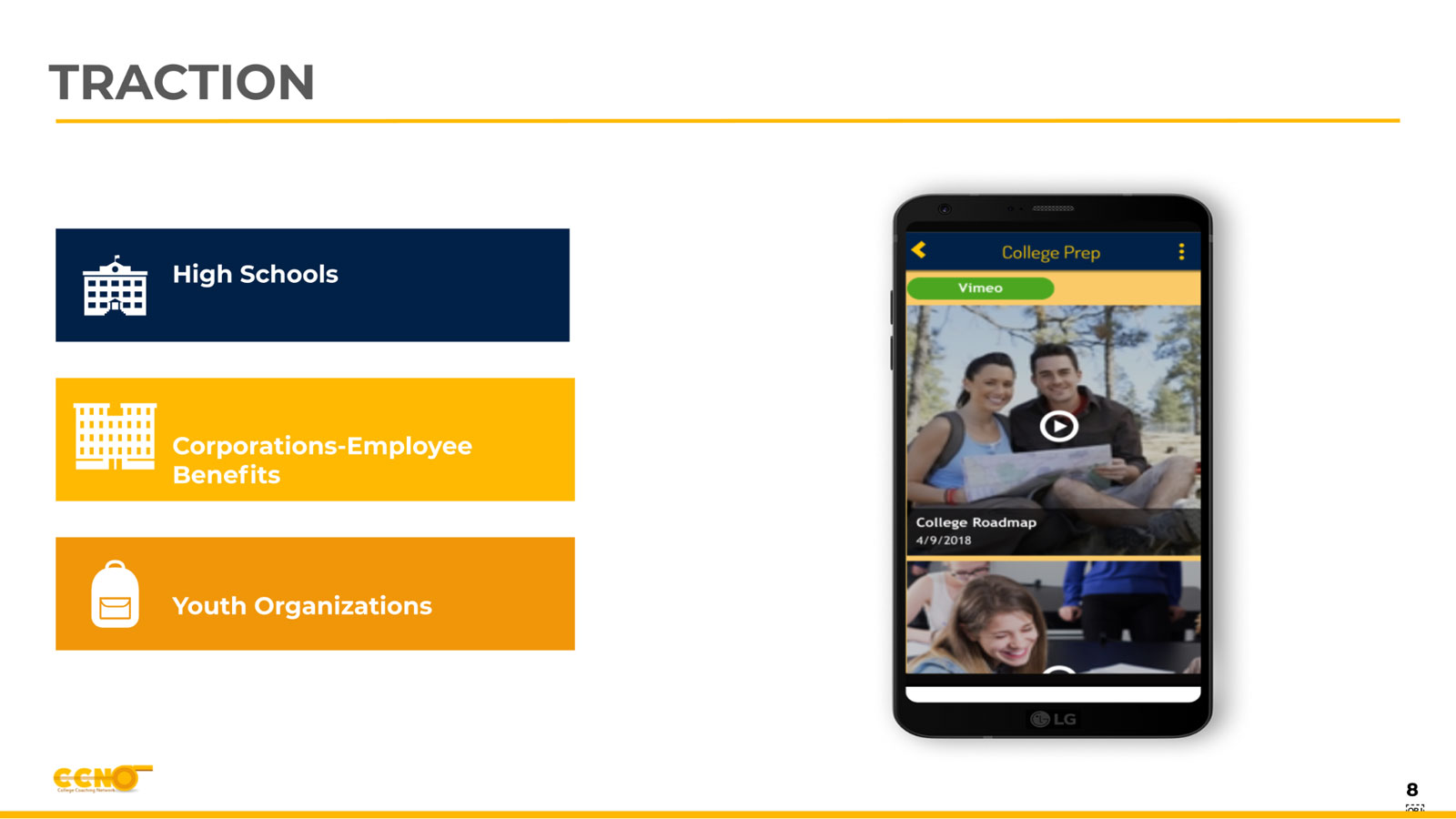 Market Opportunity
The Edtech total market has over 16,000,000 million potential partners. Our total addressable market consists of 198,000 thousand targeted potential partners.
For school partners, we plan to focus on high schools.
For our HR sales channel, we plan to focus on companies that have 100-249 employees initially to avoid drawn out sales cycles typical of larger businesses.
Lastly, we choose to target youth organizations that serves over 5,000 students to ensure that we target national youth organizations with a large enough footprint to effectively distribute our product.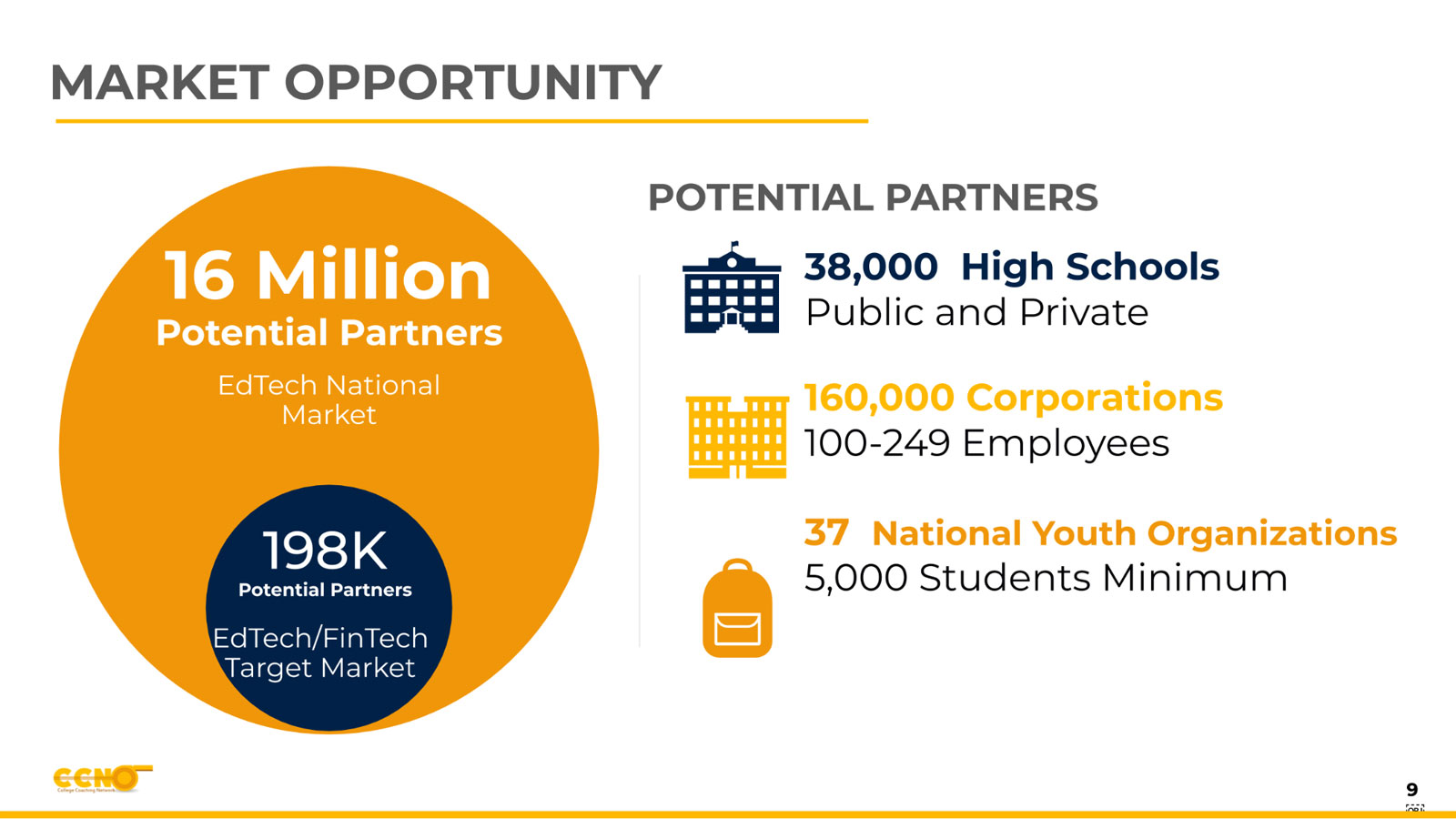 Competitive Landscape
Our direct competitors consist of Platform Q Education, Career Cruising and Naviance. Our competitors focus on either education and training curriculum or reporting data for school administrators. We feel our platform was built from the perspective of the student experience first and the administrators second. The problem many of the facilitators teaching their curriculum encounter is the lack of student engagement. Our program is offered through the students mobile device to enhance student engagement.
In addition to our direct competitors, our biggest competition is the fact that many organizations aren't using any resources at all to assist students and parents with the college application process. College Coaching Network aims to find these organizations and educate them on the benefits of tech enabled college planning.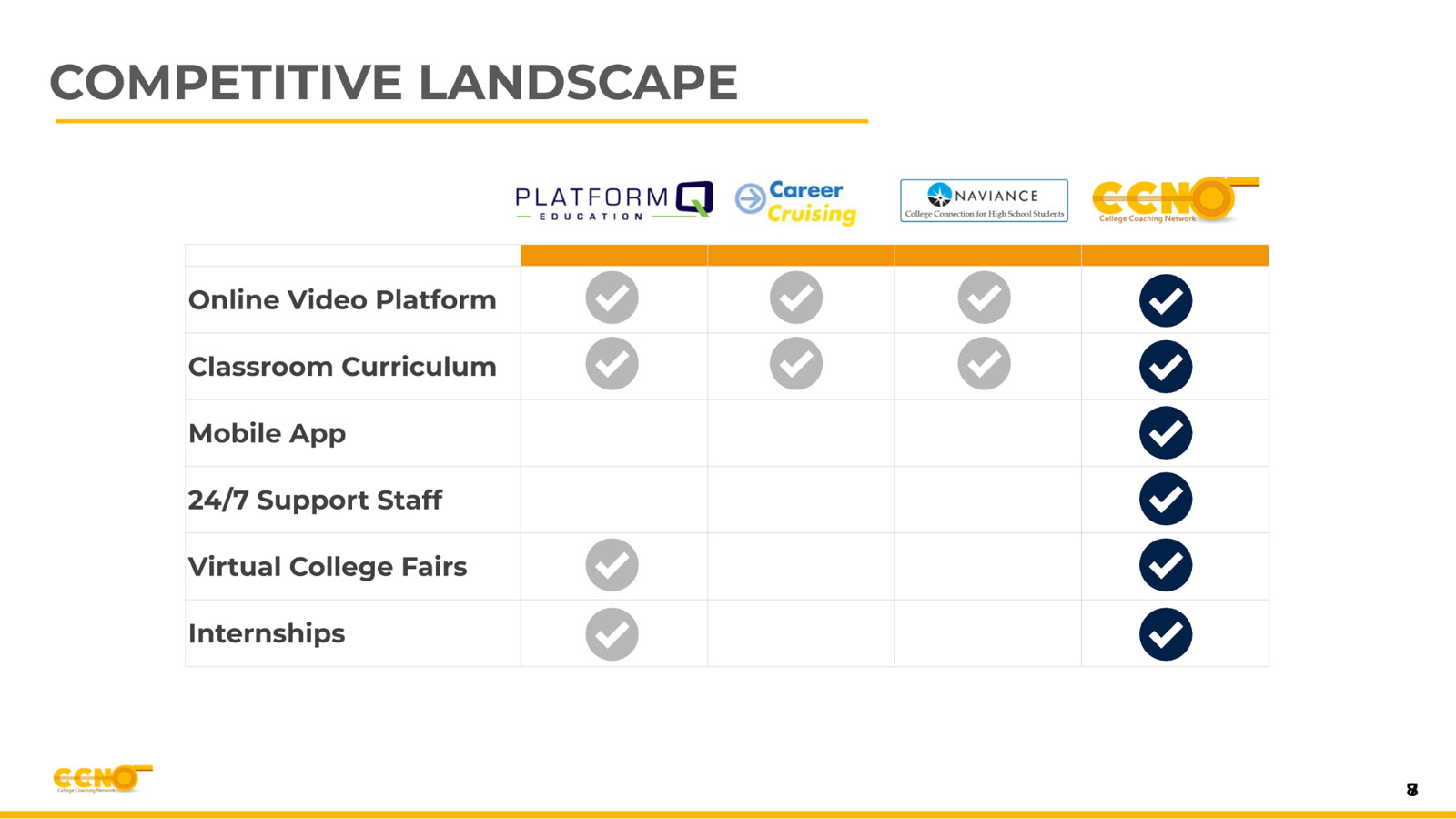 Business Model
We understand how expensive it can be to build a mobile app. We customized a program that allows our partners to white-label our app to their user base. This allows their brand to remain consistent with the population whom they serve without incurring the development costs typically associated with app development.
In addition to having access to an white-labeled version of our app, they have access to our technology and support team. Any updates on our curriculum is included in our subscription plans and training and tech support are all inclusive.
We chose to focus exclusively on white-labeling our app because we feel the strongest business model for College Coaching Network is one built around recurring revenue from partner organizations.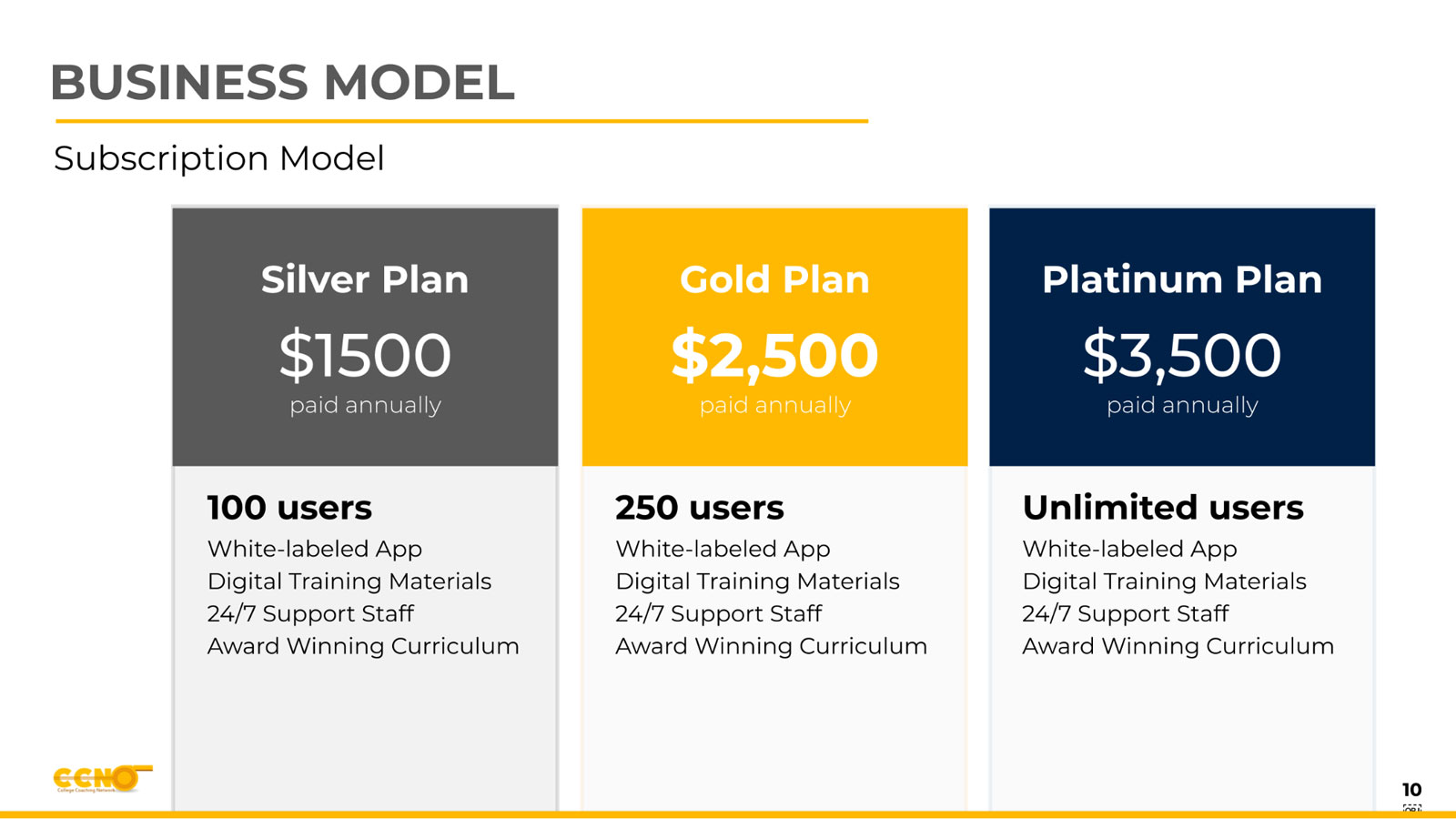 Success
We currently have partnerships with the YMCA, Big Brothers Big Sisters, Urban League, Urban Rangers, Palestine Church, AFL-CIO, Sallie Mae, Youth Entrepreneurs, KCK Public School District, Grandview C4 School District, University Academy School District, Detroit Pal along with sports organizations and local churches just to name a few.
We currently have over 15,000+ students locally that have access to our program, 20,000 families through our Employee Benefits Program and over 2,000+ students through our youth programs.
Through these partnerships we are generating $57,000 in annual revenue.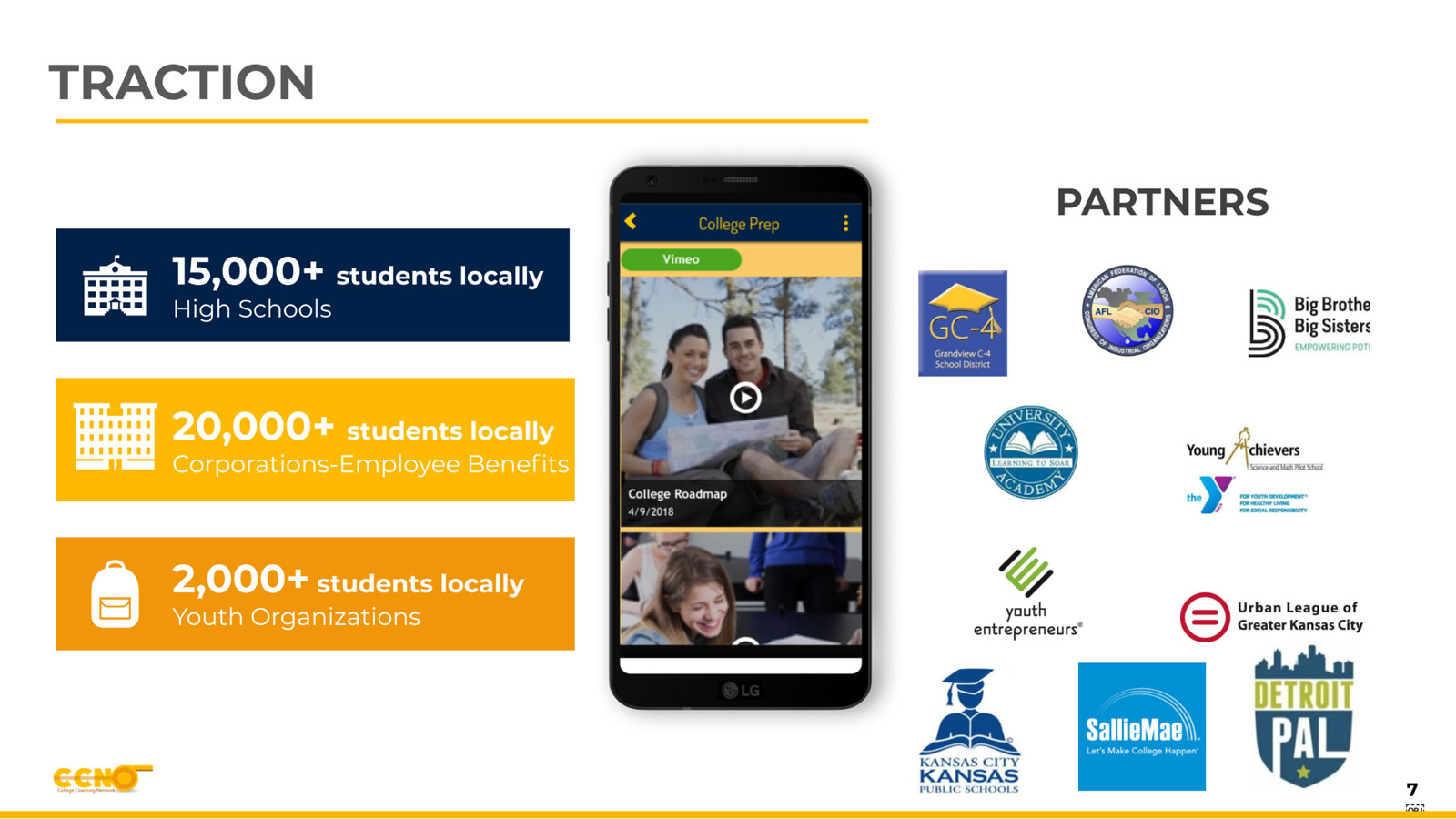 Progress
Our go to market strategy has consisted of referrals, direct sales and networking events starting in the Kansas City, MO market. We are ready to scale through a national marketing campaign. Many of our national partners have locations beyond the demographic that we serve here in Kansas City and we are planning to onboard the other divisions of our existing partners as a first step in our expansion.
We also plan to launch a linkedin HR Marketing campaign along with a Facebook targeted referral campaign. These campaigns should drive traffic into our sales funnel that will allow potential partners to see a scripted webinar that will introduce our value to their organization. We plan to offer a free 7-day free trial for each potential partner, giving them the keys to our system to test-drive. After 7 days they can extend their test drive for a small fee for 14 days and after 14 days they can either dis-engage or apply their credit towards their annual licensing fee.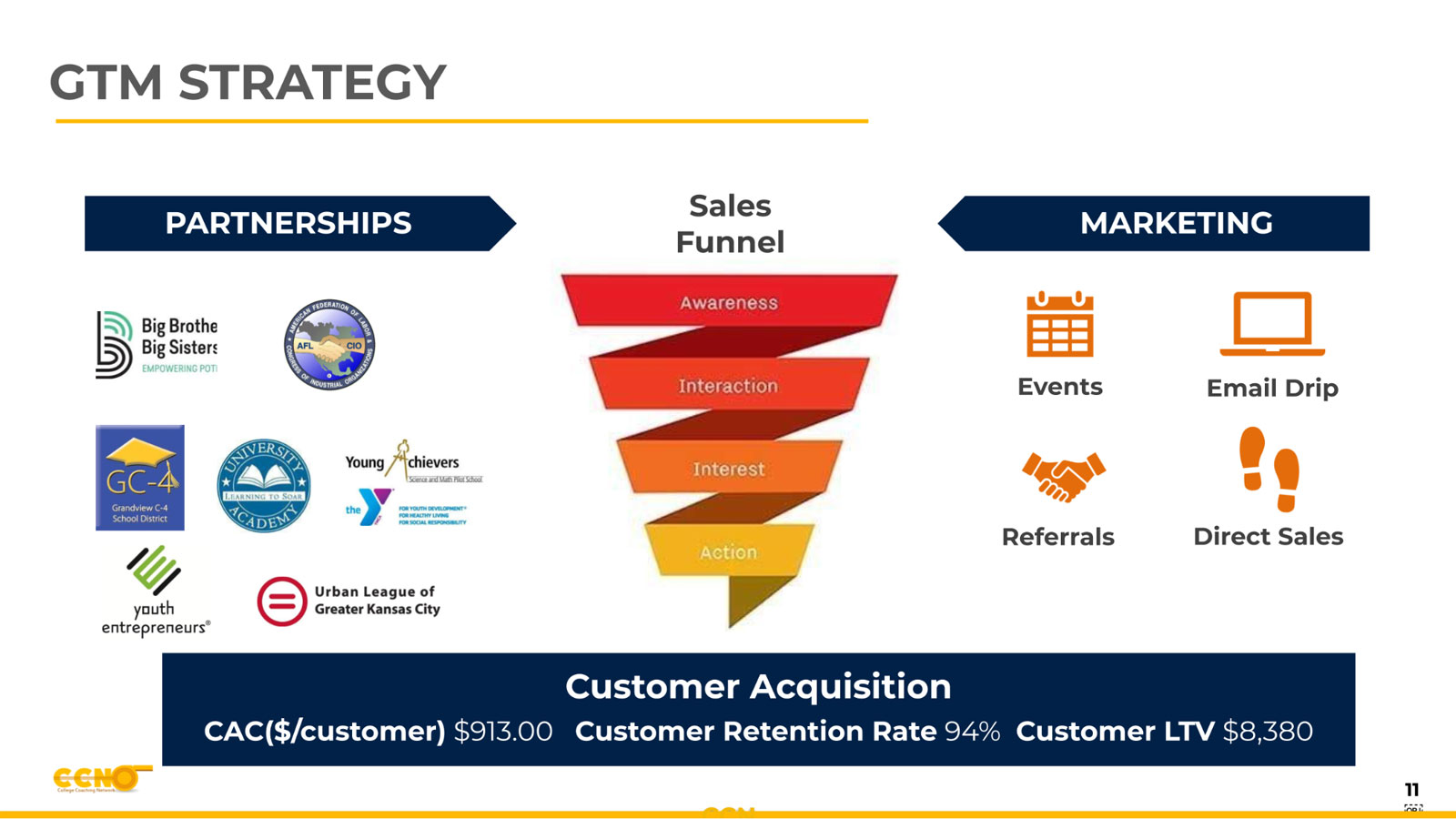 KPIs
Currently we are measuring our customer retention rate and our customer lifetime value.
We have a 94% Customer retention rate since 2014 and our customer lifetime value is estimated between 4-6 years.
Moving forward we will have the ability to measure the % of engaged users, user activity reports and student assignment completion.
Our gamification will allow us to provide more incentives for students to complete task and those tasks will be measured by our leader-board to help increase and measure student engagement.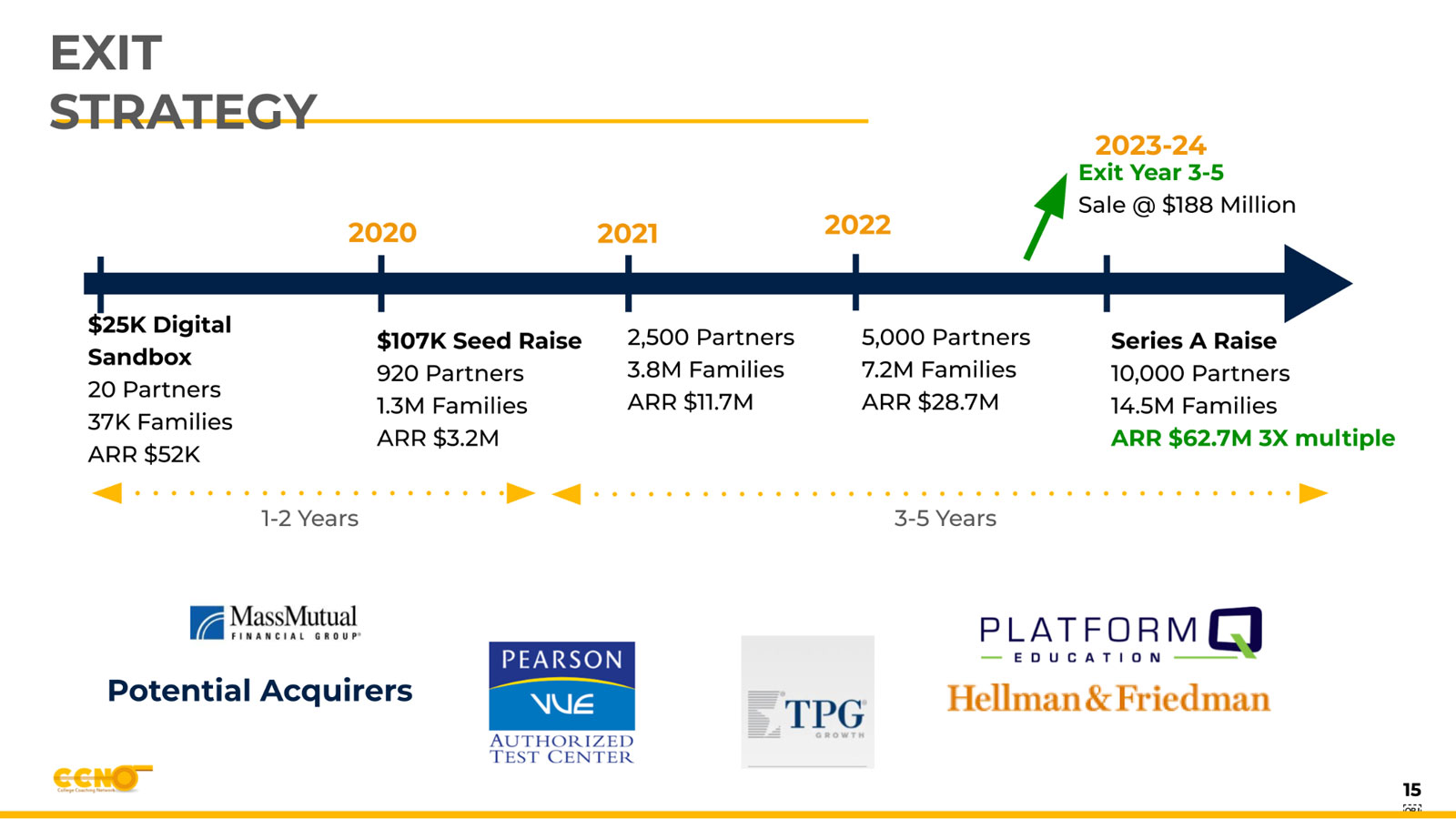 Operating Team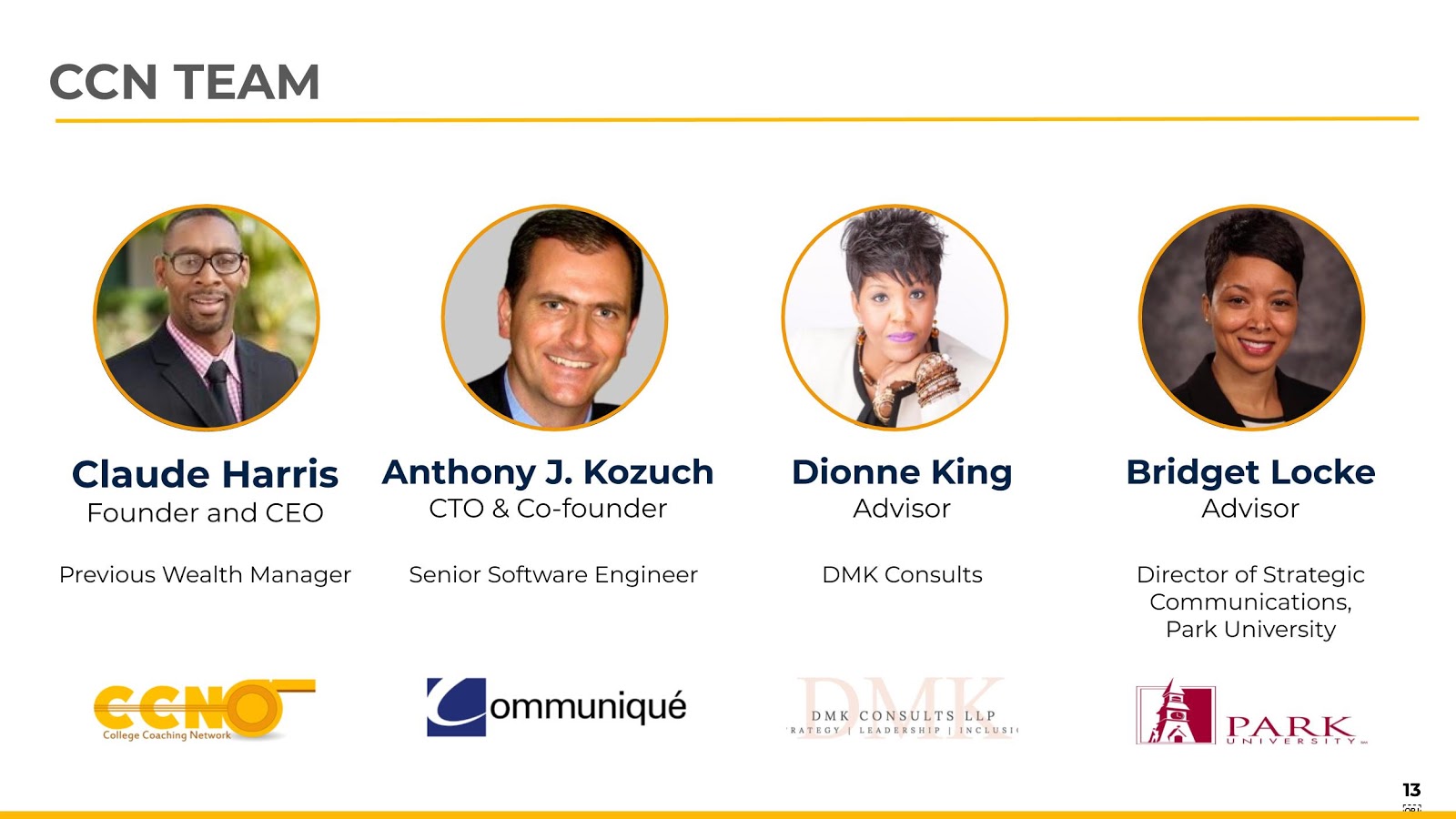 Claude Harris
CEO & Founder
Claude is a graduate from Pittsburg State University earning a Bachelors in Accounting. Claude has worked in the financial services and banking industry for 15 years. Claude worked for US Bank as a Commercial Lender, Ameriprise Financial as a Financial Advisor and with Commerce Bank as the Vice President of Consumer Banking. Claude holds his series 7, 6, 63, 65 & 66 securities license along with his life and health insurance licenses.
Anthony Kozuch
CTO & Co-founder
Anthony has worked with virtual platforms for 5 years in the virtual career space with fortune 100 and 500 corporations and has been a tremendous value add in the development of our mobile virtual experience.
Advisors
Dionne King
Dionne has worked with international and domestic companies consulting on business growth strategies and branding. She has been paramount in helping us network with key individuals who see the passion and vision of College Coaching Network.
Bridget Locke
Bridget is the director of strategic communications at Park University and helps us with the release of new curriculum that's relevant and applicable for transitioning into college.
Matt DeCoursey
CEO Founder of Gigabooks sold for $100 Million and Co-Founder of Full Scale IO and Start-up Hustle
Use of Proceeds
If the offering's maximum amount of $107,000 is raised:
| Use | Value | % of Proceeds |
| --- | --- | --- |
| Compensation for managers | $10,000 | 9.3% |
| Office space | $12,000 | 11.2% |
| Sales and Marketing | $25,000 | 23.4% |
| Virtual App Tech Development | $51,757 | 48.4% |
| Office supplies | $3,000 | 2.8% |
| Intermediary fees | $5,243 | 4.9% |
Terms
This is an offering of Common Stock, under registration exemption 4(a)(6), in College Coaching Network Inc.. This offering must raise at least $10,000 by February 28, 2020 at 11:00pm ET. If this offering doesn't reach its target, then your money will be refunded. College Coaching Network may issue additional securities to raise up to $107,000, the offering's maximum.
If the offering is successful at raising the maximum amount, then the company's implied valuation after the offering (sometimes called its post-money valuation) will be:
527,364 shares
×
$5 per share
$2,636,820implied valuation
SEC Filings
The Offering Statement is a formal description of the company and this transaction. It's filed with the SEC to comply with the requirements of exemption 4(a)(6) of the Securities Act of 1933.
Understand the Risks
Be sure to understand the risks of this type of investment. No regulatory body (not the SEC, not any state regulator) has passed upon the merits of or given its approval to the securities, the terms of the offering, or the accuracy or completeness of any offering materials or information posted herein. That's typical for Regulation CF offerings like this one.
Neither Netcapital nor any of its directors, officers, employees, representatives, affiliates, or agents shall have any liability whatsoever arising from any error or incompleteness of fact or opinion in, or lack of care in the preparation or publication of, the materials and communication herein or the terms or valuation of any securities offering.
The information contained herein includes forward-looking statements. These statements relate to future events or to future financial performance, and involve known and unknown risks, uncertainties, and other factors, that may cause actual results to be materially different from any future results, levels of activity, performance, or achievements expressed or implied by these forward-looking statements. You should not place undue reliance on forward-looking statements since they involve known and unknown risks, uncertainties, and other factors, which are, in some cases, beyond the company's control and which could, and likely will, materially affect actual results, levels of activity, performance, or achievements. Any forward-looking statement reflects the current views with respect to future events and is subject to these and other risks, uncertainties, and assumptions relating to operations, results of operations, growth strategy, and liquidity. No obligation exists to publicly update or revise these forward-looking statements for any reason, or to update the reasons actual results could differ materially from those anticipated in these forward-looking statements, even if new information becomes available in the future.
Updates
Feb 29, 2020

Primary offering finalized, selling

shares

Sold $5 for a total of $29,820

shares at

Sep 12, 2019

Primary offering of $5

shares at
Ask a Question
Proofread your comment before submitting: once it's posted, you can't edit or delete it. For the fastest help with the web site, email help@netcapital.com instead of commenting.
Looking to raise capital?
We can help turn your friends, family and customers into investors.
Learn more
Interested in more investment opportunities?
Browse all offerings currently available.
See more