Introducing City Windmills, Inc.
City Windmills has the objective to become the world leader in small wind turbines for factories, office buildings and households. The path to achieve such an objective is to provide clients with a suite of pollution-free windmill products which can produce energy and optionally be used as advertisement for commercial users.
The Problem
City Windmills aims to address three problems:
Need for back up wind-powered electricity generation for power outages

With increased extremes of weather in the USA, power outages are becoming more frequent, and sometimes the grid can only be restored after weeks, not hours.

Need for affordable low-cost energy generation

As energy costs continue to rise, substituting the grid for independent, lower cost energy, especially sourced from renewable sources, is socially responsible and now more economic.

Need for off-grid, stand alone wind-powered LED lighting for parks, open spaces

In many remote communities, or parks & recreational spaces, providing electrification for lighting is expensive. Stand alone wind-powered LED lighting is inexpensive and eco-friendly.
The Solution
CW small wind-turbines can generate electricity at 1/3rd the cost of solar panels, and placement on the roof of buildings utilizes space otherwise wasted. The electrical systems are very similar to that of solar panels, so this eco-friendly solution is non-polluting, silent, inexpensive and provides for independence from the grid, essential when power outages occur.
CW500 – Small Wind Turbine
Designed for domestic rooftop installation
Power output to run lighting, internet/phones, furnace burner, water pump, most household uses (non A/C.)
Battery storage for power outages/savings
CW1000 – Small Commercial Wind Turbine
Designed for commercial/industrial rooftop installation
CW2000 – Large Commercial Wind Turbine
Designed for large building rooftop installation
All turbines are silent
Similar electrical wiring to solar panel systems (battery storage optional)
Shroud to protect returning turbine blades from wind (advertising possible on shroud)
WindLighting™ – Remote Street /Area Lighting
Power output to run LED lighting systems, for remote/off-grid areas
Major applications in third world countries, applicable for World Bank Millennium Challenge
With a white gel battery storage, WindLighting™ can provide night-time lighting and can be re-charged continuously whenever the wind blows, night & day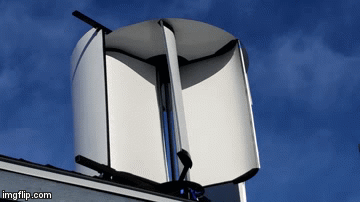 Market
The USA faces huge energy problems :
moving away from reliance on oil & gas, the polluting energies
growing demand for energy, particularly from renewable energy sources
more extreme weather resulting in power outages for population areas
increasing electricity prices
City Windmill's small wind turbines can address all the above, generating profits for the company while meeting the real energy needs of the population.
The U.S. wind electricity net generation has increased exponentially since 2000 and does not look to be slowing anytime soon.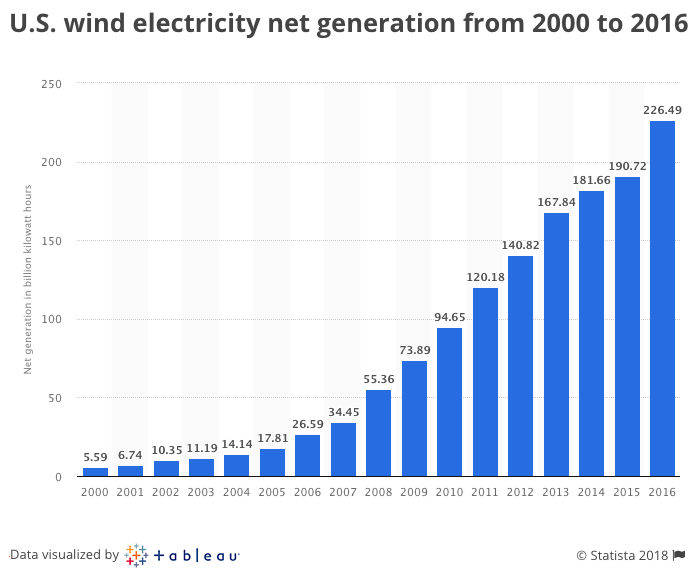 Competitive Landscape
There are very few commercial solutions for roof-top wind energy production, and most are either noisy propeller turbines or inefficient vertical axis turbines. Our very efficient design, with silent running and eco-friendly, is an industry game-changer. Furthermore, CW small wind turbines generate electricity at 1/3rd the cost of solar panel systems, so has huge potential for competitive pricing advantages and profitability.
Business Model
City Windmills has the objective to become the world leader in small wind turbines for factories, office buildings and households. With wind energy readily available, and much cheaper per kwh versus solar, wind turbines are a perfect, pollution-free complement or alternative to solar systems, on rooftops nationwide.
City Windmills has signed a US distribution agreement with Orange Power & Light, which will sell and install both the CW500, CW 1000 and CW2000 nationwide. Other solar installers and building facility managers will be targeted to develop sales channels.
Progress
What is your current strategy for customer acquisition?
Customer acquisition will be driven by 2 strategies:
push strategy, through social media, demo sites, media coverage
pull strategy, selling through established solar panel installer channels
Success
First prototype WindLighting™ installed in Connecticut in January 2018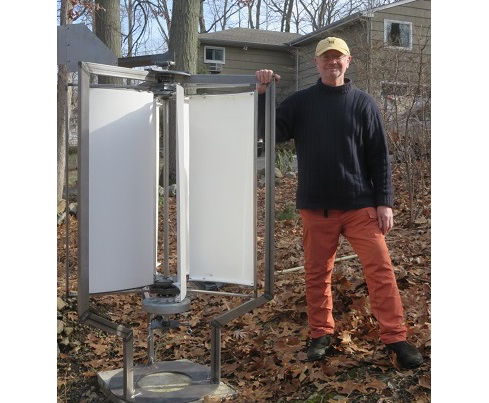 Best Wind Turbine Design & Engineering Company - USA & Industrial Roof-Top Installation of the Year - 2016 Architecture Awards
Presenting to UN General Assembly in April 2018
2018 Goals
Launch of all 4 products in USA – by end of 2018
Establish production with Federal Prison Industries in USA by end of 2018
Profitability by year-end
Team
The team has excellent management experience in the USA, working with government and also in the green-energy sector worldwide.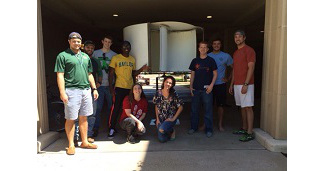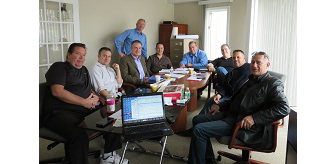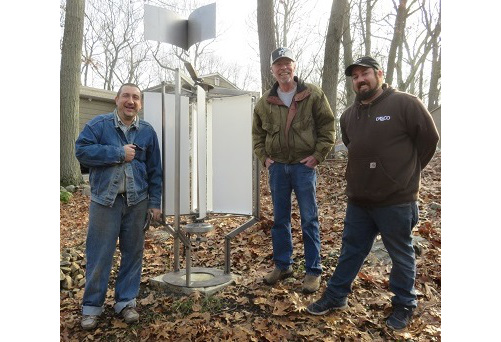 Bios
David Mapley
CEO & CFO
David Mapley's primary responsibility is the execution of the operating and financial strategy worldwide for the group. After graduating with an MBA (Chicago), MSc & BSc(Econ) (London School of Economics) David has worked in the financial markets worldwide, in London, Tokyo, Hong Kong/Singapore, Sydney, Toronto and New York. In recent years he was engaged in angel investing in award winning startup technology companies on the East Coast USA. David is an active technology investor.
Andrew Kershaw
Director
Andrew Kershaw has 24 years experience in international financial markets including country head and chief representative roles with institutions including Midland, ANZ Investment Bank, ING Baring, Commonwealth Bank and Standard Chartered Bank. Andrew is an Emerging Markets debt specialist, and oversaw Russia from ING Barings in Hong Kong/Tokyo. In addition to being based in Asia Andrew has undertaken senior cross border marketing roles in Asia based out of Singapore/Hong Kong and Australia as well as Japan. His principal product expertise has been in debt capital markets and structured finance although he has been active in the marketing of equity and fund products in Japan and Asia.
Tony Hoskinson
Company Secretary
Tony Hoskinson has more than 50 years' experience commencing in Management with advertising agency Lintas. In 1970 he founded and developed an early facilities management group and following its sale in the late 80's he rescued an ailing listed oil & gas company which he re-branded United Energy, where he was a director and company secretary for more than 10 years during which time it became a fully listed company. Following its sale in 2000 he continues to specialise in mining and commodity projects and currently has interests in Cameroon and the Kyrgyz Republic.
Advisors and Investors
Yvonne Hu
Asian Business Development
Yvonne Hu is founder of Anchor Commercial Real Estate Development in USA, and has over 15 years experience in developing large real estate projects. Yvonne Hu is also founder and president of Anchor International Investment, a company working with China state-owned infrastructure corporations for worldwide projects, especially in energy, rail road and affordable government housing developments. She is also familiar with world finance structure syndicates with PPA sovereign guarantees or PPP, OBT, BT etc. Yvonne is a strong advocate of green energy, and advises New Jersey Institution Technology University. She is fluent in Chinese (Mandarin and Cantonese).
Tessa Jucaite
Ms. Jucaite has over 12 years of experience in civil and environmental engineering in the states of Connecticut and New York She has been a project manager and a design engineer for many civil and environmental engineering projects, as well as providing construction management and inspections associated with Electrical, Mechanical and Civil aspects. Tessa has an M.Sc. in Environmental Engineering from the University of New Haven, CT; and a B.Sc. and M.Sc. in Civil Engineering with concentration in Water Management.
Jonathan Morley-Kirk
Mr. Morley-Kirk has many years of experience in all areas of corporate governance, management, complex financial and legal issues, and has served as a non-executive director of a number of public and private companies and investment funds. Mr. Morley-Kirk currently serves as CFO/Finance Director of Longreach Oil & Gas Ltd., having previously served as Chairman/CFO of Fox-Davies Capital, a regulated corporate finance boutique and stockbroker, in the UK. He is a Fellow of the Institute of Chartered Accountants in England & Wales, and a Fellow of the Chartered Institute of Securities & Investments.
Use of Proceeds
CPA accounting – US$ 7,000
Demo Wind turbines – US$ 30,000
United Nations April presentation – US$ 3,000
Working Capital – US$ 30,000
Company vehicle – US$ 20,000
Fundraising fees – US$ 10,000
Terms
This is an offering of Class B Common Stock, under registration exemption 4(a)(6), in City Windmills Inc., doing business as City Windmills, Inc.. This offering must raise at least $10,000 by May 30, 2018 at 4:00pm ET. If this offering doesn't reach its target, then your money will be refunded. City Windmills, Inc. may issue additional securities to raise up to $100,000, the offering's maximum.
$10,000 minimum
$14,298 raised
If the offering is successful at raising the maximum amount, then the company's implied valuation after the offering (sometimes called its post-money valuation) will be:
4,109,710 shares
×
$1.00 per share
$4,109,710implied valuation
Financials
City Windmills, Inc.'s official name is City Windmills Inc., so that's the name that appears in the statements below.
SEC Filings
The Offering Statement is a formal description of the company and this transaction. It's filed with the SEC to comply with the requirements of exemption 4(a)(6) of the Securities Act of 1933.
We're also required to share links to each of the SEC filings related to this offering with investors.
Updates
Jun 1, 2018

May 30, 2018

Primary offering finalized, selling

shares

Sold $1.00 for a total of $14,298.00

shares at

Apr 24, 2018

Mar 27, 2018

Mar 1, 2018

Feb 28, 2018

Primary offering of $1.00

shares at
Transactions
Spread
| Bid quantity | Price | Ask quantity |
| --- | --- | --- |
*Some securities may only be transferred to accredited investors if issued within the past 365 days. Unaccredited investors are permitted to place bids, so some transfers may have yet to occur.
No recent secondary activity
Transaction Log
Ask a Question
Proofread your comment before submitting: once it's posted, you can't edit or delete it. For the fastest help with the web site, email help@netcapital.com instead of commenting.
Understand the Risks
Be sure to understand the risks of this type of investment. No regulatory body (not the SEC, not any state regulator) has passed upon the merits of or given its approval to the securities, the terms of the offering, or the accuracy or completeness of any offering materials or information posted herein. That's typical for Regulation CF offerings like this one.
Neither Netcapital nor any of its directors, officers, employees, representatives, affiliates, or agents shall have any liability whatsoever arising from any error or incompleteness of fact or opinion in, or lack of care in the preparation or publication of, the materials and communication herein or the terms or valuation of any securities offering.
The information contained herein includes forward-looking statements. These statements relate to future events or to future financial performance, and involve known and unknown risks, uncertainties, and other factors, that may cause actual results to be materially different from any future results, levels of activity, performance, or achievements expressed or implied by these forward-looking statements. You should not place undue reliance on forward-looking statements since they involve known and unknown risks, uncertainties, and other factors, which are, in some cases, beyond the company's control and which could, and likely will, materially affect actual results, levels of activity, performance, or achievements. Any forward-looking statement reflects the current views with respect to future events and is subject to these and other risks, uncertainties, and assumptions relating to operations, results of operations, growth strategy, and liquidity. No obligation exists to publicly update or revise these forward-looking statements for any reason, or to update the reasons actual results could differ materially from those anticipated in these forward-looking statements, even if new information becomes available in the future.
Looking to raise capital?
We can help turn your friends, family and customers into investors.
Learn more
Interested in more investment opportunities?
Browse all offerings currently available.
See more