Problem
It's really hard to close a sale. That's why more than 50% of sales reps miss their quotas, according to Forbes. The problem is traditional sales training is inadequate - in fact, a survey by Training Industry showed that one in four sales reps believes their training is ineffective.
Traditional training just can't provide what sales reps actually need: real-time, personalized, on-the-call coaching.
Introduction
What if you knew exactly what your prospects and customers were feeling? What if every member of your team could read the emotional and conversational cues of the client like a book? That's why we built ChipBrain.
Effective communicators close more deals. Our emotionally intelligent AI assistant supports sales professionals by providing real-time feedback on the emotional response of the client to their messaging, pinpointing key turning points in the conversation when they were particularly effective or ineffective. Over time, our adaptive intelligence platform allows us to deliver tailored recommendations specific to the client, the company, and the representative.
We believe that artificial intelligence can teach people to be more emotionally intelligent, more persuasive, and ultimately more effective in conversation and negotiation. We imagine a world in which our AI can help any human in any company - in any market - sell anything.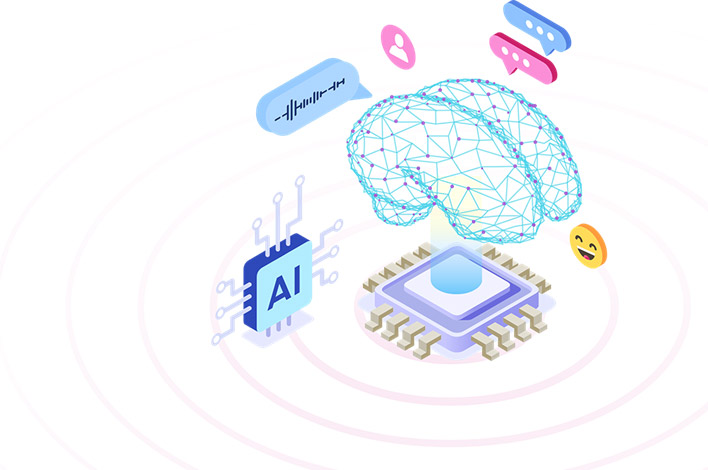 "Companies that provide real-time, deal-specific sales coaching increased revenue by 8.4% year-over-year – a 95% improvement over companies that don't provide that level of coaching."
- Aberdeen Research
Solution
ChipBrain empowers sales teams to become better communicators. Our technology enables users to:
Receive real-time emotional analysis and forecasting
Identify key turning points in conversations
Predict the likelihood of success throughout the conversation
Improve soft skills communications training
Easily view customer insights
Get personalized feedback
Our product combines supervised and unsupervised machine learning techniques to provide real-time emotion, tone, and facial expression feedback in live conversations across all modalities of digital communication: text, voice, and video - taking the guesswork out of identifying conversational cues, and enabling sales professionals to see at a glance how they are coming across to customers. Our AI assistant also leverages information about the unique strengths and weaknesses of the individual salesperson to make suggestions about what to say, when to say it, and how to say it in order to close a deal.
In addition to providing live support during customer calls, our product supplies performance reports for each salesperson, including comparisons of their performance to optimal benchmarks set by learning from top performers and specific examples of their previous text, speech, or expressions that led to customer conversion.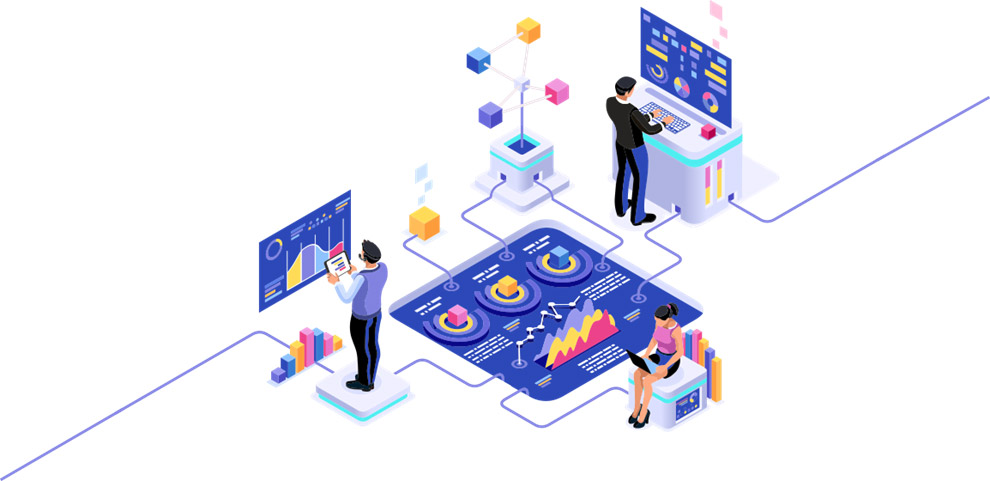 Market
ChipBrain's product comes at a time when more sales teams are going virtual and embracing AI in an already robust sales software market. In fact, MarketsandMarkets Research predicts that the $1.1 billion sales enablement software market will grow at an almost 20% CAGR over the next four years. At the same time, McKinsey estimates that AI technology could generate an additional $2.6 trillion in revenues.
Meanwhile, the use of digital communication in sales has steadily increased, according to Salesforce, with 60% of sales reps reporting that they've increased the amount of time spent virtually connecting with customers.
AI is also the top growth area for sales teams, and Salesforce predicts that AI adoption will grow 139% over the next three years.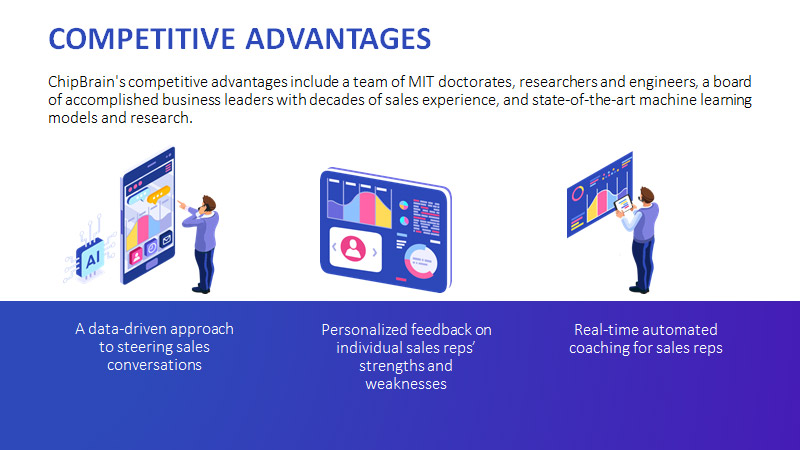 "AI is the top growth area for sales teams — its adoption is forecasted to grow 139% over the next three years."
- Salesforce
Business Model
ChipBrain is a B2B software-as-a-service (SaaS) company. The company distributes its product as a standalone product and as an add-on to existing CRMs via key partnerships.
Revenues are generated through the following avenues:
Negotiating custom contracts with new customers
Self-serve subscription model
Team
While entire industries are being transformed by artificial intelligence, the sales profession—which largely relies on intuition, personality, and generalized best practices—remains insulated. ChipBrain's team is prepared and well-equipped to integrate AI into the sales industry.
ChipBrain is led by MIT, Harvard and London School of Economics graduates, highly experienced in artificial intelligence, software engineering, and sales management.
Lisa Vo
Founder & CEO
Lisa Vo holds a bachelor's degree in Computer Science from Harvard University, with software engineering experience from Microsoft and Palantir Technologies. She created and led a new computer science course while at Harvard, co-founded and led engineering at Bluebonnet Data--a national tech nonprofit with over 200 technical volunteers, and brought to market a political tech startup as co-founder and CTO. Lisa is a first-generation immigrant from Vietnam.
Curtis Northcutt
Founder & CTO
Curtis Northcutt was born and raised in a rural area between Lexington and Athens, Kentucky. His father, grandfather, and great-grandfather worked as mailmen and his mother worked minimum-wage jobs. After graduating valedictorian of Vanderbilt's College of Engineering in 2013, Curtis attended MIT, where he created a cheating detection system used by MITx and HarvardX MicroMasters courses and was awarded the MIT Masters Thesis Award (2017). His PhD at MIT (2017-2021) focuses on AI algorithms to augment human intelligence. Curtis invented confident learning and the Python package 'cleanlab' for weak supervision and finding label errors in datasets. He has a decade of experience in AI and industry, including work with research groups at Google, Oculus, Facebook AI Research, Amazon, Microsoft Research, NASA, MIT, and Harvard, as well as prior startup experience as Chief AI Scientist with Knowledge AI.
John Fanning
Founder & Advisor
John Fanning is the former CEO and founding chairman of Napster, with over 30 years of experience leading and investing in top technology companies. He has introduced such internet innovations as client-server gameplay, voice over IP, and auto-upgrading and authentication. He has founded numerous successful ventures, including NetGames and NetMovies.
John Heyer
Machine Learning Scientist
John graduated from MIT with both bachelor's and master's degrees in Computer Science, with a strong concentration in Artificial Intelligence. He has worked on various research projects within MIT's department of Physics; his master's thesis involved using machine learning techniques to infer the characteristics of point source populations in the X-ray sky. John taught the introductory machine learning course at MIT for multiple semesters, and spent the summer of 2020 sharing his passion for AI by teaching high schoolers from around the world as an instructor for the Inspirit AI Scholars program. Additionally, he has spent a significant amount of time in industry within the Amazon Alexa AI organization.
Harry Rein
Software Engineer
Harry Rein is a full stack software engineer who specializes in front end technologies and interaction design. He graduated with a bachelor's in Computer Science from MIT in 2015 and a master's in Computer Science with a focus in Human-Computer Interaction in 2016, also from MIT. He has architected multiple websites and mobile apps from the ground up and helps design and implement the UX for ChipBrain's consumer facing web and mobile applications.
Harrison Wang
Software Engineer
Harrison was born and raised in the heart of Manhattan in New York City. He attended MIT where he earned a Bachelor's degree in Computer Science in 2017 and a Master's degree in Computer Science with a focus on Computer Graphics in 2019. Harrison previously worked as a full-stack engineer at Appboy (now Braze), DoorDash, and Qume, a cryptocurrency exchange. His recent efforts have been primarily centered around the field of computational design and manufacturing, including the development of data-driven algorithms to improve the digital fabrication process and 3D printing.
Kenneth Acquah
Software Engineer
Ken has experience building visualization systems for large datasets at Visa, consumer mobile products at Nasdaq and Google, and causal inference analytics tools at Microsoft Research, IBM Watson, and MIT CSAIL. He graduated from MIT with a B.S. in Computer Science and a B.S. in Mathematical Economics.
Pat Cahill
Sales Advisor
With over thirty years experience in sales and sales training, Pat Cahill is a Managing Director at the MAC Venture Group. His primary focus is training and developing sales teams, implementing appropriate managerial tools to track and monitor progress, and instilling the discipline necessary to create a scalable and successful sales and marketing program. Previously, he was the Senior Vice President of Sales and Marketing at IntelliSpace, where he took the company from startup phase to an annual revenue of $66M. He also led Sales and New Business Development for seven years at Don Aux Associates. Pat holds an MBA from the London School of Economics.
Dan Nguyen
Product Advisor
Dan's career has been focused on software technologies encompassing machine learning, mobile, and enterprise. He has led successful machine learning products as Senior Director and VP of Product at Oracle and Emotient. Emotient, acquired by Apple, commercialized technology for detecting facial emotions, applied to media testing, advertising, and other industries. He currently provides strategy and technical consulting on artificial intelligence.
Earlier in his career, he worked at Openwave Systems, Procter & Gamble, Sun Microsystems, and several startups. He earned a B.S. in Operations Research & Industrial Engineering at Cornell University and an MBA at Harvard.
Use of Proceeds
If the offering's maximum amount of $248,845 is raised:
| Use | Value | % of Proceeds |
| --- | --- | --- |
| Engineering & Development | $141,991 | 57.1% |
| Marketing | $47,330 | 19.0% |
| General/Admin. Expense | $47,330 | 19.0% |
| Operational Expenses | $1 | less than 0.1% |
| Intermediary fees | $12,193 | 4.9% |
Terms
This is an offering of Common Units, under registration exemption 4(a)(6), in ChipBrain, Inc.. This offering must raise at least $10,000 by October 26, 2020 at 11:59pm ET. If this offering doesn't reach its target, then your money will be refunded. ChipBrain may issue additional securities to raise up to $248,845, the offering's maximum.
If the offering is successful at raising the maximum amount, then the company's implied valuation after the offering (sometimes called its post-money valuation) will be:
4,489,575 shares
×
$0.93 per share
$4,175,305implied valuation
COVID Relief:
This offering is being conducted on an expedited basis due to circumstances relating to COVID-19 and pursuant to the SEC's temporary COVID-19 regulatory relief set out in Regulation Crowdfunding §227.201(z).
Offering maximum:
In reliance on this relief, financial information certified by the principal executive officer of the issuer has been provided instead of financial statements reviewed by a public accountant that is independent of the issuer, in setting the offering maximum of $250,000.
Financials
These financial statements have been audited by an independent Certified Public Accountant.
SEC Filings
The Offering Statement is a formal description of the company and this transaction. It's filed with the SEC to comply with the requirements of exemption 4(a)(6) of the Securities Act of 1933.
Understand the Risks
Be sure to understand the risks of this type of investment. No regulatory body (not the SEC, not any state regulator) has passed upon the merits of or given its approval to the securities, the terms of the offering, or the accuracy or completeness of any offering materials or information posted herein. That's typical for Regulation CF offerings like this one.
Neither Netcapital nor any of its directors, officers, employees, representatives, affiliates, or agents shall have any liability whatsoever arising from any error or incompleteness of fact or opinion in, or lack of care in the preparation or publication of, the materials and communication herein or the terms or valuation of any securities offering.
The information contained herein includes forward-looking statements. These statements relate to future events or to future financial performance, and involve known and unknown risks, uncertainties, and other factors, that may cause actual results to be materially different from any future results, levels of activity, performance, or achievements expressed or implied by these forward-looking statements. You should not place undue reliance on forward-looking statements since they involve known and unknown risks, uncertainties, and other factors, which are, in some cases, beyond the company's control and which could, and likely will, materially affect actual results, levels of activity, performance, or achievements. Any forward-looking statement reflects the current views with respect to future events and is subject to these and other risks, uncertainties, and assumptions relating to operations, results of operations, growth strategy, and liquidity. No obligation exists to publicly update or revise these forward-looking statements for any reason, or to update the reasons actual results could differ materially from those anticipated in these forward-looking statements, even if new information becomes available in the future.
Updates
Oct 27, 2020

Primary offering finalized, selling

shares

Sold $0.93 for a total of $243,714.87

shares at

Sep 24, 2020

Thank you to our 100+ investors who have joined...

Thank you to our 100+ investors who have joined ChipBrain's journey in less than a month since our offering went live! Interest in our product from customers has been overwhelming - it's clear that ChipBrain will make a huge difference in this evolving, remote-work world. Onward and upward!

Aug 26, 2020

Primary offering of $0.93

shares at
Ask a Question
Proofread your comment before submitting: once it's posted, you can't edit or delete it. For the fastest help with the web site, email help@netcapital.com instead of commenting.
Looking to raise capital?
We can help turn your friends, family and customers into investors.
Learn more
Interested in more investment opportunities?
Browse all offerings currently available.
See more