Introducing CARROT
A mobile gaming company has successfully "gamified" health and wellness, delivering three times the engagement at less than one-sixth the cost of traditional programs. Unlike anything in the marketplace, CARROT's "set-it-and-forget-it" approach uses individualized goals and instant gratification to motivate even the most sedentary users – making CARROT an attractive corporate wellness program for companies of all sizes. CARROT leverages the viral advantages of mobile technology to quickly onboard small employers while offering an affordable, scalable solution for the world's largest corporations.
Learn more about CARROT at carrotwellness.com
Finally – A Program For ALL
Rising employer healthcare costs have motivated companies to increasingly invest in health and wellness initiatives. Unfortunately, engagement in such programs is a continual challenge, especially among the 20% of employees who are responsible for 80% of a company's health care spending. Typical wellness initiatives – despite the average annual investment of $700 per employee in incentives – attract only those employees who are already healthy.
That's where CARROT enters the picture. CARROT provides employers with a wellness solution that has a track record of incentivizing even the most sedentary staff members to lead more active lives, achieving off-the-charts participation and engagement. Thanks to its unique "gamified" approach, CARROT has the opportunity to become the industry's first affordable, engaging program that appeals to ALL members of an organization.
Gamification Drives Results
From the employee perspective, CARROT is a fun and addictive mobile app that provides "instant gratification" for achieving personalized activity goals. They use the virtual "CARROT currencies" to enter contests, compete in challenges, and purchase digital gift cards that are available right on the app. Barriers to participation have been eliminated at every turn – in fact, users are rewarded even if the app isn't turned on or running in the background.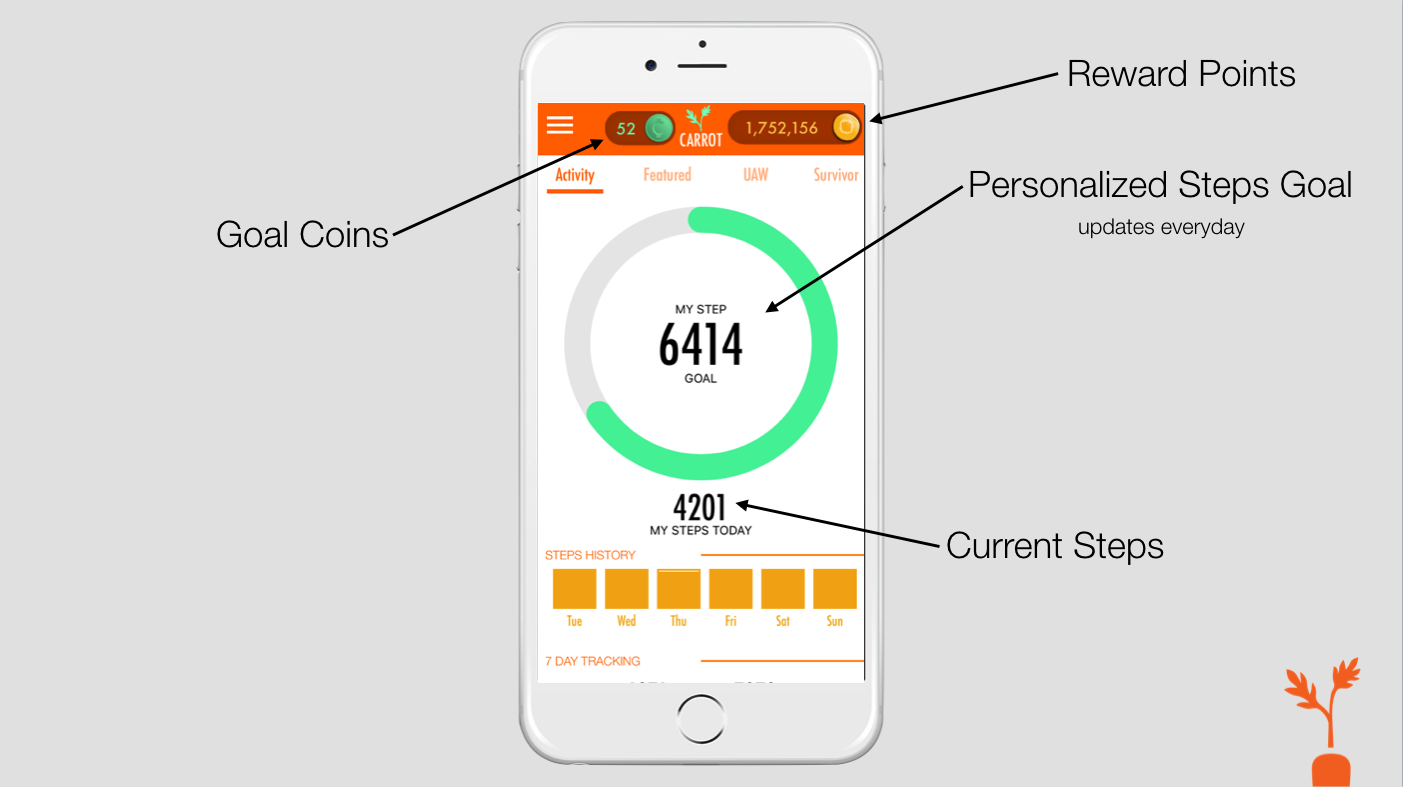 From the employer's perspective, CARROT is a simple, easy-to-manage program. Because most rewards are digital, HR requirements are minimized. Employers also like that CARROT, unlike traditional wellness programs, is fully inclusive, allowing manual wheelchair users to compete – fairly and equally – with marathon runners and weekend warriors for rewards. And most importantly, CARROT works: participants increase their daily activity by nearly 23 percent in just the first 60 days!
CARROT's proprietary logic maximizes employee engagement while minimizing the employer's incentives budget. Powered by the unique application of mobile technology and the underlying intelligence represented, CARROT is designed to reduce healthcare costs, absenteeism and presenteeism, while improving productivity.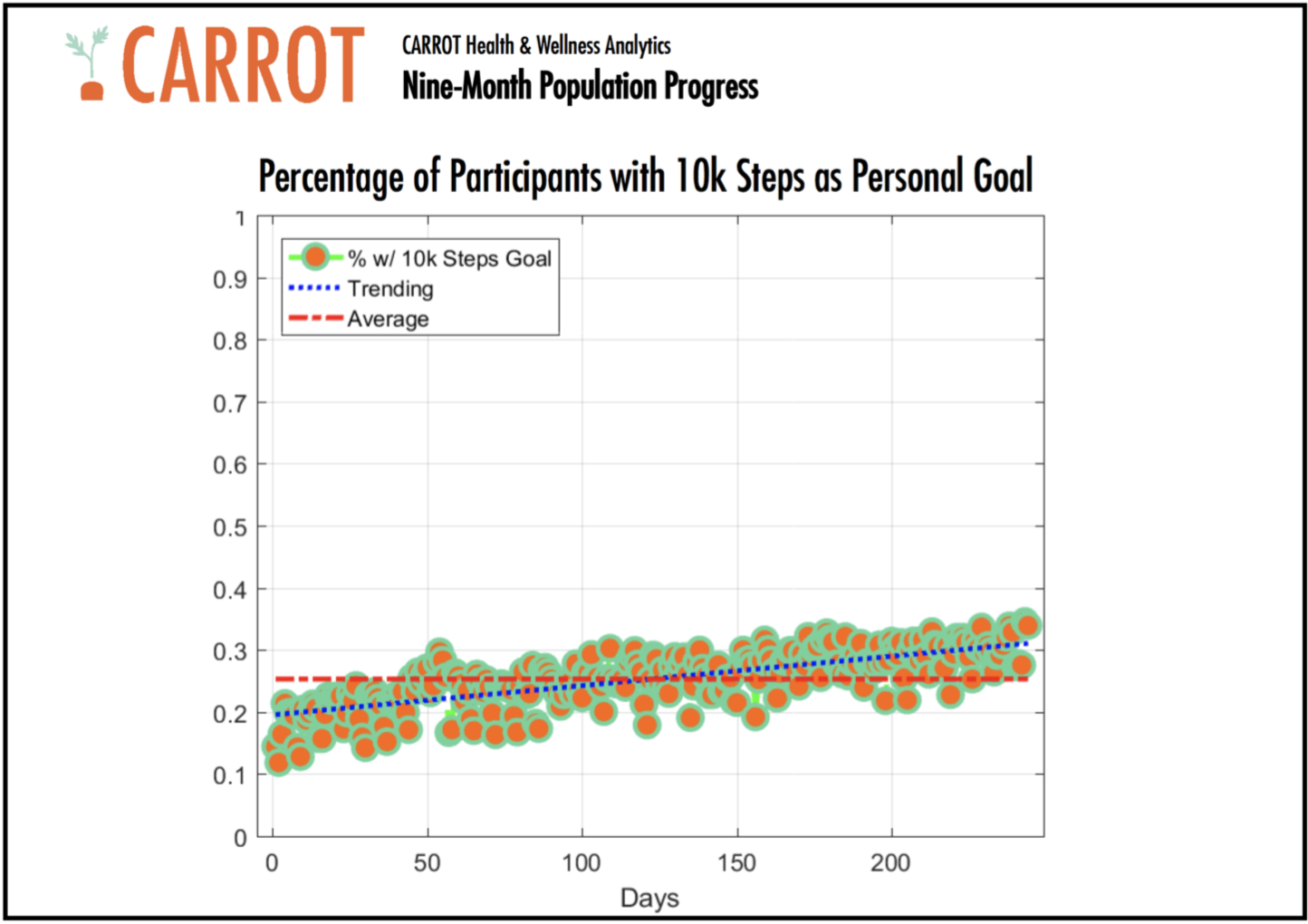 Early Success
One of Michigan's largest and most-respected employers, Henry Ford Health System, launched a six-month CARROT Health & Wellness pilot program at West Bloomfield Hospital in March 2016. HFHS's intent was to evaluate the program for potential company-wide launch in January 2017.
When CARROT achieved more than 30% participation after just six weeks (six times greater than their typical participation rate), HFHS cut short the pilot and signed a three-year contract to provide CARROT to its 25,000 employees. Health Alliance Plan, the United Auto Workers (UAW) International, Oakland University, Macomb County Government, The State Bank, and several others have joined HFHS in utilizing CARROT's program to drive healthier behaviors among their employees.
More than 15 organizations currently offer CARROT to 60,000-plus paid participants in the United States, Canada, Norway, Sweden, Switzerland, Austria, Finland, the Netherlands, and other countries.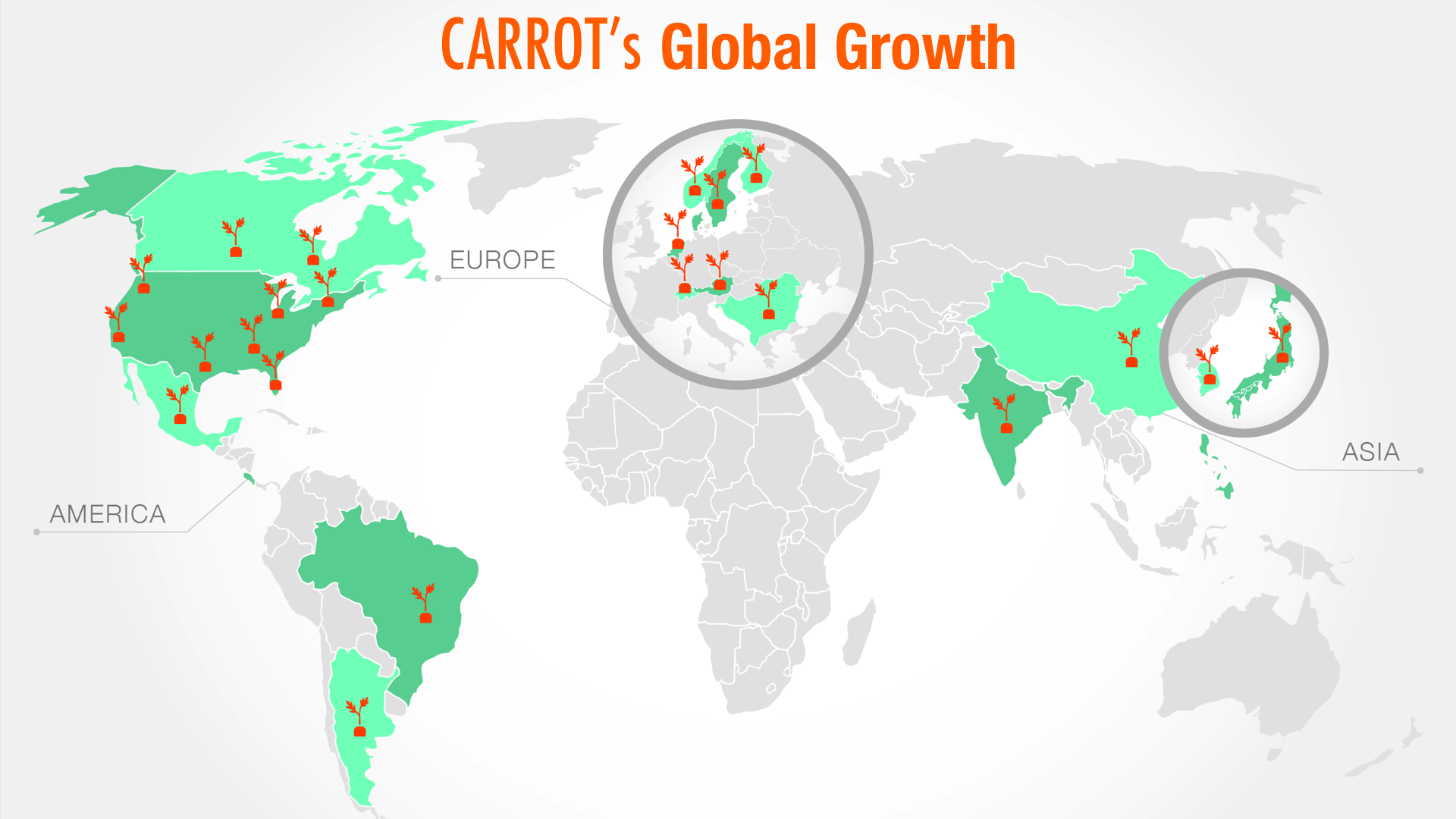 CARROT's potential impact on the industry crystallized in a recent competition that included 100+ startups. An audience of more than 400 CEO's and HR professionals named CARROT the "Most Innovative Solution" to engage millennials in health care at the 2016 Crain's Detroit Business Health Care Leadership Summit.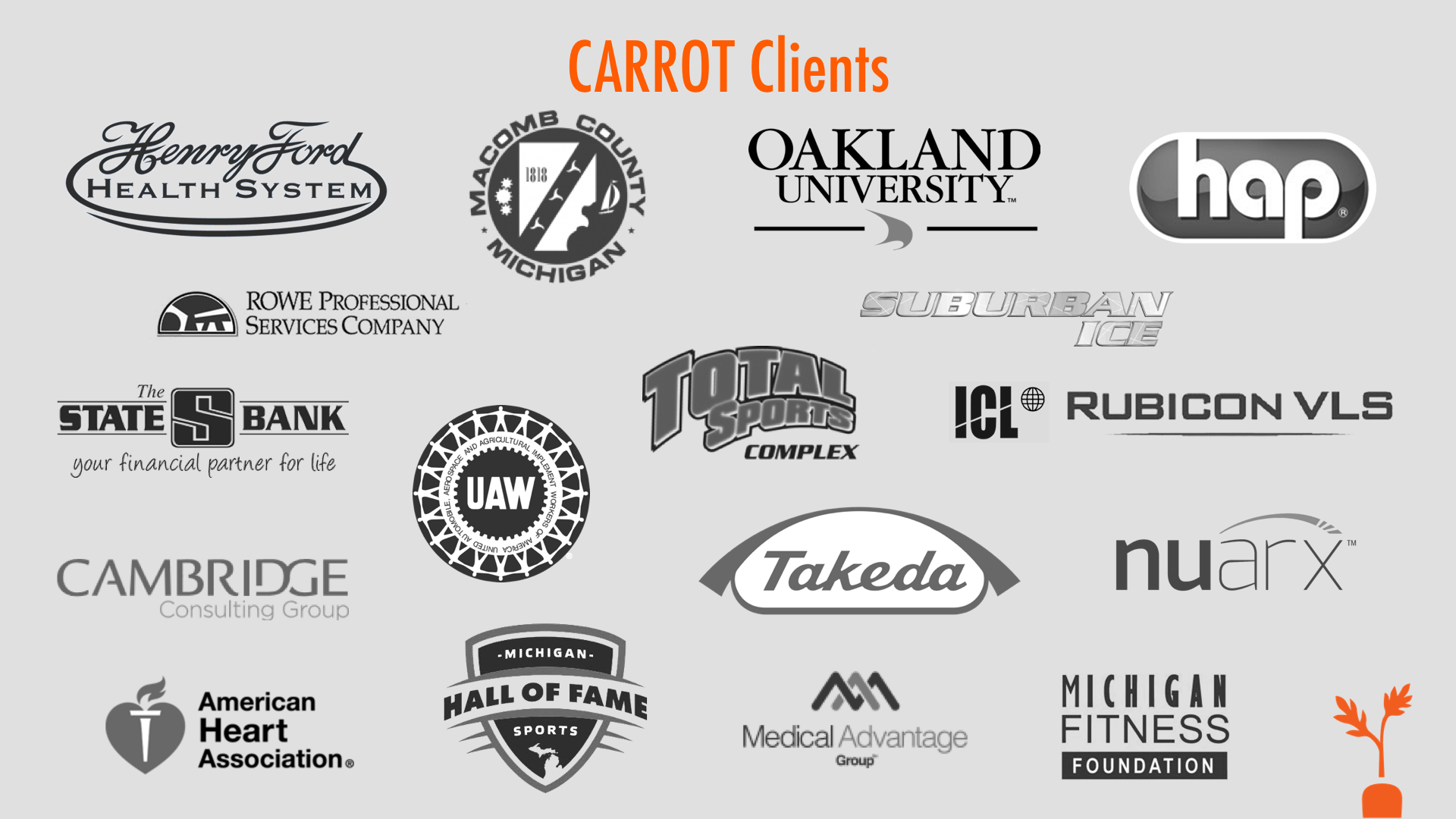 Business Model
The corporate wellness services industry has experienced rapid growth in recent years. In 2011, the industry generated $1.8 billion in revenue while today, annual revenue is about $8 billion and climbing. Organizations that offered wellness programs in 2016 invested an average of nearly $700 per employee in incentives.
Because of CARROT's scalability and low implementation costs, companies of any size can benefit from the program. The initial primary target market has been healthcare organizations and educational institutions. These industries are uniquely focused on wellness and are typically open to the innovative use of new technologies. Further, having referenceable customers in these industries provides credibility and exposure needed to convert larger employers both within and outside of these industries.
CARROT has already accomplished this in both healthcare (Henry Ford Health System, Medical Advantage Group, Health Alliance Plan) and education (Oakland University). Their next market of focus will be self-insured companies with fewer than 1,000 employees. These buyers have an urgent need to address skyrocketing employee health care costs and, unlike most larger organizations, are able to make quick purchasing decisions. By (1) establishing a visible presence at national benefits/ HR conferences, (2) launching a targeted digital ad campaign, and (3) connecting directly with employee benefits brokers, we will reach these critical health care decision makers.
Pricing for CARROT is simple, easy to understand, and extremely affordable by industry standards. Pricing entails an initial implementation fee, plus an ongoing "per employee per year" license fee.
Team
CARROT benefits from a talented and passionate "team" that includes hands-on contributions from designers and programmers, as well as counsel from trusted industry experts. Leading the day-to-day activities are Founder/CEO Michael Antaran, VP Mike Murray, and Lead Developer Josh Lovatt.
Michael Antaran
Founder & CEO
A lifelong Metro Detroiter, Michael Antaran earned degrees from Wayne State University (BS, Mechanical Engineering) and Oakland University (MSME) before spending 15 years as a powertrain engineer with Chrysler and General Motors. He took the lessons learned in the auto industry – primarily, a focus on customer experience – to successfully guide his own company. In 2014, Antaran was selected by Goldman Sachs to participate in its 10k Small Business Program in Detroit. The following year, Antaran was one of just 16 U.S. entrepreneurs selected to participate in a special business development program hosted jointly by Goldman Sachs and Bloomberg in New York City. In 2016, his presentation at the Crain's Detroit Business Health Care Leadership Summit allowed CARROT to take top honors as the "Most Innovative Solution" to connect Millennials with health care. He has also been recognized by Crain's Detroit Business as one of the "50 Names to Know in Information Technology".
Mike Murray
VP Marketing & Communications
With a diverse background that includes more than a decade in the health care industry and experience supporting small businesses, Mike Murray is well-positioned to serve as CARROT's Vice President for Marketing & Communications. His background includes 13 years leading marketing and communications efforts for a large regional health care provider and nine seasons directing media services for the NFL's Detroit Lions. The University of Michigan graduate is responsible for ensuring the consistent appearance and performance of the company's brands across all lines of communication, and his hands-on contributions impact all sales activities, business development, product development, marketing and public relations.
Josh Lovatt
Lead Developer
Josh Lovatt's expertise in mobile gaming has proven to be invaluable in the development of the CARROT Wellness program. The company's Lead Developer, Lovatt earned degrees in both Mathematics and Computer Science from the University of Michigan-Dearborn. The Welsh-born, full-stack developer's passion for creating games that all users can enjoy has been instrumental in the successful creation of many mobile apps, particularly CARROT.
CARROT is Turning Heads
On a number of fronts, CARROT and its team have already earned valuable recognition and credibility that will serve the company well in its mission to be a disruptive industry force:
Health Care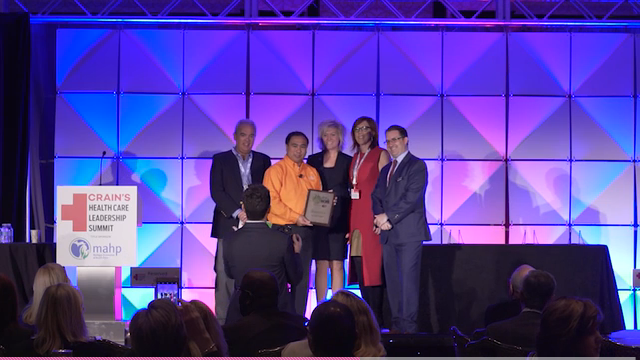 CARROT's potential impact on the industry crystallized in a recent competition that included more than 100 startup companies. An audience of more than 400 health care CEO's and HR professionals named CARROT the "Most Innovative Solution" to engage millennials in health care at the 2016 Crain's Detroit Business Health Care Leadership Summit.
IT
CARROT was named a Google Days Regional Finalist in 2016; and Founder and CEO Michael Antaran was honored as one of the "50 Names to Know in Information Technology" by Crain's Detroit Business.
Business
CARROT was one of just 32 U.S. companies selected to participate in a Small Business Roundtable event featuring Warren Buffet, Michael Bloomberg, and Twitter/Square CEO Jack Dorsey in New York in June 2016. The previous year, CARROT was one of just 16 companies invited by Goldman Sachs and Bloomberg LP to participate in an exclusive Small Business Coaching Session in NYC.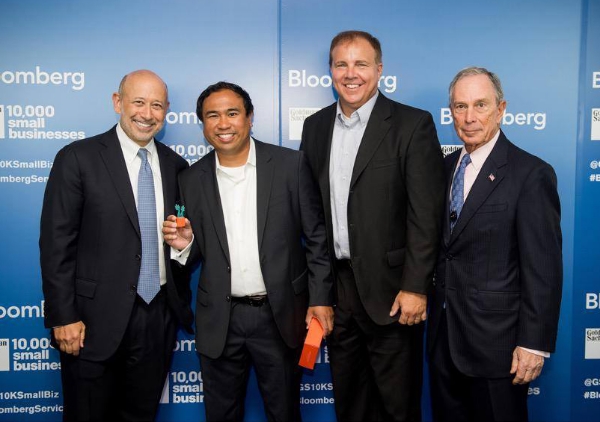 The ability to tap into the resources and expertise of organizations such as Henry Ford Health System, Goldman Sachs and Bloomberg have helped position CARROT as a potential marketplace leader while providing clarity for its vision of the future.
Use of Proceeds
If the offering's maximum amount of $699,999 is raised:
| Use | Value | % of Proceeds |
| --- | --- | --- |
| Working Capital | $657,700 | 94.0% |
| Debt Repayment | $8,000 | 1.1% |
| Intermediary fees | $34,300 | 4.9% |
Terms
This is an offering of Class B Units, under registration exemption 4(a)(6), in CARROT pass, LLC. This offering must raise at least $10,000 by April 2, 2018 at 4:00pm ET. If this offering doesn't reach its target, then your money will be refunded. CARROT may issue additional securities to raise up to $699,999, the offering's maximum.
$10,000 minimum
$41,777 raised
If the offering is successful at raising the maximum amount, then the company's implied valuation after the offering (sometimes called its post-money valuation) will be:
1,138,469 units
×
$4.90 per unit
$5,578,498implied valuation
SEC Filings
The Offering Statement is a formal description of the company and this transaction. It's filed with the SEC to comply with the requirements of exemption 4(a)(6) of the Securities Act of 1933.
We're also required to share links to each of the SEC filings related to this offering with investors.
Updates
Apr 4, 2018

Apr 2, 2018

Primary offering finalized, selling

units

Sold $4.90 for a total of $41,777.40

units at

Jan 3, 2018

Jan 2, 2018

Primary offering of $4.90

shares at

Jan 2, 2018
Transactions
Spread
| Bid quantity | Price | Ask quantity |
| --- | --- | --- |
*Some securities may only be transferred to accredited investors if issued within the past 365 days. Unaccredited investors are permitted to place bids, so some transfers may have yet to occur.
No recent secondary activity
Transaction Log
Summary
CARROT – with its mobile, "set-it-and-forget-it" platform delivering exceptional engagement – is ideally positioned to help companies of all sizes hold the line on rising employee health care costs by delivering an affordable, cost-effective program.
CARROT is already off to a fast start with more than 15 organizations (including Henry Ford Health System, the UAW International, Oakland University and Takeda Pharmaceuticals) currently offering the program to 60,000-plus paid participants in the United States, Canada, Norway, Sweden, Switzerland, Austria, Finland, the Netherlands, and other countries.
Utilizing the tenets of mobile gaming technology to drive engagement and organic growth, CARROT's patent-pending program includes personalized activity goals, individual challenges, team leaderboards, fantasy sports contests, digital gift cards and budget-neutral rewards from employers and local businesses – making the program essentially impossible for any competitor to replicate.
Ask a Question
Proofread your comment before submitting: once it's posted, you can't edit or delete it. For the fastest help with the web site, email help@netcapital.com instead of commenting.
Understand the Risks
Be sure to understand the risks of this type of investment. No regulatory body (not the SEC, not any state regulator) has passed upon the merits of or given its approval to the securities, the terms of the offering, or the accuracy or completeness of any offering materials or information posted herein. That's typical for Regulation CF offerings like this one.
Neither Netcapital nor any of its directors, officers, employees, representatives, affiliates, or agents shall have any liability whatsoever arising from any error or incompleteness of fact or opinion in, or lack of care in the preparation or publication of, the materials and communication herein or the terms or valuation of any securities offering.
The information contained herein includes forward-looking statements. These statements relate to future events or to future financial performance, and involve known and unknown risks, uncertainties, and other factors, that may cause actual results to be materially different from any future results, levels of activity, performance, or achievements expressed or implied by these forward-looking statements. You should not place undue reliance on forward-looking statements since they involve known and unknown risks, uncertainties, and other factors, which are, in some cases, beyond the company's control and which could, and likely will, materially affect actual results, levels of activity, performance, or achievements. Any forward-looking statement reflects the current views with respect to future events and is subject to these and other risks, uncertainties, and assumptions relating to operations, results of operations, growth strategy, and liquidity. No obligation exists to publicly update or revise these forward-looking statements for any reason, or to update the reasons actual results could differ materially from those anticipated in these forward-looking statements, even if new information becomes available in the future.
Looking to raise capital?
We can help turn your friends, family and customers into investors.
Learn more
Interested in more investment opportunities?
Browse all offerings currently available.
See more