Introduction
Asprodental is an enterprise SaaS for dentists. All office operations, from health records to insurance billing, takes place in the software. Less than half a year old, the company already has dealer relationships and a functioning product used by two revenue generating clients to manage $3M of dental business.
Problem
Dentists are losing significant time and money to inefficiencies in their management software. The incumbent products are server-based and were developed in the 90's. Over the years, third party products have been created to overlay the legacy management software. This leads to excessive switching between platforms, outdated workflows, and disorganized data.
Dental offices are now facing a unique pressure to upgrade their server-based management software as the industry migrates to cloud solutions. Both incumbent companies and new software companies are beginning to offer cloud management programs. However, these new products are heavily based on legacy processes.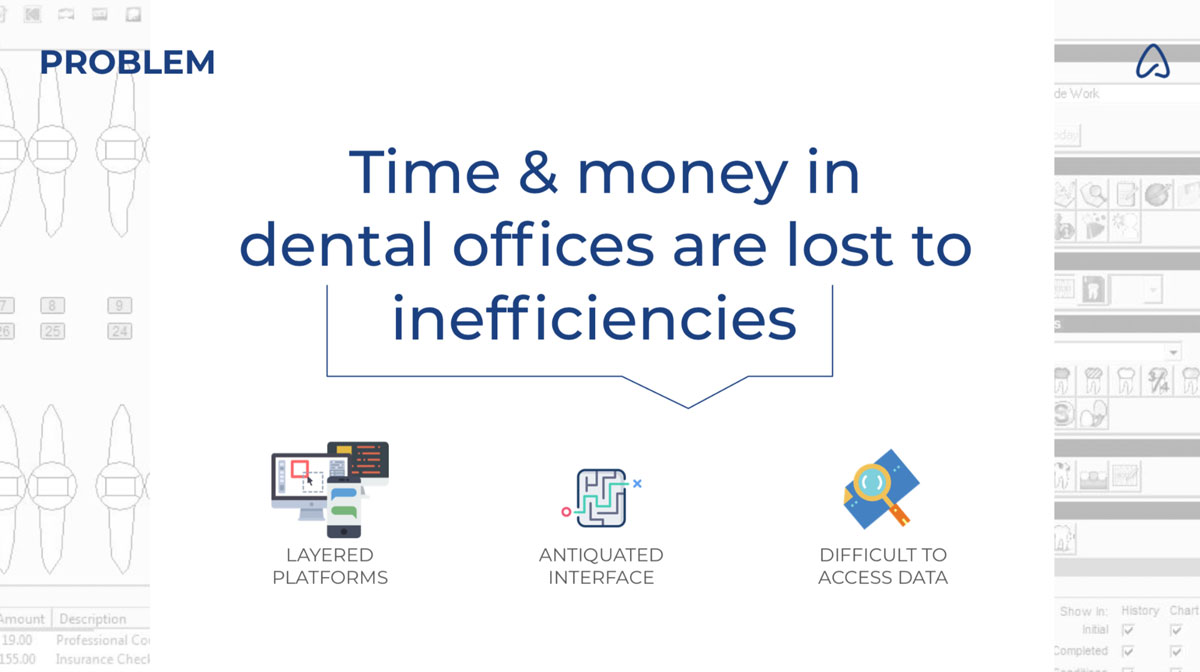 Market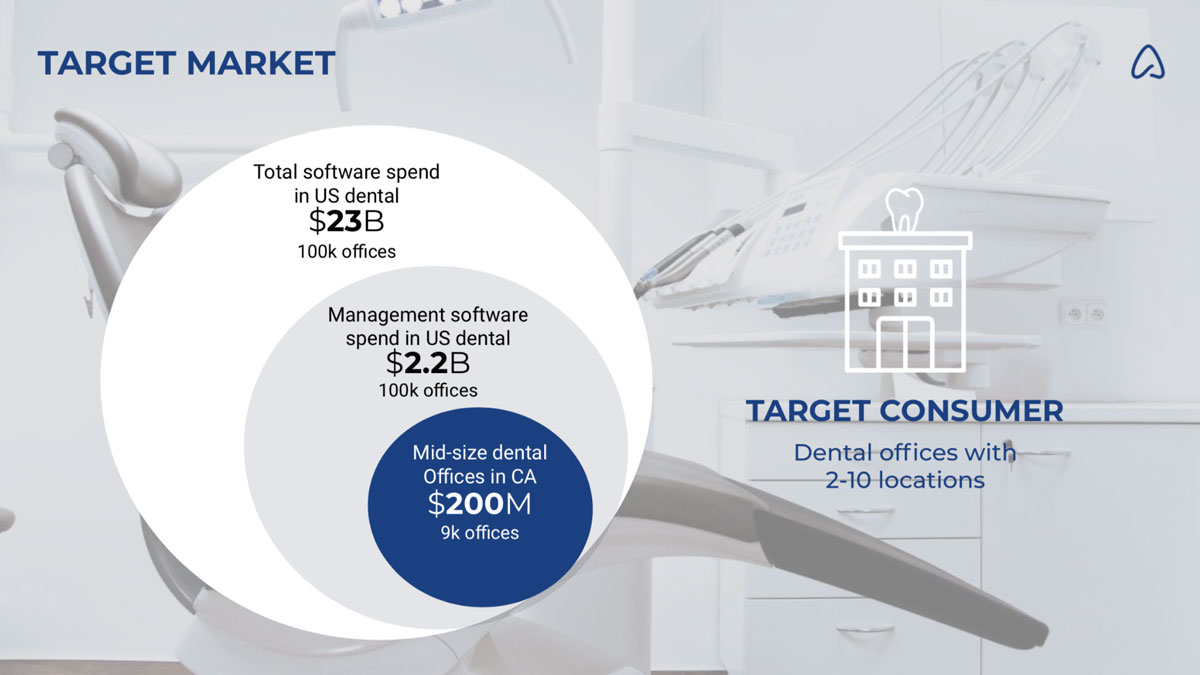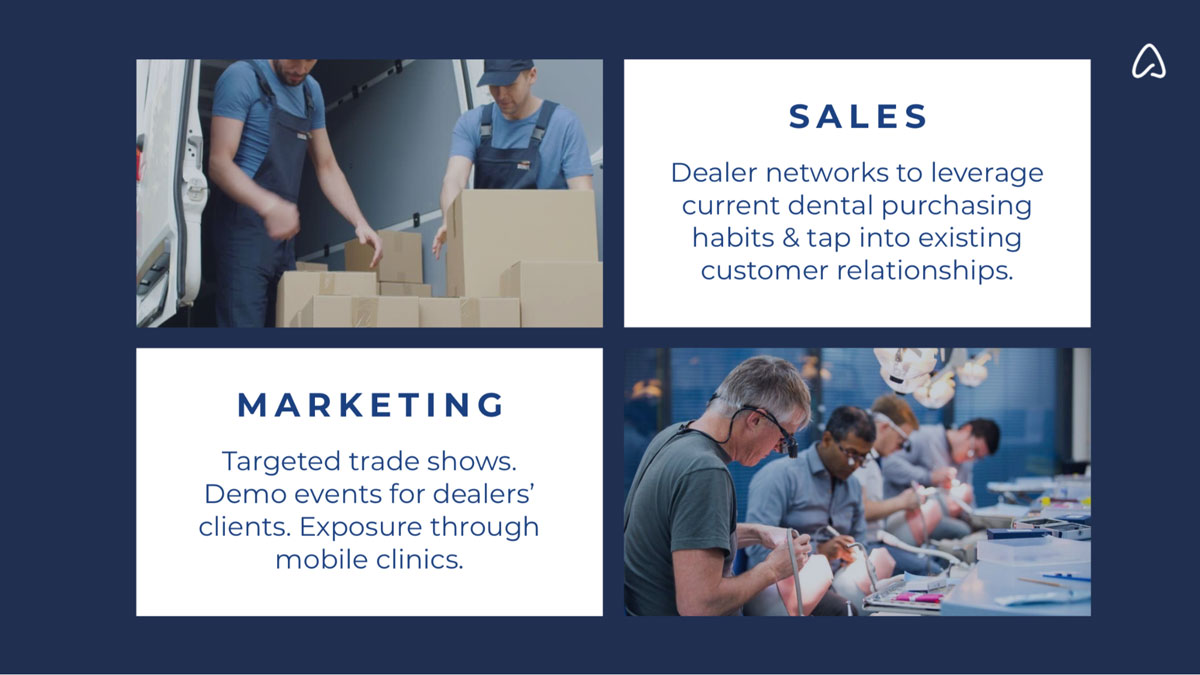 Many recent trends in the dental industry are reshaping the market, creating the prime moment for Asprodental to enter the playing field.
As dental offices are consolidating into multiple location groups, there arises the need to connect databases and remotely monitor each location. Those needs, coupled with broad consumer adoption of cloud technologies, has made cloud computing and storage more accepted in the dental industry within the past 2-4 years.
In addition to cloud solutions, there are many other consumer technologies that are being introduced to the dental industry -- for example, CRM products and x-ray capturing programs. These programs layer on top of the antiquated legacy practice management software. This presents a unique opportunity for Asprodental to consolidate existing technologies, improve upon the UI, and present a cohesive product to modernize the dental software industry.
Competitive Landscape
Background:
Before creating Asprodental, Dr. Kimberly (DDS) and Tiffany (MBA) Nguyen had experience running dental offices together. Their offices, as typical in the dental industry, were operating on an antiquated server-based management software.
Kimberly and Tiffany set on a quest to upgrade. They spent a year searching for a great cloud-based management software. However, all the products they encountered had uninspired, cluttered workflows that borrow heavily from legacy processes. Asprodental was born out of a need to fill a gap in the dental market: an enterprise software that has the easy usability of a consumer product.
Product:
Asprodental's advantage is a unique application of design. Asprodental's one-page-chart and imbedded search feature are the key advantages for dentists. Streamlining workflows and removing extraneous steps allows Asprodental to be 20% faster to use than a legacy server-based incumbent, which saves about 1 hour in a dental workday.
Execution:
Asprodental's distribution plan leverages dentists' current purchasing habits. Dentists buy anything from equipment and technology through local supplies dealers. The local dealers don't have management software whereas the large distributors do. Asprodental gives local dealers a tool to be competitive with the large distributors. In exchange, Asprodental gains access to the dealers' existing client relationships.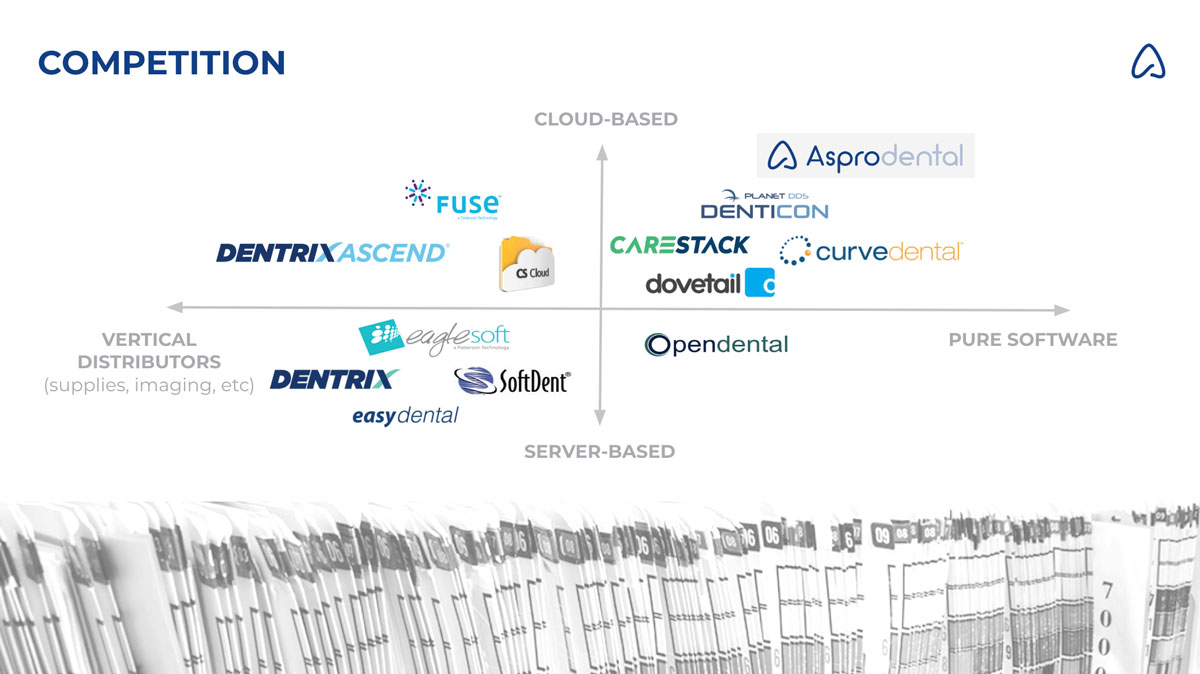 Business Model
Asprodental charges a monthly subscription based on the size of the office, with a one-time enrollment fee.
Currently, dentists purchase everything from high technology hardware to disposables through their local or regional supplies dealers. The dental industry is highly relationship-based. Asprodental sees local dealer networks as a channel for scalability. In contrast to competitors' sales methods of online demos, Asprodental plans to leverage the in-person relationships that dental supplies dealers have with their existing customer base.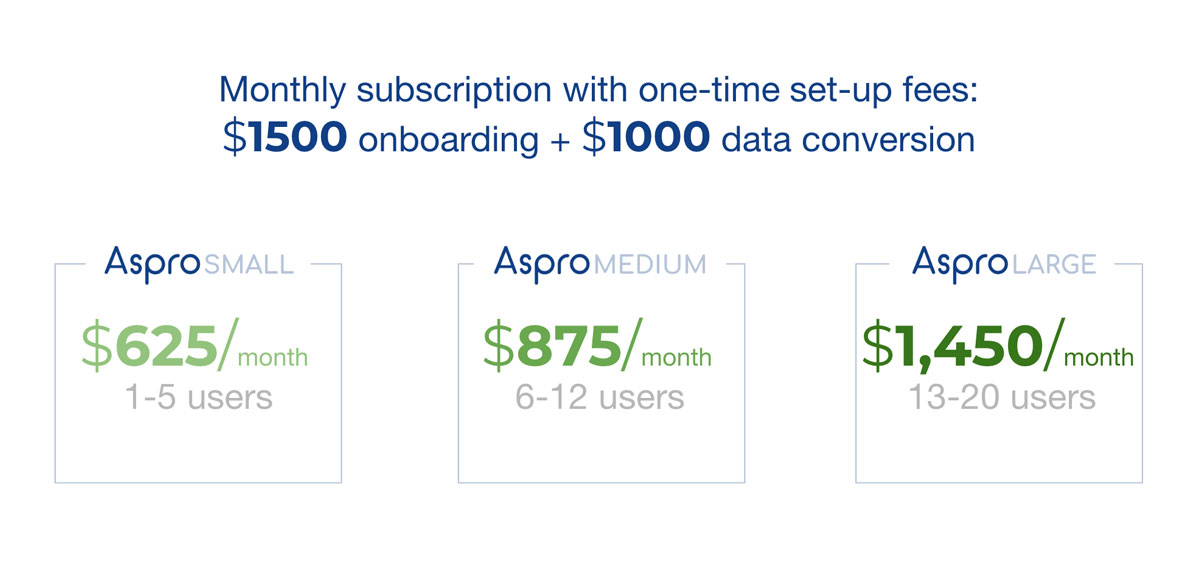 Progress
Asprodental has secured a partnership with a local dental supplies dealer in Orange County, CA. The working model with this dealer will be replicated nationwide as Asprodental approaches dealer consortiums.
Part of Asprodental's market launch strategy involves working with free dental clinics, starting with its first client, Lestonnac Free Clinic. Clinics such as Lestonnac are paying clients who offer a unique marketing opportunity. Dentists who regularly volunteer at the dental clinics typically have their own offices. By learning to use Asprodental at the clinics, the doctors decrease the barrier of entry for Asprodental into their offices. These doctors serve as a channel for word of mouth marketing and as sales leads.
Success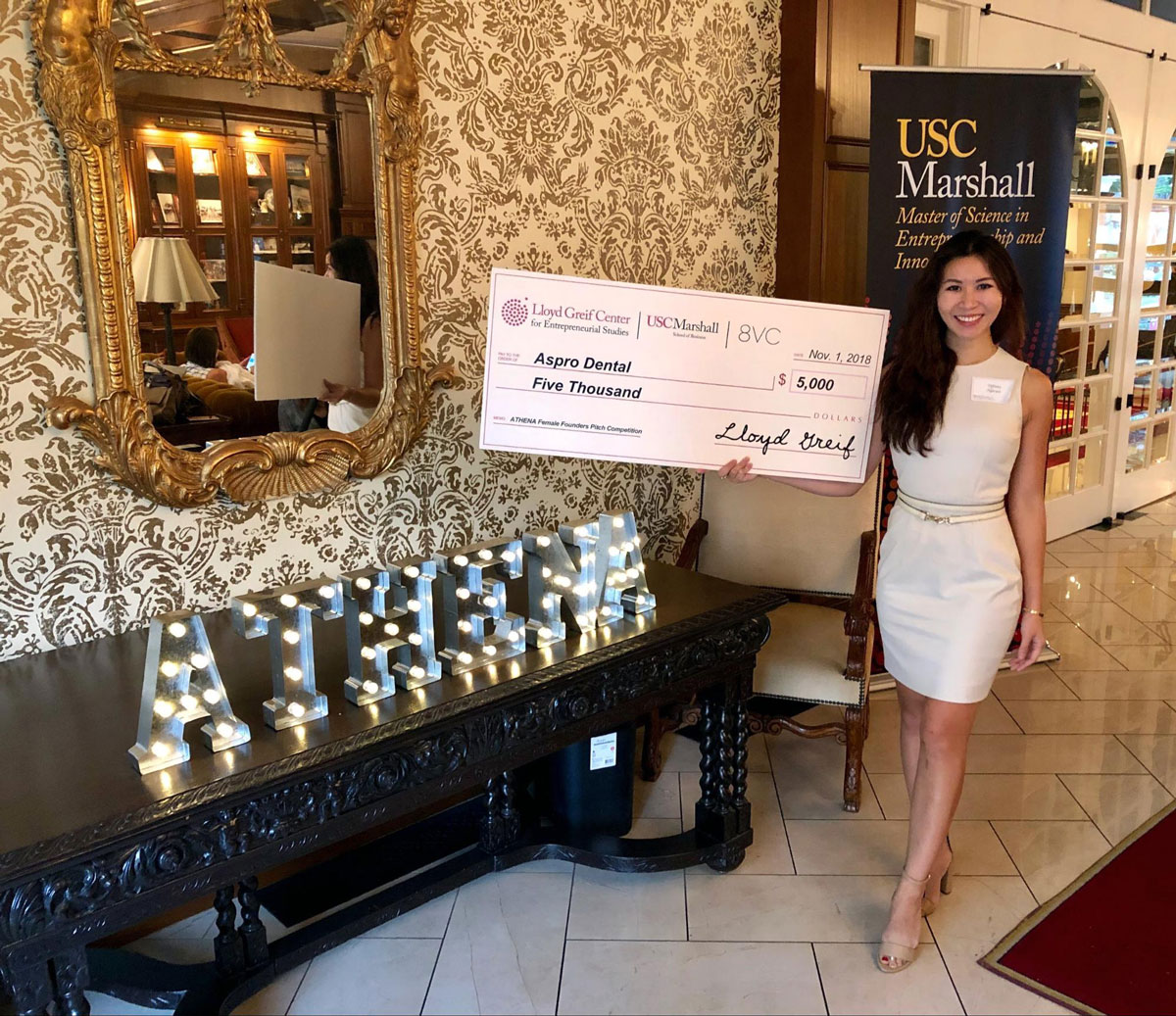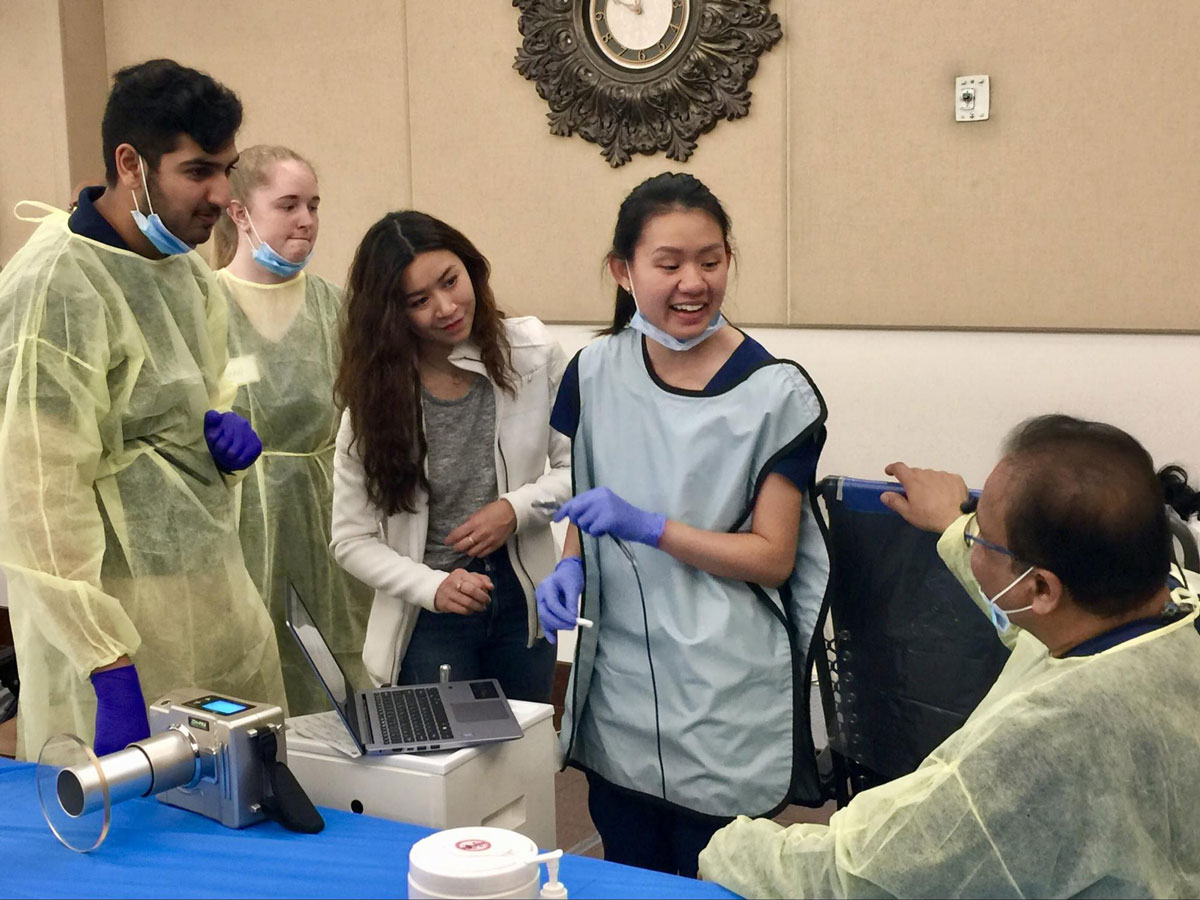 Press mentions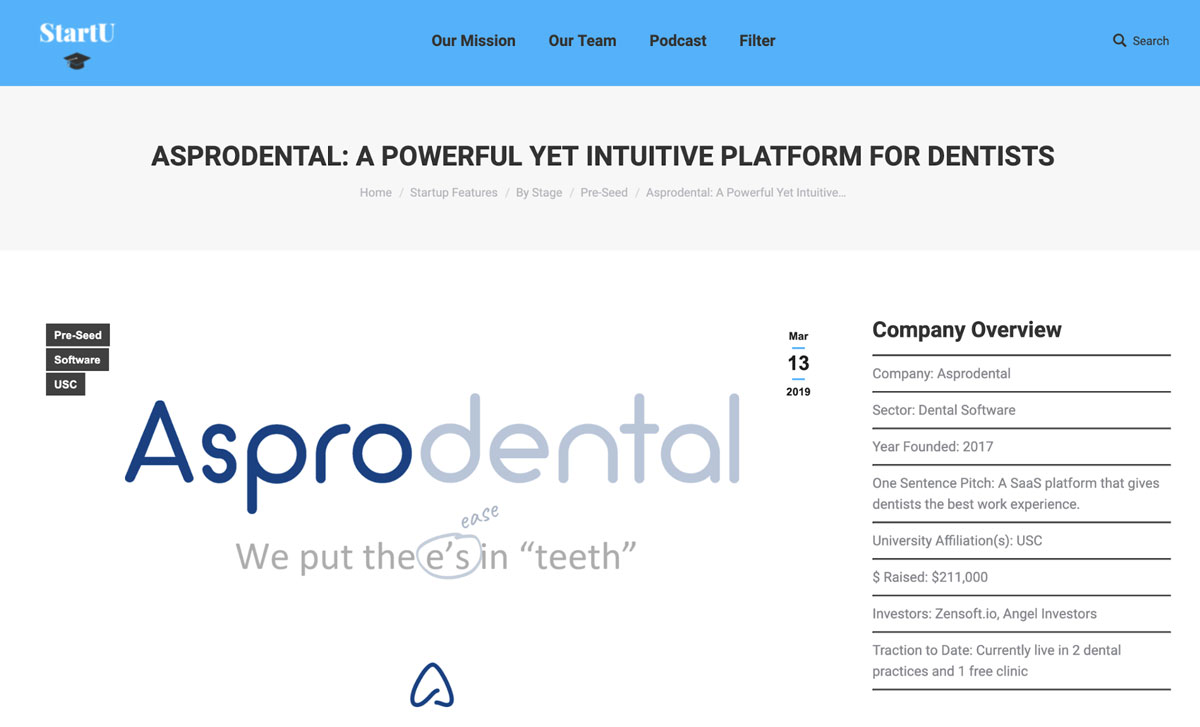 Nov 2018

Grant won from the ATHENA Women's Entrepreneurship Summit.

Dec 2018

$100k development services investment from David Tolioupov (SAFE).

Jan 2019

$100k investment from Pascal Decoussemaeker (SAFE). Company incorporated.

Feb 2019

First revenue-generating client onboarded. The client, Lestonnac Free Clinic, is the largest free clinic in California.

Mar 2019

Awarded Most Promising Venture by USC's Lloyd Greif Center for Entrepreneurship.

Apr 2019

Two-location dental office onboarded as the second client. Hosted a conference for local supplies dealer, OC-1. 30 dental offices were in attendance. 6 leads generated. Replicable conference model established.

May 2019

Established an onboarding plan for a three-location dental office (lead from the April conference) to officially onboard in June as the third client. David Tolioupov invested another $100k of development services.

Jun 2019

Meeting with NDC (national dental supplies dealer collective) to discuss national launch plan and pilot program.

Sep 2019

Hosting dental health records for the city of Anaheim's annual Anaheim Health Fair: two-day event at the Anaheim Convention Center.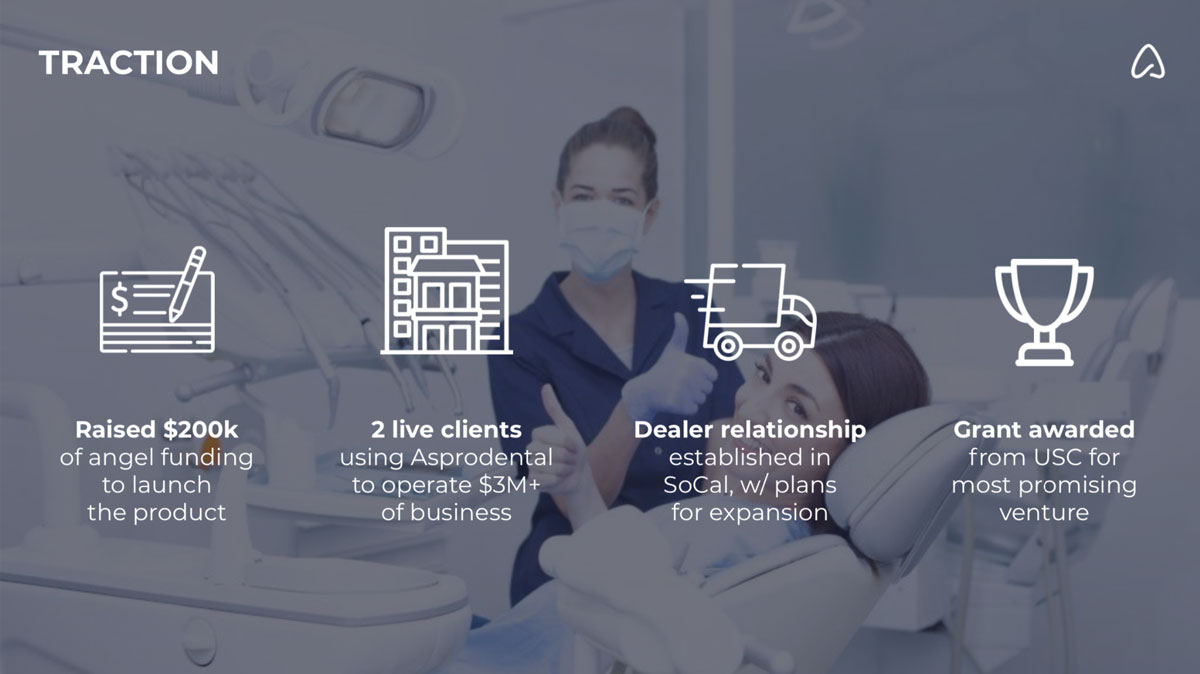 Team
Asprodental's team brings together the best of industry expertise and fresh perspectives.
Tiffany
Tiffany graduated from USC with her bachelors in biology at the age of 19. Two years after joining Kimberly's dental business, Tiffany led her team to accomplish a 67% production and 49% collections increase. This efficiency set the vision for Asprodental's interface. Tiffany is on track to receive her MBA in technology commercialization from USC by August of 2019. Many of the connections Tiffany acquired before and during the MBA program have been key in launching Asprodental. Tiffany's ability to attract and motivate talent is a major driving force within the company.
Kimberly
Kimberly graduated from USC dental school at the age of 23 and founded her first dental office by the time she was 25. She now owns two dental practices that operate independently of her. Kimberly founded an annual free dental event in 2009. She grew the dental event into a full health fair that includes medical and optometry services, receiving grants from Rotary International. Kimberly's extensive industry contacts provide her with a strong foundation for leading business development at Asprodental.
Pascal
Pascal has been instrumental in launching many technologies into the dental market during his 25+ year career. He was responsible for assembling the sales team for a dental x-ray start-up (Suni Medical Imaging) in San Jose and scaling the company to over 80 different countries. Pascal's industry connections helped Asprodental acquire a key partnership with the dental imaging company, Apteryx, that provides the API for our x-ray module. Having already garnered interest in Asprodental from leading dental sales executives and advisors, Pascal is poised to help Asprodental successfully enter the market.
Steve
Steve holds his masters in healthcare administration from Cal State Long Beach. During his 20+ year career, Steve has transitioned from hospital to IT management. Steve played a pivotal role in developing and implementing critical IT infrastructure within hospital systems. Steve's experience with managing IT on an enterprise level within the healthcare industry makes him well equipped to lead logistics and operations for Asprodental.
Advisors
Fred Joyal
Co-founded 1-800-DENTIST and served as CEO for over 30 years. Fred is now a renowned author and speaker on dental marketing and growth scaling.
David Tolioupov
Founder and CEO of Zensoft.io, co-founded LocalOn and Go Skip SaaS platforms, served as CTO of Echo Oil & Gas. Created products for VMWare, Uber, and United Airlines.
Ivan Nikkhoo
Managing Partner at Navigate Ventures, an early growth stage venture fund in LA; Venture Capital Subnetwork Chair for Young Presidents' Organization.
Investors
Zensoft.io

Software development company based in SF, founded by our advisor, David Tolioupov

Pascal Decoussemaeker

Pascal believes in us so much that he invested $100k of his own money and joined our working team
Terms
This is an offering of Common Stock, under registration exemption 4(a)(6), in Asprodental Inc.. This offering must raise at least $10,000 by December 3, 2019 at 12:00pm ET. If this offering doesn't reach its target, then your money will be refunded. Asprodental may issue additional securities to raise up to $253,000, the offering's maximum.
If the offering is successful at raising the maximum amount, then the company's implied valuation after the offering (sometimes called its post-money valuation) will be:
9,391,283 shares
×
$0.46 per share
$4,319,990implied valuation
Financials
These financial statements have been reviewed by an independent Certified Public Accountant.
SEC Filings
The Offering Statement is a formal description of the company and this transaction. It's filed with the SEC to comply with the requirements of exemption 4(a)(6) of the Securities Act of 1933.
Understand the Risks
Be sure to understand the risks of this type of investment. No regulatory body (not the SEC, not any state regulator) has passed upon the merits of or given its approval to the securities, the terms of the offering, or the accuracy or completeness of any offering materials or information posted herein. That's typical for Regulation CF offerings like this one.
Neither Netcapital nor any of its directors, officers, employees, representatives, affiliates, or agents shall have any liability whatsoever arising from any error or incompleteness of fact or opinion in, or lack of care in the preparation or publication of, the materials and communication herein or the terms or valuation of any securities offering.
The information contained herein includes forward-looking statements. These statements relate to future events or to future financial performance, and involve known and unknown risks, uncertainties, and other factors, that may cause actual results to be materially different from any future results, levels of activity, performance, or achievements expressed or implied by these forward-looking statements. You should not place undue reliance on forward-looking statements since they involve known and unknown risks, uncertainties, and other factors, which are, in some cases, beyond the company's control and which could, and likely will, materially affect actual results, levels of activity, performance, or achievements. Any forward-looking statement reflects the current views with respect to future events and is subject to these and other risks, uncertainties, and assumptions relating to operations, results of operations, growth strategy, and liquidity. No obligation exists to publicly update or revise these forward-looking statements for any reason, or to update the reasons actual results could differ materially from those anticipated in these forward-looking statements, even if new information becomes available in the future.
Updates
Feb 14, 2023

The AACA conference last year was a major...

The AACA conference last year was a major success and Asprodental is poised to be the AACA's exclusive practice management software vendors again this year. The 2022 conference yielded a CAC of $2,500 per client, which is 30% of an annual contract ($8,244 client annual contract value). Asprodental's number of clients and revenue doubled in 2022, largely in part due to the AACA partnership and marketing/sales nurturing support provided by the team at Gravity Payments. 2023 plans include continuing the partnership with the AACA, finding more partners with similar impact, and leveraging Gravity Payments' network and resources.

Jun 2, 2022

Asprodental is partnering with the American...

Asprodental is partnering with the American Academy of Clear Aligners (a network of over 1,000 dentists) as the exclusive practice management software vendor of the group. At the AACA Conference in June/July 2022, the Asprodental team has an opportunity to present the product on stage to all members in attendance. Asprodental attended the AMPLIFY dental technology conference in May 2022 and is partnering with the National Mobile Dentistry organization in June 2022. In August 2021, Asprodental partnered with Gravity Payments to provide integrated payments processing. Gravity Payments also invested in Asprodental in the form of a SAFE and the Gravity Payments CEO, Dan Price, and CTO, Tammy Kroll, are mentoring the Asprodental co-founders.

Feb 9, 2021

Asprodental has gained 2 new clients during the...

Asprodental has gained 2 new clients during the lockdown period of 2020. Two senior sales representatives and a marketing executive, each with over 2 decades of prior experience working for a competing practice management software company, have joined the Asprodental team. Asprodental is in progress on a partnership with a dental data analytics company.

Dec 3, 2019

Primary offering finalized, selling

shares

Sold $0.46 for a total of $27,009.82

shares at

Jun 6, 2019

Primary offering of $0.46

shares at
Ask a Question
Proofread your comment before submitting: once it's posted, you can't edit or delete it. For the fastest help with the web site, email help@netcapital.com instead of commenting.
Looking to raise capital?
We can help turn your friends, family and customers into investors.
Learn more
Interested in more investment opportunities?
Browse all offerings currently available.
See more