Introduction
AWS designs, manufactures and sells the global award-winning AquaBoy® air-to-water generator for residential, commercial and industrial use. AWS sells two product lines worldwide: the AquaBoy® Pro II line produces up to 5 gallons of water daily for home and office use, and the AquaBoy® Commercial line produces between 30 and 3,000 gallons of water daily for commercial and industrial purposes.
Our mission is to provide clean, safe water using environmentally sustainable methods and a cost-efficient distribution system.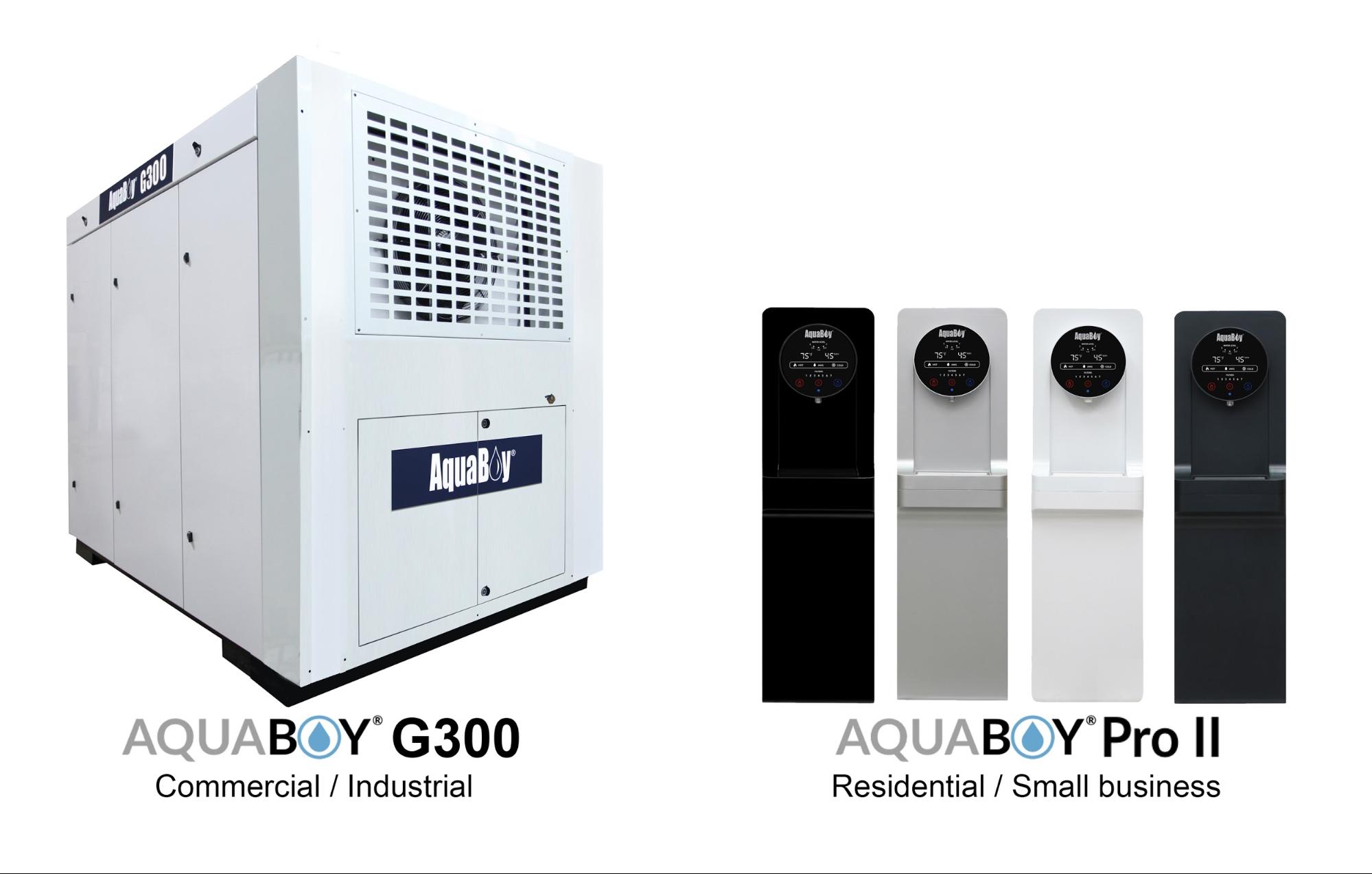 Deal Highlights
Makes purified great-tasting water from the air
Helps solve global issues of water quality, water sustainability & availability, water value and the environment
UL Listed
Replaceable filters allow for aftermarket revenue stream
Worldwide distribution and global awards
Problem
Communities throughout the world are experiencing a shortage of safe, reliable water sources, jeopardizing their health, the health of their loved ones and the environment. Many people are either unaware they consume contaminated water or simply lack the resources to acquire clean water. Due to insufficient water supply, the demand for plastic water bottles and containers has also risen and continues to endanger our planet.

Solution
AquaBoy® introduces an alternative solution to the current water market: high quality, cleaner, safer, and less expensive drinking water. With a resource as abundant as air, we can achieve our goal of making clean drinking water accessible, regardless of location. Unlike other water utilities and bottling companies, AquaBoy® implements an organic approach to water production. Our technology uses less processing and none of Earth's rapidly vanishing groundwater, ensuring zero negative environmental impacts. Also, the built-in micro computer and LED panel makes AquaBoy® incredibly user friendly.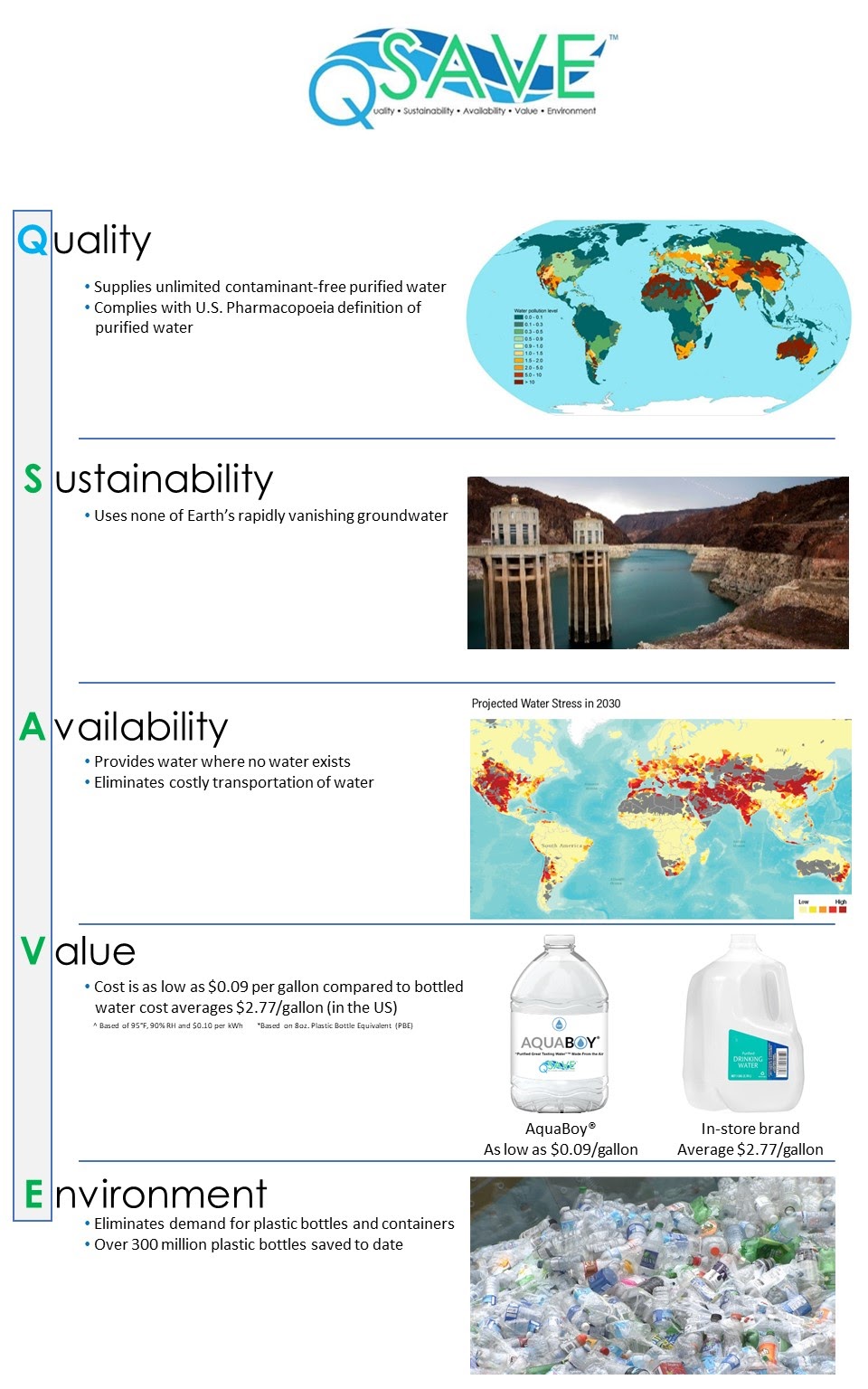 How It Works
Our air-to-water technology machines produce clean water from the atmosphere using a condensing surface and proprietary filtration system that removes dust, airborne particles and bacteria. Similar technology has been in effect for many years, most commonly in air conditioners and dehumidifiers.
The moisture-rich air enters the appliance through a filter and passes across condensing coils. After the water condenses, it is collected into a water treatment system that continuously filters, sanitizes and holds the water for dispensing.
These products are powered by standard household or industrial electric supply from renewable or conventional generation sources. The performance of all products depends on the relative humidity and temperature of the atmosphere.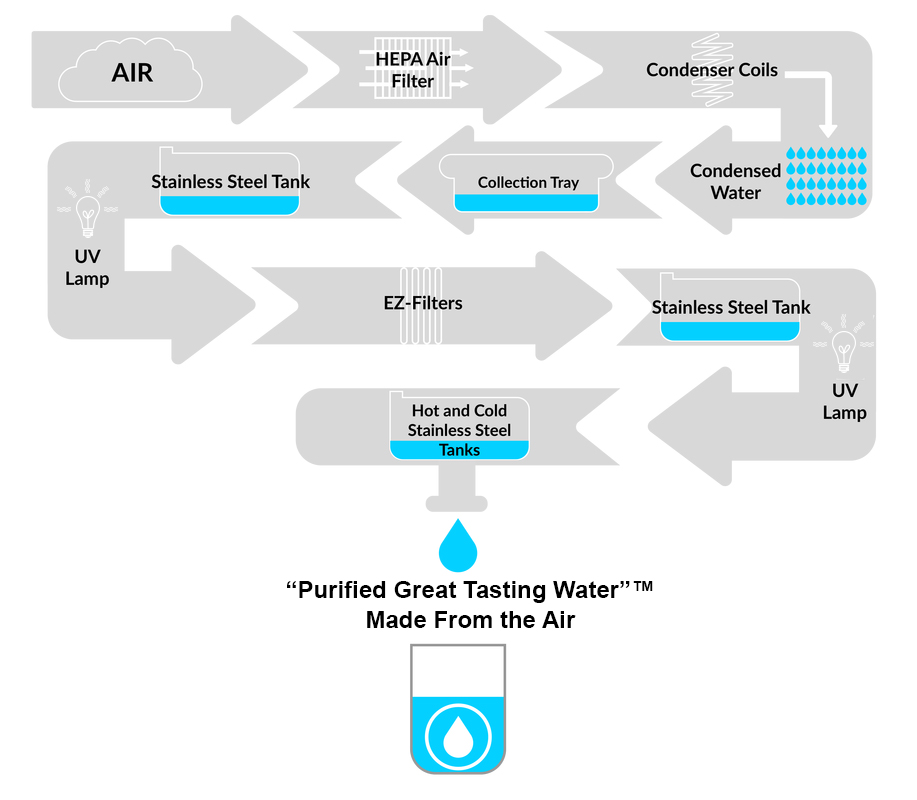 Business Model
AWS currently markets our products through domestic and international distributors and global retailers. Direct sales are also carried out on an inbound inquiry basis. In addition, we have arranged agent agreements, in which agents are compensated for revenues directly associated with introductions and referrals to new distributors or significant customers. AWS selects appropriate distribution partners to ensure they have the proper infrastructure for a positive customer experience.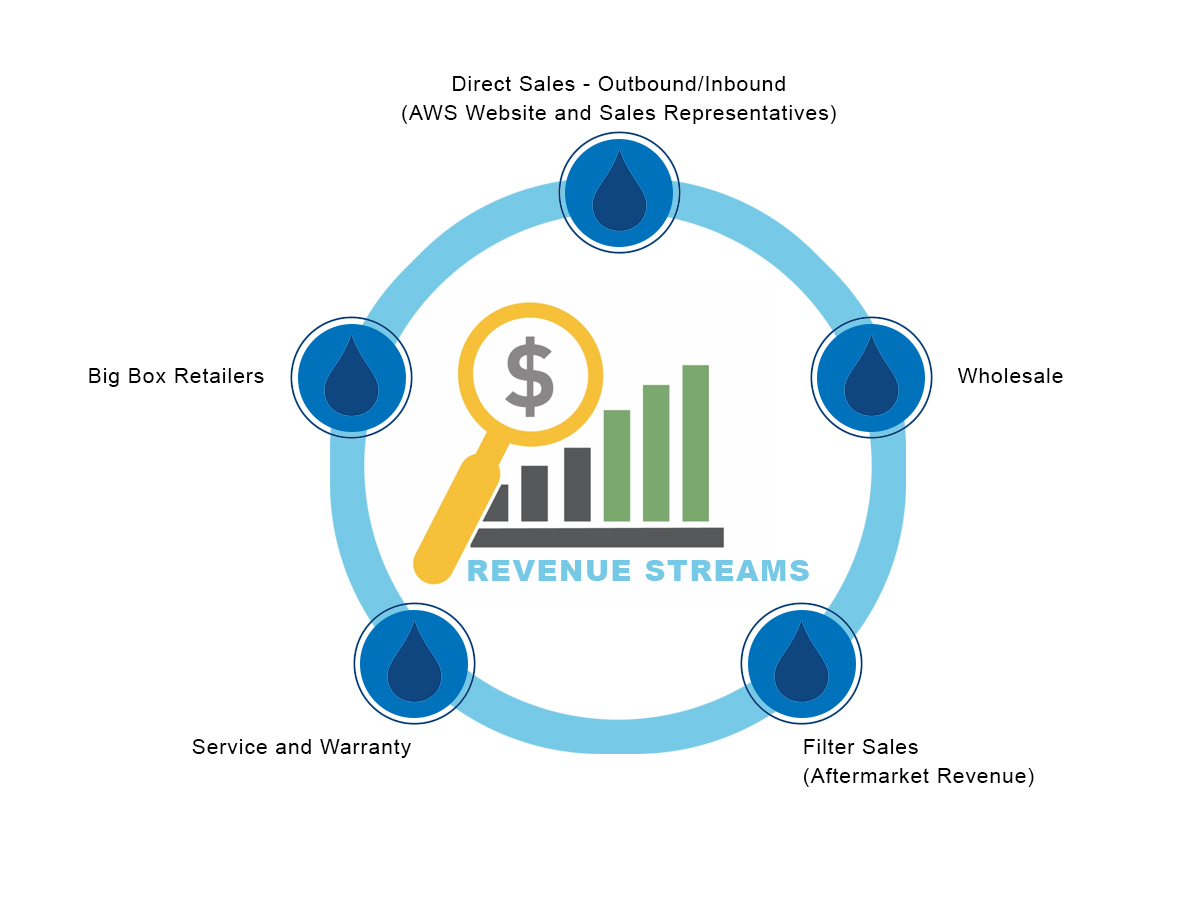 "Declining freshwater levels and depleting water resources along with rapid infrastructure development are anticipated to boost the demand for freshwater, which, in turn, is expected to augment the demand for atmospheric water generators over the forecast period [2020-2027]."
Target markets for the air-to-water systems are households, businesses, governments (such as military, FEMA, etc.), institutions and commercial/industrial entities. The AquaBoy® equipment has an operating range of 20% to 95% relative humidity and 50 to 90+ degrees Fahrenheit.
Competitive Landscape
AWS is actively competing with several water generation companies, including WaterGen, Island Sky/Skywater and Zero Mass Water.
AquaBoy®'s global IP and branding sets us apart as a leader in the industry.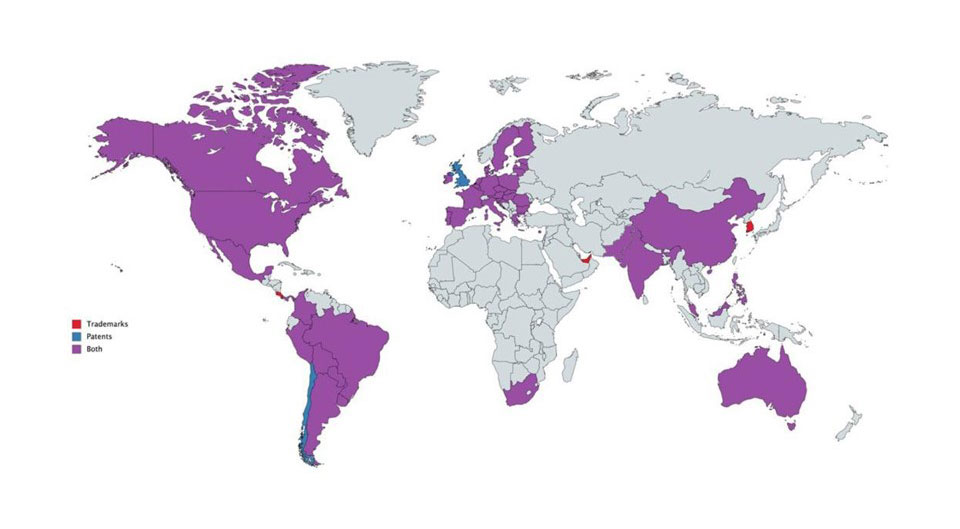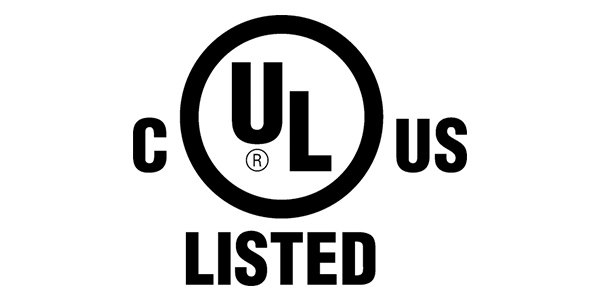 Also, the AquaBoy® machines are among the only mass market Atmospheric Water Generators in the world that are UL listed, verifying the safety and credibility of our product.
AWS has also achieved approved vendor and/or supplier status with Air2O Bahamas; Global Industrial; Hammacher Schlemmer; The Home Depot; Maghdeem Group; Office Depot; OHM International; Unbeatable Sale; Target and more.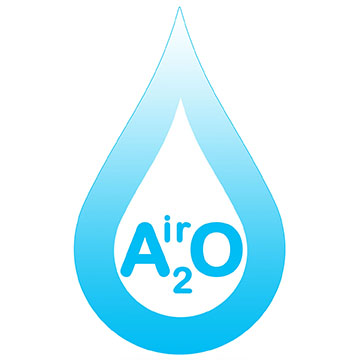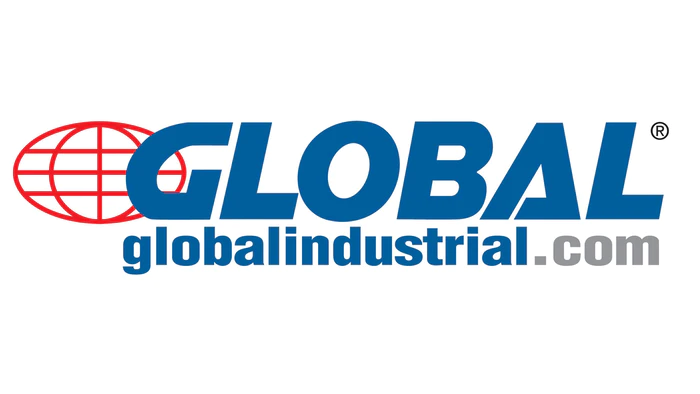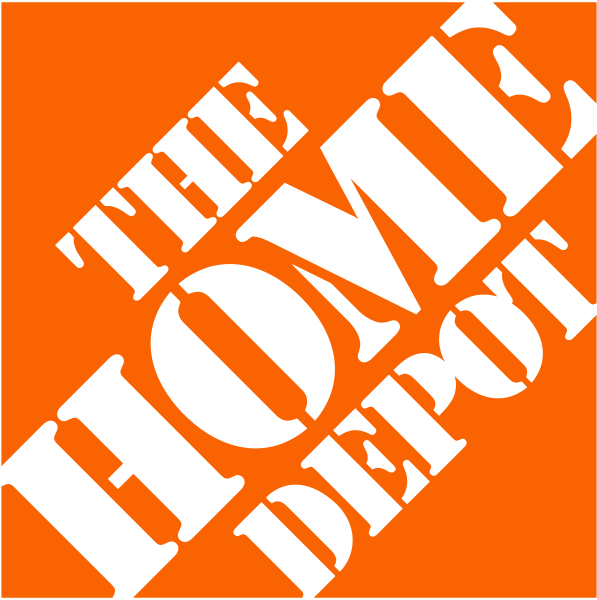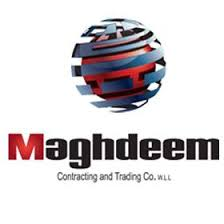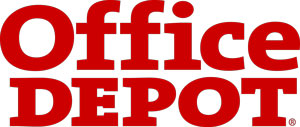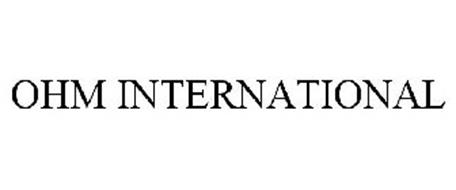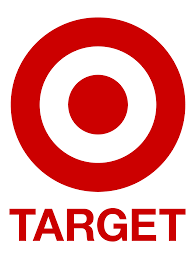 A leader in the industry, AWS has received numerous global awards, notably Best in Show and Best Kitchen Product at the 2017 NAHB IBS Awards and the Global Innovation Award (Kitchen Electrics Category) at the 2016 IHA Innovation Awards.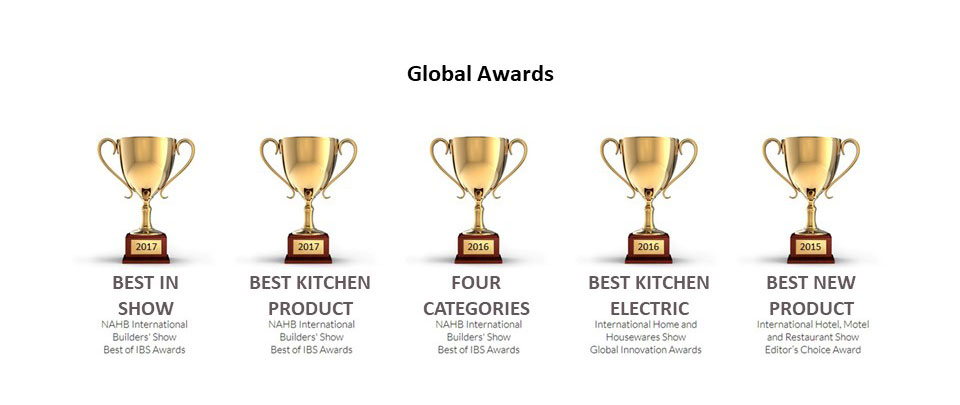 Progress
Moved production from S.Korea and India to our current contract manufacturer in China
Re-designed, and continue to upgrade, the AquaBoy® product; based on end user feedback and technological advancements
Established global omni-channel sales team network (Manufacturer's reps, Consultants, Distributors)
Became an approved supplier to some of the largest retailers and distributors
Built the AquaBoy® brand across numerous business sectors, while bringing awareness to the AWG category
Acquired global Intellectual property rights
Received numerous global awards
Team
Doug Marcille
CEO
Doug was CEO of U.S. Gas & Electric, Inc., a major retailer of natural gas and electricity from 2004 through 2014. He led it from startup to over $350 million in annual revenues and $35 million in EBITDA; sold in July 2017 for $173 million.
Doug's prior experience includes various leadership positions in technology, logistics and international consulting companies, including Senior Manager with Ernst and Young. Specialties include high growth companies, team building, sales channels, finance, accounting and mergers and acquisitions. He has a law degree from Boston University School of Law and a BSBA degree in accounting from the University of Rhode Island (summa cum laude).
Reid Goldstein
EVP
Reid was President of Capstone Industries, Inc., from 2007 through 2014. He generated over $50 million in revenue. Reid was also an Entrepreneurial Consultant for Alacer Corp., Beach Brew Beverage, Capstone Industries, Cool Fruits, Inc., and nSpired Natural Foods. Prior to that Reid served as President and founding partner to Flotool/Snapware from 1989 to 1996.
Reid's prior experience includes launching the following products: ArmorAll, Eco-i-Lite, Emergen-C, Keller Aluminum Ladder, Kraco Cordless Telephone, Maranatha Organic Peanut Butter, Simple Green, Skinny Corn Chips, Snapware, STP Tools, Super Glue and Takeya Flash Chill Iced Tea Maker.
Al Johnston
CFO
Al served as CFO, COO and VP of Finance and Operations for U.S. Gas & Electric.
Al's prior experiences over the past 25 years include computer products, reverse mortgages, medical supplies, banking and retail energy.
Use of Proceeds
If the offering's maximum amount of $1,070,000 is raised:
| Use | Value | % of Proceeds |
| --- | --- | --- |
| Product Development | $50,000 | 4.7% |
| Marketing | $100,000 | 9.3% |
| Interest | $100,000 | 9.3% |
| Management Payroll | $117,570 | 11.0% |
| Inventory | $200,000 | 18.7% |
| Staff Payroll | $200,000 | 18.7% |
| Lease, Utilities & Overhead | $250,000 | 23.4% |
| Intermediary fees | $52,430 | 4.9% |
Terms
This is an offering of Class A Member Unit, under registration exemption 4(a)(6), in Atmospheric Water Solutions, LLC, doing business as AquaBoy. This offering must raise at least $10,000 by November 13, 2020 at 11:59am ET. If this offering doesn't reach its target, then your money will be refunded. AquaBoy may issue additional securities to raise up to $1,070,000, the offering's maximum.
$10,000 minimum
$23,857 raised
If the offering is successful at raising the maximum amount, then the company's implied valuation after the offering (sometimes called its post-money valuation) will be:
10,073,104 units
×
$1.00 per unit
$10,073,104implied valuation
Financials
AquaBoy's official name is Atmospheric Water Solutions, LLC, so that's the name that appears in the statements below.
These financial statements have been reviewed by an independent Certified Public Accountant.
SEC Filings
The Offering Statement is a formal description of the company and this transaction. It's filed with the SEC to comply with the requirements of exemption 4(a)(6) of the Securities Act of 1933.
Updates
Sep 11, 2020

Primary offering of $1.00

shares at
Ask a Question
Proofread your comment before submitting: once it's posted, you can't edit or delete it. For the fastest help with the web site, email help@netcapital.com instead of commenting.
Understand the Risks
Be sure to understand the risks of this type of investment. No regulatory body (not the SEC, not any state regulator) has passed upon the merits of or given its approval to the securities, the terms of the offering, or the accuracy or completeness of any offering materials or information posted herein. That's typical for Regulation CF offerings like this one.
Neither Netcapital nor any of its directors, officers, employees, representatives, affiliates, or agents shall have any liability whatsoever arising from any error or incompleteness of fact or opinion in, or lack of care in the preparation or publication of, the materials and communication herein or the terms or valuation of any securities offering.
The information contained herein includes forward-looking statements. These statements relate to future events or to future financial performance, and involve known and unknown risks, uncertainties, and other factors, that may cause actual results to be materially different from any future results, levels of activity, performance, or achievements expressed or implied by these forward-looking statements. You should not place undue reliance on forward-looking statements since they involve known and unknown risks, uncertainties, and other factors, which are, in some cases, beyond the company's control and which could, and likely will, materially affect actual results, levels of activity, performance, or achievements. Any forward-looking statement reflects the current views with respect to future events and is subject to these and other risks, uncertainties, and assumptions relating to operations, results of operations, growth strategy, and liquidity. No obligation exists to publicly update or revise these forward-looking statements for any reason, or to update the reasons actual results could differ materially from those anticipated in these forward-looking statements, even if new information becomes available in the future.
Looking to raise capital?
We can help turn your friends, family and customers into investors.
Learn more
Interested in more investment opportunities?
Browse all offerings currently available.
See more