Invest in ChoiceTrade's equity crowdfunding offering and receive your entire investment back in commission credits!*
Press Mentions
Introduction
Introducing ChoiceTrade
ChoiceTrade is a high-technology, online discount broker, ranked 4 stars by Barron's six times. The company seeks to democratize investing by providing a low cost trading platform, with excellent service and execution. When choosing an online broker, price is the deciding factor for most customers; according to a recent survey, people switch trading platforms due to cost almost 40% of the time. Thus, ChoiceTrade's ability to provide the lowest price point is a significant competitive advantage.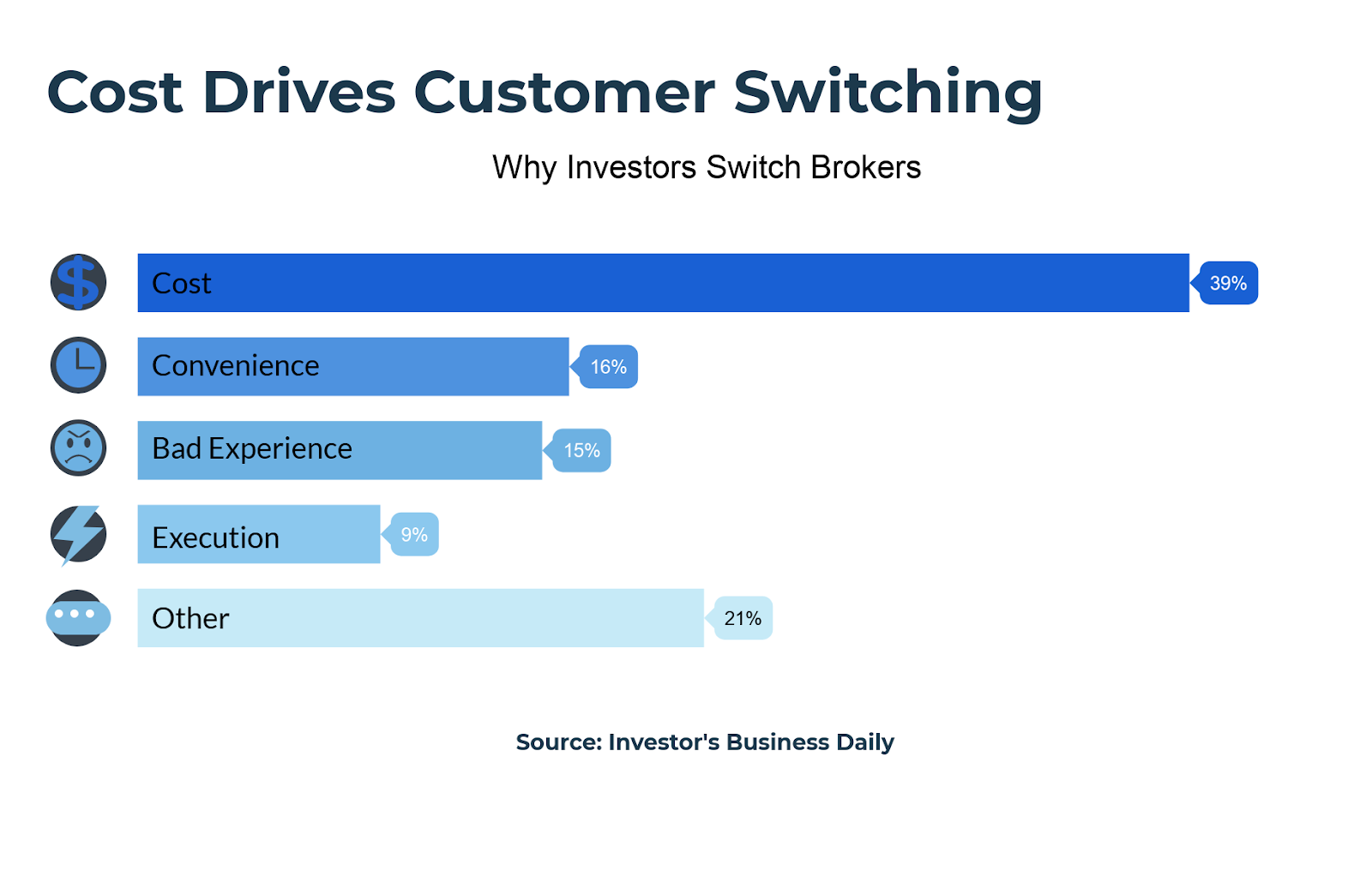 Advantages to Customer
Cost
The customer receives quality execution at a significantly discounted price. For example, ChoiceTrade offers zero commission on U.S. exchange-traded equities and ETF's, while competitors charge $4.95 or more. Furthermore, to trade options, the company offers up to 1,000 contracts for a flat fee of only $10. This would cost $706, on average, if traded through competing platforms**, resulting in a savings of $696. For frequent options traders, the savings really begin to add up.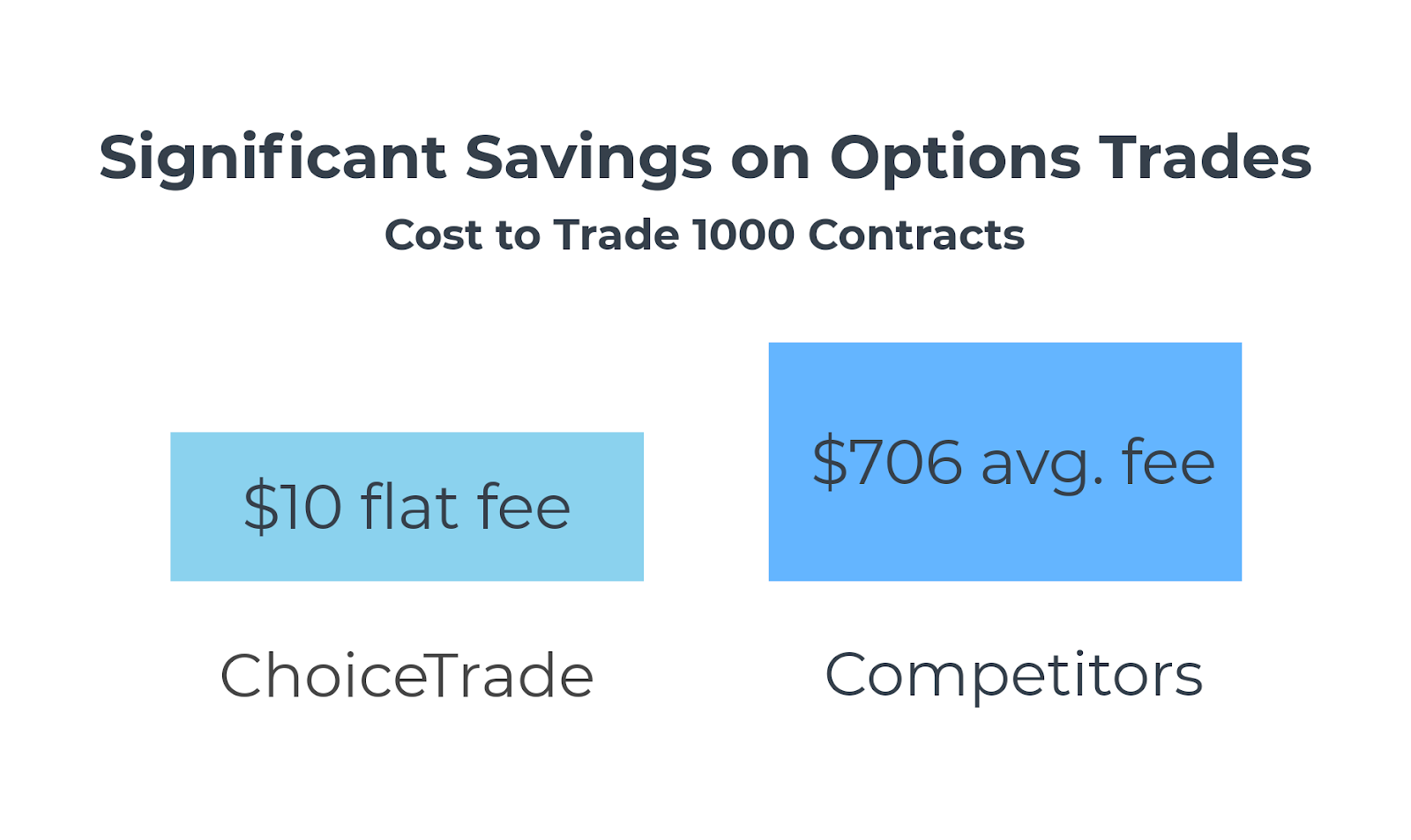 Minimum Account Size
ChoiceTrade requires only $100 to open an account, vs. $500 to $10,000 at competing firms.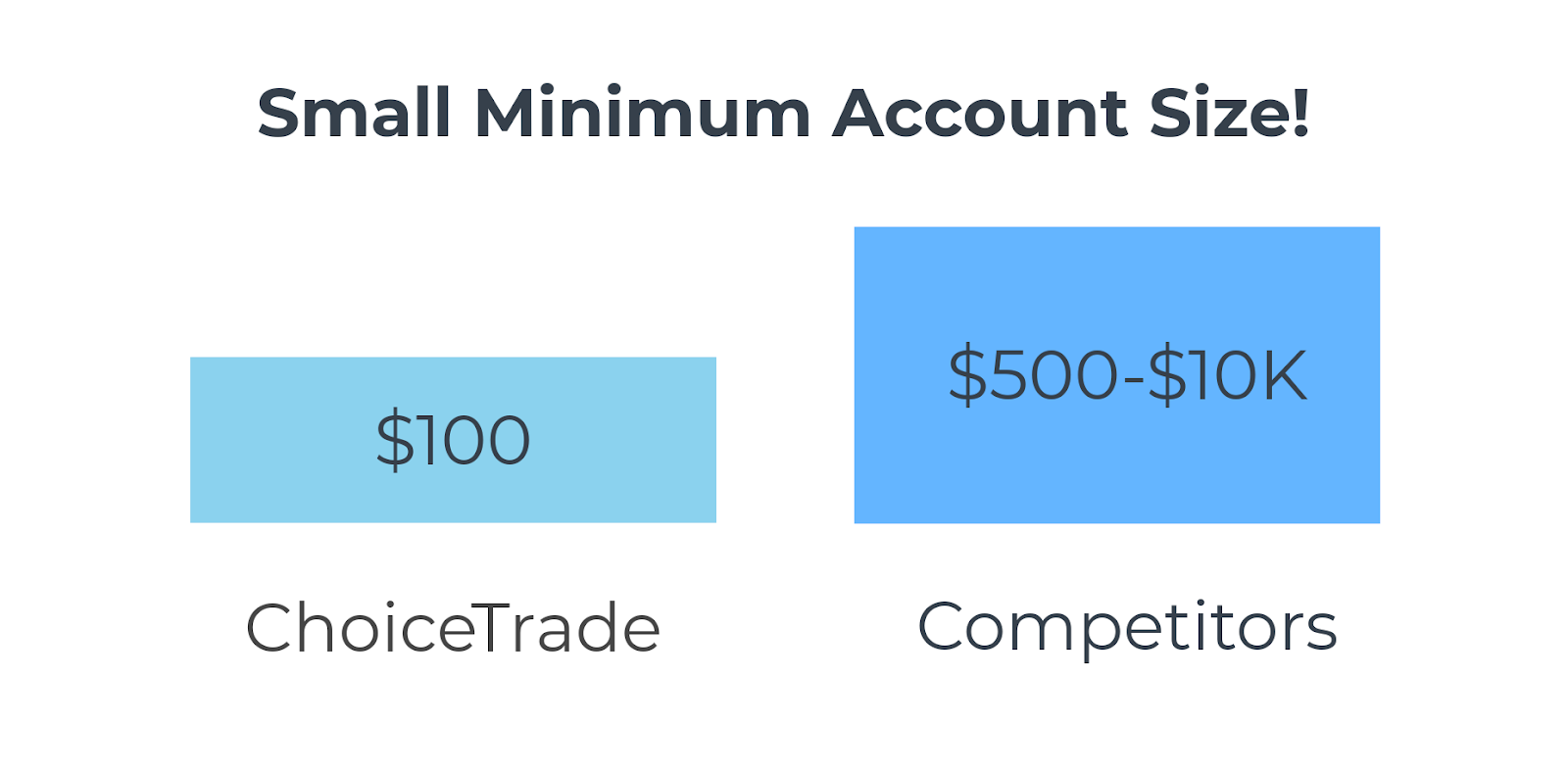 Speed and Ease of Onboarding Experience
It is quick and easy to set up an account at ChoiceTrade. The process is completely paperless, and it takes only 10 minutes to complete the application.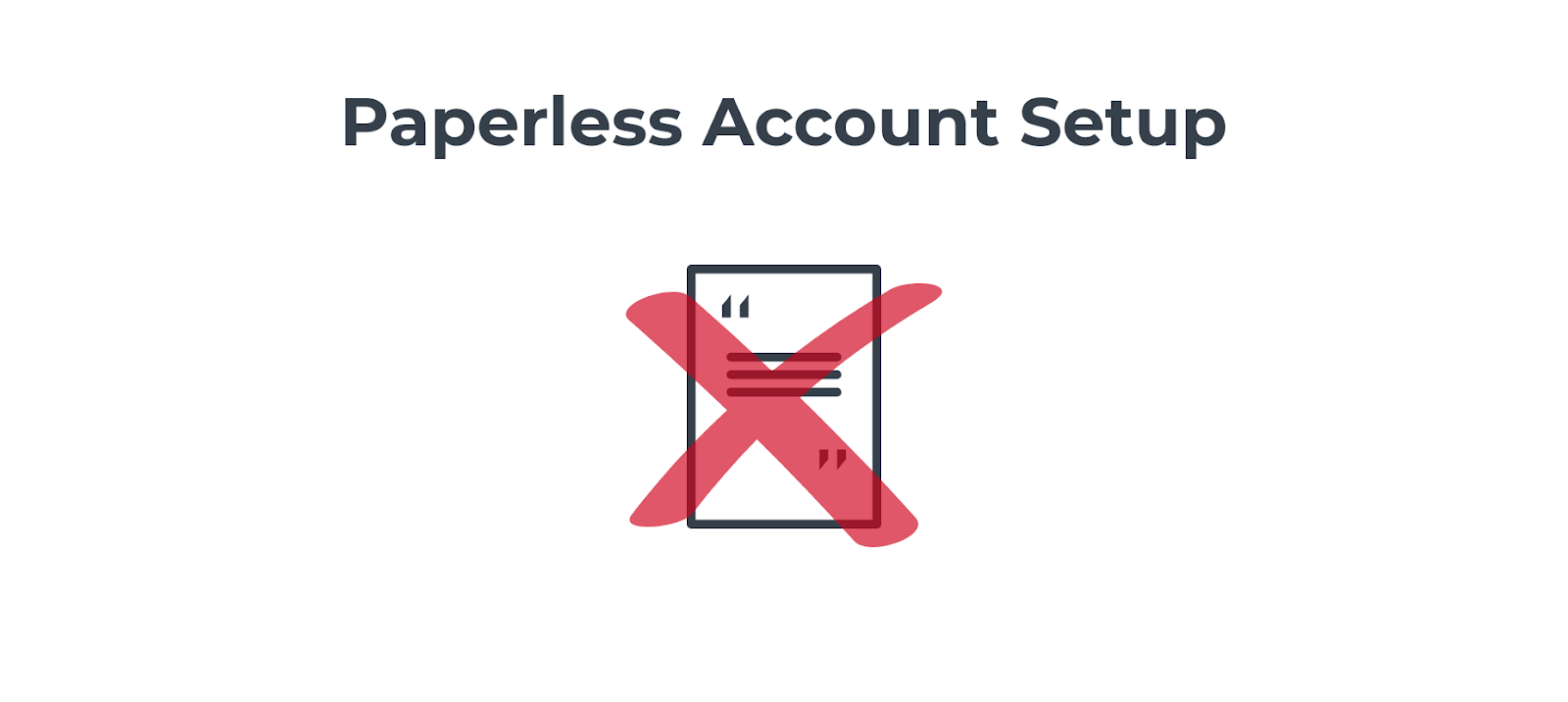 Our systems automatically perform all compliance checks, and new customers can potentially trade the same day; this could take days or even a week at other firms.
Ability to Trade Cryptocurrency
ChoiceTrade expects to enter into an arrangement with a cryptocurrency exchange, and post completion of our current technology upgrade, customers will have the ability to trade crypto on our platform. Bitcoin and other cryptocurrencies have become extremely popular with investors in recent years, yet no fully integrated online brokers offer the ability to trade them; up until now, customers have had to go directly to specialized crypto exchanges. The ability to integrate cryptocurrency trading with our other offerings should provide a significant competitive advantage vs. peers. Additionally, ChoiceTrade intends to be a pioneer for trading crypto securities. As more and more companies move toward tokenizing their stock and issuing shares on a blockchain, ChoiceTrade will facilitate trading through its proprietary web interface allowing customers to seamlessly trade new and old world securities alike, effortlessly and cost effectively.

Business Model
ChoiceTrade earns fees and commissions on trades as well as net interest income on customer balances. The company benefits when the Fed raises interest rates, since this increases interest earned.
Market Opportunity
The market opportunity for online brokers is quite large. There are approximately $38 trillion in investable assets in the U.S., which have been growing at a compound annual rate of 5%, over the last 10 years.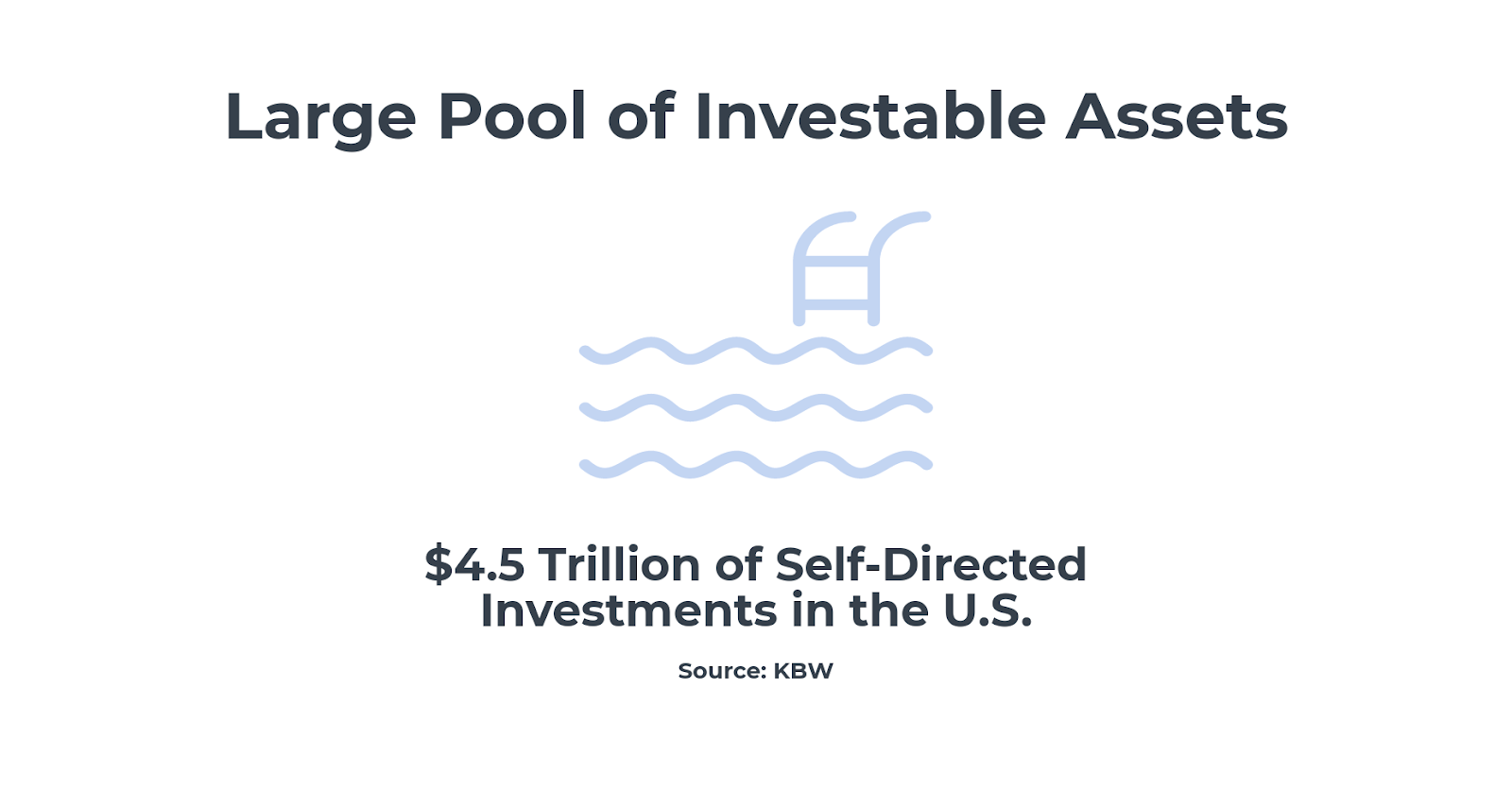 Roughly $4.5 trillion of those assets are self-directed investments. In addition, according to Goldman Sachs, there are 2.2 million active traders in the U.S. and 1.4 million in Europe.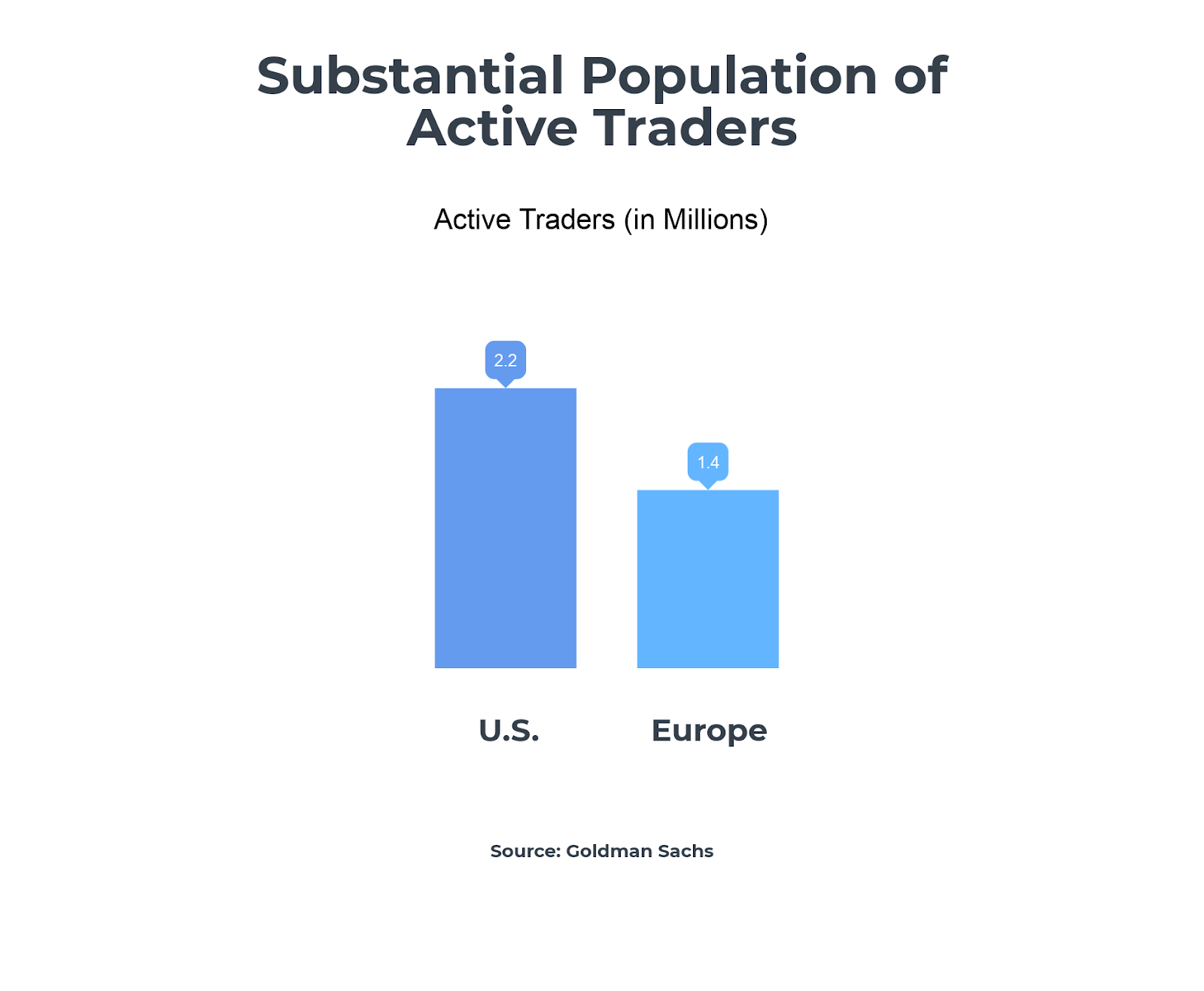 Success so Far
ChoiceTrade is a well-established brokerage company with over 3,000 accounts. The company has operated successfully for 17 years and has experienced significant growth in options trading over the last year.
Team
Neville Golvala
CEO
Neville Golvala has worked in senior executive positions in the securities industry for over two decades. He has been the Chief Executive Officer of ChoiceTrade, Inc. since the inception of the Company, in May 2008. Mr. Golvala has a B.A. and an M.B.A. and holds the Series 4, 6, 7, 24, 27, 55, 63 and 65 securities licenses with FINRA.
Ronald Buckner
CFO
Ron Buckner has been the Chief Financial Officer and Executive Vice President of ChoiceTrade, Inc. since the inception of the Company, in May 2008. Mr. Buckner has a B.S. degree, is a certified public accountant, and holds the Series 4, 7, 24, 27, 62 and 63 securities licenses with FINRA.
Use of Proceeds
If the offering's maximum amount of $1,070,000 is raised:
| Use | Value | % of Proceeds |
| --- | --- | --- |
| Working Capital | $317,570 | 29.7% |
| Technology development | $350,000 | 32.7% |
| Marketing and business development | $350,000 | 32.7% |
| Intermediary fees | $52,430 | 4.9% |
Terms
The company plans to use the proceeds of this offering for technology development, marketing and business development, and working capital. Regarding our planned technology expansion, we will complete and integrate our cryptocurrency trading platform, introduce a robo analyst, a mobile app for handheld devices, and plan to introduce a robo advisor, which will help customers select baskets or portfolios of stocks, and enhance our virtual demo account experience.
This is an offering of Common Stock, under registration exemption 4(a)(6), in ChoiceTrade Holdings, Inc.. This offering must raise at least $10,000 by July 31, 2018 at 11:59pm ET. If this offering doesn't reach its target, then your money will be refunded. ChoiceTrade Holdings may issue additional securities to raise up to $1,070,000, the offering's maximum.
$10,000 minimum
$300,351 raised
If the offering is successful at raising the maximum amount, then the company's implied valuation after the offering (sometimes called its post-money valuation) will be:
18,608,737 shares
×
$1.50 per share
$27,913,106implied valuation
Financials
These financial statements have been reviewed by an independent Certified Public Accountant.
SEC Filings
The Offering Statement is a formal description of the company and this transaction. It's filed with the SEC to comply with the requirements of exemption 4(a)(6) of the Securities Act of 1933.
We're also required to share links to each of the SEC filings related to this offering with investors.
*If an investor has an account or opens a new account with ChoiceTrade, the Company will provide the investor with a commission credit of up to the dollar amount of their investment in the crowdfunding offering, which can be applied to future commissions (for trades completed by December 31, 2019) payable to the Company's broker dealer subsidiary relating to trading in an investor's account maintained at the Company's subsidiary. Such credits shall only be applied against base stock and option commissions and the base option contract fee of 15 cents. Surcharges and other fees shall not be eligible for credit.
**Options are risky and not suitable for all investors. Please read the OCC's risk disclosure before investing in options. This disclosure may be obtained at www.choicetrade.com; scroll to the bottom and click on Margin and Option Disclosures, then Characteristics & Risks of Standardized Options.
Updates
Feb 21, 2019

Aug 7, 2018

Aug 1, 2018

Primary offering finalized, selling

shares

Sold $1.50 for a total of $300,351.00

shares at

Jun 28, 2018

May 22, 2018

Mar 27, 2018

Mar 5, 2018

Feb 28, 2018

Primary offering of $1.50

shares at

Feb 28, 2018

Feb 28, 2018
Transactions
Spread
| Bid quantity | Price | Ask quantity |
| --- | --- | --- |
*Some securities may only be transferred to accredited investors if issued within the past 365 days. Unaccredited investors are permitted to place bids, so some transfers may have yet to occur.
No recent secondary activity
Transaction Log
Ask a Question
Proofread your comment before submitting: once it's posted, you can't edit or delete it. For the fastest help with the web site, email help@netcapital.com instead of commenting.
Understand the Risks
Be sure to understand the risks of this type of investment. No regulatory body (not the SEC, not any state regulator) has passed upon the merits of or given its approval to the securities, the terms of the offering, or the accuracy or completeness of any offering materials or information posted herein. That's typical for Regulation CF offerings like this one.
Neither Netcapital nor any of its directors, officers, employees, representatives, affiliates, or agents shall have any liability whatsoever arising from any error or incompleteness of fact or opinion in, or lack of care in the preparation or publication of, the materials and communication herein or the terms or valuation of any securities offering.
The information contained herein includes forward-looking statements. These statements relate to future events or to future financial performance, and involve known and unknown risks, uncertainties, and other factors, that may cause actual results to be materially different from any future results, levels of activity, performance, or achievements expressed or implied by these forward-looking statements. You should not place undue reliance on forward-looking statements since they involve known and unknown risks, uncertainties, and other factors, which are, in some cases, beyond the company's control and which could, and likely will, materially affect actual results, levels of activity, performance, or achievements. Any forward-looking statement reflects the current views with respect to future events and is subject to these and other risks, uncertainties, and assumptions relating to operations, results of operations, growth strategy, and liquidity. No obligation exists to publicly update or revise these forward-looking statements for any reason, or to update the reasons actual results could differ materially from those anticipated in these forward-looking statements, even if new information becomes available in the future.
Looking to raise capital?
We can help turn your friends, family and customers into investors.
Learn more
Interested in more investment opportunities?
Browse all offerings currently available.
See more