Introduction
TrustFund is a digital bank offering its customers a debit card that acts like a credit card when emergencies arise. By using the TrustFund platform, customers develop a TrustFund score, an alternative to the FICO score that helps individuals overlooked by mainstream banking products access fair and affordable credit.
Problem
50% of Americans are unable to deal with an unexpected expense of $500. If you're one of the 78% of Americans living paycheck to paycheck, and have less than desirable credit, the options to deal with emergencies are limited to friends & family or predatory lenders and pawnshops. The average APR of a payday loan in this country is 391% APR and what makes them predatory is the refinance structure more so than the APR.
The FICO is a broken score, falls quick, rises slowly and is a measure of how one handles debt vs how one handles their finances.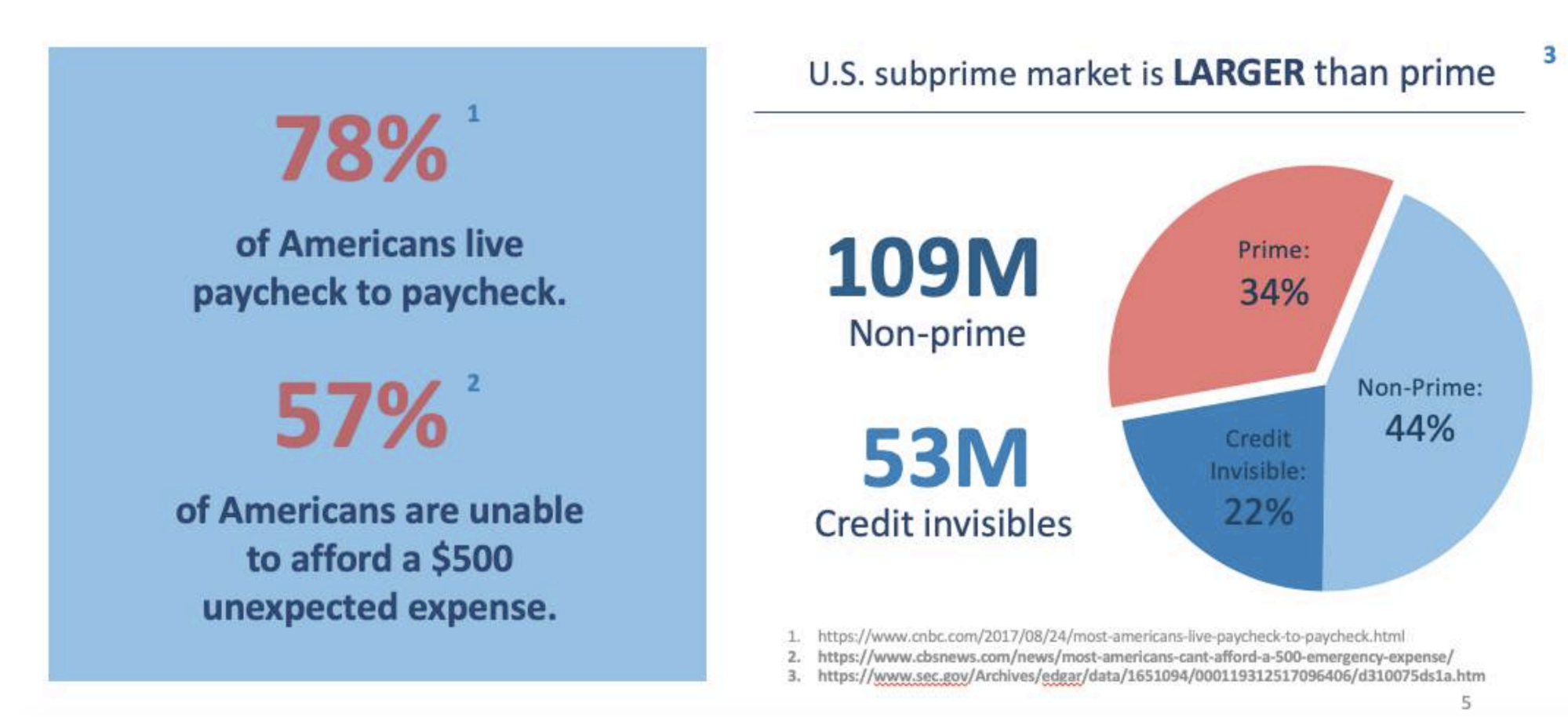 Solution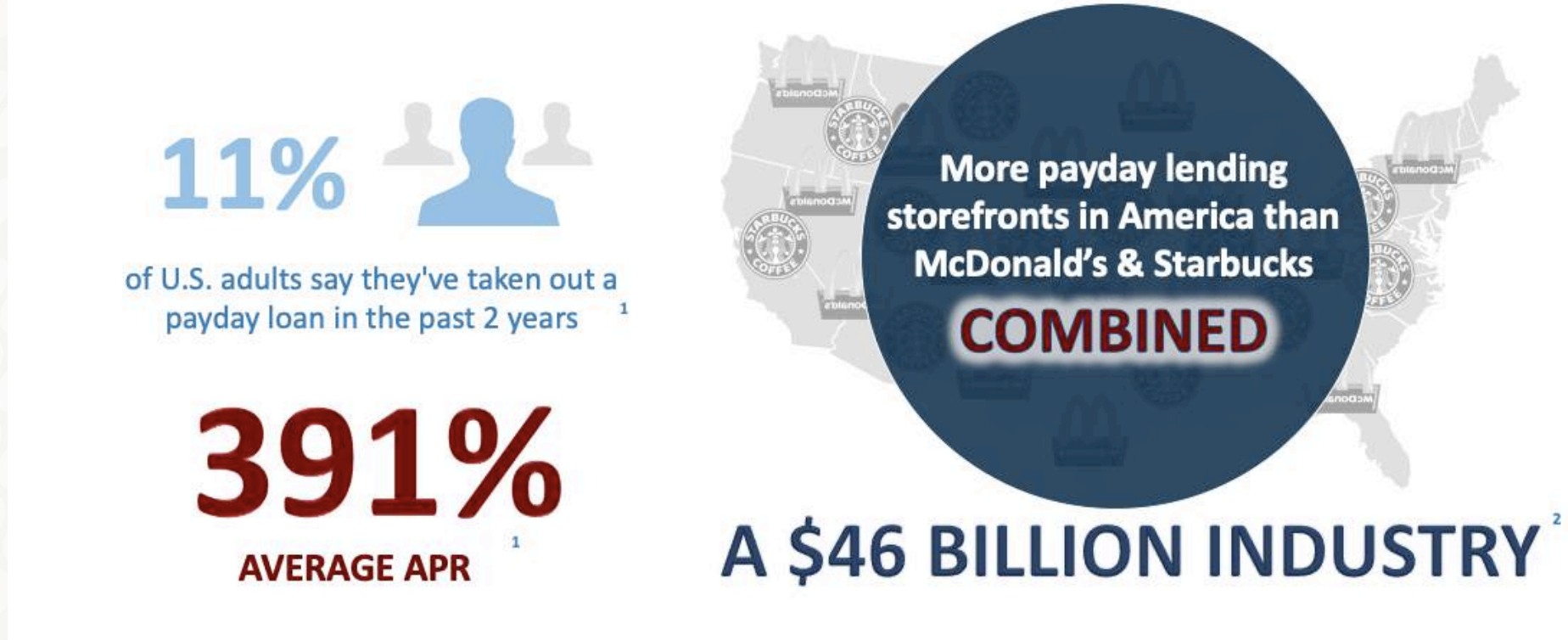 TrustFund is a digital bank offering its customers a debit card that acts like a credit card when emergencies arise. By using the TrustFund platform, customers develop a TrustFund score, an alternative to the FICO score that helps individuals overlooked by mainstream banking products access fair and affordable credit.
Our proprietary TrustFund Score takes into account behaviors commonly disregarded or overlooked by traditional credit scores such as bill payments, savings behavior, increase + stability of income etc. FICO is great at predicting your ability to handle a 30-year mortgage, not a 4-month small-dollar loan of $500.
We are fintech startup on a mission to disrupt payday/title lending.
The TrustFund Score: By using our card for transactions, and our mobile app for planning/budgeting/savings, customers develop a TrustFund score. Our score is a clean slate credit score that measures financial health inreal-time. As their score increases, they unlock benefits like emergency loans, auto refinancing, and our in-house credit products like bridge credit, rent-split and quick floats.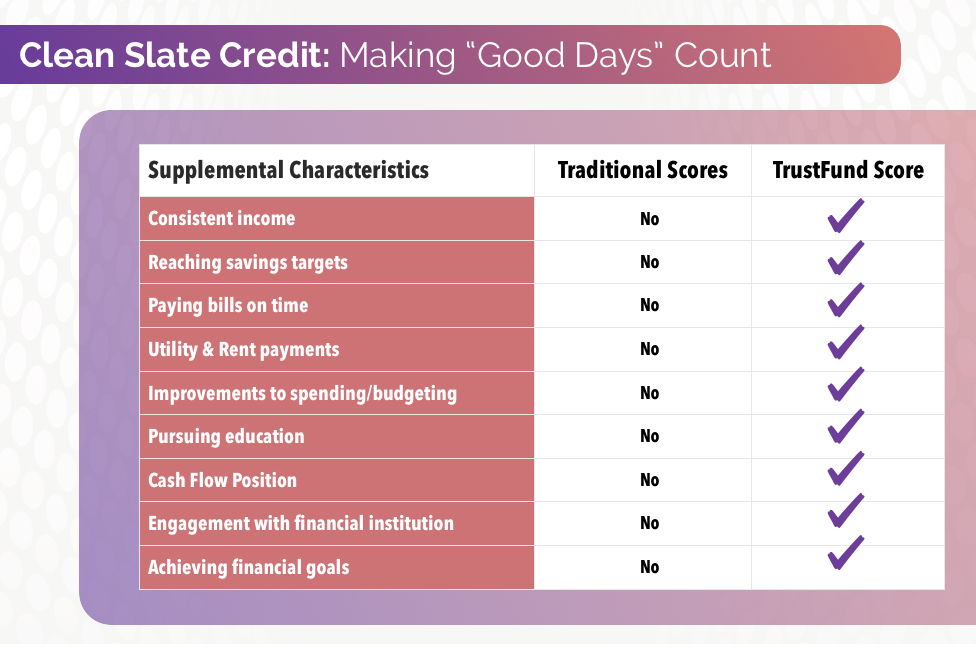 Business Model
Our initial revenue model aligns us with customer's best interests.
Everytime the user transacts on the card, we get a share of the processing fee that roughly equates to 1% of total transaction volume.
So a user that direct deposits his $3500 take home pay monthly and spends $2000 via the card, would generate $20 a month.
As we say: the more you spend [responsibly] on the card, the more we get to know you, the more we get to know the more we can help youQ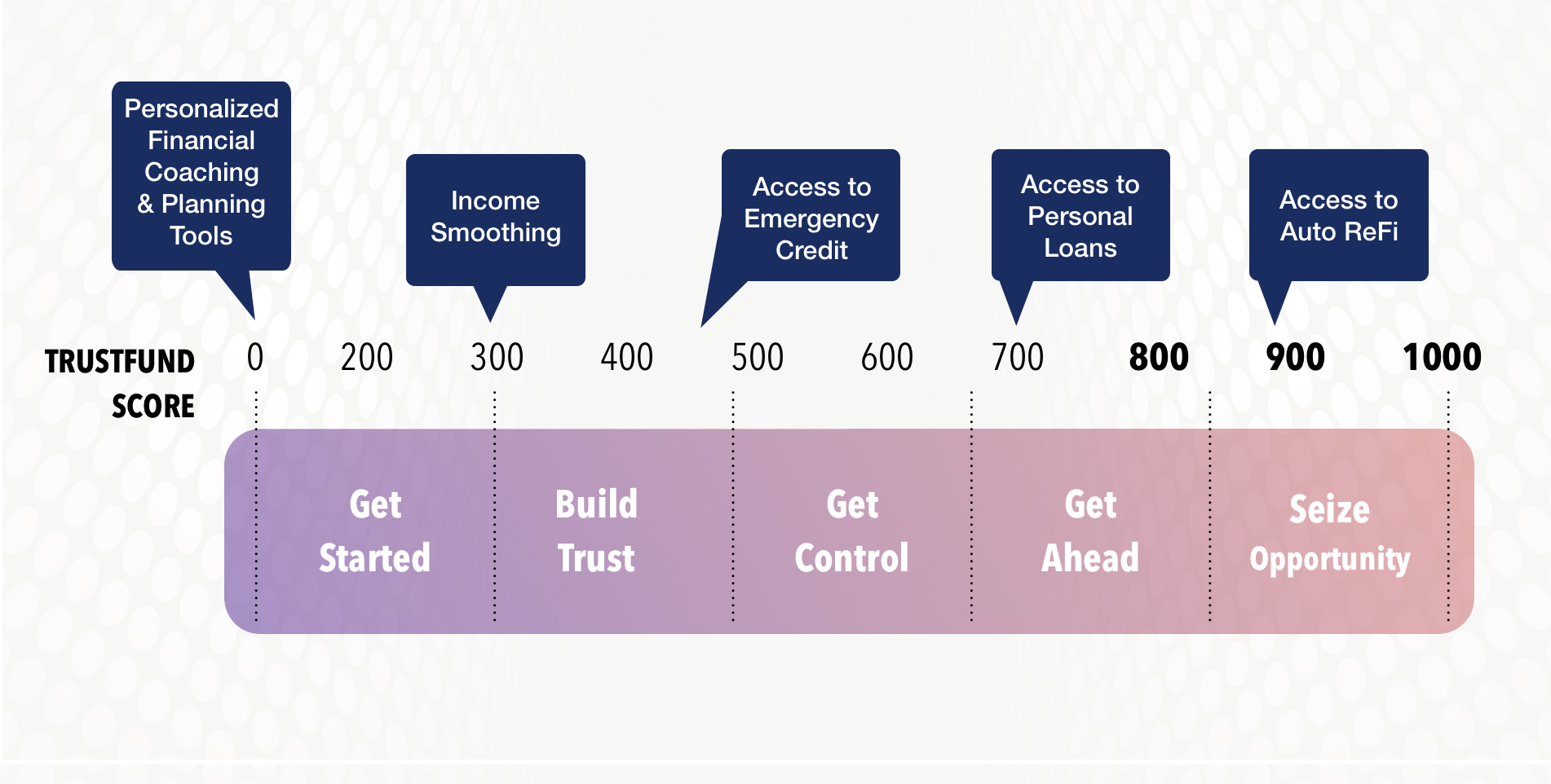 Market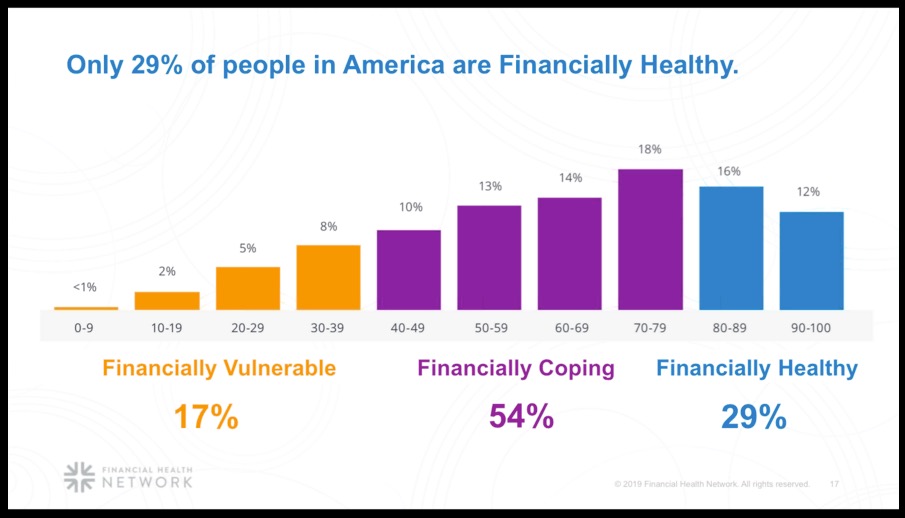 78% of Americans live paycheck to paycheck and with 50% of the population having less than $500 in emergency savings compounded by 100+ Million Americans having less than Prime credit scores, theres a reason why Payday/Title lending has exploded. There are more payday lending storefronts than Starbucks & McDonalds combined, with 11% of individuals taking out one of these loans in the past 2 years it is a 78 Billion dollar industry.
The high interest small dollar lending is growing at a rapid rate. Last year there was over $90B of these loans administered in 2018. Whats shocking is that fintechs accounted for 46% of these loans, up from 5% in 2013.
22% of Americans are underbanked and millions are switching from traditional bank accounts to digital bank accounts for various reasons. TrustFund is a digital bank specifically catered towards lower to moderate income individuals.
Competitive Landscape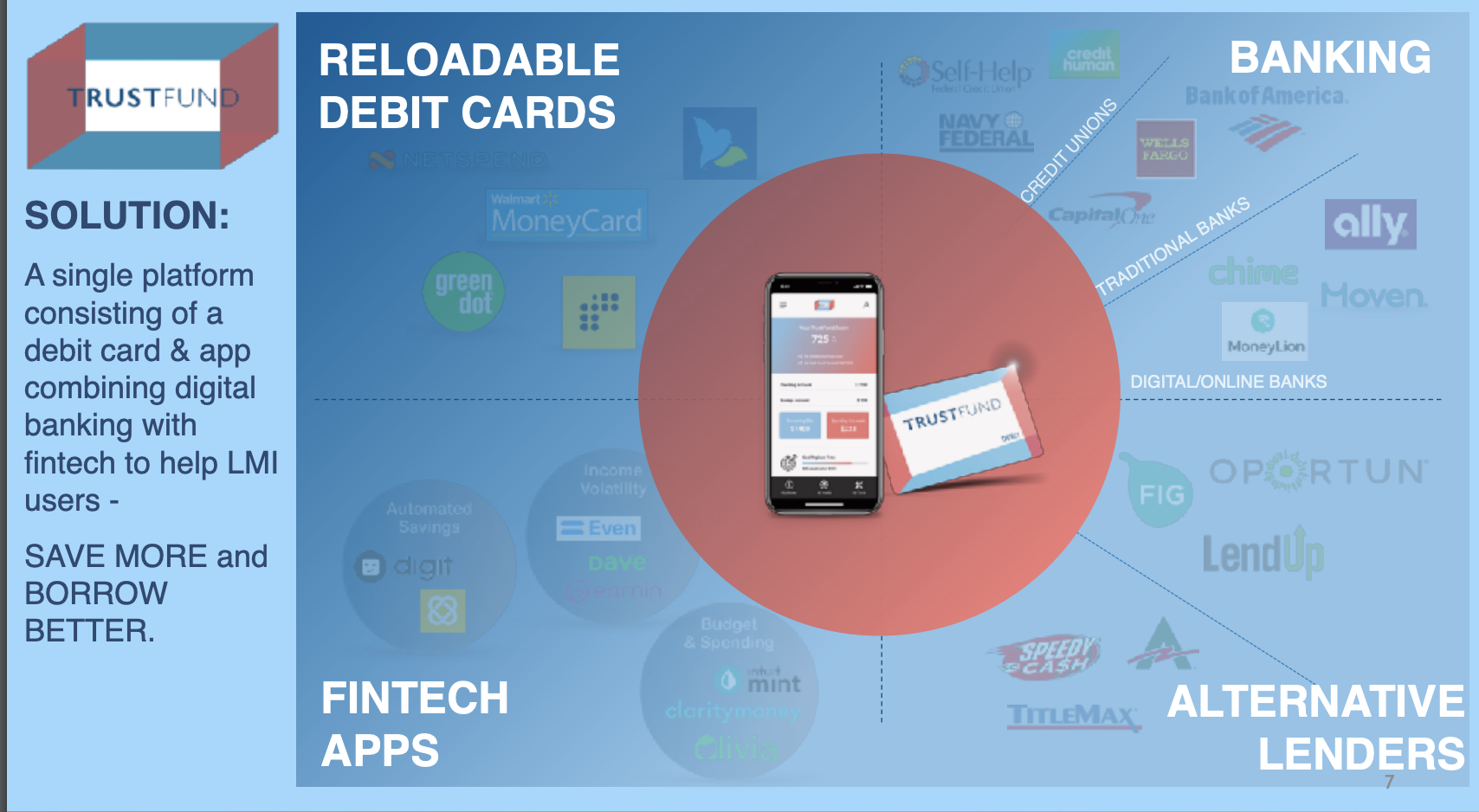 Progress
Launched the "beyond MVP" version in September of 2019 via a pilot partnership strategy
Landed 10 highly reputable non-profit partners that would typically shield their constituency from any for-profit/startup endeavor
Due to the value they saw in TrustFund, made an exception for us
Opened up digital marketing channels in December 2019 and now quickly approaching 1000 users, acquiring customers at a fraction of the estimated cost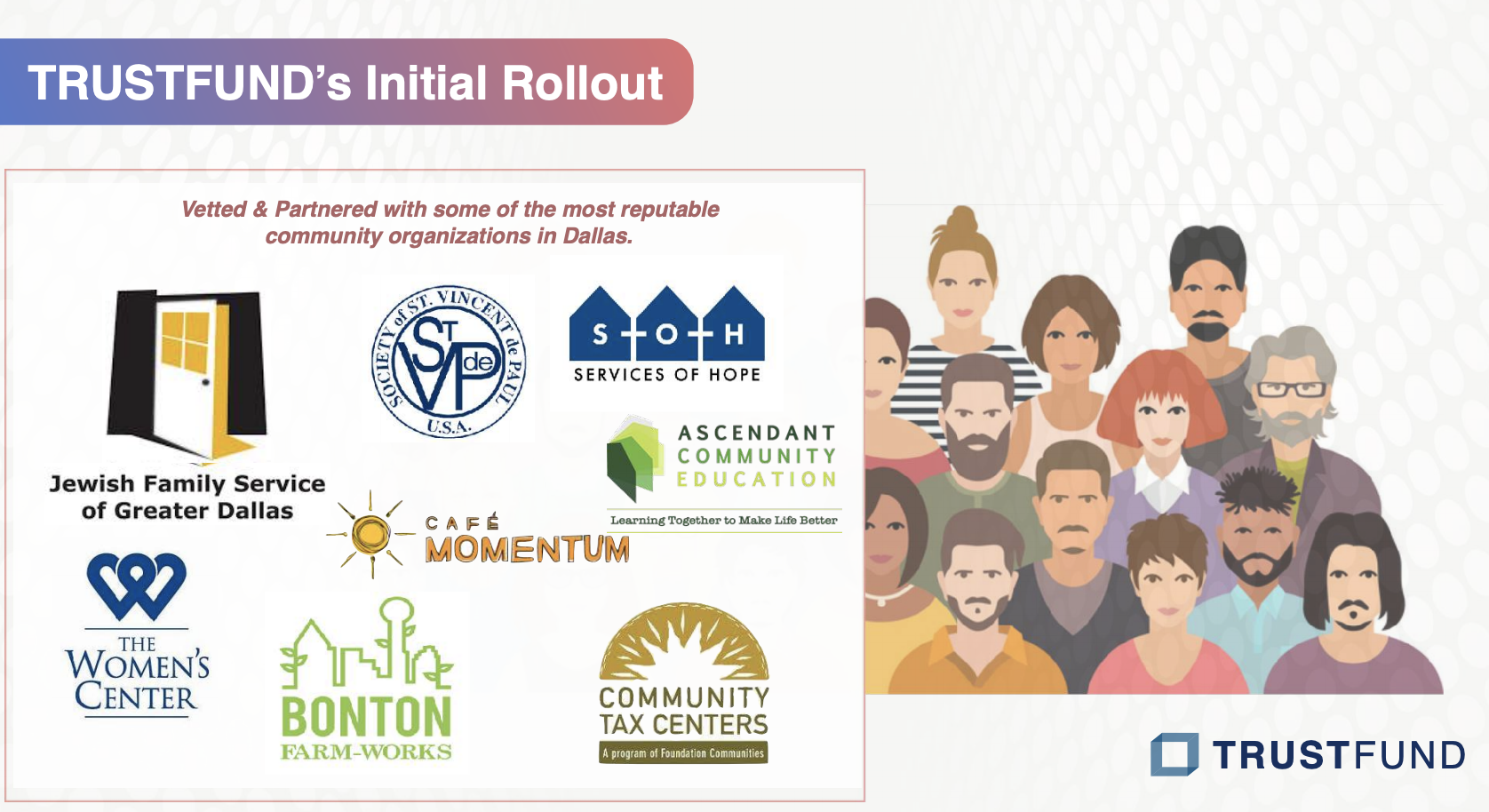 Team
Nathan
Nathan is a passionate entrepreneur focused on solving pressing problems with sustainable solutions. After studying Finance & Economics at the University of Texas at Austin, he moved to India and started a company building self-sustaining toilets in India. Upon returning to Dallas, he joined a Venture Capital fund and learned the startup playbook as an associate. From there he spent a year with the Jesuits but in that process, started a saw an opportunity and founded a software company for schools and that process helped him realize that his talents were used serving others through entrepreneurship. Since returning he founded a handful of ventures including Farm2Cook, a vertically integrated ethnic meat company that hit a $2M Annual run rate now owns a farm and 2 stores + home delivery + restaurant & catering. He stepped down from Farm2Cook to entirely focus on TrustFund.
Frank
Frank is an evangelist for social innovation, seeing opportunity where others see deficits. He brings 20 years of professional experience leading social enterprises and mission-driven organizations. As the Senior Director of Research & Innovation at a major social service agency in Fort Worth, Frank oversaw the design and prototyping of a $6M randomized-control trial aimed at tackling the complex issues faced by families living in poverty. As CEO of Social Venture Partners Dallas, he led a partnership of more than 100 engaged philanthropists who together invest time, talent and financial resources in improving the long-term organizational capacity of promising social enterprises that serve children at-risk. Today, as a co-founder of start-up digital bank, TrustFund, he is building financial tools to help Americans living paycheck to paycheck manage their money and avoid debt traps. Frank earned two degrees from the University of Notre Dame. He lives in Richardson with his wife and their three sons.
Use of Proceeds
If the offering's maximum amount of $107,000 is raised:
| Use | Value | % of Proceeds |
| --- | --- | --- |
| CTO Salary | $50,000 | 46.7% |
| Customer Service Platform Intragration | $10,000 | 9.3% |
| Branding | $6,757 | 6.3% |
| New Product Development | $35,000 | 32.7% |
| Intermediary fees | $5,243 | 4.9% |
Terms
This is an offering of Membership Units, under registration exemption 4(a)(6), in Impact X Partners , LLC, doing business as TrustFund. This offering must raise at least $10,000 by December 18, 2020 at 11:59pm ET. If this offering doesn't reach its target, then your money will be refunded. TrustFund may issue additional securities to raise up to $107,000, the offering's maximum.
If the offering is successful at raising the maximum amount, then the company's implied valuation after the offering (sometimes called its post-money valuation) will be:
2,607,000 units
×
$1 per unit
$2,607,000implied valuation
Financials
TrustFund's official name is Impact X Partners , LLC, so that's the name that appears in the statements below.
SEC Filings
The Offering Statement is a formal description of the company and this transaction. It's filed with the SEC to comply with the requirements of exemption 4(a)(6) of the Securities Act of 1933.
Understand the Risks
Be sure to understand the risks of this type of investment. No regulatory body (not the SEC, not any state regulator) has passed upon the merits of or given its approval to the securities, the terms of the offering, or the accuracy or completeness of any offering materials or information posted herein. That's typical for Regulation CF offerings like this one.
Neither Netcapital nor any of its directors, officers, employees, representatives, affiliates, or agents shall have any liability whatsoever arising from any error or incompleteness of fact or opinion in, or lack of care in the preparation or publication of, the materials and communication herein or the terms or valuation of any securities offering.
The information contained herein includes forward-looking statements. These statements relate to future events or to future financial performance, and involve known and unknown risks, uncertainties, and other factors, that may cause actual results to be materially different from any future results, levels of activity, performance, or achievements expressed or implied by these forward-looking statements. You should not place undue reliance on forward-looking statements since they involve known and unknown risks, uncertainties, and other factors, which are, in some cases, beyond the company's control and which could, and likely will, materially affect actual results, levels of activity, performance, or achievements. Any forward-looking statement reflects the current views with respect to future events and is subject to these and other risks, uncertainties, and assumptions relating to operations, results of operations, growth strategy, and liquidity. No obligation exists to publicly update or revise these forward-looking statements for any reason, or to update the reasons actual results could differ materially from those anticipated in these forward-looking statements, even if new information becomes available in the future.
Updates
Dec 19, 2020

Primary offering finalized, selling

units

Sold $1 for a total of $0

units at

Mar 24, 2020

Primary offering of $1

units at
Ask a Question
Proofread your comment before submitting: once it's posted, you can't edit or delete it. For the fastest help with the web site, email help@netcapital.com instead of commenting.
Looking to raise capital?
We can help turn your friends, family and customers into investors.
Learn more
Interested in more investment opportunities?
Browse all offerings currently available.
See more