Introduction
SaRA helps improve care for employees and reduce costs for employers, especially for workplace injuries, by reducing recovery times for injured employees.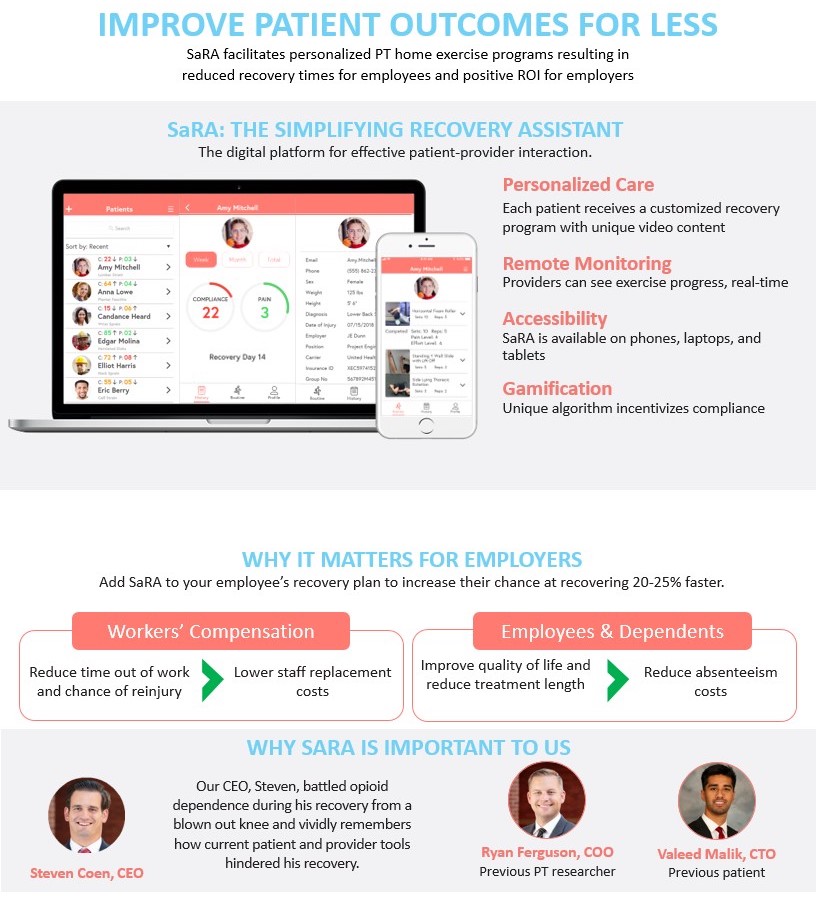 Problem
When recovering from workplace injuries, patients are not given the tools they need to succeed in their recovery process, providers aren't able to give the most effective care, and employers aren't able to help their employees receive the best treatment possible. Most patients today do not do the home exercises their surgeon or PT gives them because they lack an effective tool to follow the recommended recovery programs at home. This leads to longer recovery times, which costs employers money and keep workers out of the workforce.
SaRA Solution
SaRA is the Simplifying Recovery Assistant. SaRA can be used for any injury recovery process that uses home exercise recovery plans. We are focusing first and foremost on workers' compensation because of the direct value and return on investment that can be shown by implementing SaRA. As we move forward, we plan to introduce SaRA to the 15-25 million PT patients in the US, then to the 120 million people who experience musculoskeletal pain on an annual basis in the US alone.
The Product
SaRA addresses the three largest barriers to recovery
Exercise programs that are not personalized to each patient
No visibility into what is happening outside of the clinic
No assistance for patients to help them recover
SaRA gives PTs an ability to quickly film and create exercises for their patients, which according to our PT users is faster, more accurate, and more appreciated than currently available tools.

With SaRA PTs can easily see how their patient is progressing, as well as, change their home program with only a couple of clicks.

With SaRA, patients get the help they need through text message reminders and our proprietary SaRA Score that we developed in conjunction with doctors of Physical therapy and researchers, that helps motivate and educate patients on their home exercise program.
Testimonials
"Physical therapy has needed this for so long, thank you!" -- Physical Therapist
"Between eliminating paper and giving providers a feedback loop I think this will help each stakeholder in the perioperative process" -- Ortho Surgeon
"I'm using SaRA everyday and my PT loves being able to see my progress" -- SaRA user
"I would have absolutely bought this to use during my shoulder recovery" -- Potential User
"With Independent clinics being so cost-conscious SaRA is the only tool in this area we can afford" -- Physical Therapist
"The price point of $10/month is spot on, in fact, I would probably pay more" -- recent ACL reconstruction patient
Why we started SaRA
Steven, SaRA Health's CEO, battled opioid dependence during his recovery from a blown out knee and vividly remembers how a lack of effective in-home PT hindered his recovery. Ryan saw the positive impact of effective care firsthand during his time as a PT researcher. Valeed used SaRA for his own recovery from an injury. We are passionate about supporting injured patients by improving their recovery and quality of life.
Team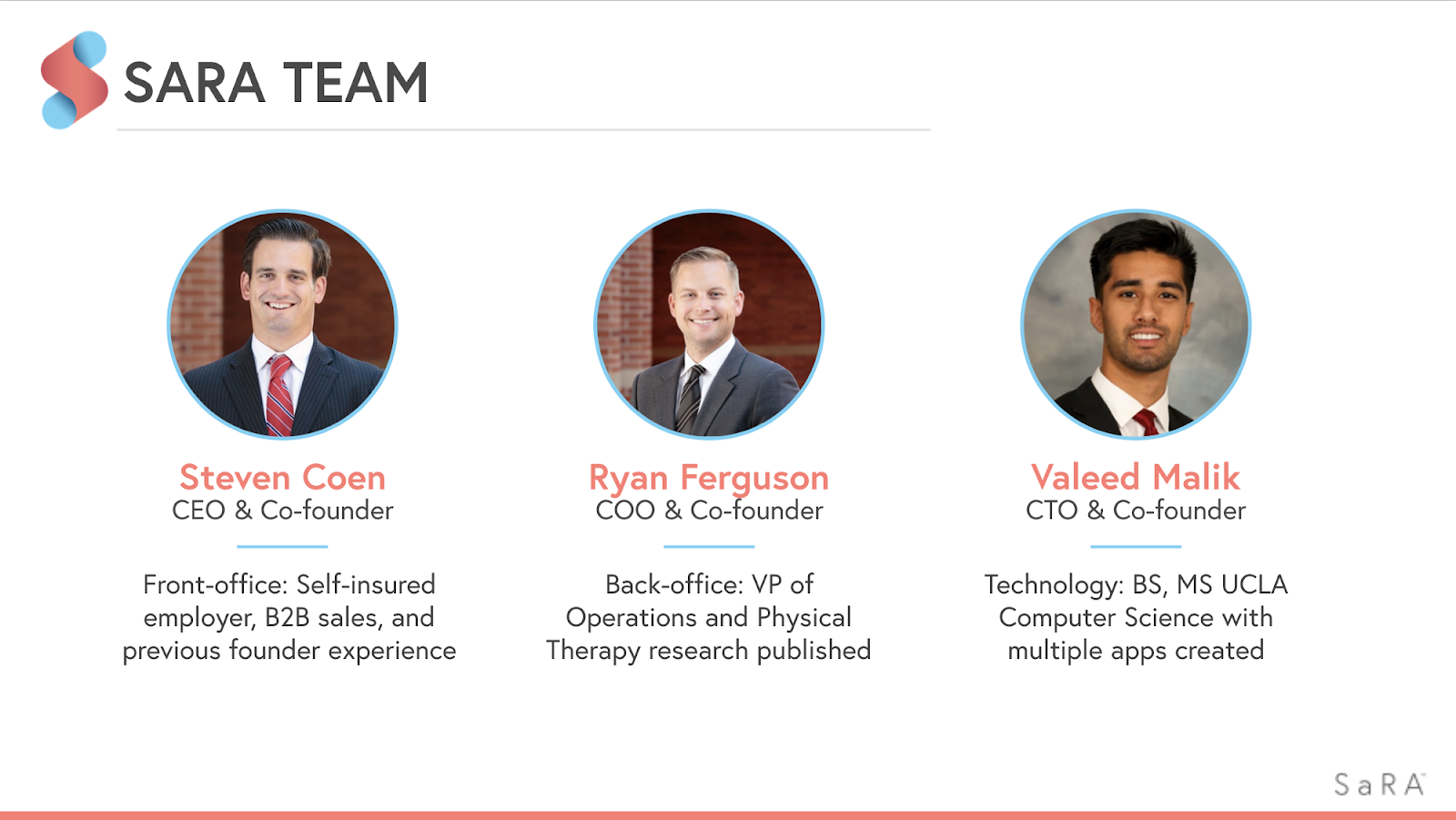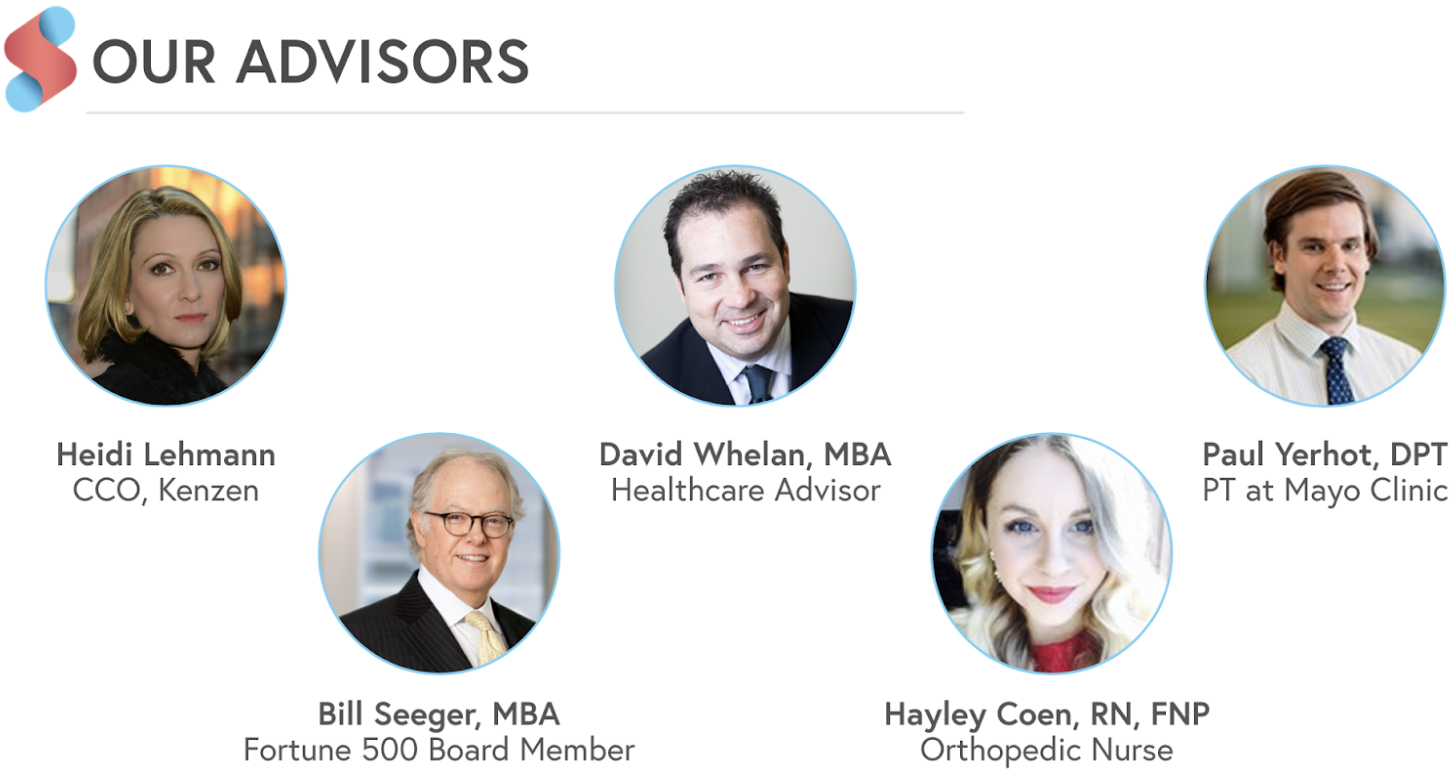 Competitive Landscape
SaRA differentiates on three key areas
Business Model: By targeting workers' compensation, specifically post-injury, SaRA does not compete with companies like Worklete who are focused on injury prevention for workers or Hinge Health which is focused on injury prevention in the broader self-insured employer's population
Science Strategy: By partnering with Bardavon Health Innovations we will complete a patient outcomes study within 6-8 months. This will include 100 patients and will be able to scientifically prove that SaRA reduces recovery times, improves outcomes, and reduces claims cost. To replicate this study without the data Bardavon has acquired over nearly a decade in this business would take a competitor 3-4 years, at a minimum.
Product Strategy: Our current product has our proprietary SaRA Score that was developed in conjunction with a Doctor of Physical Therapy at the Mayo Clinic to improve patient compliance and outcomes. Also, we have implemented technologies such as voice to text that outpace our competitors.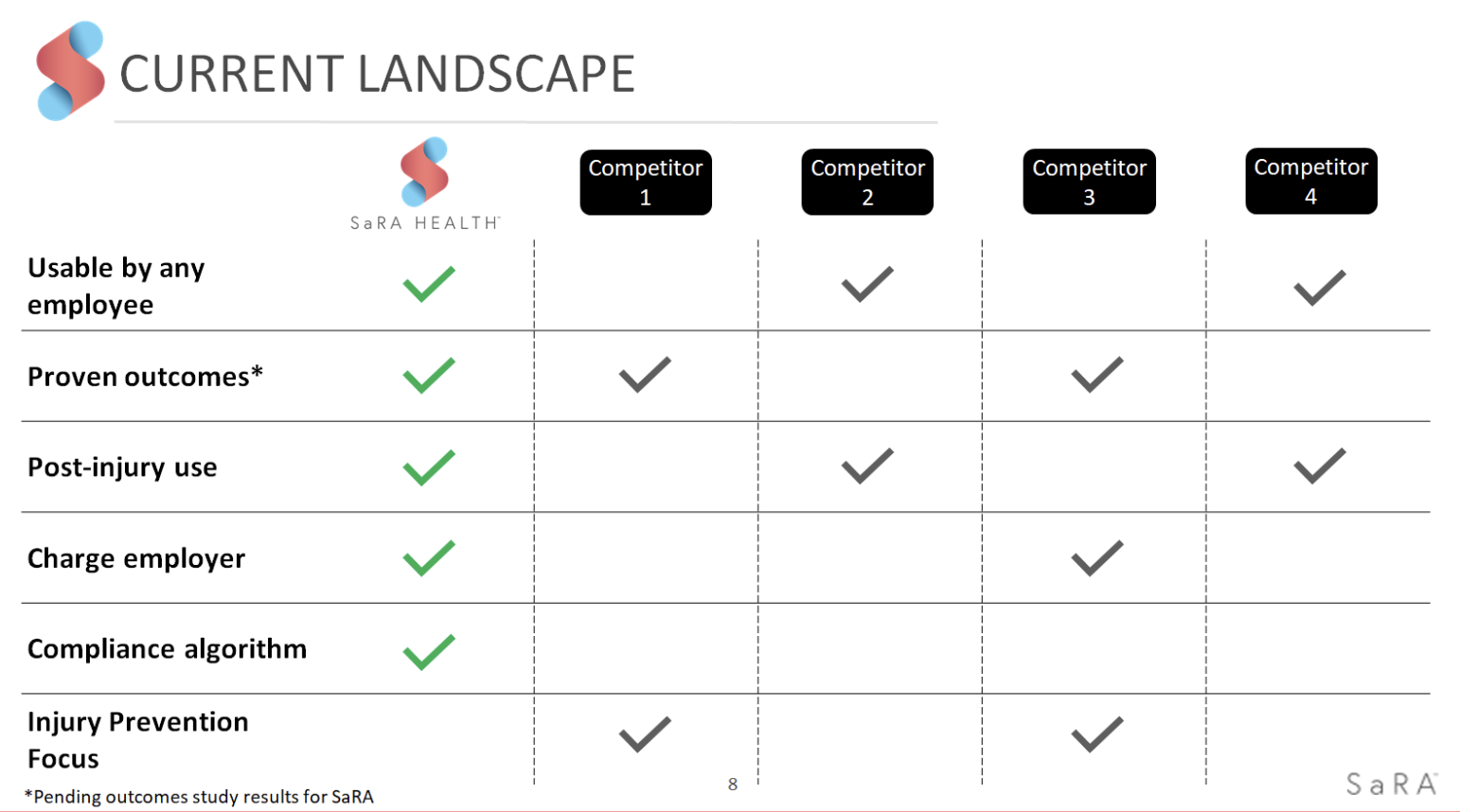 Progress
Since collectively graduating from UCLA in June of this year the SaRA team has:
moved from LA to Kansas City,
been accepted into, and now completed, the Techstars Kansas City program,
built the second iteration of SaRA,
raised money,
solidified a partnership with Bardavon to do a patient outcomes study,
and built a revenue pipeline over of $5M Annual Recurring Revenue.
Our current focus is on determining the optimal way to enter this market, whether through partnering with an insurance brokerage, a Third-Party Administrator, or going directly to corporate customers.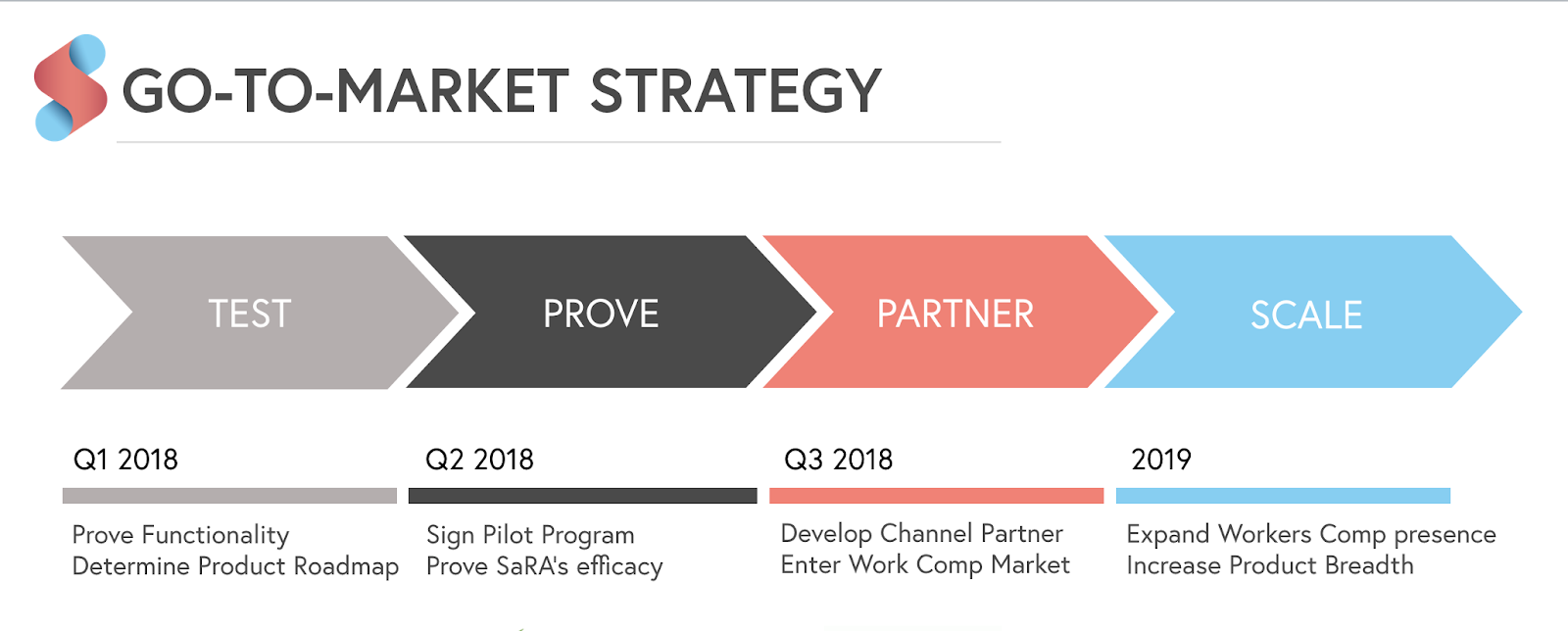 Use of Proceeds
$980K
Finish patient outcome study
Establish 3 beta customers
Achieve $100K Monthly Recurring Revenue
2.5 months (close by end of 2018)
Terms
This is an offering of Common Stock, under registration exemption 4(a)(6), in SRA Health, Inc., doing business as SaRA Health. This offering must raise at least $10,000 by April 29, 2019 at 11:59pm ET. If this offering doesn't reach its target, then your money will be refunded. SaRA Health may issue additional securities to raise up to $987,000, the offering's maximum.
If the offering is successful at raising the maximum amount, then the company's implied valuation after the offering (sometimes called its post-money valuation) will be:
11,788,298 shares
×
$0.47 per share
$5,540,500implied valuation
Financials
SaRA Health's official name is SRA Health, Inc., so that's the name that appears in the statements below.
These financial statements have been reviewed by an independent Certified Public Accountant.
SEC Filings
The Offering Statement is a formal description of the company and this transaction. It's filed with the SEC to comply with the requirements of exemption 4(a)(6) of the Securities Act of 1933.
We're also required to share links to each of the SEC filings related to this offering with investors.
Updates
Apr 30, 2019

Primary offering closed, selling

shares

Sold $0.47 for a total of $0.00

shares at

Feb 27, 2019

Jan 25, 2019

Dec 10, 2018

Oct 9, 2018

Primary offering of $0.47

shares at

Oct 9, 2018
Transactions
Spread
| Bid quantity | Price | Ask quantity |
| --- | --- | --- |
*Some securities may only be transferred to accredited investors if issued within the past 365 days. Unaccredited investors are permitted to place bids, so some transfers may have yet to occur.
No recent secondary activity
Transaction Log
Ask a Question
Proofread your comment before submitting: once it's posted, you can't edit or delete it. For the fastest help with the web site, email help@netcapital.com instead of commenting.
Understand the Risks
Be sure to understand the risks of this type of investment. No regulatory body (not the SEC, not any state regulator) has passed upon the merits of or given its approval to the securities, the terms of the offering, or the accuracy or completeness of any offering materials or information posted herein. That's typical for Regulation CF offerings like this one.
Neither Netcapital nor any of its directors, officers, employees, representatives, affiliates, or agents shall have any liability whatsoever arising from any error or incompleteness of fact or opinion in, or lack of care in the preparation or publication of, the materials and communication herein or the terms or valuation of any securities offering.
The information contained herein includes forward-looking statements. These statements relate to future events or to future financial performance, and involve known and unknown risks, uncertainties, and other factors, that may cause actual results to be materially different from any future results, levels of activity, performance, or achievements expressed or implied by these forward-looking statements. You should not place undue reliance on forward-looking statements since they involve known and unknown risks, uncertainties, and other factors, which are, in some cases, beyond the company's control and which could, and likely will, materially affect actual results, levels of activity, performance, or achievements. Any forward-looking statement reflects the current views with respect to future events and is subject to these and other risks, uncertainties, and assumptions relating to operations, results of operations, growth strategy, and liquidity. No obligation exists to publicly update or revise these forward-looking statements for any reason, or to update the reasons actual results could differ materially from those anticipated in these forward-looking statements, even if new information becomes available in the future.
Looking to raise capital?
We can help turn your friends, family and customers into investors.
Learn more
Be the first to know.
Sign up for new investment alerts.
Sign up