Introduction
QuicWit is a 24/7 365 trivia gaming experience and digital marketing platform. We ask users multiple trivia questions randomly, on a daily basis and the first person to answer wins a prize mailed directly to their house, no strings attached!
Problem
The experience of playing a mobile game remains unchanged and provides little to no tangible value to users, and that's why QuicWit exists. Trivia games today mostly follow the same model:play the game, earn points, earn milestones, unlock levels, and be surrounded heavily with ads. The main goal has been to maximize ads on a screen and keep the user engaged as long as possible. The problem with this approach is that users never get any true value outside of a temporary distraction.
An additional reason QuicWit exists is because, in a world of software, there are consumer products companies still looking to capture the attention of mobile users. According to Hubspot, companies have stated that 63% of their marketing challenges is generating traffic and leads. With the consistently high YoY growth of mobile users, mobile gamers, and time spent on phones playing games, consumer product companies are fighting for user attention. Companies have to spend a significant amount of time and resources on lead generation and nurturing.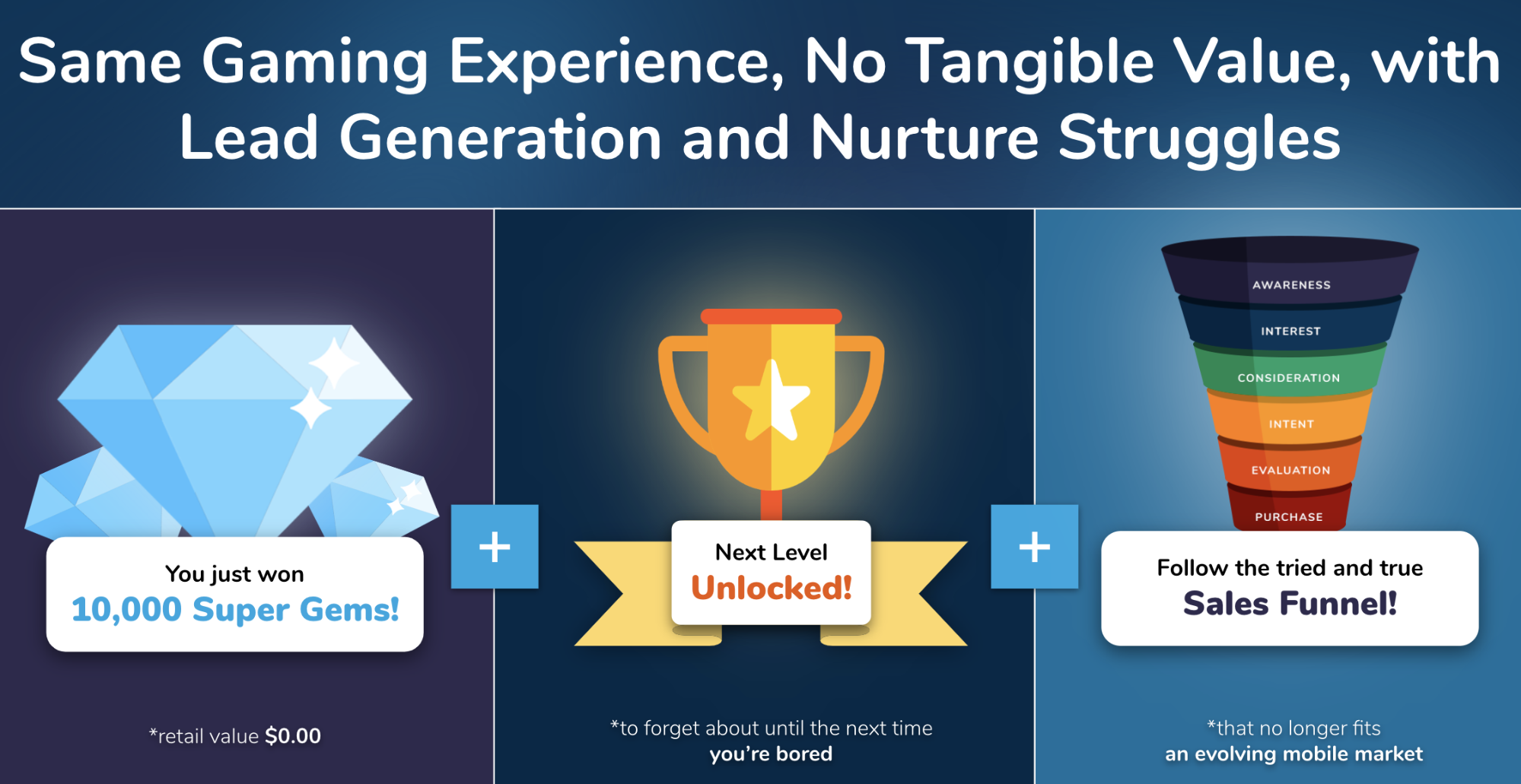 Solution
QuicWit is a game that's always playing; not a game that you only play when you are bored. We prompt users with trivia questions randomly every day. QuicWit is the only trivia game where you have to spell the answers (non-multiple choice) correctly and have 15 minutes to answer the question. Every question has a physical prize (consumer product) that will go to the first person to answer correctly.

Every question asked on QuicWit has a prize. Users are one tap away from looking at the product page of a prize (on the product maker's website) within the QuicWit app. Users are not funneled through emails, ads, or extra clicks within the app in order to become aware of and learn about a product. This method compresses the top of the marketing funnel by combining the lead generation and lead nurture sections of the funnel which is typically comprised of awareness, interest, consideration, and intent.

QuicWit allows companies to sponsor trivia questions which will lead to the userbase learning about their company and/or products in order to be the first person to answer a trivia question. This offering has the ability to replace things like sweepstakes, contests, raffles, and other promotional activities that are typically done by marketing departments. Users playing QuicWit will always want to know what upcoming prize is and within one click they are learning about the product.
Competitive Landscape
Competition:
HQ Trivia
Cash Show
FleetWit
The Q
Competitive Advantage:
Multiple chances to win around the clock
Compare, compete, and collab with friends
No mandatory pay to play
Users can buy the prize (discounted or not)
Generates website traffic for companies
Raises brand awareness for companies
Non-status quo game (i.e. no multiple choice), so spelling counts!
15 minutes to answer so you have plenty of time to play if you are late
Users can use the internet for help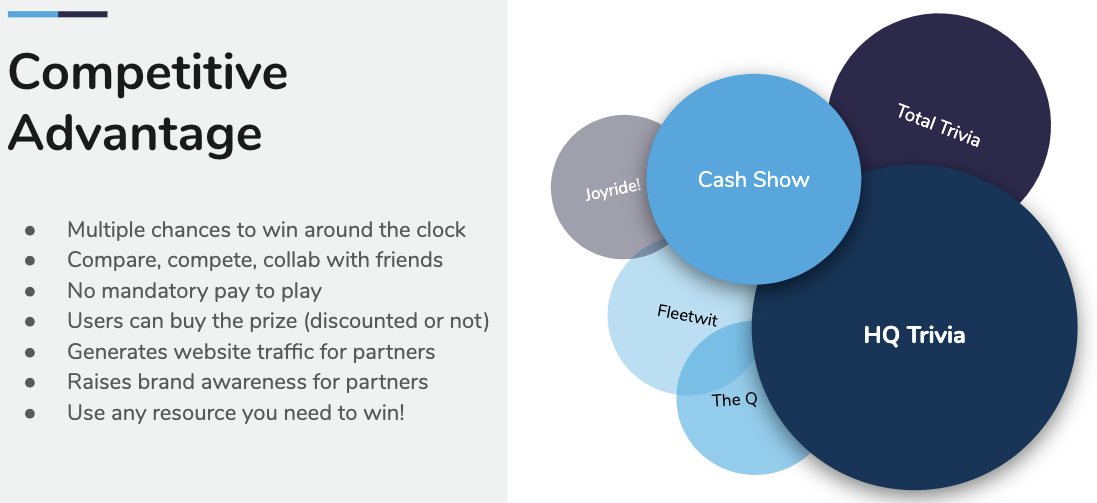 Business Model
User Revenue:
In-app purchases for premium games
In-app ads (banner, interstitial, video)
Partner Revenue:
Charge companies a fee to sponsor trivia questions (i.e. make the trivia question about their company and/or products)
Charge companies a fee to sponsor a prize for upcoming trivia questions
Charge companies additional fees to sponsor questions and/or products during high traffic periods of time
Charge companies a fee to sponsor secondary promotional products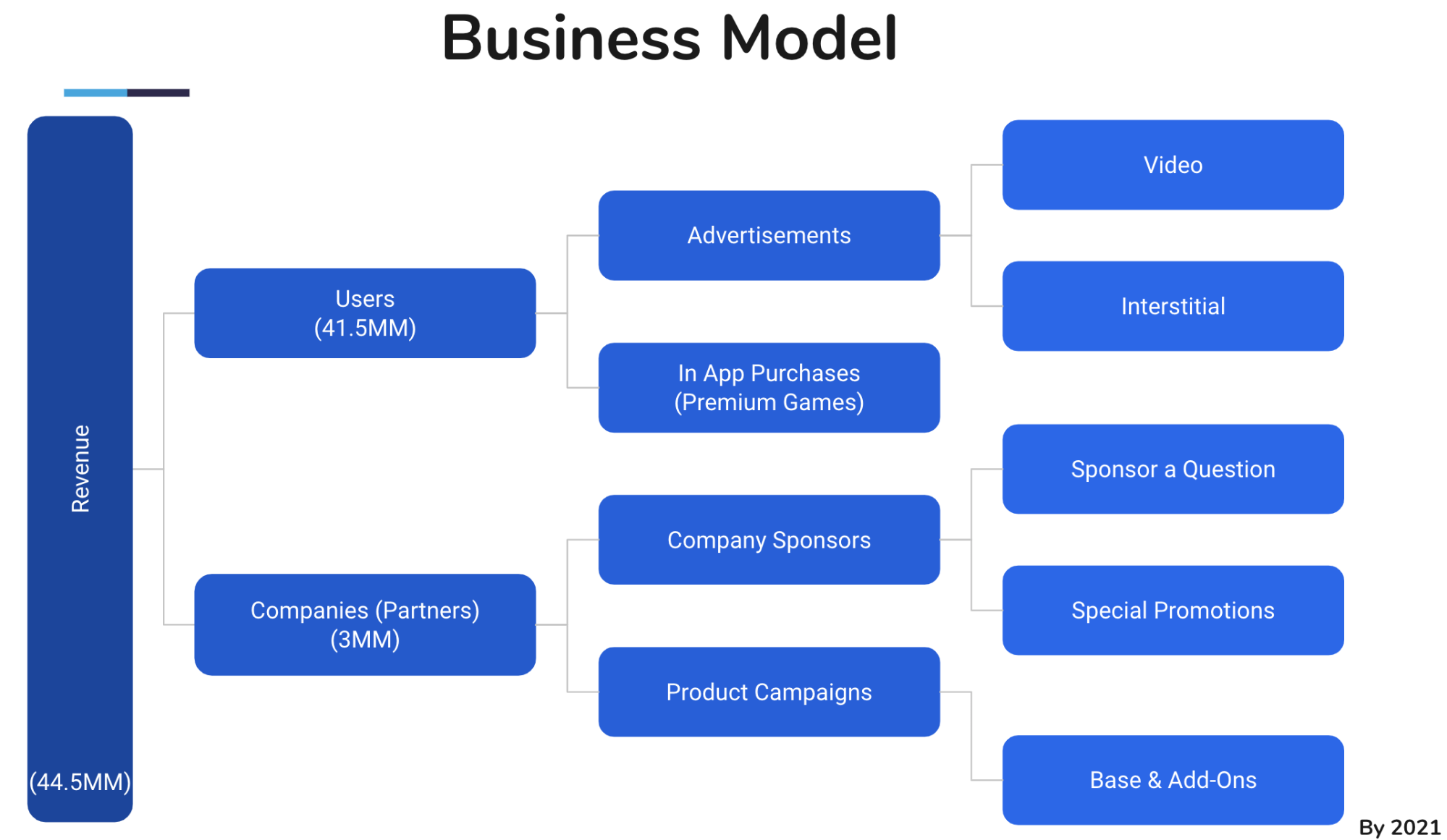 Progress
As of today, we've taken the following customer acquisition strategies:
Word of mouth
Facebook ads
Apple search ads
Pitch events around Boston
Features on Podcasts
Ambassador program for college students (social media sharing)
Social media campaigns
Success
Through attendance at pitch events, we have secured a shipping deal with UPS via the new UPS Startup Program. This helps us with discounted shipping and free supplies.
We are the winners of the Founders Live Boston pitch competition where we walked away with $20,000 in Google Cloud Platform credits and $5,000 in Amazon Web Services credit.
We were the pitch runner ups and honorable mention at Founder+Co Boston pitch event and MIT's Startupalooza respectively.
Featured Demo at Product Hunt Boston.
We secured our first sponsored prizes (partnerships) set to launch in November 2019.
Press Mentions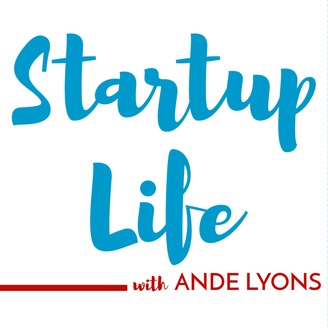 Entrepreneurial Renaissance Man Creates Impulsive Trivia Game App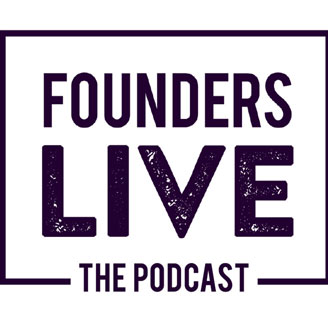 Episode coming soon
KPIs
Percent of users that open the app and look to see what the prize is

Original goal: 80%
Current status: 91.2%

Percent of users that see the question and submit an answer

Original goal: 70%
Current status: 77.1%
Team
We are a creative and technical team as all founders have an engineering degree. We mesh well together because our skill sets are complementary to each other; our team can fill in each other's gaps like a puzzle piece, enabling us to stay lean with high output. Our team is highly experienced in building user-centric products and apps. We have a firm understanding of setting and achieving KPI goals powered by data-based decision making with a keen focus on both short term and long term monetization plans.
Stephon McCoy
CEO & Head of Product
Stephon is a former computer engineer turned senior product manager. He's known as an entrepreneurial renaissance man as he has experiences ranging in hardware, digital marketing, Alexa skills, B2B platforms, iOS/Android development, web app development, and consumer products.
Adversity: Stephon started college for computer engineering without ever owning a computer until arriving at college. Then created a formula to boost his credit scores every year before the school year started in order to secure private student loans without a cosigner before, during, and after the 2007-2008 financial crisis.
Zachary Gay
Director of Engineering
Zachary Gay is a senior software engineer specializing in iOS and XR development. He has worked in a wide range of domains from building E-commerce apps for Wayfair to designing CAN bus data collection systems for vehicles and many areas in between.
Adversity: "I grew up in the rural US in the 90's and, during that time, myself and many others became targets for bullying. Regular verbal and physical assaults will take their toll on anyone, but those still-developing are especially vulnerable. It wasn't an easy thing to overcome, but it taught me some important lessons: you can't let the actions and opinions of other people define your own self-worth and that people who are acting out against others with hate and violence are doing so because of problems in their own lives and usually the best thing you can do is to stop the cycle."
Zachary Tetu
Head of UX
Zachary Tetu has a background in software engineering and UI design with a specialty in data visualization and organization. His experience with both the design and development worlds has led to a career in UX Design with an emphasis on user research and interaction design.
Adversity: "When I was younger I was very passionate about art and design. As I got older I convinced myself that this was more of a hobby than a career path and changed my priorities to computer engineering. After being accepted to college as a junior in high school I spent 3 years in college working towards degrees in computer engineering and software engineering before I realized it wasn't something I wanted to pursue, that I may have wasted a few years and thousands of dollars on something I had no real desire for. I left college and had a couple years of time working minimum wage jobs wondering how I could have done things differently and how I would find a career. Eventually I decided to get back into design and spent a year doing free contracting work in my spare time to build up a portfolio and gain real world experience. This lead to getting my first Experience Design job at a small company in Vermont. I've since been on that path for the past 7 years."
Use of Proceeds
Purchase consumer products to use as prizes in order to gauge consumer interest while analyzing engagement data in order to approach businesses about marketing opportunities.
Cover server costs of running the QuicWit app
Cover the cost of shipping prizes to end-users through the discounted UPS startup program
Fast-track Android development and launch
Invest in public relations to cast a wider net of exposure for QuicWit
Invest in strategic digital marketing efforts in our to acquire more users
Invest in content creators so that the core team can move faster an app development and roadmap items.
If the offering's maximum amount of $106,000 is raised:
| Use | Value | % of Proceeds |
| --- | --- | --- |
| Android App Development | $4,806 | 4.5% |
| Operations/Customer Success | $21,000 | 19.8% |
| G&A | $4,500 | 4.2% |
| Sales and Marketing | $70,500 | 66.5% |
| Intermediary fees | $5,194 | 4.9% |
Terms
This is an offering of , under registration exemption 4(a)(6), in QuicWit LLC.. This offering must raise at least $10,000 by March 2, 2020 at 12:00pm ET. If this offering doesn't reach its target, then your money will be refunded. QuicWit may issue additional securities to raise up to $106,000, the offering's maximum.
If the offering is successful at raising the maximum amount, then the company's implied valuation after the offering (sometimes called its post-money valuation) will be:
2,106,000 units
×
$1.00 per unit
$2,106,000implied valuation
SEC Filings
The Offering Statement is a formal description of the company and this transaction. It's filed with the SEC to comply with the requirements of exemption 4(a)(6) of the Securities Act of 1933.
Updates
Mar 2, 2020

Primary offering closed, selling

units

Sold $1.00 for a total of $0.00

units at

Oct 22, 2019

Primary offering of $1.00

shares at
Transactions
Spread
| Bid quantity | Price | Ask quantity |
| --- | --- | --- |
*Some securities may only be transferred to accredited investors if issued within the past 365 days. Unaccredited investors are permitted to place bids, so some transfers may have yet to occur.
No recent secondary activity
Transaction Log
Ask a Question
Proofread your comment before submitting: once it's posted, you can't edit or delete it. For the fastest help with the web site, email help@netcapital.com instead of commenting.
Understand the Risks
Be sure to understand the risks of this type of investment. No regulatory body (not the SEC, not any state regulator) has passed upon the merits of or given its approval to the securities, the terms of the offering, or the accuracy or completeness of any offering materials or information posted herein. That's typical for Regulation CF offerings like this one.
Neither Netcapital nor any of its directors, officers, employees, representatives, affiliates, or agents shall have any liability whatsoever arising from any error or incompleteness of fact or opinion in, or lack of care in the preparation or publication of, the materials and communication herein or the terms or valuation of any securities offering.
The information contained herein includes forward-looking statements. These statements relate to future events or to future financial performance, and involve known and unknown risks, uncertainties, and other factors, that may cause actual results to be materially different from any future results, levels of activity, performance, or achievements expressed or implied by these forward-looking statements. You should not place undue reliance on forward-looking statements since they involve known and unknown risks, uncertainties, and other factors, which are, in some cases, beyond the company's control and which could, and likely will, materially affect actual results, levels of activity, performance, or achievements. Any forward-looking statement reflects the current views with respect to future events and is subject to these and other risks, uncertainties, and assumptions relating to operations, results of operations, growth strategy, and liquidity. No obligation exists to publicly update or revise these forward-looking statements for any reason, or to update the reasons actual results could differ materially from those anticipated in these forward-looking statements, even if new information becomes available in the future.
Looking to raise capital?
We can help turn your friends, family and customers into investors.
Learn more
Be the first to know.
Sign up for new investment alerts.
Sign up