Introduction
MyTable is a digital marketplace allowing users to connect directly with and hire a professional Chef to prepare delicious and nutritious in-home meals. Products offered by our chefs include family dinners, dinner parties, weekly meal prep, cooking classes, catered events, and more. Our mission is to disrupt and revolutionize the food industry by creating a community of local chefs with a passion for their craft and connecting them directly to diners seeking a personalized, enriching dining experience.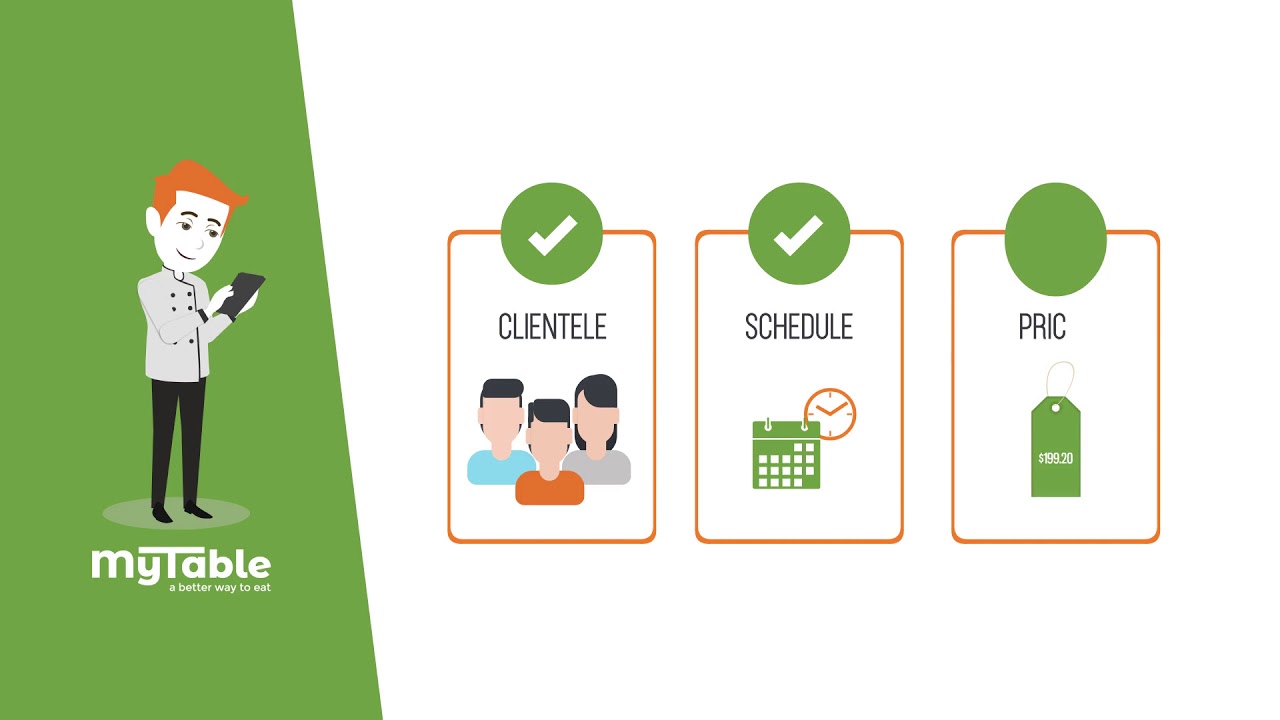 Testimonials
"MyTable has the potential to be something great - almost the natural next step to services like Butcher Box, Blue Apron, Walden Meats, etc."
Matt P
NH
"Matt has great vision for his company. I've personally done work with Matt and he/MyTable are well worth the investment."
Josh G
MA
"I had a lovely evening. Rather than working in a hot kitchen on a hot and humid night, I relaxed on the deck with my guests… At 7pm, as requested, dinner was served by Chef Sammy. My warmest thanks to MyTable for a delightful evening."
Nancy T
MA
"I just wanted to say thank you so much for all that you and MyTable have done for me! … I loved the dinner (Chef) Maegan cooked and I would absolutely recommend MyTable to anyone looking for a Personal Chef."
Caitlin S.
MA
Problem
Food continues to be the center point of human interaction. Food is the fuel for our bodies. The concept of enjoying meals around a table, sharing precious moments with friends, family, and loved ones is central to our lives. Yet, why do current food experiences seem so unrewarding?
For Diners:
Restaurants have become increasingly expensive - with full service restaurants posting the highest price increases in over 7 years
The current COVID-19 situation and the restrictions imposed on dining establishments has only served to further diminish the restaurant experience
Health conscious restaurant diners are increasingly skeptical of how their food is being prepared and where ingredients are sourced
Delivered food quality has been severely diminished causing a strong mistrust in how your food is being handled and properly cooked
Restaurants, meal kits, and delivery services do not offer the ability to customize your meal; customized ingredients, desired off-menu dishes, and dietary restrictions are not easily accommodated
For Chefs:
1 out of 4 Chefs suffer physical and verbal abuse working in a professional kitchen
Substance abuse is higher in the restaurant and food services industry than any other American workforce
Restaurant chefs work extremely long hours (100+ in peak season) with minimal pay and career advancement opportunities, creating an extremely difficult and sometimes unsustainable lifestyle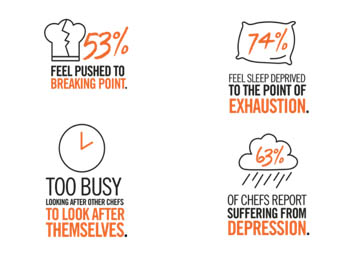 Solution
MyTable was created with the idea that a more efficient and rewarding food experience can be delivered by connecting Chefs and Diners directly. We are disintermediating chefs from the cumbersome and expensive restaurant infrastructure.
MyTable provides Chefs the ability to create their own mobile restaurant connecting directly with their own clients, and lets Diners experience real fresh food, in the comfort of their own home. MyTable's full product offering includes meal prep (e.g. lunches or dinners for the week), special occasion dinners, date night, dinner parties, cooking classes, and large party catering.
With clear product vision and an initial angel investment of $250,000, we got to work in 2019 and developed our iOS, Android, and Web applications, followed by an official customer beta program. Total investments to date, including commitments from our development firm, are approx. $500,000. Platform updates are already underway, led by industry leading product designers who have worked for AirBnB ($18B valuation), Frichti ($56M in funding), Dior ($42.7B valuation), Uber and more.
Whether Meal Prep (the preparation of meals in bulk often for a period of 3+ days), Cooking Classes, Catered Events, date night, or the random Tuesday night dinner there are solutions for every dining situation on the MyTable platform. Users can search for a Chef by location, price, cuisine or meal specialties, services provided and more.
After a Diner has found the perfect candidate, he or she books services directly through the Chef's easy to use profile. Diners are able to communicate directly with the Chef asking questions about scheduling, menu customization, and other important dining details. Each Chef charges either an hourly or fixed rate for their services and Diners either provide the ingredients themselves, or can contract with the Chef to provide for them.
Benefits For Chefs:
Create your own schedule - work when you want, and flexibility to combine your passion for cooking with other endeavors
Formulate your own menu, with freedom to cook what you want how you want
Ability to use quality ingredients, making a positive impact on people's lives
Direct client interaction and feedback and satisfaction over the final creation
Benefits For Diners:
Simple search process to find the best and affordable Chef fit for you
In-app chat, video calls, and more to communicate with your Chef directly
Variety of cuisines and dishes to choose from - with complete customization available
Multitude of product offerings: private dinners, dinner parties, catering, meal prep, and food trucks
Tailor meals to meet dietary restrictions or food allergies
Fine dining from the comfort of your own home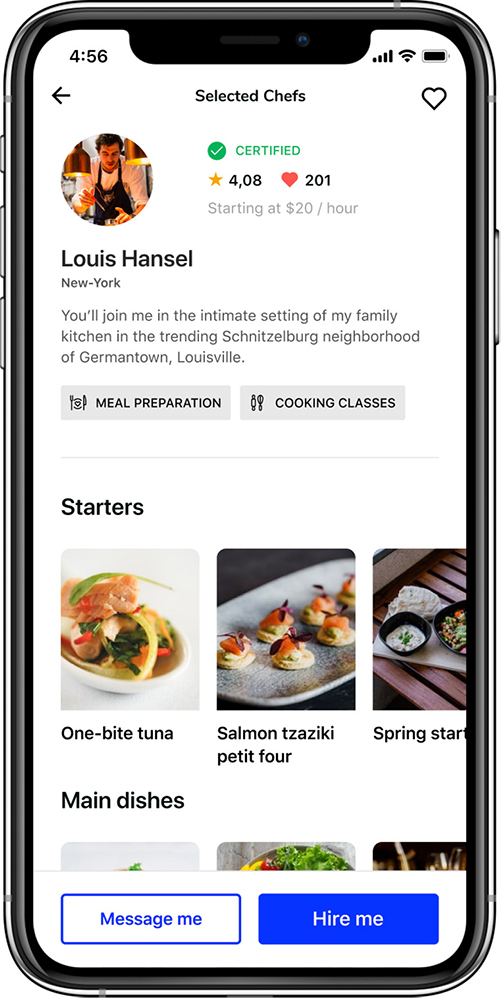 Business Model
MyTable Chefs operate as Independent Contractors on the MyTable platform (available in Android, IOS, and on the Web) . We consider our Chefs to be the owners of their own "Mobile Restaurant"; a new form of food service business that connects diners directly with chefs to prepare delicious in home meals. We charge a flat 15% commission on each transaction conducted on the platform.
We believe our business model can scale quickly with additional marketing runway. As a company, we maintain no inventory other than our chefs. We allow users to conduct business between themselves, capitalizing on a modest commission on each transaction. MyTable does not have the significant overhead associated with warehouses, food inventory, and salaries that plague most food service companies. A majority of our spend (approx. 50%) is allocated towards marketing and chef business development. We provide chef offerings at every price point allowing mass market appeal.
The MyTable platform is scalable internationally as the desire to enjoy delicious meals in a comfortable environment with family and friends transcends geographic boundaries and languages.
"It is not that consumers don't want to cook. They are looking for someone else to do it for them... The most popular place to eat out this year will be in the home."
- Bonnie Riggs, NPD Group
The current in-home private Chef market, which is extremely fragmented, shows significant annual revenues from an industry that suffers from a serious lack of innovation, marketing and consistent messaging. In addition to the MyTable platform's ability to greatly expand the in home chef market, the industry is ripe for consolidation:
5,000 - estimated private chefs currently in the US (ABCNews.com)
$360 Million - estimated size of the personal chef market in the US (USPCA)
$11 Billion - estimated catering sales in the US annually (IBISWorld report on catering)
Growth Projections & Future Value:
Operating as a consistent alternative to restaurant and other prepared food industry solutions, allows for a high growth, cash-flow positive business model. As demonstrated above, and as noted in our customer acquisition trends, the value proposition of hiring a professional Chef to prepare in home meals can scale both domestically and internationally. Future combinations with hospitality/tourism/vacation industries also allows for solid expansion opportunities.
Competitive Landscape
As a whole, the food landscape in America has grown quite stale. restaurants & delivery services (although massive in market size) provide a less rewarding experience than once was offered. In the Personal Chef market, the majority of major companies offering personal chef services to their customers have largely maintained a narrow focus.
CozyMeal is one of these companies. CozyMeal is a web-based application that offers cooking classes by personal chefs. CozyMeal builds offerings only around "special events" such as team building exercises, group parties, or other similar experiences. These tend to be much more expensive per person and completely out of budget for many. The customers' frequency of usage is also impacted as special celebrations are far less common than one off dinners, dinner parties, meal prep or cooking classes..
The restaurant industry has unfortunately been decimated by the onset of COVID-19. The New York Times on March 20 reported that industry analysts were predicting that two thirds of restaurants would not survive, and as many as 75 percent of independents.. The remainder are desperately trying to pivot to low or no profit takeout or delivery focused models. With 5% profit margins owners are debating whether or not they can survive another year. Restaurants looking to continue in-house service are facing significant headwinds. Local legislatures are strictly monitoring and capping restaurant capacity to business crushing levels (i.e, outdoor dining and or 50% interior dining levels) in addition to mask requirements for servers and patrons. This is not a long term sustainable model.
Prepared food delivery platforms, such as GrubHub, UberEats,, and Seamless are quietly bankrupting thousands of small businesses across the country with their fee regimes. The operations and fees charged by these delivery companies have even been the subject of a recent class action lawsuit in New York (Reuters). . Diners and restaurants are often hit with outsized fees for delivery, which depending on the size of the order can range from 17-40% (NPR.org "Cities Crack Down on Food Delivery Apps"). This is not a sustainable business model for most independent restaurants.
In contrast, MyTable has created a Chef friendly marketplace with no service limitations and a reasonable commission rate of 15%. We provide enriching and rewarding dining experiences for a variety of clients without charging extra fees or using predatory tactics, and without the wait times, poor service, and excessively loud dining rooms that often characterize restaurant meals. Meals prepared by our Chefs are fresh, nutritious, customizable and affordable. We bring restaurant quality meals and experiences into the comfort of your home.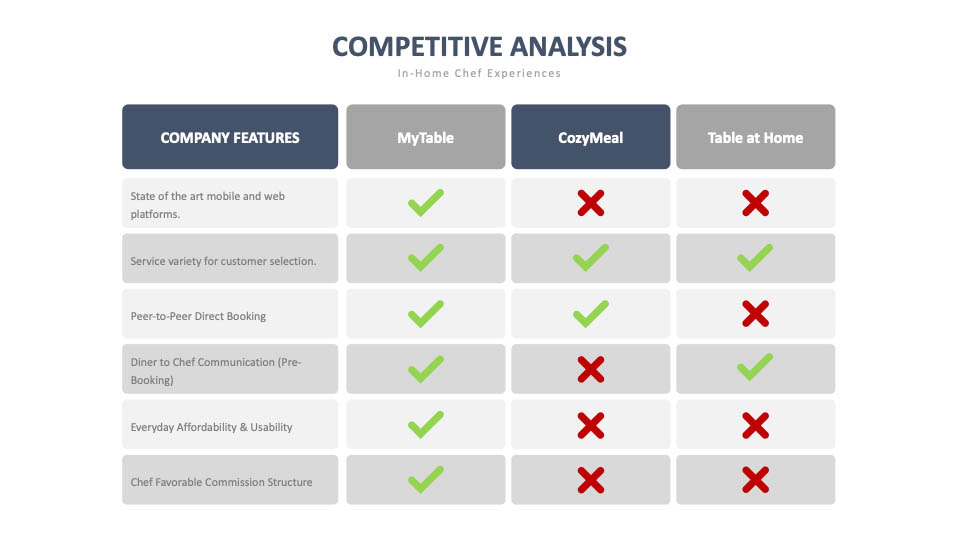 Progress
In 2019, we set out to change the food world. As a first step we leveraged the Chef community to confirm our business premise. The food service industry was hurting and professionals needed an alternative way to earn income while practicing the passion they love. The concept of an open platform connecting chefs and diners directly provides Chefs the freedom to build the business they want, with no start-up capital or infrastructure needed. The feedback from chefs was unanimously positive.
Next, we studied our potential customer's dining habits and their thoughts around hiring a professional Chef to prepare in-home meals. Again, the feedback was unanimous: people are comfortable hiring a professional Chef if the cost is affordable and the process is convenient.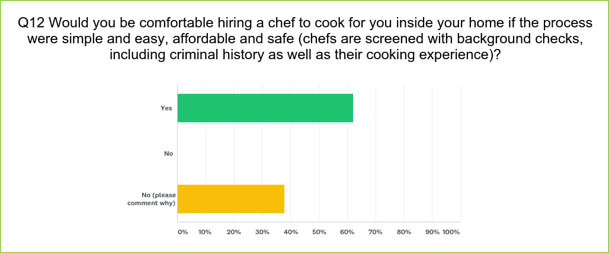 It was clear that there was a strong need for a two-sided marketplace in which Diners can connect directly with talented and passionate Chefs to prepare delicious in-home meals. Despite being operational for just over one year, we have surpassed our expectations of growth and market acceptance across our three identified audiences.
Customers
During our development phase, we utilized a customer beta period to determine true market fit. We filled ~100 orders in a few months in cities such as Los Angeles, Phoenix, Tacoma (WA), Boston, Manhattan, as well as the suburbs of Connecticut, and New Hampshire. Feedback continues to be positive with a number of our customers continuing to work with us on a regular basis.
Brand Partners
Being an open marketplace allows for a multitude of value adds for our users by leveraging a strong partnership marketing program. Early in our lifecycle we have already begun conversations with leading media outlets, grocery chains, professional athletes, food industry suppliers, and numerous others about brand offerings. The passionate community of MyTable Diners and Chefs is an excellent audience for any brand to market their products or services.
Chefs
The support and positive feedback from the chef community has been outstanding. We have over 900 chefs on the platform across the country. We have also had a few international applicants from locations such as the Swiss Alps, London, Thailand, and more! Our valued community of Chefs includes those with Michelin Stars, Celebrity Chefs who have appeared on Food Network and other major media outlets, and Chefs who work in (or own!) some of your favorite local restaurants. MyTable offers professional chefs in over 40 major metro markets in the United States at a variety of price points as low as $20/hour. We have seen a significant increase in chef activity given the current state of the restaurant industry due to COVId-19.
MyTable is poised for continued growth and success by leveraging a meticulous customer and service provider acquisition strategy. Specific marketing tactics we continue to utilize are crafted in unison with an industry leading marketing agency, Getfused, who works with the New England Patriots, Rob Gronkowski, Legal Sea Foods, and Café Nero. These marketing tactics include:
Ambassador Program: Multiple social influencers with followings of 1.5M+ on stand by
SEO & SEM Strategy: Keyword definition/utilization and other industry best practices as well as carefully crafted Ad campaigns
Social Media: Capitalize on the large audiences on social media both through a company account as well as through our Chef community (i.e. user sharing and generated content)
Event Participation: Staying involved from a local grassroots perspective is an important goal for our community. Continuous involvement with the CIA Career Fairs (Culinary Institute of America), Chef competitions, Farmers Markets, and more.
Email Marketing: Utilize various nurture and engagement campaigns specifically designed for both Chef and Diner audiences.
OOH Marketing Tactics: Implementation of proper marketing techniques to capture our audience's attention by meeting them where they are. Out-of-home includes billboard and local community postings, flyer distribution, and more.
Success
Over 900 registered Chefs across the USA - with a target of 1,000 approved by end of September 2020
Current customers include Private Schools, families, young professionals, NBA athletes, and more
Meals prepared in Los Angeles, Phoenix, Tacoma (WA), Boston, NYC, CT, and New Hampshire
Team
The MyTable team is composed of individuals and entire organizations dedicated to the growth and disruption of the food industry. Each brings a specific strength to our common mission to disrupt and revolutionize the restaurant industry by creating a community of local chefs with a passion for their craft and connecting them to diners seeking a personalized, enriching dining experience.
Matthew Kelly
Founder & CEO
A born leader, Matt has served roles in a variety of functions in Marketing Agency's, Professional Sport & Entertainment organizations, Cyber Security, and B2B consulting. With specific expertise in marketing, brand strategy, and a unique vision Matt has proved an excellent leader for MyTable's vision.
Igor Nikolaev
CTO
A well-experienced veteran of the mobile and web development space Igor also owns his own development company MBicycle which specializes in app development. Spearheading the MyTable product function and leading a team of iOS & Android developers, Business Analysts, and others utilizing industry leading techniques.
Getfused
Agency on Record
Getfused is an industry leading full-service marketing agency local to the Boston area with strong success and expertise in the food & beverage space. Current client list includes the New England Patriots, Rob Gronkowski, Legal Sea Foods, Café Nero, and more.
Bryon Cail
Advisor & Investor
Skilled executive with 20 yrs of diverse experience, 14 of which spent in the CFO/COO position. I've led 4 successful exits generating solid ROI, a successful turnaround, 20+ acquisitions and integrations, multiple audits, and CFO of 2 INC 500||5000 companies. ASC 606 experience with complex multi-element contracts. MBA. Experience with both VC and PE across multiple industries.
Patrick Kelly
Advisor & Investor
Co-founder COO/CFO of Dock Street Capital Management LLC, the leading provider of replacement portfolio management and security auction services to the fixed income structured credit markets. Extensive career building product lines and businesses in the structured credit markets including senior positions at KBC Financial Products, MBIA Insurance Corp. and Deutsche Bank. Prior to Deutsche Bank, served as Product Manager for Lewtan Technologies, a specialist software company in Boston MA.. MBA in International Finance from Babson College, and a B.S. in Finance from University of Massachusetts.
Mike Tavis
Investor & Advisor
25 year US and International career ranging from Private Equity fund manager to founder of several technology and manufacturing startups. Companies built from scratch with as few as 1 and as many as 300 employees. Technology startups include engineering services and software development companies.
Use of Proceeds
If the offering's maximum amount of $350,000 is raised:
| Use | Value | % of Proceeds |
| --- | --- | --- |
| Compensation for employees | $130,850 | 37.4% |
| Marketing | $75,000 | 21.4% |
| Chef Hires | $42,000 | 12.0% |
| Legal/Acct | $5,000 | 1.4% |
| Insurance | $7,000 | 2.0% |
| Marketing Agency | $48,000 | 13.7% |
| Platform | $25,000 | 7.1% |
| Intermediary fees | $17,150 | 4.9% |
Terms
This is an offering of Common Stock, under registration exemption 4(a)(6), in MyTable Holdings Corp. This offering must raise at least $10,000 by September 21, 2020 at 11:59pm ET. If this offering doesn't reach its target, then your money will be refunded. MyTable may issue additional securities to raise up to $350,000, the offering's maximum.
If the offering is successful at raising the maximum amount, then the company's implied valuation after the offering (sometimes called its post-money valuation) will be:
1,116,072 shares
×
$4 per share
$4,464,288implied valuation
Financials
These financial statements have been reviewed by an independent Certified Public Accountant.
SEC Filings
The Offering Statement is a formal description of the company and this transaction. It's filed with the SEC to comply with the requirements of exemption 4(a)(6) of the Securities Act of 1933.
Understand the Risks
Be sure to understand the risks of this type of investment. No regulatory body (not the SEC, not any state regulator) has passed upon the merits of or given its approval to the securities, the terms of the offering, or the accuracy or completeness of any offering materials or information posted herein. That's typical for Regulation CF offerings like this one.
Neither Netcapital nor any of its directors, officers, employees, representatives, affiliates, or agents shall have any liability whatsoever arising from any error or incompleteness of fact or opinion in, or lack of care in the preparation or publication of, the materials and communication herein or the terms or valuation of any securities offering.
The information contained herein includes forward-looking statements. These statements relate to future events or to future financial performance, and involve known and unknown risks, uncertainties, and other factors, that may cause actual results to be materially different from any future results, levels of activity, performance, or achievements expressed or implied by these forward-looking statements. You should not place undue reliance on forward-looking statements since they involve known and unknown risks, uncertainties, and other factors, which are, in some cases, beyond the company's control and which could, and likely will, materially affect actual results, levels of activity, performance, or achievements. Any forward-looking statement reflects the current views with respect to future events and is subject to these and other risks, uncertainties, and assumptions relating to operations, results of operations, growth strategy, and liquidity. No obligation exists to publicly update or revise these forward-looking statements for any reason, or to update the reasons actual results could differ materially from those anticipated in these forward-looking statements, even if new information becomes available in the future.
Updates
Sep 22, 2020

Primary offering finalized, selling

shares

Sold $4 for a total of $0

shares at

Jul 20, 2020

Primary offering of $4

shares at
Ask a Question
Proofread your comment before submitting: once it's posted, you can't edit or delete it. For the fastest help with the web site, email help@netcapital.com instead of commenting.
Looking to raise capital?
We can help turn your friends, family and customers into investors.
Learn more
Interested in more investment opportunities?
Browse all offerings currently available.
See more