"This technology is ABSOLUTELY INCREDIBLE... the GeoOrbital experience is amazing!"
- Herb Chambers, president of The Herb Chambers Companies
"Revolutionary"
- Huffington Post
"Radically Different"
- Gizmag
WE ARE SOLVING A REAL PROBLEM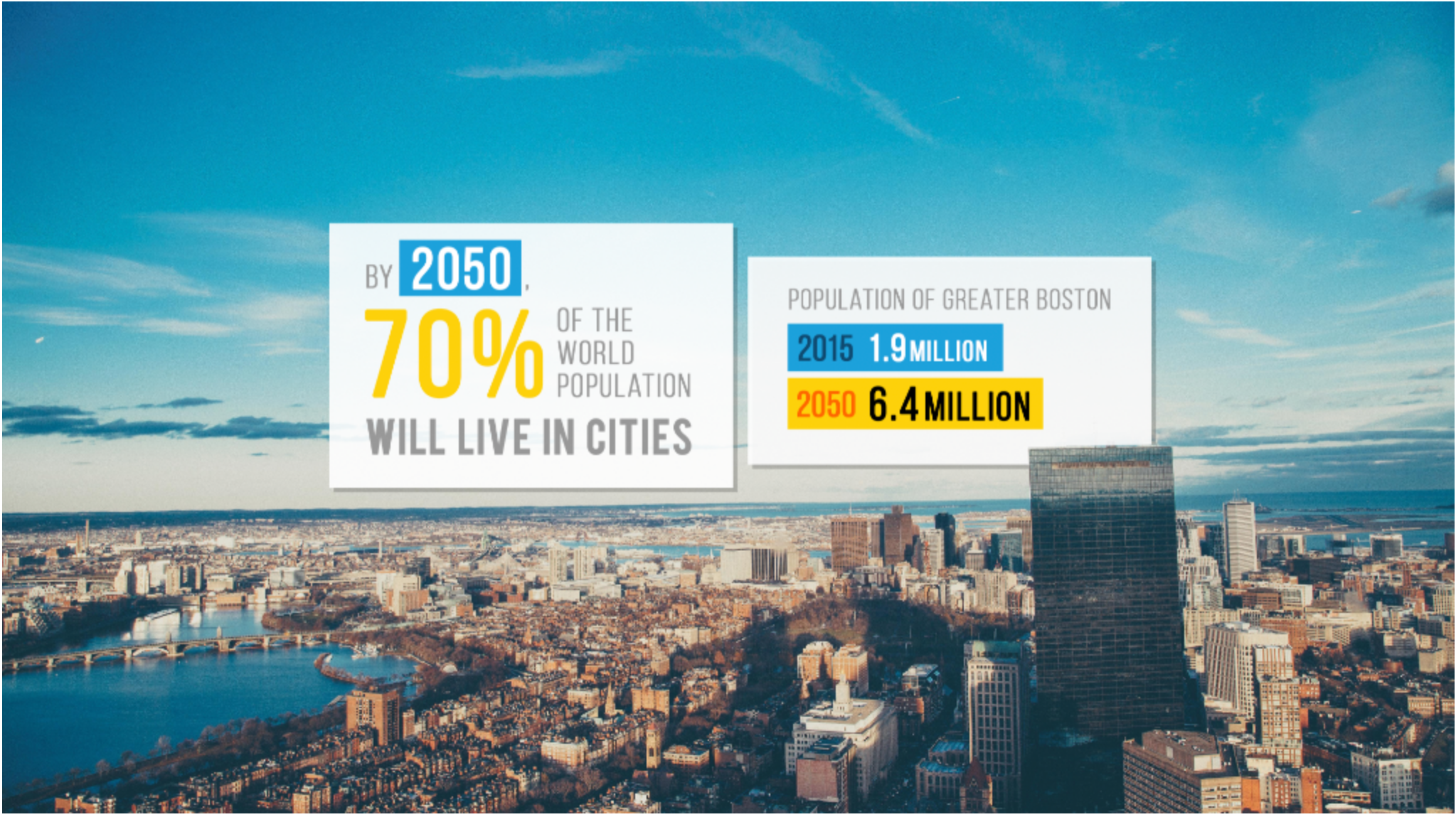 "The device allows people to bicycle to work without sweating, or to ride via routes with hills that they would otherwise be unable to conquer"
- INC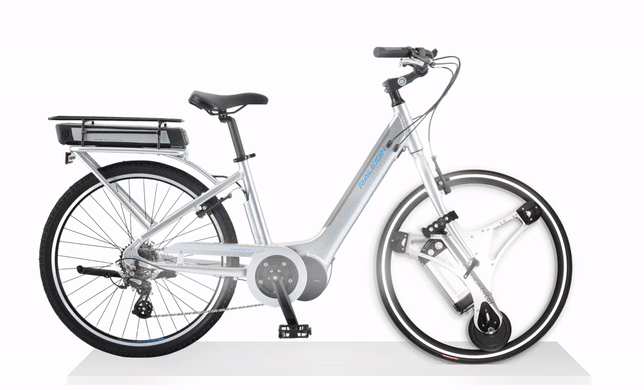 GeoOrbital "Reinvented The Electric Bike"
- Forbes
WHAT DRIVES US
Since our launch in May 2016 we havealready made a real difference in transportation.To date our customers have converted almost 3,000 manual bicycles into affordable electric vehicles.
With this campaign on NetCapital we are building a community by including everyone in our growth. Great products have the support of great people and we are looking for great investors to join us in our journey so we grow together.
Update form the New England Autoshow with Herb Chambers
Beautifully execute[s it's] mission: Turning the bike you already own into a superbike"
- Yahoo Finance
A BRAND KNOWN ALL OVER THE WORLD
GeoOrbital has the distinction of being one of the only companies in the world that has raised
$1,000,000+ withProduct CrowdFunding
AND
$1,000,000+ withEquity CrowdFunding.
We have an engaged community of thousands of people that have invested in our growth.
Outside of our brand developing viral world-wide recognition, millions have seen us on the Discovery Channel or Shark Tank - where two of the Sharks purchased wheels.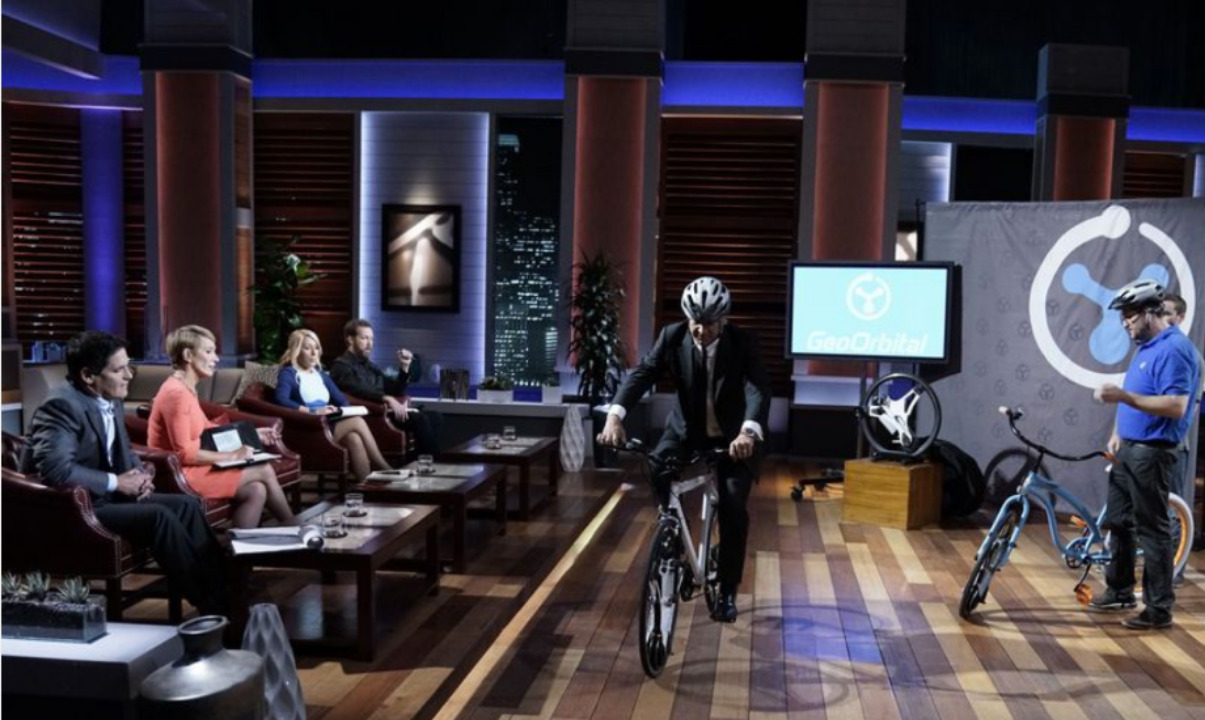 "It's fun! It's like magic!"
- Barbara Corcoran on SHARK TANK
"Very cool!"
- Kevin O'Leary on SHARK TANK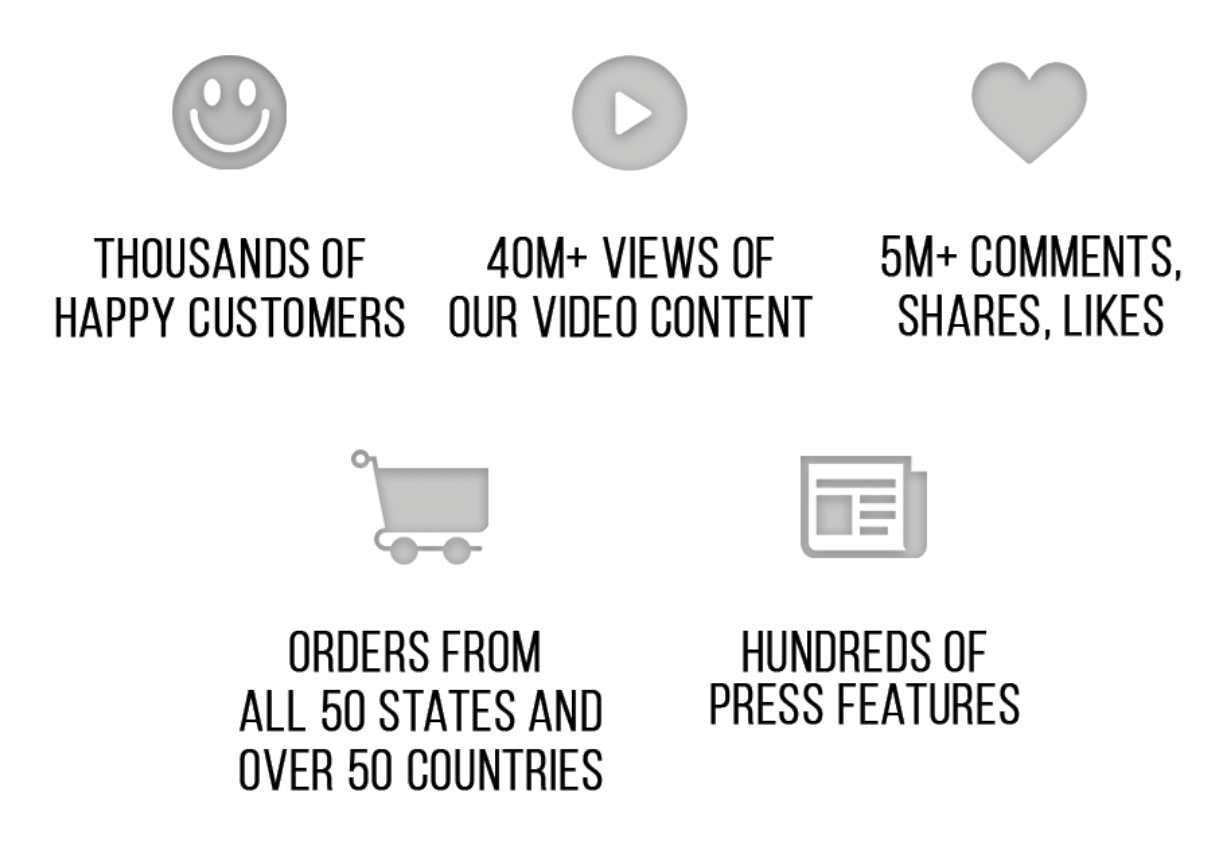 GEOORBITAL IS A 2018 GOLD EDISON AWARD WINNER!
The Edison Awards are judged by a panel of more than 3,000 of the world's leading executives who recognized GeoOrbital with its highest honor for innovation and excellence.
"GeoOrbital is a true innovator"
- Frank Bonafilia, Executive Director of the Edison Awards
DOWNLOAD A COMPANY OVERVIEW
A FRESH APPROACH TO ONE OF THE WORLD'S LARGEST MARKETS
The GeoOrbital bicycle wheel is not only for those that might want to buy an E-Bike but also for the owners of the over 1 Billion pedal bicycles in the world today. The Patent Pending GeoOrbital platform will power wheelchairs and many other alternative electric vehicles.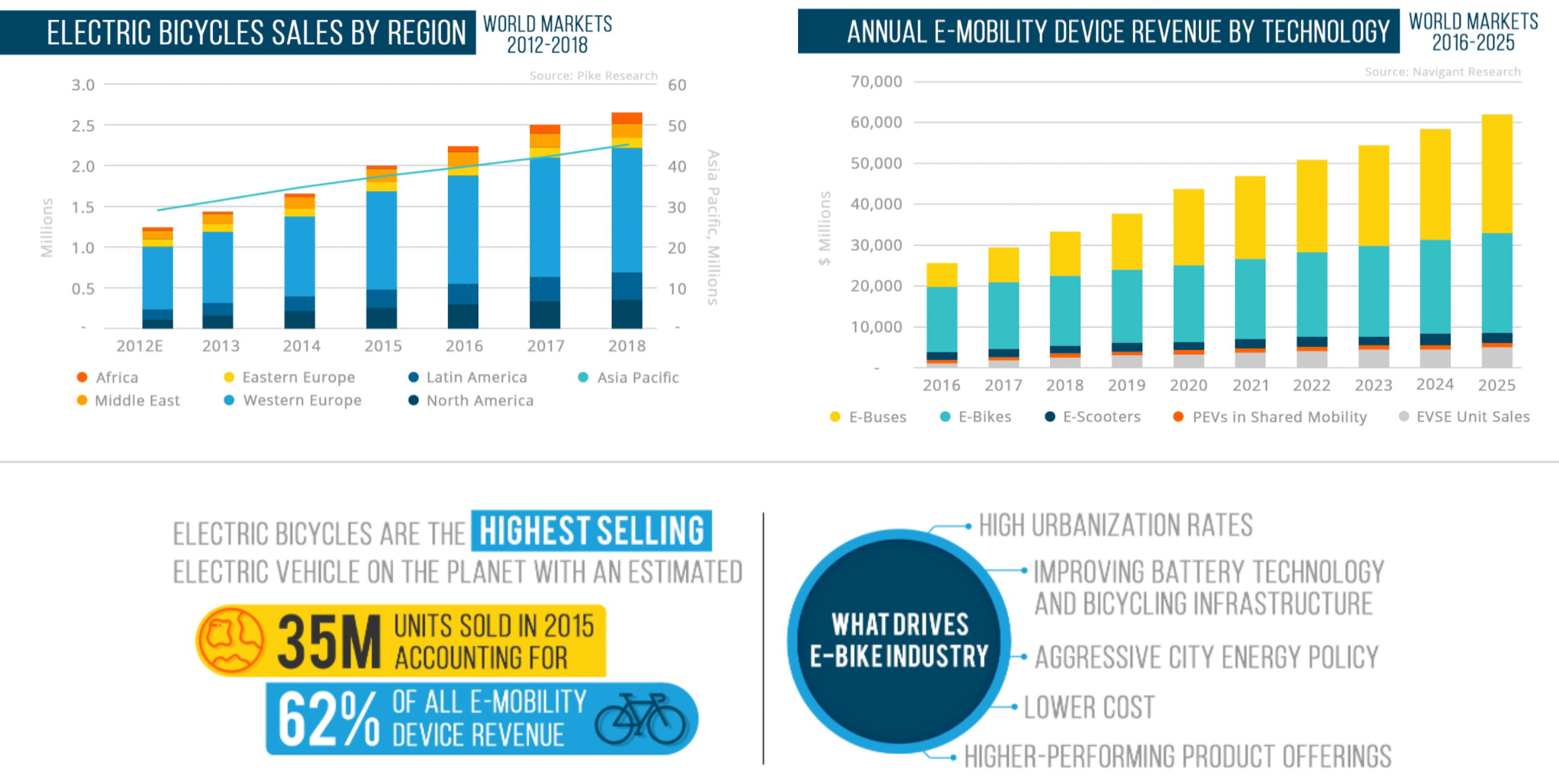 It is interesting to note that there were just 1.2 million electric "cars" in use globally in 2016.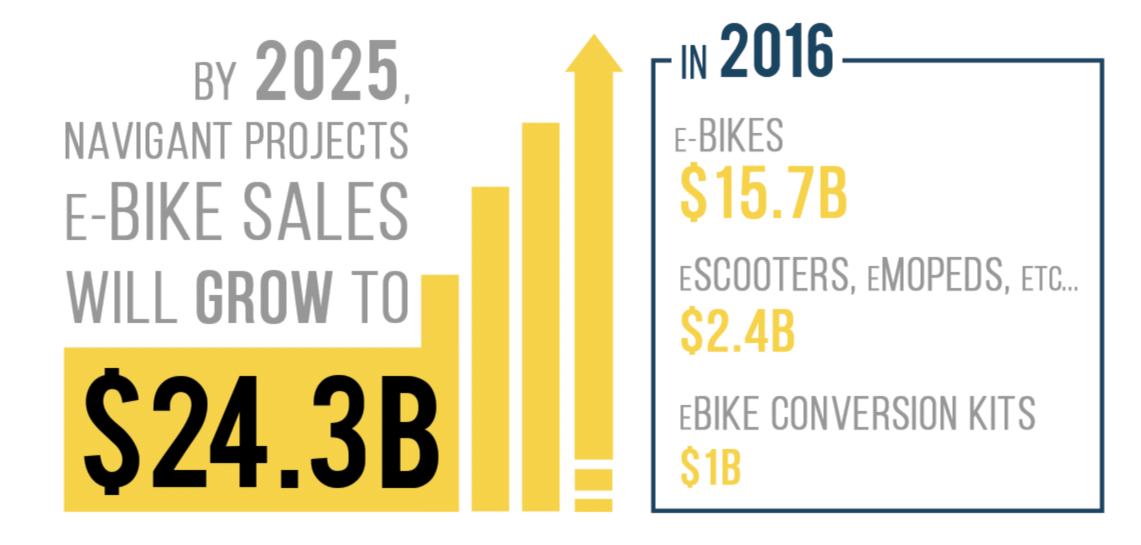 THE GEOORBITAL WHEEL TECHNOLOGY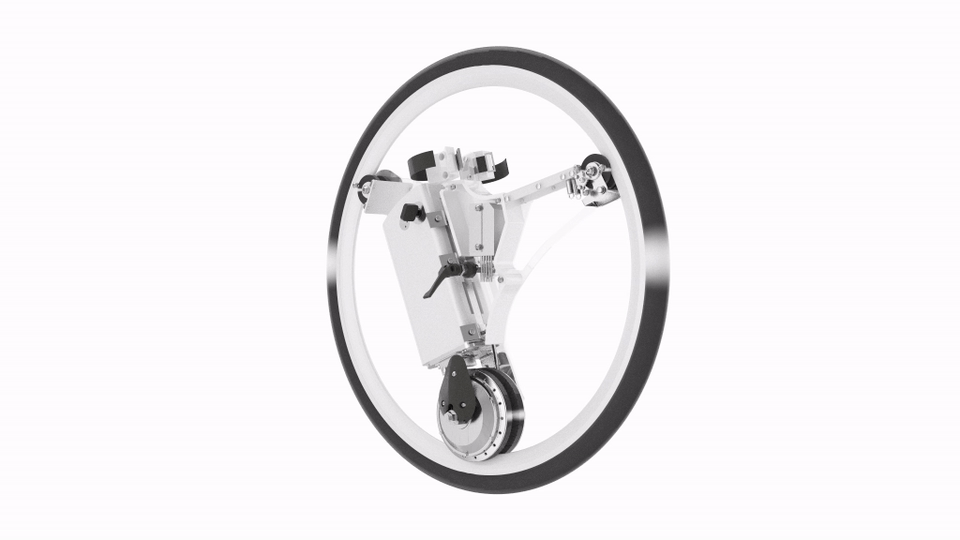 An orbital wheel is a wheel with no center – it "orbits" around an empty area, rather than spinning as a result of being connected to a central axle or "hub." For example, have you seen the movie TRON? The wheels on those motorcycles are examples of orbital wheels (sometimes called "hubless wheels" or "centerless wheels"). The Patent Pending GeoOrbital wheel is an evolution of the Orbital wheel platform, where instead of orbiting around an empty space, the center of the wheel contains components that make the wheel function as an "all-in-one" vehicle propulsion system. We call this central mass a "Geo." The most powerful aspect of this new platform is that this "Geo" remains stationary with only the tire rotating, this frees the GeoOrbital platform from the constraints of traditional wheel (and vehicle) designs and opens up a world of opportunities.

This new type of wheel was invented in 2014 by a non-engineer and future CEO of GeoOrbital, Michael Burtov, who was inspired by the 2010 TRON movie. Michael managed to build the first prototype in his kitchen and by working with a top intellectual property law firm, Foley & Lardner, filed the first patent application. When Dakota Decker, an engineer from SpaceX, joined the team a few months later, he began growing the prototype into a product. Over the next 2+ years GeoOrbital built and tested 5 generations of rideable prototypes and filed additional patent applications. We have tested and validated this new technology and our company has now become synonymous with this radically different design which is now enjoying commercial success with consumers ordering and using the wheel all around the world. Our Kickstarter campaign was one of the most successful ever and Best Buy, the number one technology retailer, carries the product today.
LEARN MORE ABOUT HOW THE WHEEL WORKS
"Don't be surprised if GeoOrbital starts challenging traditional bike design soon"
- Popular Mechanics
PROUDLY MADE IN THE USA
(FROM DOMESTIC AND IMPORTED PARTS)

Our manufacturing, assembly and testing facility in Peabody, Massachusetts.

STRONG COMMUNITY TIES
GeoOrbital is headquartered right next to Union Sq. in Somerville, MA an area regarded by many to be the center of cleantech innovation in the United States. We manufacture and design in Massachusetts and are very proud to be a part of one of the leading cleantech communities in the world. We are also very active in local community events and regularly meet with community leaders and serve as experts at events advocating for sustainable and efficient transportation initiatives.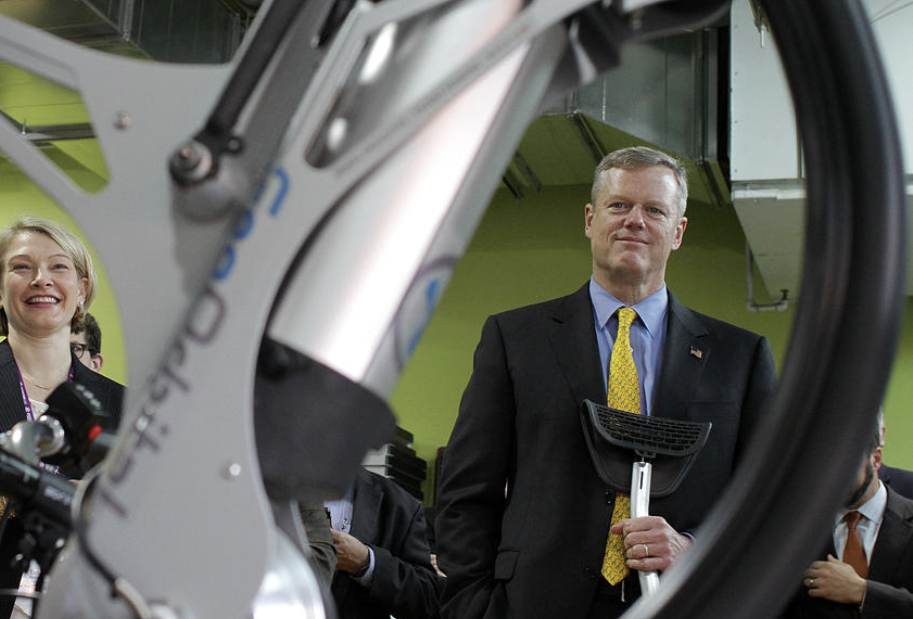 Massachusetts Gov. Charlie Baker admiring the GeoOrbital wheel.
Image credit: Boston Herald
THE PLATFORM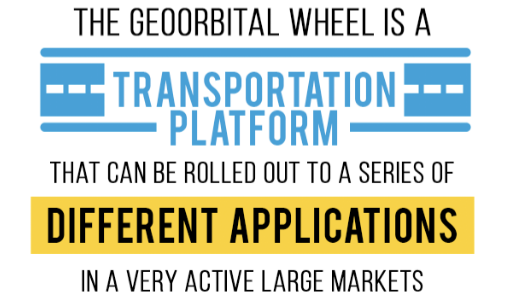 The GeoOrbital bike wheel is the most elegant solution to turn your bicycle into an e-bike and we are very proud of that. It is a real and tested product that can be purchased today, installed in seconds, and is already helping alleviate global transportation challenges like noise, pollution, congestion, and parking.
The GeoOrbital platform, however, is so much more than a bicycle wheel - it is a transportation system so versatile that its applications are still in their infancy. The GeoOrbital wheel occupies effectively the same amount of space as a standard wheel but contains a motor, a battery, a computer, and sensors - imagine the possibilities when the entire powertrain of a vehicle exists in the wheels alone.
With the GeoOrbital wheel a vehicle no longer needs a drive shaft to transfer power to the wheel(s), which:
reduces weight
increases the range of motion (allowing for sideways driving/parking)
frees-up the space for occupants and cargo
creates the ability to independently drive any or all wheels with variable power (improving efficiency, safety and handling)
provides new unprecedented design freedom
We are dreaming of a better future and are uniquely positioned today to participate in shaping the urban landscape of tomorrow by redefining what a 1, 2, 3, or even a 4 wheeled vehicle can be.
SEE SOME OF OUR VEHICLES
(Many are only possible with the GeOOrbital platform)
"GeoOrbital might have larger ambitions than a wheel"
- Popular Mechanics
FEATURES OF THE BIKE WHEEL
60 SECOND INSTALLATION
The GeoOrbital wheel is by far the easiest way to add electric power to your bike. The only part that isn't in the wheel itself is a simple thumb throttle, which is easily clipped onto your handlebar.
UP TO 20 MPH
For our consumer wheel we use high powered 500W motors (750 Peak) and Panasonic 36V removable Lithium-Ion batteries with a no-pedaling range of up to 20 miles per-battery.
USB OUTLET
With our built in USB outlet you can charge your phone, bike lights, or even a speaker on the go. Remove the battery from the wheel to have a massive portable power bank to take with you.
FLAT-PROOF TIRE
We displace the air inside of a standard bicycle tire with a specially developed hi-density foam. The result is a tire that acts just like a traditional bike tire, but you will never get a flat. Never!
"The way it works is simple: Just snap off the front wheel of any bike and attach [the GeoOrbital] wheel in its place"
- Forbes
"Reinvented the wheel"
- Boston Globe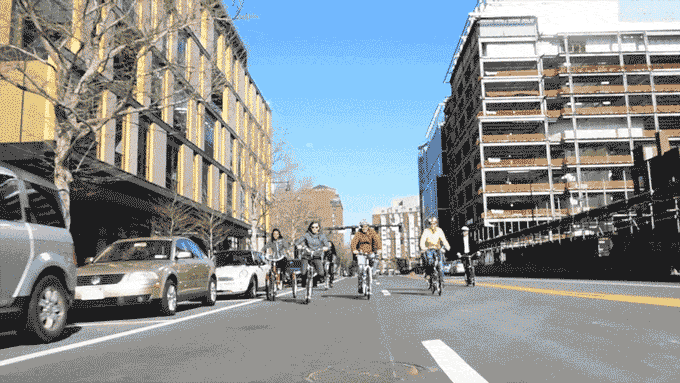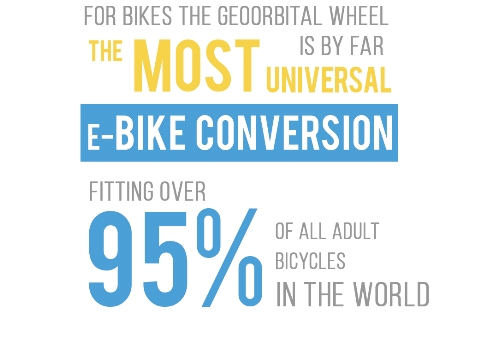 "Hit 20 MPH on your bike without breaking a sweat"
- Popular Mechanics
OUR CURRENT PRODUCTS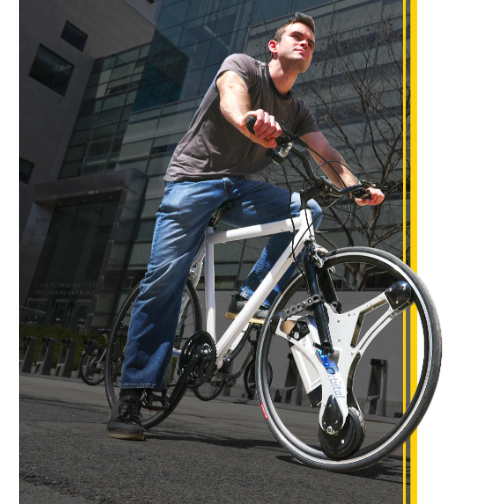 CONSUMER
Our consumer wheel is:
BUILT FOR FREEDOM
Priced under $1,000 and able to be installed on almost any bike in under 60 seconds, the GeoOrbital consumer wheel represents a breakthrough in electric mobility -with over 300,000 real-world miles traveled.
DOWNLOAD OUR CONSUMER BROCHURE
LEARN MORE
"The wheel was easy to charge, install and riding it was enjoyable. It's nice to get to a destination without getting all sweaty. It took my old rusty bike and made it modern and sleek."
- Engadget
"Dustin W. - Tennessee "It's a success, I think these are great. I like these very much! Never going to ride a regular bicycle again."
- Dustin W. - Tennessee
"I'm 70 now, but I feel 25 when I'm riding with the wheel!"
- Lenny W. - Massachusetts
"Now that I have over 300 miles on my GO, I can say I'm still very happy. The GO has made a high quality product, it should last for many years."
- Andrew J. - New Hampshire
"The GeoOrbital wheel makes towing our daughter effortless...even on hills!"
- Cheryl R. - Colorado
Above are just a few of our hundreds of glowing reviews from real customers. With a 4.6 out of 5 stars on Facebook alone, people love the GeoOrbital wheel!
READ MORE REVIEWS
Check out our Facebook page for many, many more reviews from real customers.

PUBLIC SAFETY
Our Public Safety wheel is
BUILT FOR PATROL
We developed this wheel in collaboration with numerous Law Enforcement agencies specifically with the needs of our public safety officers in mind by improving officer safety and ensuring that officers arrive at a call fresh and not winded while providing a faster response time and expanding patrol zones.
DOWNLOAD OUR PUBLIC SAFETY BROCHURE
LEARN MORE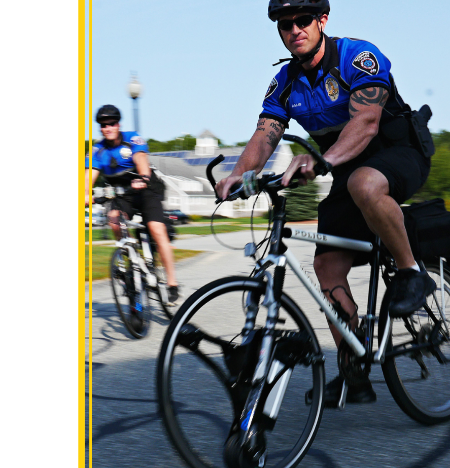 "It feels great, way less exertion, you don't have to pedal as much and I'm very impressed with how fast the wheel gets you going... I think it's great for our type of work."
- Officer Kristopher Threlkeld - Mashpee, MA Police Department

"You've got to smile while you are using it.... It takes a lot of the wear off your body, particularly on hills."
- Officer Lindsey Batstone - Laconia, NH Police Department
WATCH LOCAL NEWS COVERAGE OF OUR PUBLIC SAFETY PROGRAM
UPCOMING PRODUCTS
EU-MODEL WHEEL
Developed specifically for European users
GENERAL FLEET WHEEL
Developed to be used to power bikeshare, delivery, cargo and other commercial applications
WHEELCHAIR WHEEL
Used to convert wheelchairs to affordable, lightweight and compact electric wheelchairs
UNIVERSAL MOBILITY PLATFORM WHEEL
Specifically developed to be used as the powertrain for autonomous and alternative electric vehicles
"Swap out the old front wheel for a 21st-century one one, complete with a battery and motor"
- TIME
We Are Changing How People Buy Transportation
By partnering with global retailers including Best Buy we are redefining how transportation products are discovered and purchased by consumers.
Outside of selling directly on our website and through our network of Ambassadors we are partnering with top retailers to launch a new category of product -a way to turn the over 1 Billion already made bicycles into affordable electric vehicles that 94% of Americans already know how to use.Working with best-in-class retailers also allows us to create more volume sales, raise awareness, and, in turn, reduce costs.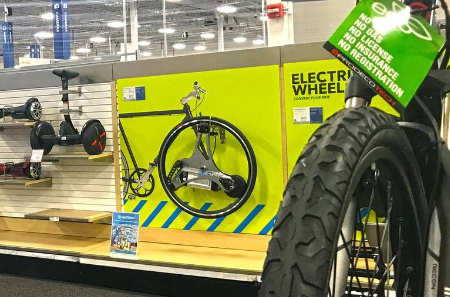 A GeoOrbital wheel on sale at a Best Buy store in New York
Priced under $1,000, the GeoOrbital wheel, when mounted on a standard bicycle, makes one of the most affordable quality electric vehicles available.

Because our community launched us and led to our viral growth we have an active network of hundreds of Ambassadors that connect existing GeoOrbital owners with potential customers. Our Ambassadors make a commission when someone in their network makes a purchase. The Purchaser also receives a discount.
THE TEAM BEHIND THE WHEEL
We are rocket scientists, inventors, entrepreneurs, and business experts. We have built spacecraft with SpaceX, built electric vehicles with Ford, built micro-businesses with the Peace Corps and sold and marketed millions of dollars of equpment.
Having long standing ties in the heart of Cambridge, MA and being based only blocks away from MIT and Harvard University, we have a wide networkd of support and guidance form top experts in innovation, supply chain management, manufacturing, design, electric vehicles and cycling.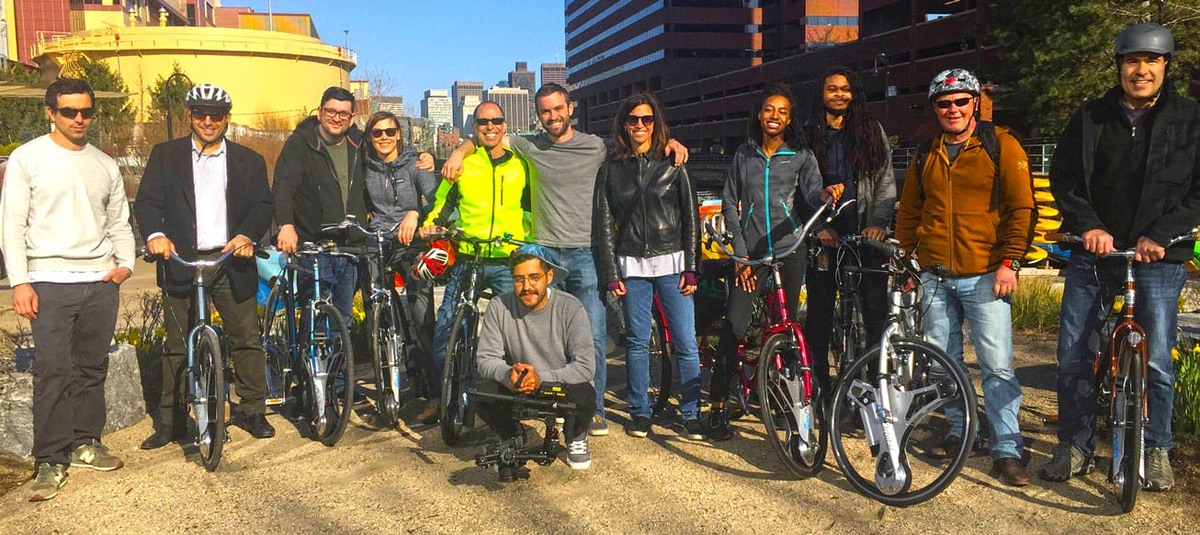 The extended GeoOrbital team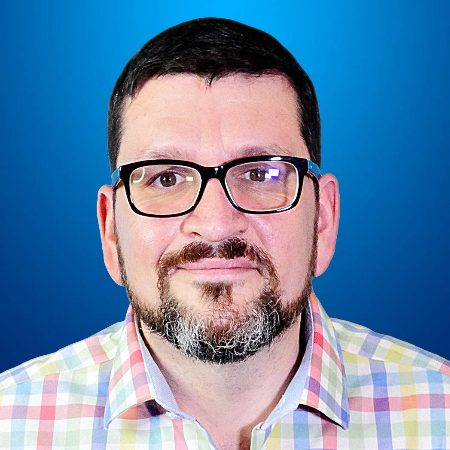 MICHAEL BURTOV - FOUNDER & CEO
Mike, our Founder & CEO, has 15 years experience in starting-up and seeing companies through their lifecycle. Before GeoOrbital Mike was the Founder and CEO of 3 companies and was most recently the founder and CEO of Cangrade, a hiring platform from 2011 to 2014. He is also proud of having served over 2 years as a Peace Corps volunteer. Mike and his work have been featured in hundreds of publications worldwide - ranging from Forbes to Time Magazine. He was also named "One of the top Inventors of 2016" and one of the "most dynamic and creative people shaping business today" by the Upstart Business Journal.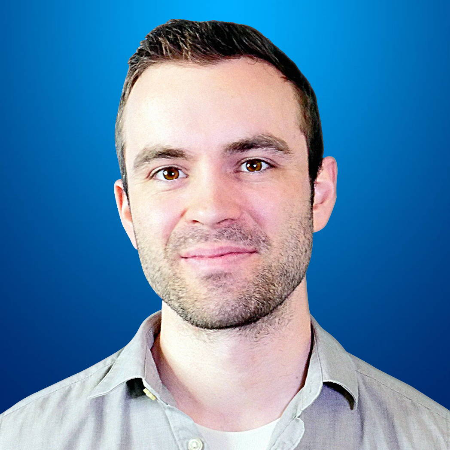 DAKOTA DECKER - CTO
Dakota, our CTO, comes with years of experience as a development engineer with SpaceX, where he worked from 2009-2015. SpaceX is one of the most innovative and future-focused engineering companies in the world. SpaceX taught him to develop a wide array of skills and unique problem-solving abilities which are crucial to making a startup succeed, along with passing on a vast knowledge of materials and techniques to bring any hardware product to reality. Dakota is very proud to have earned his master's degree at the age of 19 and declined an invitation to pursue a PhD so that he could build rockets with SpaceX.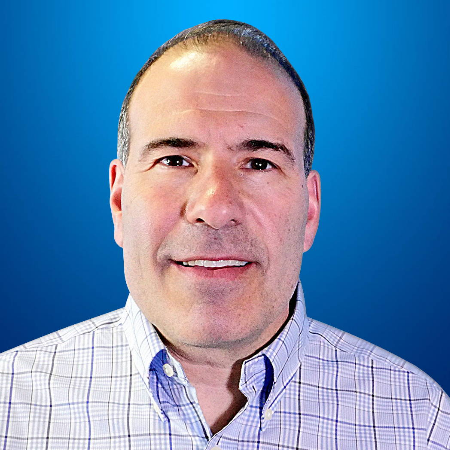 DAVID COHEN - VP BUSINESS DEVELOPMENT
David, our VP of Business Development, came to GeoOrbital with decades of experience creating strategic partnerships in a variety of technology markets. He began his career in 1986 in the medical device industry, where he demonstrated to surgeons and hospital administrators the value add of multi-use instruments. From 1996 until joining GeoOrbital in 2016, he made the transition to the energy industry, representing several high-efficiency solar, heating, and cooling manufacturers. David has successfully managed sales teams, distributor and dealer networks, and created numerous sales training programs.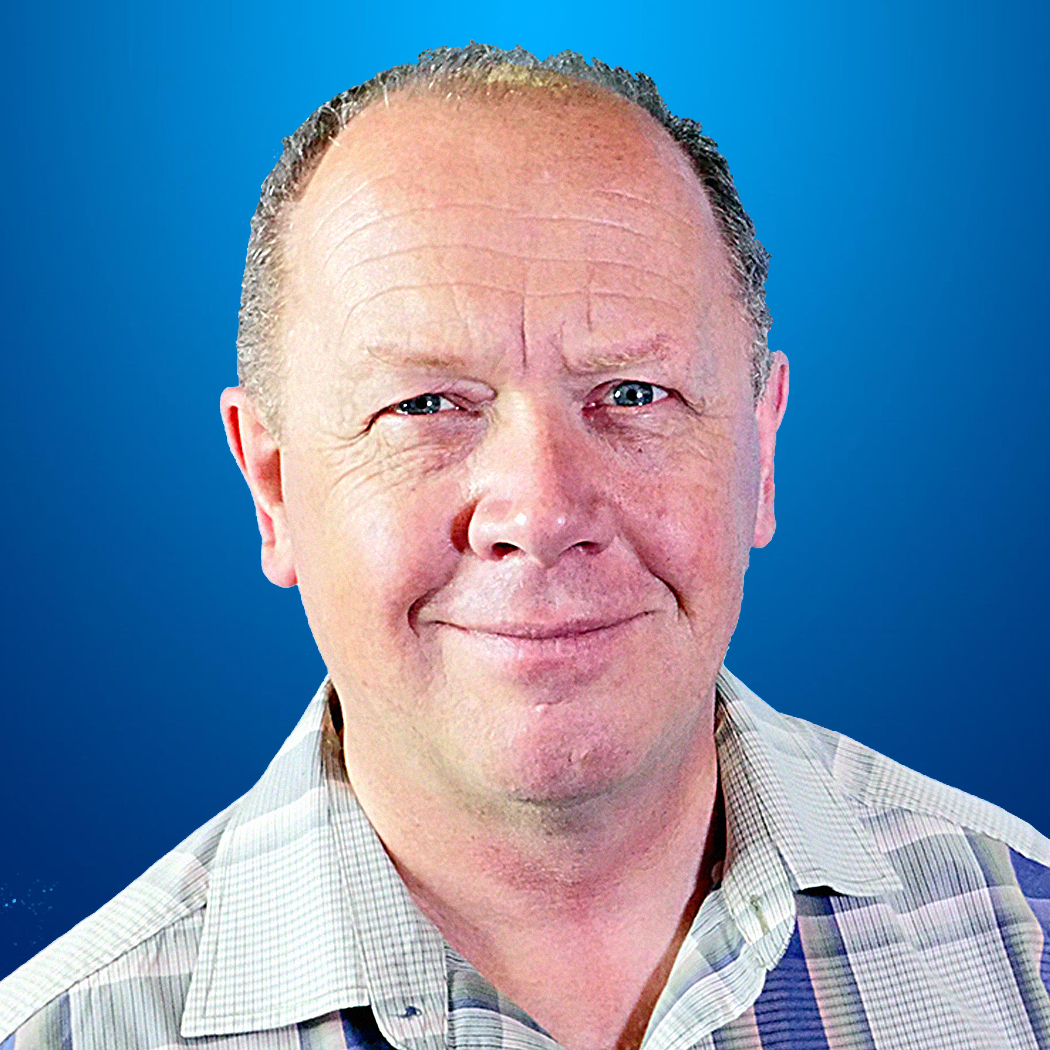 MICHAEL POTTS - MARKETING
Michael, our head of Digital Marketing, has been launching, marketing and selling technical products around the globe for over 25 years. In the late 1990's he was part of the project management team for the Ford's Electric Vehicle program. In 2008, Michael was the manager of an Electric Bike store - Small Planet E Bikes. From 2012 to 2015, he was the Business Development Director for Sustainable Minds, a provider of software and services for environmental product transparency applications. From 2015 to 2017, Michael ran a marketing agency Network Engagement to develop online business for companies like Idyllic Software and started his engagement with GeoOrbital.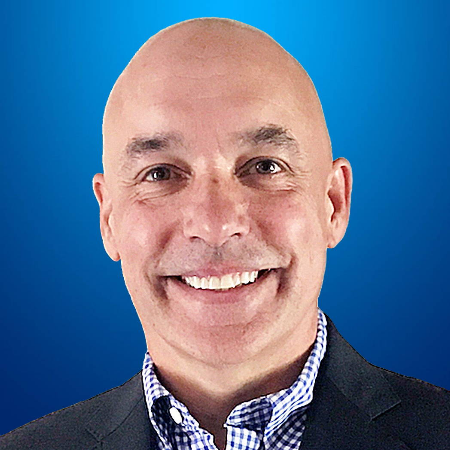 JEFF JARAN - DIRECTOR PUBLIC SAFETY DIVISION
Jeff came to GeoOrbital after serving as a senior level law enforcement executive, including 14 years as Police Chief and Emergency Manager in the State of New Hampshire & Commonwealth of Massachusetts. He is also a graduate of the FBI National Academy, Quantico, Virginia. Jeff has thousands of hours of specialized training over the course of his 29 years of working in capacities such as patrolman, narcotics detective, supervisor, past vice president of Cape Cod Chiefs, control chief of a regional SWAT team and motorcycle unit. Additionally, Jeff has supervised large-scale events such as the Pan Mass Challenge, Wounded Warrior Project Soldier Ride, Laconia Motorcycle Week, United States Presidential visits as well as executive protection for politicians and celebrities. Jeff is a current retired member of the International Chiefs of Police, FBINA, MA & NH Police Chief Association.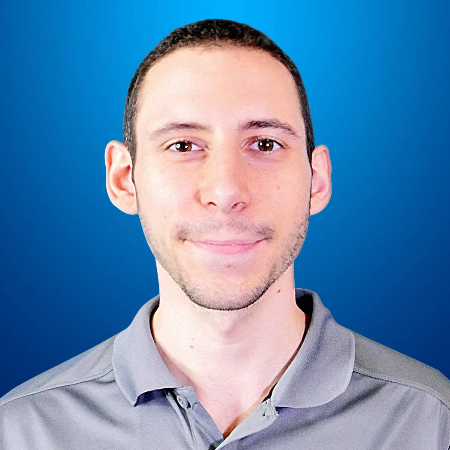 ANTHONY PERUGINI - MECHANICAL ENGINEER
Anthony, a Mechanical Engineer, came to us as a class of 2016 graduate from University of Virginia. Previous to GeoOrbital, Anthony interned with Amazon Robotics, working directly with the Hardware team on accelerated life testing and quality assurance. Anthony has become the jack-of-all-trades when it comes to working for GeoOrbital, with responsibilities ranging from reliability testing, to technical support, to developing new applications for the wheel. His background in business and CAD software allows him to better design our future products for manufacturing and economic feasibility.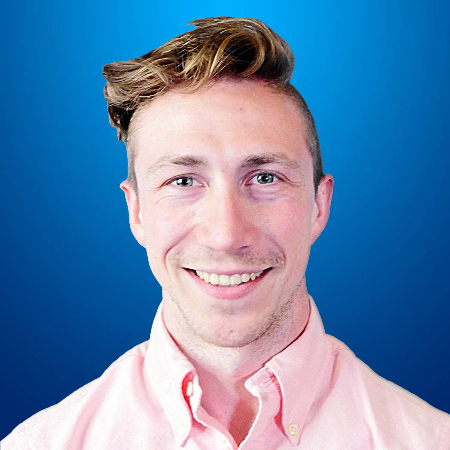 BEN MARTINMOONEY - CUSTOMER EXPERIENCE
Customer Experience Manager Ben is a Customer Experience Manager with GeoOrbital. He has exceptional communication skills, and dedication to the customer experience. With nearly 15 years of sales and account management experience, he found his calling as an advocate for the customer. Dynamic and engaging, Ben is frequently the first point of contact between us and our customers.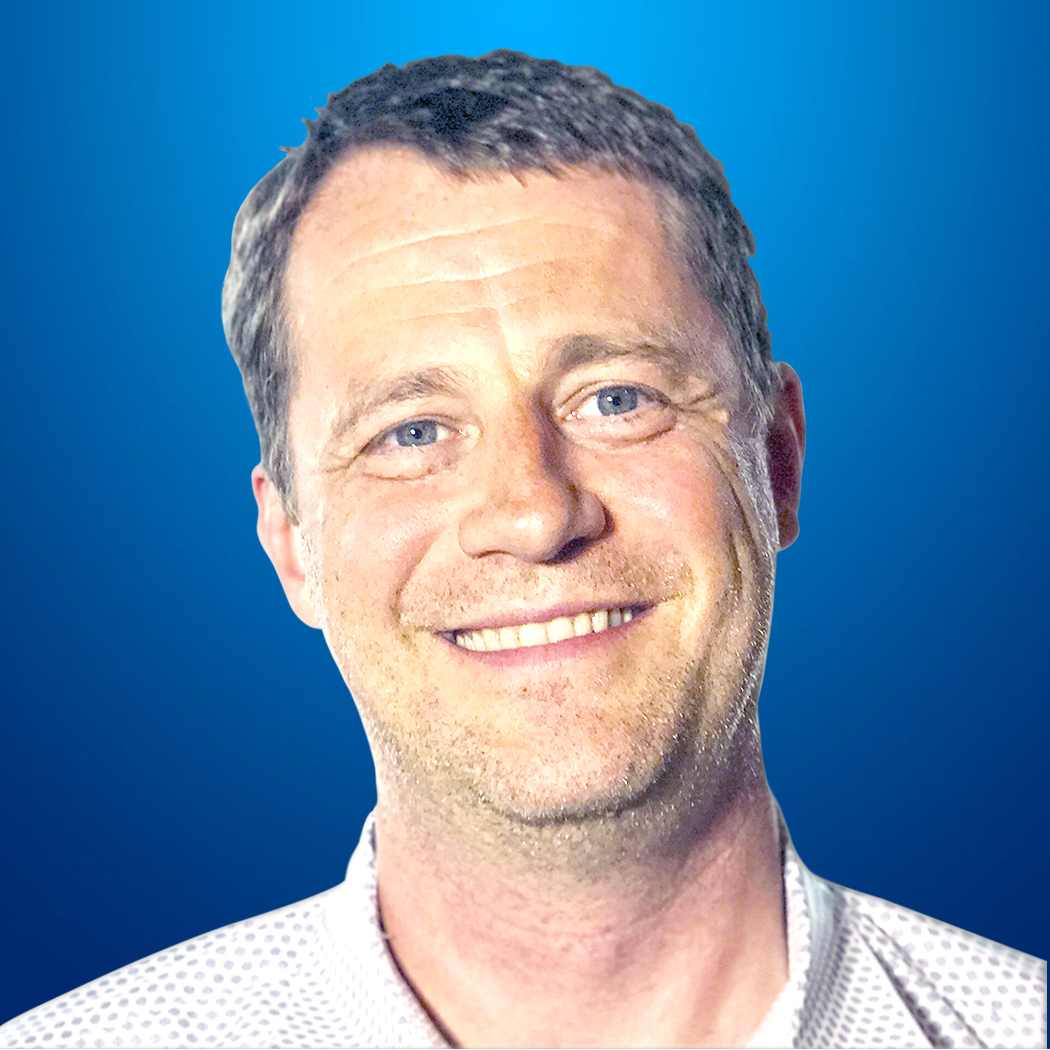 JOCELYN VIGREUX - ADVISOR
Jocelyn joined GeoOrbital in 2017 and comes to the company after 15 years as President of TomTom, Inc., the US operation of TomTom NV. He was president of that company from its inception in the US and grew it into an enterprise that earned hundreds of millions of dollars in just a few years. He successfully lead the company to become a leader in GPS navigation and to pivot into fitness wearables. His broad experience in retail, market growth, international business and brand building will help us make GeoOrbital an innovator in alternative transportation.

Become a part of GeoOrbital
INVEST TODAY
With this campaign on Netcapital we are building a community by including everyone in our growth. Join over 1,000 Convertible Note Investors by investing in our First Equity Round.
In addition to supporting operations and funding inventory to meet demand proceeds from this offering of common stock will allow GeoOrbital to:
Expand our product strategy and scale our production to capture consumer demand at a wider range of price points and expand our online, retail, and global sales channels.
Engage healthcare-related application including wheelchairs.
Re-enter European markets through partnerships and distributer relationships. Please see our linked annual filing for more information about the state of our global market engagement.
Increase our presence in the Public Safety market inluding Law Enforcement, Fire Services and Emergency Medical Services.
Engineering a process and method for a higher volume manufacturing with a focus on cost reduction.
Continue developing alternative electric and autonomous vehicles for commercialization and licensing.
We are a young company that has accomplished a lot, but great companies can only succeed with the support of great people and we are looking for great investors to join us in our journey to grow together.
This is an offering of Common Stock, under registration exemption 506(c), in GeoOrbital Inc.. Investors must be accredited to participate in this offering.
The amount raised must total at least $10,000 by September 5, 2018 at 11:59pm ET. If the total doesn't reach its target, then your money will be refunded. GeoOrbital Inc. may issue additional securities to raise up to $2,000,000, the offering's maximum.
If the offering is successful at raising the maximum amount, then the company's implied valuation after the offering (sometimes called its post-money valuation) will be:
1,350,000 shares × $10 per share= $13,500,000 implied valuation
FINANCIALS
The reception for the GeoOrbital wheel has been impressive.
In 2017 (our first full year of sales) our net revenues were $2,078,928.
The net proceeds of this offering, whether the minimum target amount or the maximum amount is reached, will be used for
funding inventory and R&D (50%),
sales and marketing (30%) and
operating expenses, including compensation (20%).
The identified uses of proceeds are subject to change at the sole discretion of the executive officers and directors based on the business needs of the Company.