Introduction
Global Cancer Technology ("GCT") is an emerging medical technology company with numerous patents and other IP that might lead to breakthroughs in cancer therapy. The company is partnering with highly acclaimed academic institutions such as UCSD and the University of Washington, along with industry leaders, to make these therapies available to patients as quickly as possible. GCT's lead cancer technology is its remote-controlled cancer drug delivery platform.
Recommendations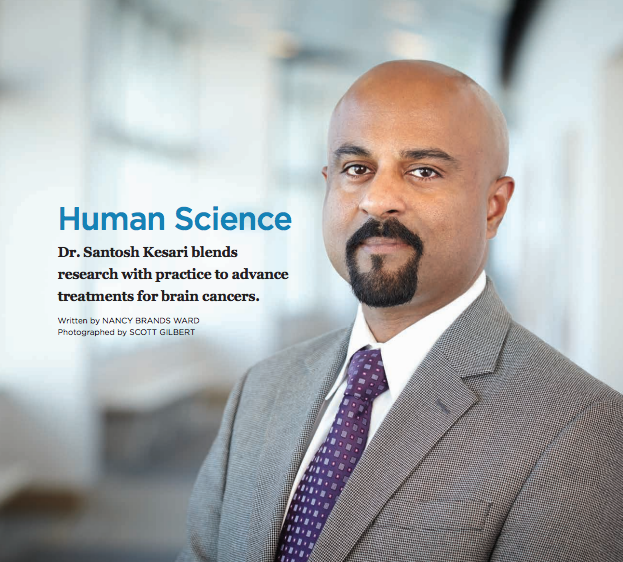 "Global Cancer Technology has the only radioactivated drug transport technology of its kind in the world. When successfully commercialized, the company will significantly impact cancer treatment outcomes and establish itself as a leader in this cancer treatment delivery market."
Dr. Santosh Kesari
World-renowned Neuro-Oncologist-John Wayne Cancer Institute
Testimonials
Global Cancer Technology is a non-revenue emerging medical technology company. GCT has the support and validation of Scientific and Industry leaders who believe that its technology will be a significant addition to the armamentarium of cancer-fighters.
"Our proprietary technologies and methods employ magnetic nanoparticles targeted toward cells associated with cancer and other diseases and provide the ability to detect these cells using highly sensitive magnetic sensors. We are in collaboration with Global Cancer Technology and their scientists to explore their very promising drug delivery technology. We envision a nanotechnology platform that would deliver both our proprietary imaging capabilities along with the targeted therapeutic capabilities that GCT provides. With a successful collaboration physicians, for the first time, would be able to image and treat a tumor using a single nanotechnology delivery medium."
Robert Prouix
President & CEO, Imagion Biosystems Inc
Problem
Cancer is a terrible disease that can attack any of us at any time.
In 2019, 1,762,450 new cancer cases and 606,880 cancer deaths are projected to occur in the United States.
According to the American Cancer Society, men have a 39.66 percent probability, or approximately a one in three risk of developing cancer in their lifetime. For women, the odds are slightly lower, at 37.65 percent. While those statistics may seem grim, there is still hope. In fact, your risk of dying from cancer remains relatively low.
Men have a 22.05 percent lifetime risk of dying from cancer, while the risk for women hovers around 18.75 percent. Each year in the U.S. there are an estimated 15,780 children between the ages of birth and 19 years of age who are diagnosed with cancer. Approximately 1 in 285 children in the U.S. will be diagnosed with cancer before their 20th birthday. Globally there are more than 300,000 children diagnosed with cancer each year. Every 3 minutes, somewhere in the world a family hears the devastating words that their child has been diagnosed with cancer.
Global Cancer Technology has partnered with major medical institutions such as UCSD and the University of Washington to develop and commercialize promising cancer treatment technologies, which could give hope to individuals facing this terrible disease. Our lead cancer fighting technology is a way to deliver drugs directly to a tumor, and then activate the drug after it has been absorbed by the tumor. If we are successful, we may be able to dramatically reduce the side effects of Chemotherapy such as nausea, weakness, and other debilitating symptoms.
Solution
Global Cancer Technology is pioneering remote-controlled drug activation technology.
Using our technology, a cancer drug is attached to a nanocrystal scintillator, a nanoparticle that ranges from 5-100 Nanometers in size, that travels easily throughout the body.
The nanoparticle can attach (Ligands describe how they are attached) to other molecules (Drugs) and transport the drug to a specific site (Tumor) within the body. The drug is inactive when attached to the nanoparticle and it is attached through bonds that tie the drug and the nanoparticle together. When at the tumor site, external radiation is applied which breaks the bonds and releases 100% of the energy within the tumor.
When the inactive drug accumulates at the tumor site, GCT's technology activates the drug via remote radiation. This allows for almost 100% of the drug's potency to be released within the tumor. Patients then would get lower doses of the drug with potentially much better results in destroying cancer cells.
GCT's technology was developed at Moores Cancer Center UC San Diego by leading scientists in the field. GCT intends to demonstrate the multiple advantages of its technology and, when successful, move from drug delivery in fighting cancer to technology used for the remote-controlled treatment of infectious diseases.
The technology is oriented towards overcoming drug resistance in cancer and infectious disease, and in particular, addressing metastatic disease. Moreover, the technology can be used with very low doses of radiation, or synergistically with higher doses of radiation, with an eye toward attaining effective tumor control while reducing the typically damaging high radiation doses used to control certain tumor types.
The primary objective in using nanotechnology for patient outcomes is best summarized as follows:
Better specific drug targeting and delivery
Reduction in toxicity while maintaining therapeutic effects
Greater safety and bio-compatibility
Faster development of new safe medicines
Competitive Landscape
Global Cancer Technology's patented technology utilizes cancer drug activation via remote radiation.
The global pharmaceutical drug delivery market is projected to reach USD 1,694.7 billion by 2023 from USD 1,244.4 billion in 2018, at a CAGR of 6.4% during the forecast period. The factors supporting market growth include the rising prevalence of chronic diseases, growth in the biologics market, and technological advancements as well as new product launches.
New drugs are hitting the market every day that have been genetically engineered to have higher efficiency and require a lower dose. With these lower doses, it is even more critical that the drug uses an efficient drug-delivery system that targets these doses at the problem area in the patient. We expect to see a rise in demand for advanced drug delivery platforms to follow this increase in availability of advanced drugs.
The increasing disease burden across the world, the proven efficacy of controlled-release drug delivery systems in addressing a wide-range of diseases, and the growing R&D trends by both the innovators and the generic players for advanced drug delivery systems, are propelling the growth of the market.
Based on facility of use, the pharmaceutical drug delivery market is segmented into hospitals, ambulatory surgical centers (ASCs)/clinics, diagnostic centers, home care settings, and other facilities of use. The home care settings segment is expected to grow at the highest CAGR during the forecast period. Growth in this segment can be attributed to the increasing use of various drug delivery devices such as injectables, nebulizers, and inhalers in home care settings.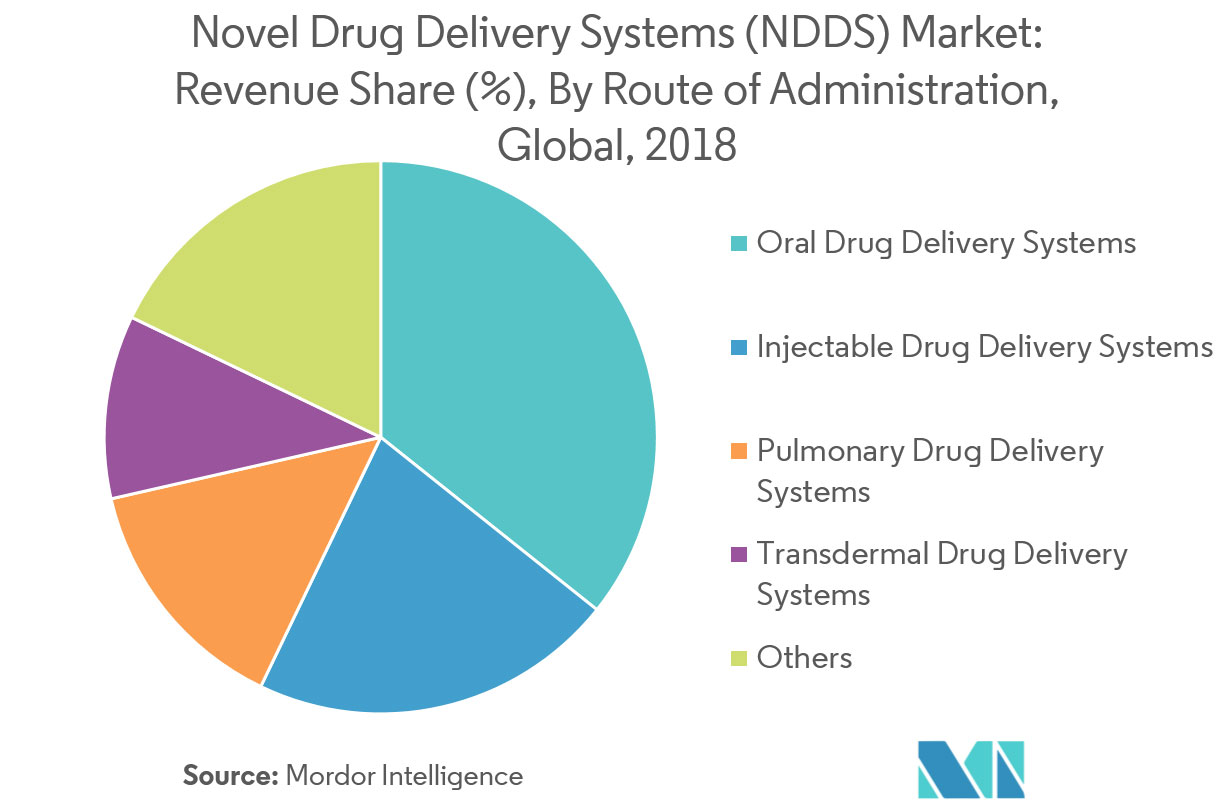 Our competitors are well-established companies in their field. However, GCT is the only drug delivery technology that is radio-surgically activated.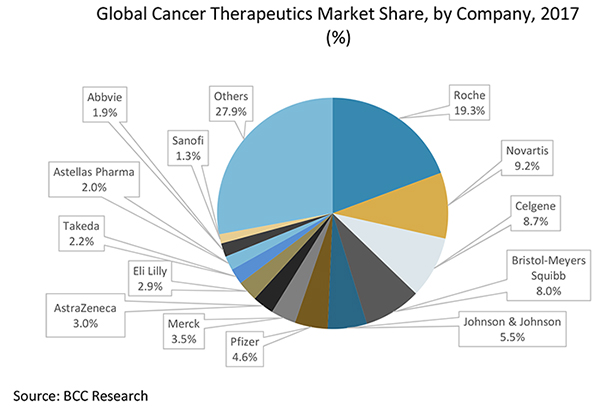 Business Model
GTC plans to generate revenue by commercializing our remote controlled drug delivery technology and acquiring industry partners to assist with development from preclinical studies all the way through FDA approval.
Development Proposal for Radiation Activatable Drug Delivery Platform
This project aims to develop a unique drug-delivery platform that is able to control the temporal and spatial delivery, release, and activity of a drug payload to minimize side effects and maximize drug concentration at the target.
The technology is oriented towards overcoming drug resistance in cancer and infectious disease, and in particular, addressing metastatic disease. Moreover, the technology can be used with very low doses of radiation, or synergistically with higher doses of radiation, with an eye toward attaining effective tumor control while reducing the typically damaging high radiation doses used to control certain tumor types.
The proposed development timeline will take about $11M and 4.5 years to complete, and would be followed by a 6-month Phase I patient trial. Higher levels of funding may accelerate the process and shrink this timeframe. The stages outlined below would require two chemists, one or two in vitro biologists, and two in vivo specialists with experience in tumor models. The senior scientific leadership of our team, Milan Makale and Wolf Wrasidlo, have the experience and background to pursue such an effort. Dr. Wrasidlo has started several successful companies and has drugs in clinical trials, including one on the market.
The three principal stages of the proposed development program along with the Phase I clinical study are described below and depicted pictorially on the timeline.
Stage One - Feasibility
24 months - $2.75 Million

Coat nanocrystals and attach Dox via linker (already designed, preliminary tests completed)
Quantify Drug retention in serum
Perform radiation release studies
Quantify in vitro killing with nanocrystal-Drug and radiation using multiple cell lines and conditions-IC50 curves
MTD experiments for in vivo dosing
In vivo toxicity
Bio distribution - single dose studies
In vivo metastasis model antitumor efficacy tests

Stage Two - Development of Candidate Drug Delivery Platform
18 months - $4 Million

Scale up
Optimize drug particle composition
Extensive formulation work
Extensive in vivo efficacy testing

Stage Three - Pre-Clinical steps for FDA application
12 months - $4 Million

GMP manufacturing
Toxicology
Paperwork for an IND submission

Clinical Study
6 months

Phase I Human Trial
Drug released by low dose radiation.
Safety, clearance, side effects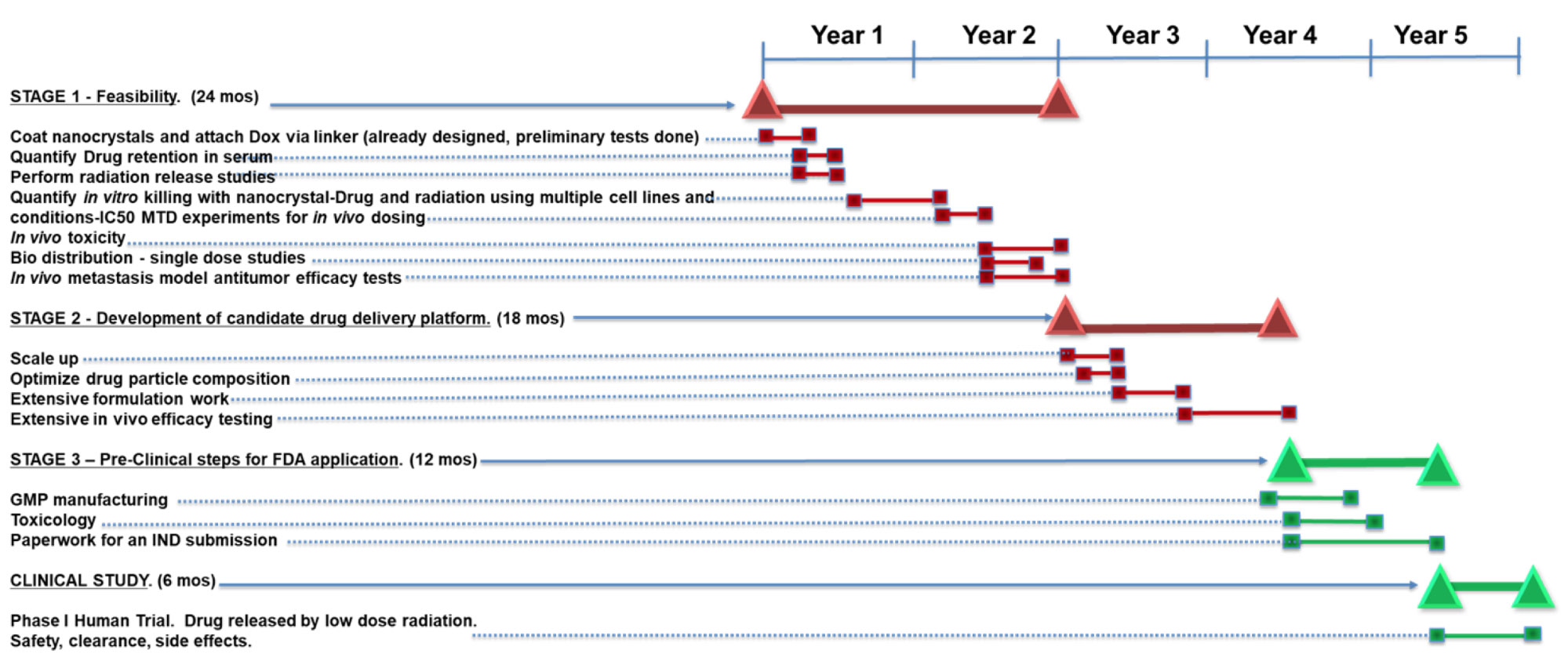 Progress
We expect that we are approximately 3 years away from potential FDA approval. We are in serious talks with a well-established and leading drug delivery firm called Verity Health, based in El Segundo CA. Their owner, Dr. Patrick Soon Shiong, is a world famous leader in the cancer field, and he is the CEO of Nanthealth, the parent company. We hope to reach a key collaboration agreement with Verity, which has brought many drug delivery products to the market.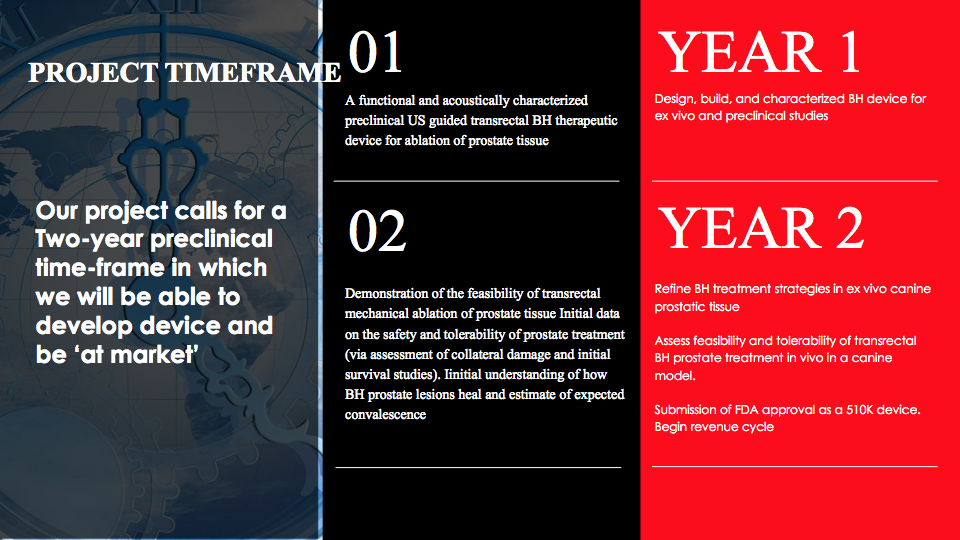 Success
Successfully acquired the patent and IP technology from UCSD to proceed to commercialization
Completed select basic preclinical data
Identified and engaged in advanced conversations with industry corporations with proven track records in drug delivery development
Created relationships with other high-profile academic institutions to assist in the development of our therapies
Developed an outstanding group of academic advisors to assist with the development of the science
Acquired the University of Washington as an investment partner in developing one of our technologies called 'Boiling Histotripsy'
Received SEC qualification for a Reg A+ tier II offering that will commence after this offering at an intended price of $2.00 per share
Team
John P. Clark
CEO
Mr. Clark brings over 25 years of medical sales and business experience and is the founder, chairman and CEO of American Radiosurgery. Mr. Clark specializes in the development and commercialization of medical technologies into going corporate concerns. Mr. Clark has purchased technologies and developed patents for various medical applications Mr. Clark was a financial partner of Endolase Inc., an OTC public medical laser company that introduced surgical YAG lasers to the US marketplace. Through this company, Mr. Clark was responsible for successfully merging Clark Medical Technologies (a regionally owned medical distributorship} into a "blind pool" public structure that traded on regional exchanges. Mr. Clark has also served as founder and CEO of Edmonds Medical Systems Inc., Clinical Diagnostic Products Inc., Medi-Rep Leasing Inc., Andros Medical and Lasers Centers, Katie Healthcare Systems, and Cosmos Medical Technologies.
Scientific Advisory Group
Dr. Santosh Kesari
Dr. Santosh Kesari is a world-renowned board-certified neurologist and neuro-oncologist and is currently Chair, Department of Translational Neuro-Oncology and Neurotherapeutics, John Wayne Cancer Institute. He is also Director of Neuro-Oncology, Providence Saint John's Health Center; and Member, Los Angeles Biomedical Research Institute. Dr. Kesari is ranked among the top 1% of neuro-oncologists and neurologists in the nation, according to Castle Connolly Medical Ltd. and an internationally recognized scientist and clinician. He is a winner of an Innovation Award by the San Diego Business Journal. He is on the advisory board of American Brain Tumor Association, San Diego Brain Tumor Foundation, Chris Elliott Fund, Nicolas Conor Institute, Voices Against Brain Cancer, and Philippine Brain Tumor Alliance. He has been the author of over 250 scientific publications, reviews, or books. He is the inventor on several patents and patent applications, and founder and advisor to many cancer and neurosciences focused biotech start-ups. Dr. Kesari graduated from University of Pennsylvania, School of Arts and Sciences, in 1992 and earned a Ph.D. degree in molecular biology and an M.D. from the University of Pennsylvania, School of Medicine. He completed his residency in neurology at the Massachusetts General Hospital/Brigham and Women's Hospital/Harvard Medical School and his neuro-oncology fellowship at the Dana-Farber Cancer Institute in Boston. He was previously assistant professor of neurology at Harvard Medical School/Dana-Farber Cancer Institute/Brigham and Women's Hospital and then professor of neurosciences at UC San Diego.
Sadik Esener, PhD
Applied Physics and Electrical Engineering degree from UCSD; Professor of Nanoengineering and Electrical and Computer Engineering at UC San Diego. Internationally known expert in photonics, opto-electronics, and cancer nanotechnology. Sadik served as director of major research centers including NCI-funded NanoTumor Center at UCSD. Specializes in cancer nanotechnology, in vivo imaging, optical systems and their interface with electronics and software. Sadik has been closely involved with 12 startup companies as co-founder. including Genoptix, Nanogen, OriMedix, Devacell, and Ziva. Dr. Esener has authored more than 350 publications.
Wolf Wrasidlo, PhD
Organic Chemistry degree from San Diego State University and University of Erlangen. Highly experienced polymer and organic chemist. Head of the Chemical Biology Program at the Moores Cancer Center at the UC San Diego School of Medicine and a Research Scientist in the Department of Neuroscience. Held senior level positions at The Scripps Research Institute, Humboldt University Berlin Medical School, University of Tuebingen Childrens' Hospital, and Columbia University. Distinguished Research Fellow at TargeGen, a Founder and the Head of Research at Brunswick Biotechnetics, a Research Scientist at General Atomics, and a member of the Member- Macromolecular Chemistry Group at the Boeing Scientific Research Institute, and founder of Neuropore.
Milan Makale, PhD
Radiation Biology degree from the University of Alberta. Biomedical engineer, faculty member at UC San Diego Moores Cancer Center. Specializes in medical devices and imaging, worked in academia and development stage pharmaceutical companies. A U.S. National Research Council Associate at the U.S. DoD. MS in Biomedical Engineering from George Washington University, and worked in functional and structural neuroimaging research at NINDS, NIH Bethesda, MD. Co-founded Engineered Medical Devices Inc., and Lemma Pharmaceuticals. Member of the American Chemical Society, the Society for Neuro-Oncology, and the Whittaker Institute of Bioengineering.
Dr. Ted Dubinsky
Dr. Dubinsky serves as the Lawrence A. Mack Endowed Professor of Radiology, Obstetrics and Gynecology, University of Washington School of Medicine; and as the Editor in Chief of Ultrasound Quarterly. Dr. Dubinsky is a well-published and highly recognized luminary in the field of High Intensity Focused Ultrasound, having authored over 100 published peer-reviewed papers. At the University of Washington, Dr. Dubinsky served as the Director of Body Imaging and an Adjunct Associate Professor of Obstetrics and Gynecology. Dr. Dubinsky achieved his medical degree from the University of Maryland after graduating from Johns Hopkins University.
Dr. Aizik Wolf
Dr. Wolf is a world-renowned radiosurgery neurosurgeon who has performed more private practice brain cancer treatments with gamma knife radiosurgery than any other neurosurgeon in the world. A member of numerous professional organizations, including the American Medical Association, American Association of Neurological surgeons, and the International Brain Research Organization, Dr. Wolf is also a founding member of the International Radiosurgery Support Association. Dr. Wolf has been the recipient of numerous grants and research awards. He has acted as principal investigator for two clinical trials involving treatment for severe head injury, both of which were funded by the National Institutes of Health. Also, the American College of Surgeons presented Dr. Wolf and his investigative team with a Research Award for an abstract detailing a lobectomy procedure. Widely published, Dr. Wolf has authored and co-authored numerous book chapters and journal articles on neurological surgery, including work published in Advances in Neurology and the Journal of Neurosurgery. He has presented his research as an honoured speaker and invited lecturer at many medical meeting and conferences around the world, such as the Annual Meeting of the American Association of Neurological Surgeons, the Society for Neuroscience and the International Stereotactic Radiosurgery Society. Dr. Wolf graduated summa cum laude from Yale Medical School and trained at the University of Minnesota Hospitals. Earlier in his career, Dr. Wolf served as chief of epilepsy and skull-base surgery at the University of Maryland and assistant professor of neurology and neurosurgery. He received his Gamma Knife training at Brown University. Dr. Wolf founded the Miami Neuroscience Center in 1993. Over the past two decades, he and his team have performed nearly 7,000 Gamma Knife surgeries, acquiring a level of expertise unmatched in the field. The team's long-time collaboration also led to a number of medical breakthroughs. The team was the first to make extensive use of radiosurgery to manage multiple metastases. It was also one of the first to apply radiosurgery to treat large-sized benign tumors, and the first nationally to provide Gamma Knife treatments on an outpatient basis.
Dr. Maheep Gaur
In 1996 Dr. Gaur joined the fellowship program in Stereotactic Functional Neurosurgery and Radiosurgery at Stereotaxis and Gamma Knife Centre, Fujieda Heisei Memorial Hospital, Shizuoka, Japan, under Dr. Tatsuo Hirai and Dr. Takaaki Takizawa. During this fellowship he participated in about 500 Gamma Knife Surgeries and Micro-recording assisted functional neurosurgery procedures for movement disorders. He learned various aspects of stereotactic frame-based and frameless neuronavigation. On return to India in 1997 he joined Vidyasagar Institute of Mental Health and Neuro Sciences [Vimhans] at New Delhi India as Consultant Neurosurgeon. In 1998 he established the first Gamma Knife centre in a dedicated neuroscience centre in SAARC region. He was designated head of Gamma knife Surgery at Vimhans. He has experience of conducting more than 2000 Gamma Knife Treatments collectively. He is the founder of the Asian Radiosurgery Conference and conducted the first Asian Gamma Knife Training Program at Saitama Japan.
Prof. Dr. Laszlo Bognar
Prof. Bognar graduated from Semmelweis University in 1982 and then obtained a specialist qualification in neurology and neurosurgery in 1986 and 1989, respectively. As of 2005, he has been director of the Clinic of Neurosurgery at the Center of Medical and Health Sciences of Debrecen University, Associate professor, as of 2006, professor. Apart from leading the clinic, he is an external consultant in child neurosurgery at the Institute. His key area of specialization is the research and treatment of brain tumors. He is greatly experienced in the surgical treatment of cerebralspinal fluid (CSF) circulation disorders, In epileptic surgery and in the operative treatment of cranial deformities. Professor Bognar founded the Rotating Gamma Institute – Debrecen and placed the first Rotating Gamma System (RGS) in Eastern Europe. Professor Bognár lectures around the world on stereotactic radiosurgery.
Use of Proceeds
If the offering's maximum amount of $107,000 is raised:
| Use | Value | % of Proceeds |
| --- | --- | --- |
| Commercializing Instrument marking technology | $20,000 | 18.7% |
| Pre-clinical work on Nanocrystal scintillator | $20,000 | 18.7% |
| Research grant to Univ. of Washington for HIFU+ | $20,000 | 18.7% |
| Marketing for RegA+ registration | $10,000 | 9.3% |
| General and Administrative Expense | $31,757 | 29.7% |
| Intermediary fees | $5,243 | 4.9% |
Terms
This is an offering of Common Stock, under registration exemption 4(a)(6), in Global Cancer Technology, Inc. This offering must raise at least $10,000 by February 25, 2020 at 11:59pm ET. If this offering doesn't reach its target, then your money will be refunded. Global Cancer Technology may issue additional securities to raise up to $107,000, the offering's maximum.
$10,000 minimum
$103,300 raised
If the offering is successful at raising the maximum amount, then the company's implied valuation after the offering (sometimes called its post-money valuation) will be:
11,575,100 shares
×
$1 per share
$11,575,100implied valuation
SEC Filings
The Offering Statement is a formal description of the company and this transaction. It's filed with the SEC to comply with the requirements of exemption 4(a)(6) of the Securities Act of 1933.
Understand the Risks
Be sure to understand the risks of this type of investment. No regulatory body (not the SEC, not any state regulator) has passed upon the merits of or given its approval to the securities, the terms of the offering, or the accuracy or completeness of any offering materials or information posted herein. That's typical for Regulation CF offerings like this one.
Neither Netcapital nor any of its directors, officers, employees, representatives, affiliates, or agents shall have any liability whatsoever arising from any error or incompleteness of fact or opinion in, or lack of care in the preparation or publication of, the materials and communication herein or the terms or valuation of any securities offering.
The information contained herein includes forward-looking statements. These statements relate to future events or to future financial performance, and involve known and unknown risks, uncertainties, and other factors, that may cause actual results to be materially different from any future results, levels of activity, performance, or achievements expressed or implied by these forward-looking statements. You should not place undue reliance on forward-looking statements since they involve known and unknown risks, uncertainties, and other factors, which are, in some cases, beyond the company's control and which could, and likely will, materially affect actual results, levels of activity, performance, or achievements. Any forward-looking statement reflects the current views with respect to future events and is subject to these and other risks, uncertainties, and assumptions relating to operations, results of operations, growth strategy, and liquidity. No obligation exists to publicly update or revise these forward-looking statements for any reason, or to update the reasons actual results could differ materially from those anticipated in these forward-looking statements, even if new information becomes available in the future.
Updates
Feb 26, 2020

Primary offering finalized, selling

shares

Sold $1 for a total of $103,300

shares at

Oct 22, 2019

Primary offering of $1

shares at
Ask a Question
Proofread your comment before submitting: once it's posted, you can't edit or delete it. For the fastest help with the web site, email help@netcapital.com instead of commenting.
Looking to raise capital?
We can help turn your friends, family and customers into investors.
Learn more
Interested in more investment opportunities?
Browse all offerings currently available.
See more