Introduction
AllTheBelts develops mobile apps for combat sports with the latest news and the most engaged communities. Fans can get all the news, videos, podcasts, rumors, and live updates in a single app. No need to dig through all the different sources, AllTheBelts has them all.
Deal Highlights
$670M sports mobile app market
Significant traction: 22K installs
Experienced founder with 4 successful exits
Plans for vertical/market expansion
Problem
The problem AllTheBelts is attempting to solve is threefold:
Content Disaggregation
There are hundreds of combat sports publishers creating content for fans to consume. This includes websites, YouTube channels, podcasts, ranking systems, combat schedules, etc. The content disaggregation leads to a time consuming experience for fans seeking and consuming content from each niche outlet.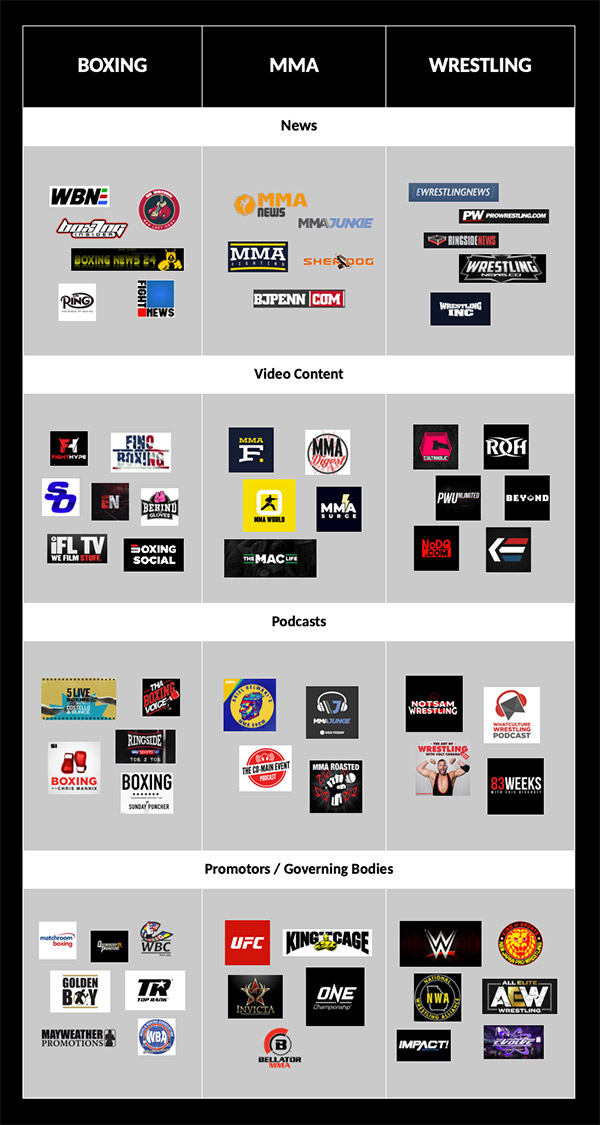 Outlet Bias
A number of outlets have relationships with various promoters and governing bodies to release content. This can lead to providers being incentivized to promote certain fighters or events and not reporting the "whole" story. For example, Ring Magazine, a prominent boxing news publisher, is owned by a group headed by Oscar De La Hoya, one of the largest US boxing promoters.
Advertisers
Advertisers are always looking to get more "bang for their buck". The disaggregated content makes it extremely difficult for combat sports advertisers to reach their audience. With AllTheBelts, advertisers can target general boxing enthusiasts and/or more niche audience segments without the inefficiencies of negotiating multiple contracts. Our data will allow for more thoughtful and effective targeted advertisements.
Solution
AllTheBelts is building out a catalog of combat sports news apps, starting with boxing.
"AllTheBelts - Boxing News" is a 5 star rated app available on the Apple and Google app stores. The app gives boxing fans access to 60+ news, video and podcast outlets along with an integrated fight schedule. The app has a highly engaged active user base built almost entirely organically.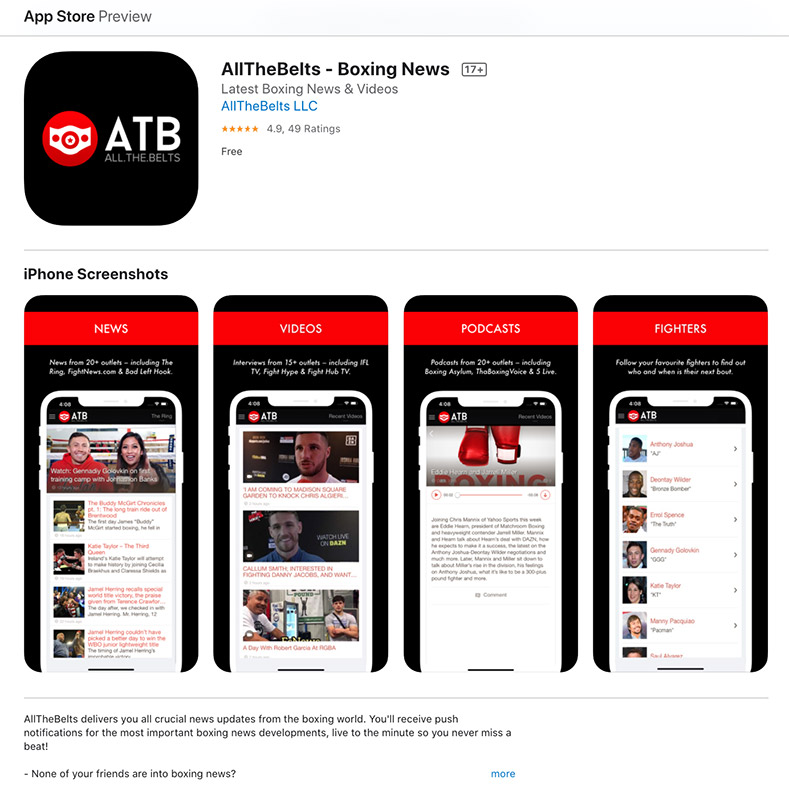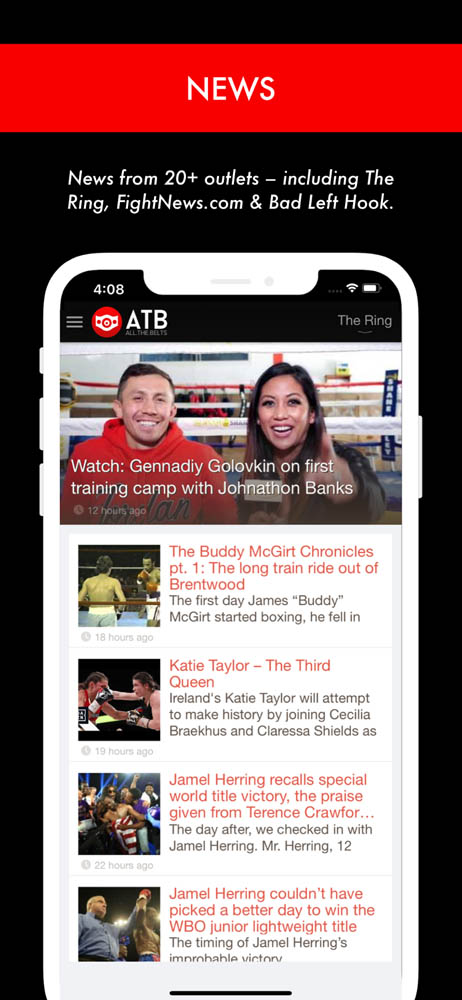 There is a clear gap in the market for a network of martial arts/combat sports content aggregation apps. By aggregating content, combat sports advertisers will have access to a platform to run more targeted ads without having to negotiate with dozens of outlets. These apps will remain unbiased and focus on reporting the entire story, from all perspectives.
Initial capital raised will be used to grow active users to a level where the boxing app is generating advertising revenue. After proving out the revenue stream for the boxing app, the long term vision is to build out further apps and monetize.
AllTheBelts - MMA News
AllTheBelts - Wrestling News
AllTheBelts - Kickboxing News
Business Model
AllTheBelts apps will be monetized via advertising. Several ad slots can be made available. From rotating banners to full screen interstitial, menu items and push notifications. The boxing app already has the Twitter and Google advertising SDKs integrated.
Ad Spots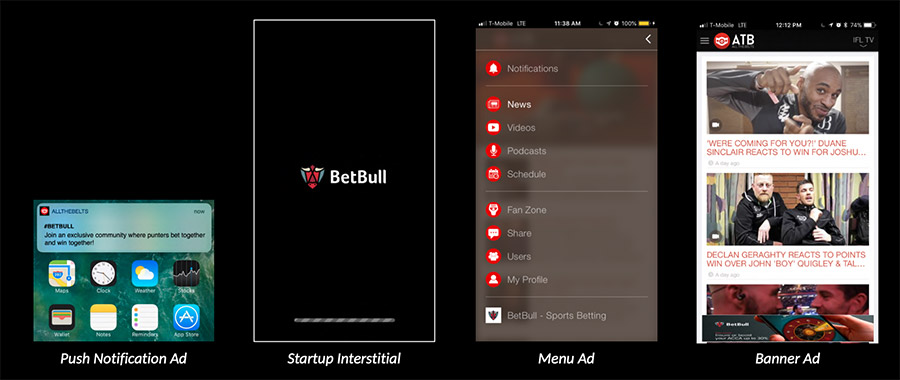 Additional revenue can also be generated using a Freemium model. Specifically a paid upgrade to disable the ads and access additional premium content. This can be offered to users on a monthly and/or yearly basis.
Freemium Upgrade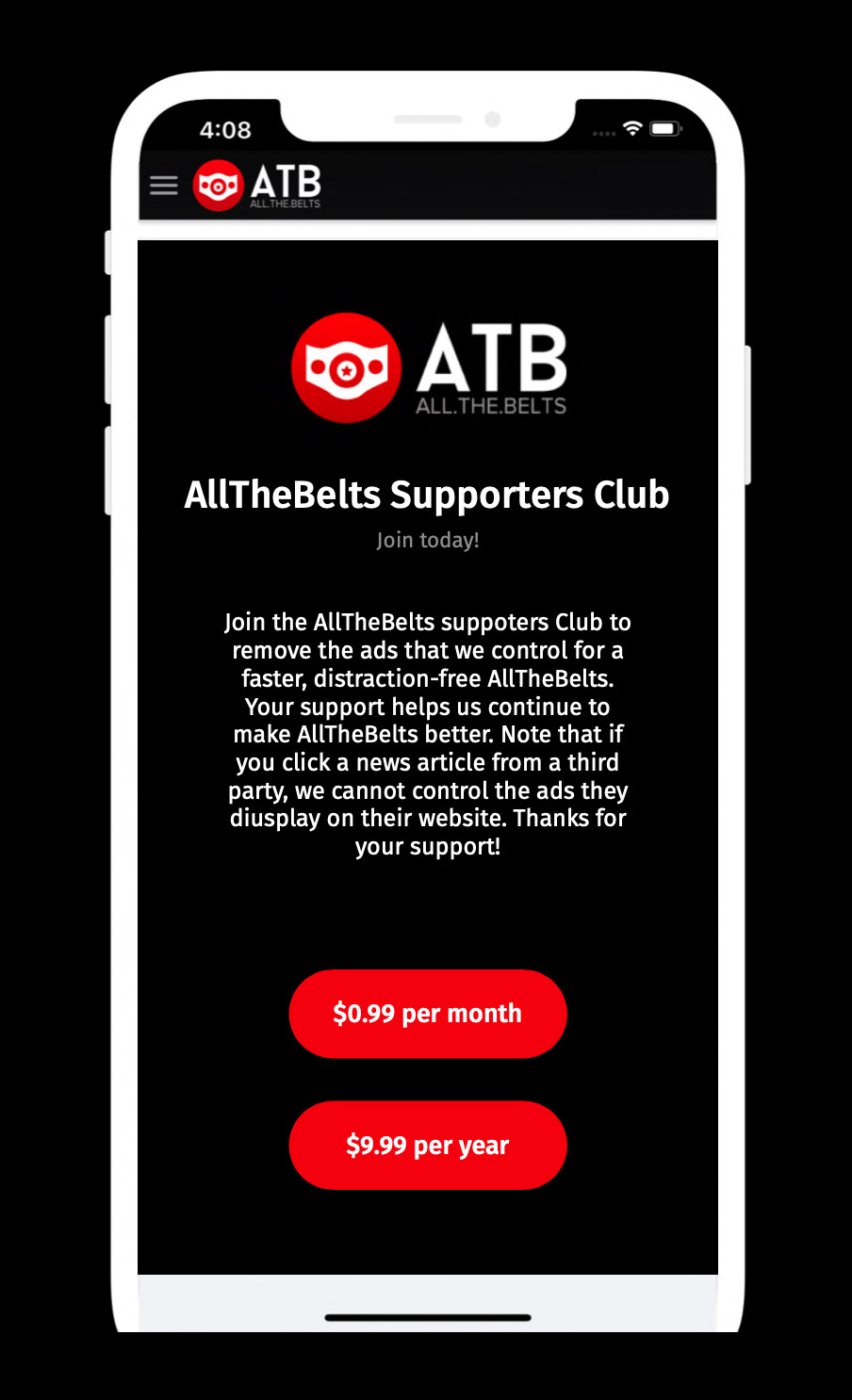 Growth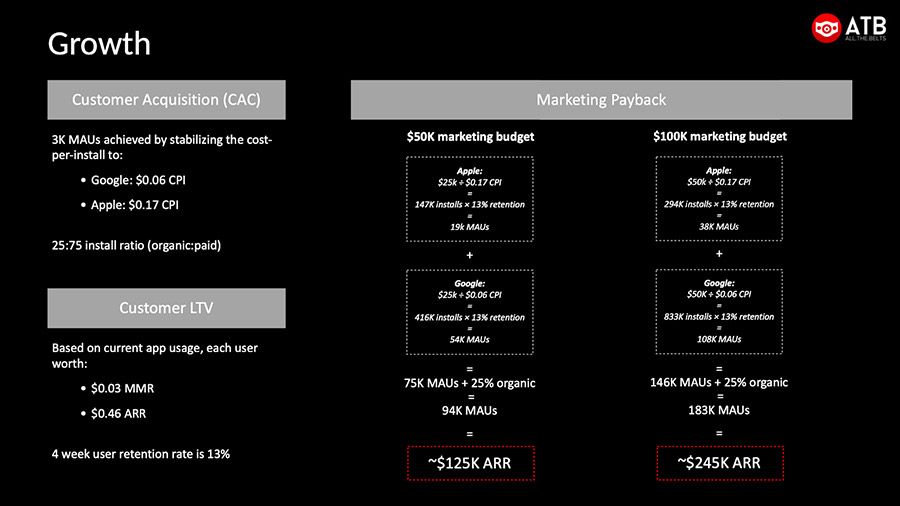 Market
Worldwide Sports app store category installs surpassed 200 million for the fifth consecutive quarter in Q2 2019. The 254 million installs in the quarter reflected a 50% increase vs. Q2 2016.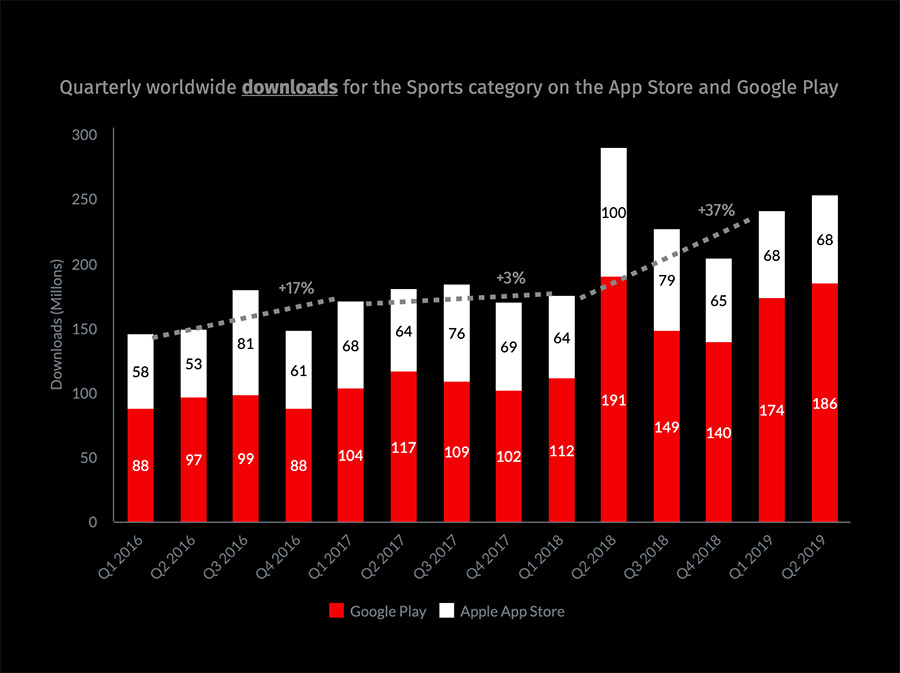 Sports category revenue growth has also accelerated since 2017 on both the Apple and Google app stores.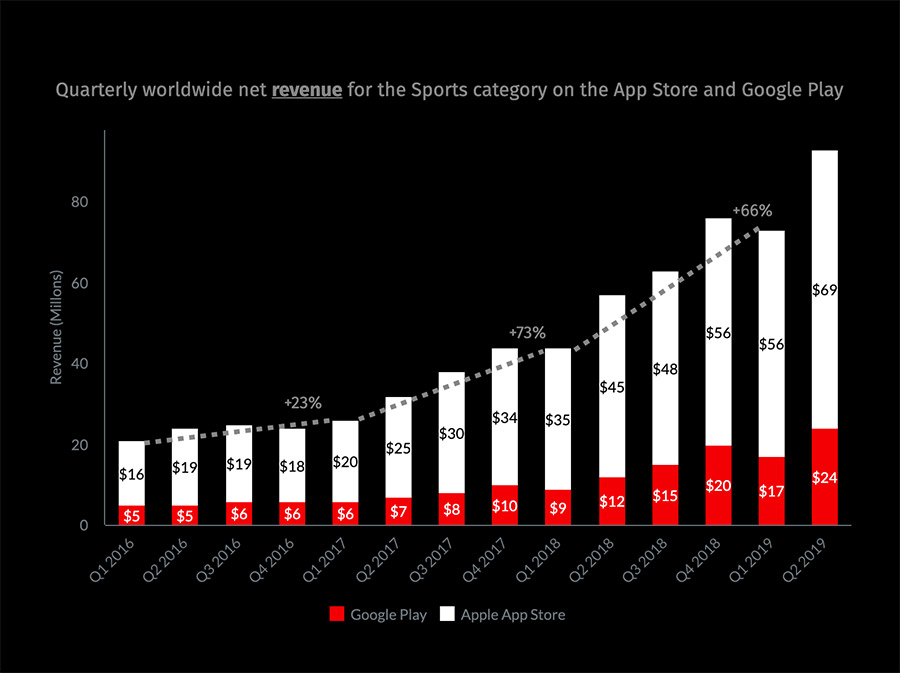 AllTheBelts is focused on capturing 0.5% of this market, representing $3.3M ARR.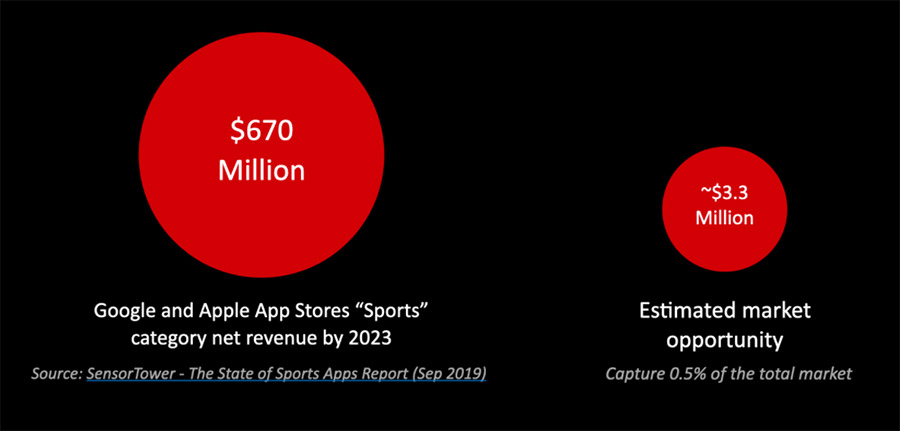 Competitive Landscape
Boxing-wise, there are a few other apps aggregating boxing content. In two categories:
Established companies focused on creating aggregation apps for various topics

Minimal boxing content sources vs. AllTheBelts

Indie developers

Apps with little to no traction (<10K downloads)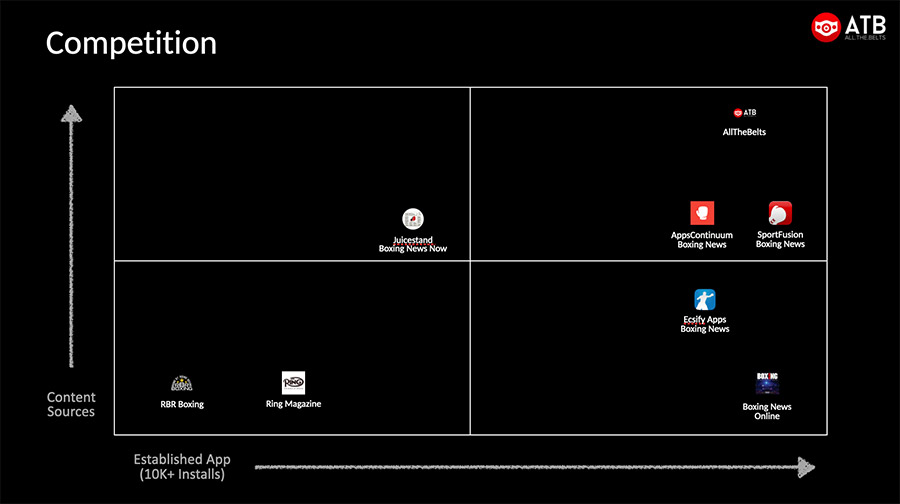 Progress
The AllTheBelts boxing app already has a highly engaged active user base, built almost entirely organically.
22K installs growing at 1.5K per month
3K monthly active users (MAUs)
1K weekly active users (WAUs)
300-500 daily active users(DAUs)
2.4K registered users (allowing access to post, comment and like content)
The app is highly ranked across Google search and the app stores. (see infographic)
#1 for search term "boxing news app" on Google search
#1-5 for various boxing search terms on the Google and Apple apps stores
The app also has a global appeal with a worldwide user base. ~50% from the United Staes and United Kingdom. (see infographic)
Google Search Ranking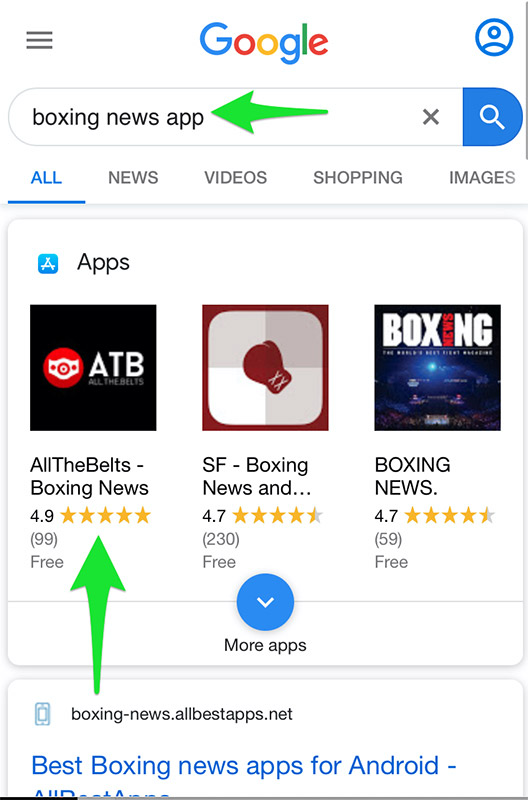 Team
AllTheBelts was founded by a product management professional with 10 years of experience in online advertising, fitness technology, and social media. The CEO is a serial entrepreneur with a track record of success in the form of 4 successful exits (all acquisitions).
Timothy Childs
Founder
Timothy graduated from Nottingham University, England in 2010 with a degree in Computer Science. Since then he has gone on to forge a 10 year career in product management. Timothy has worked across various verticals including online advertising, fitness technology and social media. He is an alumni of the following companies:
TubeMogul, a programmatic online advertising DSP. Acquired by Adobe in 2016
Netpulse, a provider of branded fitness center apps. Acquired by eGym in 2018
WAYN, a travel & lifestyle social network. Acquired by Lastminute in 2016
Goviral, a branded video content network. Acquired by AOL in 2011
Thomas Proulx
Advisor
Thomas Proulx, co-founder of Intuit and author of Quicken, was pivotal in pioneering the consumer software industry. He has served as a director on the boards of numerous venture-backed technology startups. He was also the founder and chairman of Netpulse, a provider of branded mobile apps for health clubs. Thomas holds a degree in Electrical Engineering/Computer Science from Stanford University.
Use of Proceeds
If the offering's maximum amount of $250,000 is raised:
| Use | Value | % of Proceeds |
| --- | --- | --- |
| Marketing | $125,250 | 50.1% |
| Product Development | $75,000 | 30.0% |
| Verticals Expansion | $37,500 | 15.0% |
| Intermediary fees | $12,250 | 4.9% |
Terms
This is an offering of Membership Interest Units, under registration exemption 4(a)(6), in AllTheBelts LLC. This offering must raise at least $10,000 by September 30, 2020 at 11:59pm ET. If this offering doesn't reach its target, then your money will be refunded. AllTheBelts may issue additional securities to raise up to $250,000, the offering's maximum.
$10,000 minimum
$1,650 raised
If the offering is successful at raising the maximum amount, then the company's implied valuation after the offering (sometimes called its post-money valuation) will be:
2,500,000 units
×
$1.00 per unit
$2,500,000implied valuation
COVID Relief:
This offering is being conducted on an expedited basis due to circumstances relating to COVID-19 and pursuant to the SEC's temporary COVID-19 regulatory relief set out in Regulation Crowdfunding §227.201(z).
Offering maximum:
In reliance on this relief, financial information certified by the principal executive officer of the issuer has been provided instead of financial statements reviewed by a public accountant that is independent of the issuer, in setting the offering maximum of $250,000.
SEC Filings
The Offering Statement is a formal description of the company and this transaction. It's filed with the SEC to comply with the requirements of exemption 4(a)(6) of the Securities Act of 1933.
Updates
Aug 5, 2020

AllTheBelts received a shoutout by the NASDAQ...

AllTheBelts received a shoutout by the NASDAQ for creating the worlds first app for broad combat sports coverage.

Read more

Jul 30, 2020

We are proud to announce that today the new...

We are proud to announce that today the new AllTheBelts app is available on the Apple and Google app stores. We have added coverage of 7 brand new major martial arts on top of our first class boxing coverage. The latest app keeps fans up to date on every combat sport, promotion and fighter: 24/7.

Read more

Jun 19, 2020

Primary offering of $1.00

shares at
Ask a Question
Proofread your comment before submitting: once it's posted, you can't edit or delete it. For the fastest help with the web site, email help@netcapital.com instead of commenting.
Understand the Risks
Be sure to understand the risks of this type of investment. No regulatory body (not the SEC, not any state regulator) has passed upon the merits of or given its approval to the securities, the terms of the offering, or the accuracy or completeness of any offering materials or information posted herein. That's typical for Regulation CF offerings like this one.
Neither Netcapital nor any of its directors, officers, employees, representatives, affiliates, or agents shall have any liability whatsoever arising from any error or incompleteness of fact or opinion in, or lack of care in the preparation or publication of, the materials and communication herein or the terms or valuation of any securities offering.
The information contained herein includes forward-looking statements. These statements relate to future events or to future financial performance, and involve known and unknown risks, uncertainties, and other factors, that may cause actual results to be materially different from any future results, levels of activity, performance, or achievements expressed or implied by these forward-looking statements. You should not place undue reliance on forward-looking statements since they involve known and unknown risks, uncertainties, and other factors, which are, in some cases, beyond the company's control and which could, and likely will, materially affect actual results, levels of activity, performance, or achievements. Any forward-looking statement reflects the current views with respect to future events and is subject to these and other risks, uncertainties, and assumptions relating to operations, results of operations, growth strategy, and liquidity. No obligation exists to publicly update or revise these forward-looking statements for any reason, or to update the reasons actual results could differ materially from those anticipated in these forward-looking statements, even if new information becomes available in the future.
Looking to raise capital?
We can help turn your friends, family and customers into investors.
Learn more
Interested in more investment opportunities?
Browse all offerings currently available.
See more